What does a Mediterranean breakfast or a Mediterranean diet breakfast look like? You'd be surprised how often I hear this question; it's time to delve into it more fully. Tasty ideas from quick bites to Mediterranean brunch recipes and the ultimate Mediterranean brunch board for your next party!
I'm warning you now: we are about to explore a world of wholesome, satisfying breakfast foods that will surprise you in the best way possible! You're not entirely unfamiliar with these foods. You probably tried them before, but never thought of them for breakfast or brunch. And be sure to visit our Mediterranean diet recipes page for more.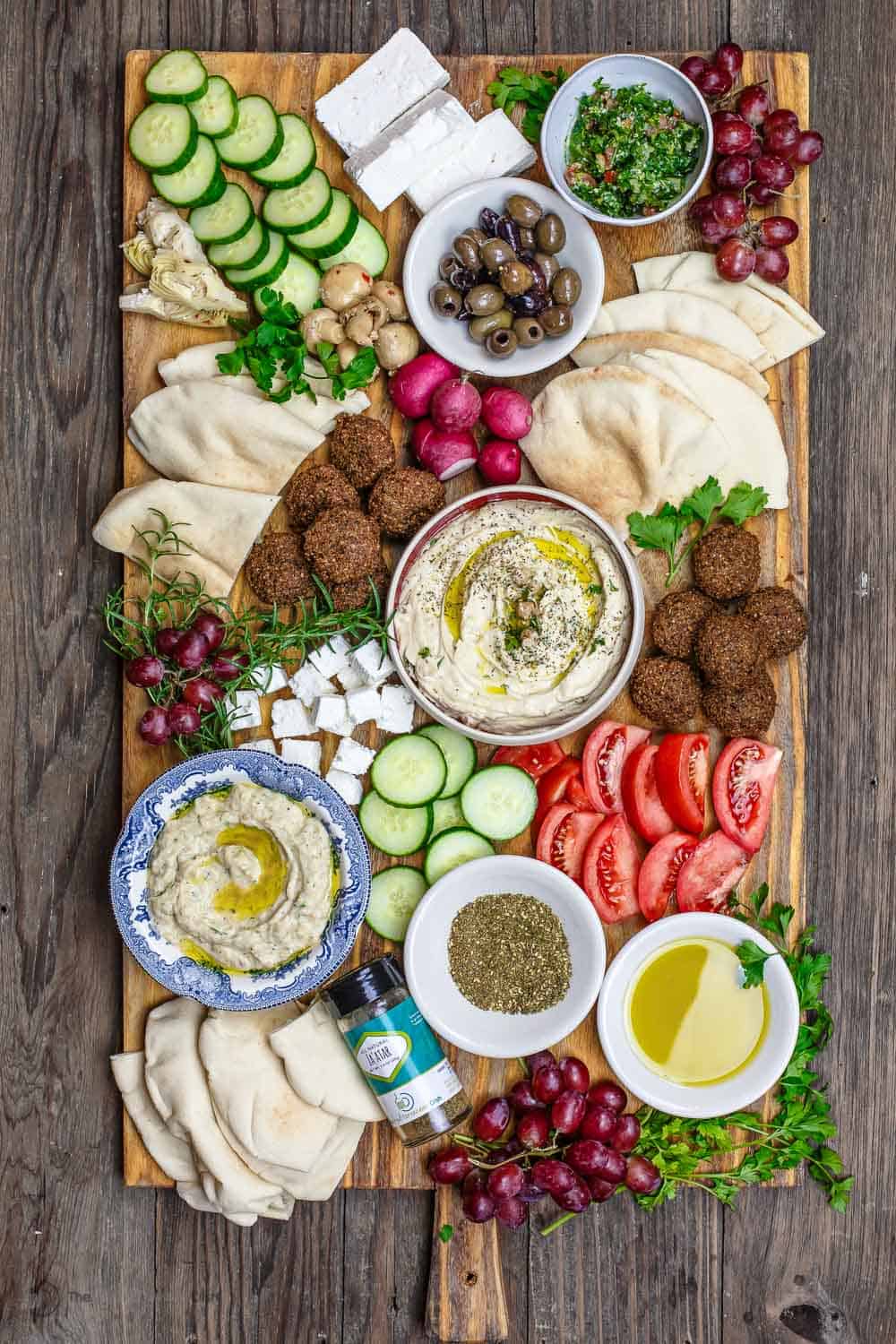 What does a Mediterranean Diet Breakfast Look Like?
Because the Mediterranean region extends from parts of Europe to North Africa and the Middle East (including the Holy Land), it's hard to give you one short answer as to what a Mediterranean breakfast looks like.
A workday Mediterranean breakfast is a quick, and mostly savory, meal. And if we're talking strictly Mediterranean diet, then it's very likely a vegetarian breakfast like hummus toast or breakfast bowls with eggs and veggies.
Quick Mediterranean Diet Breakfast Ideas
If you're curious, here are just a handful of quick Mediterranean breakfast ideas from different parts of the Mediterranean:
1- Italy and Spain, you might find an early-morning breakfast of toasted whole grain breads with a small portion of soft cheese and some fresh fruit.
2- Egypt, where I grew up, Foul Muddamas (a special fava bean porridge, slow-cooked overnight) is a staple protein-packed breakfast (recipe coming soon!) Or, a quick boiled egg with a side of fresh tomato and and cucumber (yes, salad for breakfast!)
3- In the Eastern Mediterranean, it's not uncommon for leftover homemade hummus, Labneh, or plain Greek yogurt with a drizzle of good olive oil to show up on the breakfast table. One delightfully surprising breakfast from the Holy Land region is warm pita, dipped in excellent extra virgin olive oil and sprinkled with za'atar (an earthy blend of Mediterranean wild thyme and toasted sesame seed.)
4- Of course, in many parts of the Mediterranean, all sorts of grains and couscous make a great cereal-- savory, or occasionally slightly sweetened with honey, then topped with nuts.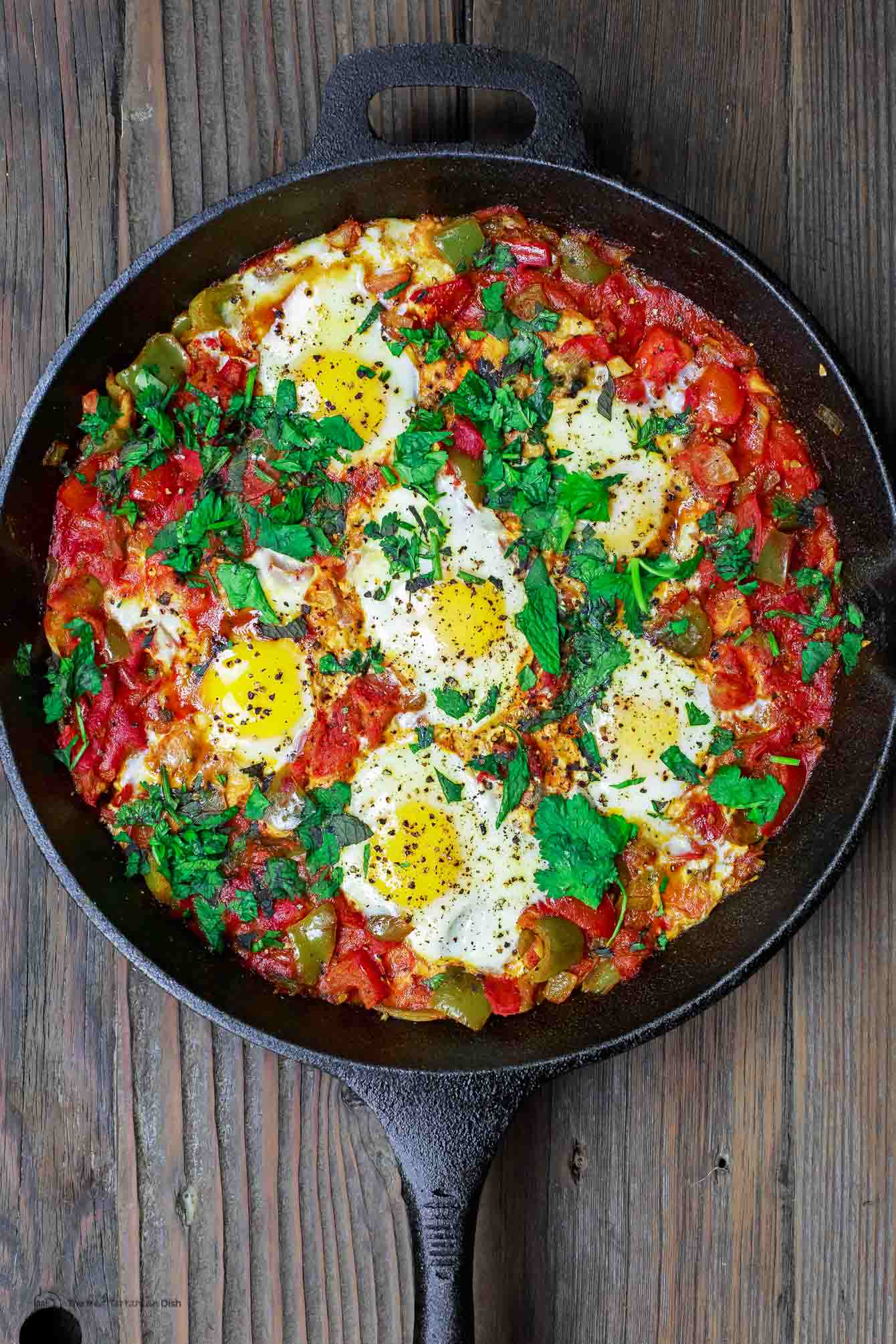 Pictured: Shakshuka
Mediterranean Breakfast Recipes
The story is slightly different on the weekends. Eastern Mediterranean breakfast (or brunch)--the kind a master of the Levant kitchen like my mother in law makes--is a bit of a feast. A healthy, wholesome feast meant for longer, leisurely visits--requiring that you bring an appetite for eating and long conversation.
Like a mezze situation, a leisurely Mediterranean brunch is intended for a crowd and will include a bit of everything. Lots of little savory dishes. And again, mostly vegetarian. From shakshuka or frittata to falafel (and you can make them in the air fryer if you like) and freshly baked manaqish, several hummus options, and even salads like tabouli or this simple Mediterranean salad.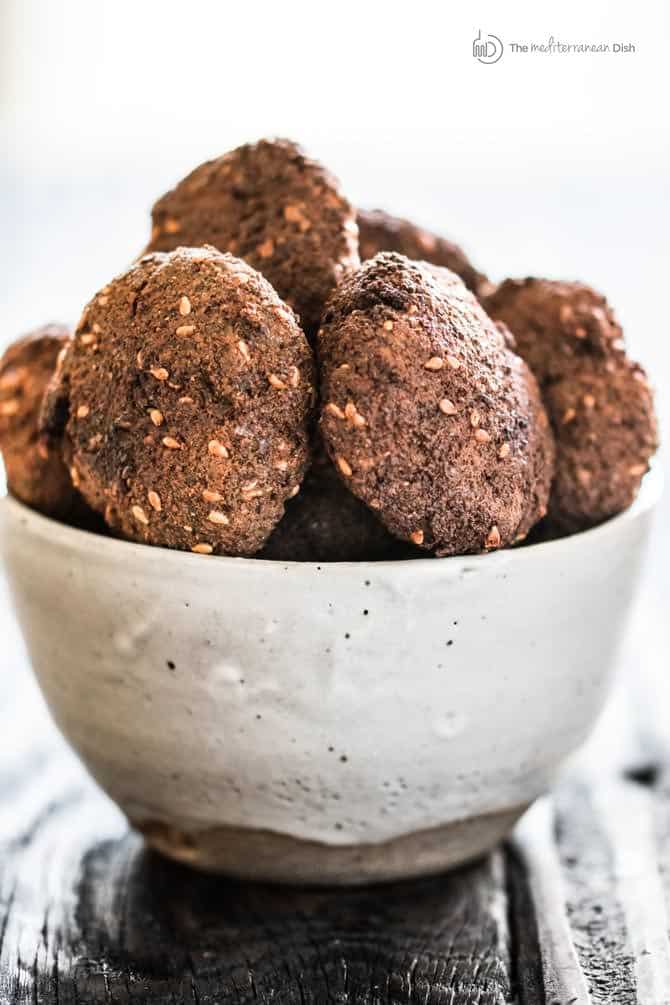 How to build a Mediterranean Breakfast Board
But if you're looking for a simple and modern way to bring a Mediterranean element to your brunch, this Mediterranean breakfast board will do the trick. The inspiration for this board came from my earlier Mezze platter (another great option for entertaining.) And keep in mind that this board is really more of a brunch board.
For serving, you will need a large board or platter; a few bowls to hold dips and EVOO etc; a few serving utensils. I like to place my large bowl right in the middle as a focal point. I use the remaining bowls to create shape and movement on the board. Naturally, the gaps between the bowls serve as pockets to easily arrange the rest of the ingredients.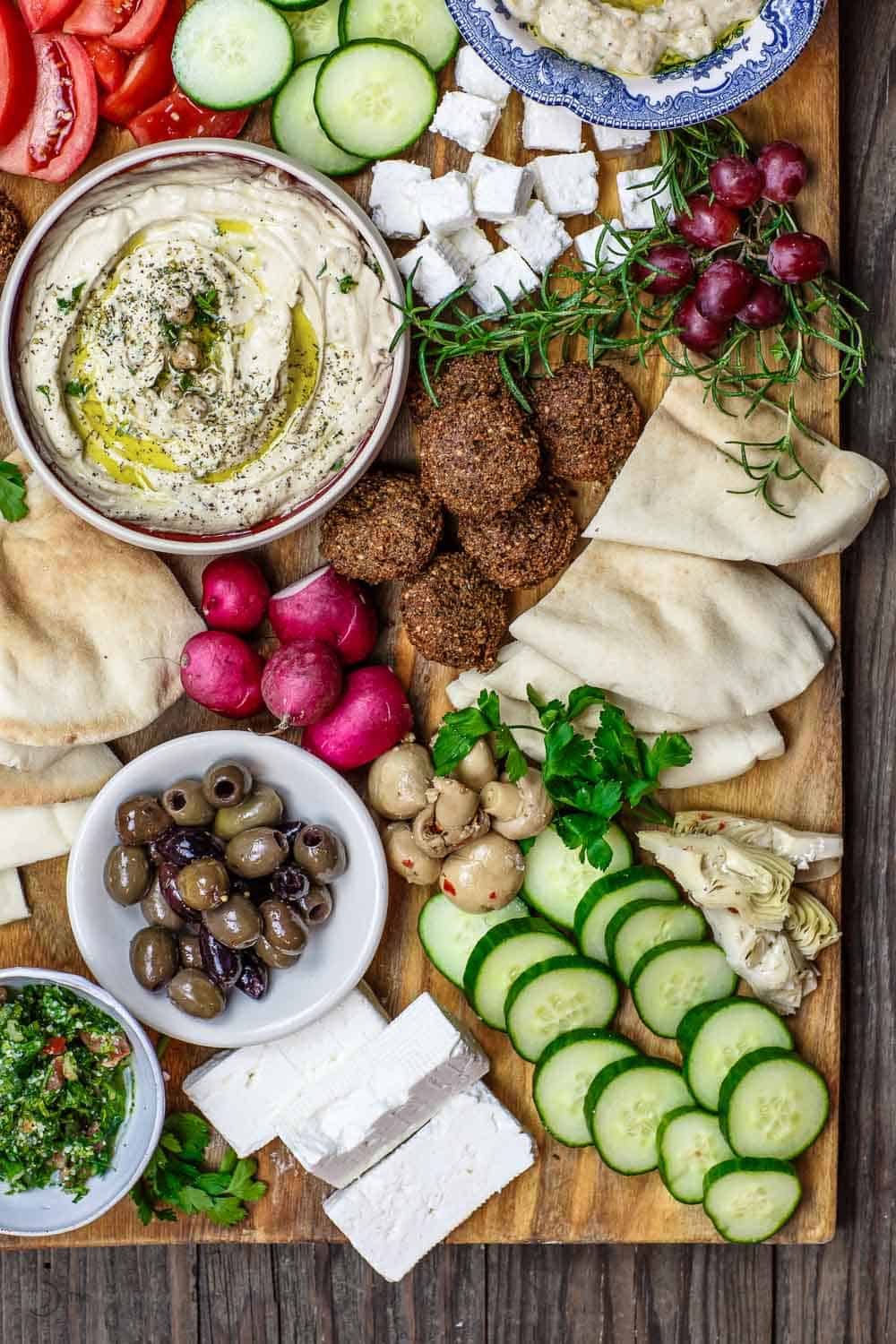 Here's the list of foods I use on my Mediterranean breakfast board:
1- The main item on this breakfast board is falafel (flavorful, protein-packed chickpea patties.) You can make the falafel patties in advance and simply freeze them until ready to fry (which is more traditional), bake, or crisp in your air fryer.
2- Dips. creamy hummus and baba ganoush (eggplant dip) are always winners. Both can be prepared the night before and stored in tight-lid glass containers in the fridge.
4- Cheese. Not a ton of cheese goes on the board, but just enough to add a little dairy element. I often use homemade labneh with a drizzle of olive oil on top, or, as you see on the board, a few slices of good feta cheese.
5- Fresh vegetables and marinated favorites. Here I used sliced tomatoes, cucumbers, and peppery radish. Because I had made tabouli the night before, I added what's left in a small bowl (tabouli is a great compliment to falafel.) Don't forget some marinated olives, artichokes, or mushrooms. A handful of grapes to be used as a pallet cleanser.
6- Add breads. Flatbread like pita are the perfect choice for this Mediterranean breakfast board. I like to slice the pita into quarters that easily fit on the board.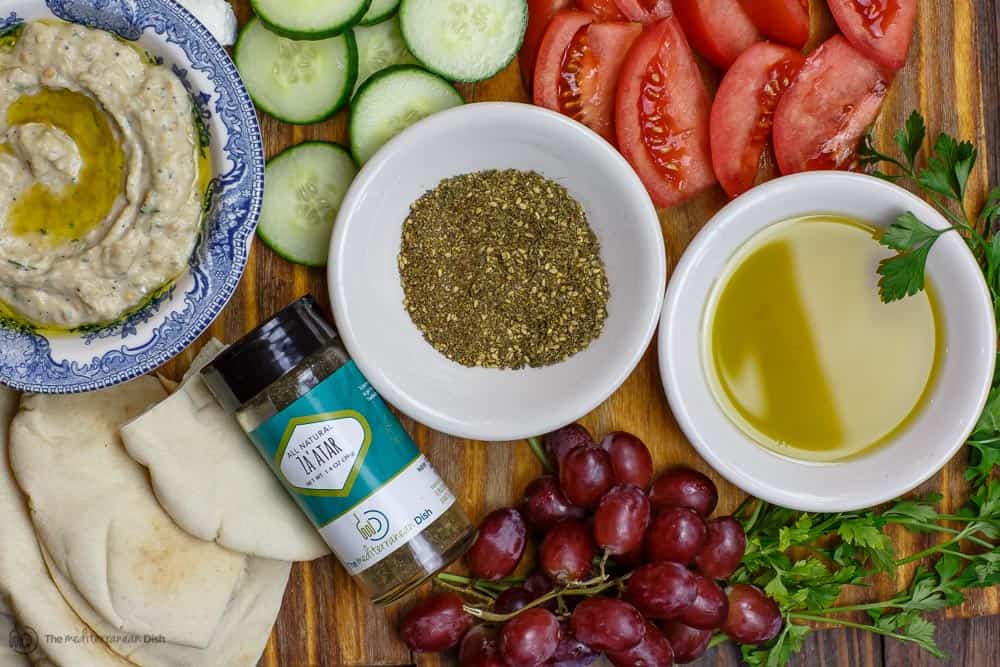 Prepare-ahead tips
You've already noticed that this breakfast board combines a few different Mediterranean recipes. They are all simple to prepare, but the biggest tip I can offer you is work ahead.
You can prepare the falafel patties days or even weeks in advance and freeze them, see the full falafel tutorial here. When you ready to make your breakfast board, simply fry or bake the falafel accoding to the recipe (you will not need to thaw the patties.)
Similarly, work ahead to make the hummus, baba ganoush, and tabouli. I would do this the evening before, but you can work two nights ahead if you need to.
And one last tip, visit your local grocery store's deli and check out what they have for assorted olives and artichokes etc. Many have amazing olive bars with lots of great items to add to this board!

Looking for more Mediterranean diet recipes?
Now that you have some ideas for Mediterranean diet breakfast, be sure to delve into our complete list of Mediterranean diet recipes here. You'll find hundreds of recipes for every day!
Hungry for More? Join my e-mail list HERE to receive new recipes and my weekly dinner plan!
VISIT OUR ONLINE SHOP FOR QUALITY OLIVE OILS, ALL-NATURAL SPICES AND MORE
Print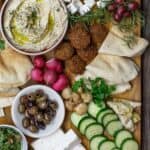 Mediterranean Breakfast Board
---
Description
A Mediterranean diet breakfast is every bit as wholsome and satisfying as it is delicious. My favorite way to serve a crowd is this Mediterranean brunch board showcasing savory, nutrition-packed favorites like falafel, hummus, baba ganoush and tabouli. Many of these items can be prepared ahead and easily assembled when you need them (see recipe notes.) Be sure to read the full post for more breakfast ideas!
---
1

Falafel Recipe

1

Classic Hummus Recipe (or roasted garlic hummus, roasted red pepper hummus)

1

Baba Ganoush Recipe
Feta cheese or 1 Labneh Recipe

1

to

2

tomatoes, sliced

1

English cucumber, sliced

6

to

7

Radish, halved or sliced
Assorted olives (I like a mix of green olives and kalamata olives)
Marinated artichokes or mushrooms
Early Harvest EVOO and Za'atar to dip
Pita Bread, sliced into quarters
Grapes (palette cleanser)
Fresh herbs for garnish
---
Instructions
Note: Plan to make most of these ahead of time for quick and easy assembly. See notes.
Notes
Pro tip: If you plan to make most of this from scratch begin a couple nights in advance. Falafel will take the most effort to prepare (unless you're buying ready-made falafel from a local Middle Eastern store.) But you can easily make the falafel patties and freeze them way in advance if you like, then proceed to fry or bake them (from frozen) before assembling the breakfast board. Review full falafel tutorial and recipe notes here.
Pro tip: hummus, baba gannoush, and tabouli can also be prepared a night or two in advance. Store in the fridge in tight-lid glass containers.
Pro tip: visit your local grocery store's deli section (many even have olive bars) to find assorted olives and marinated items. You can use marinated artichokes, mushrooms, roasted red peppers...etc.
Pro tip: If you want to add a large egg dish next to this board to complete your brunch party, consider shakshuka, spinach frittata, or this Mediterranean egg casserole.
Recommended for this recipe: Early Harvest extra virgin olive oil (from organically grown and processed Koroeniki olives) and all-natural za'atar for dipping.
Keywords: Mediterranean breakfast, Mediterranean diet breakfast, Mediterranean brunch