If you've not made classic Greek Spanakopita before, you're in for a treat! I am sharing a family-favorite; an easy spanakopita recipe. Crispy phyllo (fillo) pie filled with a soft spinach and feta mixture. Totally holiday-worthy! Tips, video, and step-by-step photos are included!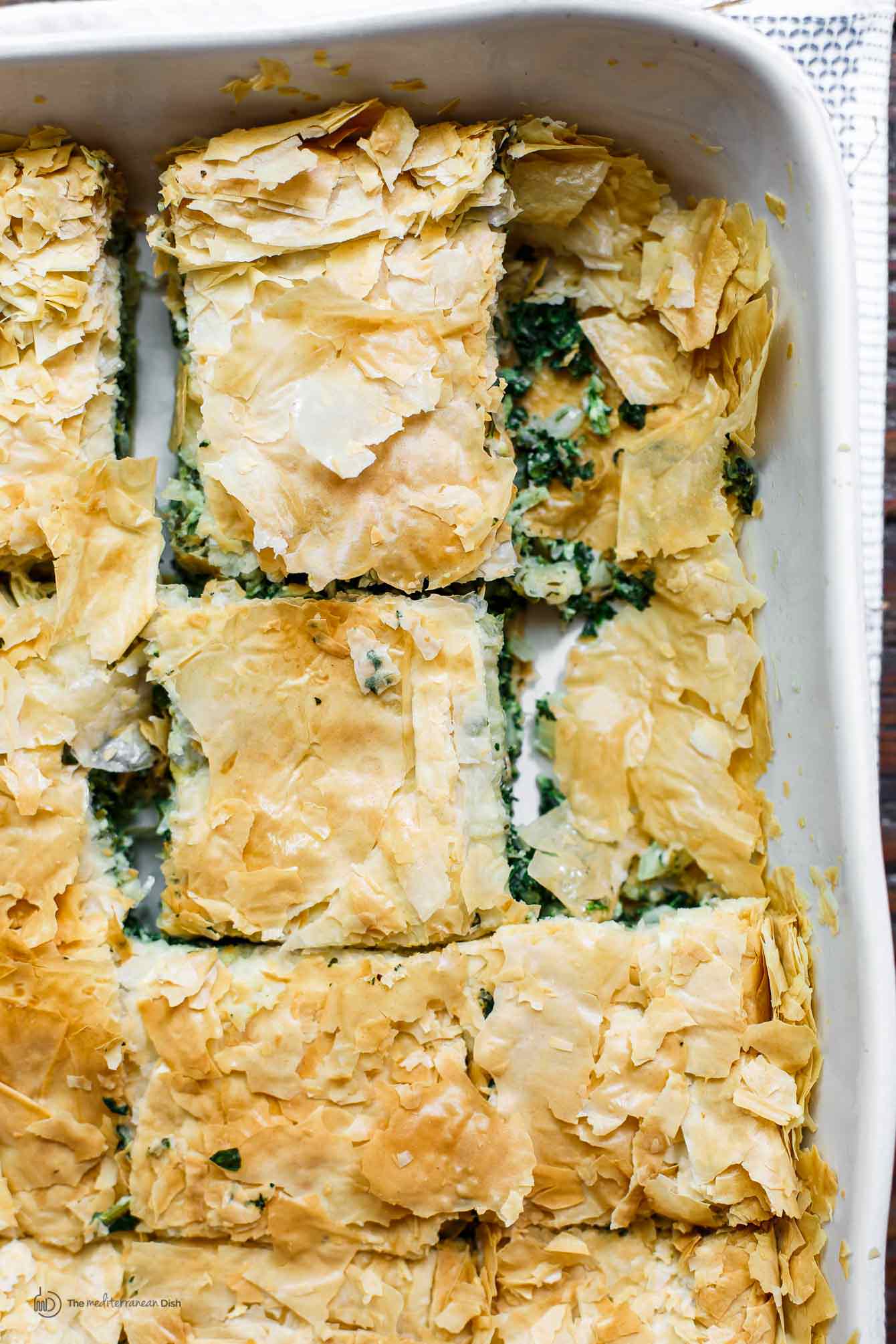 What is Spanakopita?
Spanakopita is one of my favorite Greek comfort foods, rivaled only by this moussaka casserole. In a perfect world–like during the holidays–both casseroles find a place at the table.
My six-year-old daughter describes spanakopita this way, "awesome crunchy pie with green stuff on the inside." And to a large degree, her description is accurate.
Spanakopita is a popular Greek pie made of golden, perfectly crisp, phyllo (or fillo) pastry dough with a comforting filling of spinach and feta. You can certainly make snack-sized spanakopita shaped into triangles or even rolls or cigars, but I tend to make the classic, simple casserole more often.
Spanakopita Lessons
When I was at an Atlanta-area Greek festival a few weeks ago, my daughter's lunch of choice was a piece of spanakopita and a side of Greek salad. Luckily, she allowed me a taste; it was heavenly! I ended up chatting with the woman behind the lavish lunch; her name was Yaya Helen. We discussed a classic Greek spanakopita recipe and shared some lessons and tips…
Classic spanakopita filling is simple
The key filling ingredients in a spanakopita recipe are spinach and feta, but equally important is adding plenty of fresh herbs! I used two whole bunches of parsley, and I kept some of the stems to chop along with the leaves (parsley stems pack a ton of flavor!) More flavor is added from the onions, garlic and a little dill weed. You can certainly use dried oregano or thyme, if you like. To bind everything together, I used four large eggs. Note: not every cheese works in spanakopita, it's best to stick to quality feta cheese.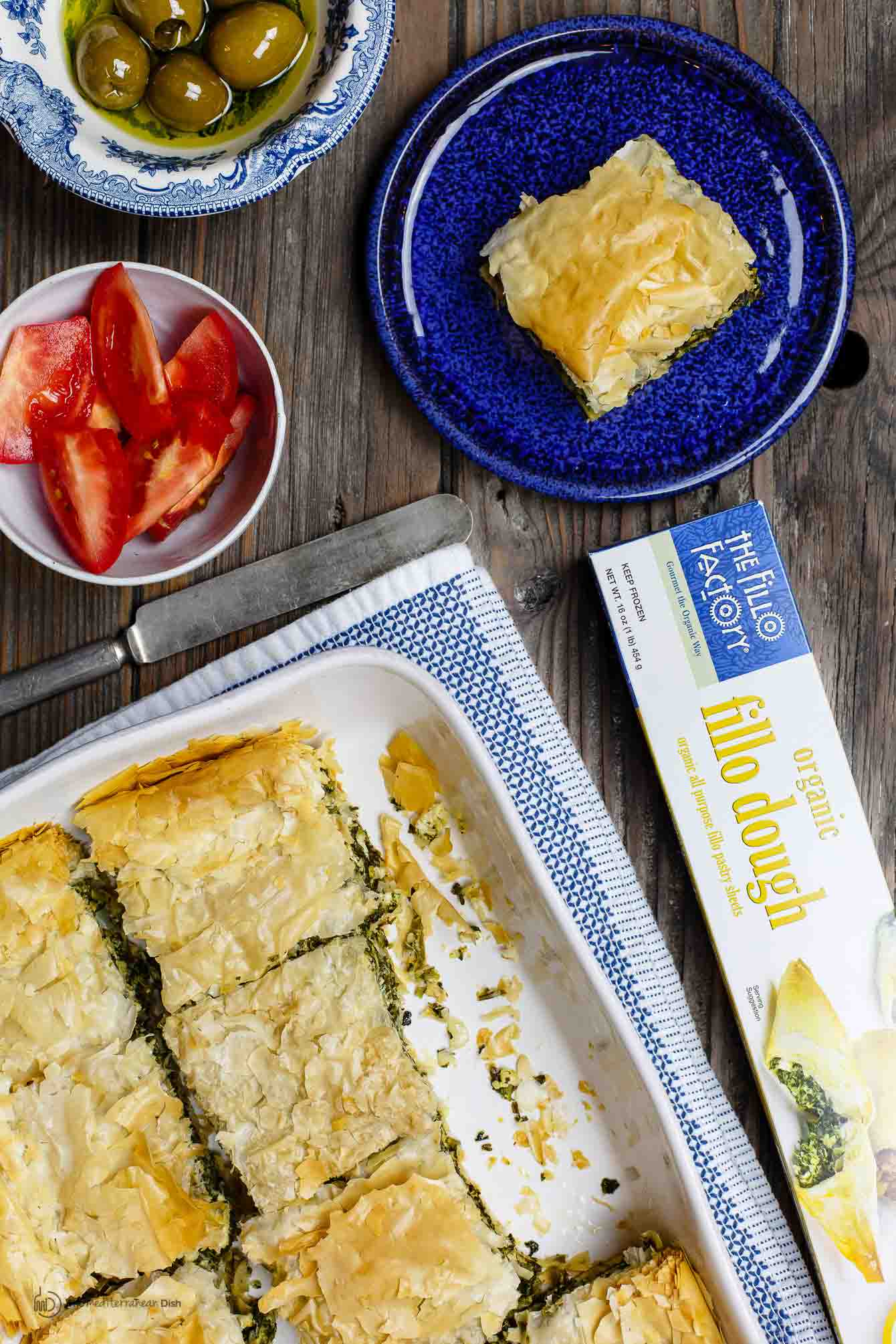 Do I need to cook the spinach in advance?
This is an easier spanakopita recipe; the quick-n-dirty version so to speak. I do not cook the spinach or any part of the filling in advance. Using chopped frozen spinach (thawed) allows me to simply mix it in with the remaining filling ingredients. But one thing you must do, be sure to drain all liquid from the thawed spinach. I ended up squeezing the spinach by hand a few times until it could no longer produce any liquid. If you do use fresh spinach, you will need to cook it with the onions and garlic, drain, and let cool completely before mixing the filling.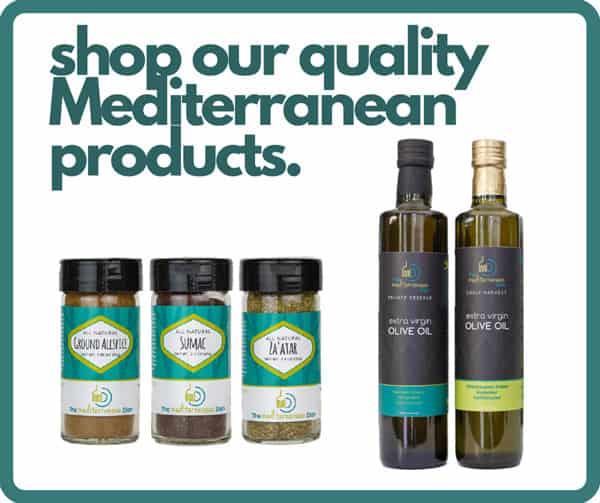 Tips for working with phyllo (fillo) 
Golden, crispy phyllo (fillo), encasing the soft spinach filling is really what spanakopita is all about! Quality of phyllo (fillo) dough can make or break the recipe. I am a big fan of organic dough from The Fillo Factory. It's vegan and contains no preservatives; no cholesterol; and no trans fat. And one big thing for me as a cook, The Fillo Factory dough always comes in good condition, which makes it easy to work with. I have often used it to make baklava, pies, and even pizza.
Once you've selected quality phyllo (fillo), follow these tips for best results:  
The dough must be thawed properly; too much moisture will make the dough or sheets sticky and hard to manage.  When thawing, do not remove the phyllo (fillo) from the package, place it in the fridge 12-14 hours before using.
Before you begin assembling the spanakopita casserole, unroll the thawed phyllo (fillo) sheets and place them carefully between two ever-so-slightly damp kitchen cloths. This helps the sheets remain lenient so they won't tear too much.
Phyllo (fillo) sheets will tear, and that's perfectly fine. Just make sure you save a couple good sheets for the top of the spanakopita casserole.
Do not skimp on the butter or oil (I use quality olive oil here instead to keep it light); but do not overdo it either. You need to brush each of the layers with a little olive oil (you can see this in the video above or the step-by-step tutorial below the recipe)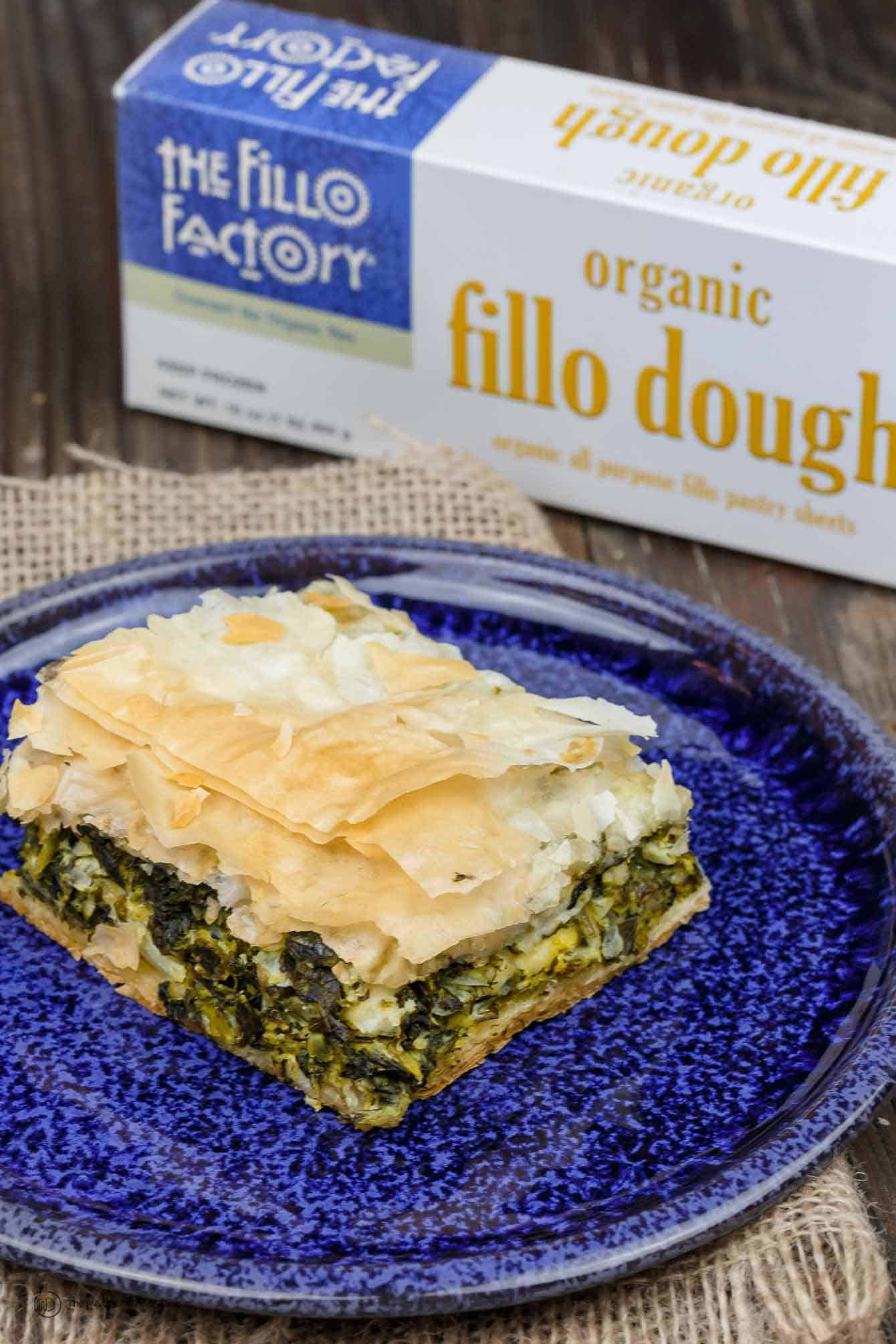 What to serve with this spanakopita recipe?
Spanakopita makes a great side dish for special gatherings and holiday dinners! But it's also hearty enough to serve as a vegetarian dinner with a side of Greek tzatziki and a simple salad like fattoush, Greek salad, or this Mediterranean chickpea salad. You can cut the spanakopita into small squares and serve it as mezze or starter next to other Mediterranean dips and appetizers like:  Roasted red pepper hummus, whipped feta dip, antipasto skeweres, Israeli Couscous, or even this pretty panzanella board.
Watch the video for How to Make Spanakopita:
Print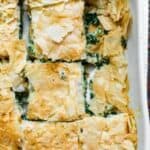 Spanakopita Recipe (Greek Spinach Pie)
---
Author:

Prep Time:

20 mins

Cook Time:

1 hour

Total Time:

1 hour 20 minutes

Yield:

12

1

x
Description
Easy Greek spanakopita recipe. A savory pie of phyllo crust filled with a soft spinach and feta mixture.
---
Scale
Ingredients
For the Spinach and Feta Filling
16 oz

frozen chopped spinach, thawed and well-drained

2

bunches flat-leaf parsley, stems trimmed, finely chopped

1

large yellow onion, finely chopped

2

garlic cloves, minced

2 tbsp

Private Reserve extra virgin olive oil

4

eggs

10.5 oz

quality feta cheese, crumbled

2 tsp

dried dill weed
Freshly-ground black pepper
For the Crust
---
Instructions
Preheat the oven to 325 degrees F.
Before you begin mixing the filling, be sure the spinach is very well drained, and squeeze out any excess liquid by hand.
To make the filling: In a mixing bowl, add the spinach and the remaining filling ingredients. Stir until all is well-combined.
Unroll the phyllo (fillo) sheets and place them between two very lightly damp kitchen cloths.
Prepare a 9 1/2″ X 13″ baking dish like this one. Brush the bottom and sides of the dish with olive oil.
To assemble the spanakopita: Line the baking dish with two sheets of phyllo (fillo) letting them cover the sides of the dish. Brush with olive oil. Add two more sheets in the same manner, and brush them with olive oil. Repeat until two-thirds of the phyllo (fillo) is used up.
Now, evenly spread the spinach and feta filling over the phyllo (fillo) crust. Top with two more sheets, and brush with olive oil.
Continue to layer the phyllo (fillo) sheets, two-at-a-time, brushing with olive oil, until you have used up all the sheets. Brush the very top layer with olive oil, and sprinkle with just a few drops of water.
Fold the flaps or excess from the sides, you can crumble them a little. Brush the folded sides well with olive oil. Cut Spanakopita ONLY PART-WAY through into squares, or leave the cutting to later.
Bake in the 325 degrees F heated-oven for 1 hour, or until the phyllo (fillo) crust is crisp and golden brown. Remove from the oven. Finish cutting into squares and serve. Enjoy!
Notes
Make Ahead Notes: You can make spanakopita the evening before. Follow up to step #9, cover and refrigerate. When you are ready, go ahead and bake according to step #10.
Freezing Instructions: Already cooked spanakopita will freeze well. Be sure to have it well covered to avoid freezer burn. No need to thaw before baking.
Recommended for this Recipe: Private Reserve Greek extra virgin olive oil (from organically grown and processed Koroneiki olives).
SAVE try our Greek olive oil bundle and our popular Ultimate Mediterranean Spice Bundle 
Category:

Entree or Side Dish

Method:

Baked

Cuisine:

Greek
Keywords: Spanakopita, Greek Spanakoptia, Spanakopita Recipe, How to Make Spanakopita, Feta and Spinach Pie, Greek Spinach Pie

Step-by-step photos for this spanakopita recipe:
Squeeze all the liquid out of the thawed spinach (IMPORTANT)! To make the filling: in a mixing bowl add the spinach, parsley, onions, garlic, olive oil, feta, eggs, dill weed, and black pepper! Mix well with a wooden spoon.
Unroll the phyllo (fillo) and place between two lightly damp cloths (see the tips above).
Oil the baking dish. Layer the phyllo (fillo), 2 sheets at a time, brush each layer with olive oil. Do this until you have used up two-thirds of the package.
Once you  have placed two-thirds of the phyllo (fillo) down, spread the spinach and feta mixture and smooth out with a wooden spoon so it's spread evenly.
Continue layering the phyllo (fillo) sheets as you did before, and brush each layer with the olive oil, until you have finished the package. Roll or fold down the excess phyllo (fillo) from the sides. Brush the top layer with olive oil and sprinkle just a tiny bit of water on top.
Bake in 325 degrees F for 1 hour or until the phyllo (fillo) crust is golden brown. Remove from the oven and cut into squares. Enjoy warm!
*This post is sponsored by The Fillo Factory, makers of quality, gourmet fillo dough. The Fillo Factory dough can be found in different sizes and in Organic White Wheat; Organic Spelt; and Organic Wheat. Vegan; no preservatives; no cholestrol; no trans fat. Available at grocery stores nationwide; click here to find a retailer near you. All opinions are my own. Thank you for supporting brands that make this site possible.
MORE RECIPES TO TRY
Feta and Strawberry Tart with Fillo Crust
Moussaka: Greek Eggplant Casserole