This lemon chicken recipe is your ticket to a quick and healthy dinner that delivers on flavor! You can make it in just over 20 minutes. And if you don't feel like firing up the grill, use a a griddle or skillet!
I love to serve with Toum Garlic Sauce and Grilled Vegetables or Greek salad. You'll find many more ideas in the post below. Video and step-by-step tutorial included!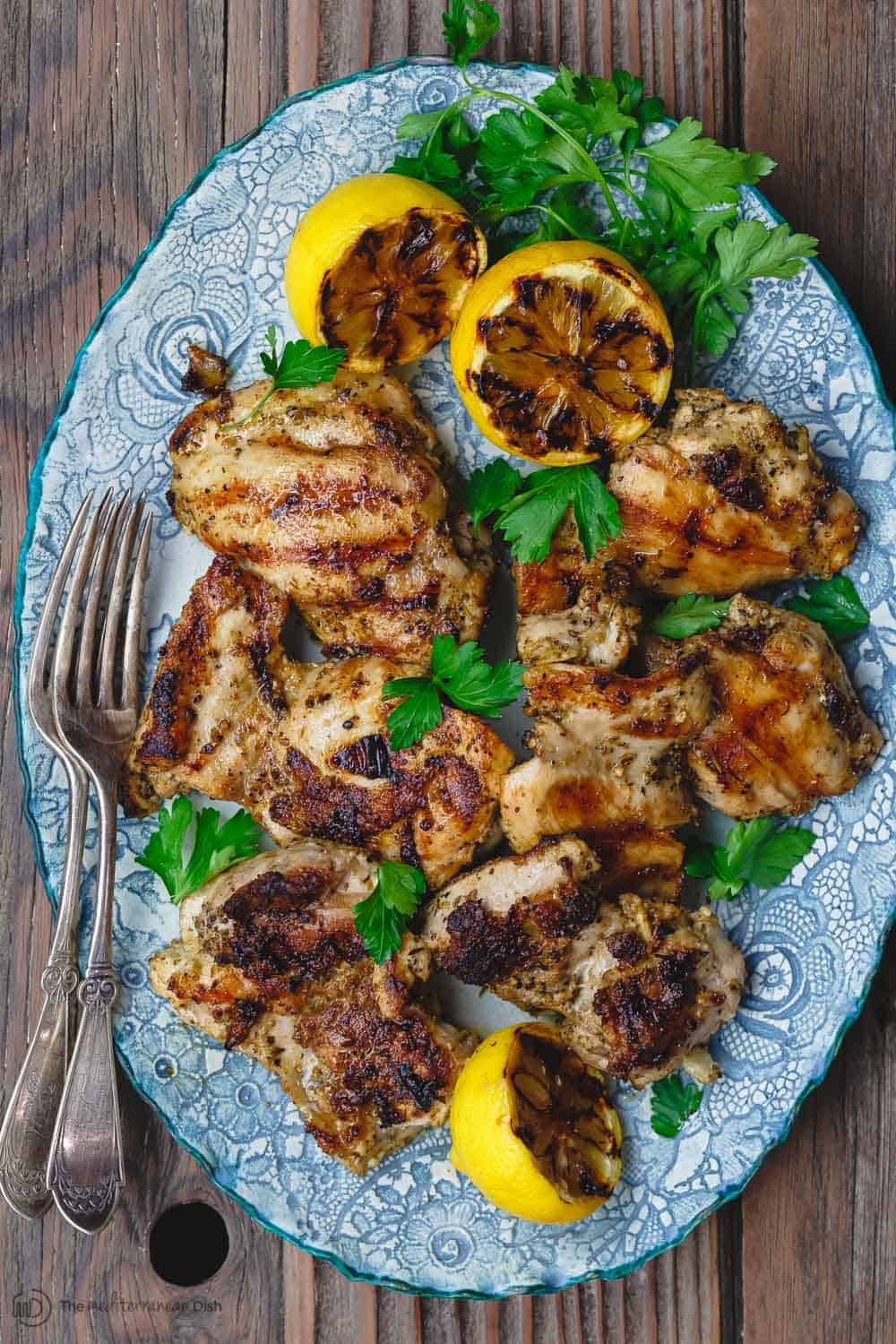 There are some recipes that are so darn easy, I can't help but serve them on repeat. Case in point: lemon chicken!
Don't let the grill marks fool you, I did not even consider firing up the grill this time. (Watch the video toward the bottom of this post, an amusing grilling argument takes place between me and a friend Adam who's a grill master!)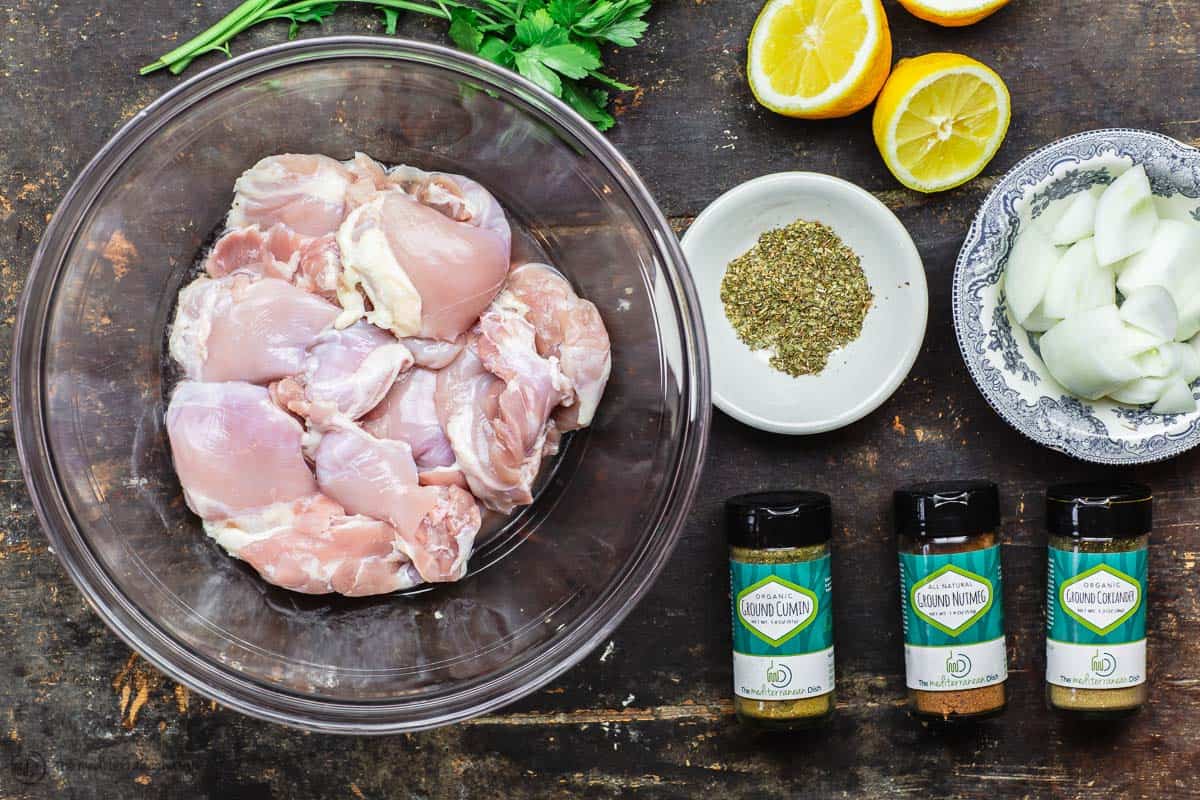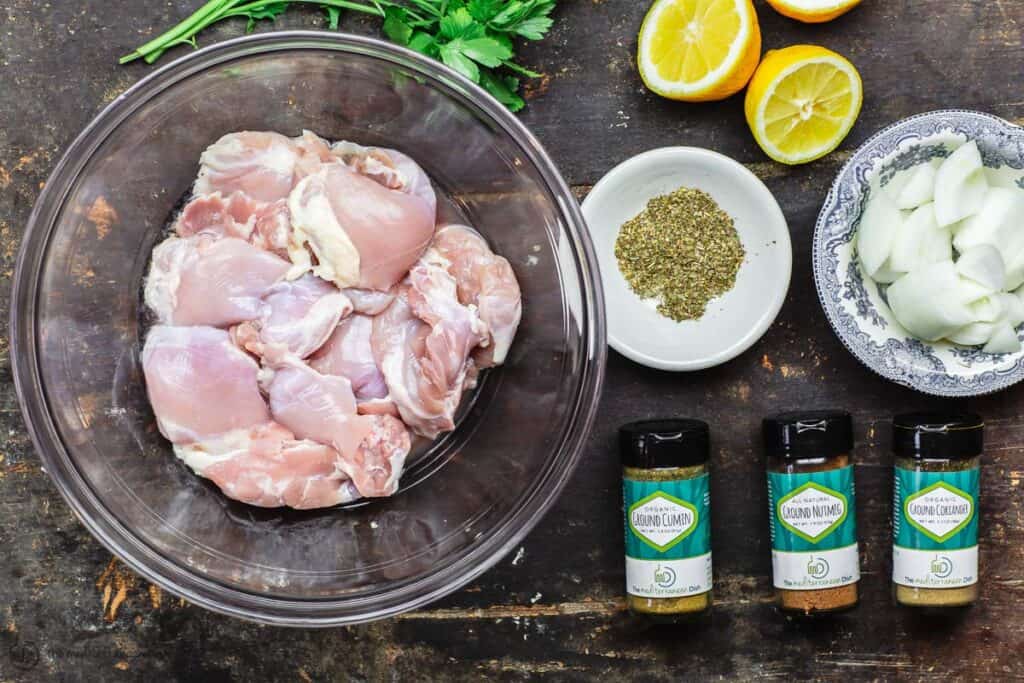 Why this recipe works?
This lemon chicken recipe hits all the notes for a busy home cook. It's ready in just over 20 minutes; healthy (if you need something with a little butter, try chicken piccata); and packed with flavor!
The star flavor maker is obviously lemon juice, but before the citrus even hits the chicken, we coat the chicken with a mixture of Mediterranean spices--dried oregano, coriander, cumin, and a little nutmeg. Then we combine lemon juice, extra virgin olive oil, and lots of fresh garlic and onions and pour that all over the chicken!
Big tip! Even if you only leave the chicken in the marinade for just a few minutes, it will be enough for all the flavors to marry! And if you have the time, by all means, cover and refrigerate the chicken for a couple of hours.
When you're ready, this chicken will take about 12 minutes in total to cook either on an outdoor grill or an indoor griddle like this one. I love using chicken thighs here, you simply can't mess them up if you let them cook a couple extra minutes while you make a big salad or a quick side.
How to make lemon chicken (Step-by-step):
Definitely check out the video in the recipe box below also, but here's how it goes...
Season and marinate the chicken briefly. Give the chicken a sprinkle of kosher salt and black pepper, followed by a spice mixture of oregano, cumin, coriander, and a pinch of nutmeg. Place the chicken with some onions in a bowl or dish, add in the marinade, which is basically extra virgin olive oil, lots of lemon juice and garlic. Leave it be fore 20 minutes or cover and refrigerate for a couple of hours if you have time.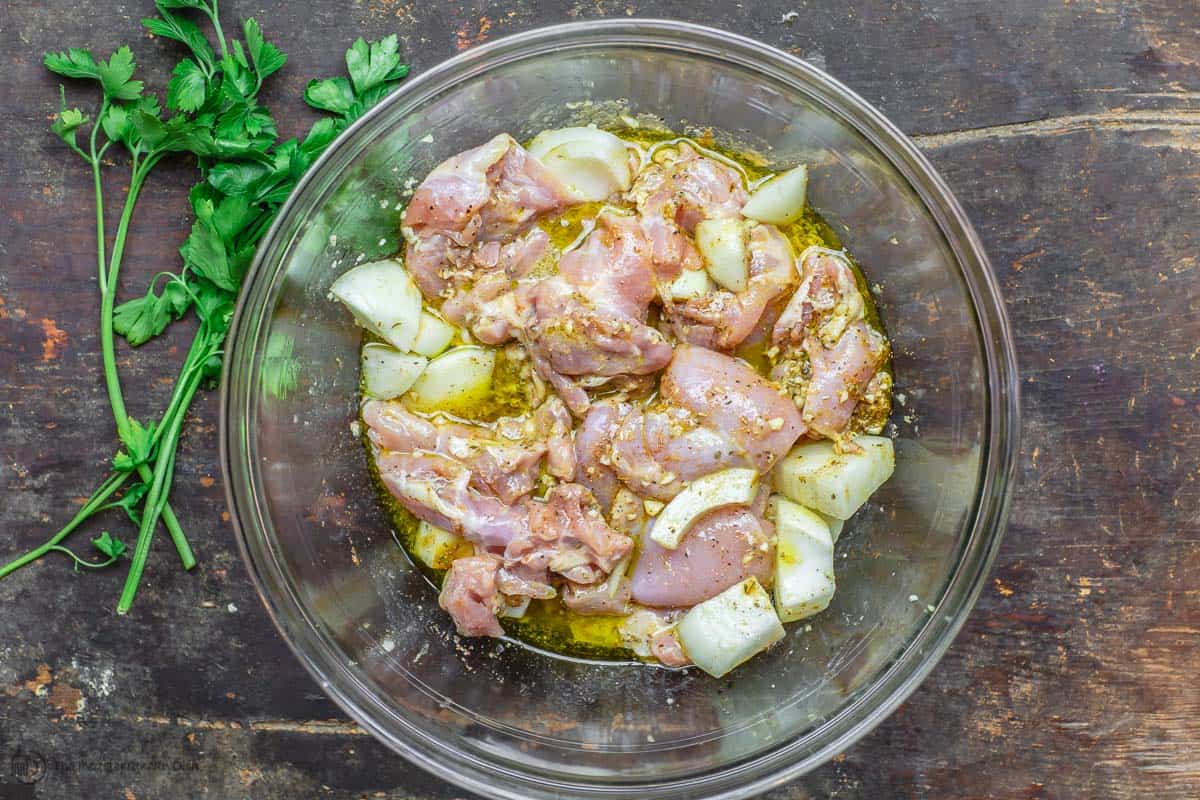 Grill! Heat an indoor griddle or a gas grill over medium-high. Before adding the chicken, grill some lemon halves (flesh side down), these are great to serve along. Lightly oil the griddle or gas grill and cook the chicken for about 6 minutes or so on each side (or until its internal temperature reaches 165 degrees F).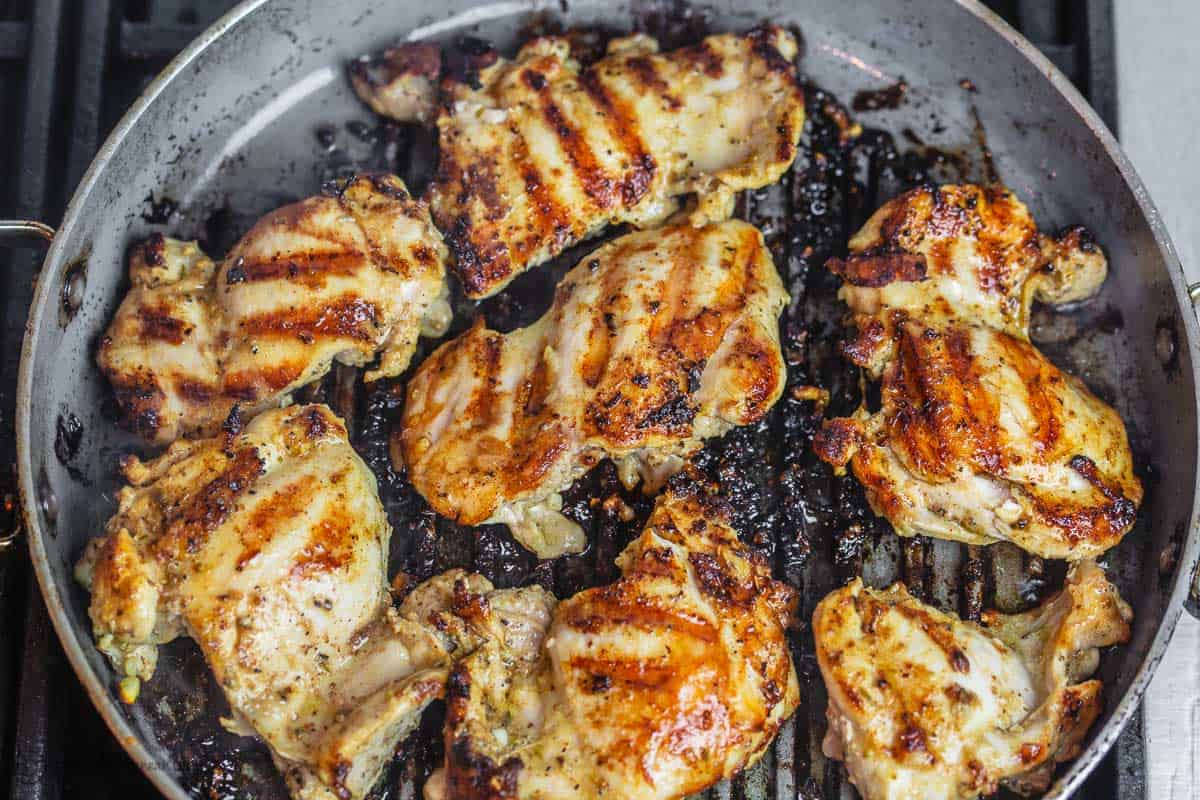 What to serve with lemon chicken thighs?
This chicken makes a great addition to my simple Pasta Primavera. Or try serving it with one of these awesome Mediterranean sides: Greek green beans, roasted Greek potatoes, or Lebanese rice. I mentioned Greek salad earlier, but this loaded Balela Salad is a great option as well. And I always add a little Toum (garlic sauce) for dipping.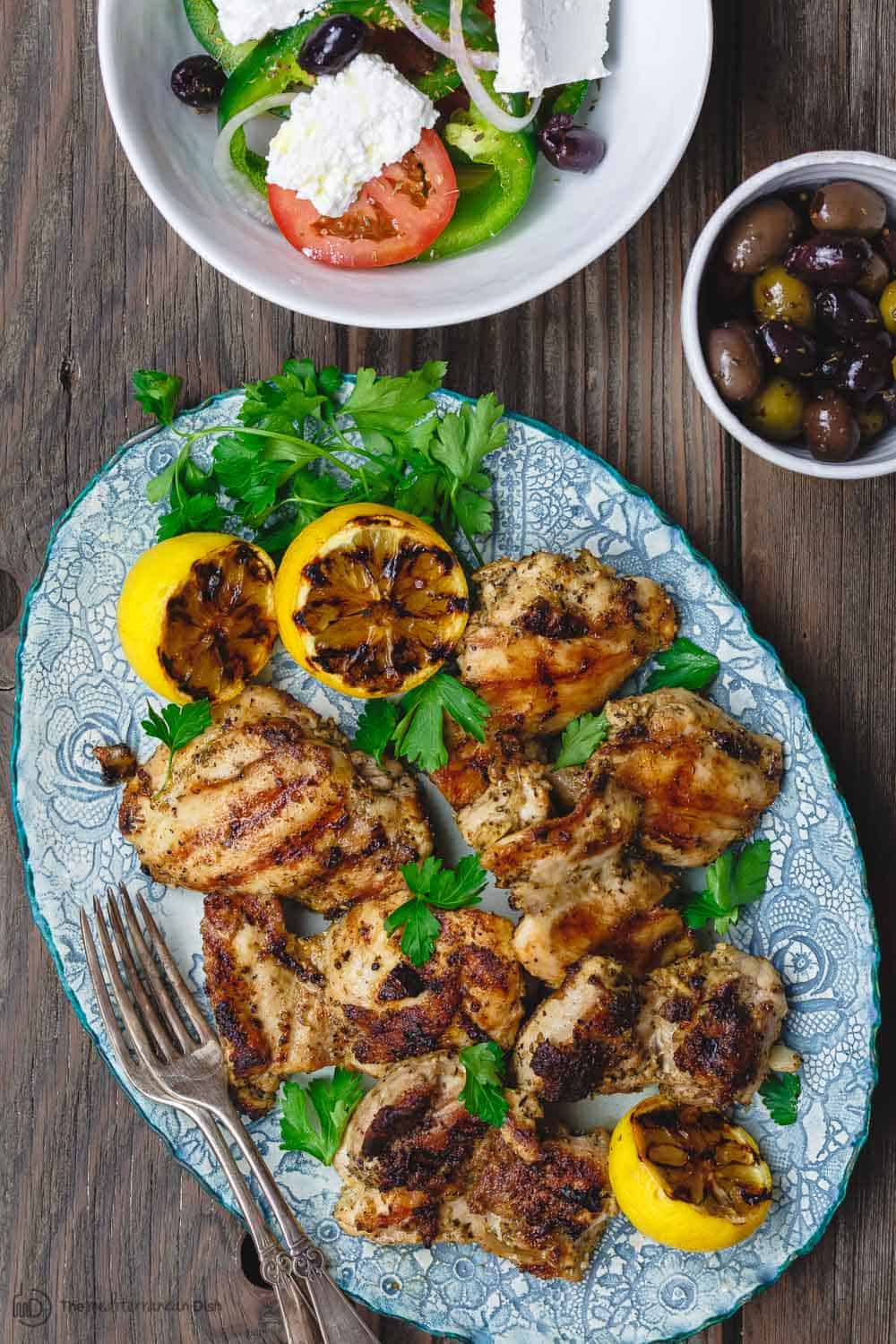 Can I use Chicken Breast Instead?
Yes, if you prefer to use chicken breast in this recipe, you will need about 3 large chicken breast halves (boneless, skinless). Be sure to cut the chicken breast pieces horizontally through the middle to create thinner cutlets (ending with 6 cutlets here.) I also like to use a kitchen mallet to help tenderize the chicken breasts (this is a trick I use often to tenderize chicken breasts and prepare them for even and quick cooking. You can see how I do it in this Italian Baked Chicken Recipe.)
More chicken recipes we love: Grilled Chicken Wings, Chicken Schnitzel, Pesto Chicken, Spanish Chicken and Rice
Recent recipes you may like: Homemade pita chips, Shrimp Kabobs, pesto pasta, steamed clams
You may also enjoy 50+ Top Mediterranean diet recipes. For all recipes, visit us here. JOIN MY FREE E-MAIL LIST HERE.
Easy Mediterranean Lemon Chicken Recipe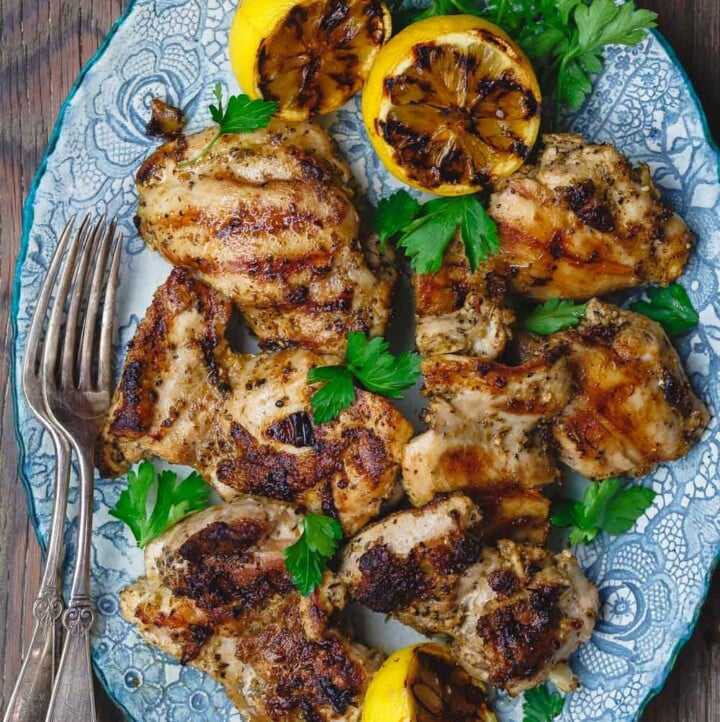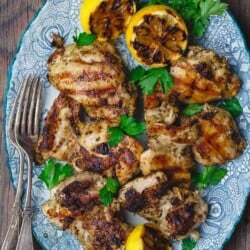 This lemon chicken recipe is an easy weeknight dinner that will not disappoint. If you have the time, let the chicken marinate in the fridge for a few hours. But if not, letting it marinate at room temperature for just a few minutes will still impart flavor. See suggestions in notes for what to serve along!
Ingredients
For Marinade
⅓

cup

lemon juice

¼

cup

extra virgin olive oil, I used Private Reserve Greek EVOO

2 to 3

teaspoon

minced garlic
Instructions
In a small bowl, add the spices and mix to make the spice mixture.

In another bowl or large measuring cup, combine the lemon juice, olive oil and garlic to make the marinade.

Pat the chicken dry and season with kosher salt and pepper and sprinkle the spice mixture on both sides.

Place the chicken in a bowl and add the onions. Pour in the marinade and work the chicken a bit to make sure all the pieces are well covered with the marinade.

Leave the chicken to marinate at room temperature while you heat up the grill or griddle. OR, if you have the time, cover and refrigerate for 2 to 4 hours (or up to 8 hours).

When ready, heat a grill pan over medium-high heat (or an outdoor grill over medium-high heat). Do not add oil yet to the pan. Add the lemon halves, flesh side down, and grill briefly. Remove the grilled lemons and set aside for now.

Now, brush the pan with a little extra virgin olive oil. Using a pair of tongs, add the chicken pieces in one layer (discard any remaining marinade). Cook for 6 minutes or so on each side or until chicken is well cooked through (you can adjust heat to medium, if needed. If using an outdoor grill, carefully oil the grates and cook the chicken over medium-high heat for the same amount of time. (Chicken's internal temperature should register 165 degrees F).

Transfer the grilled lemon chicken to a serving platter. Add the grilled lemons (which you can squeeze for a little more juice), and garnish with parsley. See notes for serving ideas.
Notes
To use chicken breast instead: You'll need up to 3 boneless and skinless chicken breast halves. Be sure to cut them horizontally through the middle to create thinner cutlets. I also like to use a kitchen mallet to help tenderize the chicken breasts.
What to Serve Along? This lemon chicken is great with Greek Green Beans, Greek potatoes, or Lebanese rice and a large Greek salad or Balela Salad. A little roasted garlic hummus or tzatziki sauce are the perfect addition.
Leftovers? Leftover lemon chicken can be refrigerated in a tight-lid container for 3 to 4 days.
Visit Our Shop to browse quality Mediterranean ingredients including extra virgin olive oil and spices used in this recipe.
Nutrition
Calories:
239.4
kcal
Carbohydrates:
5.1
g
Protein:
22.5
g
Saturated Fat:
2.6
g
Cholesterol:
107.7
mg
Sodium:
103.1
mg
Potassium:
350.4
mg
Fiber:
1.4
g
Vitamin A:
27.2
IU
Vitamin C:
24.3
mg
Calcium:
32.7
mg
Iron:
1.7
mg
*This post has been recently updated with new media and information for readers' benefit.