Hands down the BEST grilled chicken wings recipe you'll try! The secret Mediterranean-style marinade + grilling tips guarantee maximum flavor in each bite! Serve them with cool tzatziki sauce or your favorite dip (lots of ideas below)!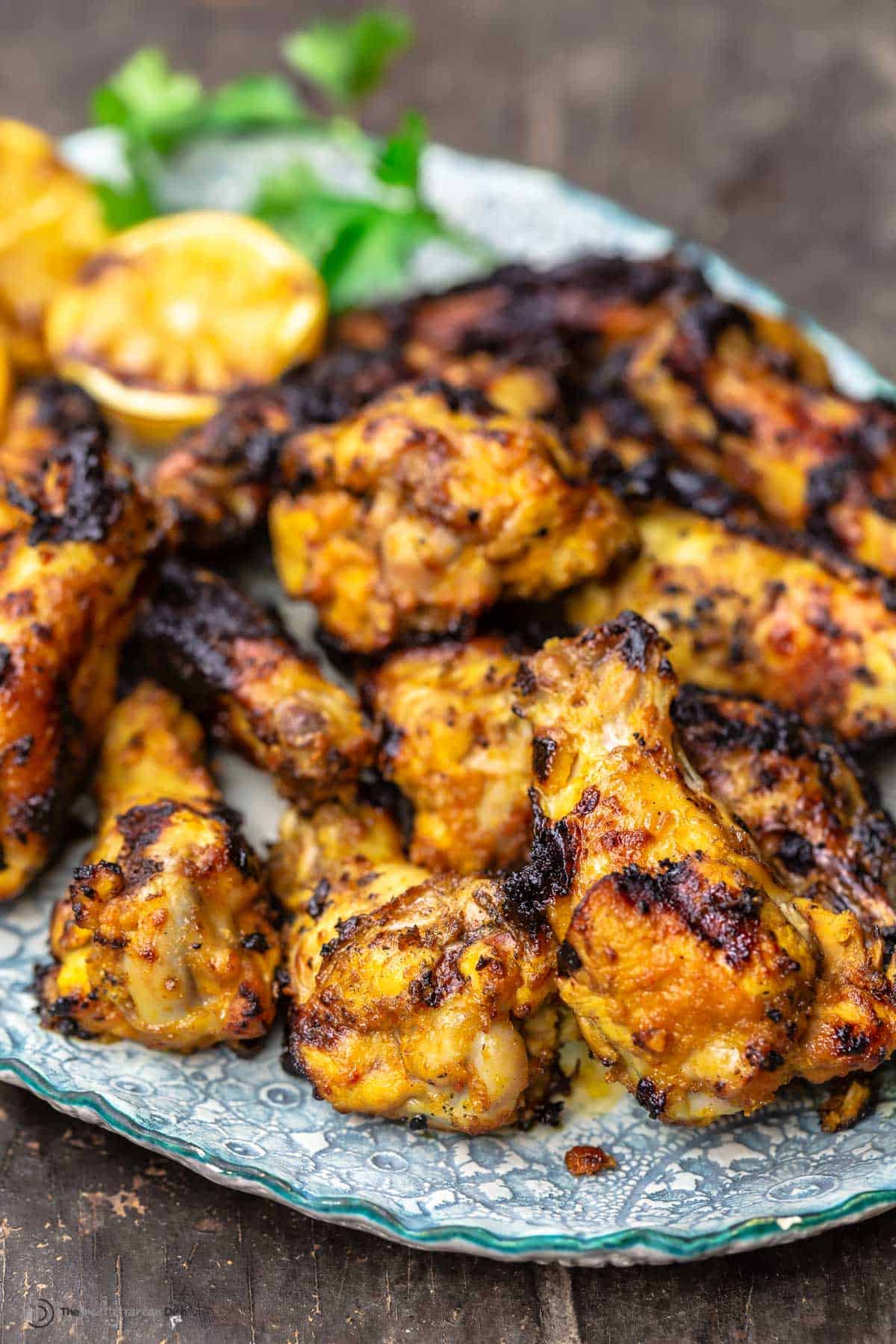 I relish grilling time during the warm summer months. We've been throwing everything on the grill from vegetable kabobs, to kofta skewers, fish, marinated chicken kabobs, and of course, wings!
Good BBQ wings are not only tender with perfectly charred skin, but every bite should be infused with big flavor! That's what you can expect from today's recipe.
The inspiration for this grilled chicken wings recipe comes from a Persian restaurant here in the Atlanta area called Rumi's Kitchen. These golden-hewed wings are smoky, flavorful, and perfectly tender, all thanks to the bold marinade with onions, garlic, olive oil and a winning combo of warm and earthy spices. To finish, squeeze the juice of 1 or 2 grilled lemons all over the wings. Like I say in the video below, if you haven't squeezed lemon juice over your grilled wings, you just have to try it!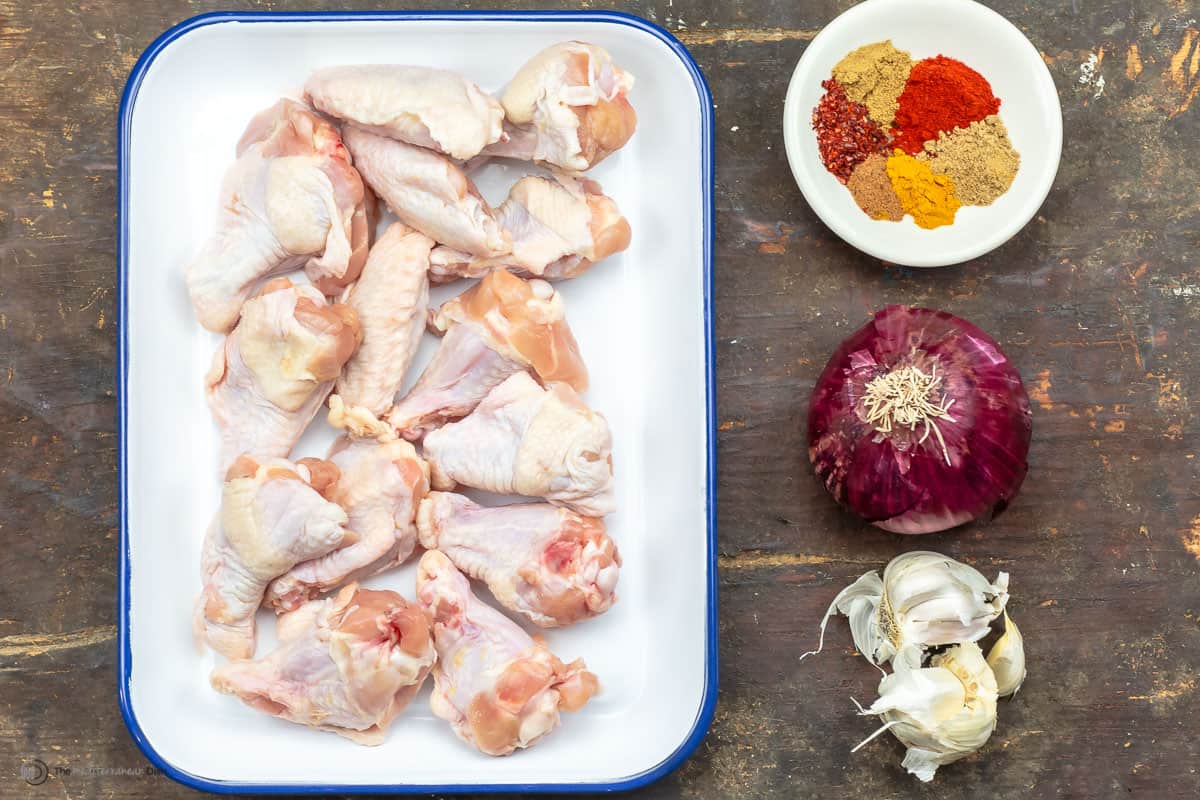 The marinade
The chicken wings marinade is onion-based with garlic, bold Middle Eastern spices like Aleppo pepper, and a little citrus. This marinade is easy to make by simply blitzing one large onion and the rest of the ingredients in a food processor until everything is well-blended. And because onions contain proteolytic enzymes, they are ideal to help tenderize meats for grilling. Here are the marinade ingredients you need:
Onion - One large red onion for a slightly sweeter taste (but you can use yellow or white onions).
Garlic cloves - Fresh garlic is a key ingredient to these grilled chicken wings.
Extra virgin olive oil - You can see my favorite olive oils for cooking here. Olive oil is a great carrier of flavor and it will also help the wings gain that beautiful char all over.
Lemon juice - Freshly squeezed lemon juice from 2 lemons.
Spices - A combination of sweet paprika, coriander, cumin, Aleppo pepper (or red pepper flakes), nutmeg, and ground turmeric, which is responsible for the beautiful golden tinge.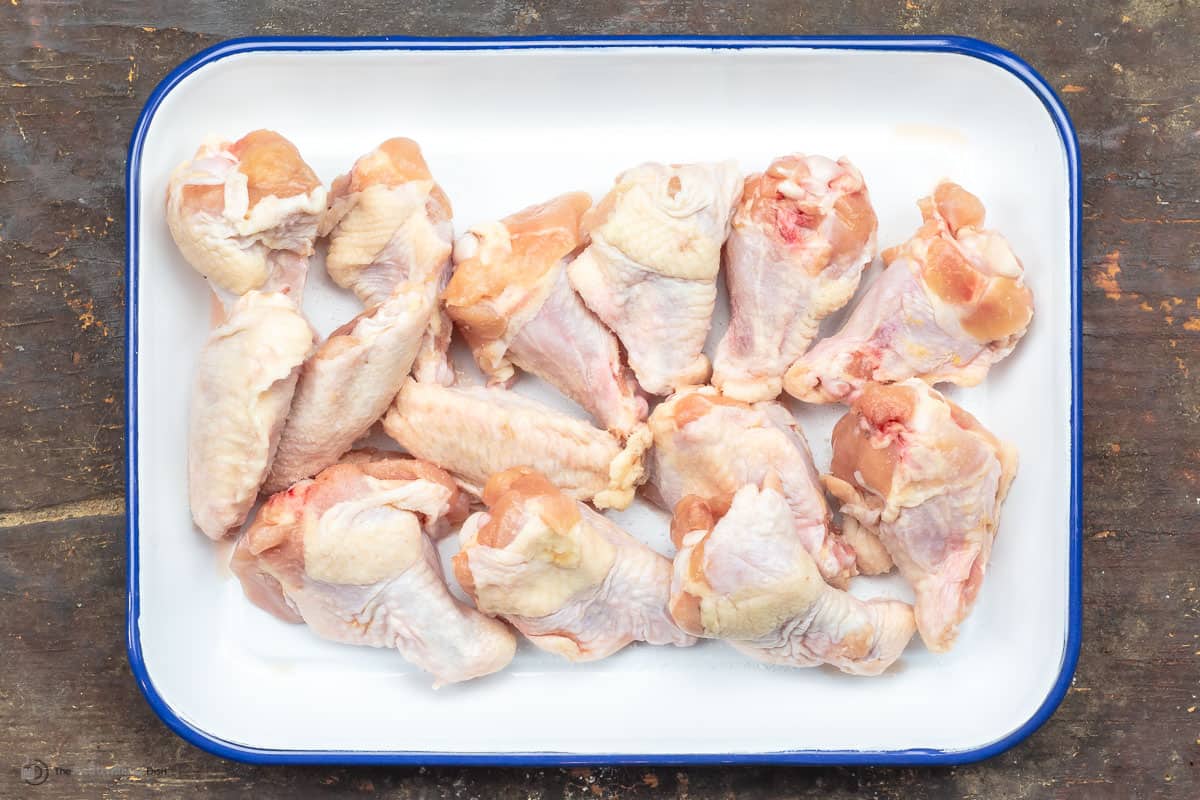 How long to marinate chicken wings?
If you're after the best flavor, allow the wings a good couple hours (and up to 8 hours) to marinate in the fridge. Put the chicken wings in a large zip-top bag and pour the marinade all over, then zip the bag shut and massage the chicken to make sure it is well-coated with the marinade. Lay the bag of marinated wings flat on a tray and refrigerate for a couple of hours or until ready to grill.
How to grill chicken wings
Making juicy, flavorful chicken wings has never been so easy. Not including the time needed to marinate, these chicken wings are ready in just 30 minutes.
Prepare the marinade. Pulse all marinade ingredients in a large food processor until well combined into a thick marinade.



Marinate the wings. Season the wings with Kosher salt then place in a ziploc bag. Add the marinade to the bag, seal it, and massage the bag to distribute the marinade. Lay the wings flat on a plate and refrigerate 2 to 4 hours (and up to 8 hours). Flip the bag over halfway through, this will ensure balanced flavor.


Grill the wings. Heat a gas grill to 425 degrees F and oil the grates. Arrange the wings over direct heat, cover, and cook for 15 to 20 minutes, flipping them every 5 minutes. Grill the lemons flesh side down.

Serve. Serve the wings immediately and squeeze some of the grilled lemon on top!
How long do you grill chicken wings?
In general, it takes about 20 minutes to grill wings over direct medium-high heat (or 425 degrees F) of a covered gas grill. It is important to properly heat your grill. The amount of time it takes to properly cook chicken wings on the grill will vary according to the size of the wings and also the kind of grill used. Look for crisped skin with some good char. And before you remove the wings from the grill, check the temperature with a meat thermometer. Chicken is done when it reaches an internal temp of 165F.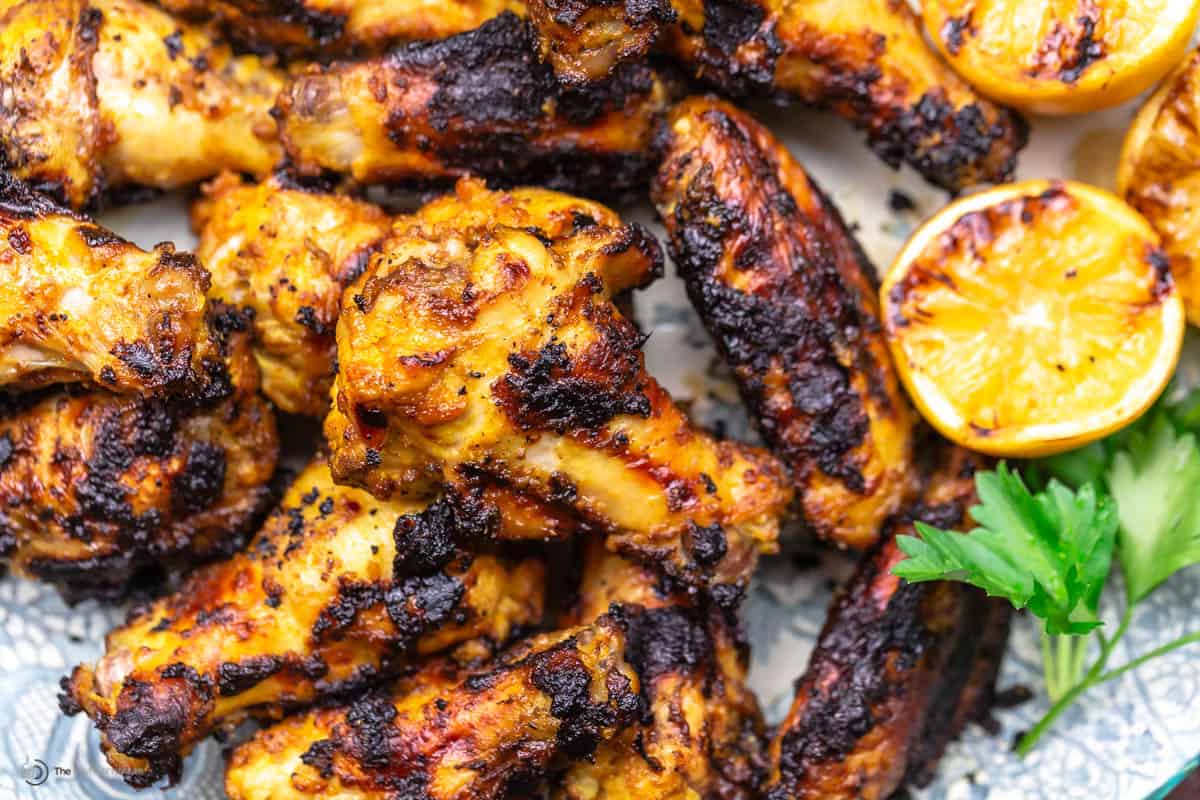 Grilling tips for success
For juicy, tender wings that are perfectly charred, keep these tips in mind:
Allow the grill to heat properly. The grates on the grill should already be hot before you add the chicken to the grill.
Shake off excess marinade before grilling. As you pull the wings out, using a pair of tongs, give them a shake to get rid of excess wet marinade. This will help the meat develop a good sear as the wings cook.
Keep the grill covered, but be sure to rotate and flip the wings every 3 to 5 minutes for even charring and to prevent burning.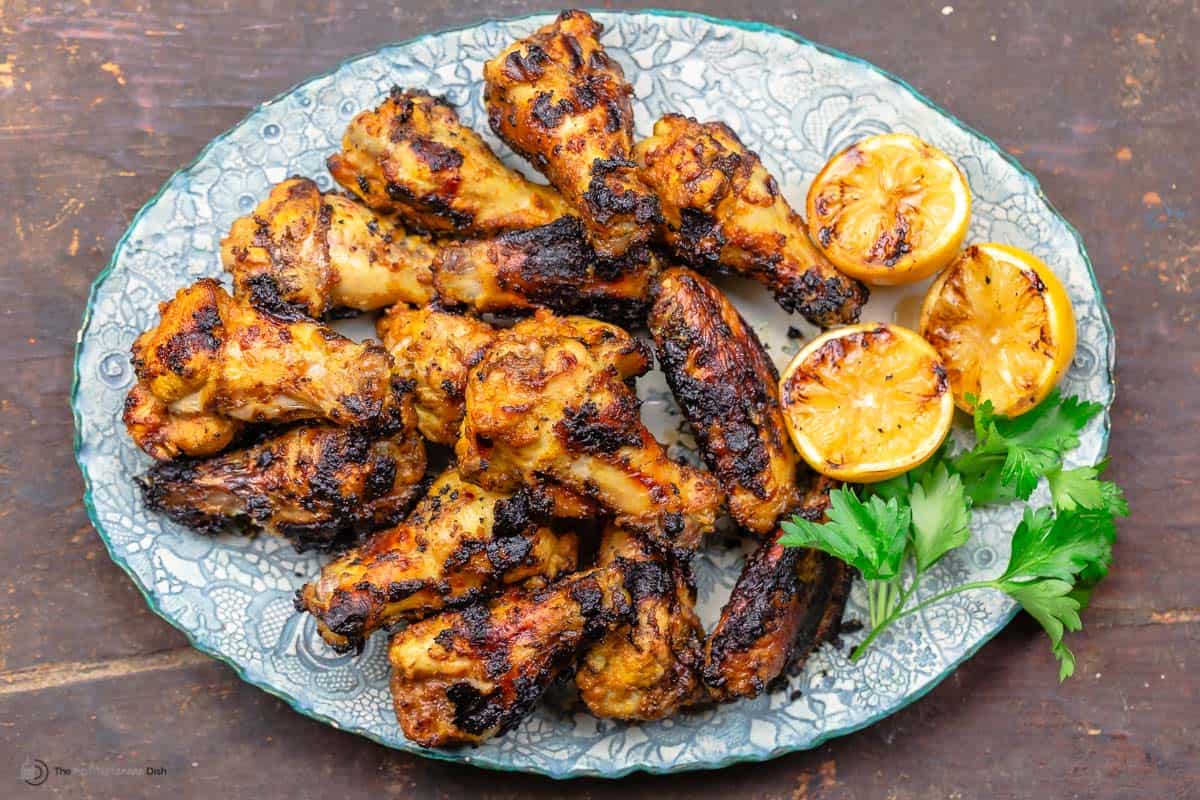 Serve them with
I know you're thinking you gotta have sauce for grilled wings! And while there is nothing wrong with serving these with your favorite BBQ sauce, they go so well with Tzatziki, the cool Greek yogurt and cucumber sauce.
You can complete the BBQ party by adding a couple of summer salads like watermelon and feta salad, grilled lettuce salad, black bean and corn salad, potato salad or Greek salad.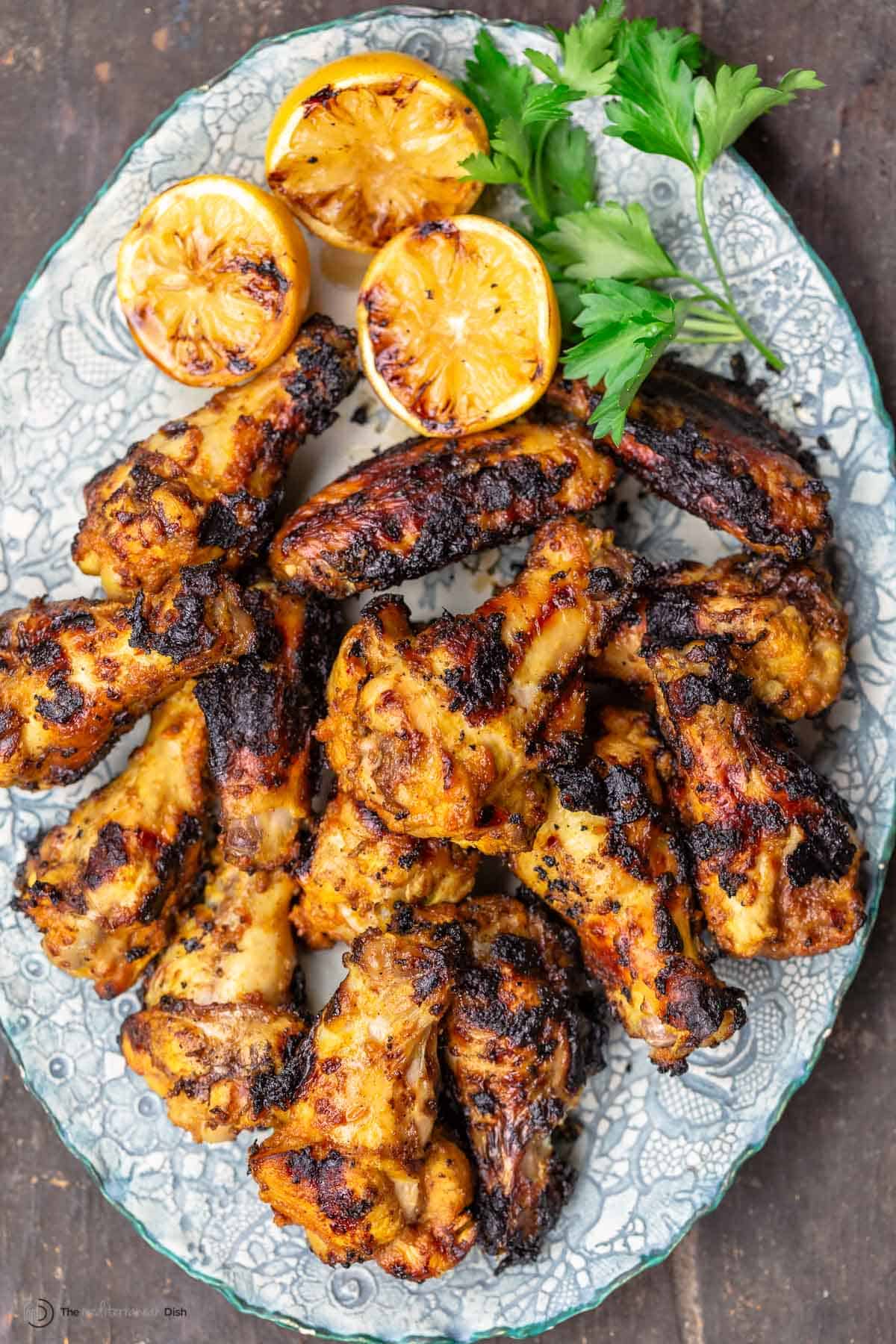 How to store leftovers
Personally, I prefer to make just enough of these wings so that there are no leftovers as these are definitely best straight from the grill. However, any leftovers can be stored in the fridge, in an airtight container or ziploc bag. Cooked chicken wings will last for up to 3 days.
Similar recipes to try:
Browse our top Mediterranean diet recipes or all Mediterranean recipes.
Grilled Chicken Wings Recipe, Mediterranean-Style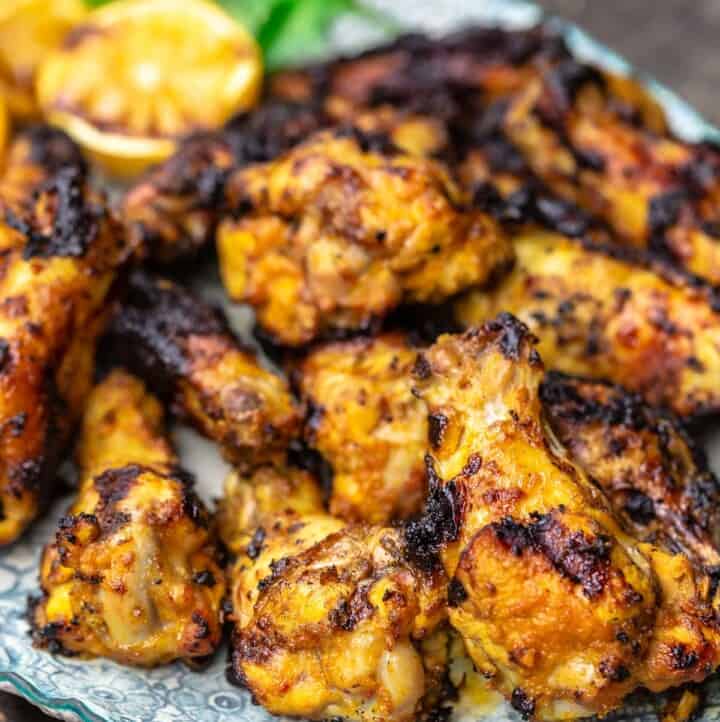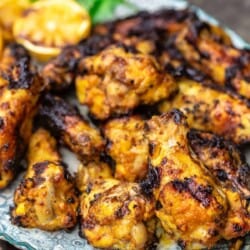 Marinated in onions, garlic and lemon with several warm spices, these Mediterranean-style Grilled Chicken Wings are infused with flavor in every bite. They take only 20 minutes to grill, but for best results, allow the wings sometime to marinate in the fridge.
Ingredients
For the wings
2 ½

pounds

chicken wings

Kosher salt

2 lemons, halved
Instructions
In the bowl of a large food processor fitted with a blade, combine the onion, garlic, olive oil, lemon juice and spices. Pulse until well combined into a thick marinade.

Season the chicken wings well with Kosher salt and put them in a zip top bag. Pour the marinade over and zip the bag shut. Massage the bag a bit to distribute the marinade.

Lay the bag of wings flat on a large plate or tray. Refrigerate for 2 to 4 hours, turning the bag over once midway through.

Heat a gas grill to 425 degrees F and lightly oil the grates.

Shake off excess marinate then arrange the wings over direct heat. Cover the grill and cook the wings for 15 to 20 minutes, turning over every 5 minutes, until they are fully cooked through. Grill the lemons, flesh side down.

Serve the wings immediately with the grilled lemons. And squeeze the lemons all over to your liking. Add your favorite sauce for dipping (I like the coolness of Tzatziki yogurt cucumber sauce).
Nutrition
Calories:
403.6
kcal
Carbohydrates:
3.7
g
Protein:
19.3
g
Fat:
34.6
g
Saturated Fat:
7.1
g
Polyunsaturated Fat:
5.4
g
Monounsaturated Fat:
19.7
g
Trans Fat:
0.2
g
Cholesterol:
78.6
mg
Sodium:
82.7
mg
Potassium:
227.8
mg
Fiber:
0.7
g
Sugar:
0.9
g
Vitamin A:
419.1
IU
Vitamin C:
3.5
mg
Calcium:
29.7
mg
Iron:
1.6
mg