Easy, healthy baked chicken wings recipe, prepared Greek-style with garlic, olive oil, lemon juice and oregano! I love finishing these with a sprinkle of feta and fresh parsley.
Serve them Greek-style with a side of creamy Tzatziki sauce to dip. More ideas and tips below, so be sure to read on!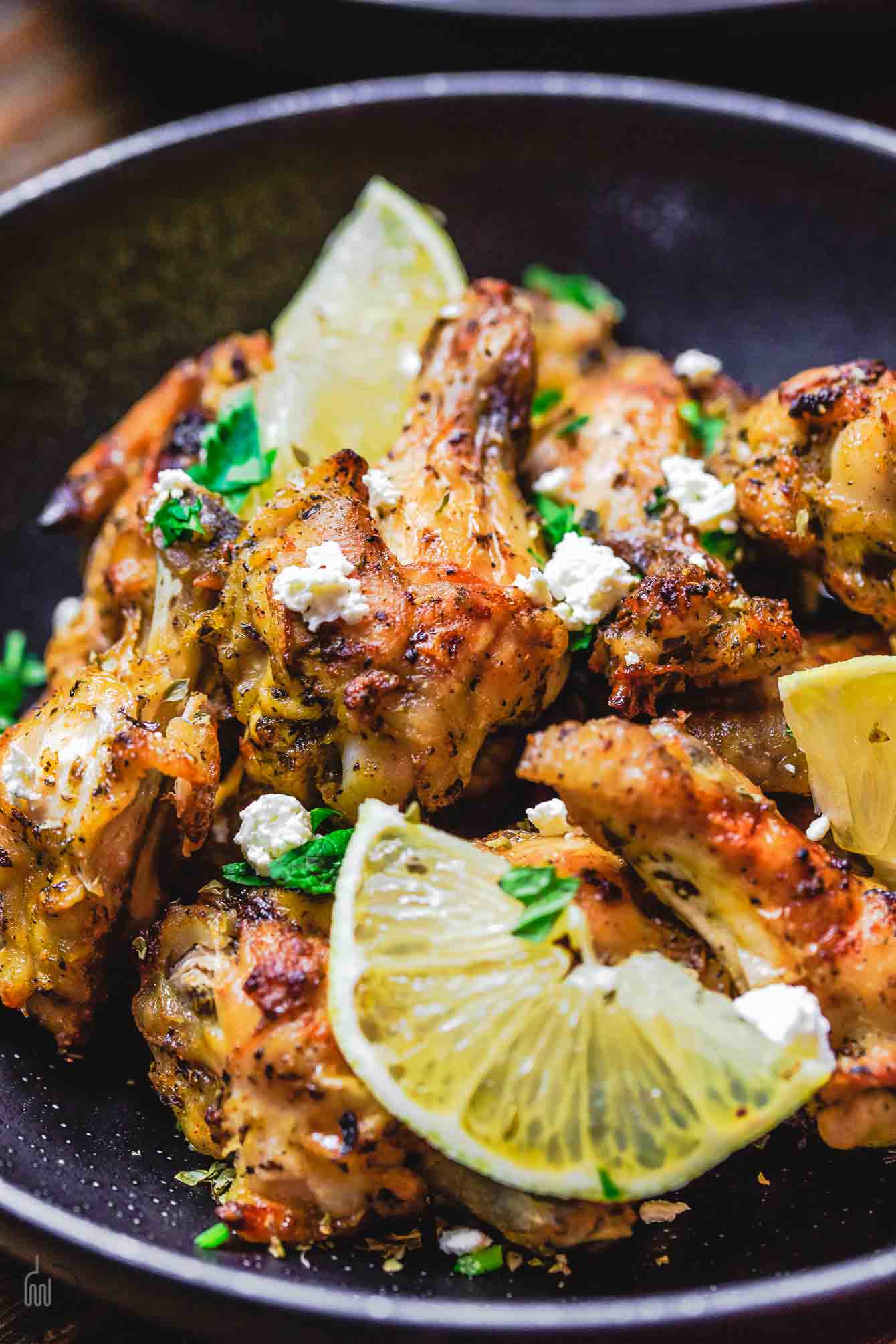 In my mind, you really can't go wrong with chicken wings. And it is nice to have a healthy, delicious option; that's exactly what these chicken wings with a Greek twist are!
They're pretty easy to make, requiring a sheet pan and two simple steps:
First, the chicken wings take on a delicious Greek-style marinade with bold flavors like garlic, lemon and oregano. Then, after some time marinating, we spread them on a baking sheet or two to bake. That's pretty much it!
And I do strongly feel that serving these easy wings with Greek tzatziki sauce--thick, tangy, and creamy yogurt and cucumber sauce--is the way to go. But I do have more ideas and some important tips for you, so be sure to keep reading!
Baked chicken wings with a Greek twist
The biggest draw to this easy baked chicken wings recipe is definitely the Greek flavors in the marinade!
No surprise here, the Greek-style marinade begins with a combination of quality extra virgin olive oil (I used Private Reserve EVOO) and lots of lemon juice and lemon zest.
From there, we add a good amount of crushed fresh garlic cloves along with dry oregano, and sweet paprika for a little depth and color. For me, a little kick, thanks to cayenne pepper, seals the deal . But you can omit the cayenne pepper, if you prefer.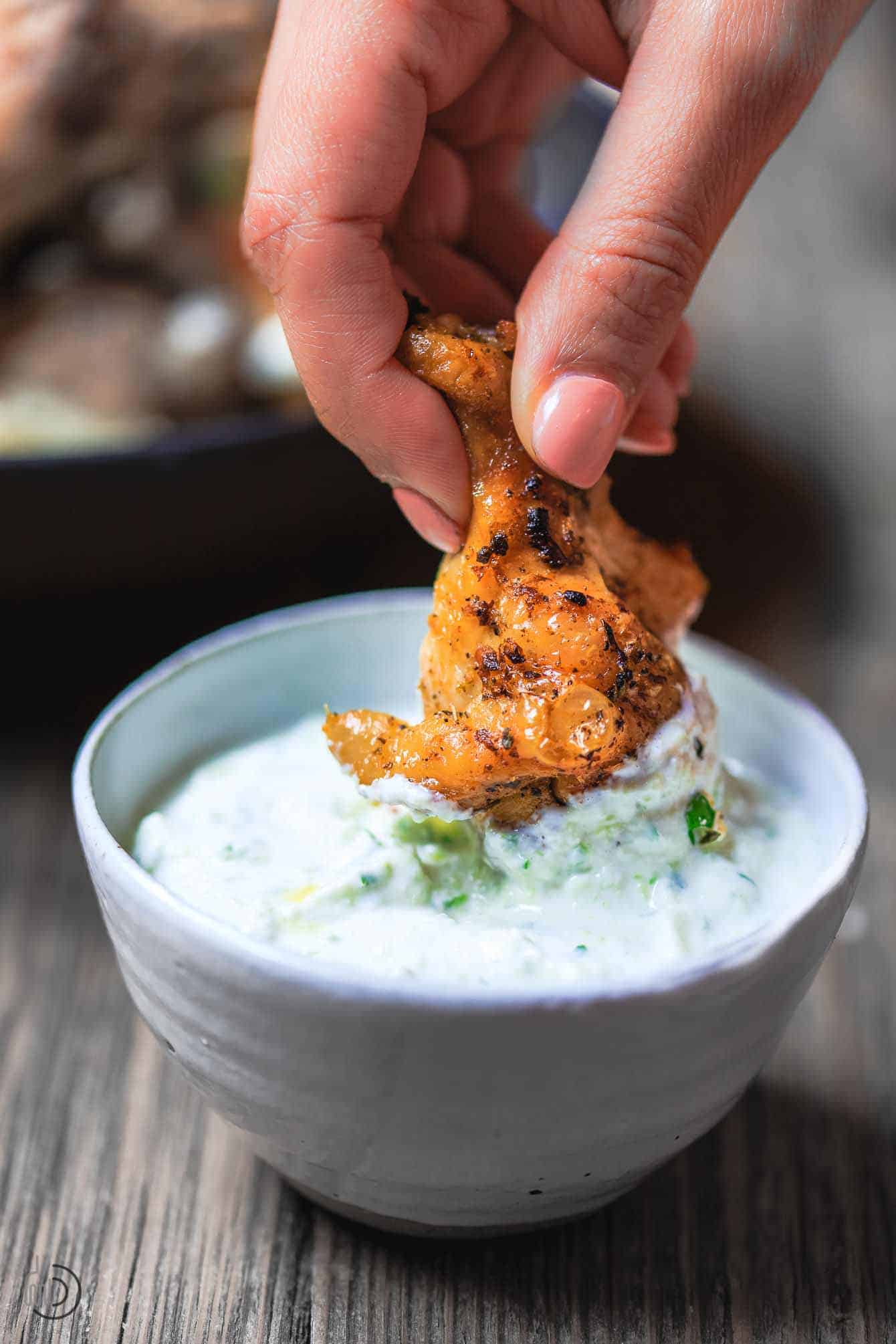 A few important Tips
These wings are super easy to make, your active time is fairly minimal. And like I said earlier, this recipe involves two simple steps: marinate the wings, then bake them. Still, here a few tips to help you arrive at the best Greek baked chicken wings:
1. To save time, buy already cut chicken wings. Most grocery stores carry "party wings" which are already separated into "wingette," the flat part of the wing that contains two bones, and "drummette," which is the part that looks like a tiny drumstick.
2. For best flavor, marinate the chicken for 2 hours or up to one night. To do that, simply toss the chicken wings in the marinade, cover and refrigerate till later.
3. Remove wings from the fridge about 20 to 30 minutes before baking. You don't want to start with ice cold chicken wings fresh out of the fridge, This can lead to overcooking and uneven cooking.
4. Spread the wings in one layer on a large sheet pan or two. Do not over-crowd the chicken wings to that they are each touching the sheet pan and are in contact with its hot surface as they bake.
5. For crispier skin, place the baked wings under the broiler for a brief time, watching carefully.
How long to bake chicken wings?
For this recipe, I typically use chicken wings that are already cut or separated into "wingette" and "drummette." Baked at 400 degrees F, already cut chicken wings should take about 45 to 50 minutes.
Keep an eye on the wings, and if you're not sure, use an instant read thermometer to determine if they are done (internal temperature should read 165 degrees F at the thickest part of a chicken wing.)
To finish, place the wings under the broiler briefly to achieve a nice golden brown color and crispier skin.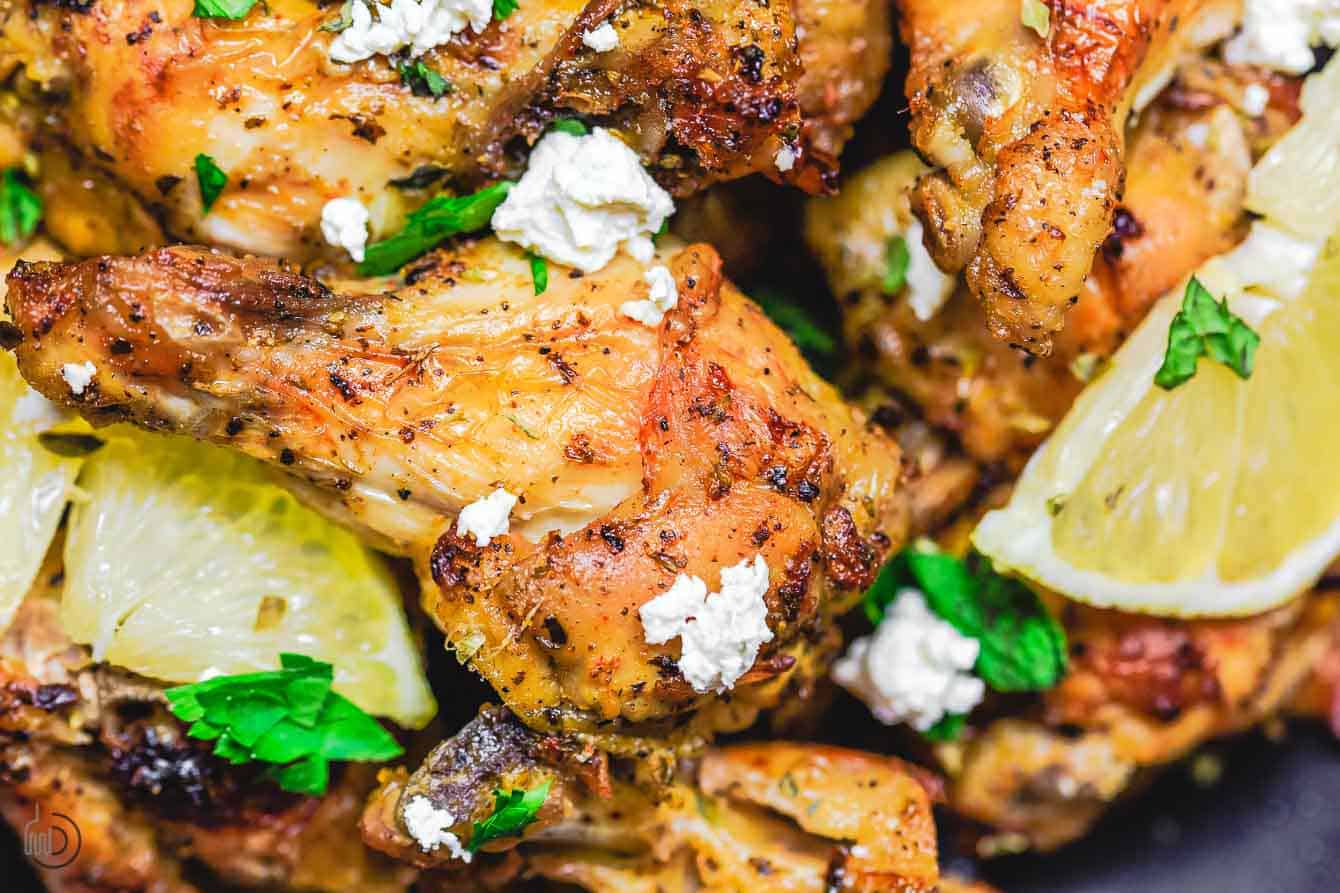 Can I make them ahead of time?
These easy chicken wings are the perfect party appetizer, and there are a couple of ways you can prepare them ahead of time, if you need to:
1. Marinate the chicken wings a few hours ahead or even overnight and bake before your guests arrive (preferred option.) Keep the marinated wings in the fridge in a tight-lid container until you are ready to bake. About 1 ½ hours or so before your guests arrive, you can work on getting the wings ready and baked. Leave the wings at room temperature for 20 to 30 minutes or so, then spread them on one or two sheet pans and bake for 45 minutes to 1 hour, or until ready.
2. You can prepare and bake these Greek chicken wings one night in advance. Let them cool then refrigerate (do not leave them out more than 2 hours.) To reheat, take the baked chicken wings out of the fridge and let sit at room temperature for 15 minutes or so. Spread in one layer on a baking sheet. Heat at 350 degrees F heated oven for about 10 to 15 minutes or until warmed through.
Tip: you can sprinkle a tiny bit of water on your baked chicken wings before heating to prevent them from drying out. And do check on the wings occasionally, smaller size wings will warm through quickly.
Serve them, Greek-Style!
These baked wings are great just as is, but they can be the perfect centerpiece to a wonderful Greek or Mediterranean-style spread along with Tzataziki sauce (perfect for dipping), or hummus.
And as a vegetarian option next to these wings, I've often served these baked zucchini; sweet potato fries; or roasted cauliflower next to my baked wings as a vegetarian option!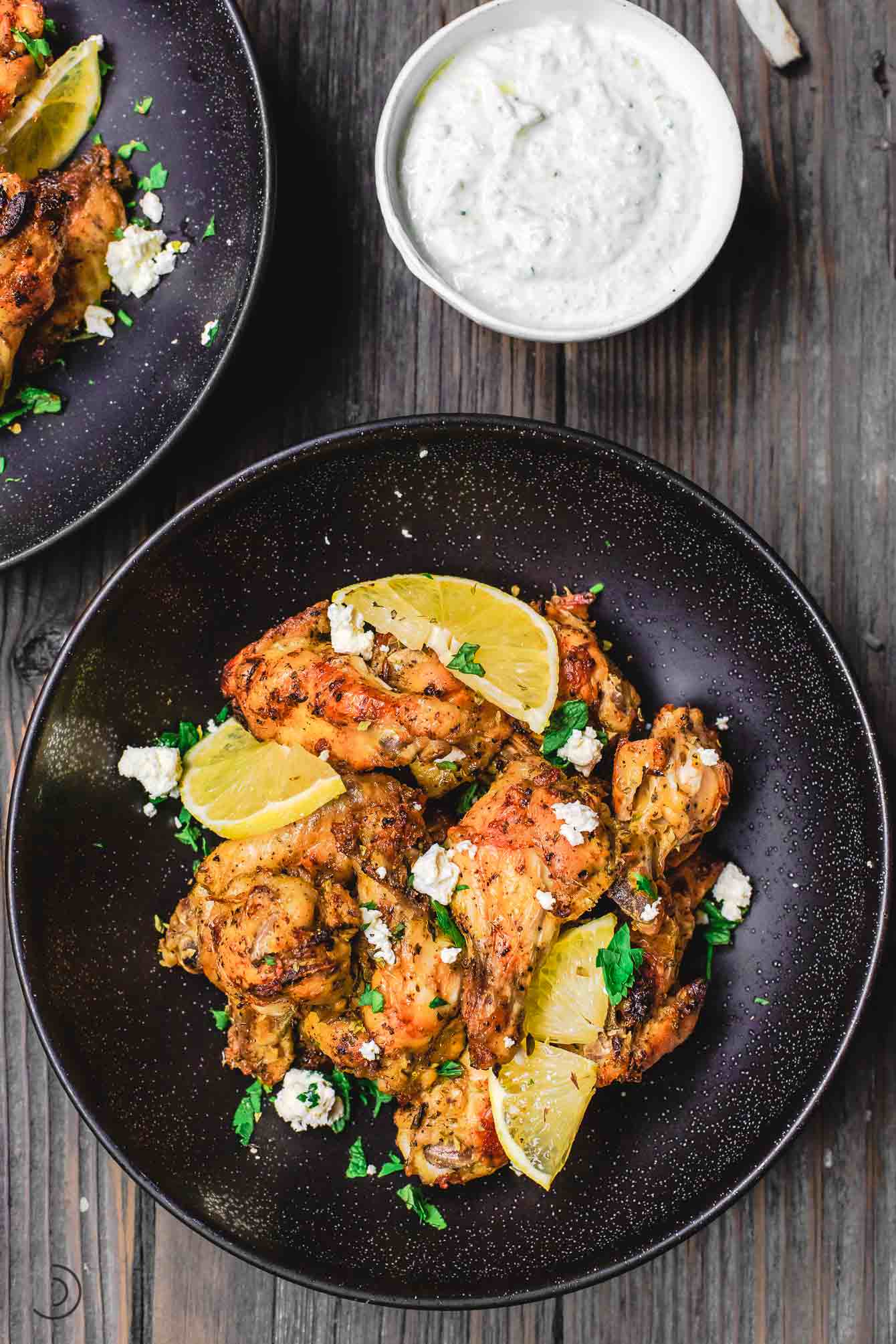 Leftovers: how long will these keep?
You can store leftover Greek chicken wings in the fridge in a tight-lid container for 3 days or so. And as mentioned earlier, take them out of the fridge about 15 minutes before you are ready to reheat. Reheat in 350 degrees F heated-oven for 10 to 15 minutes.
Watch the quick video for how to make Greek baked wings:
You may also like these chicken recipes:
Grilled Chicken Wings
For all recipes, visit us here. And be sure to view our collection of Mediterranean diet recipes.
NEVER MISS A RECIPE! JOIN MY FREE E-MAIL LIST HERE.
SHOP OUR ONLINE STORE FOR QUALITY OLIVE OILS, ALL-NATURAL SPICES AND MORE.
Print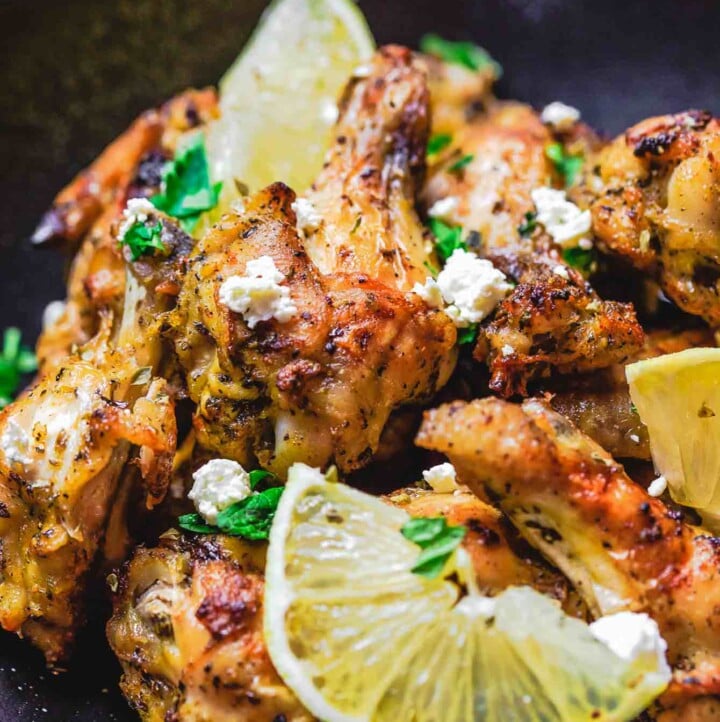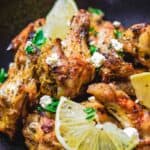 Greek Baked Chicken Wings Recipe
---
Description
Easy Baked Chicken Wings Recipe; prepared Greek-style with garlic, olive oil, lemon juice and oregano. Finished with a little feta cheese and fresh parsley and served with a classic Greek Tzatziki sauce.
---
For the Marinade
½ cup

extra virgin olive oil (I used Private Reserve Greek EVOO)

2

large lemons, zested and juiced (about

½ cup

lemon juice)

6

garlic cloves, peeled and crushed

1 ½ tbsp

dried oregano

1 tbsp

black pepper
Salt

1 tsp

sweet paprika

1 tsp

cayenne pepper (optional)
For the Wings
3

lb chicken wings
Crumbled feta cheese, for garnish
Sliced lemons, for garnish
Fresh chopped parsley, for garnish
To Serve
---
Instructions
Make the marinade a couple of hours and up to one day ahead of time. Whisk together the extra virgin olive oil, lemon juice and zest, and the remaining marinade ingredients (only add the cayenne if you want spicy wings).
Now add the chicken wings and toss to coat the wings evenly. Cover and refrigerate for a couple of hours or overnight.
Preheat the oven to 400 degrees F. Spread the chicken wings on a large baking sheet and bake in the heated oven for 45-50 minutes or till ready (internal temperature should register at least 165 degrees F). Move the chicken wings to the top rack and broil briefly until the skin turns golden brown and crispy. Remove from heat and let sit 5 minutes or so.
If serving with tzataziki sauce, make the Tzatziki sauce according to this recipe, while the chicken wings are baking. Transfer the sauce serving bowl, and cover the sauce and refrigerate until ready for use (just give the sauce a little stir just before serving).
Transfer the chicken wings to a serving bowl or platter. Garnish with feta cheese, lemon slices, and a generous sprinkle of fresh parsley. Serve with the Greek Tzatziki sauce. Enjoy!
Notes
Cook's Tip: If you have the time, allow the chicken wings to marinate in the fridge for 2 hours or up to 1 night. Take out of the fridge about 15 minutes or so before baking.
Cook's Tip: For best results, be sure to spread the chicken wings in one layer on a large sheet pan (do not crowd the pan. Use 2 pans if needed.)
Recommended for this Recipe: Our Private Reserve Greek extra virgin olive oil (from organically grown and processed Koroneiki olives!) and all-natural sweet paprika.
SAVE! Try our Greek olive oil bundle! Ultimate Mediterranean Spice Bundle, or create your own 6-pack or 3-pack or our all-natural or organic spices.
Visit our store to browse our spices, olive oils and bundles!
Prep Time:

10 mins

Cook Time:

50 mins

Category:

Appetizer

Method:

Baked

Cuisine:

Greek
Keywords: Greek chicken wings, baked chicken wings, appetizer
*This post originally appeared on The Mediterranean Dish in 2017 and has been updated with new information for readers' benefit. Enjoy!