We can never have too many delicious and quick chicken recipes, can we?! You'll love this healthy, juicy Italian baked chicken. Boneless skinless baked chicken breast recipe, prepared with a simple spice mixture, garlic and olive oil, and finished with fresh parsley and basil!
Can you bake chicken breast without drying it out? Yes! Be sure to check out my tips and watch the video below.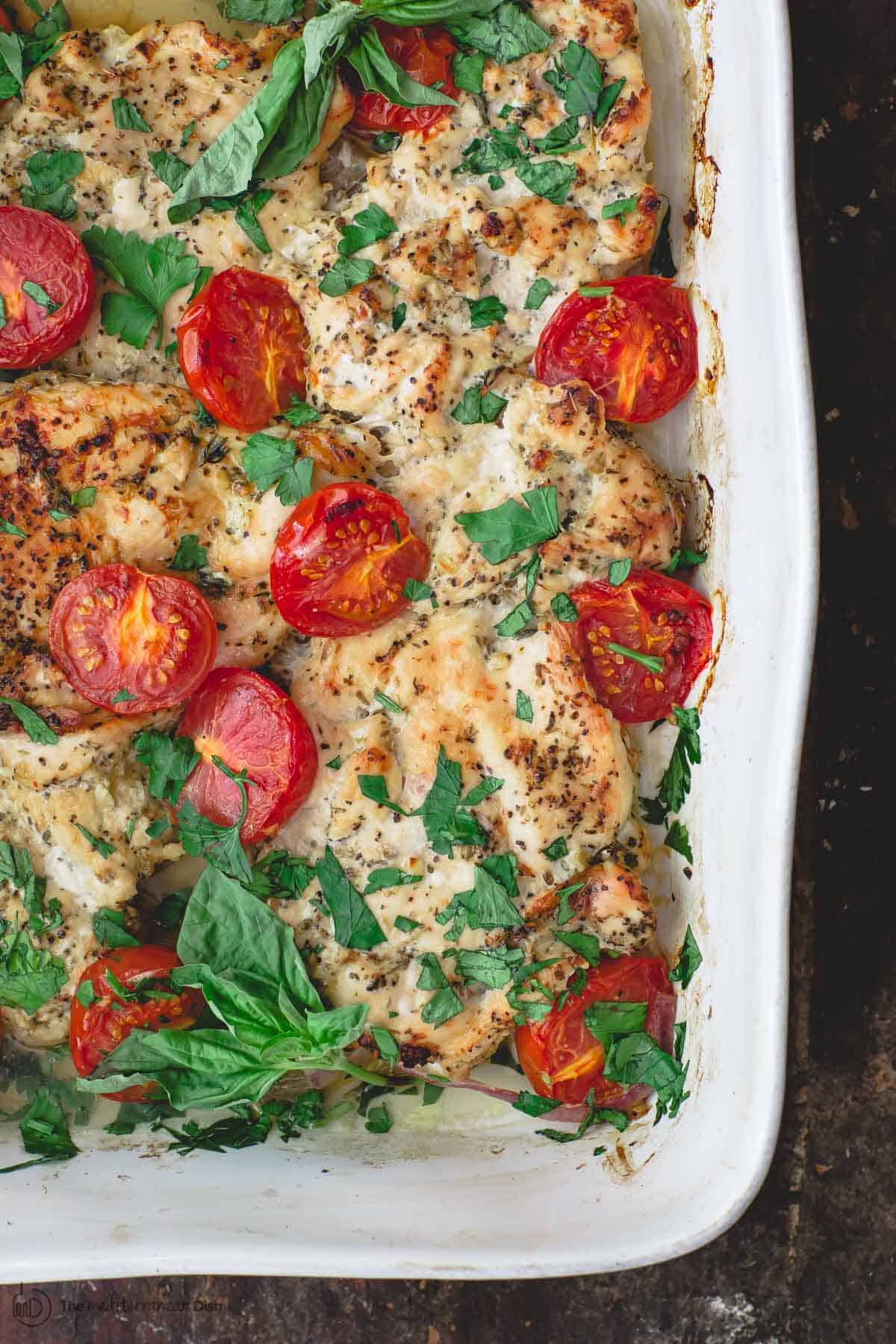 Boneless skinless chicken breast is a great source of lean protein; that's why they are a dieter's best friend. They are also convenient. They may even look less intimidating to cook than say bone-in chicken thighs (this cilantro lime chicken is my favorite thigh recipe, by the way).
But, even renowned chefs will tell you that boneless skinless chicken breasts are the least forgiving. Let's face it, they can just be plain boring and, often times, dry.
Not this Italian chicken recipe. Just a few tips ensure this easy baked chicken breast recipe is flavorful and juicy! It's the same technique I use for my grilled chicken breasts and pan-seared chicken breasts, and it's totally no-fail: it works every single time!
How long to bake chicken breast?
It's important not to over-bake boneless, skinless chicken breasts. Baking time will vary, depending on the size of the chicken breast and your oven temperature:
To bake chicken breast at 425 degrees F like in this recipe: it will take somewhere between 18 and 20 minutes.
To bake at 400 degrees F: the chicken breast will cook in 22 to 26 minutes depending on the size of the chicken breasts.
To cook chicken breasts at 350 degrees F: this will take closer to 30 minutes or so.
I prefer a high-heated oven at 425 degrees F for this chicken recipe. In my experience, cooking them at a lower heat for 30 minutes will produce dry meat.
To determine if your chicken is fully cooked, cut a small part with a knife, and the juices should run clear. But a few more tips are worth noting when it comes to perfectly cooked chicken breasts...
Important tips for juicy baked chicken breast
Particularly for those who are new to cooking, one of the big questions is, "how do I bake chicken breast without drying it out?" Here are a few tips that have worked well for me:
Pound the chicken. I'm a big fan of pounding chicken breasts into thinner, more evenly flat pieces; it helps it cook faster and more evenly. And by pounding, you're also mechanically tenderizing the chicken breast, which means you'll end up with a juicer and tastier chicken dinner.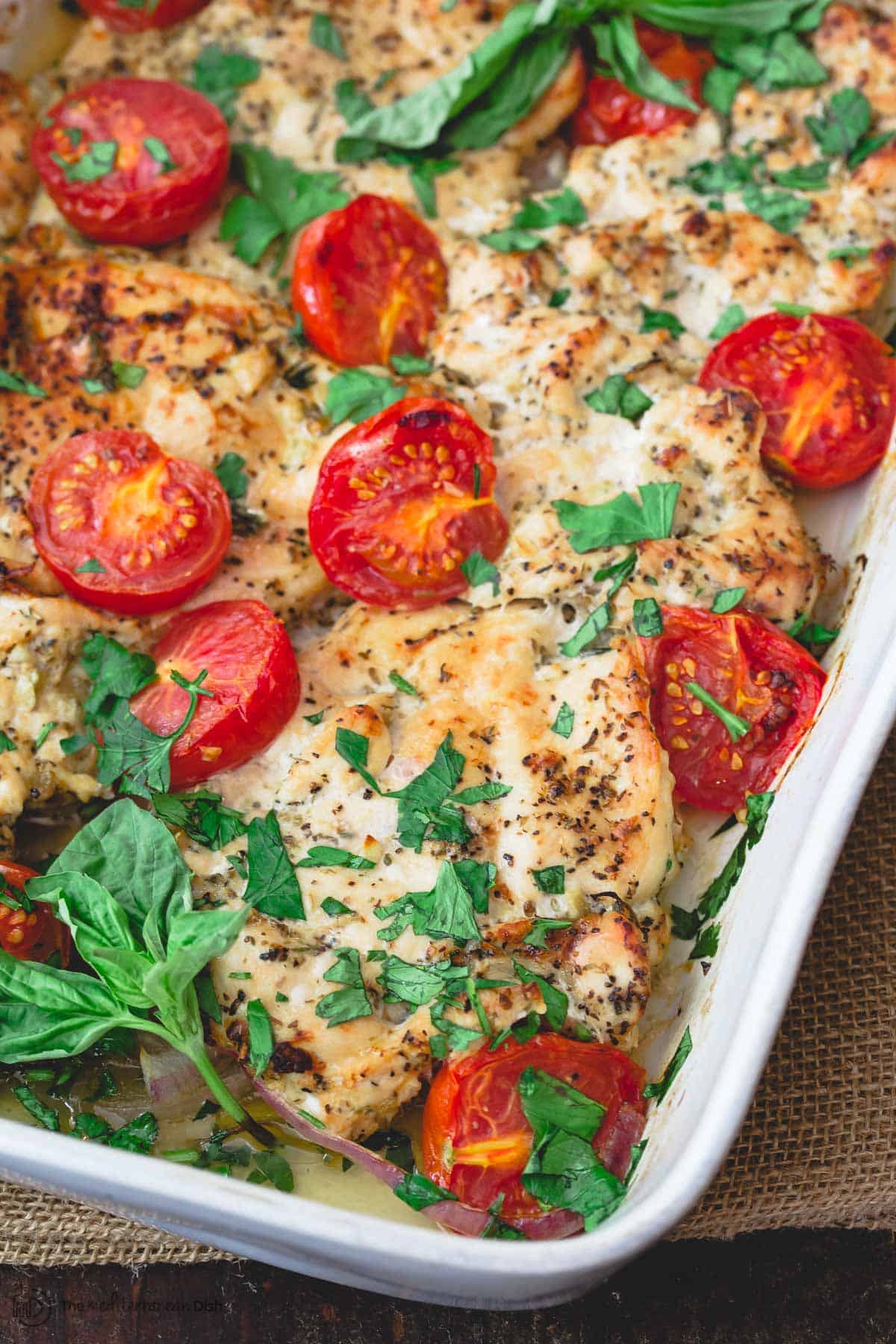 Avoid baking the chicken for too long. This is the thing about cooking chicken breast, one minute makes a difference! Like I mentioned earlier, at 425 degrees F, the chicken should take about 18 minutes to bake. Always watch carefully, and test the chicken temperature using an instant thermometer to avoid baking too long (Once the chicken registers 165 degrees F, it's ready. 18 to 20 minutes at most.)
Should you cover the chicken breast with foil when baking? In this recipe, I have found that covering the chicken breasts for the first 10 minutes or so was helpful in allowing steam to cook the chicken from the inside first. Then, once uncovered, it finishes cooking more quickly, which helps to avoid dry chicken breast.
Let the chicken rest before serving or slicing through. This is a known rule, just like with a good steak, once chicken breast hits that magic 165 degrees F, remove from heat and let it rest for 5 to 10 minutes so that the juices redistribute. And this time, I actually covered the chicken while it rested. I've found that to work even better.
How to season baked chicken breast?
The sky's the limit when it comes to flavoring chicken. To begin with, be sure to season chicken breasts well on both sides with salt and pepper. Then, layer more flavor in the form of spices and aromatics that you liked.
For this Italian baked chicken, I used a simple mixture of: oregano, fresh thyme and sweet paprika along with fresh minced garlic (or, you can easily use Italian seasoning). To bring everything together, add a generous drizzle of extra virgin olive oil and a splash of lemon juice.
TIP: For best flavor, the key is to toss the chicken well to coat evenly with the seasoning mixture, and if you have just 10 minutes, allow it the time to marinade.
How to bake chicken breast?
Let's walk through how to make this oven baked chicken breast recipe, step-by-step (print-friendly recipe and video below):
1. Preheat oven to 425 degrees F. First, pound chicken breasts to thinner, more even pieces. A clean way to do this is to place the chicken breast in a zip-top bag first, then pound on your cutting board. (sorry, I had removed the zip-top bag in this picture.)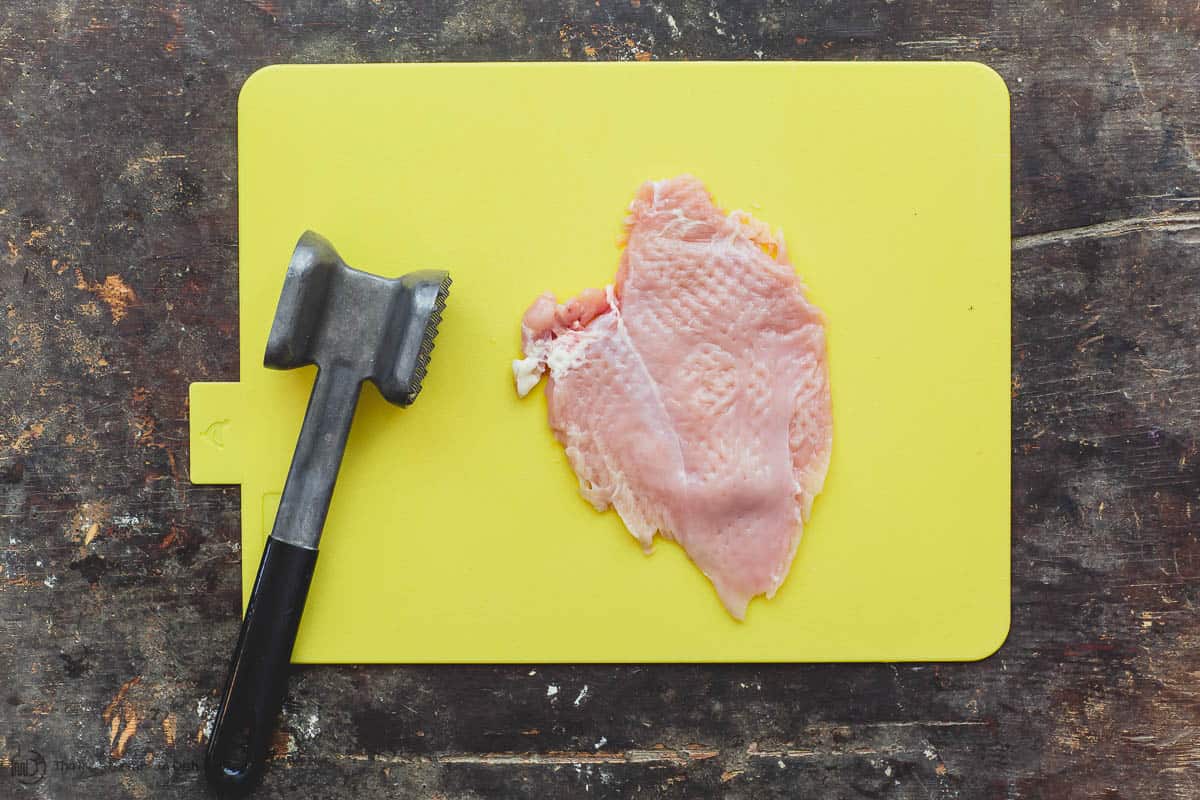 2. Season with salt and pepper, then combine with remaining spices and fresh garlic. Add a generous drizzle of Early Harvest extra virgin olive oil and juice of about ½ lemon. Work it! Make sure chicken is well coated with the spices etc.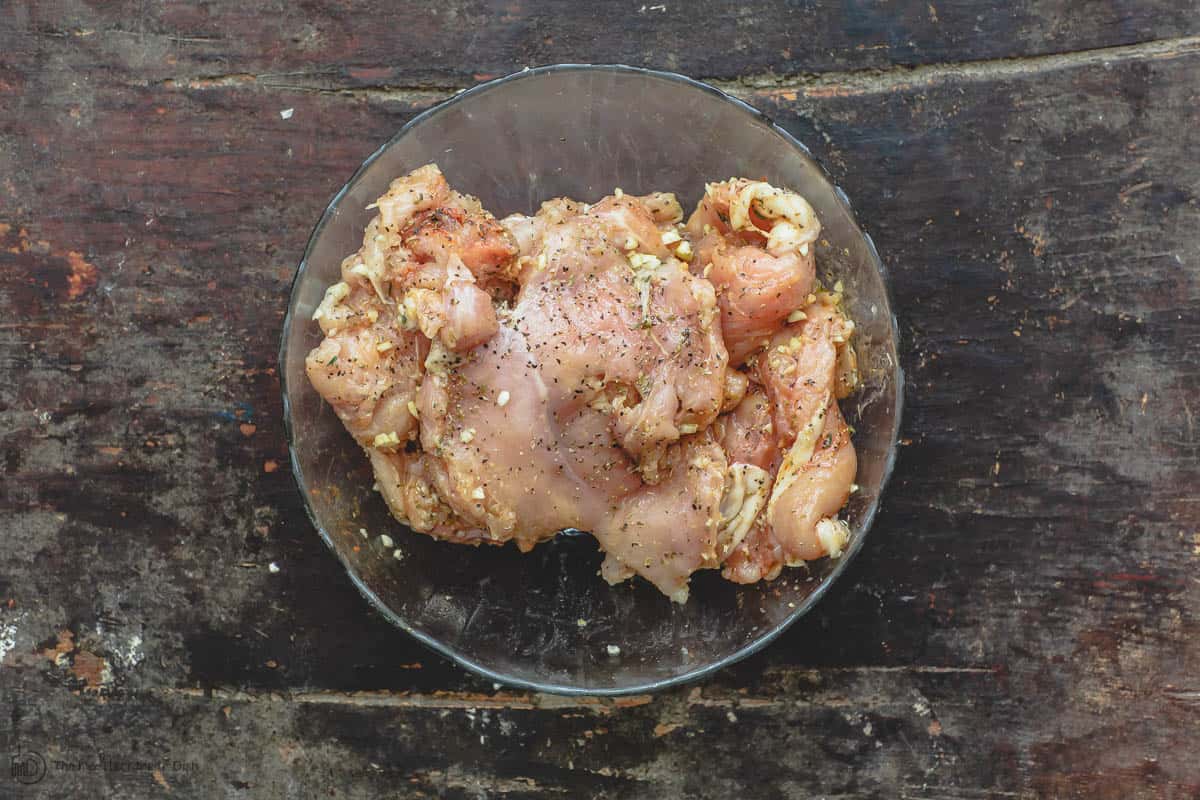 3. Prepare a lightly oiled baking dish like this one. Spread red onion slices on the bottom to make a bed for the chicken. Now Arrange chicken on top and throw in tomatoes ('cause Italian!)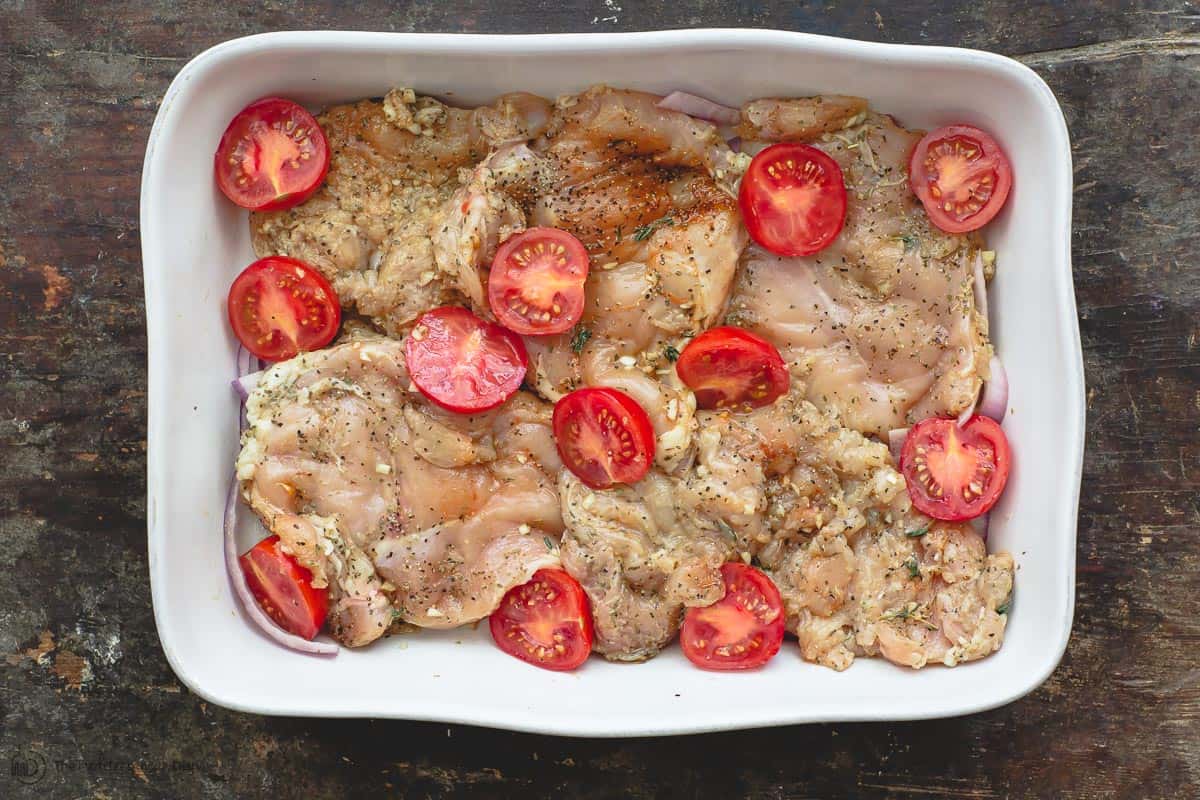 4. Cover and bake for 10 minutes, then uncover and finish baking until chicken's internal temperature reads 165 degrees F, about 10 minutes more or so (depending on how thick your chicken pieces are.)
Don't forget. Remove from heat and let chicken rest for 5 to 10 minutes (you can cover it during this time). Garnish with fresh parsley and basil.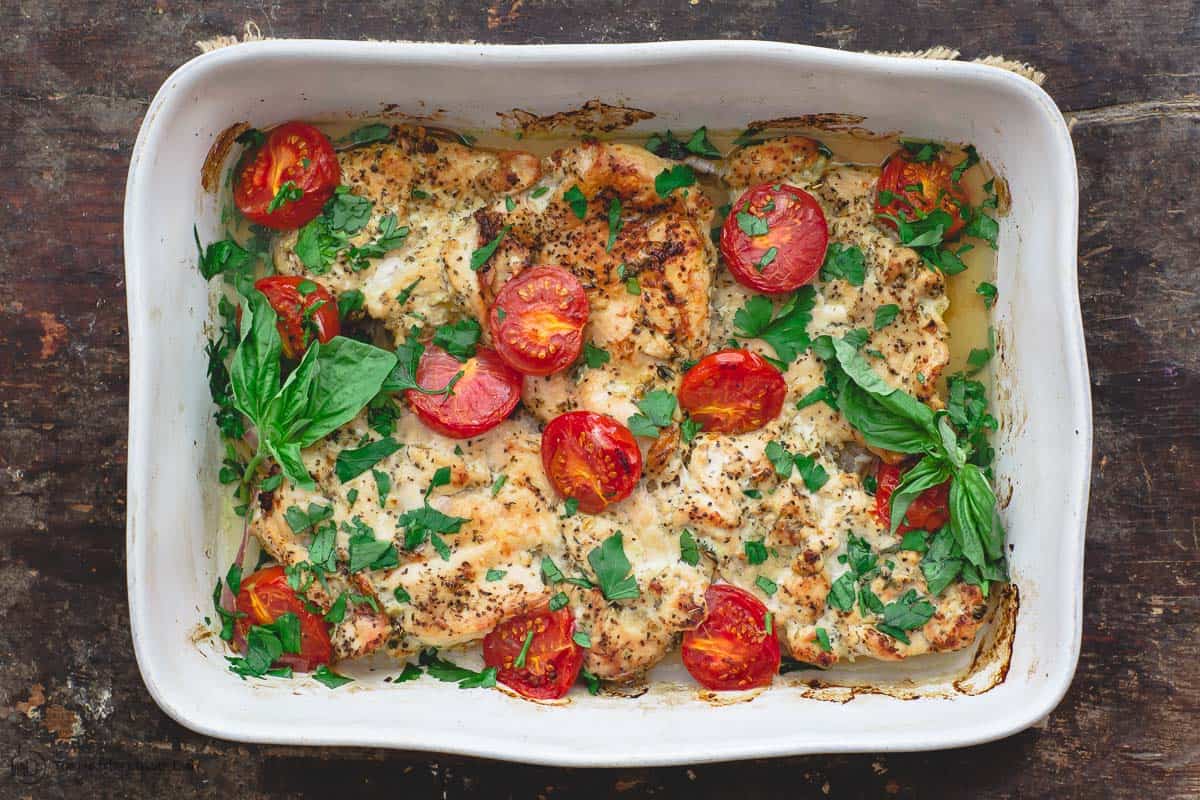 Favorite things to serve along
There are endless sides and salads I can recommend to serve with baked chicken breast. This easy Mediterranean olive oil pasta carries similar flavors and the same sorta theme.
Other sides I love: this simple tomato panzanella salad; grilled zucchini salad; oven fries; baked zucchini; or the obvious choice, Italian roasted vegetables.
One last tip, prepare your sides ahead since baked chicken breast takes little time in the oven.
More chicken recipes to try:
You may also enjoy our collection of Mediterranean diet recipes. For all recipes, visit us here.
Easy Italian Baked Chicken Breast Recipe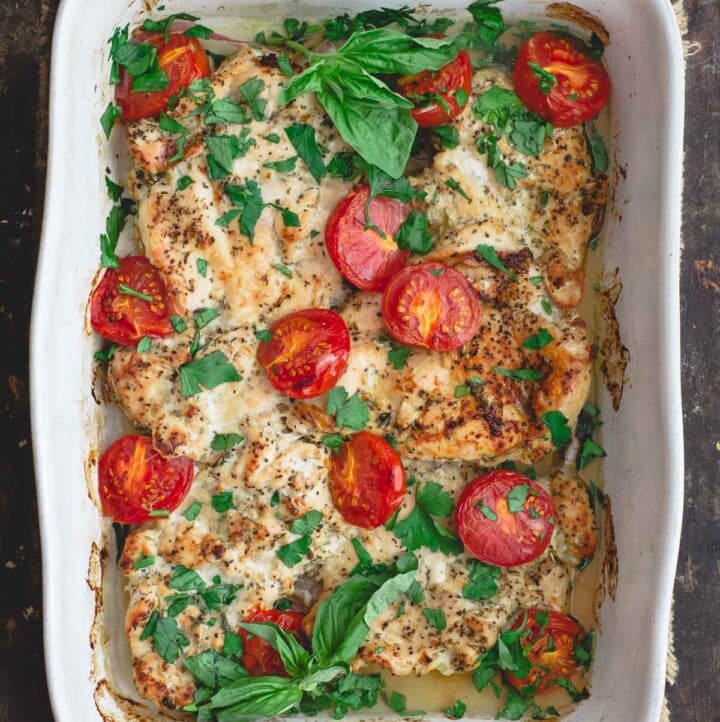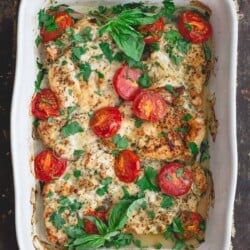 Easy Italian baked chicken breast, flavored with a simple spice mixture along with fresh garlic and olive oil, and finished with parsley and fresh basil. Be sure to read the tips for best results.
Ingredients
2

lb

boneless skinless chicken breast

Salt and pepper

2

teaspoon

dry oregano

1

teaspoon

fresh thyme

1

teaspoon

Sweet paprika

4

garlic cloves,

minced

3

tablespoon

Extra virgin olive oil

Juice of ½ lemon

1

medium red onion,

halved and thinly sliced

5 to 6

Campari tomatoes,

or small Roma tomatoes, halved

Handful chopped fresh parsley for garnish

Fresh basil leaves for garnish
Instructions
Preheat oven to 425 degrees F.

Pat chicken dry. Place a chicken breast in a large zip-top bag and zip the top (make sure to release any air in the bag first), then place it on your poultry cutting board. Using a meat mallet like this one, pound to flatten the chicken. Repeat the process with the remaining chicken breast pieces.

Season the chicken with kosher salt and pepper on both sides and place in a large mixing bowl or dish. Add spices, minced garlic, extra virgin olive oil, and lemon juice. Combine to make sure the chicken is evenly coated with the spices and garlic.

In a large lightly oiled baking dish or pan, spread the onion slices on the bottom. Arrange seasoned chicken on top, and add the tomatoes.

Cover the baking dish tightly with foil and bake for 10 minutes covered, then uncover and bake for another 8 to 10 minutes or so. Watch carefully. This can take less or more time depending on the thickness of your chicken breasts. To be sure the chicken is cooked through, use an instant digital cooking thermometer. It should register 165 degrees F.

Remove from the heat. Let the chicken breasts rest (cover with foil or another pan) for 5 to 10 minutes or so before serving. Uncover and garnish with fresh parsley and basil. Enjoy!
Notes
Important Cook's Tips: Do not skip pounding the chicken (step #2). Pounding the chicken into thinner, and more evenly flat pieces helps it cook faster and more evenly. And by pounding the chicken breast, you're also mechanically tenderizing it, which means you'll end up with a juicer and tastier chicken dinner.
Cook's Tip: Let chicken rest before serving to allow juices to redistribute.
Visit Our Shop to browse Mediterranean ingredients including extra virgin olive oils and spices.
Nutrition
Calories:
191.8
kcal
Carbohydrates:
3.4
g
Protein:
32.6
g
Fat:
4.5
g
Saturated Fat:
1
g
Trans Fat:
0.1
g
Cholesterol:
96.8
mg
Sodium:
177.5
mg
Potassium:
641.6
mg
Fiber:
0.8
g
Vitamin A:
349.6
IU
Vitamin C:
6.3
mg
Calcium:
24.3
mg
Iron:
0.9
mg