This bold, saucy cilantro lime chicken takes on a delicious Mediterranean twist. Chicken thighs rubbed in warm spices and cooked to tender perfection in a garlic, lime and cilantro sauce. Word to the wise, make every use of the tasty sauce!
Make in the oven or the crockpot! And serve over rice your favorite grain. Be sure to grab my tips and watch the video for how to make it.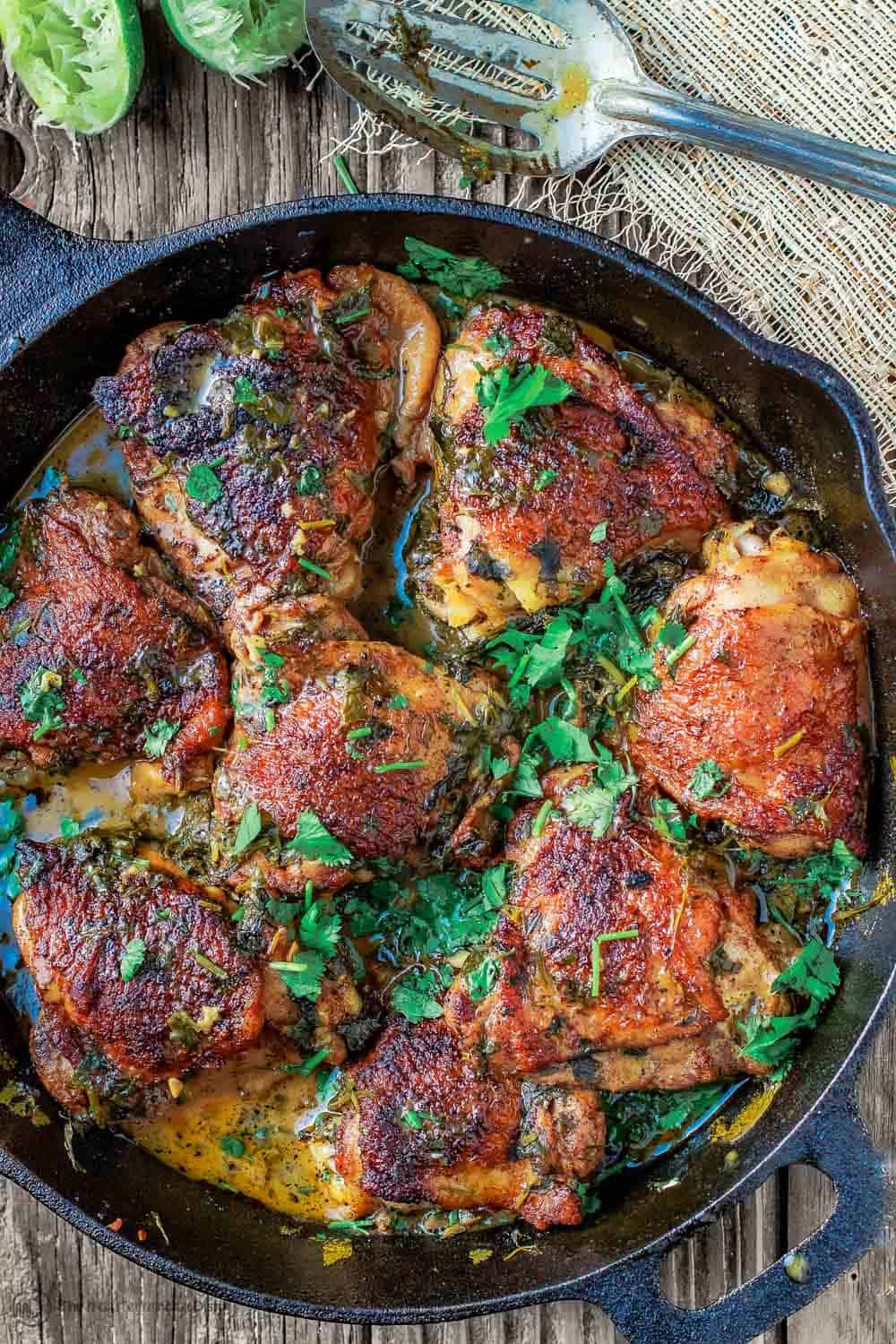 Of the many chicken recipes I've shared with you here, this cilantro lime chicken recipe is one that is regularly requested by my family. They love this saucy, fall-apart tender chicken!
Fresh cilantro and lime juice are the perfect duo that many associate them with Mexican cuisine. But they are also gloriously used in Mediterranean cooking--often combined with garlic and a host of warm spices (wait till you taste these chicken thighs!)
If you're a fan of these flavors, you'll want to also check out this grilled shrimp recipe with roasted garlic cilantro, and my spicy cilantro pesto--I've been adding this pesto on my soups and labneh cheese a lot lately.
So much to love about this cilantro chicken
Bold, comforting flavors. The first step is seasoning the chicken well with a few warm spices including sweet paprika, nutmeg, along with a dash of seasoned salt and natural garlic powder.
A million-dollar sauce! White wine, lime juice, chicken broth, garlic and fresh cilantro--a sauce you'll want to pour over some tasty rice or your favorite grain (definitely make every use of it!)
Takes one pan to make.
Baked and crockpot options! Either option will result in fall-apart tender chicken thighs, but my preference is baked.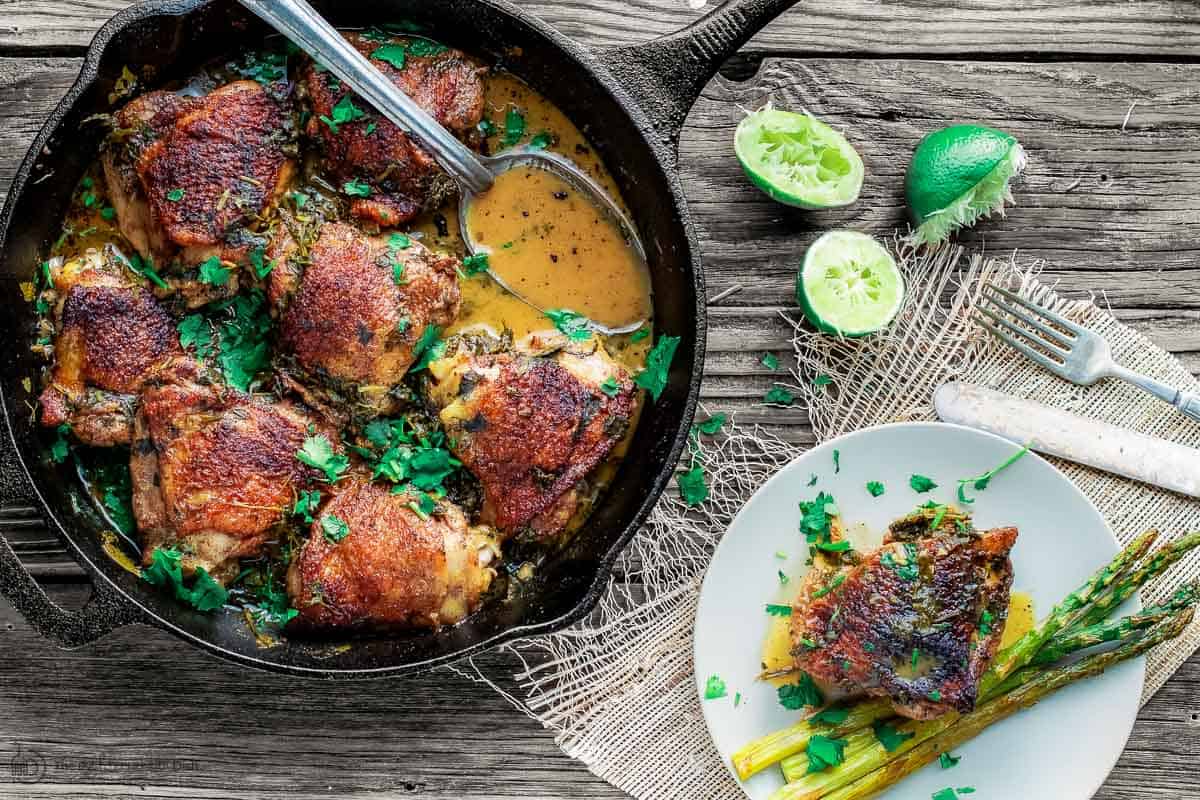 How to make cilantro lime chicken
(print-friendly recipe and video below)
1. Season the chicken. Pat the chicken dry. Mix the spices together (1 tablespoon garlic powder; 1 to 1 ½ teaspoon seasoned salt; 1 teaspoon each sweet paprika and black pepper; and ½ teaspoon nutmeg).
Season the chicken all over, and be sure to lift the skins up and apply the spice mixture underneath.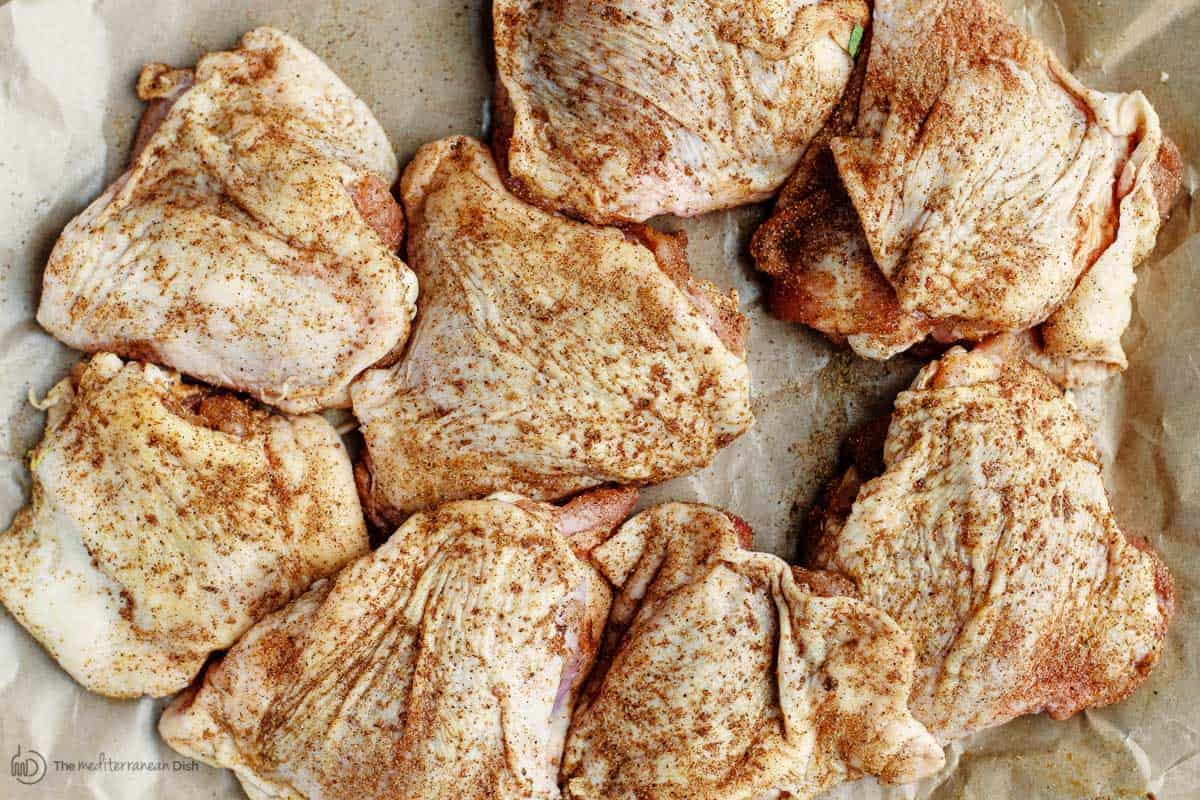 2. Brown the chicken. Heat up a bit of extra virgin olive oil in a large cast iron skillet (be sure the skillet has a lid, you will use it later). Brown the chicken well on both sides (this is another opportunity to create great flavor)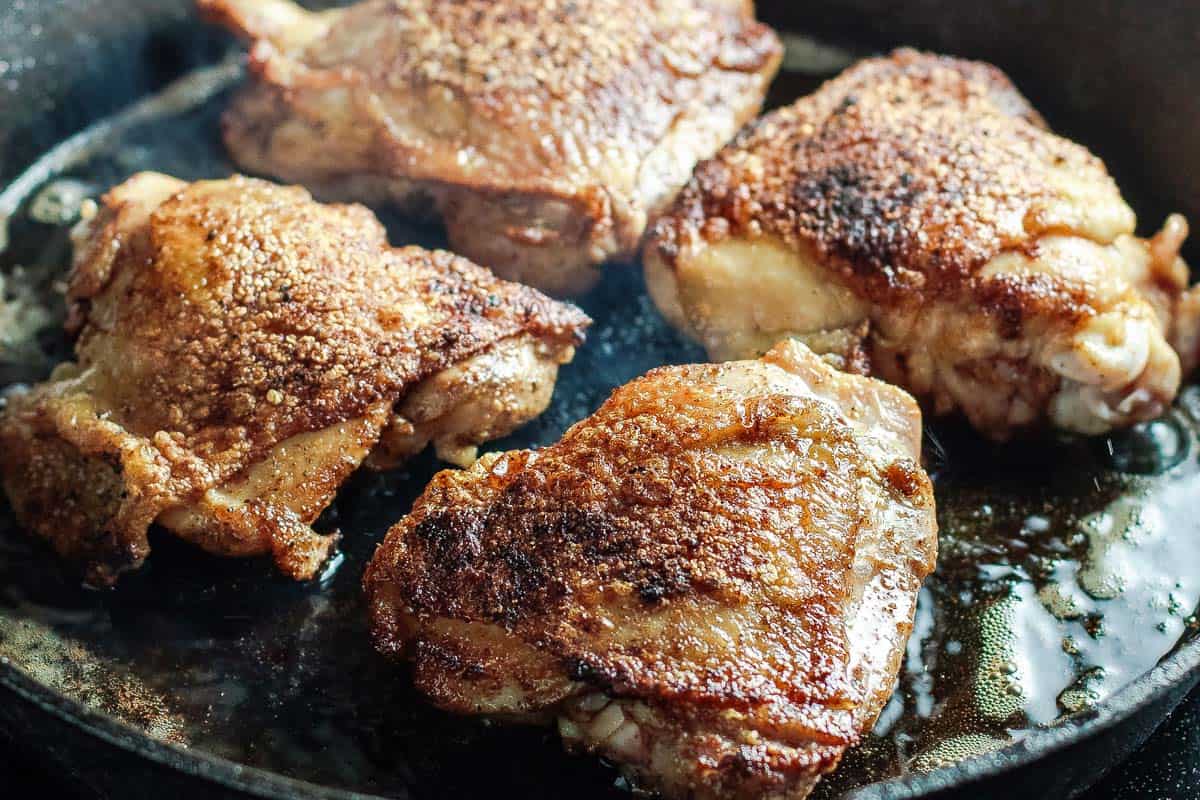 3. Make the sauce. Remove the chicken briefly from the skillet. Lower the heat. Add white wine and cook to reduce then add the broth. Add in the lime and garlic.
4. Cook chicken with the sauce (first on stovetop briefly then bake). Preheat the oven to 375 degrees F. Add the chicken back into the skillet and nestle it in the sauce. Add the fresh cilantro (we're using 1 bunch of cilantro here). Bring this party to a high simmer for 5 minutes, then cover the skillet and transfer it to the oven. Bake at 375 degrees F for about 45 minutes (the chicken should be well cooked through and pretty much falling apart!)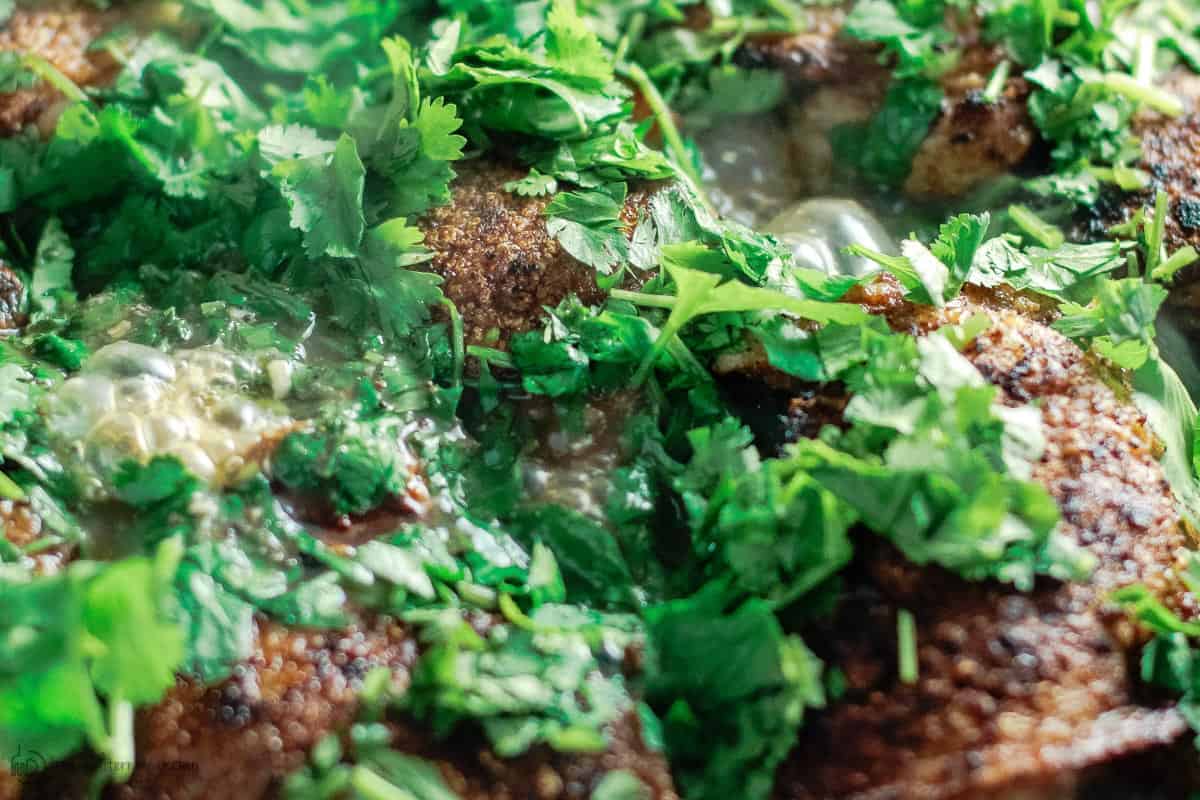 Cilantro lime chicken recipe in the crockpot
If you're wondering, can I make this in the crockpot or slow cooker, the answer is YES! Here's what you do:
Season and brown in the pan as directed.
Make the sauce.
Transfer the sauce to the bottom of a large slow cooker or crockpot (affiliate link)
Add the chicken to the crockpot and nestle it into the sauce. Add the cilantro.
Cover and cook on low for 5 to 6 hours or high for 2 to 3 hours (internal temperature should register 165 degrees F.)
Like I said earlier, I do prefer baked cilantro lime chicken, but the slow cooker option is wonderful as well.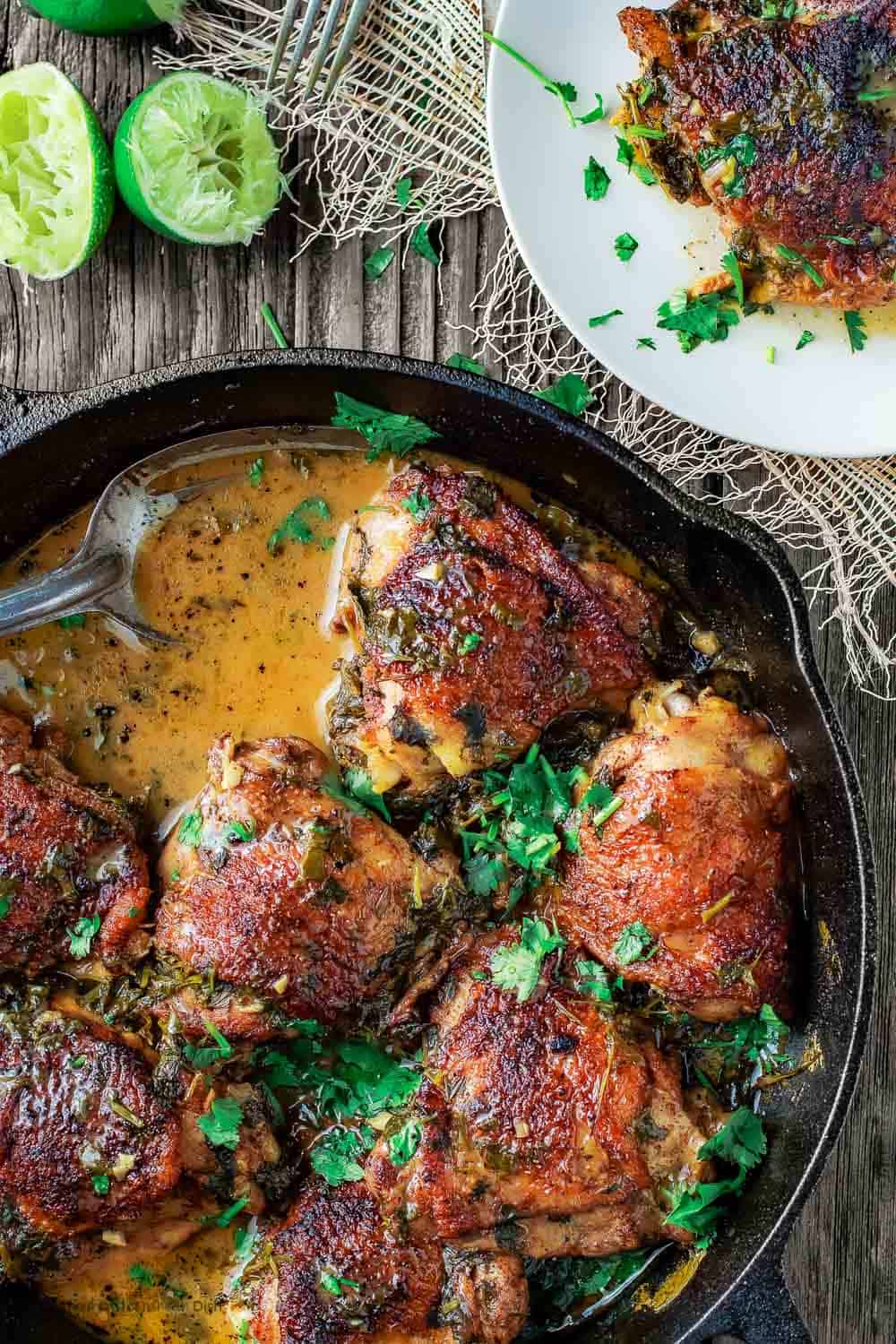 Serve it with
Lebanese rice makes a perfect bed for this saucy chicken thighs recipe, or, try couscous or plain orzo pasta. If all you have is some crusty bread, that will work to sop up the tasty sauce!
Other side and salad options for a complete meal:
Sides: Greek potatoes; Skordalia (mashed potato and garlic dip); Baked Zucchini; Olive Oil Fried Brussels Sprouts;
Salads: Greek green bean salad; Mediterranean Three Bean Salad; Tabouli
Leftovers and Storage
If you have any leftover cilantro lime chicken, allow it to cool completely. Transfer to tight-lid container and refrigerate for 2 to 3 days.
You may also like
Mediterranean Wine Braised Lamb Shanks
Craving more? Check out our collection of Mediterranean diet recipes. For all recipes, visit us here.
JOIN MY FREE E-MAIL LIST HERE.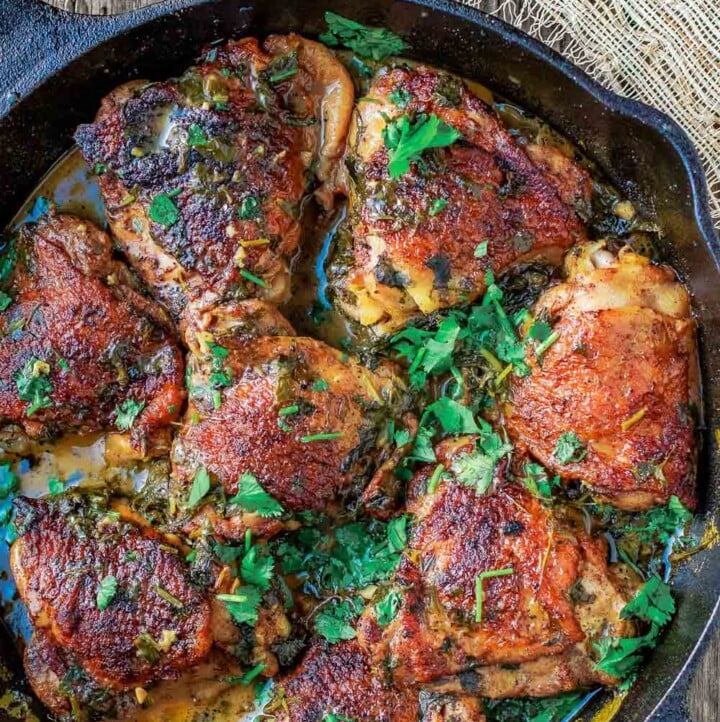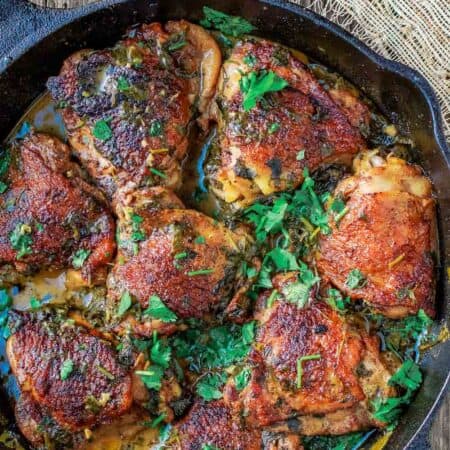 Cilantro Lime Chicken Recipe
All-star cilantro lime chicken recipe! Chicken thighs, prepared Mediterranean-style with a special spice mixture and cooked to tender perfection in a tasty garlic, lime and cilantro sauce. You can cook this in the oven (my preference) or in the slow cooker (see notes for instructions.)
Ingredients
8

chicken thighs

bone in, skin on

Private Reserve Extra Virgin Olive Oil

6

garlic cloves

roughly chopped

1

cup

dry white wine

2

limes

juice of

2

cups

chicken broth

1

bunch cilantro

stems removed, chopped; more for garnish
Instructions
Preheat your oven to 375 degrees F.

In a small bowl, mix the spices. Pat the chicken thighs dry, and season each thigh on both sides with the spice mix. Be sure to season underneath the skin as well. Let the chicken thighs sit in room temperature for about 15 minutes.

Brown the chicken. When ready, heat 1-2 tablespoons of olive oil in a cast iron skillet (with a lid). Brown the chicken thighs deeply on both sides in the heated oil. Remove from skillet and set aside briefly. Brown the chicken thighs deeply on both sides in the heated oil. Remove from skillet and set aside briefly.

Lower the heat and deglaze the skillet with the white wine. Let cook to reduce and then add the broth. Bring the liquid to a simmer then add the lime juice and garlic.

Now. return the chicken to the skillet and toss in the cilantro. Bring to a high-simmer for about 5 minutes or so.

Cover the skillet with the lid and transfer to the heated oven for 45 minutes or until the chicken is fully cooked through.

Remove from the oven and let sit for 5 minutes before serving. Garnish with more cilantro, if you like.
Notes
Cook's Tip: Do not skip step #3. Browning the chicken thighs here provides more appealing crispy skin and adds great flavor.
Slow Cooker/Crockpot Instructions: Once you've browned the chicken and prepared the sauce, transfer the sauce to the bottom of a large slow cooker or crockpot. Nestle the chicken into the sauce and add the fresh cilantro. Cover and cook on low for 5 to 6 hours or high for 2 to 3 hours (internal temperature should register 165 degrees F.)
Visit Our Shop to browse quality Mediterranean ingredients including spices and extra virgin olive oil used in this recipe
Nutrition
Calories:
289.5
kcal
Carbohydrates:
5.1
g
Protein:
19.2
g
Fat:
19
g
Saturated Fat:
5.1
g
Cholesterol:
110.7
mg
Potassium:
346.2
mg
Fiber:
0.8
g
Vitamin A:
219.7
IU
Vitamin C:
9.7
mg
Calcium:
24.9
mg
Iron:
1.2
mg
*This post first appeared on The Mediterranean Dish in 2015 and has recently been updated with new information and media of readers' benefit.