Juicy, perfectly-seasoned chicken, nestled in fragrant rice makes the best one-pot chicken and rice recipe in just over 30 minutes! Add your favorite salad and call it good!
Be sure to watch the video and read through for some important tips for how to make chicken and rice.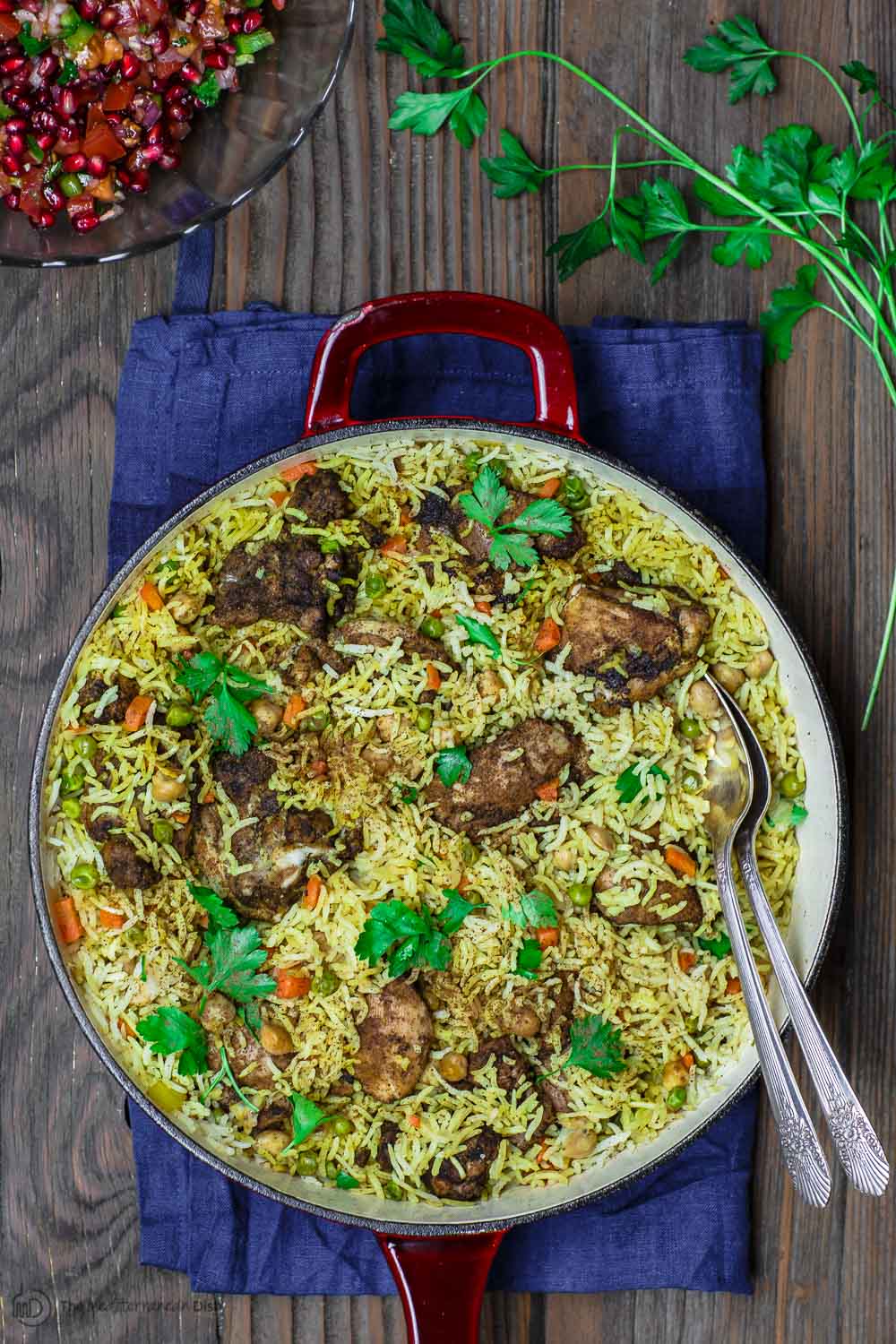 Chicken and rice have long been the comfort food of choice at my house. Family favorites include, this Spanish chicken and rice with chorizo, and these Lebanese chicken fatteh bowls. It is something my kids enjoy a ton, so why stop there!
About this chicken and rice recipe
Today's chicken and rice recipe is a riff of something my mother in law makes. She's an expert of the Levant kitchen, and anything she makes is always pure deliciousness. Last time we were visiting in Michigan, she made a simple rice with peas and carrots with a spiced roast chicken on the side. I decided to combine them both into this easy one-pot dinner, infused with warm Middle Eastern flavors like allspice, cardamom, and turmeric.
Many think of chicken and rice bake as a rich casserole that incorporates lots of butter and some sort of creamy soup from a can. This is not that, but I promise you it is comforting and more flavorful than your average chicken and rice casserole.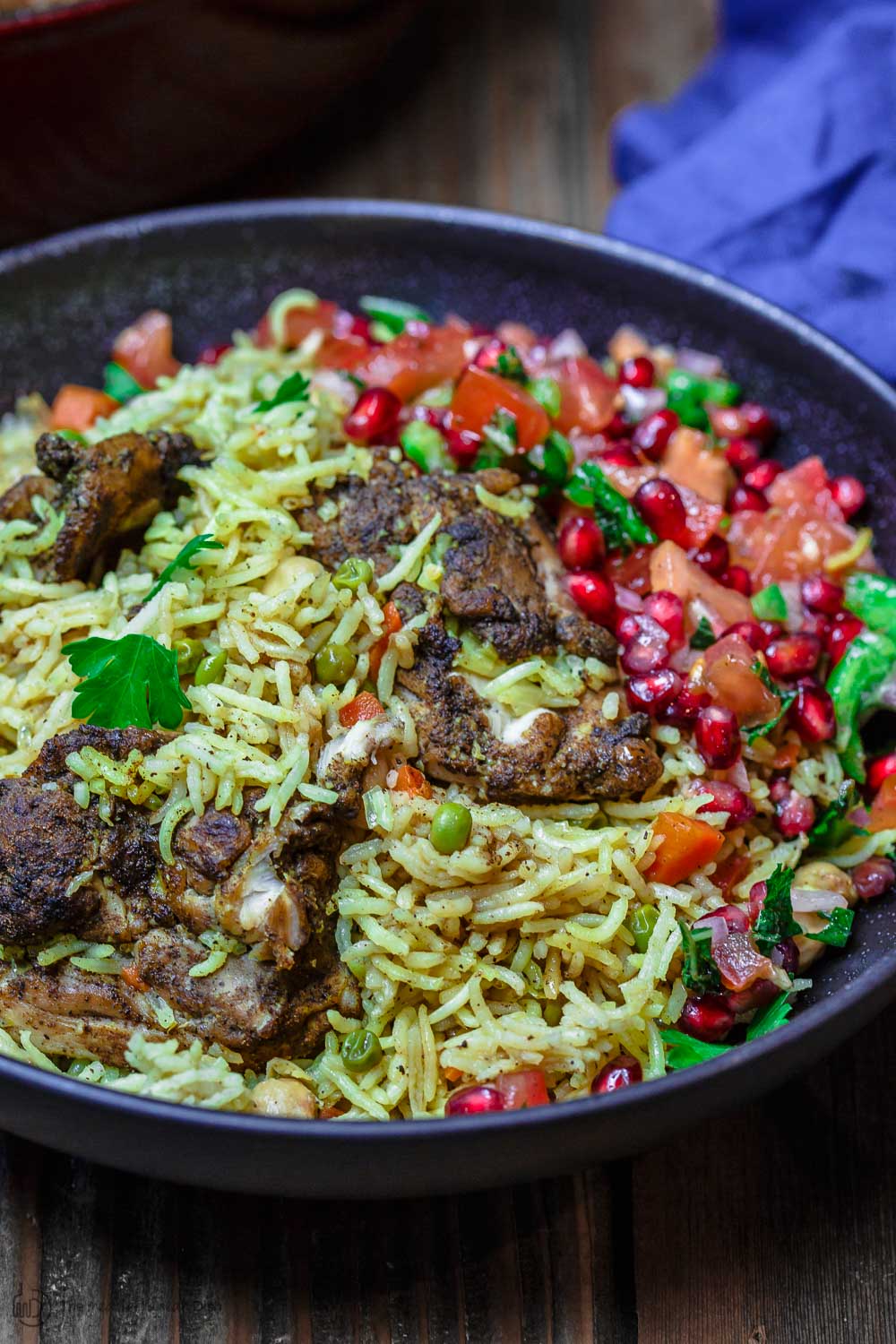 What you need for this chicken and rice
Let me give you an idea of what's in this one-pan dinner, and you'll know why it's different from other chicken and rice recipes you've seen:
Chicken. Boneless, skinless chicken thighs are my go-to here because they cook quickly and will remain nice and juicy. I used 6 chicken thighs, rubbed in the tasty spice mixture and quickly seared for some color.

Rice. 2 cups of basmati rice. It is so important to rinse your rice very well until the water runs clear and soak it in water for 15 to 20 minutes (drain before using). This will help the rice cook quickly and evenly and will prevent it from sticking.

Vegetables. In this healthy chicken and rice recipe is a number of chopped veggies and legumes like onions, carrots, frozen peas, and chickpeas (about 1 cup each), which add nutrition and flavor.

Spices and aromatics. This recipe starts with a bold spice mixture of ground allspice, black pepper, ground green cardamom, and ground turmeric, which coats the chicken for maximum flavor. There is also cinnamon sticks and a bay leaf nestled in the rice for more flavor. (Shop our all-natural and organic spices)

Broth. The main cooking liquid here is low-sodium chicken broth (like I said, no heavy creamy soups from a can)

Extra virgin olive oil. As my cooking fat of choice, EVOO here is used to sear the chicken, giving it great color and flavor, and to cook the vegetables as well before adding the rice and broth to the pan. (Shop our olive oil selection)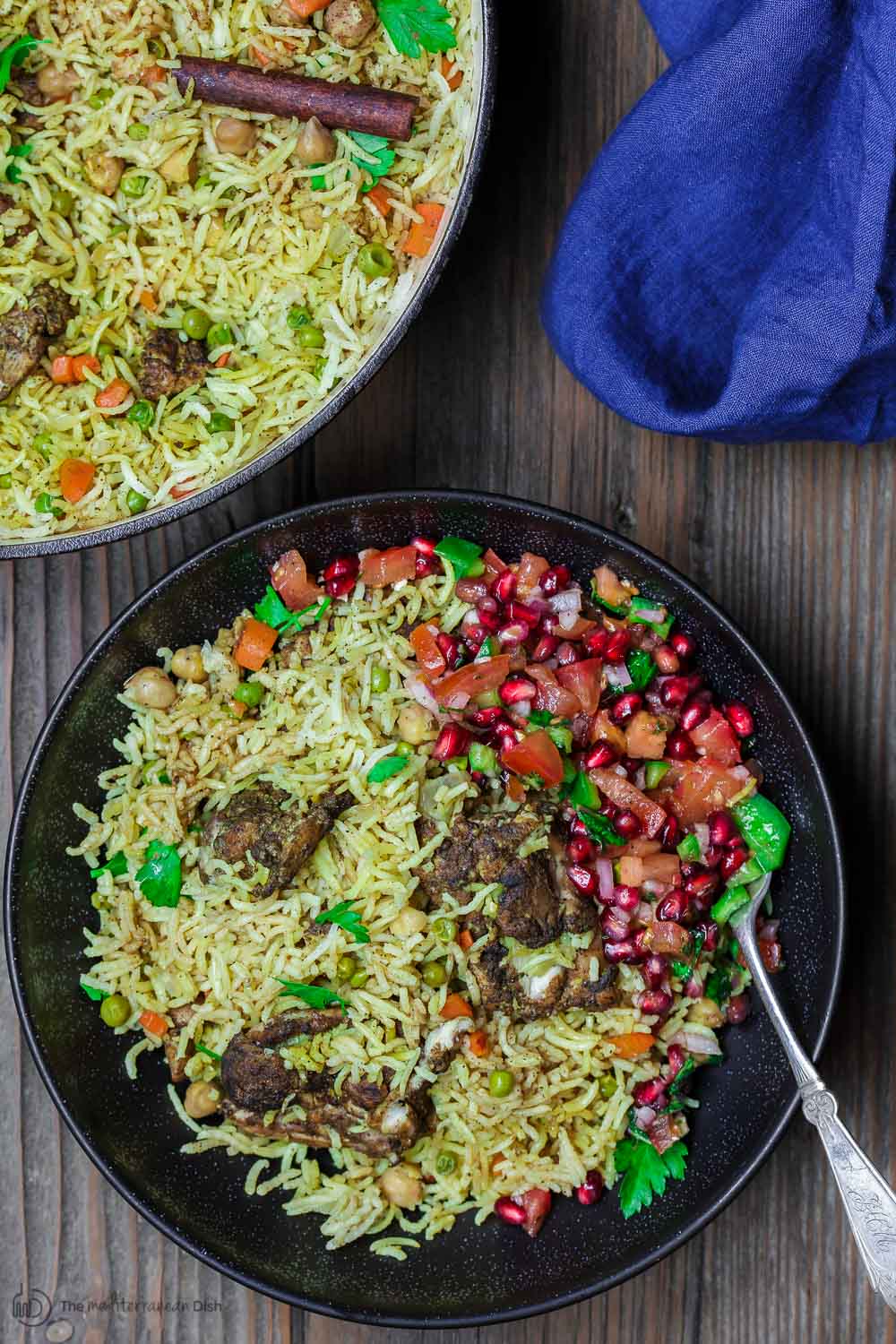 How to make chicken and rice from scratch?
This is a simple stovetop recipe that takes one large braising pan like this one and about 30 minutes to cook. Here is the gist, but you can check out the full recipe and video below:
Brown the chicken First, pat the boneless chicken pieces dry, salt on both sides and coat them well with the spice mixture (2 tsp ground allspice, 1 tsp black pepper, ¾ tsp ground green cardamom, ¼ tsp ground turmeric). Heat up a bit of good extra virgin olive oil in a large deep pan with a lid (something like this). Brown the chicken on both sides, then set the chicken aside so you can use the same pan.
Sautee the vegetables. Toss the chopped onions, carrots, and frozen peas in the pan and sautee in olive oil until softened.
Add the rice, chickpeas. Now, this is why the pan needs to be nice and big. Add well-rinsed basmati rice that's been soaked in water and drained, and chickpeas and season with salt, ½ teaspoon allspice and ¼ teaspoon ground cardamom. Stir to combine.
Add the chicken back, add broth etc. Nestle the chicken pieces in the rice and add the broth, cinnamon sticks, and bay leaf
Cook. Bring the liquid to a boil, then turn the heat to low. Cover the pan and cook for 20 minutes or until the rice is fully cooked and tender (not hard or chewy) and the chicken is fully cooked (its juices should run clear). Garnish with parsley.
What to serve with it
I love the idea of serving a big bright salad next to this chicken and rice dinner. There are so many options to choose from, but here are a few: pomegranate tomato salad, Shirazi salad, fattoush, or Greek salad.
And if you want to add some dips or appetizers to complete this Mediterranean feast, try Melitzanosalata (Greek eggplant dip), hummus, baked zucchini spears, or cauliflower fritters.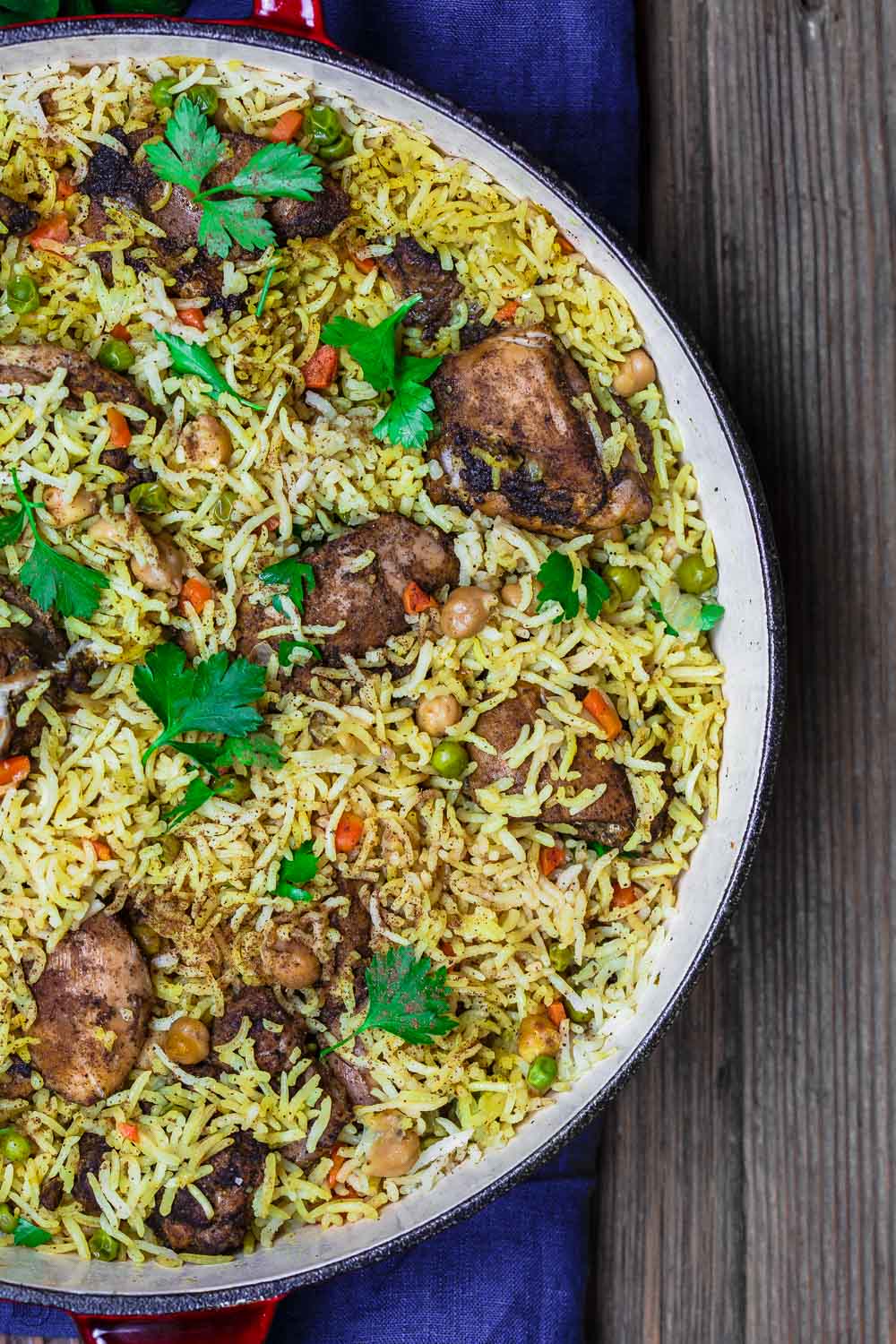 You may also like
Hungry for more? Browse more Middle Eastern recipes, top Mediterranean diet recipes, all Mediterranean recipes
Easy One-Pot Chicken and Rice Recipe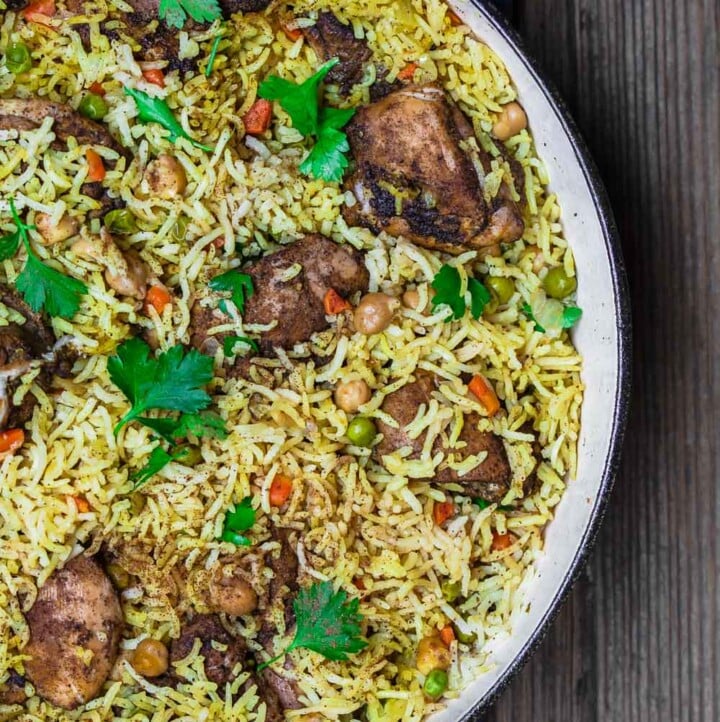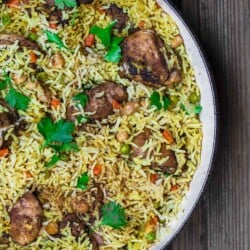 Simple, comforting, one-pot chicken and rice recipe with chopped veggies, chickpeas, and warm Middle Eastern spices. Ready in just over 30 minutes.
Ingredients
For the Chicken and Rice
6

boneless skinless chicken thighs

Kosher salt

1

cup

chopped yellow onions,

about ½ large onion

2

carrots,

chopped

1

cup

frozen peas

1

cup

cooked chickpeas

or from canned chickpeas, drained and rinsed

2

cups

Basmati rice,

rinsed well and soaked in water for 15 to 20 minutes and drained*

2

cinnamon sticks

1

dry bay leaf

2

cups

low-sodium chicken broth,

boiling
Instructions
In a small bowl, mix the spices to make the spice mixture. Set aside for now.

Pat chicken thighs dry and cut them into large pieces (I simply cut each in half). Season well with salt, then season with the spice mixture. Work the chicken with clean hands to make sure all the pieces are well-coated with the spice mixture. Set at room temperature for 20 minutes or so (if you have the time).

In a large and deep cooking skillet with a lid, heat 3 tablespoon extra virgin olive oil over medium-high until shimmering but not smoking. Brown the chicken briefly on both sides. Remove from the skillet and set aside for now.

To the same skillet, now add onions, carrots, and frozen peas. Cook for 4 minutes or so, tossing regularly, until tender. Add the chickpeas and rice. Season with salt, ½ teaspoon allspice and ¼ teaspoon ground cardamom. Stir to combine.

Add the chicken back to the skillet (nestle the pieces in the rice). Add the cinnamon sticks, bay leaf, and chicken broth. Bring to a boil.

Turn the heat to low. Cover and cook for 20 minutes or until fully cooked.

Remove from the heat, garnish with parsley.
Notes
Important Rice Note: Wash the rice three times with warm water until the water runs clear and place it in a bowl and let it soak in water for 15 to 20 minutes. This will help it cook evenly and quickly without getting sticky.
Visit Our Online Shop to browse quality Mediterranean ingredients including olive oils and spices used in this recipe
Nutrition
Calories:
401.2
kcal
Carbohydrates:
45
g
Protein:
24.9
g
Saturated Fat:
1.8
g
Cholesterol:
71.8
mg
Sodium:
306.8
mg
Potassium:
587.8
mg
Fiber:
6.1
g
Vitamin A:
3617.7
IU
Vitamin C:
13.6
mg
Calcium:
78.5
mg
Iron:
2.8
mg
*This post first appeared on The Mediterranean Dish in 2018 and has been recently updated with new information and media for readers' benefit.