Simple, comforting, one-pot chicken and rice dinner with a tasty Middle Eastern twist. Ready in 30 minutes!
This recipe is in partnership with ButcherBox, your neighborhood butcher online. Get $10 off + free organic, free range chicken with your first order here.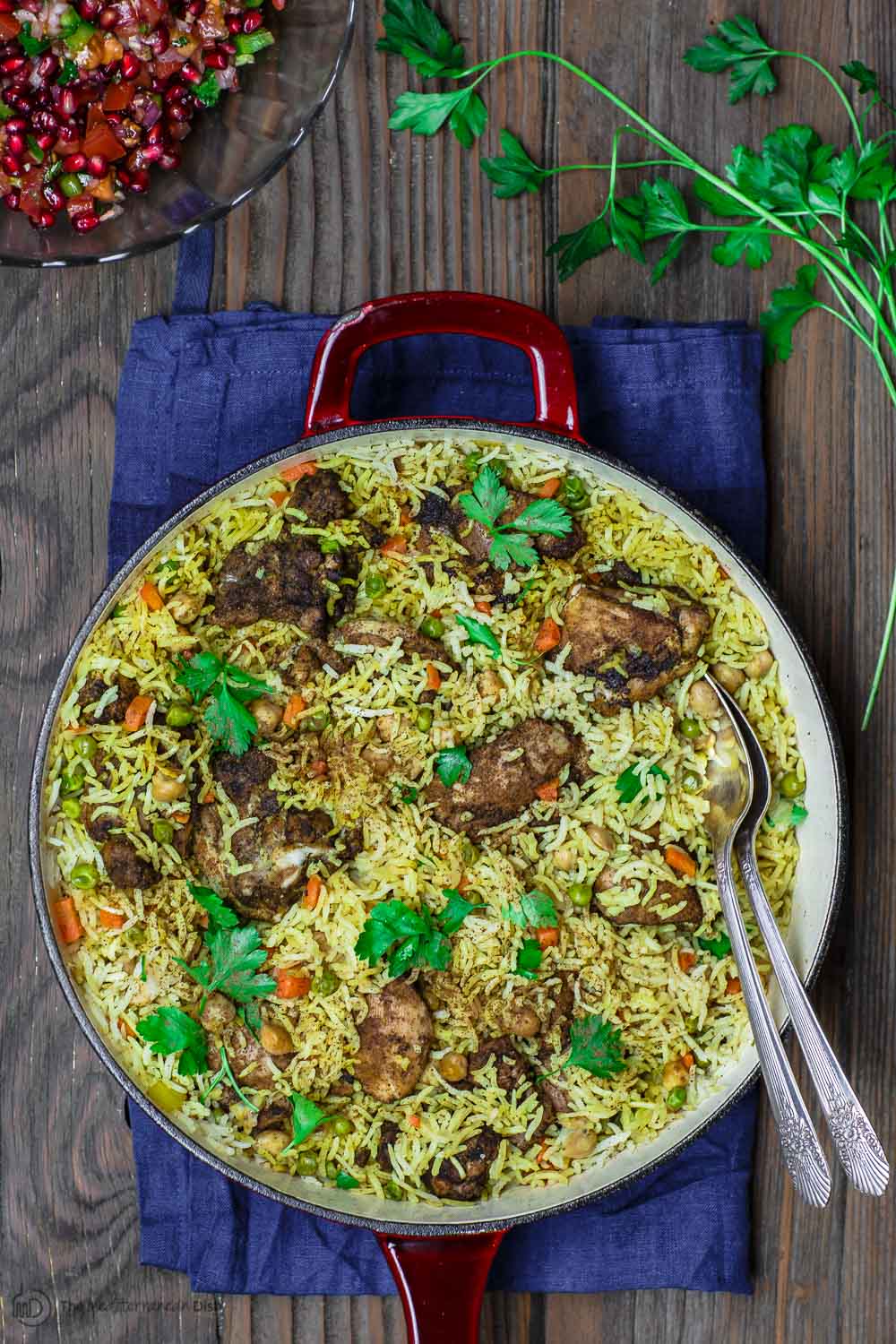 Chicken and rice have long been the comfort food of choice at my house. Family favorites include, this Spanish chicken and rice with chorizo, and these Lebanese chicken fatteh bowls. It's something my kids enjoy a ton, so why stop there!
Today's Middle Eastern chicken and rice recipe is a riff of something my mother in law makes. She's a master of the Levant kitchen, and anything she makes is always pure deliciousness. Last time we were visiting in Michigan, she made a simple rice with peas and carrots, plus a spiced roast chicken on the side. I decided to combine them both into this easy one-pot dinner.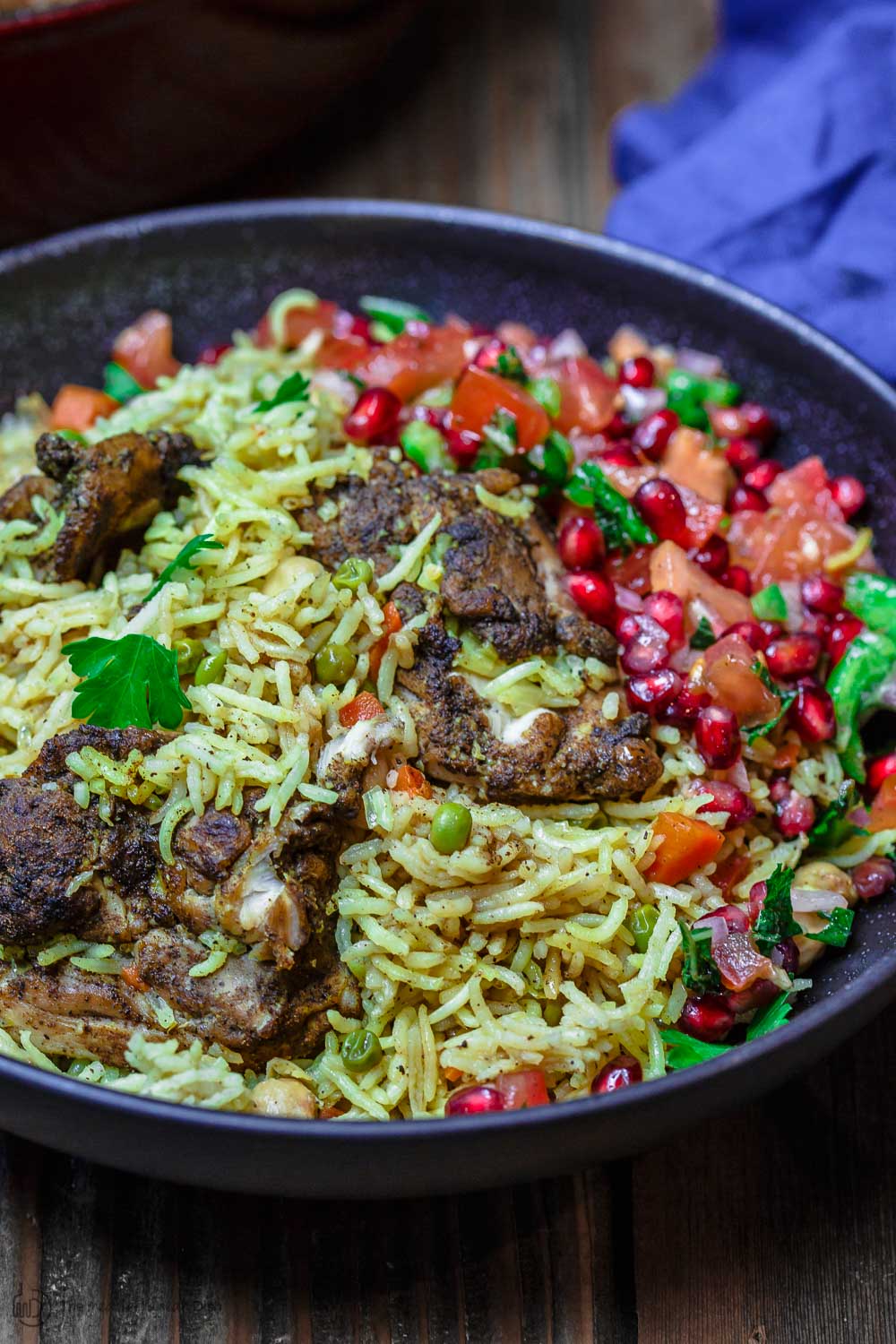 First, boneless chicken pieces take on a quick Middle Eastern spice blend (the stars here are definitely allspice and green cardamom.) Then, we give them a quick browning in excellent EVOO before adding basmati rice, chickpeas, and all the rest in. Everything cooks together in one pot for about 20 minutes or so.
If you've seen my recent Facebook video, you know that I'm trying out ButcherBox organic, free-range chicken from my first monthly delivery. I am every bit as in love with its succulent and clean flavor as I am with the fact that ButcherBox chickens are fed an organic and vegetarian diet that is pesticide-free, chemical-free, and hormone free.  (More about why I use ButcherBox box below the recipe.)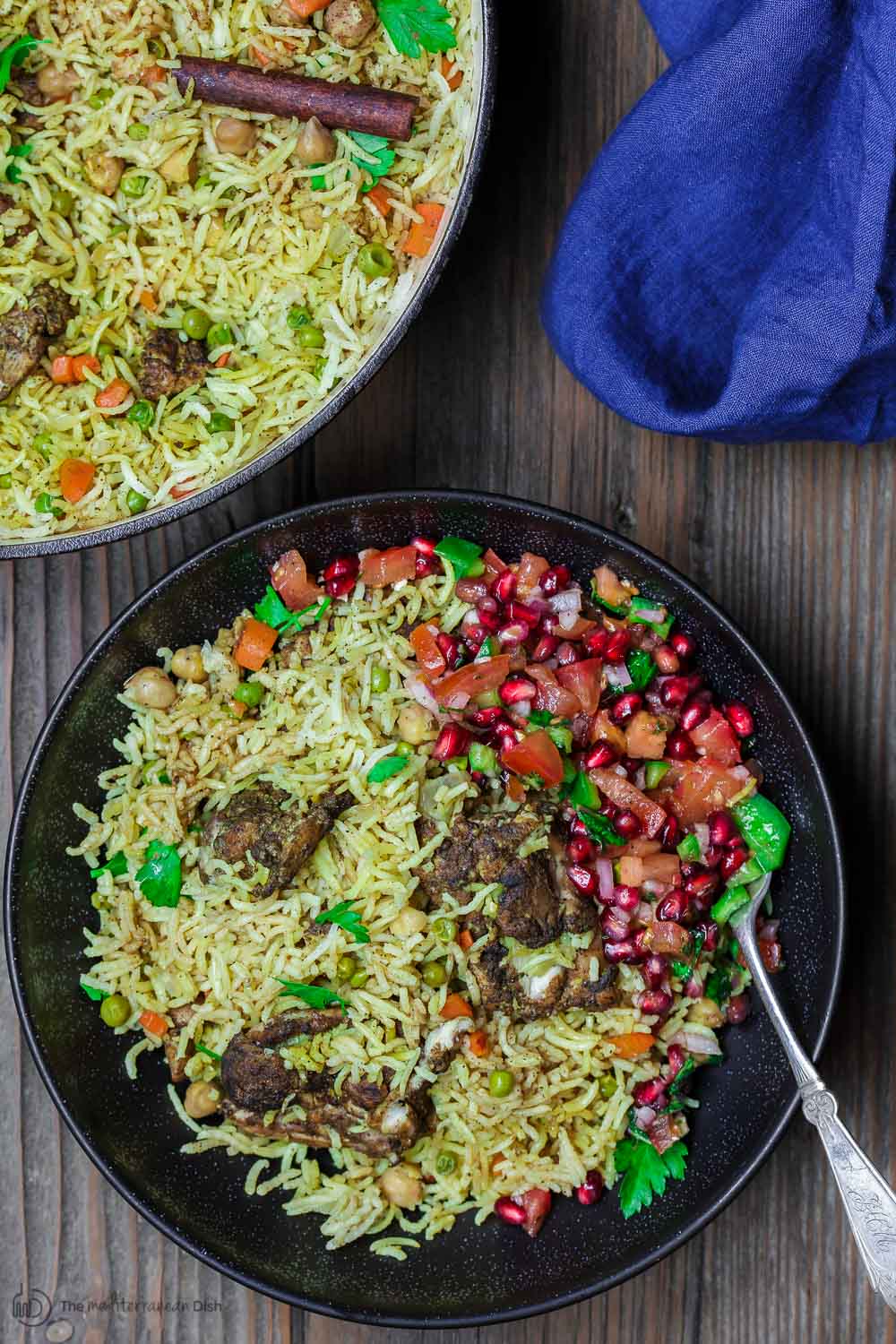 What to serve with this Middle Eastern Chicken and Rice?
With pomegranates so plentiful these days, I decided to serve my chicken and rice in bowls with a generous side of this zingy pomegranate tomato salad and a dollop of Greek Tzatziki sauce. Of course, if you have the time, make a big bowl of tabouli salad or fattoush salad instead. And a starter of creamy roasted garlic hummus wouldn't hurt.
Learn more about why I use ButcherBox's convenient, quality meat delivery service, and how it works, just below the recipe. And get $10 off plus free organic, free-range boneless chicken to try this recipe!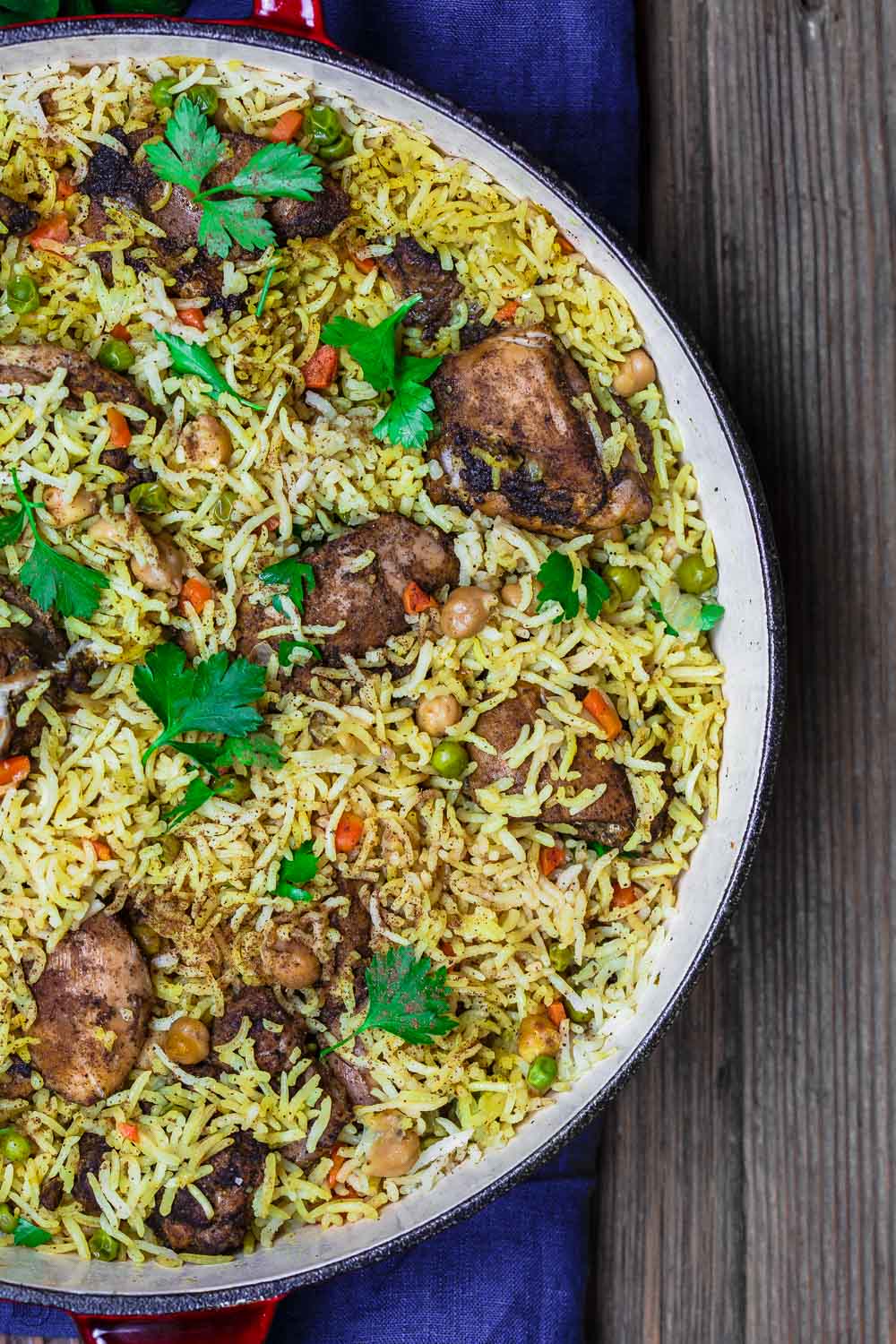 Print
Middle Eastern Chicken and Rice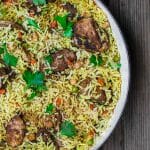 Simple, comforting, one-pot chicken and rice dinner with a tasty Middle Eastern twist. Flavor heaven. Gluten free dinner in minutes!
Author:
Prep Time:

10 mins

Cook Time:

30 mins

Total Time:

40 minutes

Yield:

6 servings
Ingredients
Spice Mixture
For Chicken
6 boneless skinless chicken thighs (I use ButcherBox organic, free-range chicken)
Salt
Private Reserve Greek extra virgin olive oil
1 cup chopped yellow onions (about 1/2 large onion)
2 carrots, chopped
1 cup frozen peas
1 cup cooked chickpeas (or from canned chickpeas, drained and rinsed)
2 cups Basmati rice, rinsed
2 cinnamon sticks
1 dry bay leaf
2 cups boiling low-fat and low-sodium chicken broth
Instructions
In a small bowl, mix the spices to make the spice mixture. Set aside for now.
Pat chicken thighs dry and cut them into large pieces (I simply cut each in half). Season well with salt, then season with the spice mixture. Work the chicken with clean hands to make sure all the pieces are well-coated with the spice mixture. Set at room temperature for 20 minutes or so (if you have the time).
In a large and deep cooking skillet with a lid (like this one), heat 3 tbsp extra virgin olive oil on medium-high until shimmering but not smoking. Brown chicken briefly on both sides (you are not trying to fully cook the chicken at this point). Remove from skillet and set aside for now.
To the same skillet, now add onions, carrots, and frozen peas. Cook for 4 minutes or so, tossing regularly, until tender. Add chickpeas and rice. Season with salt, 1/2 tsp allspice and 1/4 tsp ground cardamom. Stir to combine.
Add chicken back to the skillet (nestle the pieces in between the rice). Add cinnamon sticks, bay leaf, and chicken broth. Bring to a boil.
Turn heat to low. Cover and cook for 20 minutes or until fully cooked.
Remove from heat, garnish with parsley and serve with a side of this pomegranate tomato salad; fattoush salad; or this simple 3 ingredient Mediterranean salad. Add a dollop of Greek tzatziki sauce, if you like!
Notes
Important tip: Wash the rice three times with warm water. Place rice in a bowl, tip a good amount of warm water in, swirl a little with your fingers. Dump the water out and repeat. It sounds like a bit much, but it ensures the rice never sticks. A trick I learned from Nigel Slater.
Recommended for this Recipe: ButcherBox organic, free-range chicken (see more info in the post above!)
Recommended for this Recipe: From our all-natural and organic spice collections, ground allspice; ground green cardamom; ground turmeric! And our Private Reserve Greek extra virgin olive oil (premium EVOO from organically grown and processed Koroneiki olives)
SAVE! Try our Ultimate Mediterranean Spice Bundle; or Create your own 6-pack or 3-pack from our all-natural and organic spice collections!
ButcherBox, why and how it works!
Think of ButcherBox like your friendly neighborhood butcher, only online!  They work directly with a collective of small, family-owned and run farms that use humane practices in raising animals that on a vegetarian and organic diet with absolutely no chemicals or hormones. Because of that, they delivers only premium quality, 100% grass-fed and grass-finished beef; free-range organic chicken; and heritage breed pork.
I ordered my first custom ButcherBox, and couldn't be more thrilled with it! I received about 20 meals in the box, averaging $6 per individual meal. The meat and chicken are flash-frozen at peak of freshness, and safely vacuum-sealed and packed into a little dry-ice fridge that ships right to your door. And shipping is FREE!
How to order your first ButcherBox?
If you live in the U.S., use this link to get $10 off your first order + some tasty boneless chicken thighs to make this recipe. Remember SHIPPING IS FREE!
Select your box– choose from four different types of boxes, all including their amazing grass-fed beef and change your box type anytime
Customize to your liking – beef up your box by selecting some of our tasty add-ons.
Set your schedule – ButcherBox is a monthly membership service but you can adjust your frequency to receive a box every other month or every three months. You can also cancel anytime.

More Recipes to Try
Easy Greek Chicken and Potato Dinner
Mediterranean Bean Soup with Tomato Pesto