Easy one-pan Spanish chicken and rice made with onions, bell peppers, chorizo, and a simple seasoning with a bit of a smoky kick! Think of this as a fun variation of Arroz con Pollo that is loads of comfort and flavor!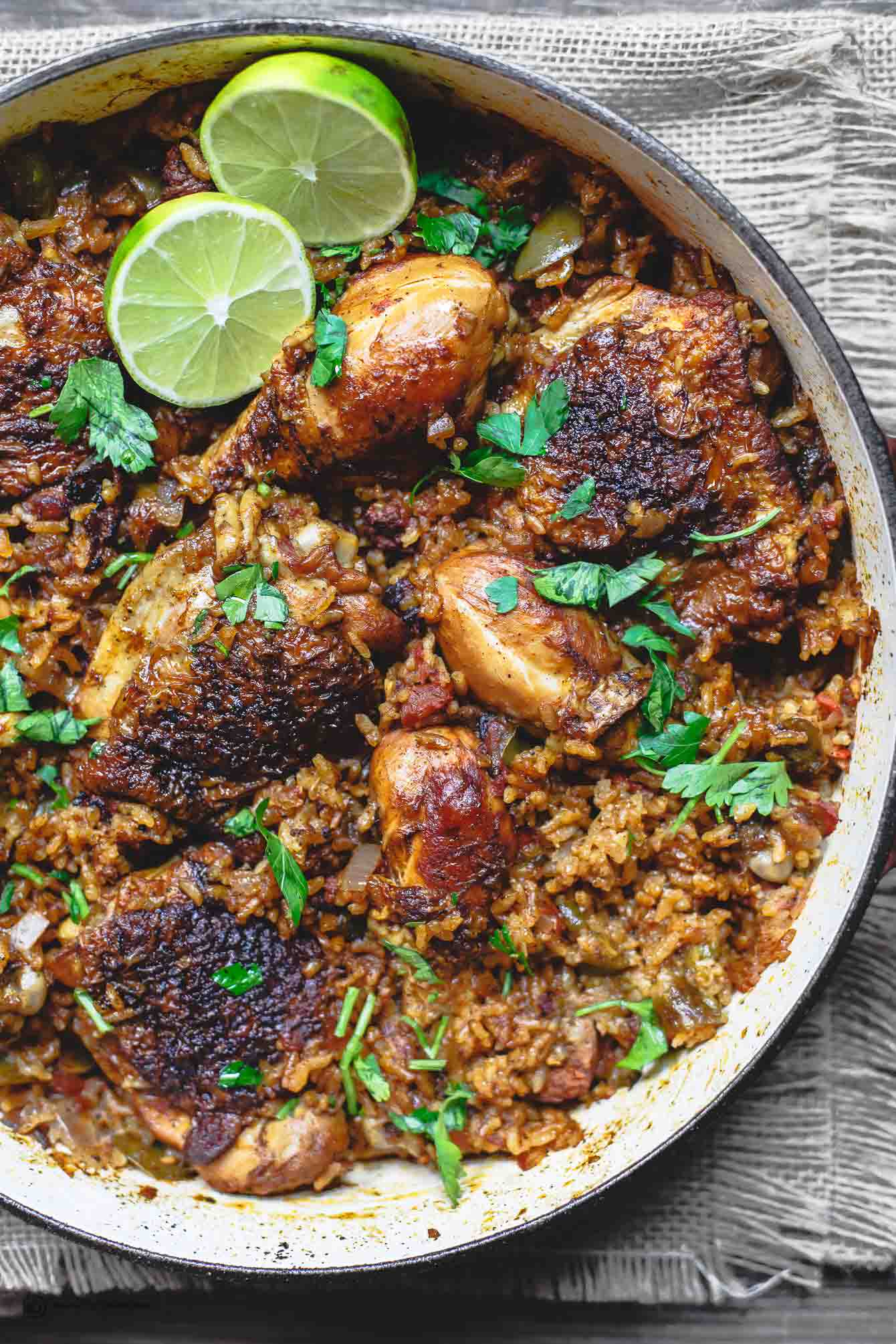 A twist on Arroz con Pollo
Arroz con Pollo, or chicken and rice, is a comforting casserole with several versions from Spain and Latin America.
And you'll find even more modern variations from cooks all over the world. The seasonings and aromatics in this dish may vary, but the two star ingredients of rice and chicken remain the same. In this version of arroz con pollo, I skip the saffron threads for an easier and more budget friendly option. Still the biggest draw for me is the bold flavors in this dish from a few tasty ingredients:
Spicy chorizo (yes, uncooked chorizo will work if you can't find Spanish chorizo)
A sofrito of chopped onions, bell peppers, and garlic sauteed in extra virgin olive oil
Smoked paprika and a hint of cayenne as part of bold spice rub for the chicken
A little sweetness and umami from a bit of tomato paste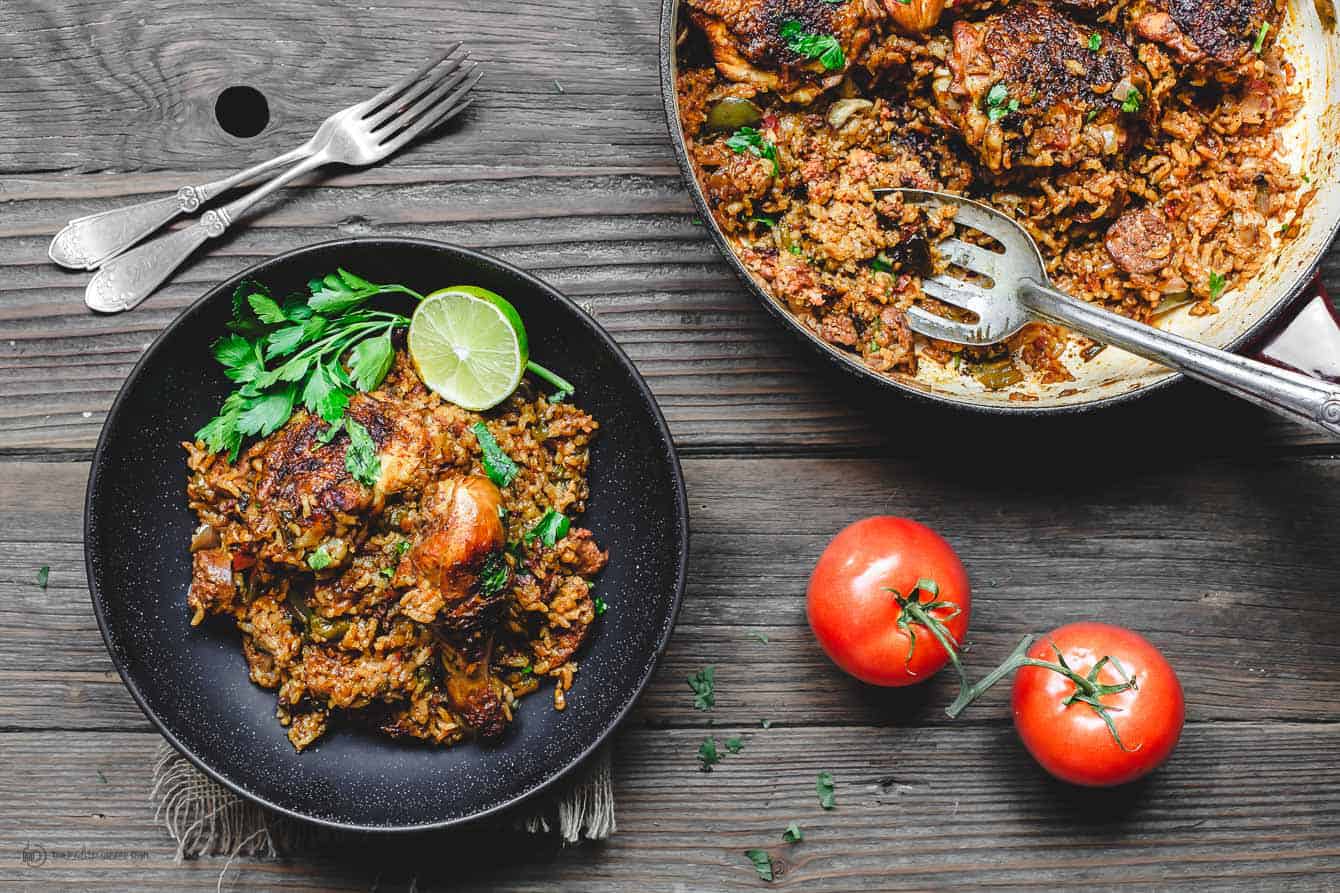 What kind of rice to use for arroz con pollo?
Some recipes will call for short grain rice. I prefer a medium-grain rice like I typically use for my version of paella. I have found that short grain rice can produce a result that is much too sticky, while long grain rice is looser and does not quite provide the texture I'm looking for. That is why the best option for me is medium grain Spanish rice.
Do you have to rinse the rice before cooking?
Selecting the rice for your arroz con pollo is important, but for best results, be sure to rinse the rice several times until the water runs clear.
For me, I go one step further to soak the rice in water for a few minutes (15 to 20 minutes or so). I do this with almost every rice dish (you've seen it earlier in my hashweh rice and this shrimp and rice recipe). I learned this trick from my mom.
Why do I soak the rice before cooking? Soaking the rice helps get rid of excess starch which is what tends to make it too sticky. And, I've found, it also helps the rice cook quickly and evenly. That's because when you soak the rice, you're kick-starting the water absorption process before the rice hits the pan.
How to make arroz con pollo?
This recipe is easy to make in just one large pan (a lid is a must). And it is all about cooking things in different stages for best flavor and texture.
First, the chicken is covered in a simple spice rub that includes smoked paprika and a hint of cayenne pepper. And before you do anything else, take the time to brown the chicken deeply on both sides in some extra virgin olive oil. This is a great way to develop more flavor and, of course, crisp up the chicken skins!
Next, cook the chorizo sausage with onions, green peppers, and garlic before adding the tomatoes, tomato paste and chicken broth (you need the liquid to cook up the chicken and the rice).
Now add the chicken followed by the rice. Because you're using bone-in chicken pieces (which is a far better option here), you'll want to cook the chicken in the broth for a few minutes (about 15 minutes or so covered), before you finally add the rice (the chicken goes on top of the rice, and everything cooks together in the covered pan)
Cove the pan and cook over low heat for about 20 minutes or until the rice is tender and fully cooked).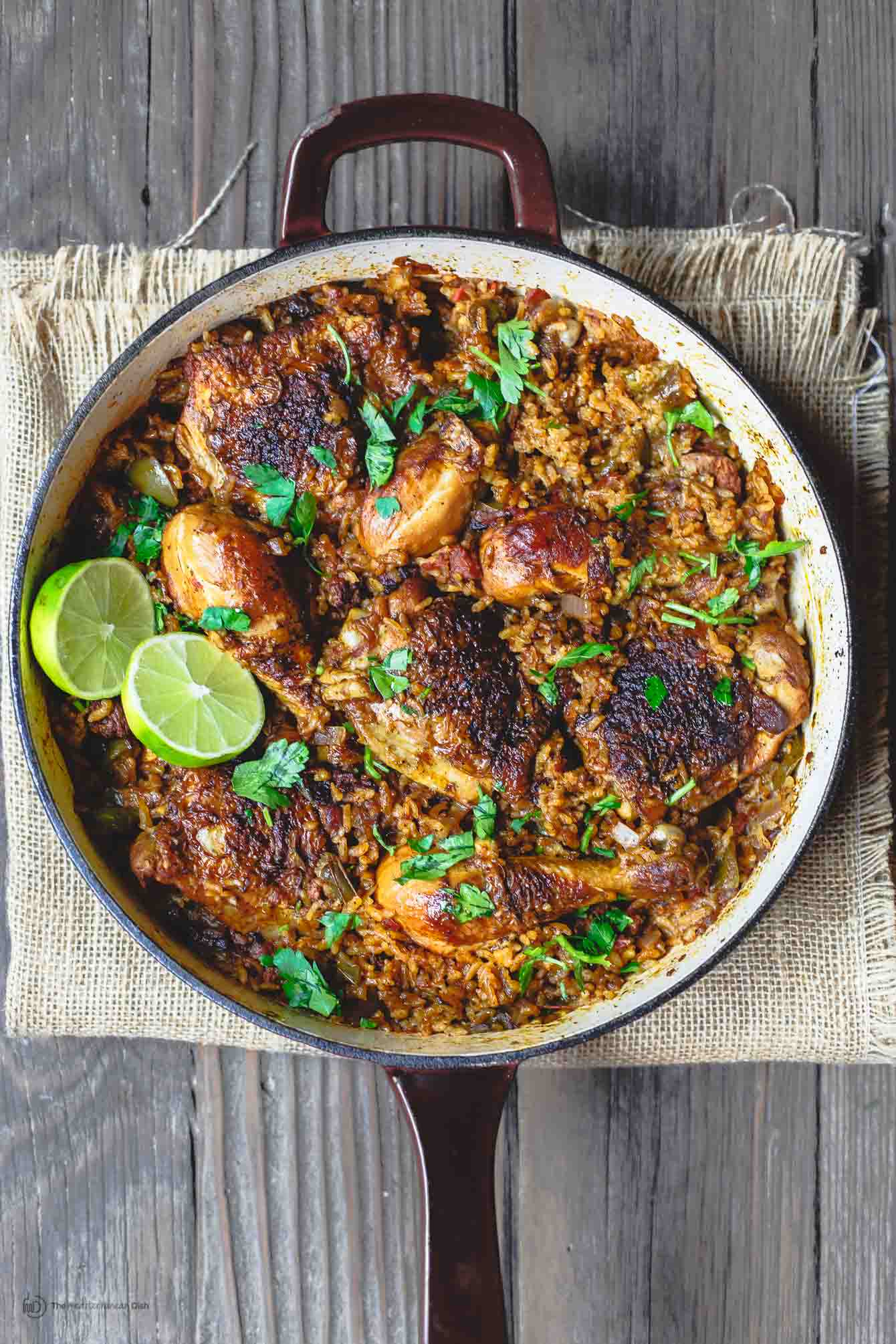 Important tip
Once cooked, leave the chicken and rice in the covered pan, undisturbed for 10 minutes or so. The rice needs time to rest, and allowing the time means that the starch will set and the moisture can evenly distribute so you don't end up with a gluey mess.
What to serve with Spanish chicken and rice?
Personally, I think this is meant to stand on its own--a bowl full of chicken and rice goodness! But it's nice to add a little side salad to compliment the hearty bowl. Two of my favorites are this kidney bean and cilantro salad or this big chickpea salad.
Related recipes to try next!
Browse more Mediterranean recipes. Visit Our Shop for quality Mediterranean ingredients.
One Pan Spanish Chicken and Rice Recipe (Arroz con Pollo)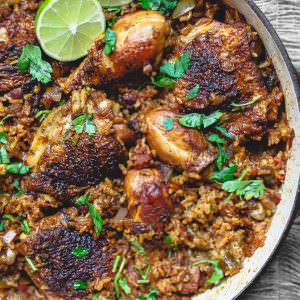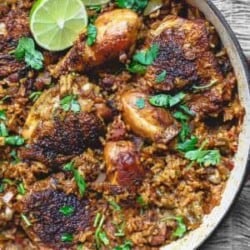 A delicious and easy take on Arroz con Pollo, this Spanish chicken and rice recipe with chorizo is a satisfying and flavorfu one-pan-wonder! It's important to rinse and soak the rice in water for a little while to get rid of excess starch. Take the time to brown the chicken fully and
Ingredients
For Chicken etc.
1 ½

cup

medium grain rice

washed

4

bone-in

skin-on chicken thighs

4

chicken drumsticks

6

oz

bulk Chorizo sausage

no casings

1

large green bell pepper

cored, chopped

1

medium red onion

peeled, chopped

2

garlic cloves

peeled, crushed

1

large ripe tomato

chopped

3

tablespoon

tomato paste

3

cups

chicken broth
For Spice Rub
1

tablespoon

smoked paprika

1

teaspoon

garlic powder

1

teaspoon

salt

1

teaspoon

black pepper

½

teaspoon

cayenne pepper

more or less to your liking (optional)
Instructions
Soak the rice in water. Rinse the rice well and place it in a bowl. Cover the rice with water and allow it to soak for 15 minutes while you work on other things. You should be able to break a grain of rice easily. Drain well.

Make the spice rub. In a small bowl, mix the spices, salt and pepper.

Season the chicken. Pat the chicken dry and season with the spice rub, be sure to lift the chicken skins and apply some of the spice rub underneath (this is important for flavor).

Brown the chicken on both sides. In a 5-quart braiser pan (or a large deep skillet with a cover), heat 1 tablespoon extra virgin olive oil over medium-high heat until shimmering but not smoking. Carefully add the chicken and brown deeply on both sides. Remove the chicken and set it aside on a plate for now.

Cook chorizo and vegetables. In the same pan, add the chorizo. Cook for 10 minutes, stirring regularly until the chorizo has nicely browned. Add the green peppers, onions, and garlic. Cook over medium heat, stirring regularly, for 5 minutes.

Cook the chicken. Now add the chopped tomatoes, tomato paste, and chicken broth. Add the browned chicken back to the pan. Raise the heat to bring the liquid to a boil, then lower to medium and cover. Cook for about 15 to 20 minutes.

Add the rice and cook the rice with the chicken. Uncover the pan and remove the chicken briefly (set on a dish near the stove for now). Stir the drained rice into the cooking liquid. Cook uncovered over high heat for 1 to 2 minutes. Add the chicken back on top of the rice. Turn the heat to low, cover the pan again and cook the rice and chicken together for another 20 minutes or until the rice is fully cooked.

Let the chicken and rice rest in the pan. Turn the heat off, but leave the pan covered and undisturbed for 10 more minutes. Serve hot.
Notes
Tip: Once cooked, leave the Spanish chicken and rice in the covered pan, undisturbed for 10 minutes or so. Rice needs time to rest, and allowing the time means that the starch will set and the moisture can evenly distribute so you don't end up with a gluey mess.
Leftovers & Storage: allow leftovers to cool and store in the fridge in a tight-lid glass container for 3 days or so.
Visit our shop to browse quality Mediterranean ingredients including extra virgin olive oils and smoked paprika used in this recipe!
Nutrition
Calories:
687.6
kcal
Carbohydrates:
64.6
g
Protein:
48.5
g
Saturated Fat:
7.8
g
Cholesterol:
163.5
mg
Potassium:
977.3
mg
Fiber:
3.8
g
Sugar:
2.9
g
Vitamin A:
1148.3
IU
Vitamin C:
33.1
mg
Calcium:
58.7
mg
Iron:
5.4
mg
*This post originally appeared on The Mediterranean Dish in 2017 and has been recently updated with new information and media for readers' benefit. Enjoy!