Loaded Lebanese Rice with ground beef, nuts and raisins. Not your average rice! Step-by-step photos below the recipe.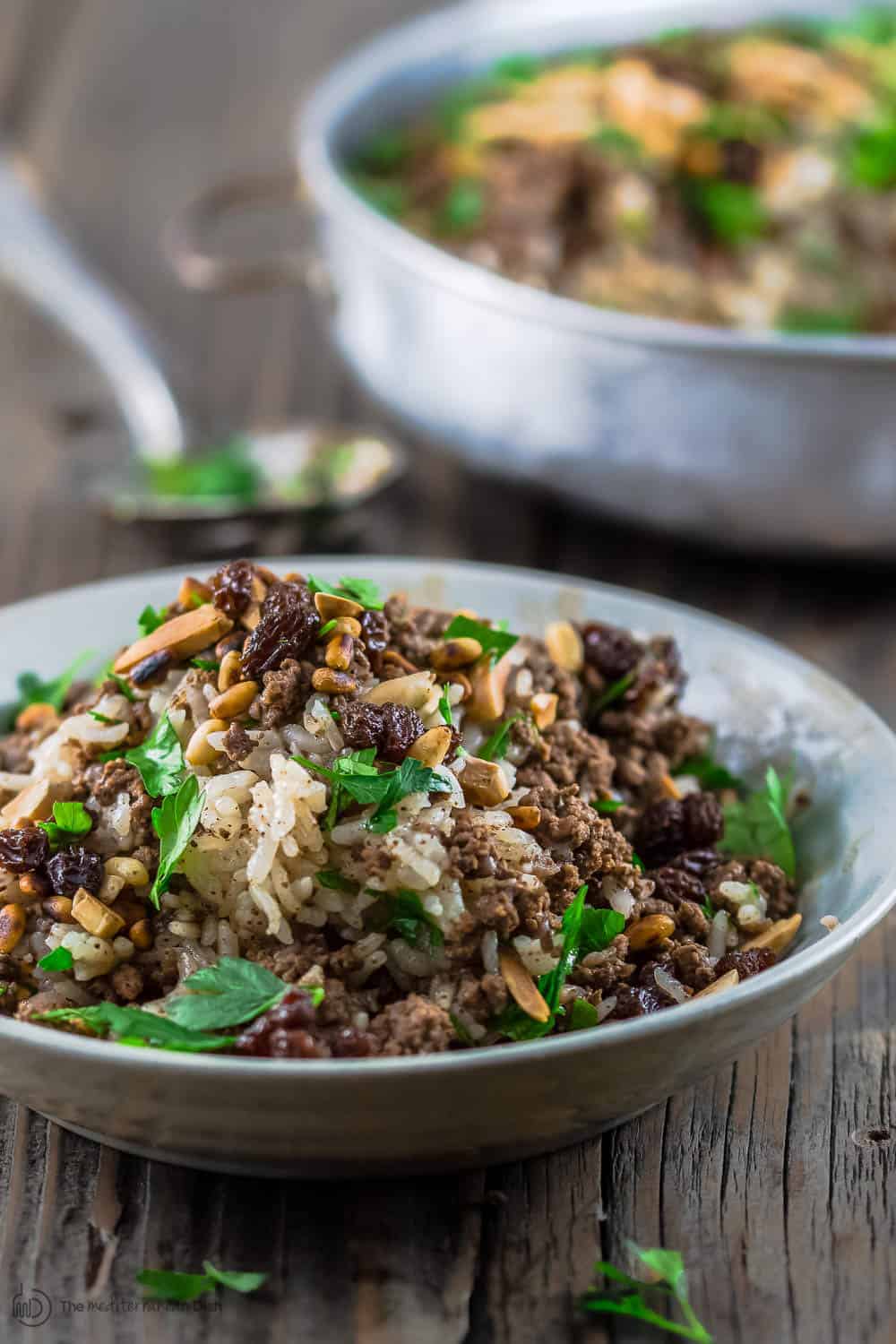 In our household, this Lebanese rice has been lovingly named, "dirty rice." It is more properly known throughout the Middle East as hashweh, which literally means stuffing or stuffed.
To be fair, this Lebanese rice is anything but an average "stuffing" to be hidden or added as an afterthought to a main dish.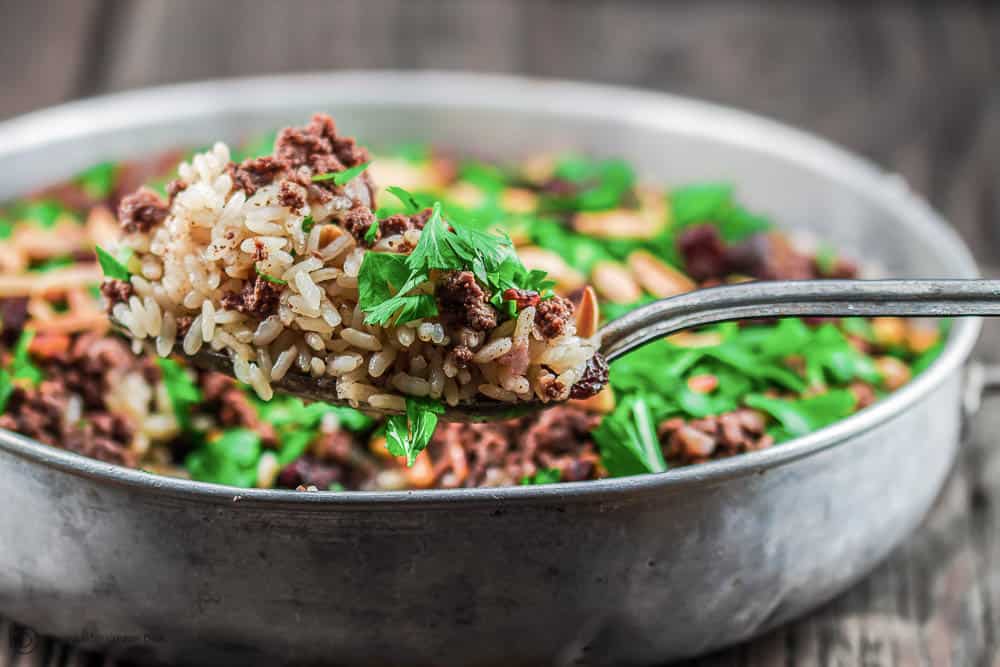 I prefer to think of it as loaded Lebanese rice.
The gist: medium-grain rice, loaded with ground or minced beef (or lamb), lots of toasted nuts and dried fruit (I used raisins). What makes it extra special are the layers of flavor you get in each bite, thanks to aromatics and sweet, earthy spices—top of the list: allspice.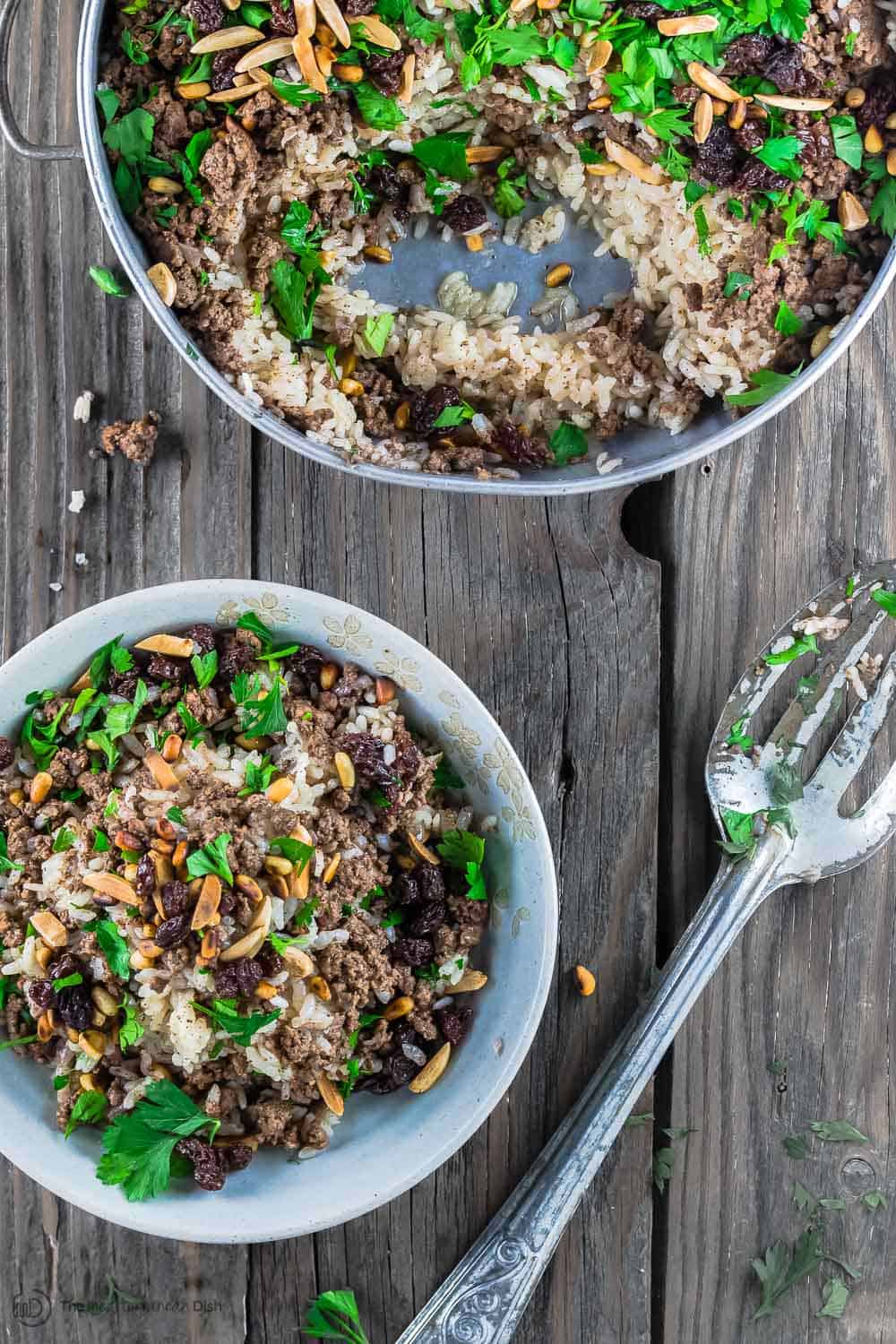 What to serve with Loaded Lebanese Rice: Hashweh?
Sure, this gorgeous Lebanese rice makes a great side dish. (And I do often serve it as a gluten-free stuffing alternative for Thanksgiving.) But, I have no shame serving it as a main course with a side of this chickpea salad or this simple 3-ingredient Mediterranean salad. Think dinner bowl, equal in awesomeness to this Lebanese fatteh dinner.
(Step-by-step photos below the recipe)
Print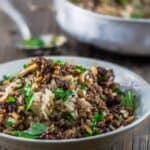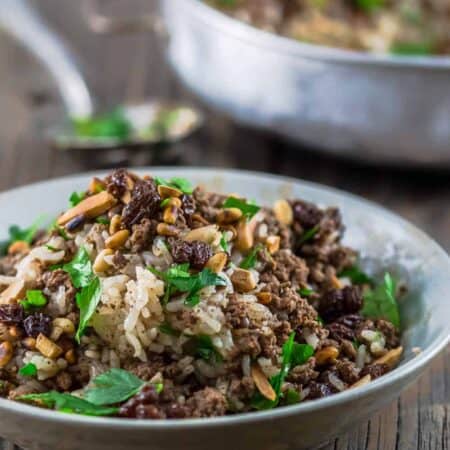 Loaded Lebanese Rice: Hashweh
---
Author:

Prep Time:

20 mins

Cook Time:

30 mins

Total Time:

50 minutes

Yield:

4-6

Category:

Side dish

Cuisine:

Lebanese
Description
This Lebanese rice pilaf called hashweh is not your ordinary rice. Loaded with lean ground beef, toasted nuts, raisins. Seasoned to perfection! See step-by-step photos below the recipe
---
Ingredients
1 1/2 cups medium grain rice
Olive oil
1 small red onion, finely chopped
1 lb lean ground beef or lean ground lamb
1 3/4 tsp  ground allspice, divided
1 tsp garlic powder
3/4 tsp ground cloves, divided
3/4 tsp ground cinnamon, divided
salt and pepper
1/2 cup fresh parsley leaves, roughly chopped
1/3 to 1/2 cup pine nuts, toasted
1/3 to 1/2 cup slivered almonds, toasted
1/2 cup dark raisins
---
Instructions
Soak the rice in cold water for 15 minutes or until you are easily able to break one grain of rice between your thumb and index fingers. When ready, drain well.
Meanwhile, heat 1 tbsp of olive oil in a heavy cooking pot. Add chopped red onions, cook on medium-high heat briefly, then add the ground beef.  Season the meat mixture with 1 1/4 tsp allspice, 1 tsp garlic powder, 1/2 tsp ground cloves, 1/2 tsp ground cinnamon, salt and pepper. Toss together to combine. Cook until the meat is fully browned (8-10 minutes). Drain.
Top the meat with rice. Season the rice with a little salt and the remainder of the allspice, ground cloves and cinnamon. Add 2 1/2 cups of water and 1 tbsp of olive oil to cover the rice.
Turn heat to high and bring the liquid to a rolling boil. Let boil until the liquid has significantly reduced (see picture below).
Now turn heat to low and cover; let cook for 20 minutes or until moisture has completely been absorbed and the rice is no longer hard nor sticky. Remove from heat and set aside for 10 minutes.
Uncover the rice pot and place a large round serving platter on the opening of the rice pot. Carefully flip the pot contents onto the platter so that the meat layer now tops the rice.
Garnish with parsley, toasted pine nuts, almonds and raisins. Enjoy.
Keywords: Hashweh, Hashweh Rice, Lebanese Rice Recipe, Lebanese Rice, Hashweh Rice Recipe, Lebanese Rice Pilaf
Step-by-step for Loaded Lebanese Rice (Hashweh) :Brown meat with onions and spices
Brown meat with onions and spices.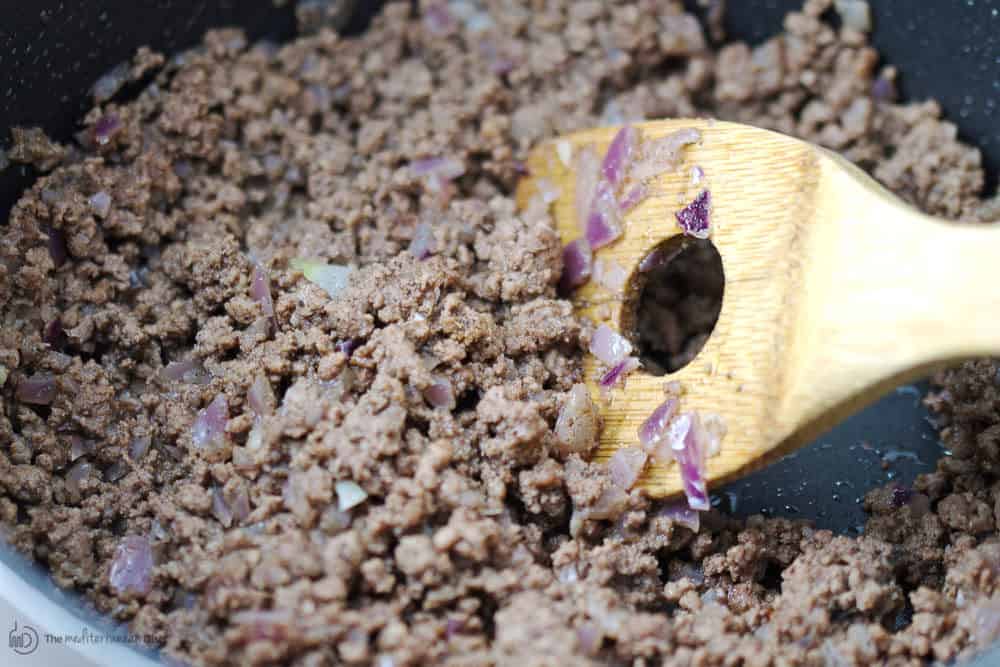 Add rice and remaining spices.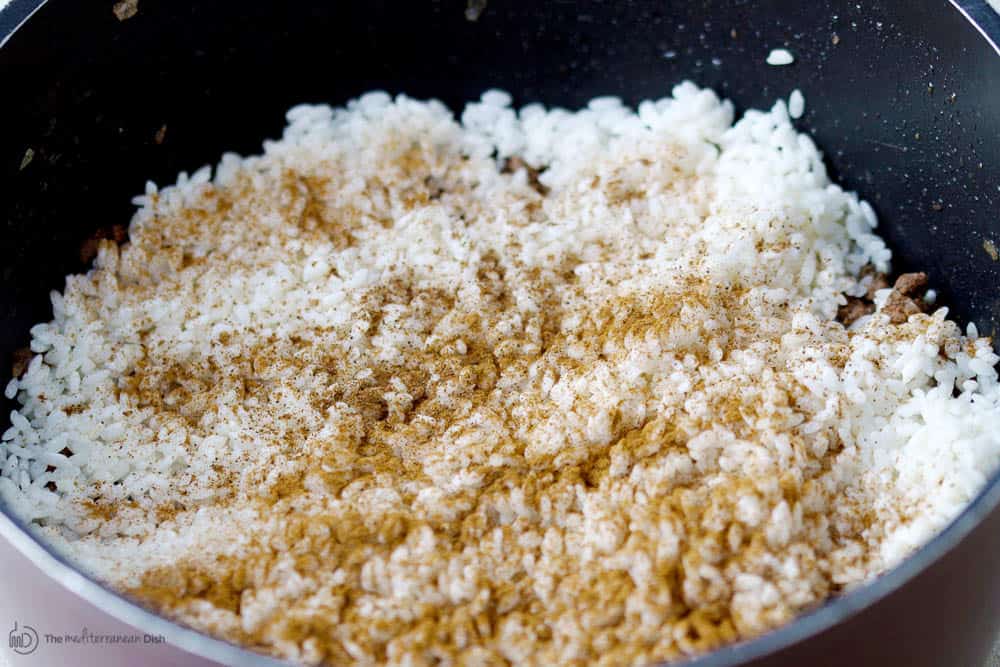 Add water and oil.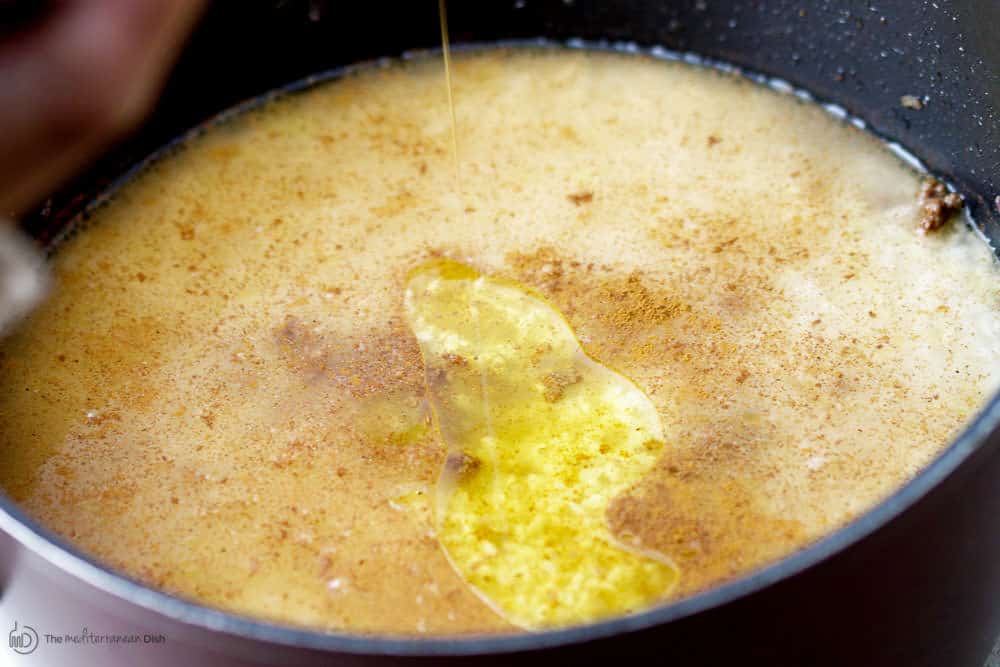 Bring to a boil until liquid reduces. Then turn heat to low, cover and cook 20 minutes on low until moister is absorbed completely and rice is cooked through (it should not be hard or sticky).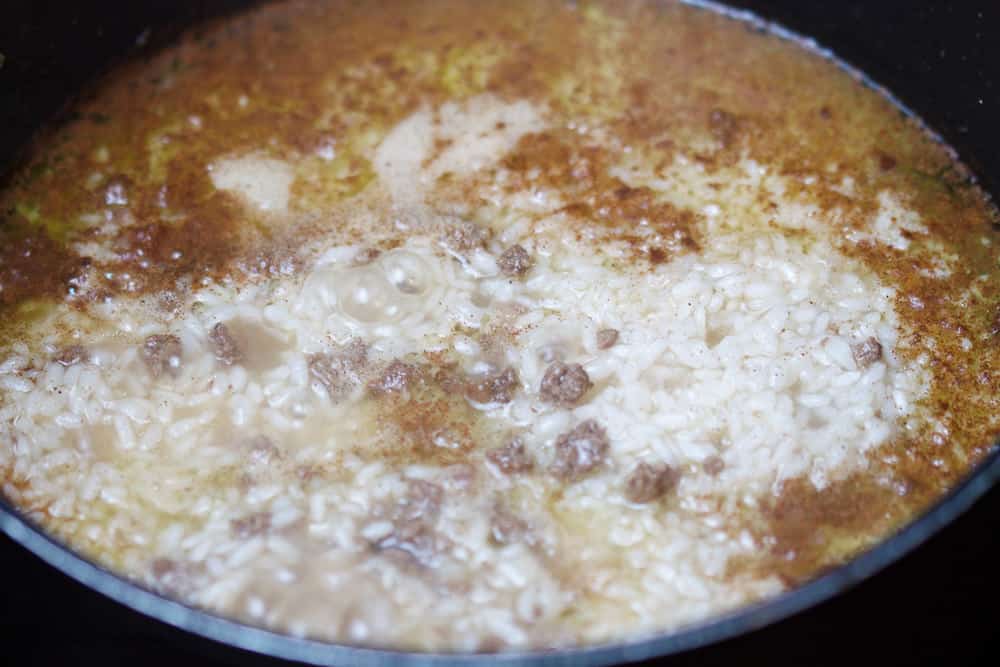 Remove Lebanese rice from heat. Let rest, covered and undisturbed, for 10 minutes. Uncover and carefully flip rice onto a serving platter (the meat layer should be on top). Add parsley, nuts and raisins.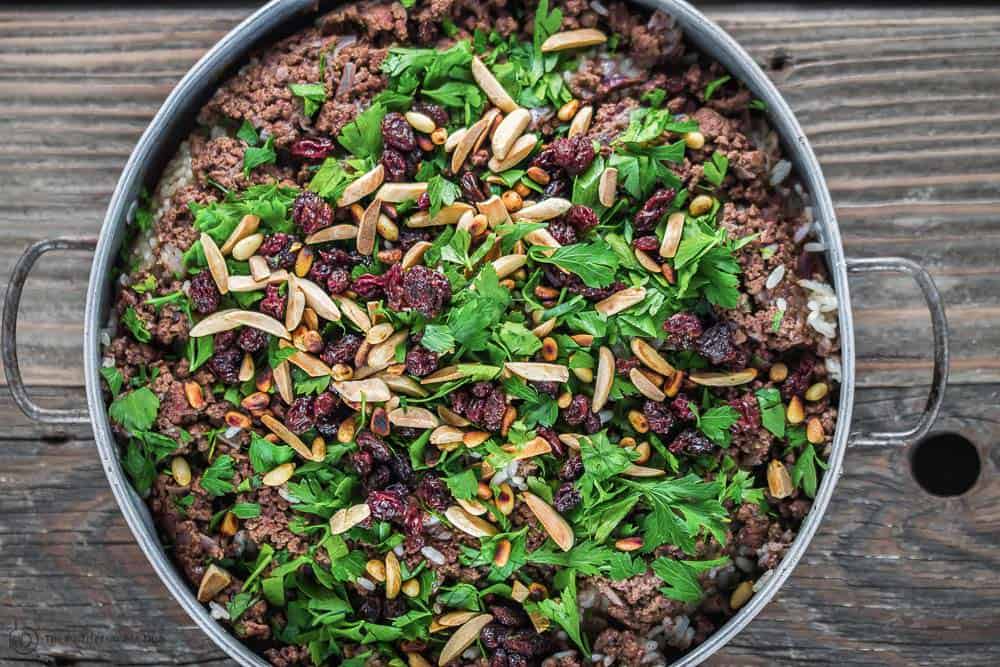 More Recipes to Try
Egyptian Koshari: Rice and Lentils 
*This post was originally published in 2014 and has been updated for readers benefit.