Turn arancini rice balls into a comforting weeknight rice casserole everyone will love! Chicken sausage, peas, mozzarella and marinara sauce are weaved into this tasty casserole. Best part, you can make it ahead and freeze for later.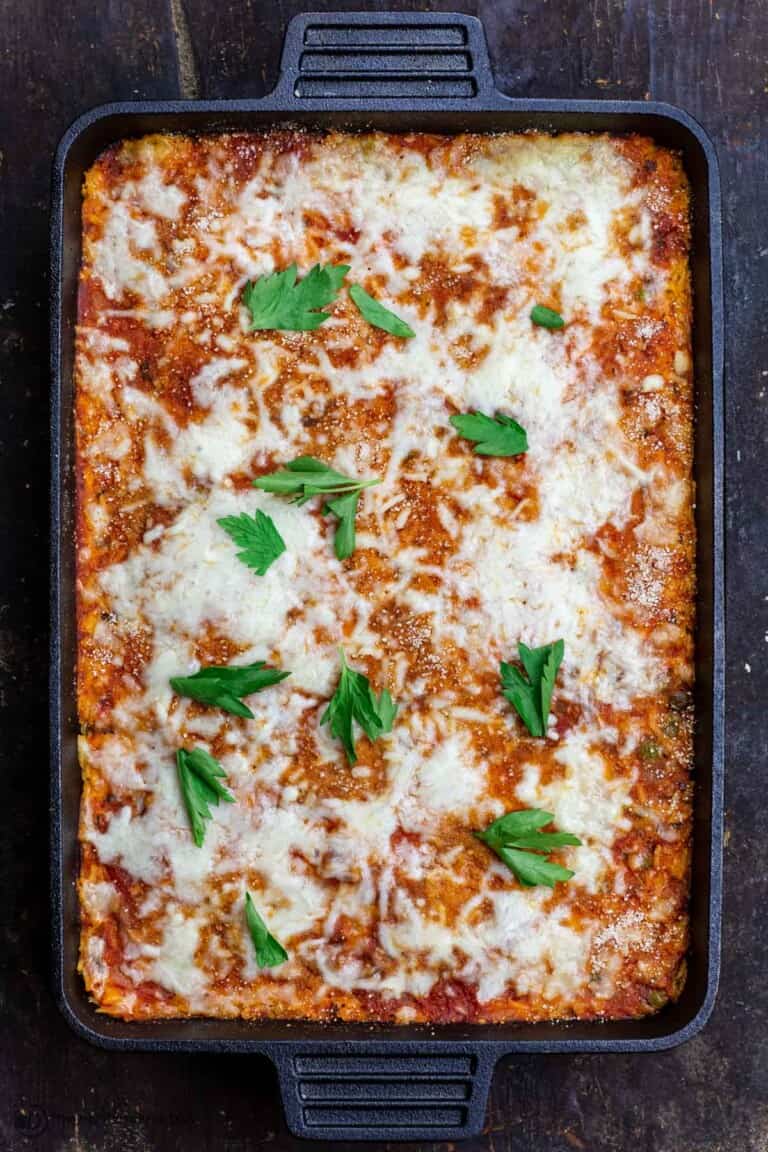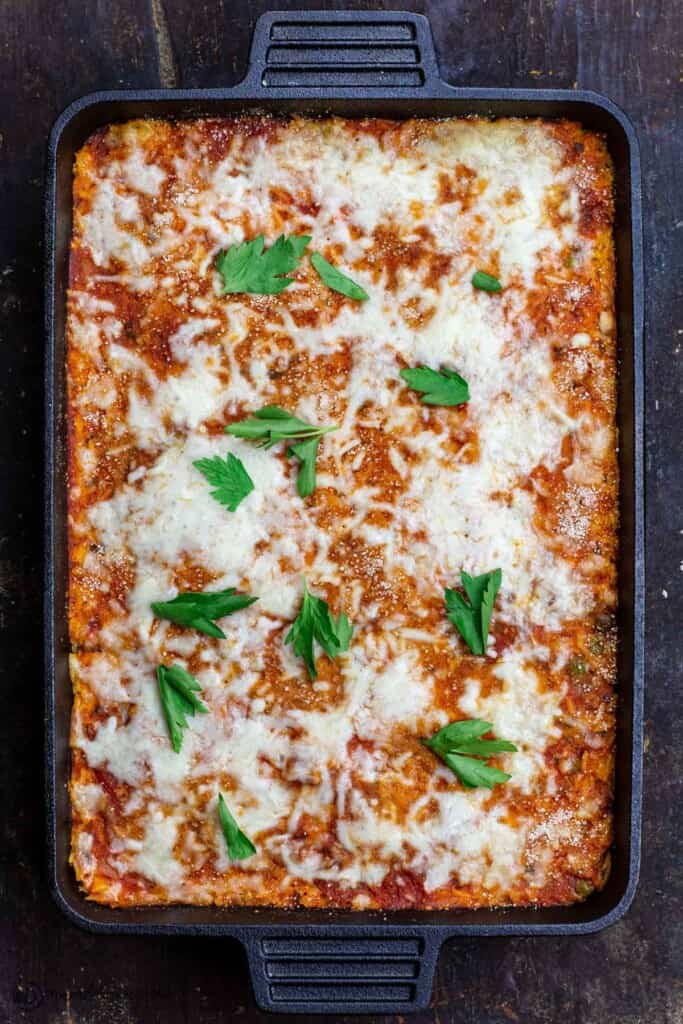 One of my favorite appetizers to order when we go out for Italian is arancini (Sicilian rice balls). So I was super excited to see a casserole version of it in my friend Gina's new cookbook: Skinnytaste Meal Prep (affiliate link), among hundreds of amazingly tasty, meal-prep and family friendly recipes!
About this rice casserole...Who doesn't love a comforting dish that's also on the healthier side?
Sicilian rice ball casserole! So much to love...
Simple. An easy casserole (no need to worry about forming rice balls). And it uses familiar and readily available ingredients like rice, sweet chicken sausage, and peas.
Delicious. The combination of sweet chicken sausage, marinara sauce and just the right amount of cheese, is all the comforting and delicious Italian flavors everyone loves!
A healthier option. This rice casserole is on the "skinny" side. It uses some cheese (not a lot); no butter (just a little bit of extra virgin olive oil); and it skips the need for any heavy cream-based sauces.
Freezer-friendly! You can assemble this rice casserole and freeze it to bake at a later time! (more on meal-prep and freezer instructions below).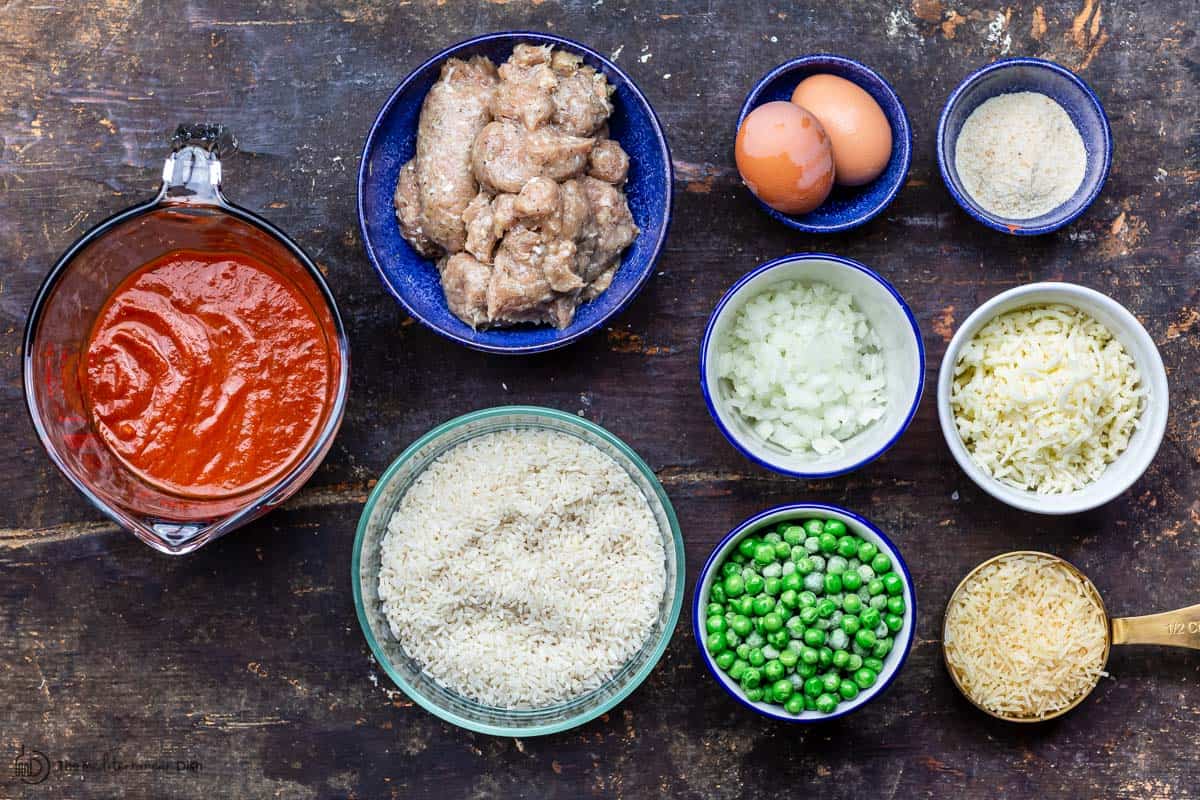 Do I cook the rice before adding to casserole?
In this arancini casserole, the rice is cooked first before assembling the casserole. This is especially important if you plan to freeze the casserole and cook it later. Also, because this is not a liquid or cream-heavy rice casserole, the rice needs to be fully cooked separately before adding to the casserole.
Cooking the rice is an easy step that you can even do one night ahead and refrigerate until ready to use.
How do you make rice casserole?
(print-friendly recipe with ingredient list below)
Cook the rice. You'll start with 2 cups uncooked white rice. Simply follow the package instruction to cook it; add 1 teaspoon of kosher salt to your cooking water though.
Make the chicken sausage and pea mixture. Use a non-stick pan to cook the chicken sausage (14 ounces) until browned. I found that adding a tiny bit of extra virgin olive oil to the pan helps. Once browned, add the onions (¼ cup minced onions) and cook those too until browned. Then follow with the peas (5 ounces)_and 1 cup marinara sauce (use store-bought or you can try my spaghetti sauce). Let the mixture simmer for a good 20 minutes or so (Stir occasionally)
Combine the rice mixture. Mix the cooked rice with grated Pecornio (½ cup), 2 eggs (lightly beaten), and ½ cup marinara sauce.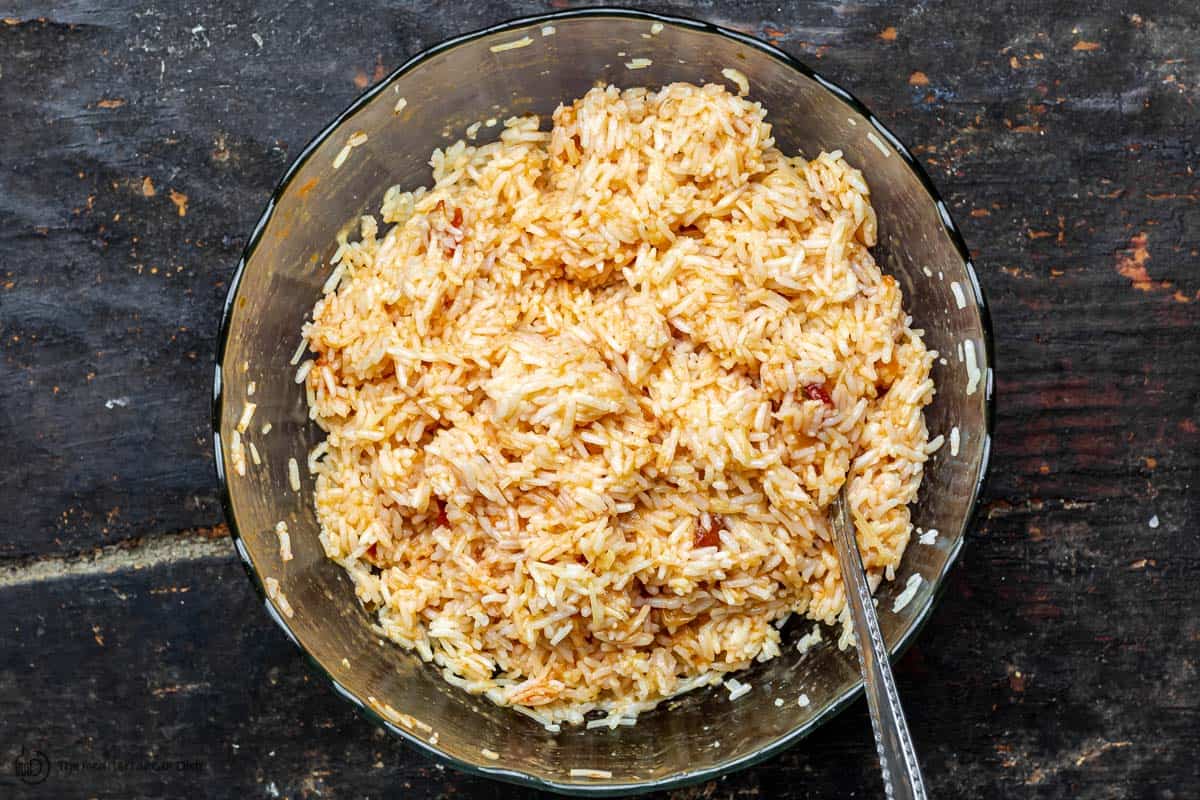 Assemble the casserole. Grab a baking dish (9 x 13-inch) and lightly oil the bottom and sides then sprinkle in about 2 tablespoons of bread crumbs to coat the bottom and sides. Add about ½ of the rice mixture and press on the bottom and sides. Now add the sausage and peas mixture. Sprinkle about ¾ cup mozzarella.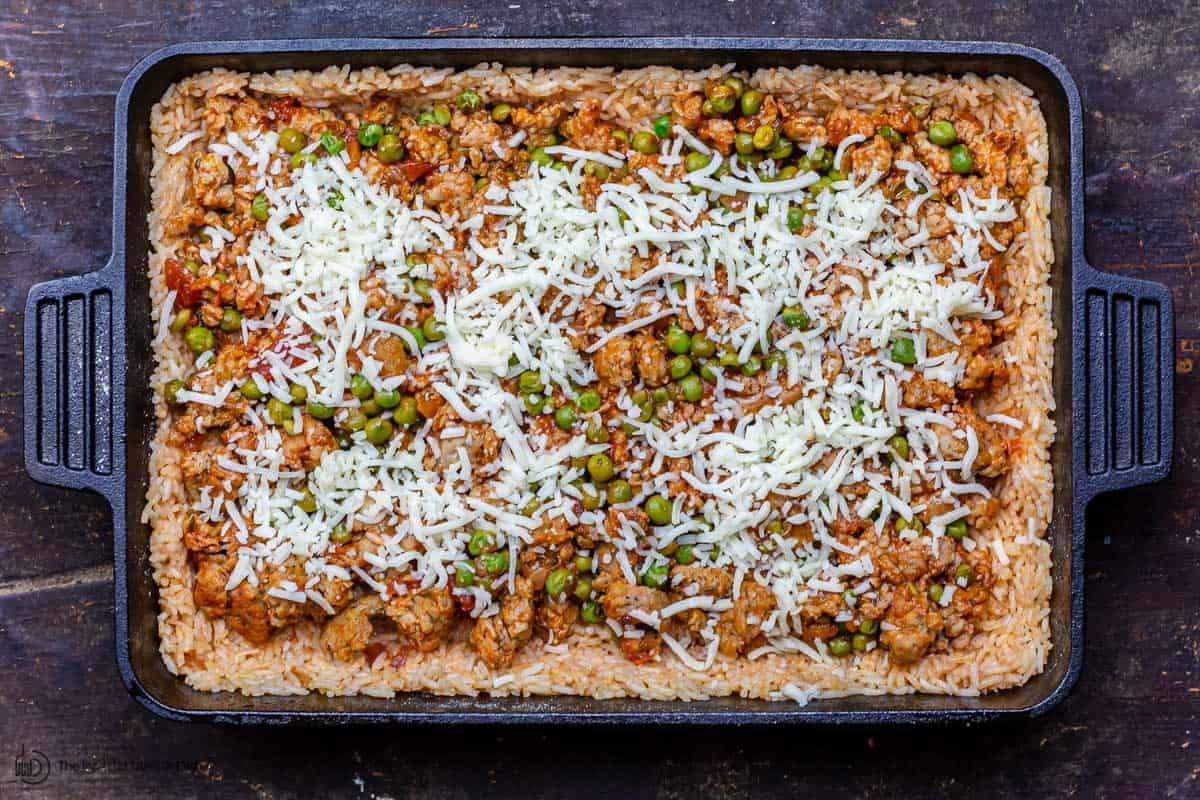 Top with the rest. Add the remaining rice mixture, make sure to press until the top is nice and even. Top with marinara sauce (½ cup), bread crumbs (2 tablespoons) and ½ cup part-skim mozzarella.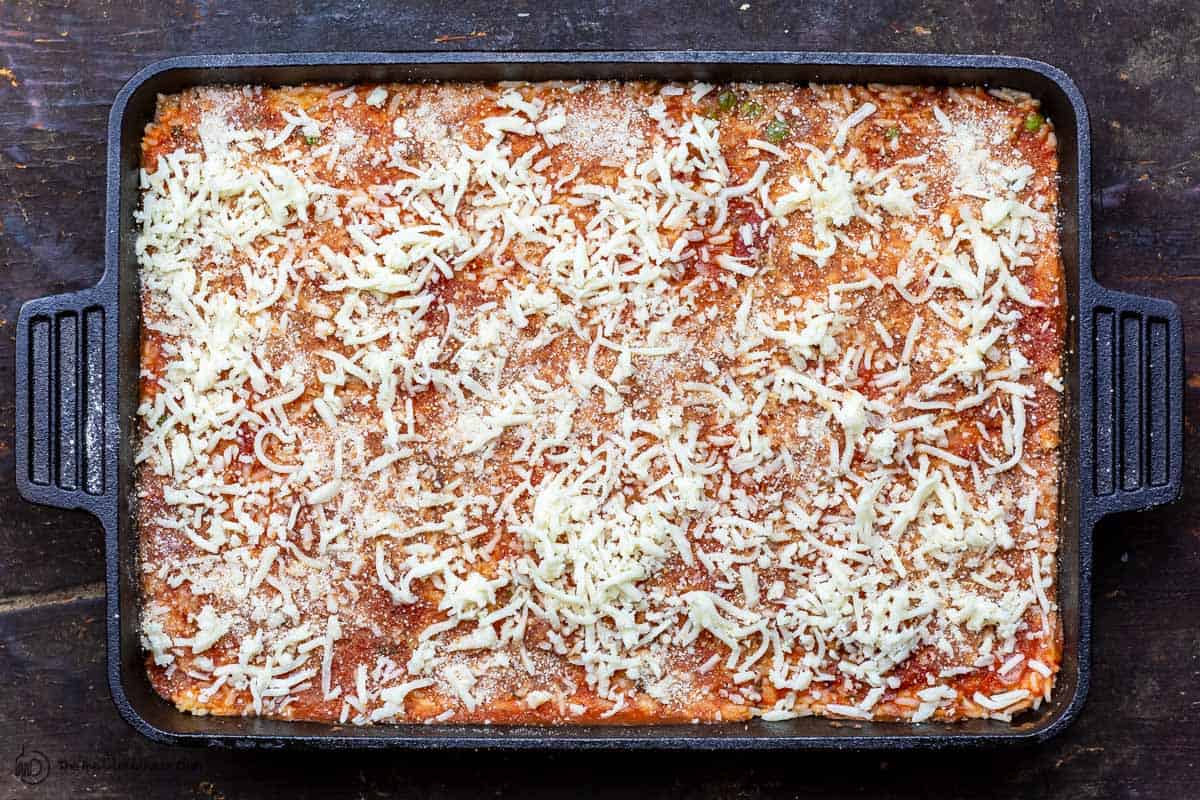 Bake! Cover with foil and bake in a heated oven (400 degrees F) for about 30 minutes or until hot. Garnish with parsley if you like.
I like to serve this hearty casserole with a side of fresh salad. When tomatoes are in season, I love this panzanella salad. You can also try my lemony arugula salad or this simple Mediterranean salad.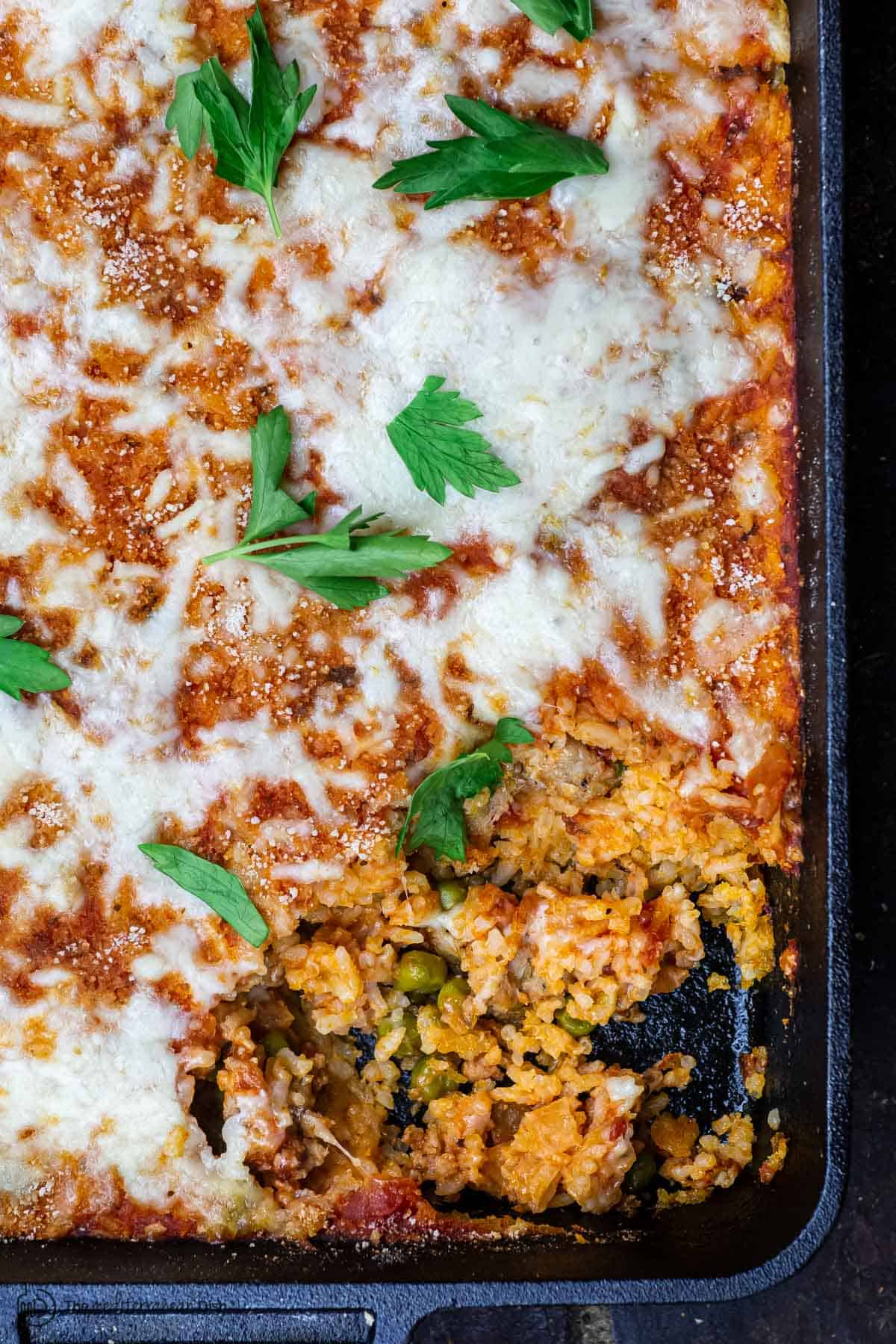 To freeze
If you're doing some meal prep and plan to freeze the casserole for later, here's what you do:
Assemble the entire rice casserole but do not bake it. Instead, cover tightly with plastic wrap and foil then freeze (freezes for up to 3 months). Thaw in the fridge for 24 hours before baking in an oven heated at 350 degrees F.
More recipes to try
Check out more Italian Recipes. 50+ Mediterranean Diet Recipes.
For all recipes, visit us here. JOIN MY FREE E-MAIL LIST HERE.
Italian Rice Casserole Recipe with Chicken Sausage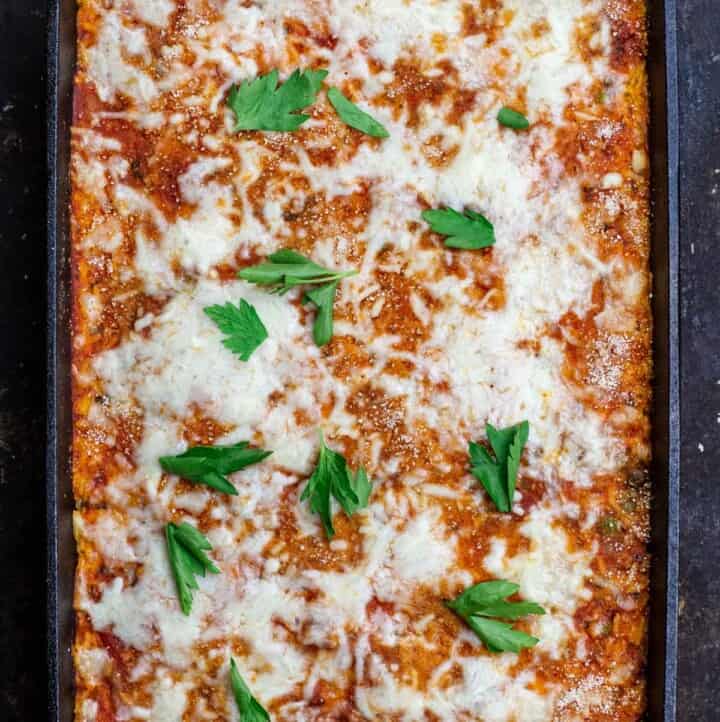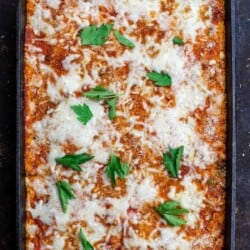 This rice casserole recipe is a asy way to get your fix of the comforting flavors of the popular Sicilian rice balls (aracini). And it's the perfect casserole to make ahead and refrigerate or freeze for later if you need to.
Equipment
Nonstick skillet

Mixing bowl

Baking dish
Ingredients
2

cups

uncooked long-grain white rice

1

teaspoon

Kosher salt

14

ounces

sweet Italian chicken sausage, casings removed

¼

cup

minced onions

5

ounces

frozen peas

2

cups

store-bought marinara sauce,

plus more for serving (optional)

½

cup

freshly grated Pecorino Romano cheese

2

large eggs,

lightly beaten

¼

cup

seasoned bread crumbs,

regular or gluten free

1 ¼

cup

shredded part-skim mozarella cheese

chopped fresh parsley or basil for garnish,

(optional)
Instructions
Cook the rice with the salt according to the package directions. Set aside to cool.

Heat a larger nonstick skillet over medium-high heat. Add the sausage and cook, breaking it up into small pieces with a wooden spoon, until browned, about 5 minutes (I found adding a little extra virgin olive oil to the pan helped). Stir in the onions and cook until browned, 4 to 5 minutes more. Add the peas and 1 cup marinara sauce. Reduce the heat to low and cover. Cook until the flavors meld, about 20 minutes.

Preheat the oven to 400 degrees F.

In a large bowl, combine the cooked rice, Pecorino, eggs, and ½ cup marinara sauce and mix well. (The mixture should be a bit sticky).

Brush or spray the bottom and sides of a 9 x 13-inch baking dish with extra virgin olive oil. Add 2 tablespoons bread crumbs to the dish and roll around to coat the bottom and sides.

Take half the rice mixture (or a little more if needed) and cover the bottom and sides of the dish, pressing the rice down to form an even bottom layer. Add the sausage-pea mixture and spread in one layer. Top with ¾ cup mozzarella. Cover with the remaining rice mixture, press until even. Top with the remaining ½ cup marinara, 2 tablespoons read crumbs, and ½ cup mozzarella.

Cover with foil and bake until hot, about 30 minutes. Garnish with parsley or basil. Cut into 8 pieces and serve with more marinara, if you like.
Notes
Recipe from Skinnytaste Meal Prep Cookbook (affiliate link)
Serve with: a fresh salad like this Arugula Salad or Panzanella, to keep with the Italian theme!
To freeze and serve later: Before baking, cover the uncooked dish tightly with plastic wrap, then foil, and freeze. Let completely thaw in the fridge 24 hours before baking. Preheat the oven to 350 degrees F. Remove the plastic wrap and cover tightly with foil. Bake until heated through in the center, 40 to 50 minutes.
Leftovers: Cooked rice ball casserole can be stored in the fridge, covered, for up to 4 days.
Visit our Shop to browse quality Mediterranean ingredients including extra virgin olive oils and spices.
Nutrition
Calories:
391
kcal
Carbohydrates:
49
g
Protein:
22
g
Saturated Fat:
5
g
Cholesterol:
98
mg
Potassium:
335.8
mg
Fiber:
3
g
Sugar:
4.7
g
Vitamin A:
720.2
IU
Vitamin C:
12.1
mg
Calcium:
175.8
mg
Iron:
2.1
mg