Flavor-packed tender meatballs with a crispy crust and a light, bright lemon sauce – I'm talking about Greek meatballs (keftedes)! This recipe can serve a crowd as an appetizer, but also makes tasty dinner bowls or pita sandwiches.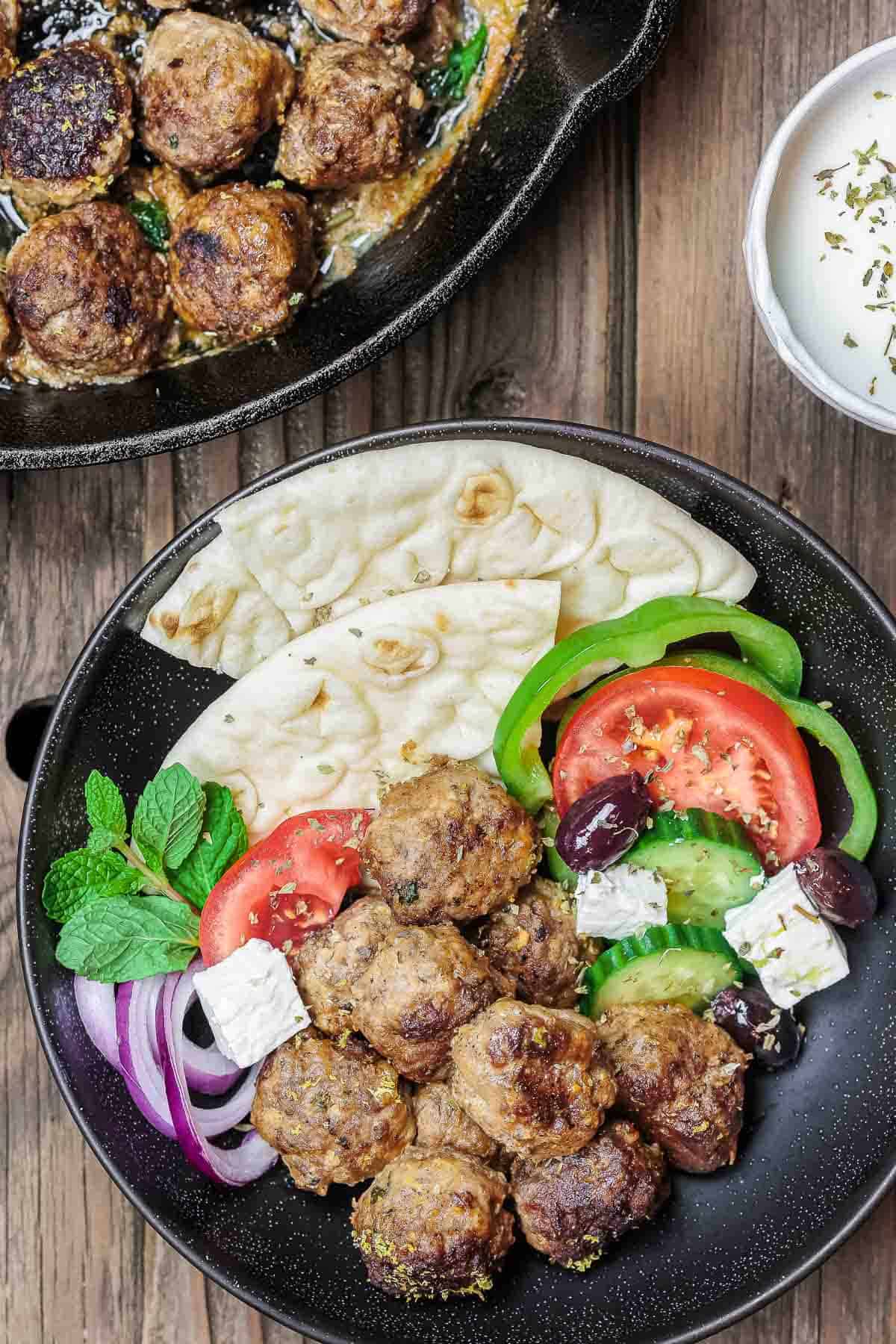 Keftedes (pronounced keh-FTEH-dhes) also known as Greek meatballs are for people who LOVE flavor! I dress up ground beef and lamb with fresh mint, garlic, lemon, coriander, cumin, cinnamon, and more to create a well-seasoned meatball that is crispy on the outside but tender and juicy on the inside. I finish the whole dish off with a light, lemony sauce for an easy-to-make dinner your family will request again and again.
You'll usually find Greek meatballs served as an appetizer or as part of a large mezze platter with pita bread, olives, and tzatziki, but they also make a delicious main meal, meatball sandwich (I'm sorry but almost everything can be stuffed into a pita with some fresh veggies and a little sauce for an amazing desk lunch!), or a quick snack.
Serve a few meatballs alongside a simple Greek salad for a low-carb dinner or for something a bit heftier, try them over rice or pasta.
Table of Contents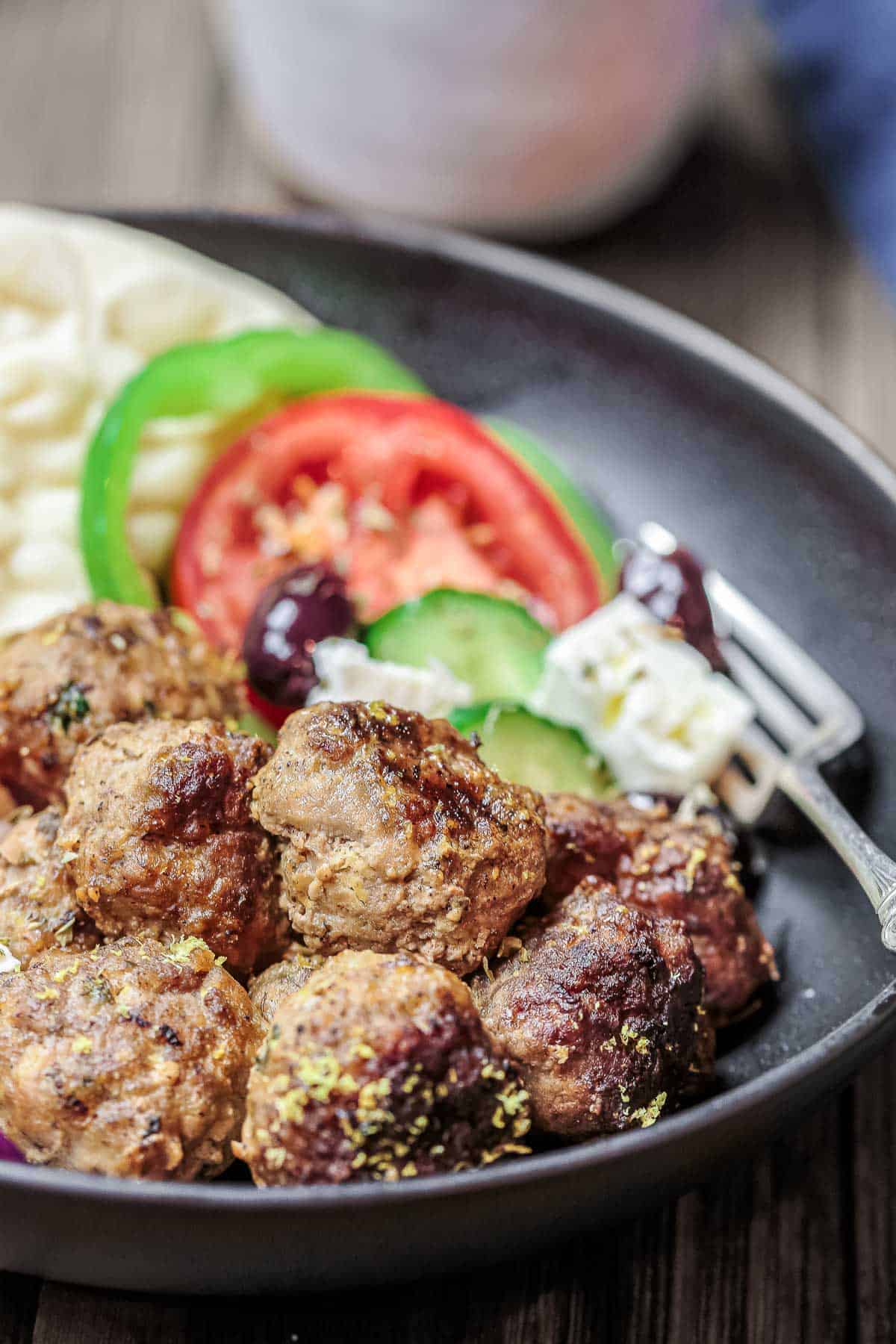 What are keftedes?
Keftedes or Keftethes are meatballs from Greece. Depending upon the region and the person making them they can vary in spices, sauces, and the type of meat used to make them. For the most part they are a mixture of ground beef or pork infused with herbs and spices then lightly fried in olive oil.
Ingredients for keftedes
To make Greek meatballs, you need ground meat, some aromatics, eggs, plenty of herbs and spices, and a slice of day-old bread (trust me on this one). Here are more details:
Aromatics: Grate an onion and mince a few cloves of garlic. They will be sauteed in a little extra virgin olive oil to reduce their sharpness and bring out a little sweetness.
Extra virgin olive oil: To keep the Greek vibes going, I used our Private Reserve Greek EVOO, a medium-intensity oil with hints of fresh herbs and pepper in its flavor profile.
Bread: Cube a slice of day-old bread or pita bread and soak it in milk for a few minutes. This is the secret ingredient for juicy meatballs.
Ground meat: I use a combination of lean ground beef and ground lamb or pork.
Egg: 1 egg goes into the meatball mixture, and we use an egg yolk to thicken the lemon sauce at the end.
Herbs: Fresh mint brightens the recipe while dried oregano provides an earthy element.
Spices: No shortage of spices in these Greek meatballs! You need coriander, cumin, cinnamon, and nutmeg.
Flour: We use flour to dredge the meatballs so we get that perfect crust when we pan-fry them.
Lemons: Juice and zest 3 lemons. Some lemon zest goes right into the meatball mixture. The rest of the zest and all of the juice flavors the sauce.
Broth: I used chicken broth, but vegetable broth would work as well. I don't recommend beef broth, though, as it has quite a strong taste that might be overpowering.
What's the best meat for Greek meatballs?
I use a combination of lean ground beef and ground lamb (or ground pork if I have it on hand).
I either go with 85/15 beef (which is 85% lean meat and 15% fat) or 93/7 beef (93% lean meat and 7% fat). If you only use lean ground beef for these meatballs, you might end up with dry meatballs, which is where the lamb or pork come in.
Ground lamb and ground pork are both fatty, which helps to infuse the meatballs with flavor and moisture. Using different kinds of meat also creates keftedes with a more complex taste.
What is Greek oregano?
There are two types of oregano: Mediterranean oregano and Mexican oregano. Mediterranean oregano grows throughout the Mediterranean. You can find it in Italy, Greece, Spain, Egypt, Turkey, and Morocco, among other places.
Usually, when you buy dried oregano at the store, it will either be labeled "oregano" or "Mexican oregano." For this recipe, make sure you have common oregano or Mediterranean oregano on hand. Mediterranean oregano is slightly sweet and bitter, and a little cooling like mint, while Mexican oregano is more citrusy, with hints of anise.
If you can specifically find Greek oregano, which grows on the mountainsides of Greece, amazing! But in the US, it might be a bit harder to find products that state exactly what subspecies of Mediterranean oregano you're buying.
In other words, as long as you don't use Mexican oregano, you're all set for this recipe!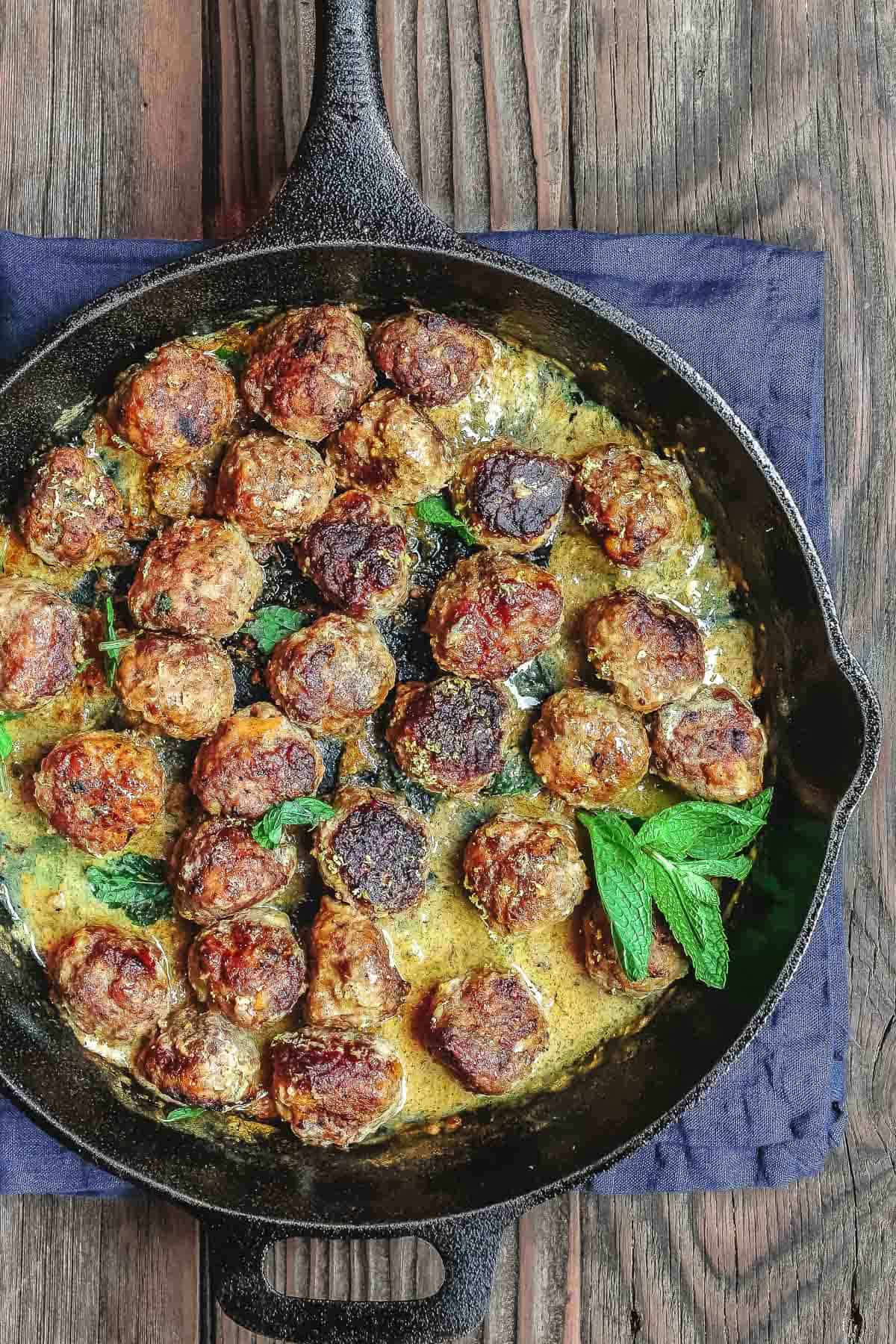 How to make Greek meatballs
Keftedes aren't difficult to make, but they can take a little time, especially when you're making the balls and rolling them in flour.
Either save this recipe for when you have some time to spare, or enlist friends and family to help out! Here's how to make Greek meatballs:
Make the meatball mixture. Heat 2 tablespoons extra virgin olive oil in a large cast-iron skillet and add 1 grated yellow onion and 3 cloves minced garlic. Cook until golden and translucent and transfer to a large bowl. Remove the skillet from the heat for now. (You will need it again later.)

Wring the excess milk out of the soaked bread and add the bread mush to the bowl containing the onions and garlic. Add 1 pound lean ground beef and ½ pound ground lamb or pork to the bowl as well.

Then add 1 egg, ¼ cup chopped fresh mint, 1 tablespoon coriander, 1 teaspoon dried oregano, 1 teaspoon cumin, ½ teaspoon cinnamon, ¼ teaspoon nutmeg, 1 tablespoon lemon zest, and kosher salt and black pepper (to taste).

Mix by hand until everything is incorporated. Do not overmix as this will give you tough meatballs.

Make the meatballs and dredge in flour. Grab some meatball mixture (about 1 heaping tablespoon) and roll into a ball. Repeat with the remaining meat mixture. Then, roll each meatball in flour so they have a light coating. Place the dredged meatballs on a large tray.

Pan-fry the meatballs. Return the cast-iron skillet to the stove and add ¼ cup EVOO. Heat over medium-high. Once the oil is hot, reduce the heat to medium and add the meatballs. You may need to do this in batches so the pan is not too crowded. Cook for about 10 minutes until the meatballs are fully cooked and have developed a nice crust.

Drain excess fat. Remove the meatballs from the skillet with a slotted spoon and place them onto paper towels to absorb excess fat. While the meatballs sit on paper towels, drain most of the fat from the skillet. I typically pour hot cooking fat into empty tin cans to cool until I can throw it out.

Make the sauce and serve. Return the skillet to the stovetop and heat over medium. While it heats, whisk together 1 egg yolk, the juice of 3 lemons, and 1 ¼ cup chicken broth. Pour it into the skillet along with the remaining lemon zest. Place the meatballs in the skillet. Cook for about 5 minutes, until the lemon sauce thickens. Serve hot.
What to serve with Keftedes
Greek meatballs are such a versatile dish! Here are some easy ways to enjoy keftedes as an appetizer or a main course:
Tips and tricks
Take the guesswork out of making meatballs by following these simple tips:
Wet your hands before shaping the meatballs: This will prevent the meat from sticking as much to your hands.
Always use soaked bread for moist meatballs: A slice of bread soaked in milk, wrung out, and then turned into a mush helps the meatballs remain moist. In the past, I've toasted bread and soaked it in water (like in my turkey meatballs recipe) and also had great success with that. I've also heard of people soaking untoasted bread in water. Use whichever method is easiest for you, but don't skip the soaked bread!
Dredge the meatballs in flour: This is optional, but I love lightly coating the Greek meatballs in flour before pan-frying them. It doesn't take much time and we end up with a light, irresistible crust.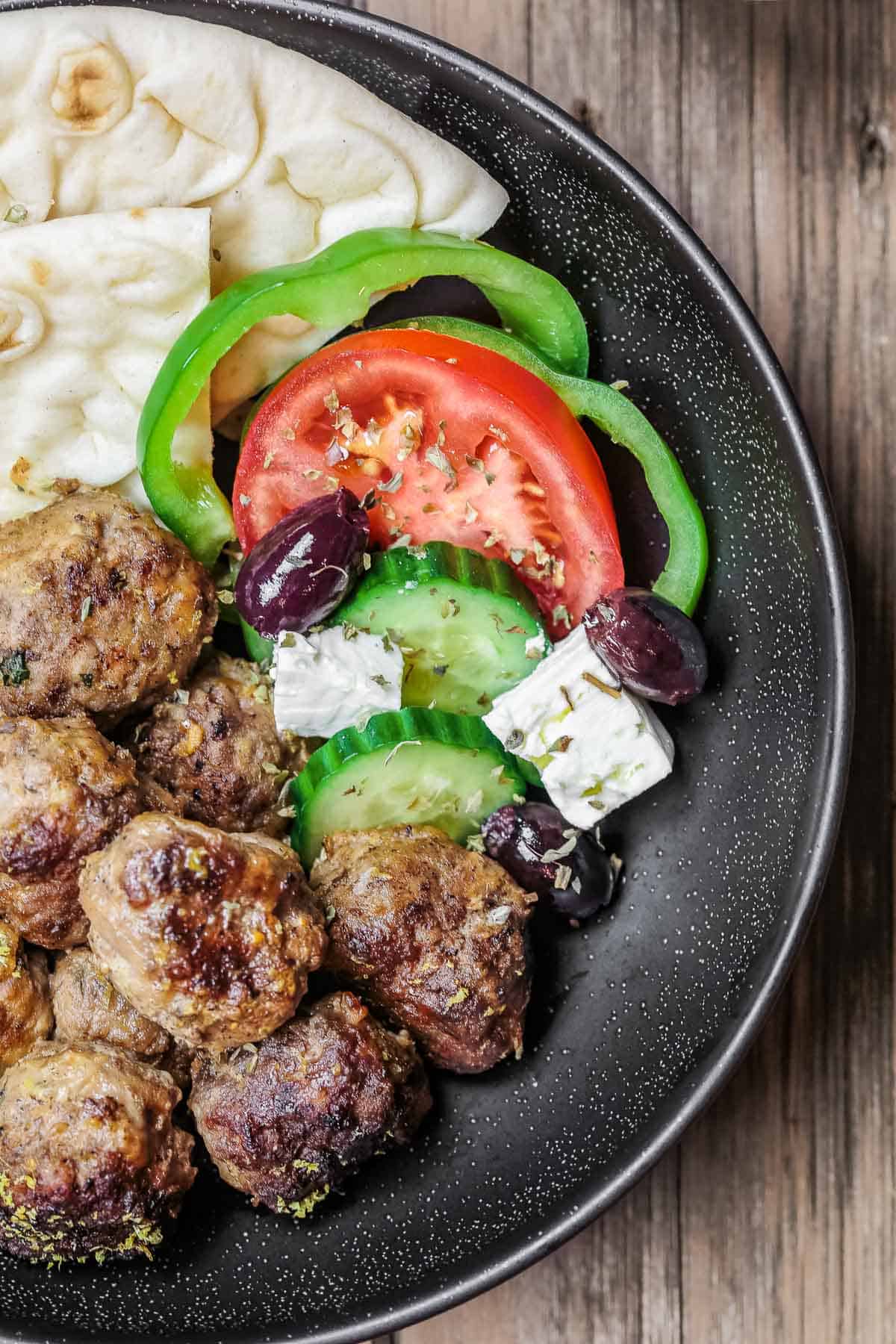 Can you freeze Greek meatballs?
Meatballs are a wonderful option for batch cooking because they freeze so well. I typically freeze uncooked meatballs, but you can easily freeze them once they're cooked as well! Here's how to do both:
To freeze uncooked meatballs: Arrange the meatballs in a single layer on a parchment-lined baking sheet and place it in the freezer for a couple of hours. Keep a little space between the meatballs to prevent them from freezing together. Once frozen, transfer the meatballs to a deep container layered between sheets of parchment paper or a ziptop bag. They will keep for up to 2 months. You can cook them from frozen; they will just take more time. Or, allow them to thaw in the fridge overnight before pan-frying them.
To freeze cooked meatballs: Hold off on making the sauce if you plan to freeze the meatballs for later. Simply pan-fry them, drain excess fat on paper towels, and allow the meatballs to come to room temperature. Then, arrange them on a tray and freeze them for a few hours. Once frozen solid, transfer them to a freezer-safe bag or container layered between parchment. Thaw keftedes in the refrigerator overnight. All that's left to do is make the lemon and broth sauce, and add the meatballs to the skillet with the sauce for a few minutes while the sauce thickens so they can heat up.
Freezing individual servings: If you like, you can freeze individual servings of meatballs so they're easy to grab and thaw out for work or school lunches! Follow the steps above, but portion the fully-cooked frozen meatballs in small freezer-safe bags or containers.
How to store and reheat leftovers
Leftover pan-fried meatballs will keep in the refrigerator for up to 4 days. Reheat them in a skillet with a little olive oil over medium heat until warmed through.
Leftover keftedes make delicious and convenient work lunches. Simply add some cut up vegetables or throw together a salad and you have a quick and nutritious meal! You can also pack them into insulated lunch boxes for kids to take to school.
More meatball recipe ideas to try
Browse all Mediterranean recipes.

Visit Our Shop.
Greek Meatballs Recipe (Keftedes)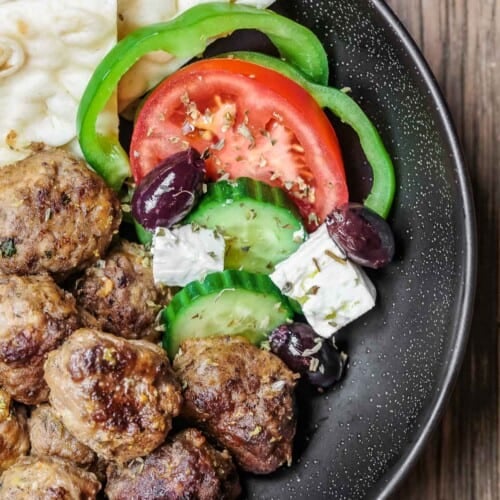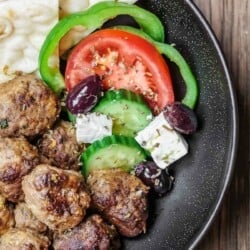 All-star Greek meatballs recipe! Known as keftedes, these meatballs are tender on the inside, crispy on the outside. Flavor-packed with fresh mint, spices, and a lemony Greek meatball sauce. Serve Greek meatballs as an appetizer with a dipping sauce like tzatziki; as part of a mezze platter with dips, olives, and cheeses; or in dinner bowls with pita and a Greek salad (see more ideas in the post!).
Ingredients
⅓

cup

whole milk

1

slice

day-old bread,

cubed

1

medium yellow onion,

grated

3

garlic cloves,

minced

1

pound

lean ground beef

½

pound

ground lamb or pork

1

large egg PLUS 1 egg yolk,

divided

¼

cup

chopped fresh mint leaves

1

tablespoon

organic ground coriander

1

teaspoon

dried oregano,

preferably Greek oregano

1

teaspoon

organic ground cumin

½

teaspoon

ground cinnamon

¼

teaspoon

ground nutmeg

Kosher salt and black pepper

3

lemons,

zested and juiced

Flour for dredging

1 ¼

cups

chicken broth
Instructions
If serving in bowls as suggested in this post, first prepare the Greek salad (dress salad later, if you prefer) and Tzatziki sauce. Set aside or refrigerate for now.

Add the cubed bread to a bowl with the milk and let it soak for about 5 minutes.

In a large skillet, heat 2 tablespoons of extra virgin olive oil over medium heat. Add onions and garlic and cook until golden and translucent, stirring regularly. Transfer the onions and garlic mixture to a large mixing bowl to cool. Set the skillet aside for later.

Wring the excess milk out of the soaked bread. Add the bread to the mixing bowl.

To the mixing bowl add the ground beef and lamb (or pork), 1 egg, fresh mint, spices, salt and pepper, and 1 tablespoon lemon zest. Mix by hand until until mixture is fully incorporated.

Form the meat mixture into balls (each the size of a heaping tablespoon.) Roll meatballs into the flour to lightly coat and place them on a large tray for now.

In the large skillet you used earlier, add ¼ cup Private Reserve olive oil. Heat over medium-high. Turn heat to medium and add the meatballs to cook (do this in batches if you need to.) Cook meatballs for 10 minutes or so, turning occasionally, until fully cooked and well-crusted on all sides.

With a slotted spoon, remove meatballs from the skillet onto paper towels to drain any excess fat. Meanwhile, carefully discard most of the cooking fat from the skillet (best to dump into a tin can until cooled). Return the skillet to the stovetop over medium heat.

Whisk the egg yolk with chicken broth and lemon juice. Add to the skillet with the remaining lemon zest, then add the meatballs back in. Cook over medium heat for another 5 minutes until the lemon sauce thickens.
Notes
What's the best meat to use? I use a combination of lean ground beef and ground lamb (or ground pork).
How to serve keftedes: Several ideas in the post, but my personal favorite way to serve Greek meatballs is in dinner bowls with Greek salad, warm pita bread, and a dollop of tzatziki.
How to store and reheat leftovers: Leftover meatballs will keep in an airtight container in the fridge for up to 4 days. Reheat in a skillet with some EVOO over medium heat until warmed through.
Visit Our Shop for quality Mediterranean ingredients including extra virgin olive oils and spices.
Nutrition
Calories:
70.8
kcal
Carbohydrates:
2.1
g
Protein:
4.6
g
Fat:
5
g
Saturated Fat:
1.6
g
Polyunsaturated Fat:
0.4
g
Monounsaturated Fat:
2.6
g
Trans Fat:
0.1
g
Cholesterol:
19.7
mg
Sodium:
72.6
mg
Potassium:
92.2
mg
Fiber:
0.5
g
Sugar:
0.5
g
Vitamin A:
26.8
IU
Vitamin C:
5.9
mg
Calcium:
12.9
mg
Iron:
0.7
mg
*This recipe has recently updated with new information for readers' benefit.