This meatballs recipe is on the regular menu rotation for good reason. Melt-in-your-mouth tender meatballs, prepared Lebanese-style with notes of cinnamon and allspice in a tasty, thick tomato sauce.  Not your average!
This recipe is in partnership with ButcherBox, your neighborhood butcher online. Free shipping. Get $10 off + free product with your first order here.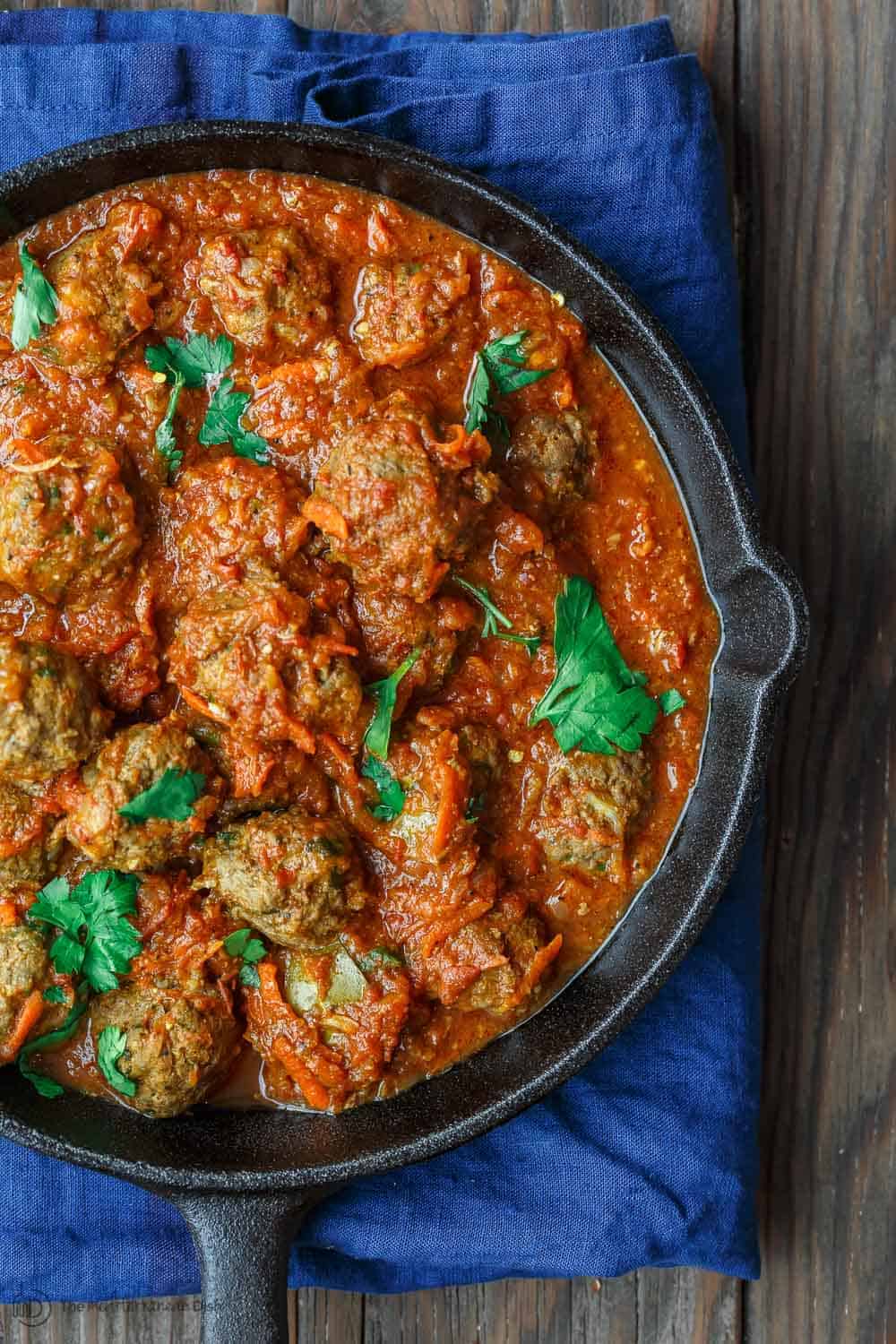 Italians are well-known for saucy meatballs. But, really, meatballs are one of those comfort foods that know no boarders. There are countless of meatball recipes from all over the world.
And as far as Mediterranean meatball variations, we've already highlighted some favorites including Greek Keftedes, and these Baked Koftas, which I love to serve gyro-style.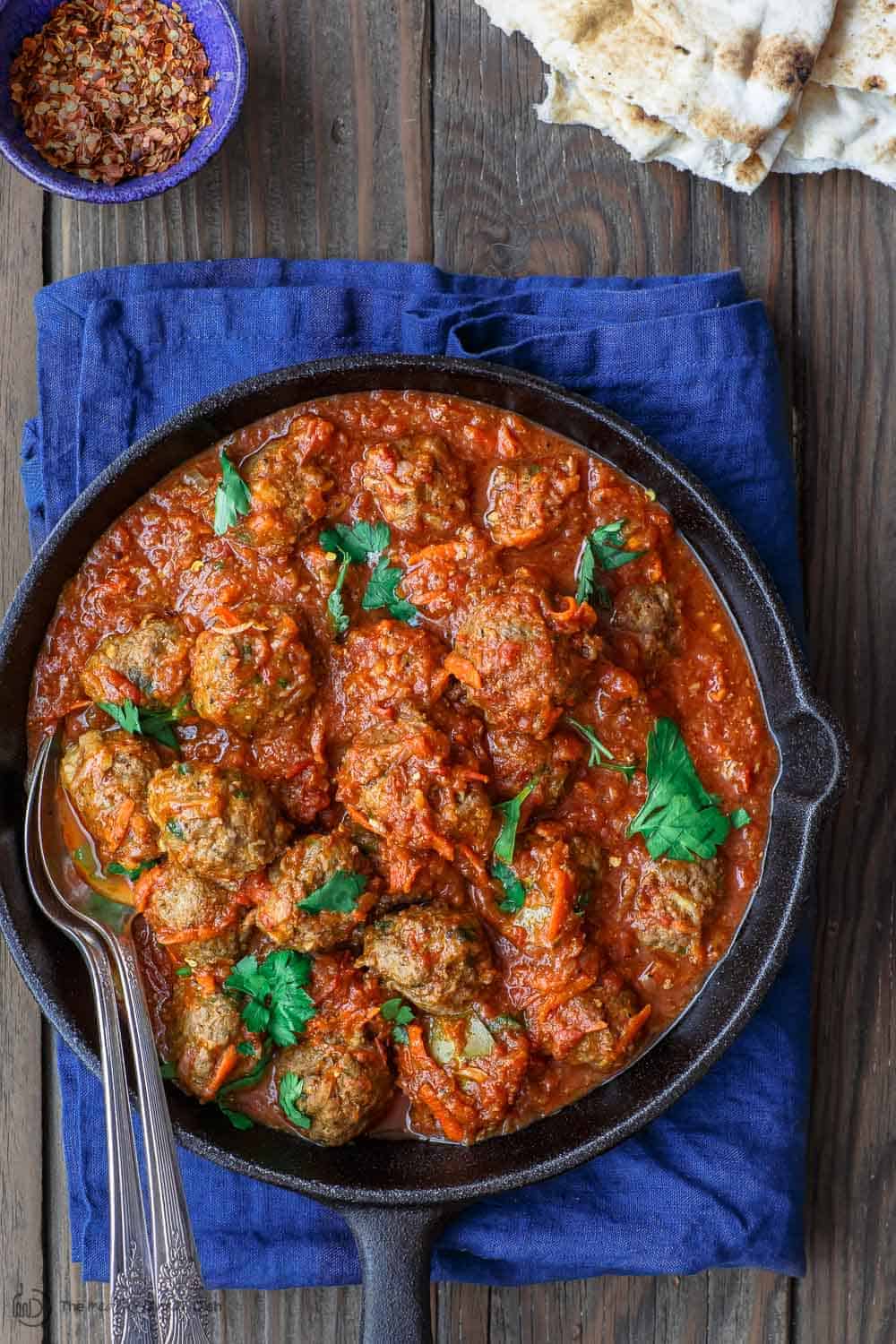 This meatballs recipe in tomato sauce is a riff off of a popular Lebanese-style dish called Dawood Basha (named for Dawood Basha who was a powerful governor of Lebanon during the Ottoman empire. This was his favorite.) These are also popular in Syria and in Egypt, which is why I'm familiar. I've enjoyed these Lebanese-style meatballs at several Cairo restaurants.
Not your average meatballs recipe
These are melt-in-your-mouth tender meatballs. The secret is a trick I learned from Yiayia Helen who inspired my Greek keftedes recipe. In place of bread crumbs, I use 1 piece of toasted bread that's been soaked in milk. Works every time!
But the draw for me, and what makes these Lebanese-style meatballs a favorite in my household, is the warm flavors–vivid notes of cinnamon and allspice. Then, the perfectly-spiced meatballs get even juicer and tastier as they simmer in a chunky tomato sauce, sweetened with grated carrot and balanced with hint of pomegranate molasses (optional, if you don't have it, but highly recommended.)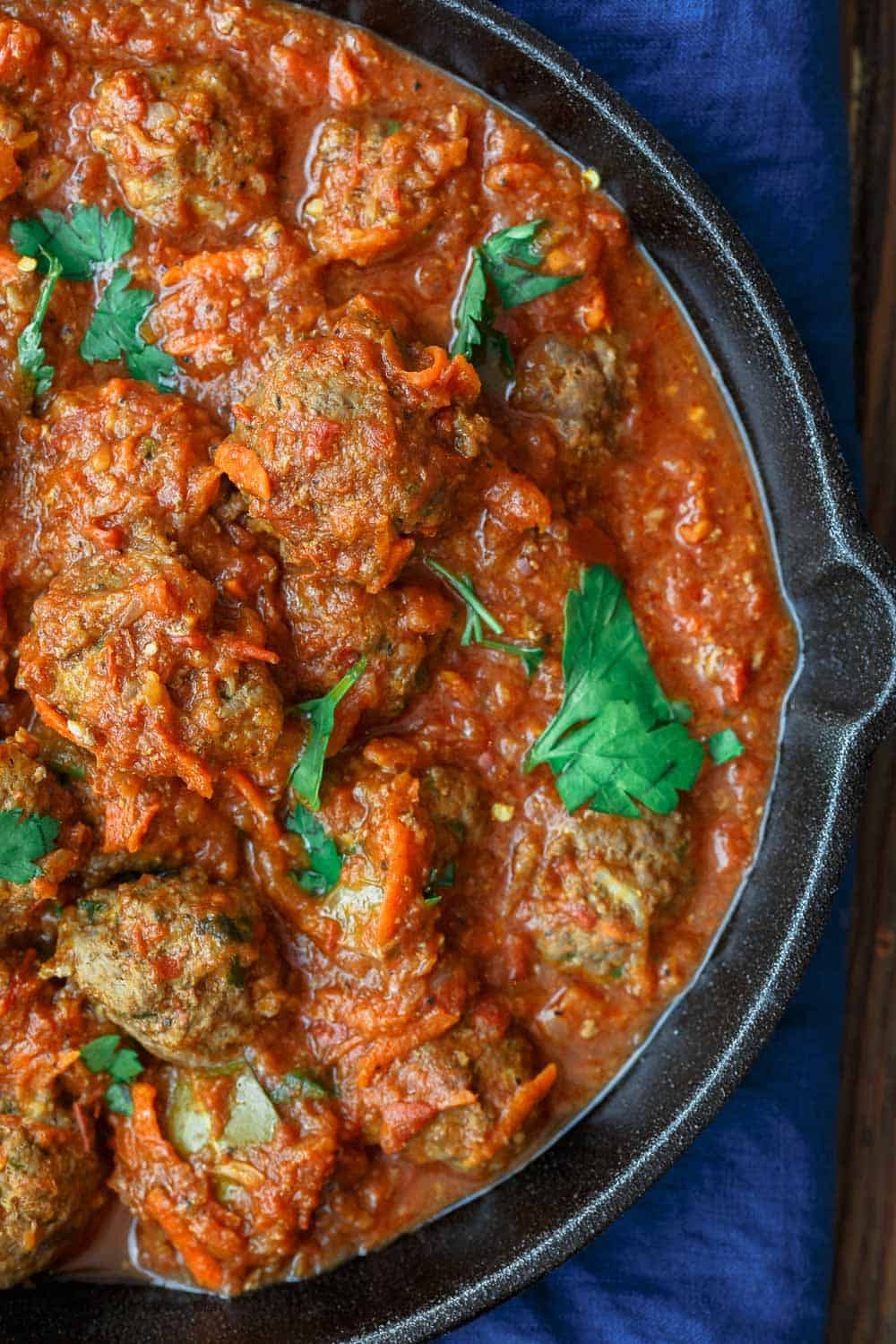 By the way, these meatballs are typically served atop Lebenese rice. I like fattoush salad as a starter to this hearty meal.
Of course, quality meat makes a big difference in this meatballs recipe. I use 100 % organic grass-fed and grass-finished ground beef from ButcherBox (chemical free and hormone free.)
See more about ButcherBox and how their meat delivery service works below the recipe.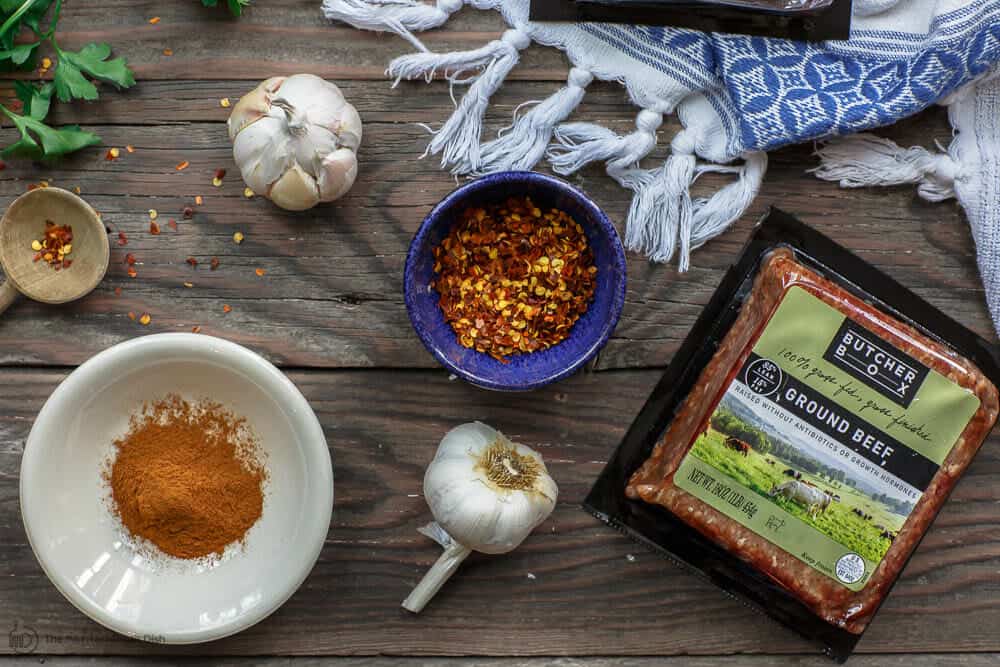 Print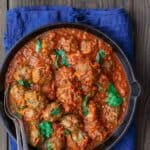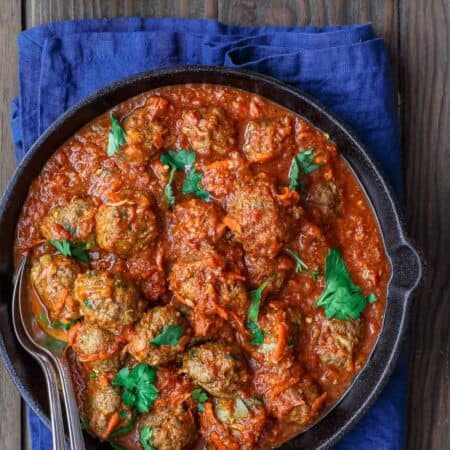 Lebanese-Style Cinnamon Meatballs Recipe
---
Author:

Prep Time:

20 mins

Cook Time:

30

Total Time:

50 minutes

Yield:

Serves up to 6 people
Description
A unique meatballs recipe with a Lebanese twist! Melt-in-your-mouth tender meatballs with vivid notes of cinnamon and allspice. And the braising tomato sauce…not your average!
---
Ingredients
For Meatballs
1 slice sandwich bread, toasted to a golden brown
1/3 cup milk
1 1/2 lb quality grass-fed ground beef (I used ButcherBox ground beef)
1 egg
3/4 cup grated yellow onions
2 to 3 garlic cloves, crushed
1/2 cup packed fresh chopped parsley
1 tsp cinnamon
1 tsp ground allspice
1/2 tsp ground cardamom
1/2 tsp crushed red pepper (optional)
Salt and pepper
For Sauce
Private Reserve extra virgin olive oil
1 cup grated yellow onion
2 garlic cloves, minced
1 carrot, finely grated
1 28-oz can quality crushed tomatoes
1/2 cup water
1 tbsp pomegranate molasses (optional)
2 bay leaves
1/2 tsp cinnamon
1/2 tsp allspice
Salt and pepper
Crushed red pepper flakes (optional, if you like a spicy sauce)
---
Instructions
Preheat oven to 375 degrees F, and prepare a large baking sheet lined with parchment paper.
In a small bowl, place the toasted bread and cover with the milk. Let the bread soak in the milk until very soft and mushy (about 15 minutes), then squeeze the bread well to wring all the milk out.
In a large mixing bowl, add the bread, ground beef, and the remaining meatballs ingredients. Using clean hands, mix/knead to combine.
Form the meat mixture into meatballs (each the size of a tablespoon.) Arrange the meatballs in one layer on the prepared baking sheet lined with parchment paper. Bake in 375 degrees F heated oven for 11 to 14 minutes or so. (don't worry if they're not fully done at this point, take them out and set aside)
While meatballs are baking, prepare the sauce. In a 5-quart braiser like this one or a large, deep saute pan like this one, heat 2 tbsp olive oil until shimmering but not smoking. Add the onions and cook over medium heat for 4 to 5 minutes, stirring regularly, until golden. Add the garlic and cook for a quick 30 seconds while tossing.
Now add carrots, crushed tomatoes and the remaining sauce ingredients. Bring sauce to a boil for 5 minutes or so, then lower heat.
Add the meatballs to the sauce, cover and let simmer for 20 minutes or so until the meatballs are fully cooked through. Garnish with chopped fresh parsley, if you like.
Serve in dinner bowls with Lebanese rice or warm pita. A side of fattoush salad is a great addition to this meal.
ButcherBox, why and how it works!
My family has been using ButcherBox meat delivery service for a few months now. And I'm excited to tell you more about them!
Think of ButcherBox like your friendly neighborhood butcher, only online!  They work directly with a collective of small, family-owned and run farms that use humane practices in raising animals that on a vegetarian and organic diet with absolutely no chemicals or hormones. Because of that, they deliver only premium quality, 100% grass-fed and grass-finished beef; free-range organic chicken; and heritage breed pork.
I've done a custom ButcherBox, and couldn't be more thrilled with it! I receive about 20 meals in the box, averaging $6 per individual meal. The meat and chicken are flash-frozen at peak of freshness, and safely vacuum-sealed and packed into a little dry-ice fridge that ships right to your door. And shipping is FREE! (You can see what I received in my first box in this video)
How to order your first ButcherBox?
If you live in the U.S., use this link to get $10 off your first order + FREE ground beef to make this recipe. Remember SHIPPING IS FREE!
Select your box– choose from four different types of boxes, all including their amazing grass-fed beef and change your box type anytime
Customize to your liking – beef up your box by selecting some of our tasty add-ons.
Set your schedule – ButcherBox is a monthly membership service but you can adjust your frequency to receive a box every other month or every three months. You can also cancel anytime.