With Italian-style meatballs, sliced baby potatoes, and a few fresh vegetables, this Sheet Pan Baked Meatballs is a complete meal in one. And you'll love the big flavors in this easy dinner! Tips and prepare ahead instructions included.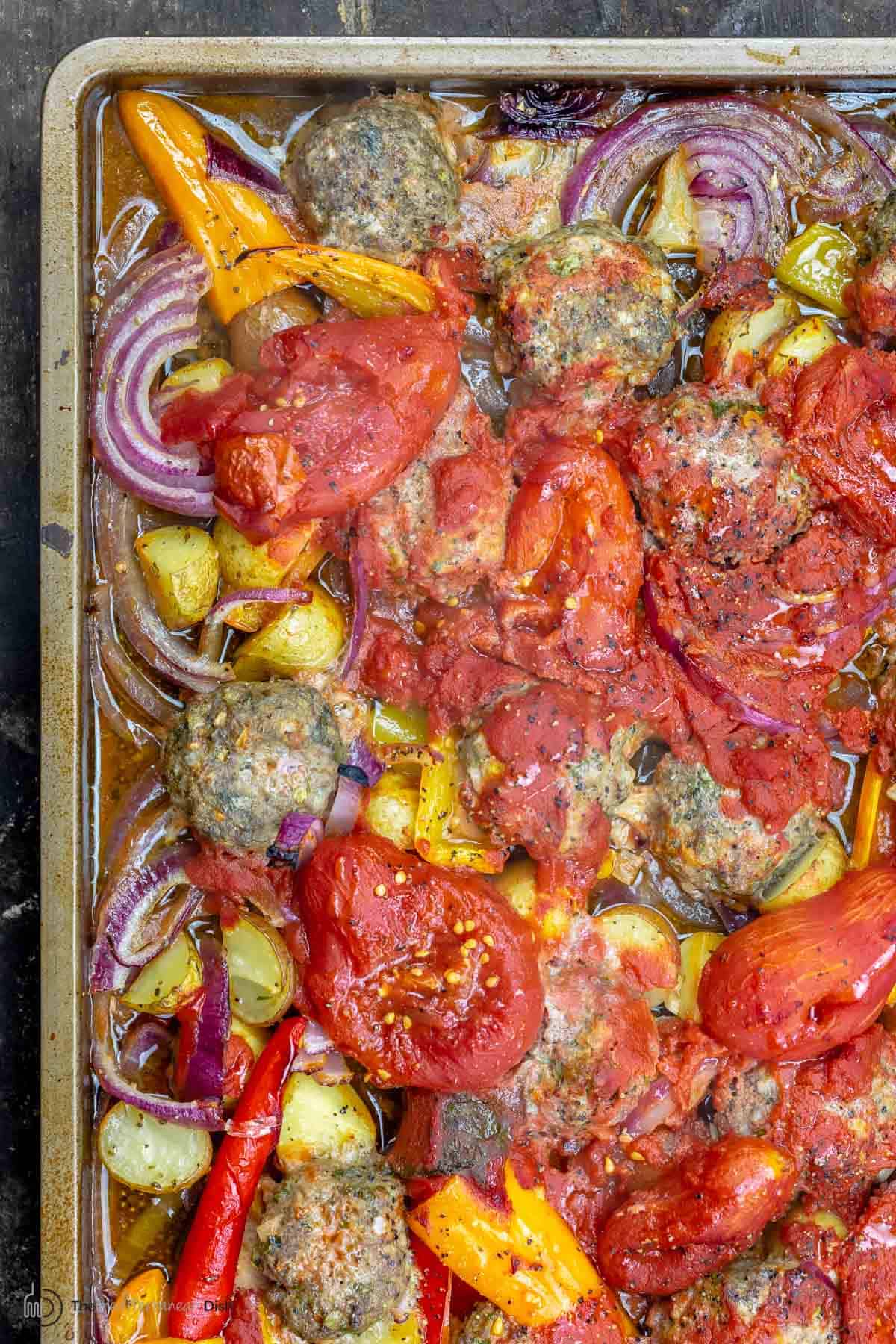 Once a week, I make a point of doing a quick fridge inventory. I try pull out any veggies or fresh ingredients that may be forgotten in the back of my drawers, then I might pair them with some protein to make a quick skillet or a sheet pan dinner.
This simple exercise is how things like my sheet pan chicken, foil baked salmon, and today's baked meatballs dinner came together.
Italian oven baked meatballs + vegetables
This sheet pan dinner is a great way to use your veggies while stretching one pound of ground beef to feed a family! But the big draw for me here is in the Italian flavors.
The baked meatballs are made from scratch and seasoned with onions, garlic, fresh parsley, dried oregano, mint, and a little grated Parmesan. Bread crumbs and an egg help bind the mixture together. (You can make the meatball mixture one night in advance and keep it refrigerated until you're ready to put your dinner together the next day).
Once you have your meatballs, you'll simply arrange them on a sheet pan with well-seasoned fresh veggies, top them with canned tomatoes, and bake to tender perfection.
Meatball seasoning!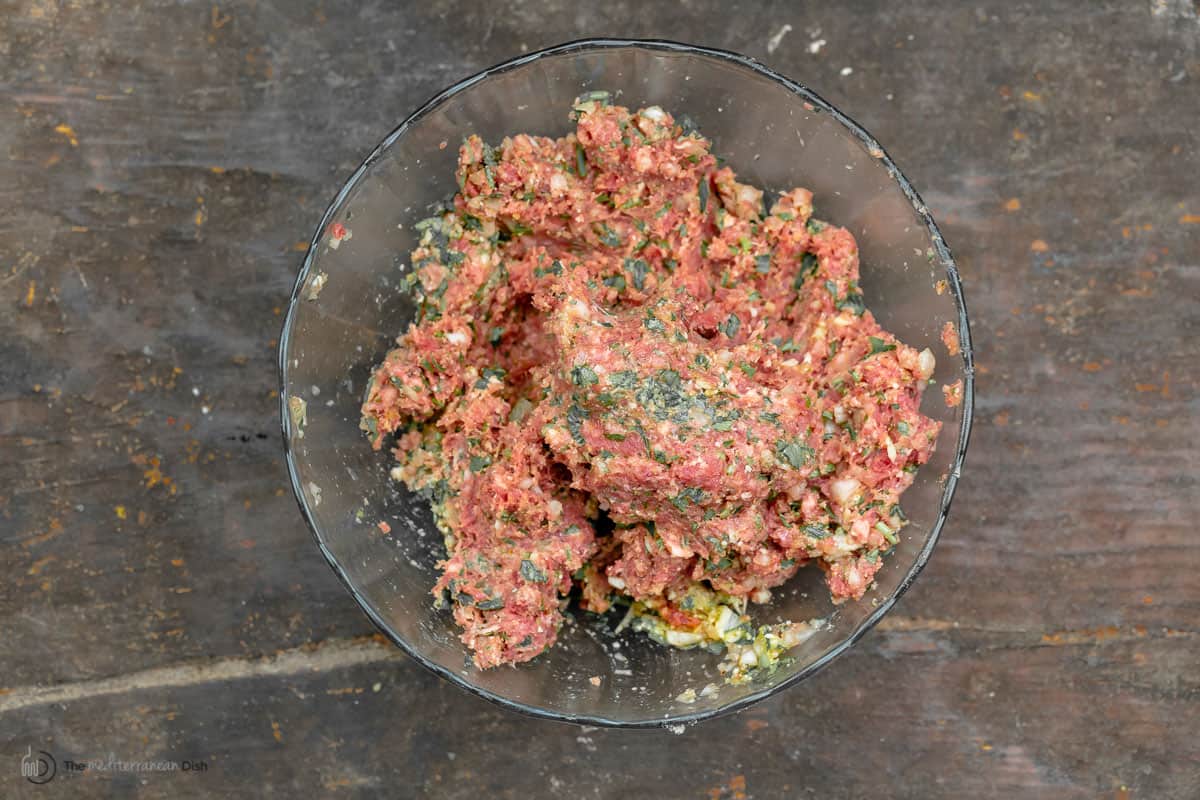 The secret to a tasty meatball is in how you season your meat mixture. Here is what's in my baked meatballs:
1 pound ground beef (lean ground beef is fine to use, but don't go too lean or you'll have some tough meatballs)
Yellow onion (grated or very finely chopped)
Fresh garlic (minced)
Fresh parsley (a good 1 cup, chopped)
Dried oregano
Dried mint
Kosher salt and black pepper (as a rule, about 1 teaspoon of salt per pound will ensure well-seasoned meatballs)
Grated Parmesan (½ cup)
Bead crumbs (only ¼ cup)
1 egg to (to bind the mixture together)
Extra virgin olive oil (try our Italian Nocellara EVOO in this recipe!)
3 Tips for juicy meatballs
This easy meatball recipe is hard to mess up, just keep these small tips to make sure the meatballs are juicy and delicious:
Use ground beef with some fat. Regular ground beef is about 70% to 77% percent lean. For these meatballs, it is okay to use something leaner like 85% lean ground beef, but I don't recommend using 96% lean ground beef in this case (unless your health demands it). A little bit of fat is helpful for taste and for texture.
Do not use too much bread crumbs. You do need some bread crumbs to help bind the meat mixture together, but too much bread crumbs will dry up the meatballs and cause them to fall apart. For this recipe, I used ¼ cup bread crumbs. You can replace the breadcrumbs with 1 small piece of toasted bread that's been soaked in water or milk and rung out dry (this is a trick I use in my Soutzoukakia Greek meatballs and produces juicy meatballs every time).
Use some extra virgin olive oil. Yes, this little bit of good fat (about 1 to 2 tablespoons) will help add moisture to your meatballs, especially if you went with a leaner ground beef.
How long to bake meatballs?
In a 400 degrees F heated oven, your meatballs will cook in about 15 to 20 minutes or so, depending on their size and your oven. For these sheet pan meatballs with vegetables, I like to cover the pan with foil for about 15 minutes to trap the steam and to help the meatballs and veggies to cook on the inside without drying out. The foil is removed for the last 5 minutes of baking to allowing the meat and vegetables to gain some color.
What to serve with meatballs?
In most cases, I love to serve meatballs with pasta, especially if I've kept some homemade spaghetti sauce in the fridge. But the beauty of baking your meatballs with veggies all on one sheet pan is that you really don't need much else to serve along. Maybe a slice of your favorite crusty bread and a big salad to start the meal.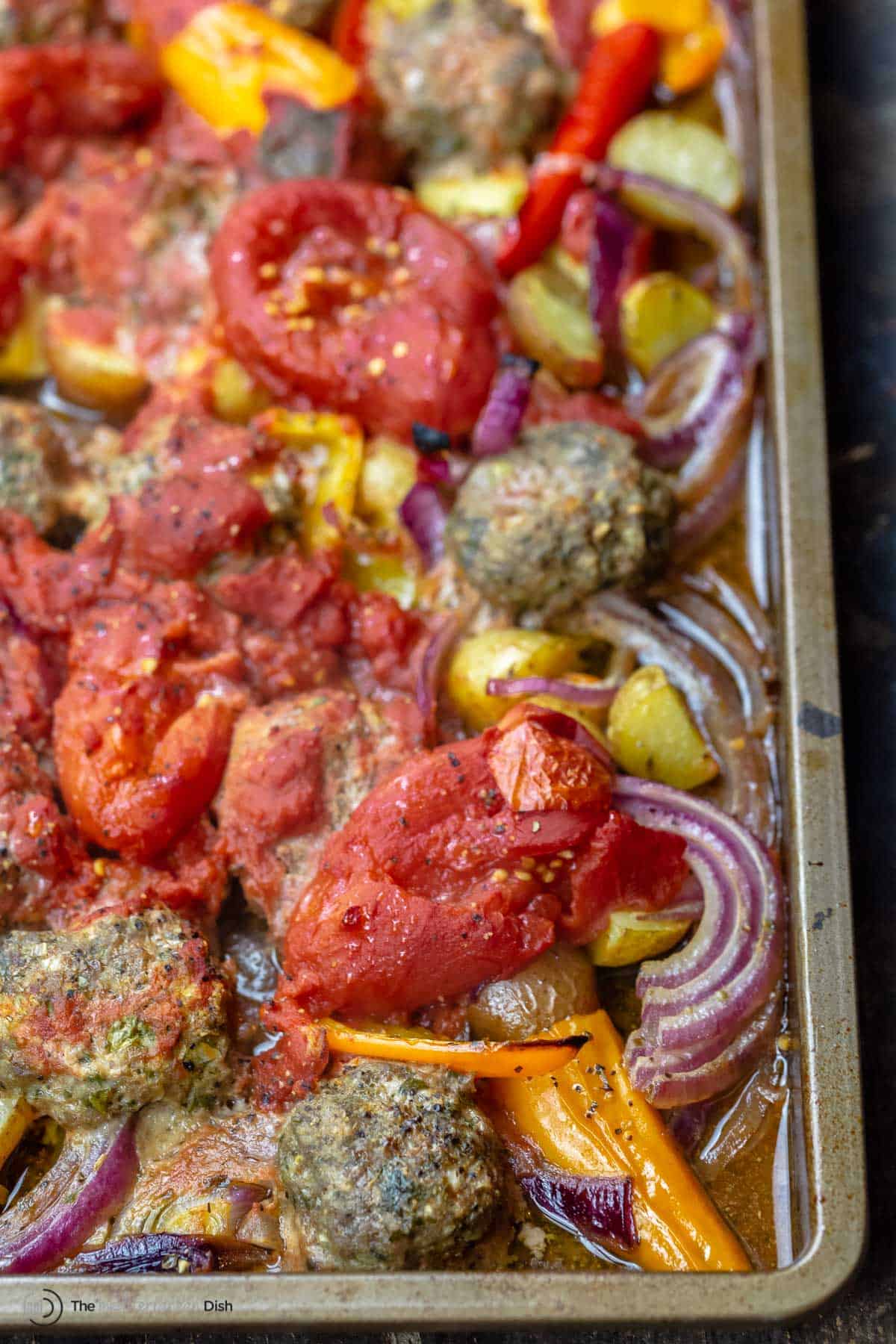 Can I make this recipe with chicken meatballs instead?
You sure can! Ground turkey or ground chicken can be used similarly in this recipe. Keep in mind that turkey and chicken will be leaner and give you a different flavor profile, and the cooking time might also vary. Check out my earlier chicken meatballs recipe for baking instructions.
How to store leftovers
These baked meatballs make great leftovers--just store in an airtight container in the fridge and reheat in a medium-heated oven. I like to store leftovers in individual containers for a grab-and-go lunch that's healthy and easy to reheat anywhere!
More meatball recipes to try:
Browse more Italian recipes. Browse all Mediterranean recipes.
Sheet Pan Baked Meatballs and Vegetables (Italian-Style)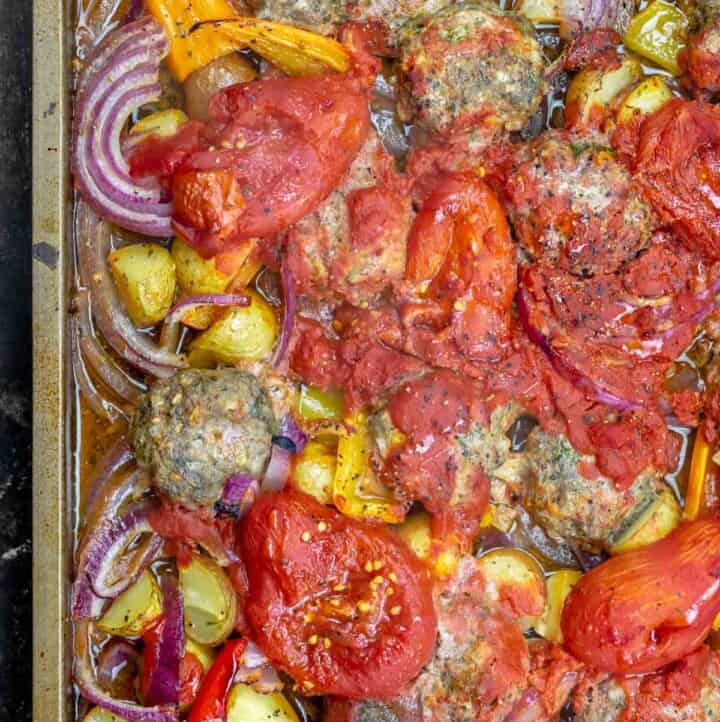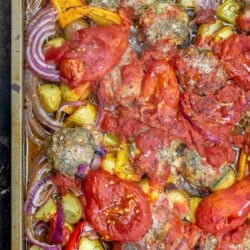 With Italian-style meatballs, sliced baby potatoes, and a few fresh vegetables, this Sheet Pan Baked Meatballs is a complete meal in one. And you'll love the big flavors in this easy dinner! Be sure to review my full post for more tips!
Ingredients
For the Vegetables
1

red onion

(large, halved and thinly sliced (¼-inch) )

½

pound

baby potatoes

(quartered or sliced small to cook quickly)

6

baby bell peppers

(any color, cut into ¼ inch thick batons)

3

cloves

garlic

(minced)

1

teaspoon

dried oregano

Kosher salt and black pepper

28

ounces

canned San Marzano tomatoes

(whole, peeled with their juices)

Kosher salt and black pepper
For the Meatballs
1

pound

lean ground beef

1

yellow onion

(small, very finely chopped)

3

cloves

garlic

(minced)

1

cup

fresh parsley

(chopped)

2

teaspoons

dried oregano

1

teaspoon

dried mint

Kosher salt and black pepper

½

cup

grated Parmesan

¼

cup

bread crumbs

1

egg
Instructions
Heat the oven to 400 degrees F and position a rack in the center.

In a large mixing bowl, combine the vegetables, garlic, oregano, salt and pepper. Drizzle 2 extra virgin olive oil and toss to combine. Transfer the vegetables to a large lightly oiled sheet pan and spread them out.

In the same large bowl, combine the meat, onions, garlic, parsley, oregano, mint, Parmesan, bread crumbs and egg. Season with a big pinch of kosher salt and black pepper. Drizzle with a little olive oil (about 1 tbsp). Mix until everything is well-combined. Form the meat mixture into 1-inch meatballs and lightly press the center of the meatballs with your thumb (do not completely flatten).

Arrange the meatballs (or patties) in the same sheet pan with the vegetables. Pour the canned tomatoes all over. Season with kosher salt and drizzle the top of the tomatoes generously with extra virgin olive oil.

Cover the sheet pan with foil and bake in the heated oven for about 15 minutes, then uncover and bake for another 4 to 5 minutes or until the meatballs are fully cooked through.
Notes
Prepare Ahead Notes: You can prepare the meatballs one night in advance. Line a tray with parchment paper and arrange the meatballs on top, then cover tightly and refrigerate until you're ready to put your dinner together. Similarly, you can chop your vegetables and keep them in the fridge for the next day (potatoes tend to get dark, so it's best to slice them before cooking).
Leftovers will keep in the fridge for a good 4 days or so. If you like, store leftovers in separate containers for lunch.
This recipe will serve 4 to 5 people for dinner with a side of crusty bread and your favorite salad to start the meal.
Review the full post for additional tips on keeping your meatballs juicy.
Visit Our Shop to browse quality Mediterranean ingredients, including extra virgin olive oils and spices.
Nutrition
Calories:
339.8
kcal
Carbohydrates:
27.6
g
Protein:
27.5
g
Fat:
13.6
g
Saturated Fat:
5.9
g
Trans Fat:
0.6
g
Cholesterol:
100.5
mg
Sodium:
1203.3
mg
Potassium:
1049.1
mg
Fiber:
5.3
g
Vitamin A:
2415.8
IU
Vitamin C:
87
mg
Calcium:
247.9
mg
Iron:
6
mg