Simple, no fuss sheet pan chicken and vegetables, prepared Italian-style with garlic and herbs. Ready in 30 minutes or less! Toss it with your favorite pasta or grain for a quick dinner. You can also prepare it ahead and divide it up into smaller lunch portions.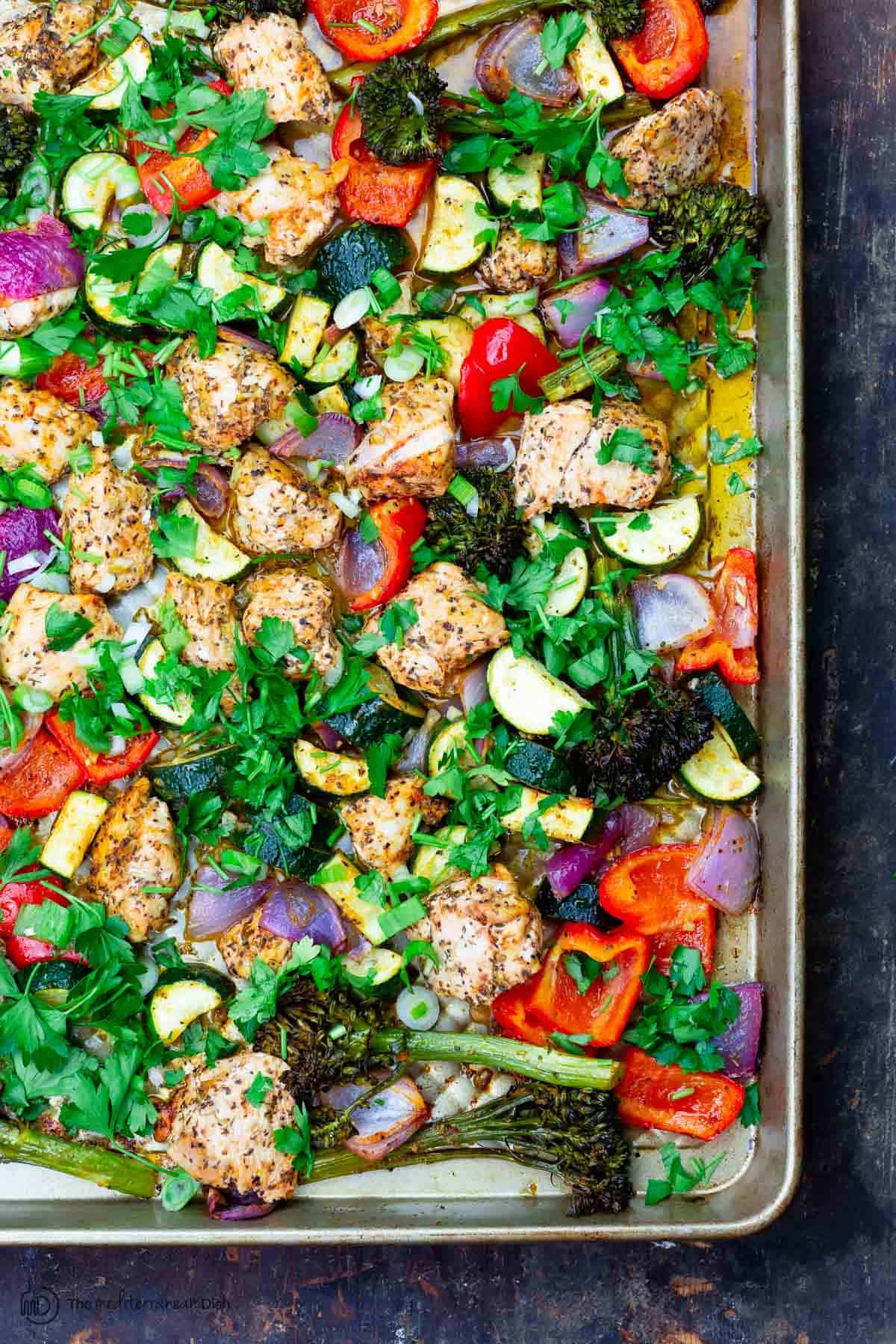 We all have those busy nights that call for a simple, no fuss dinner. Even better, a dinner that allows you to use ingredients you already have on hand.
This sheet pan dinner is exactly that! It's what I call a clean-the-fridge-out dinner, using some chicken and what vegetables you have on hand.
The gist: Boneless chicken breasts and some colorful vegetables, tossed together with a bit of fresh garlic, dry oregano, a couple spices, a dash of citrus and some extra virgin olive oil. Throw it all on a sheet pan and bake for about 20 minutes or so. Dinner is served! (By the way, if you're looking for something a little smoky with chicken thighs, check out my sheet pan chicken with chickpeas recipe!)
You can make this baked chicken and vegetables recipe ahead of time and divide it into several meals. Lunch for days!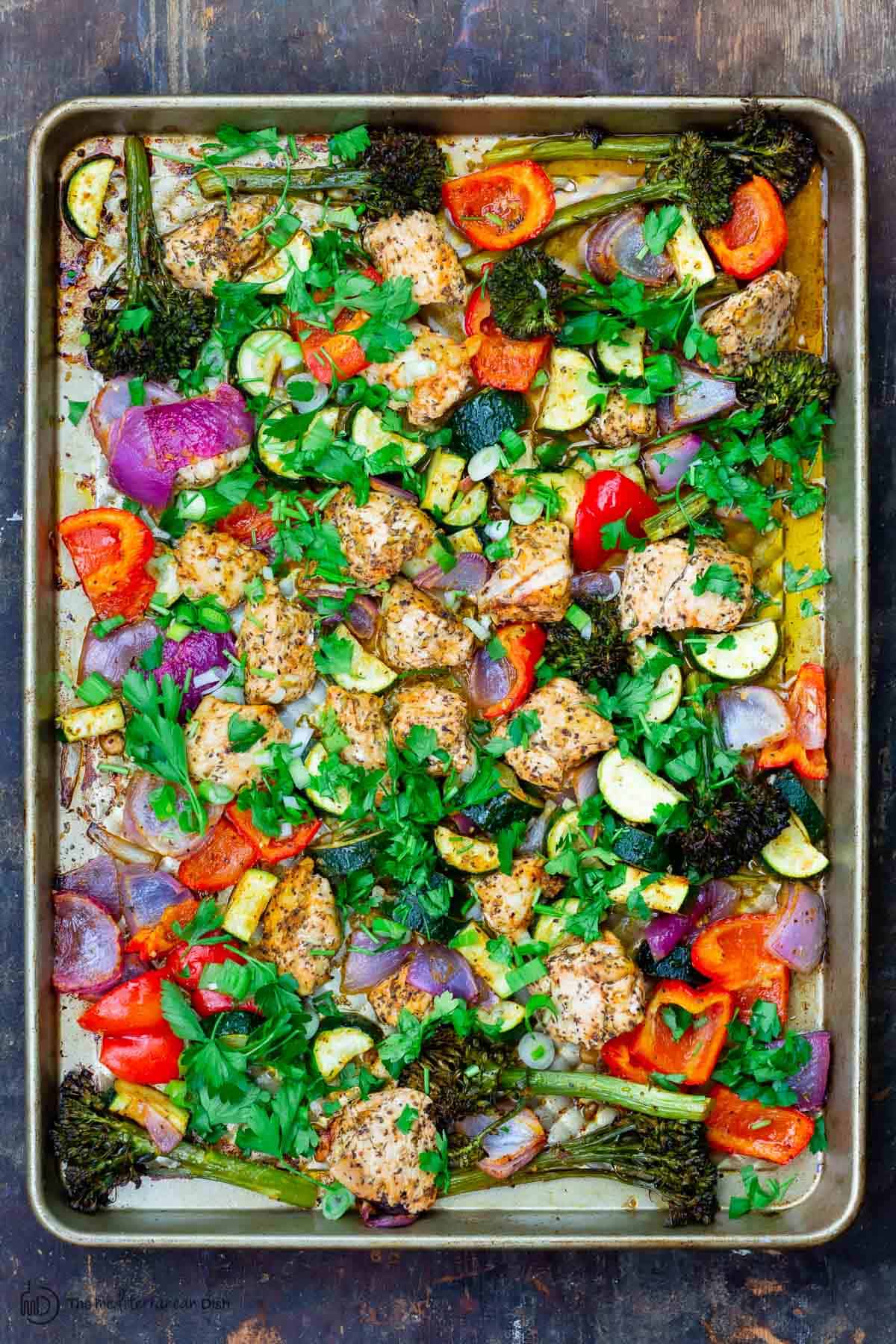 What vegetables can be used in sheet pan chicken?
The beauty of a sheet pan recipe is in its flexibility. Use this recipe as an idea or a guide, but feel free to make it your own.
Open the fridge and see what vegetables you have that need to be used. It's great to have a variety of colors and texture, which translates to more nutrition. I used a "rainbow" of veggies including red bell pepper, zucchini, broccoli and onions. But you can also use green beans, yellow squash, sweet potatoes, brussels sprouts, chopped leeks.
If you're in the mood for comfort foods, you can do chicken and potatoes dinner. Load up your baking sheet with a couple different potato types and other root vegetables like carrots, onions, and even beets.
Ingredients
If you're going for my Italian-style garlic herb chicken and vegetables combo, here is what you'll need:
Vegetables: In this recipe I'm using red bell pepper, zucchini, baby broccoli (or broccoli florets), and red onion. Again, don't be afraid to change this up and use what vegetables are in season or what you have on hand. It's great to have a variety of color and texture. To make sure the vegetables cook evenly, cut them into similar size pieces.
Chicken: I'm using boneless, skinless chicken breast. Cutting them up into small chunks or bite size pieces helps the chicken breast cook quickly, while staying nice and juice. You can also try boneless chicken thighs here.
Garlic & Herbs/Spices: The flavor makers in this baked chicken are simple. Fresh minced garlic along with dry oregano, coriander and paprika. This is a great combination of bright and warm flavors. But you can play with the flavors however you like using spices you enjoy.
Citrus and Olive Oil: Citrus plays a roll in flavoring the chicken and also keeping it tender and juicy. I used a bit of lemon juice and vinegar here. I also used a bit of extra virgin olive oil to coat the chicken and veggies and evenly distribute the spices.
How to make sheet pan chicken dinner
Step 1: Coat chicken and vegetables with garlic and spices
Grab a mixing bowl that's large enough to hold the vegetables and chicken. Add all the cut veggies and chicken pieces. Add fresh minced garlic. Season with kosher salt and black pepper. Add dry oregano, coriander, and paprika.
Add lemon juice, dash of vinegar, and a generous drizzle of extra virgin olive oil (I used Private Reserve Greek EVOO).
Give everything a good toss to make sure the chicken and vegetables are well coated with the garlic and spices.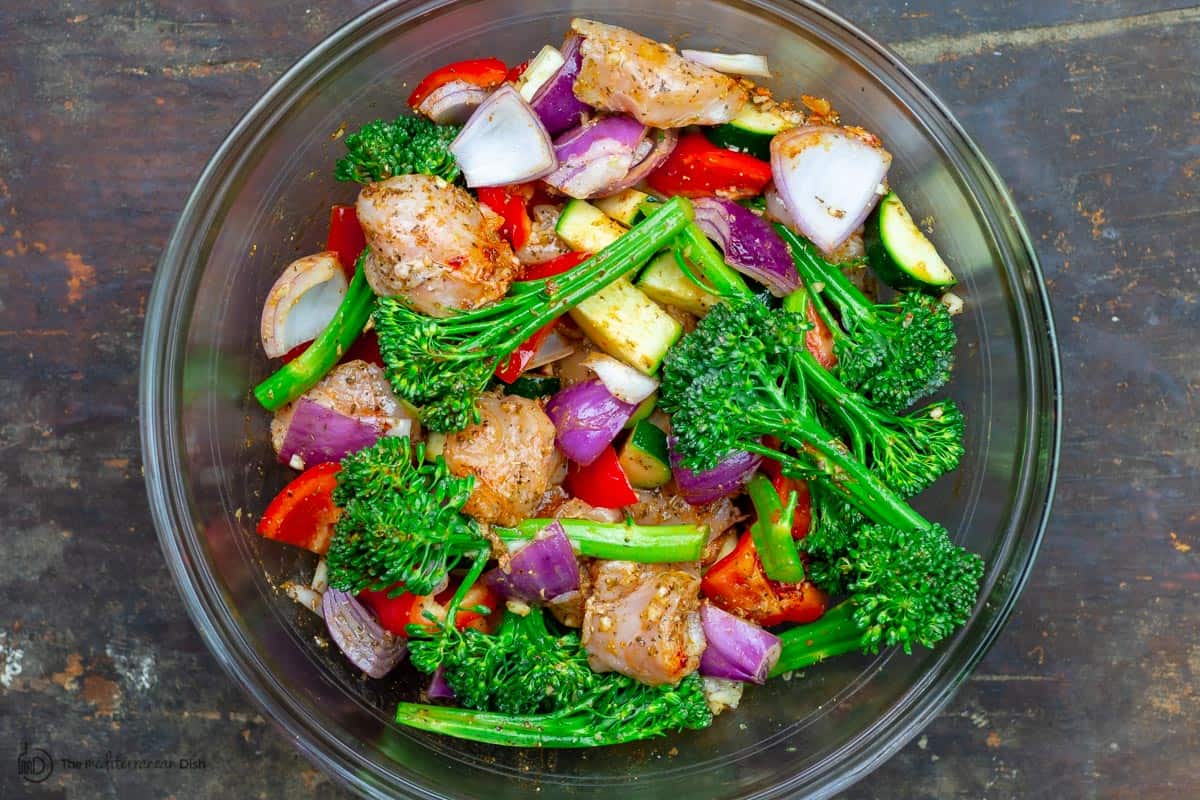 Step 2: Arrange chicken and vegetables on a large sheet pan
Transfer the chicken and veggies to a sheet pan (affiliate) that's large enough to hold the chicken and vegetables comfortably. You'll want to spread them out in one single layer so that everything is touching the surface of the pan.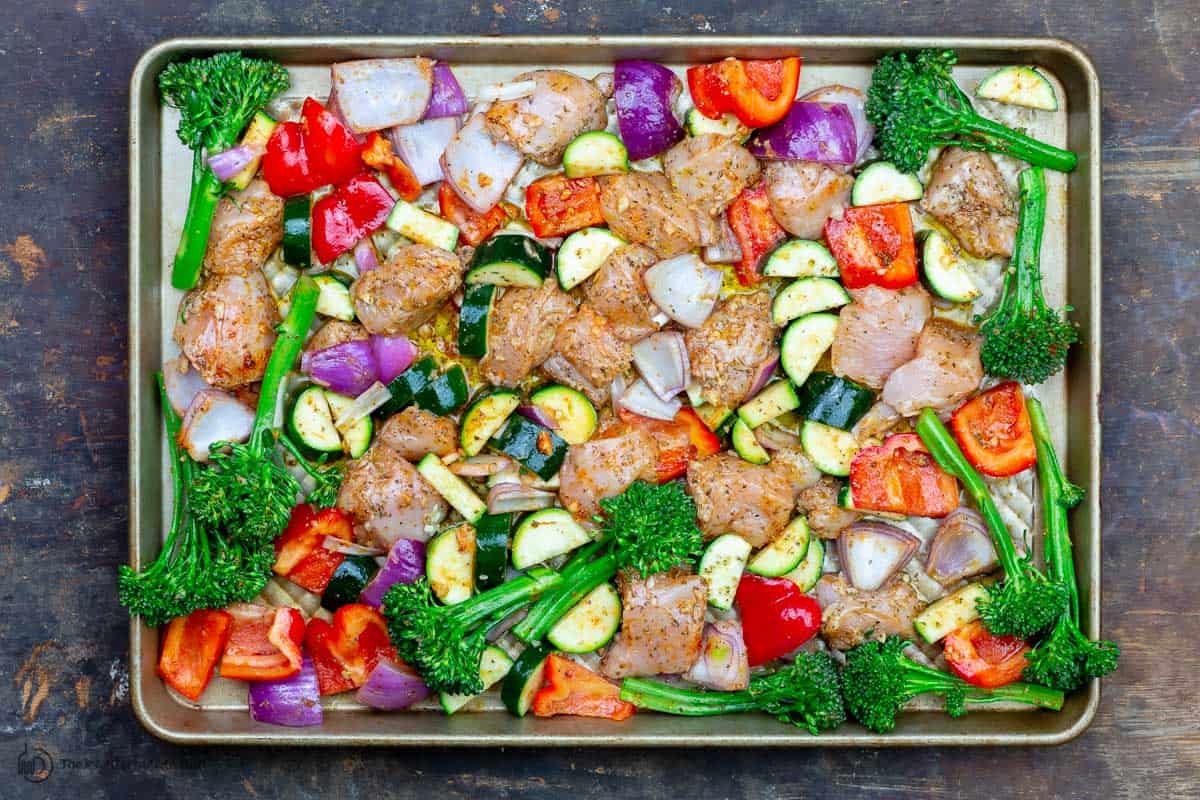 Step 3: Bake
Set the pan on the middle rack of your heated oven and bake at 400 degrees for about 20 minutes. Your sheet pan dinner is ready when the chicken is fully cooked and no longer pink in the middle, and the vegetables should be tender but not mushy. Tip: If you want a little more color or char, put the pan under the broiler for a little bit (watch carefully).
Many ways to serve up this baked chicken and vegetables
This baked chicken and vegetables recipe is super versatile, you can simply eat it right out of the pan nothing else needed. Or try one of these options:
Serve it on top of your favorite grain like brown rice or this bright lemon rice. Cooked quinoa, farro, or barley will also work
Toss it with some pasta or couscous. I can totally do this with a bit of toasted pearl couscous or even plain quick-cooking couscous
Keep things low-carb and add the baked chicken and veggies over a bed of pepper arugula. I like to toss the arugula with a little lemon juice and a drizzle of Early Harvest extra virgin olive oil.
Hungry for more? Check out my selection of Chicken recipes, top Mediterranean diet recipes, or explore all my Mediterranean recipes!
SHOP OUR ONLINE STORE FOR QUALITY OLIVE OILS, ALL-NATURAL SPICES AND MORE.
Italian-Style Sheet Pan Chicken with Vegetables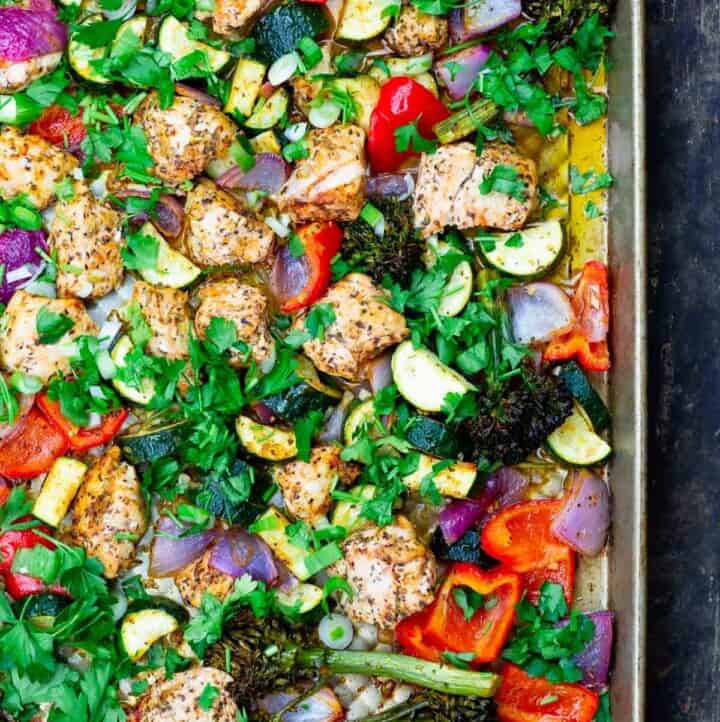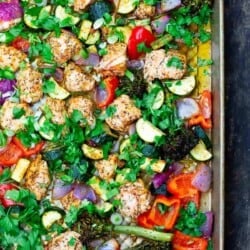 No fuss sheet pan chicken and vegetables, tossed with garlic, oregano, and a splash of citrus. A healthy weeknight meal & great for meal prep!
Ingredients
2

medium zucchini

about 11 oz, halved length-wise then sliced into half moons

1

large red pepper

cored, cut into chunks

1

red onion

cut into chunks

9

oz

baby broccoli

trimmed and cut into pieces of equal size

1 ½

lb

boneless chicken breast

cut into bite-size pieces

5

garlic cloves

minced

Kosher salt and black pepper

2

teaspoon

Dry oregano

1

teaspoon

Paprika

1

teaspoon

coriander

1

lemon

zested and juiced

1

teaspoon

white vinegar

Extra virgin olive oil I used Private Reserve Greek EVOO

Fresh parsley for garnish

optional
Instructions
Heat the oven to 400 degrees F.

Place the cut veggies in a large mixing bowl. Add chicken pieces and minced garlic. Season with kosher salt and black pepper. Add spices. Now add lemon zest, lemon juice, vinegar, and a generous drizzle of extra virgin olive oil. Give everything a good toss to combine, making sure the veggies and chicken pieces are evenly coated.

Transfer the chicken and vegetables to a large sheet pan. Spread well in one layer.

Bake in heated oven for about 20 minutes until chicken is fully cooked through. If you want more color, place under the broiler briefly.

If you like, garnish with fresh parsley before serving (optional).
Notes
Leftovers Storage: let any leftover chicken and vegetables cool before storing in tight-lid containers. Refrigerate for 3 to 4 days. For lunch meal prep, divide into 5 to 6 containers and add your favorite grain, pasta, or greens such as arugula to serve along.
Visit our Online Shop for quality Mediterranean ingredients including extra virgin olive oil and spices used in this recipe
Nutrition
Calories:
220.3
kcal
Carbohydrates:
13.4
g
Protein:
32.7
g
Fat:
4
g
Saturated Fat:
0.9
g
Cholesterol:
87.1
mg
Sodium:
415.2
mg
Potassium:
852.9
mg
Fiber:
3.4
g
Vitamin A:
2083.5
IU
Vitamin C:
107.6
mg
Calcium:
84.3
mg
Iron:
2
mg
*This post originally appeared on The Mediterranean Dish in March 2020 and has been recently updated with new information and media for readers' benefit.