If you're looking to take your roasted potato recipe to the next level, I highly recommend trying these Greek potatoes. Simple and comforting lemon roasted potatoes with fresh garlic. My little twist: add a sprinkle of Parmesan cheese!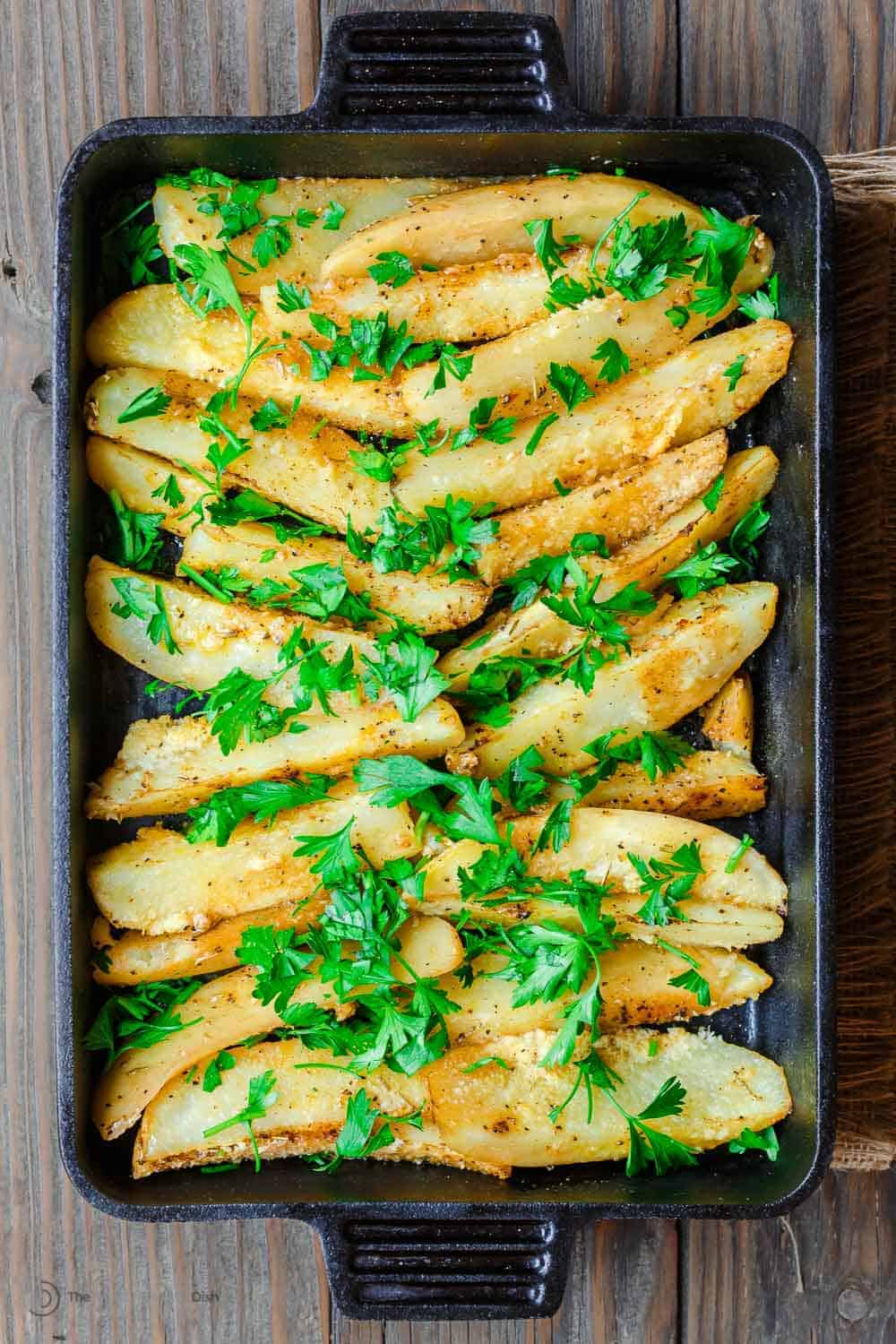 These roasted Greek potatoes highly resemble some I ate at a small Greek restaurant downtown Toronto. All the comfort of Greek flavors in one dish!
The first time I made these Greek potatoes was a bit of a last-minute operation. I was working on several things and had not yet thought about dinner. When I surveyed the pantry to find something to go with leftover chicken from the previous night, I came out with a handful of potatoes and some garlic. Similar to how patatas bravas have come to the rescue when I need a tasty appetizer, Greek potatoes saved the day here!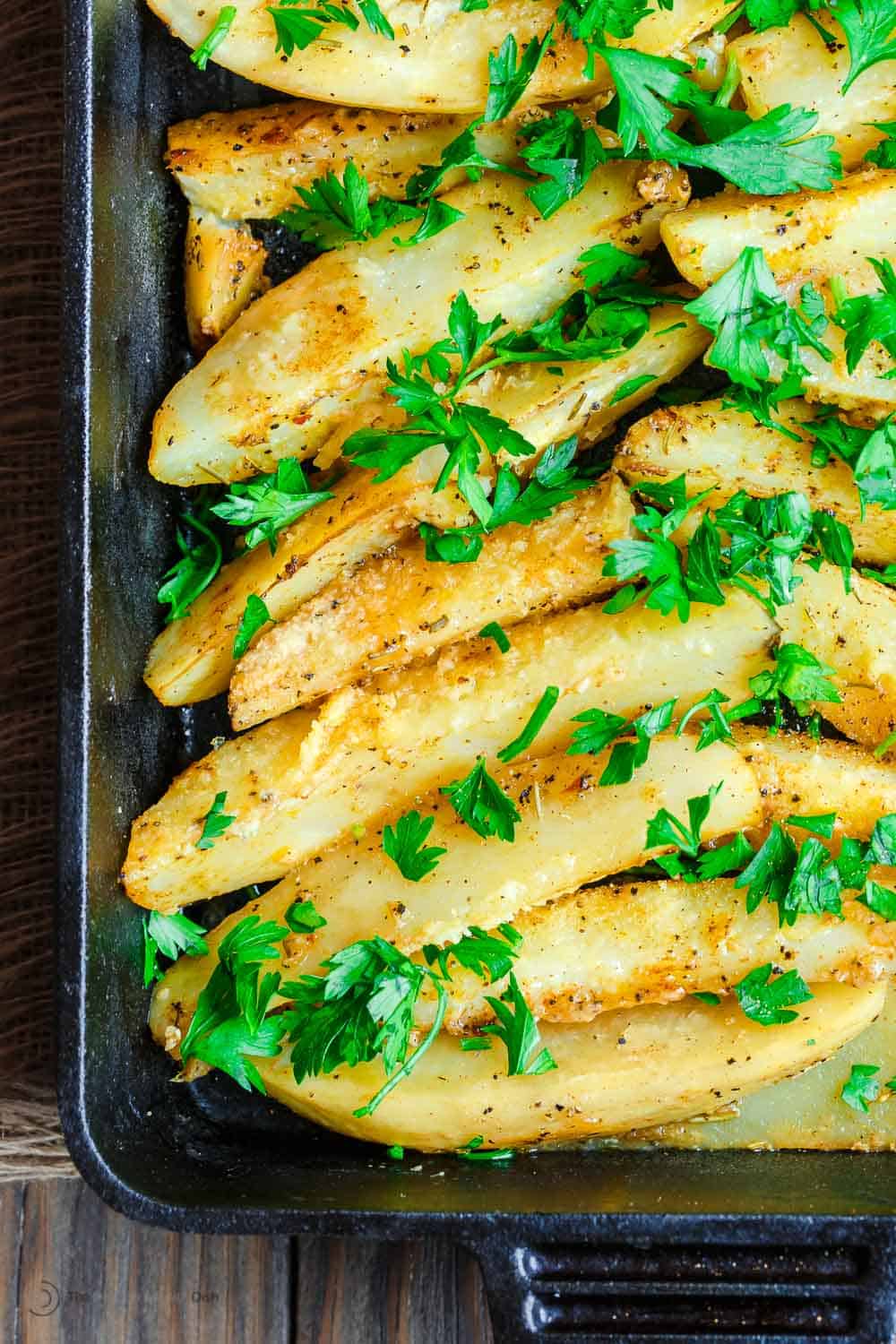 So, what's the secret to the best Greek potatoes?
Yes, these are what you would call Greek lemon potatoes. The main flavor makers here are lemon juice and garlic (lots of it). Plus, a dash or rosemary and paprika.
A little secret ingredient here is a sprinkle of Parmesan cheese added midway through baking. This isn't necessarily traditional, but it adds both flavor and texture.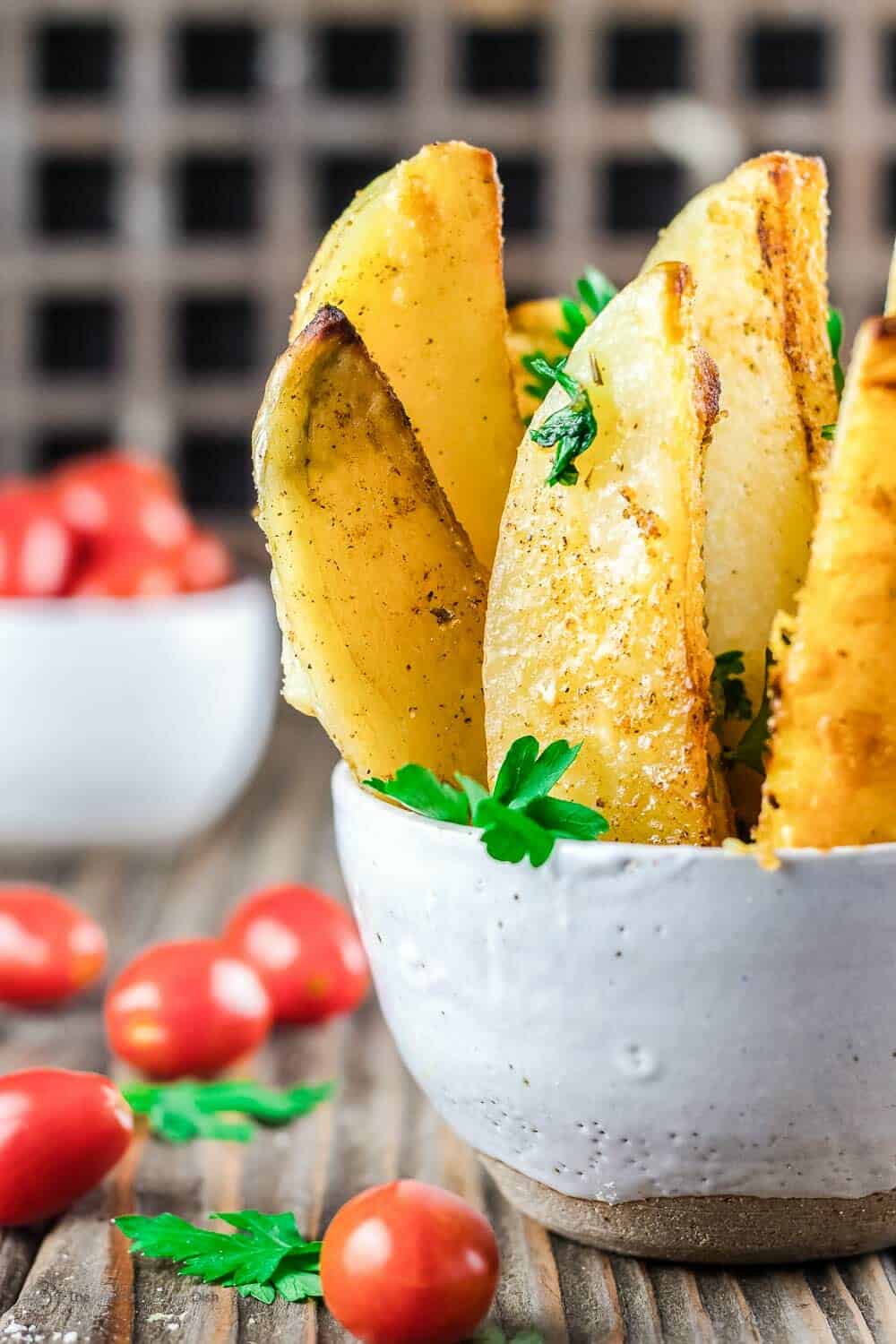 Notes for Lemon Greek potatoes
To achieve just the right texture, first the Greek potatoes are baked covered for 40 minutes or so in plenty of liquid-- olive oil, lemon juice, and both. As they are covered, the potatoes tenderize as they absorb steam and take in the perfectly flavored liquid.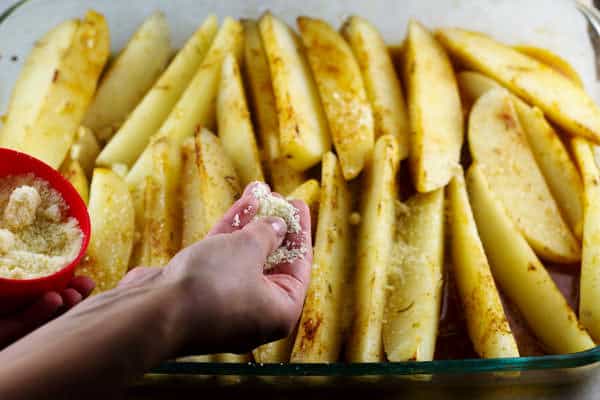 Then, we uncover the potatoes and sprinkle Parmesan cheese. As the Greek potatoes now bake uncovered for another 10 to 15 minutes, they fully cook as they form a little bit of a crust on top (still remaining super tender on the inside).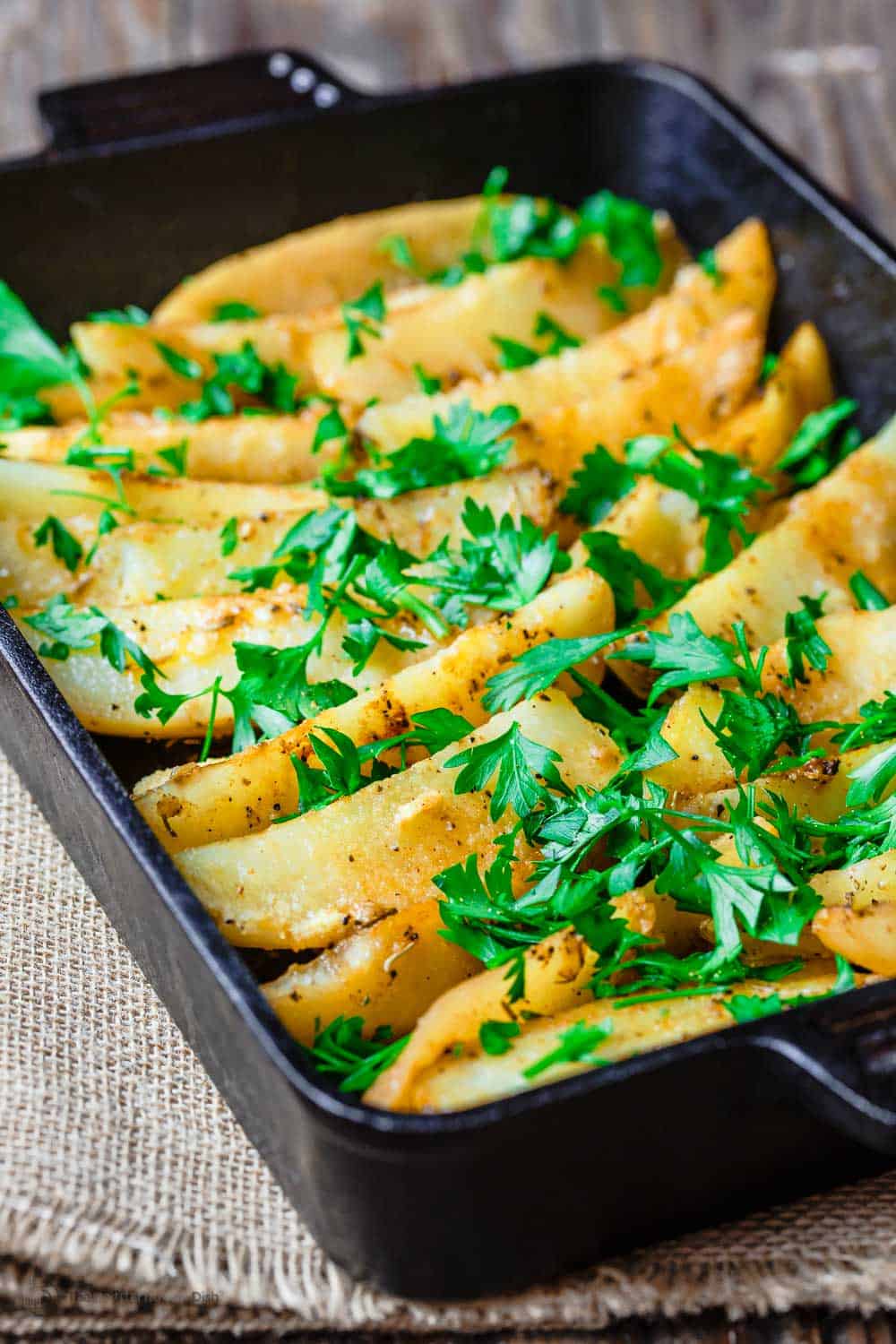 When I first posted this recipe, I used melted butter. But as I tested it several times since, I did prefer the flavor and the texture of these Greek potatoes with quality extra virgin olive oil instead. I use Private Reserve Greek extra virgin olive oil (from organically grown and processed Koroneiki olives.)
Watch How to Make these Baked Greek Potatoes
Related recipes you'll love
Print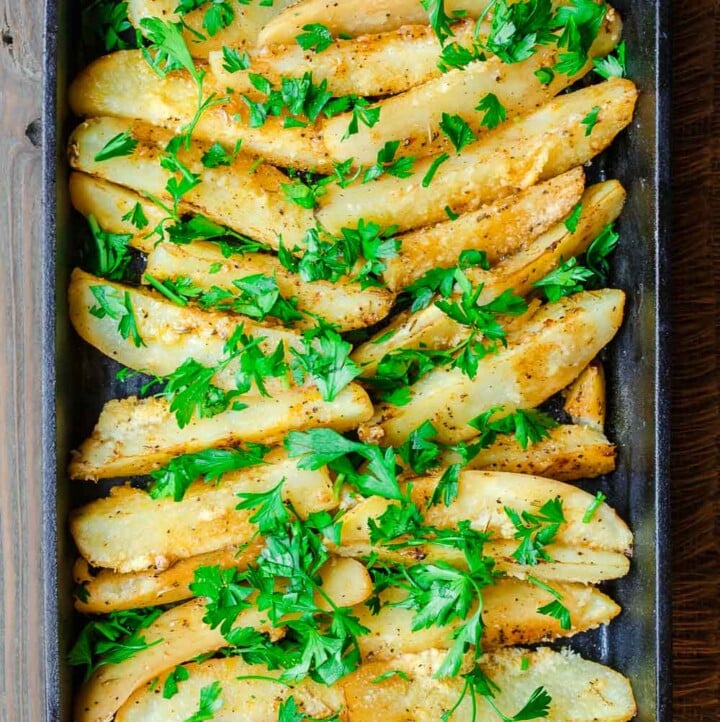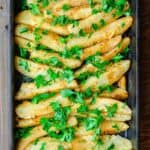 Best Roasted Greek Potatoes
---
Description
Best Greek potatoes with lemon and garlic!
---
For Spice Mix
For Potatoes
4

large baking potatoes, peeled, washed, cut into wedges

8

large garlic cloves, chopped

4 tbsp

Private Reserve Greek extra virgin olive oil

1

lemon, juice of

1 ¼ cup

vegetable or chicken broth

½ cup

grated Parmesan cheese

1 cup

parsley leaves, roughly chopped
---
Instructions
Preheat oven to 400 degrees F.
In a small bowl, mix together spices. Set aside.
Place potato wedges in a large lightly-oiled baking dish (I used this one) and sprinkle with the spice mix. Toss potatoes together briefly to evenly distribute spices.
In a bowl, whisk together chopped garlic, olive oil, lemon juice and broth. Pour into baking dish with potatoes.
Cover the baking dish with foil and place in the 400 degree F-heated oven for 40 minutes.
Remove from oven briefly. Uncover and sprinkle Parmesan cheese on the potato wedges. Return to oven uncovered to roast for another 10-15 minutes or until potatoes are cooked through and have turned a nice golden brown with a little crust forming.
If needed, to add more color, you may place the dish under the broiler for 3 minutes or so, watching carefully.
Remove from oven. Garnish with fresh parsley before serving. Enjoy!
Prep Time:

15 mins

Cook Time:

50 mins

Category:

Appetizer

Cuisine:

Greek
More Recipes to Try
How to Roast Garlic and How to Store it for Daily Use