Make the best oven roasted whole chicken when you learn my simple tips and tricks for bold flavor, juicy meat, and crispy, golden skin!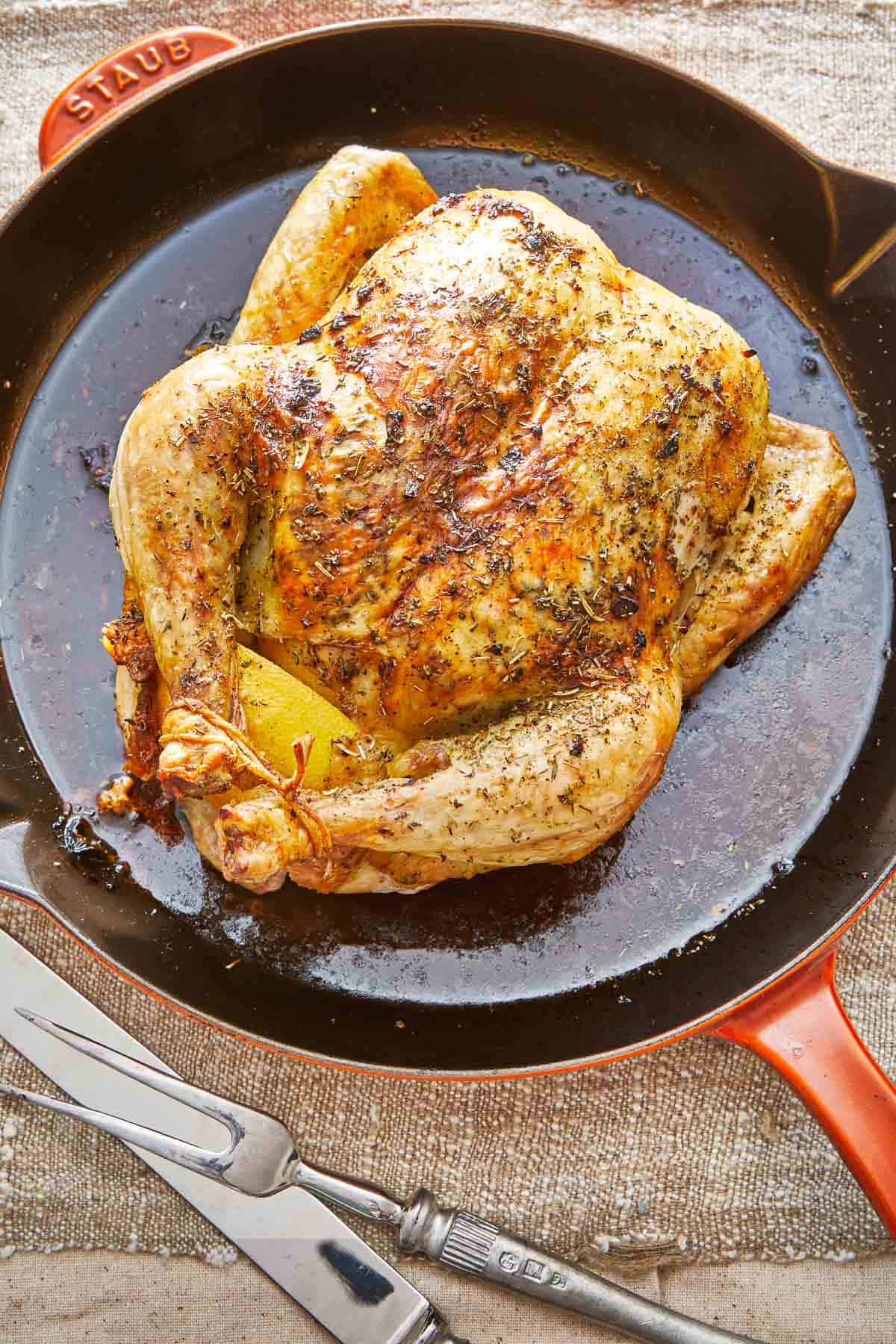 Roasting a whole chicken is a near weekly occurrence in my house. It's relatively hands off, it feeds my family of four with leftovers for lunch the next day, and I use the bones to make homemade chicken stock. Cooking the whole bird just gives me more bang for my buck.
This is my fool-proof recipe for whole roasted chicken with a beautiful crispy skin, juicy tender meat and loads of flavor. Not only is a roast chicken super impressive when placed on a dinner table, but it's also the perfect recipe for every occasion. Whether you're hosting a fancy feast with endless sides and desserts or need something for simple meal prep, you can't go wrong!
Today, to make preparing a roasted whole chicken super approachable, I'm sharing all my best tips and tricks! You'll learn what you need, how to roast a whole chicken, the importance of salt, and so much more. By the end, you'll be a juicy chicken making pro!
Table of Contents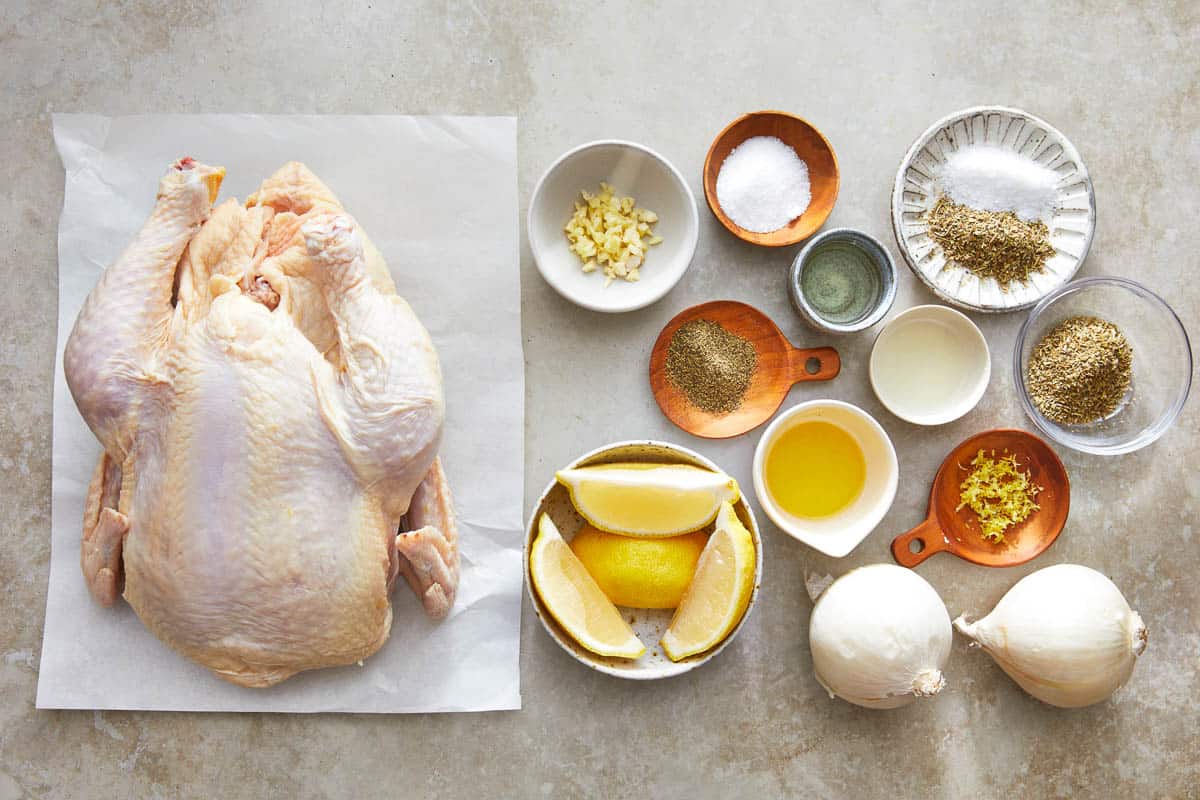 What You Need to Make a Whole Roasted Chicken
The secret to creating roasted chicken that isn't boring and dry is to use plenty of seasoning. Here's everything you'll need:
Garlic: This roasted whole chicken recipe calls for 2 whole garlic cloves, but feel free to use more if your chicken is extra large.
Lemon: Both lemon juice and lemon zest are used to tenderize the chicken and add bright flavor.
Extra virgin olive oil: Lathering your chicken with olive oil will not only help the spices stick but also locks in moisture, making it extra juicy.
Spices: Salt, Italian seasoning, and black pepper create a bold, earthy, savory taste. You can find Italian seasoning blends at the store, but for even better flavor I like to use this homemade Italian seasoning blend. It's just easy to whip up a batch to have on hand when I need a flavor boost.
Chicken: You want a bone in skin on whole chicken that's about 3 to 4 pounds.
Onion: White or yellow onions work well to infuse extra flavor into the roasted whole chicken.
How to Roast A Whole Chicken
One bite of this roasted whole chicken, and you'll be wondering where the recipe has been all your life! Here's what you'll need to do:
Prepare the rub. Form a paste with the minced garlic and salt by mashing it together on a cutting board. It might get a little messy, but it's totally worth it! Combine the paste in a small bowl with 1 tablespoon of lemon juice, lemon zest, Italian seasoning, and black pepper.
Dry the chicken. Use paper towels to pat the chicken dry inside and out, removing as much moisture as you possibly can. Don't be afraid to get up close and personal with the chicken! Removing moisture helps achieve that beautiful, golden, crispy skin.
Season the chicken. Place the chicken on a large plate, and loosen the skin from the breast meat and legs. Divide the Italian seasoning rub into thirds. Then rub it on the flesh, skin, and inside the cavity of the chicken. Then, stuff the chicken with the rest of the lemon and the quartered onion.
Truss the chicken. Truss the chicken by tucking the wings under the bird. Then, wrap twine under and around the chicken, crossing it over the breast like an X and tying the legs together. If you're short on time, skipping this step isn't the end of the world, but it does help the roasted whole chicken cook more evenly!
Air dry the chicken. Store the chicken, uncovered, in the fridge for 24 hours.This removes additional moisture from the skin making it extra crispy, while giving the salt a chance to impact the protein in the flesh leaving the chicken meat succulent. However, if it's Tuesday night and you forget about dry brining your chicken, you can skip this step. Just coat the chicken flesh and skin with the rub, and pop it in the oven instead. It will still taste delicous.
Revive the chicken. Your chicken will look a little emaciated the next day when you remove it from the fridge, but stick with me here. You didn't do anything wrong! In fact, you did everything right. Simply rub it with more olive oil, salt, and Italian seasoning, and it will liven right up!
Roast. Transfer the whole chicken to a cast iron skillet, and let it roast in the oven until an instant-read thermometer reads 165°F when inserted into the thickest part of the breast. Once fully cooked, allow the chicken to rest for 5-10 minutes, and dig in!
Why You Should Air Dry Chicken
Drying your chicken is the most effective way not only to allow the seasonings to penetrate the meat but also to achieve golden, crispy skin.
There are several methods of achieving crispy skin: patting it dry with paper towels, rubbing it with baking powder, and air drying it in the fridge. Every chef swears by their own technique, but after many many test runs, we found that first patting the chicken dry and then letting it sit in the fridge overnight is a failproof way to get the skin extra crispy and golden brown.
An extra step you can take to impart more flavor and create a crispy, golden exterior is to baste the chicken. We don't do it with this roasted whole chicken recipe, because is tastes incredible without it. And who needs extra steps?!
However, if you've got the time and are feeling ambitious, all you have to do is baste the chicken with the fat that naturally drips off the bird every 20 minutes or so as it cooks. Either way, as long as you let it air dry, your roast whole chicken will taste great!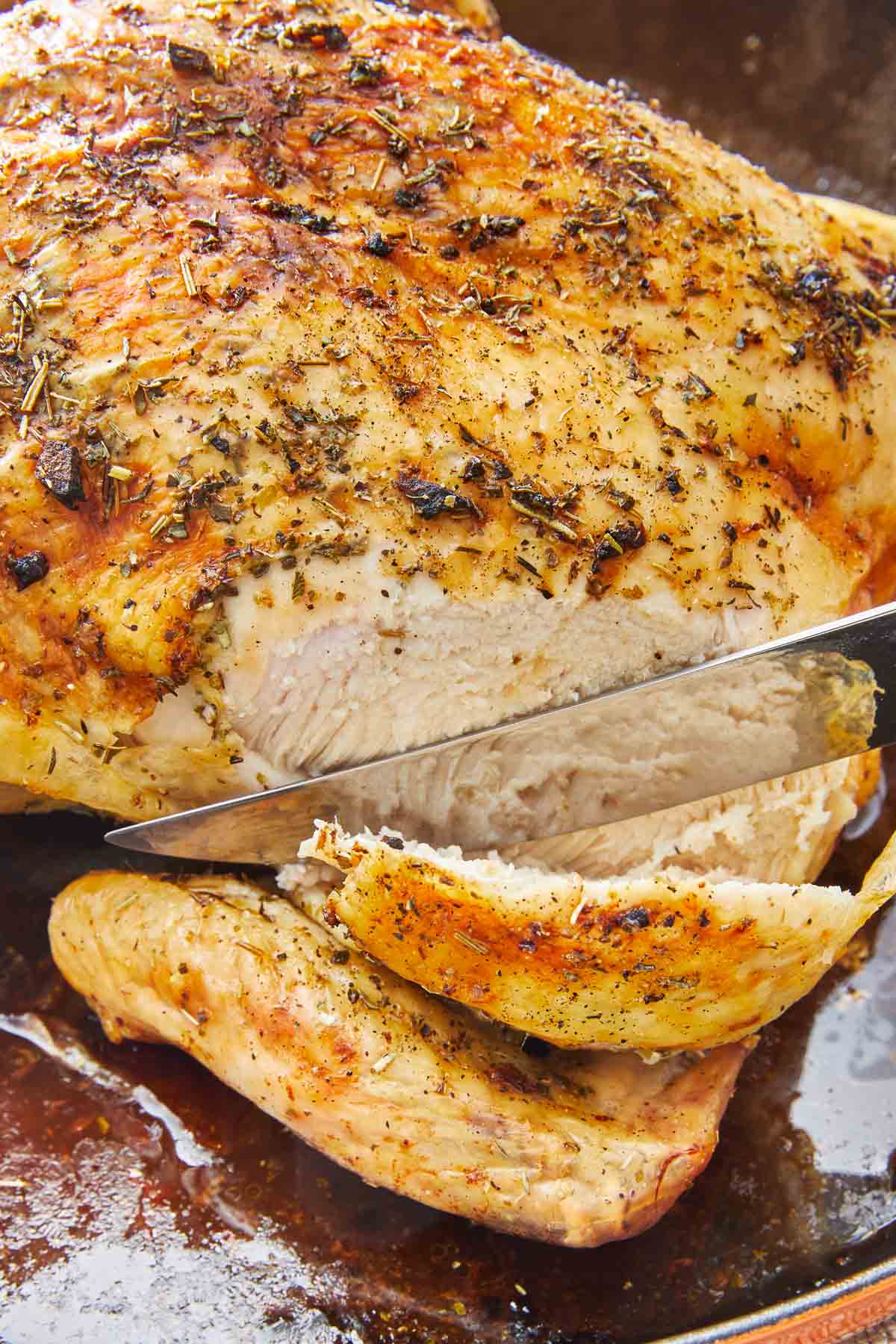 Understanding Salt
It's important to take note of the brand and size of salt you are using in order to properly season your oven roasted whole chicken. The size of salt granules varies by brand, meaning the amount of salt per tablespoon will vary as well. Here's what you need to know:
There are 4 different salt sizes including coarse, kosher, table, and powder salt.
I use Morton Kosher Salt which is much finer than Diamond Crystal Salt.
If needed, replace 2 teaspoons of Morton Kosher Salt with 1 ½ teaspoons of Diamond Crystal Salt to achieve the same results.
Do not use table salt or powder salt as they are very fine and will make the roasted whole chicken way too salty.
Make sure your salt is kosher and not iodized which is much saltier.
How to Truss a Chicken
Let's talk about trussing a whole chicken. Tying the chicken snuggly helps make it more compact, allowing it to cook more evenly. Plus, it helps prevent the tips of the wings and drumsticks from burning.
Cut about 2 feet of twine or enough to fully wrap around and tie the chicken. Don't worry if you've got too much, we'll trim it later!
Position the chicken breast side up with the legs facing toward you. Then, place the center point of the twine directly beneath the wings of the chicken leaving both ends sticking out. Tuck the wings under the chicken.
Lift either end of the twine, and cross it over the breast like an X. Wrap each end around a leg then pull either end tight to secure the legs.
Tie the twine tightly at the neck of the chicken, trimming off any excess, and it will be secure and ready to air dry.
How Long to Roast A Whole Chicken
The amount of time needed to roast a whole chicken depends on its weight. The heavier it is, the longer it will take. However, on average, you can count on needing roughly 20 minutes of cooking time per pound.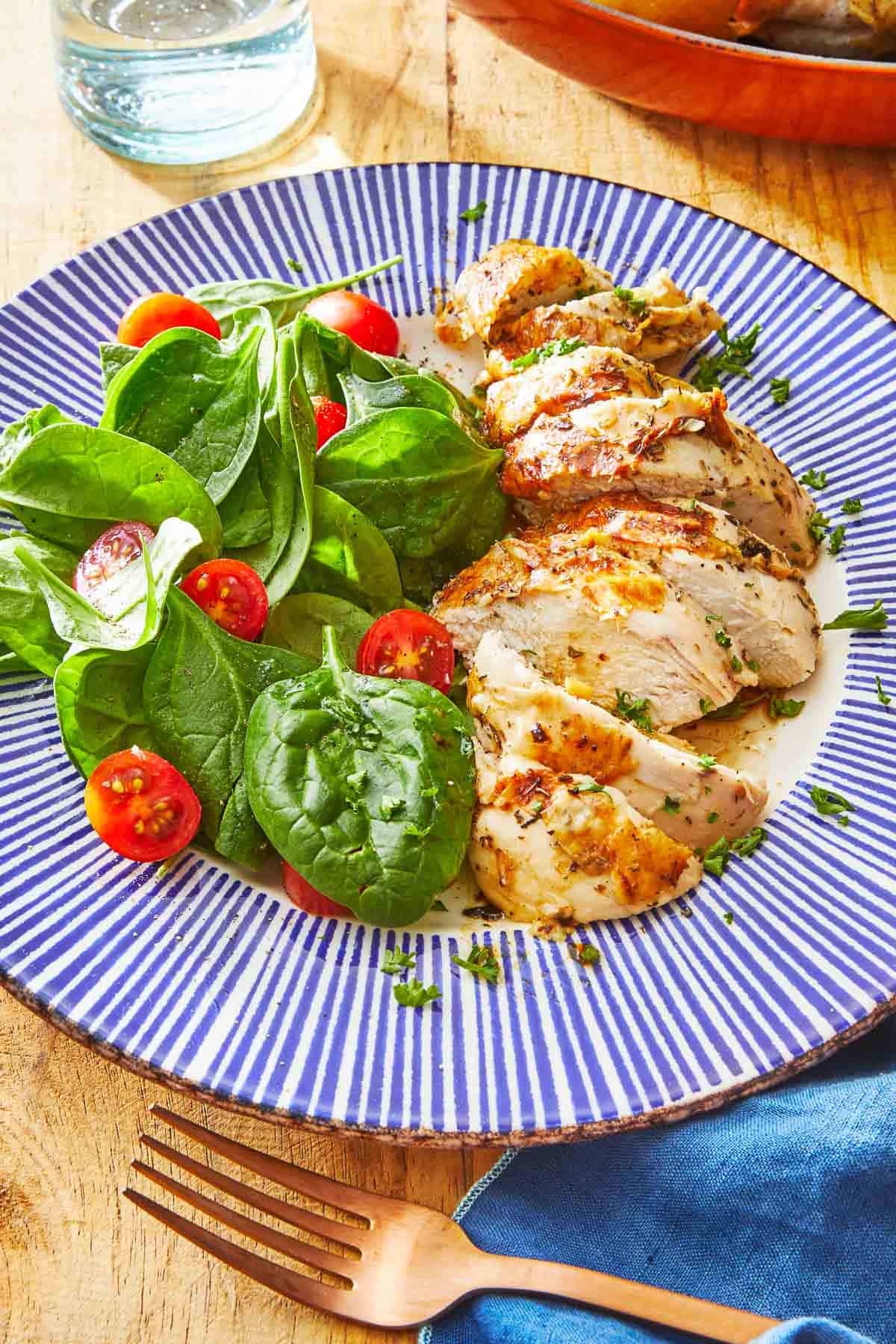 What to Serve with Whole Roasted Chicken
One of the best things about roasting a whole chicken in the oven is that it can be paired with literally everything! Personally, I love to serve it with roasted garlic mashed potatoes, roasted vegetables, or Greek lemon rice and a crunchy-fresh salad like Bulgarian shopska salata. Crispy olive oil fried brussel sprouts or simple roasted carrots round out some of my favorite sides.
Finish the meal with a slice of orange olive oil cardamom cake and a cup of tea.
More Roasted Chicken Recipes
Browse all Mediterranean recipes.

Visit Our Shop.
Private Reserve Extra Virgin Olive Oil
A high quality olive oil that's perfect for everyday use! Our Private Reserve EVOO is medium in intensity with hints of fresh green herbs and a peppery finish.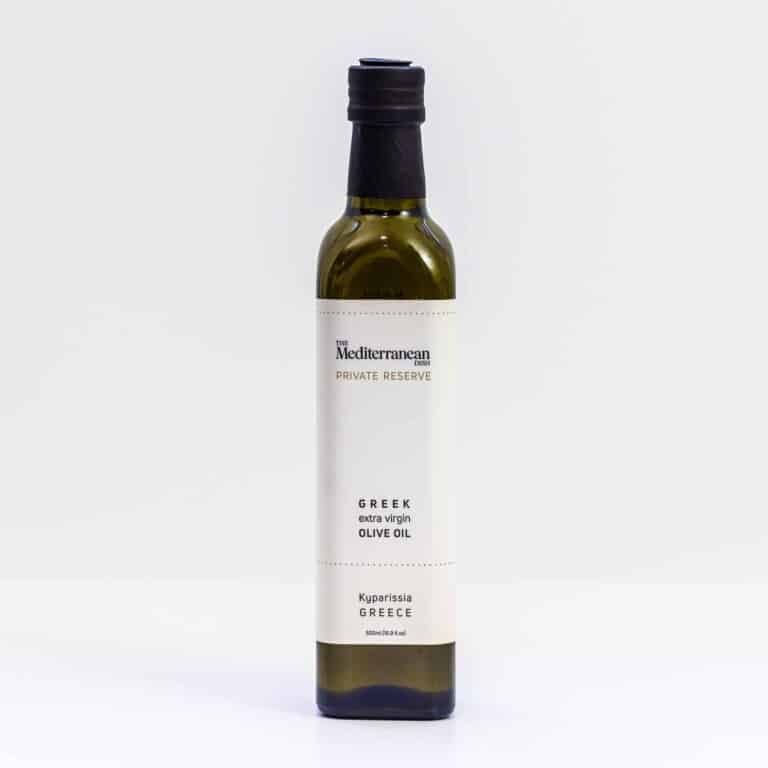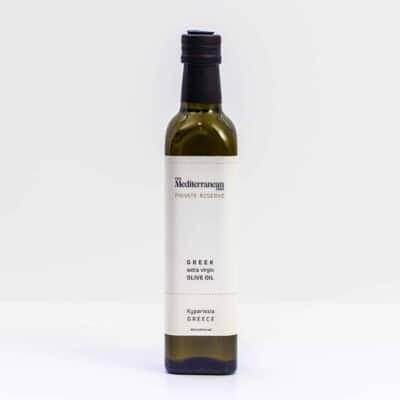 Easy Oven Roasted Whole Chicken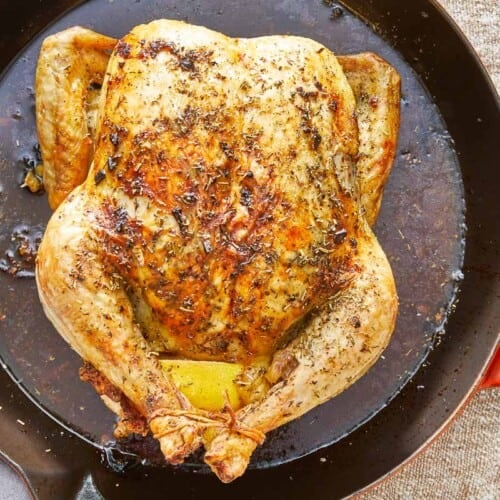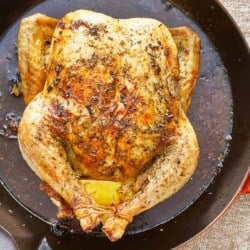 This easy roasted whole chicken is a versatile and impressive dish that's perfect for any special occasion or even just a weeknight dinner. Check out all of our tips and tricks for a chicken that is crispy on the outside and perfectly juicy on the inside.
Ingredients
Italian Seasoning Rub
2

cloves

garlic,

minced

2

teaspoons

kosher salt

1

lemon,

zested and quartered

1

tablespoon

extra virgin olive oil

1 ½

tablespoons

Italian seasoning,

(I used this recipe), or a combination of dried thyme, basil, oregano and rosemary

1

teaspoon

freshly ground black pepper
Chicken
1

(4 lb) chicken

1

tablespoon

extra virgin olive oil

½

teaspoon

kosher salt

½

teaspoon

Italian seasoning

1

small onion,

peeled and quartered
Instructions
Prepare the rub: Mash the minced garlic and salt together on a cutting board to form a paste. Transfer to a small bowl and stir in 1 tablespoon lemon juice (from 1 quarter of lemon), lemon zest, olive oil, Italian seasoning, and black pepper.

Dry and season the chicken: Use paper towels to pat the chicken dry inside and out with paper towels. Remove as much moisture as you can (this will give you beautiful, golden crispy, skin). Place the chicken on a large plate and loosen the skin from the breast meat and the legs. You can do this by just inserting your fingers between the skin and the flesh. Rub ⅓ of the Italian seasoning rub on the flesh, ⅓ on the skin, and ⅓ inside the cavity of the chicken. Stuff the chicken with remaining lemon and quartered onion.

Truss the chicken: Take kitchen string and truss the chicken by tucking the wings under the chicken, placing twine under the chicken, pulling it up on each side, crossing it over the breast like an X then tying the legs together. If you don't have kitchen twine you can skip the trussing. It's not the end of the world, but it does help the chicken cook more evenly.

Air dry the chicken: Place the chicken, uncovered in the refrigerator for 24 hours. (This step is optional, but if you have the time take it. It gives the salt in the rub time to penetrate the meat which makes the chicken juicy and not dry. It also drys the skin of chicken making it extra crispy and golden.

Preheat the oven: Preheat the oven to 375°F.

Season (again) and bake: Remove the chicken from the fridge it will look emaciated and you will think you did something wrong. You did not. Stick with me here! Rub the chicken with 1 tablespoon of olive oil, then sprinkle on ½ teaspoon of kosher salt and ½ teaspoon of Italian seasoning.

Roast the chicken: Transfer chicken to a cast iron skillet (or oven safe dish) and place in the oven for 1 hour and 20 minutes or until an instant read thermometer inserted into the thickest part of the breast reads 165°F.
Notes
Visit our shop to browse quality Mediterranean ingredients including olive oils, honey, jams and spices.
Spices: I used our homemade Italian seasoning recipe for this chicken, but if you can also use a combination of spices like rosemary, oregano and thyme. I also love Herbs de Provence on chicken so if you have that in your cupboard feel free to swap it. You can keep it simple too -- try it with just salt, pepper, lemon and thyme. Always a winning combo!
Air drying: When air drying the chicken leave it uncovered in the fridge.
Cast iron skillet optional: If you don't have an oven safe skillet, don't worry about it. Just make this chicken on a baking sheet. I like to place a cooling rack on top of a baking sheet, then place the chicken on that for better air circulation.
Nutrition
Calories:
373
kcal
Carbohydrates:
5.2
g
Protein:
27.7
g
Fat:
26.7
g
Saturated Fat:
7
g
Polyunsaturated Fat:
5.2
g
Monounsaturated Fat:
12.5
g
Trans Fat:
0.1
g
Cholesterol:
108.9
mg
Sodium:
1072.4
mg
Potassium:
357.8
mg
Fiber:
1.6
g
Sugar:
1.3
g
Vitamin A:
235.7
IU
Vitamin C:
13.6
mg
Calcium:
53.2
mg
Iron:
2.1
mg