This healthy chicken salad recipe has all of the nostalgia of the classic with NO MAYO and a Mediterranean-style twist. Use rotisserie chicken and it's ready to go in 10 minutes. No one will be the wiser! Make yourself a big batch to eat all week long.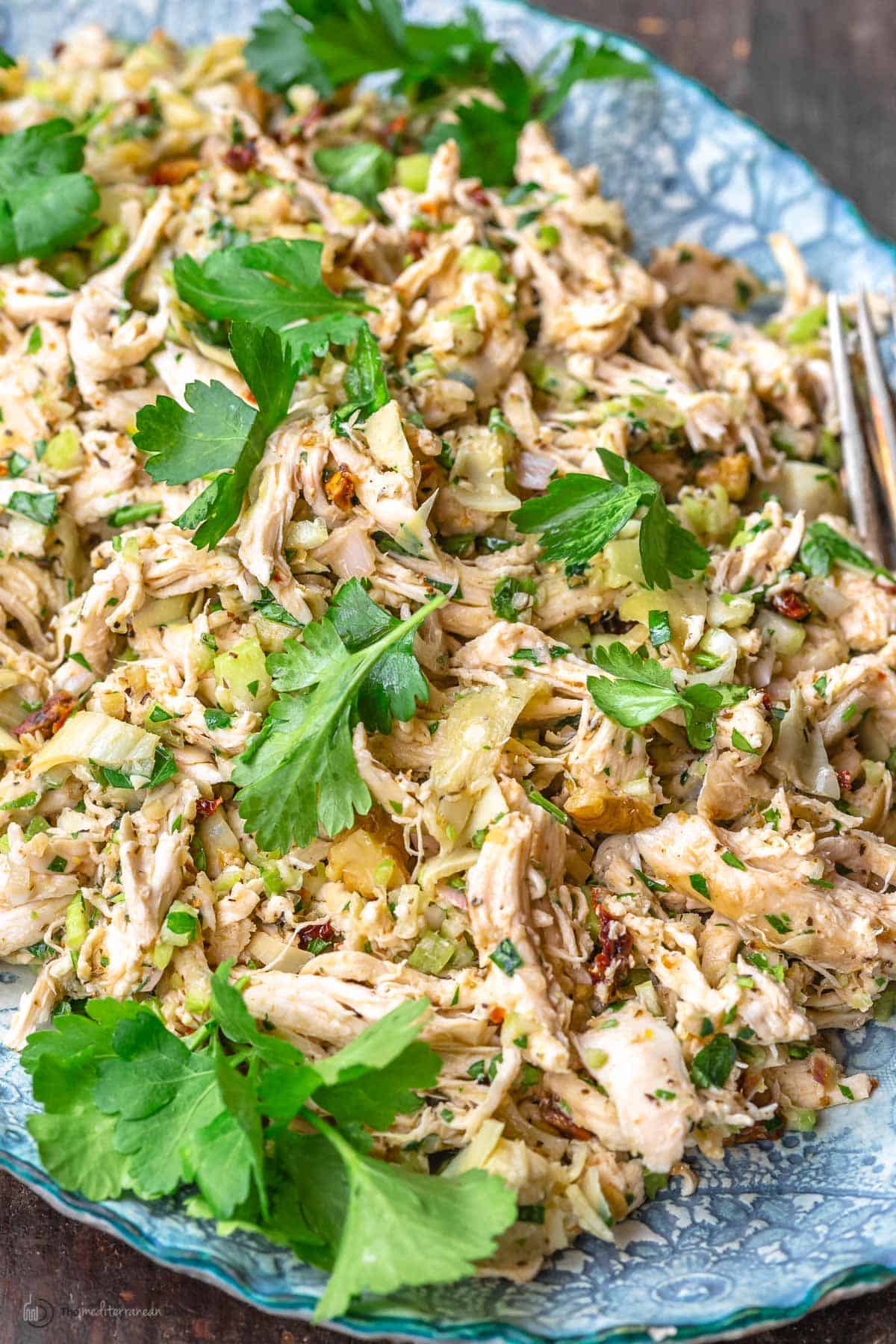 This healthy chicken salad recipe is hearty, flavorful, and packs a nice fresh crunch. Thanks to rotisserie chicken it's so easy to make and just as easy to enjoy no matter what the day holds. Eat this healthy chicken salad straight out of the bowl, spoon it over a Lettuce Salad, or stuff it into Pitas for sandwiches on the go. When it comes to chicken salad that's good and good for you, this one is my go to!

I'll be the first to admit that a rotisserie chicken is a lifesaver for busy moms, and I'm not ashamed to say I regularly put it to good use in recipes like Avgolemono Soup and this healthy chicken salad. Just like my sexy cabbage rebrand, I'm pushing for a new take on the rotisserie chicken! In truth, it's a charcoal-grilled, spit-roasted, slow-roasted chicken that you can buy at the store. How sexy is that?!

To make this salad, I simply combine fresh herbs, sun dried tomatoes, and artichoke hearts with a zippy Dijon dressing to pull it all together. This is not a shy chicken salad, it's a chicken salad with Mediterranean flair and that's what I like about it!

It's on my table in 10 minutes, and leftovers turn into a healthy meal waiting for me and my family in my fridge. Is that a shortcut, or is that winning at life? This is a work smarter not harder situation, which is what everyone needs when it comes to putting a nutritious dinner on the table.
Table of Contents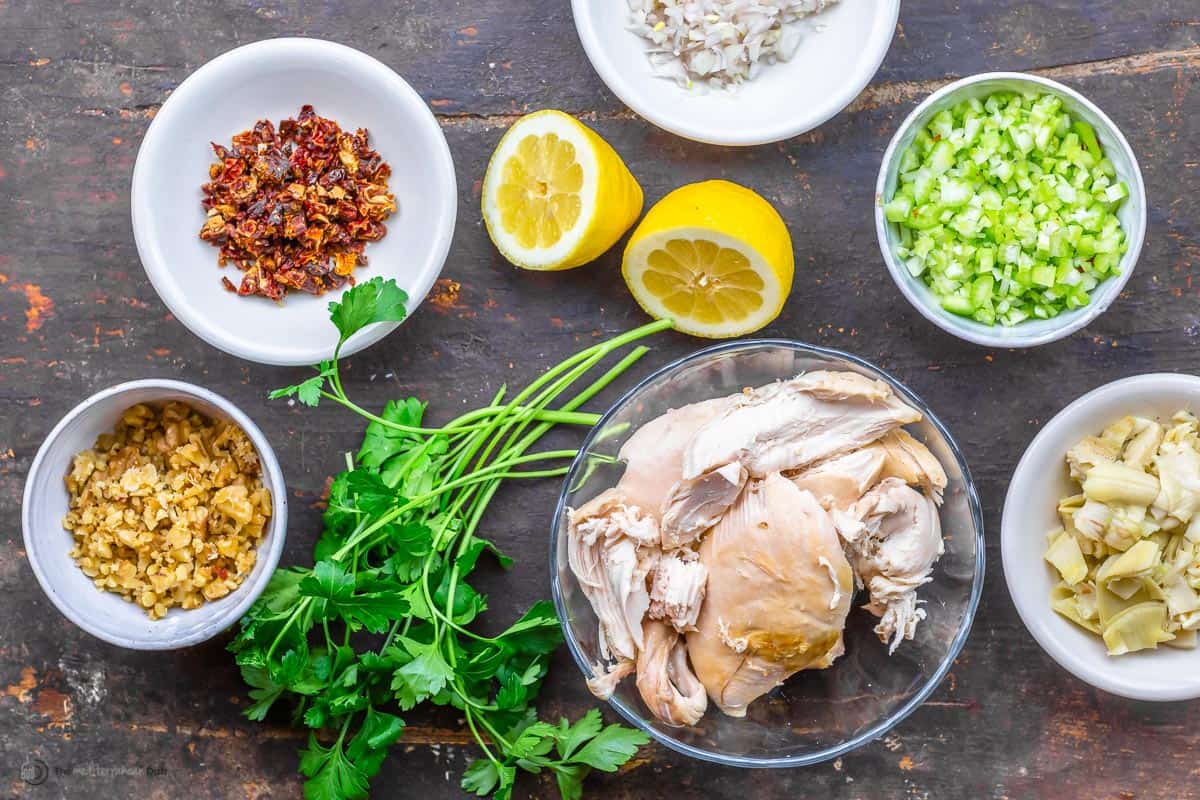 Healthy Chicken Salad Ingredients
You're well aware of rotisserie chicken's starring role in this no-mayo recipe, but what other surprises are in store? A handful of pantry staples that are all easy to source! Here's what you'll need to make this Mediterranean-style healthy chicken salad:
Extra virgin olive oil: Used to dress the salad. Go for an olive oil that's flavorful and smooth, like our buttery and delicious Italian Nocellara.
Lemon: Both the zest and juice add acidity to lighten the rich chicken salad.
Garlic: Minced garlic flavors the dressing, adding a kick. I use 1-2 cloves, but if you're a garlic lover my hat goes off to you. Add garlic to your heart's desire.
Dijon mustard: The star of the dressing, Dijon adds a velvety quality and punchiness.
Sumac: A household spice in the Mediterranean that adds a brightness. The flavor is similar to citrus zest but with no bitterness. Order sumac from our shop, find it at select grocery stores, or substitute with lemon zest.
Paprika: Sweet or smoked paprika both give a very subtle kick and depth of flavor. Use sweet for a milder flavor.
Cooked chicken: Boil and shred chicken breast, or save some time with a store-bought rotisserie chicken.
Shallot: Adds a mild, sweet onion flavor. You can substitute with green onions or red onions.
Crunchy things: Celery and walnuts add crunch and flavor.
Mediterranean flavor-makers: Canned artichoke hearts and sundried tomatoes add bursts of distinctly Mediterranean flavor.
Parsley: Adds freshness. Look for flat-leaf Italian parsley, as it tends to be less bitter and more flavorful than its curly cousin.
Salt and pepper: Add all the bold seasonings in the world and this healthy chicken salad would be flat without salt and pepper. They make the other ingredients shine and stand out. Season to taste to enhance the flavors.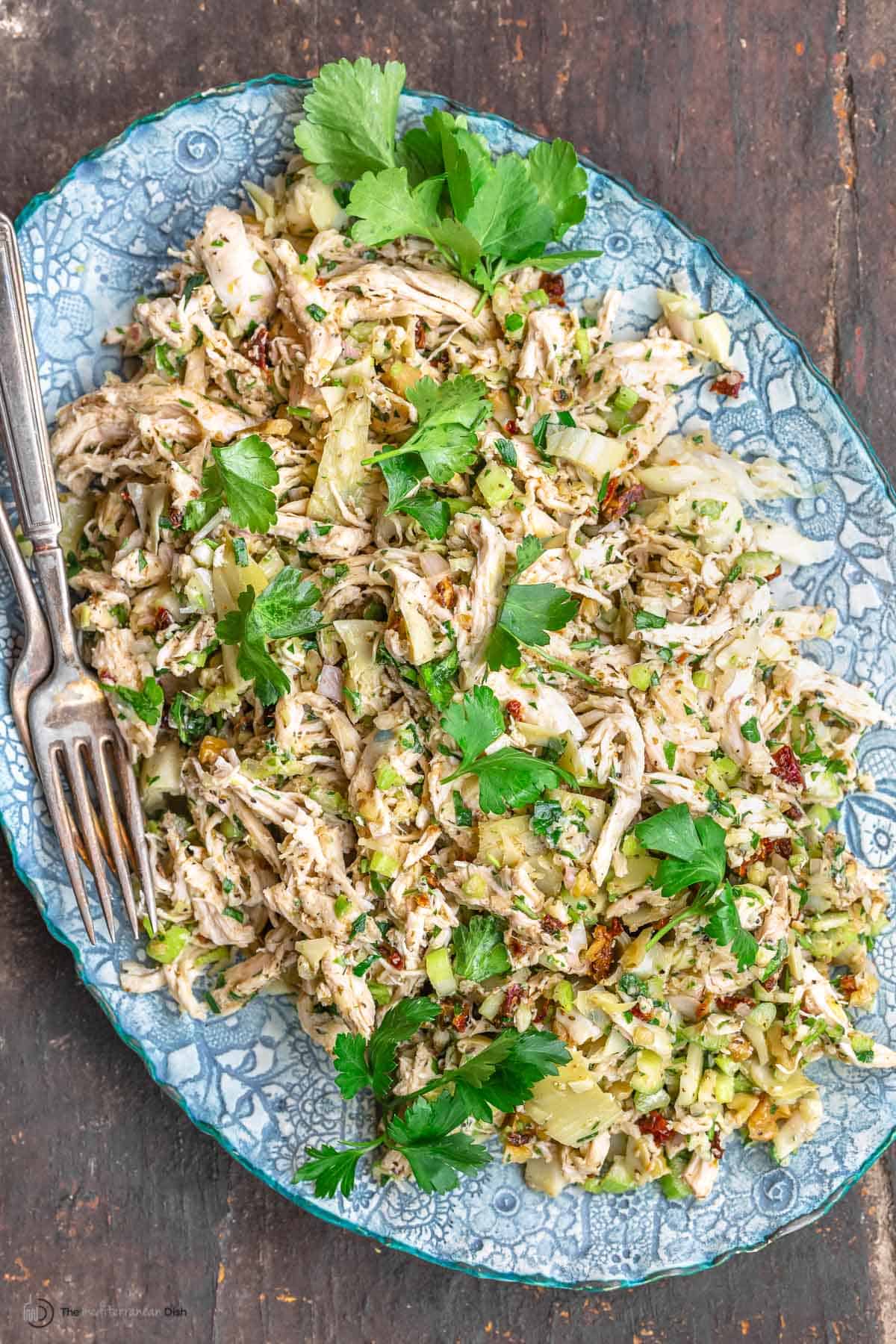 How to Make this Healthy Chicken Salad Recipe
Though the flavors start to come out after 30 minutes of resting, 10 minutes and a couple of bowls is all you need to make this easy chicken salad recipe. Start with the dressing:
Make the dressing. In a medium mixing bowl, add ⅓ cup olive oil, 1-2 minced garlic cloves, 1 tablespoon of Dijon, 1 teaspoon sumac, and ½ teaspoon paprika. Zest in 1 lemon, then juice in 2 lemons. Whisk well to combine.
Combine the salad ingredients. In a large mixing bowl, add 12 ounces of cooked and shredded chicken. Add 1-2 chopped shallots and 2 chopped celery stalks. Drain and chop 1 (15 ounce) can of marinated artichoke hearts and add, along with 1-2 ounces of chopped sundried tomatoes. Add a packed cup of chopped parsley and ⅓ cup of chopped walnuts. Season with a good pinch of salt and pepper.
Dress the salad. Pour the dressing over the salad and toss to combine.
Serve. Cover and refrigerate for 30 minutes or 1 hour for the best flavor, or serve right away if you're hungry!
How Long Will Chicken Salad Last in the Fridge?
Store leftovers in a tightly sealed container in the fridge for 2 to 3 nights. If you are meal prepping and want it to last a day or two longer, you can prepare the chicken salad but hold the dressing. Store the dressing in the fridge separately until you are ready to serve.
Ways to Mix it Up
You can also change up this Mediterranean chicken salad recipe and make it your own. Here are a few ideas:
Wrap it up. Make chicken salad sandwiches with your favorite bread. Or, serve as chicken salad lettuce wraps! This is a great low-carb option, using lettuce leaves to hold the chicken. Small lettuce cups, like little gems or endive spears, can also make for a great appetizer.
Use olives in place of artichoke hearts. Or in addition to, to add an extra layer of briny goodness.
Get herby. Swap, add, or combine basil, dill, and/or cilantro in place of parsley.
Add healthy buttery sweetness. Use roasted garlic instead of or in addition to fresh garlic.
Give it a Sicilian twist. Throw in a handful of raisins for a hint of sweetness.
Make it even tangier and creamier. Add a spoon or two of Greek yogurt to the salad dressing.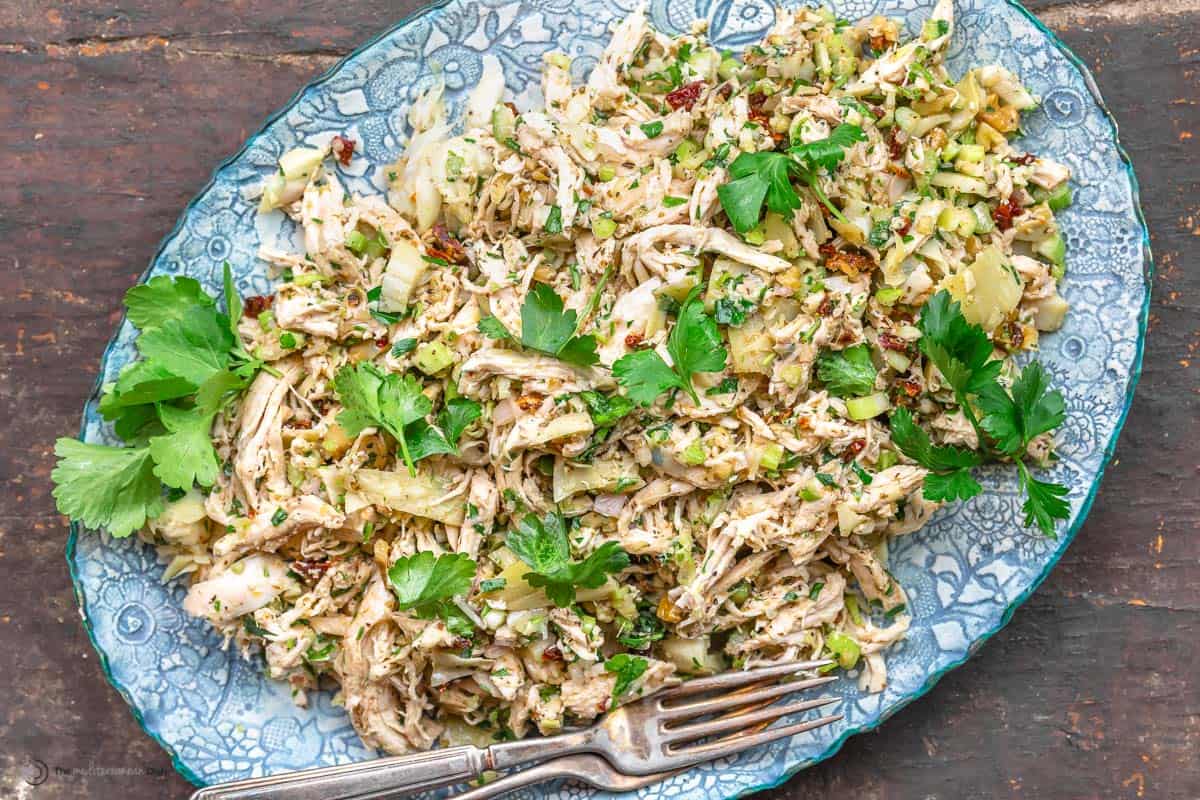 What to Serve with Healthy Chicken Salad
Packed with protein, texture, and flavor, this salad stands on its own. It's an especially packable and delicious lunch recipe. For dinner, you may want to add a few sides. Italian Oven Roasted Vegetables are comforting and won't try to compete with the chicken salad's big flavor. Or, for a lighter dinner, go for a crunchy and bright Lemon Parmesan Lettuce Salad.

If you're packing for a festive picnic party, throw the ingredients for a refreshing pitcher cocktail like Agua De València in a big tote bag. Grab some ice and mix it up at the park. Serve alongside this healthy chicken salad and more reimagined picnic fare, like Mediterranean Cucumber Sandwiches and Greek Salad Skewers.
Mayo-Less (& Not-So-Classic) Classics
Browse all Mediterranean recipes.

Visit Our Shop
Try our All-Natural Sumac!
This tangy spice is just what you need to brighten up all of your favorite salads.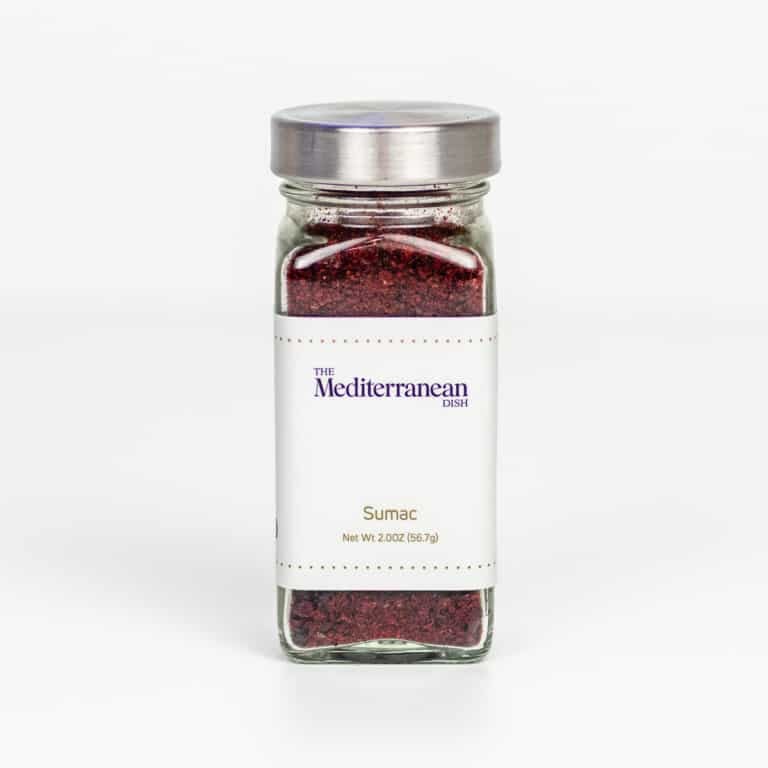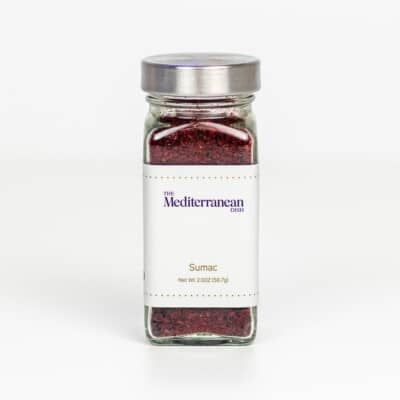 Healthy Chicken Salad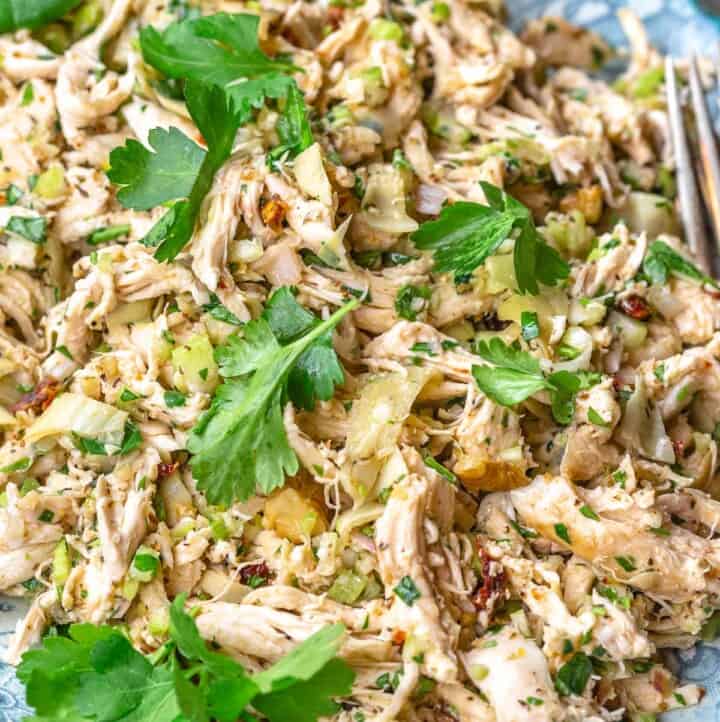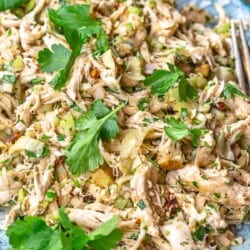 This no-mayo healthy chicken salad recipe is loaded with Mediterranean favorites like shallots, artichoke hearts, sun-dried tomatoes, fresh herbs, and a handful of walnuts. A light and zippy dressing brings it all together! While you can serve right away, 30 minutes in your fridge will make this salad even more vibrant as the ingredients will mix and mingle and the flavors get even louder.
Ingredients
For the Chicken Salad
¾

lb

(12 oz.) cooked chicken,

shredded

1 to 2

shallots,

chopped

2

celery stalks,

chopped

1

(15 oz.) can marinated artichoke hearts,

drained and chopped

1 to 2

ounces

sundried tomatoes,

chopped

Handful (about 1 cup packed) fresh Italian parsley,

chopped

⅓

cup

shelled walnuts,

chopped

Salt

Back pepper
Instructions
Make the dressing: Into a small mixing bowl, add the olive oil, zest and juice of one lemon, minced garlic, Dijon mustard, sumac and paprika. Whisk to combine and taste. Add the juice from the second lemon, if desired.

Mix the salad: In a large mixing bowl, combine the shredded chicken, shallots, celery, artichoke hearts, sun dried tomatoes, parsley, and walnuts. Season with a good pinch of kosher salt and black pepper.

Dress the salad: Pour dressing over the chicken salad, toss to combine.

Serve: Serve immediately. Or, for best flavor, cover and refrigerate for 30 minutes to 1 hour before serving.
Notes
Store leftovers in a tightly sealed container in the fridge for 2 to 3 nights.

If you are meal prepping and want it to last a day or two longer, hold the dressing. Store the dressing in the fridge separately until you are ready to serve.

Visit

our shop

to browse quality Mediterranean ingredients including

olive oils

,

honey

,

jams

, and

spices

.
Nutrition
Calories:
274.6
kcal
Carbohydrates:
8.1
g
Protein:
16.5
g
Fat:
20.6
g
Saturated Fat:
3.1
g
Polyunsaturated Fat:
5.3
g
Monounsaturated Fat:
10.9
g
Cholesterol:
42.5
mg
Sodium:
87.4
mg
Potassium:
397.3
mg
Fiber:
2.4
g
Sugar:
3.3
g
Vitamin A:
188.8
IU
Vitamin C:
22.1
mg
Calcium:
33.3
mg
Iron:
1.7
mg
*This post first appeared on The Mediterranean Dish in 2019 and has been recently updated with new information and media for readers' benefit.