A few easy tips make all the difference for tender, perfectly charred roasted cabbage wedges! I love to finish this easy cabbage recipe with a sprinkle of nutty dukkah and creamy tahini sauce for a side dish that delivers on the wow factor!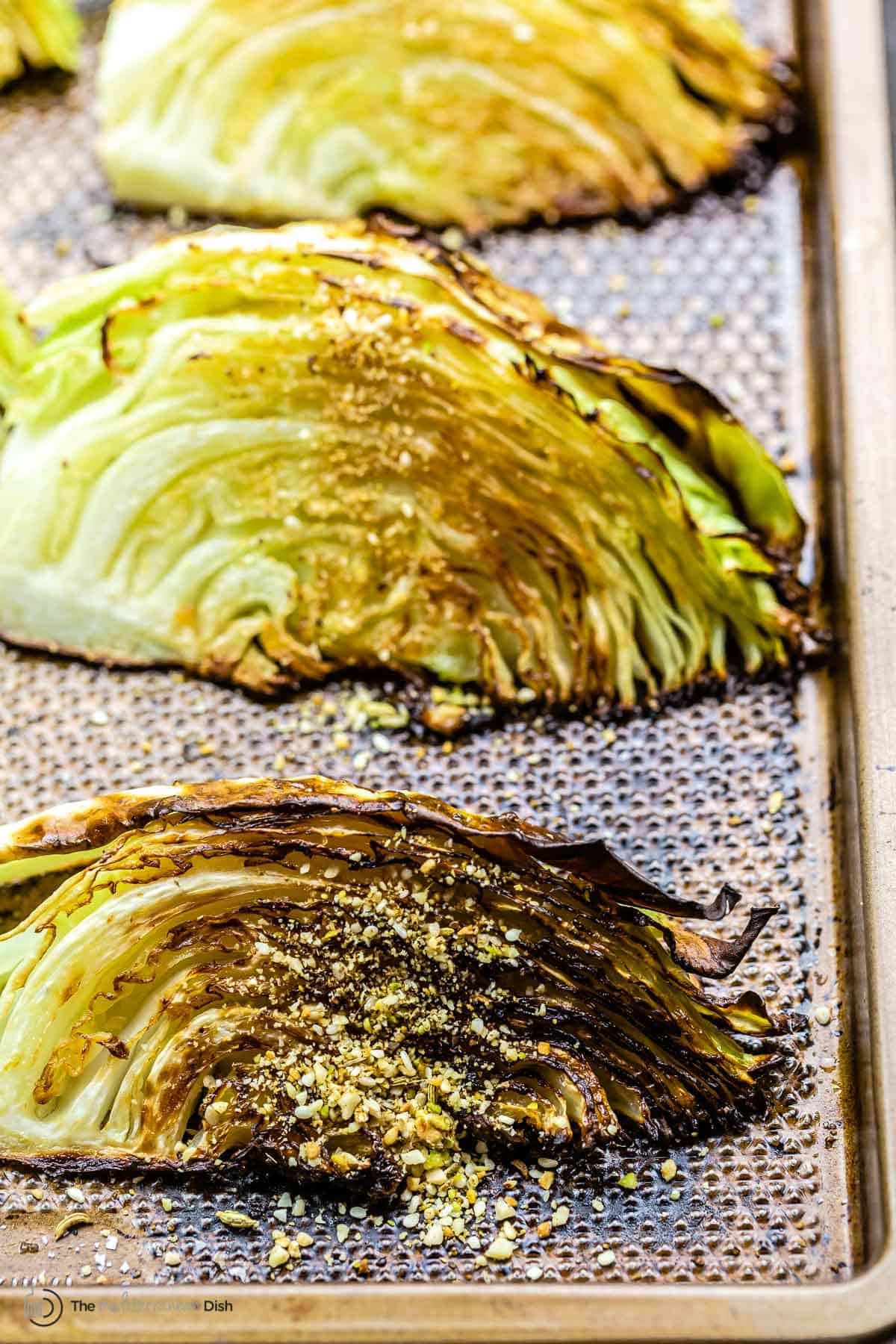 A sexier cabbage!
This recipe takes a humble head of green cabbage and turns it into the a "sexier" low-carb side dish--tender, slightly nutty, and perfectly charred!
The key to getting the best texture for your roasted cabbage is in cutting it into thick slices. From there, a little olive oil and a hot oven do their magic to cook the cabbage wedges down, coaxing out their natural sweetness while caramelizing the textured, wrinkly edges.
To play up the flavors even more, I like to finish this easy roasted cabbage with a sprinkle of nutty dukkah and maybe even a drizzle of tahini sauce! Totally optional, but those finishing touches do make a difference (and you can work on them a couple days in advance).
How to roast cabbage perfectly- a few tips
Roasting cabbage could not be easier. Here are a few helpful hints:
Cut the cabbage into wedges. This will give you more of a crisp, crunchy texture and the cabbage will not fall apart as cabbage steaks may. The key is to leave the core intact and cut the cabbage into thick wedges from from top to bottom (the bottom is where the root part is, you may trim it a bit so that you can stand the cabbage easily on its bottom). Take care when cutting that each wedge is more or less the same size to ensure equal cooking and charring.
Season generously. Salting your cabbage well works wonders in making a lot more flavorful and a tad more tender on the inside while still crispy on the outside.
Do not use parchment paper. For optimal browning and charring, use a dark sheet pan and do not line the pan with parchment paper! You want the cabbage wedges to have direct contact with the hot surface of the pan.
Preheat the pan! Just like I do with my roasted broccoli (another sexy side dish you should try), I like heating the pan for a few minutes before arranging the cabbage wedges on it. This helps get the caramelization process going.
Ingredients- what you'll need to make this recipe
Minimal ingredients are required to make this easy vegetarian side dish:
Green cabbage - One large head of cabbage. Select a cabbage that is firm and heavy for it's size. Discard the outer leaves and cut the cabbage into 8 wedges.
Extra virgin olive oil- I used our Italian Nocellra Extra Virgin Olive Oil
Kosher salt and black pepper
Optional for Serving: Tahini sauce - Use my simple recipe to make this creamy sauce for drizzling over the cabbage. And dukkah, a delicious mixture of crushed nuts and spices (I love it on vegetables from raw tomato salad to roasted cabbage and everything in between!)
How to make roasted cabbage wedges with dukkah and tahini
This roasted cabbage recipe requires just 40 minutes of baking time and a few minutes of prep.
Preheat the pan. Place a large sheet pan on the middle rack of an oven preheated to 450 F.



Season the cabbage wedges. Brush the cabbage with olive oil and season with salt and pepper on both sides.
Roast. Arrange the cabbage on the hot sheet pan and roast in the oven for 20 minutes. Flip the wedges then return to the oven for an additional 15 to 20 minutes. The cabbage should be softened and charred in some parts
when it's done roasting.



Prepare the garnishes. While the cabbage is in the oven, you can prepare the dukkah and tahini sauce. (You can also prepare them a few days ahead of time).
Serve. When the cabbage is tender and well-charred, remove it from the oven and immediately finish with a sprinkle of dukkah and a drizzle of tahini sauce, if using. Serve and enjoy!
Flavor variations
If you want to play with different flavors to garnish your cabbage, here are a few more ideas aside from the dukkah and tahini sauce I mentioned earlier:
Paprika, red pepper flakes or Aleppo pepper for just a bit of a kick a kick.
Lemon juice
Garlic powder and/or minced garlic
Fresh or dried herbs like rosemary and thyme
Bacon bits - either uncooked before baking or bacon bits after baking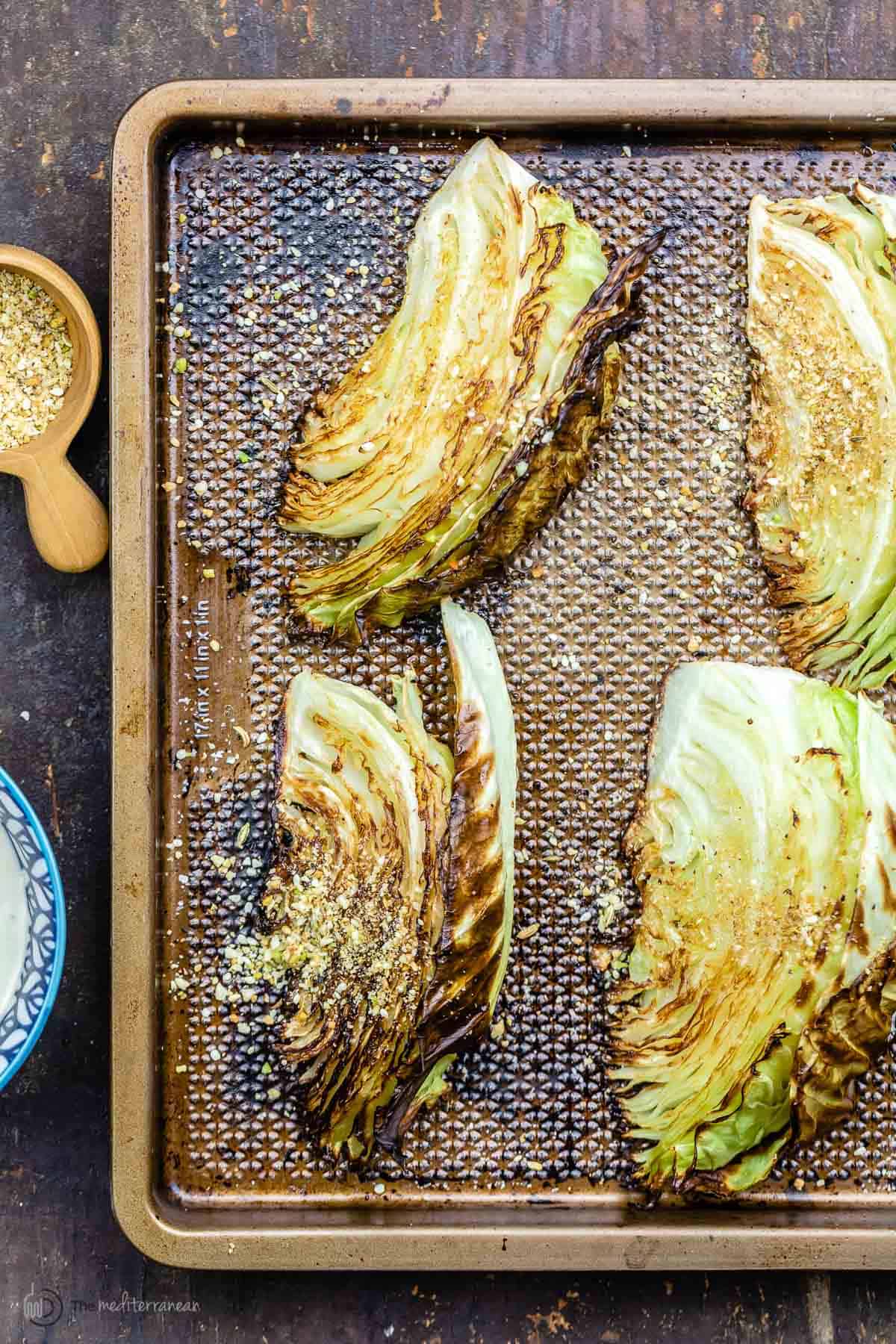 Serving suggestions
Roasted cabbage wedges are an easy, low-carb side that goes well with chicken or fish. You can also pair it with some Greek baked beans for a vegetarian feast!
How to store leftovers
Roasted cabbage wedges are definitely best when enjoyed straight from the pan. They're soft and crisp at the same time, with a perfect amount of charring. However, if you have leftovers you can store them in the fridge for up to 3 days. You can reheat in the oven or microwave but I prefer to enjoy leftover roasted cabbage cold. It makes a great addition to sandwiches and salads.
More cabbage recipes:
Browse more Mediterranean recipes. Browse our top Mediterranean diet recipes.
Visit Our Shop
Crispy Roasted Cabbage Wedges (with Dukkah and Tahini)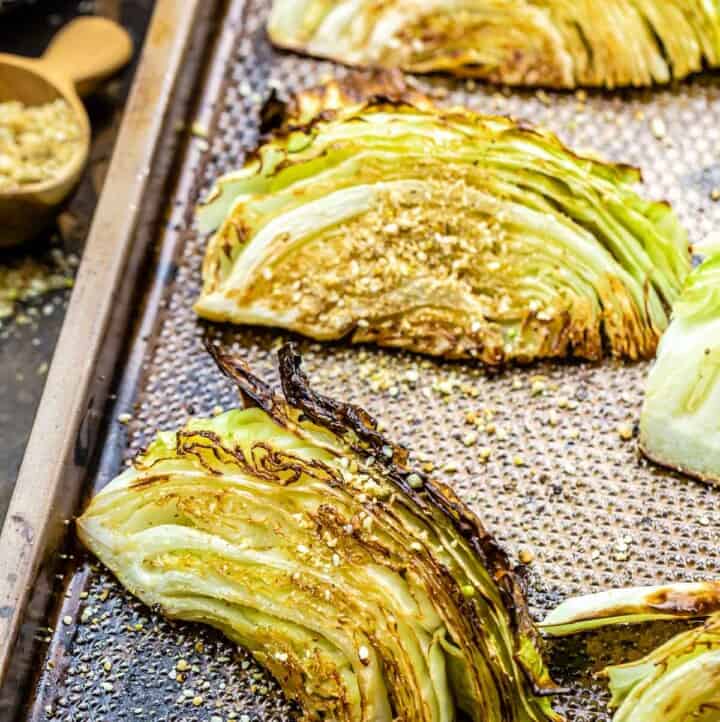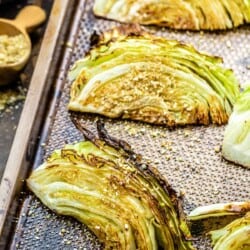 Tender charred roasted cabbage wedges are an easy and delicious side to make any night of the week. I love to finish mine with a drizzle of tahini sauce and a sprinkle of dukkah, which you can make ahead of time if you like.
Instructions
Preheat the oven to 450 degrees F. Arrange a rack in the middle.

Put a large sheet pan and put a large sheet pan in to heat.

Brush the cabbage wedges with olive oil on both sides, and season with kosher salt and black pepper.

Carefully remove the hot sheet pan from the oven and arrange the cabbage wedges on it in one single layer.

Roast on the center rack of your heated oven for about 20 minutes, then carefully turn the wedges over and return back to the oven. Roast for another 15 to 20 minutes or until he cabbage has softened and charred in some parts.

While the cabbage is roasting, prepare the dukkah and tahini sauce.

When the cabbage is ready, finish it with a good sprinkle of dukkah and a drizzle of tahini sauce to serve.
Notes
Make-ahead tips: if you plan to serve your roasted cabbage with the dukkah and tahini, you can prepare them both ahead of time. The tahini sauce can be stored in the fridge for up to 1 week (although you may need to thin it a bit with more lime juice or water before serving. The dukkah can be stored in a tight-lid jar for up to 2 weeks.
Nutrition information: the nutrition information is an estimate for the roasted cabbage only. For the dukkah and tahini sauce, you'll be able to see the nutrition information on their respective recipes.
Visit Our Shop to browse quality Mediterranean ingredients including olive oils and spices.
Nutrition
Calories:
56.8
kcal
Carbohydrates:
13.2
g
Protein:
2.9
g
Fat:
0.2
g
Saturated Fat:
0.1
g
Polyunsaturated Fat:
0.1
g
Monounsaturated Fat:
0.1
g
Sodium:
331.5
mg
Potassium:
386
mg
Fiber:
5.7
g
Sugar:
7.3
g
Vitamin A:
222.5
IU
Vitamin C:
83.1
mg
Calcium:
91
mg
Iron:
1.1
mg