Time to give your fish dinner a Greek twist! This simple baked Greek fish recipe with tomatoes, onions, seasoned with oregano and cumin, is the perfect weeknight meal. To make use of the delicious tomato sauce, serve this baked fish with rustic bread or over a bed of rice or your favorite grain.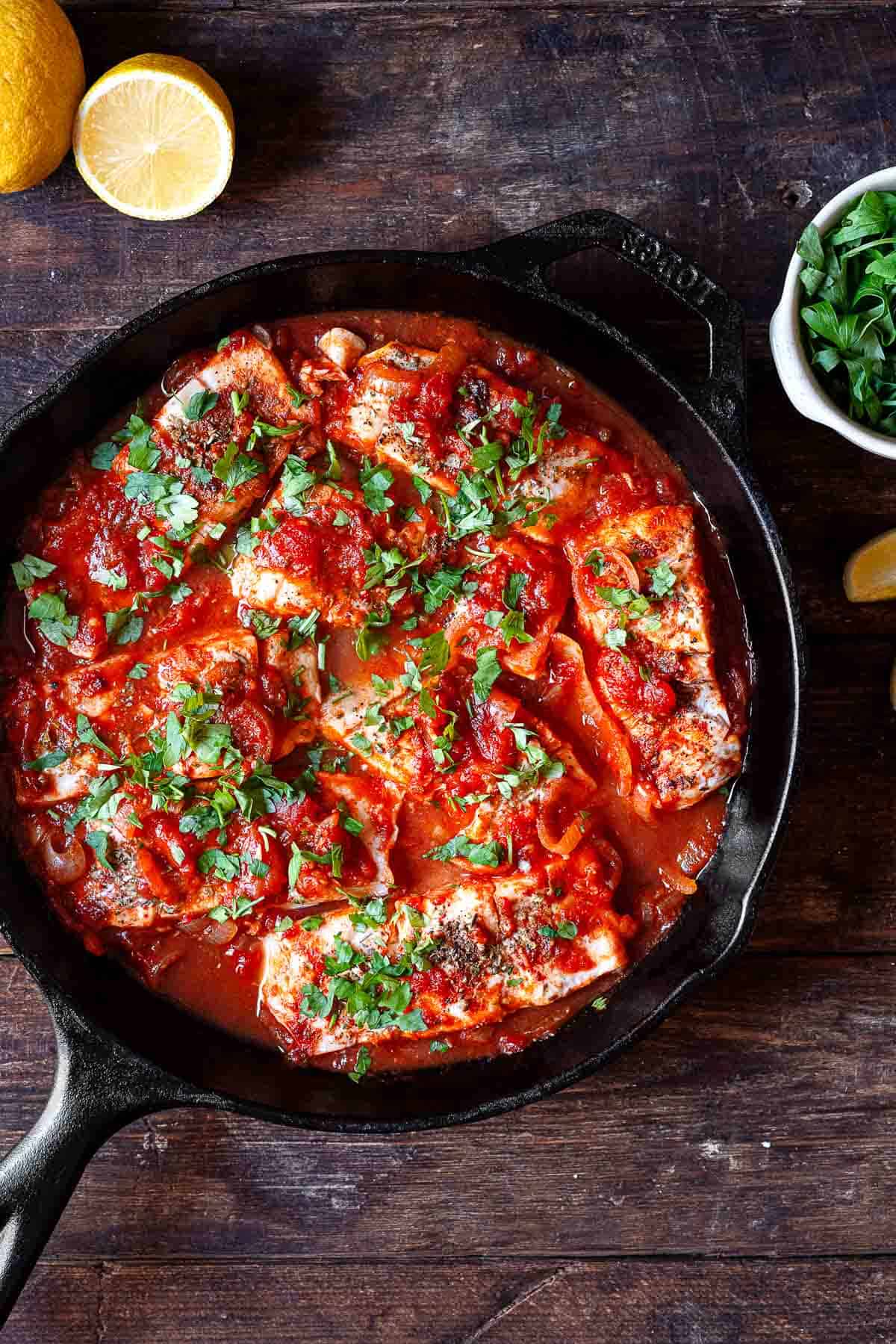 Plaki, pronounced Plah-KEE, is a food genre that describes Greek dishes baked or roasted with a good bit of quality olive oil, tomatoes, and vegetables.
Greek fish known as psari plaki belongs to this genre of saucy baked dishes. In this recipe, I season white fish fillets with dried oregano, cumin, and paprika, then cook it in a chunky sauce with lots of onions and tomatoes. (If you've had this Sicilian-style baked fish, this recipe is a close cousin with a different flavor profile).

I enjoyed variations of this baked fish while visiting the Greek islands a few years ago. Because the sauce is so delicious and flavorful, I like to pair this recipe with something to soak it up. I recommend serving it alongside your favorite rustic bread or over Greek lemon rice.
This simple baked fish takes some white fish fillets and a few pantry staples you may already have on hand. If you haven't cooked fish very often and need a place to start, this easy recipe is a good one for you.
Table of Contents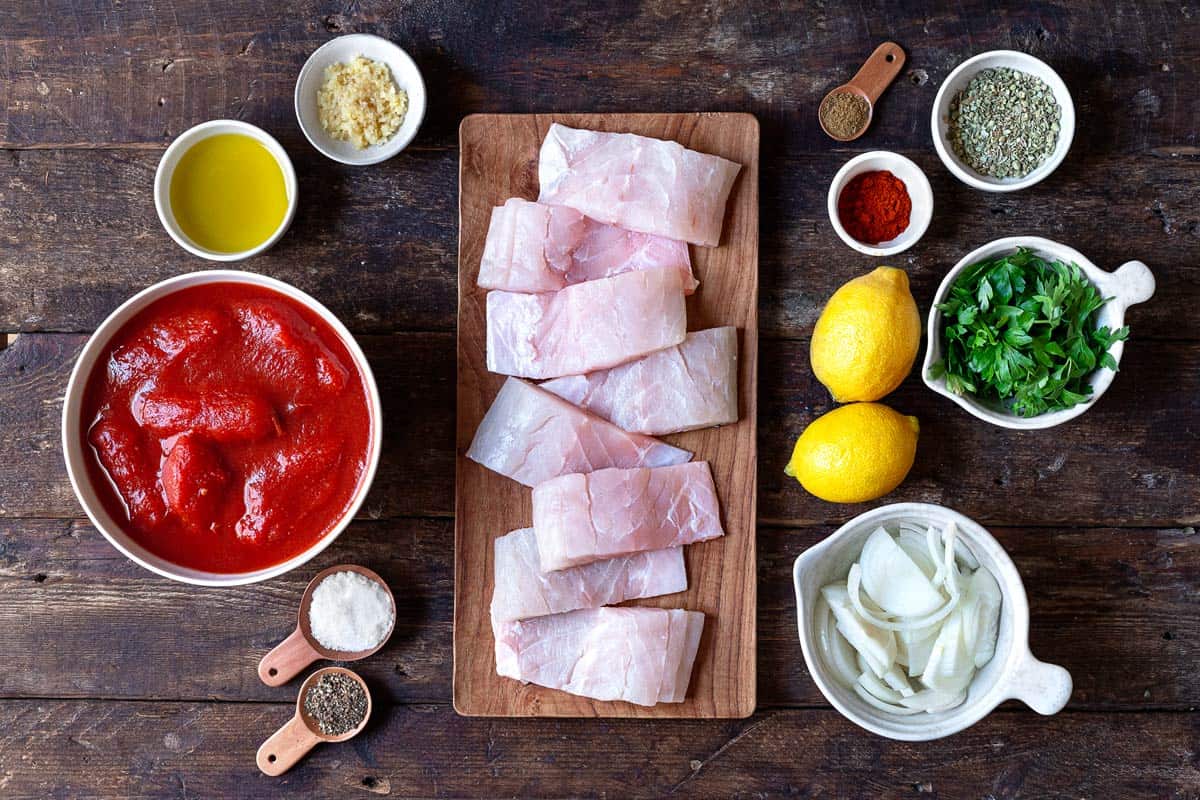 Ingredients for this Greek Fish Recipe
To make this simple recipe, you'll need white fish fillet and a few pantry staples, including canned whole tomatoes and onions. There are three simple components to this recipe: the fish, tomato sauce, and seasonings or spices. Here are a few notes on each:
Fish
In this recipe, I like to use a mild-tasting, firm white fish that goes well with bolder flavors. Halibut or cod are both good options here. Frozen fish will also work in this recipe, just thaw it in the fridge overnight according to package instructions.
Tomato Sauce
The main components of the chunky tomato sauce for this Greek fish recipe are: extra virgin olive oil (I recommend our everyday Greek olive oil), thinly sliced yellow onions, garlic, and a large 28-ounce can of whole tomatoes, cooked with a few spices (below).
Seasoning
To season the fish and the sauce for this recipe, you'll need dried oregano, sweet paprika, cumin, and Kosher salt and black pepper. Do not forget the citrus!
To maximize flavor (and tame the fishy smell), the fish is coated in the spices and a bit of lemon juice before it is cooked in the sauce. Once the Greek fish is out of the oven, finish it with another splash of fresh lemon juice!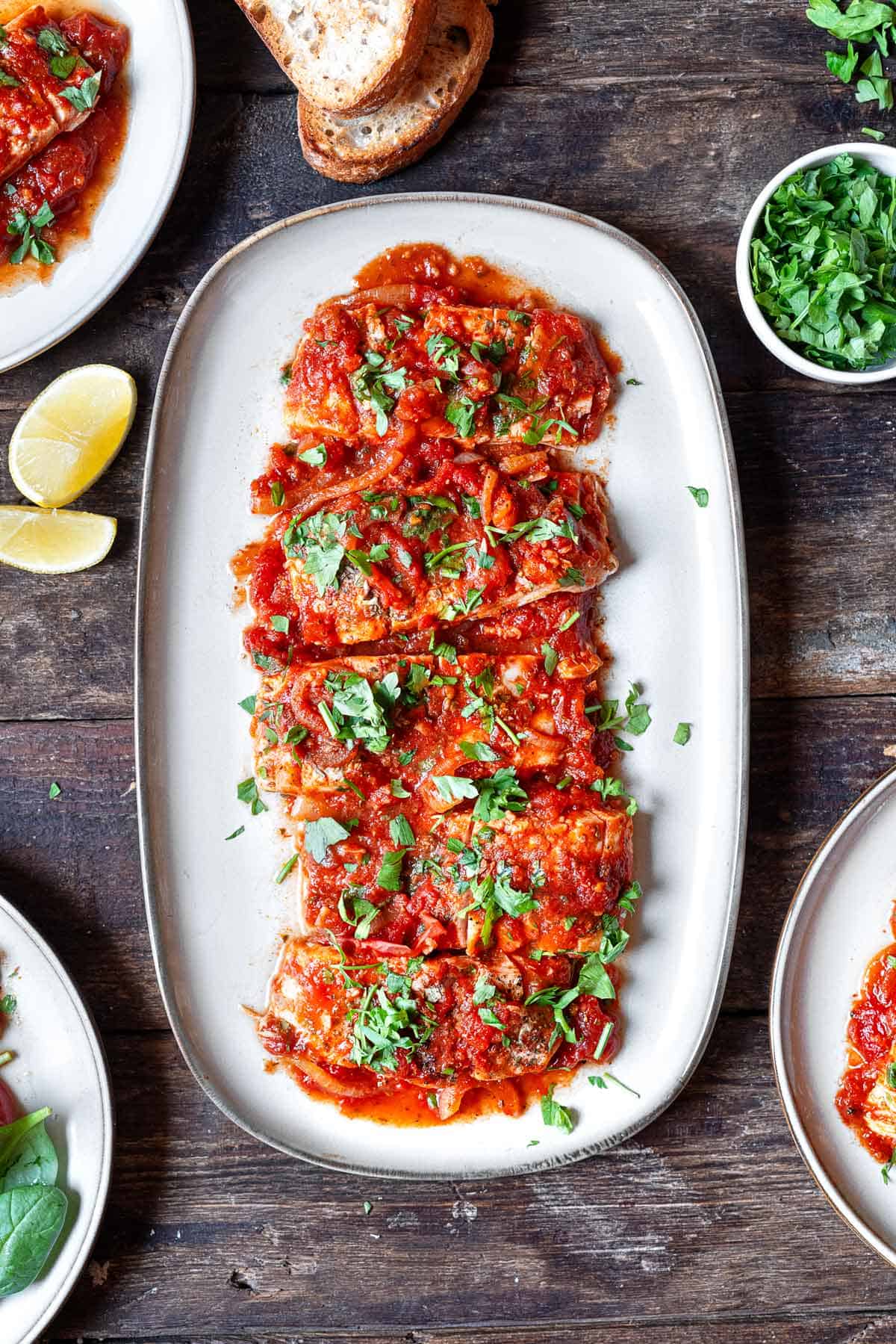 How to Make Greek fish with Tomatoes and Onions
Here is how to make this simple baked fish recipe. (If you don't need the step photos, you can see the printable recipe with ingredient measurements below.)
Make the sauce. Cook the onions in a large oven-safe pan with a bit of good extra virgin olive oil. You just need the onions to collapse and gain a bit of color, this will take about 5 minutes. Season the onions with a big dash of kosher salt. From there, add garlic and canned whole tomatoes, then season with dried oregano and a dash more kosher salt and some black pepper. Break up the tomatoes with a wooden spoon. Allow the mixture to boil briefly, then lower the heat and let the sauce simmer for about 10 minutes or so.


Season the fish. While the sauce is simmering, toss your fish with a dash of kosher salt and black pepper and the seasonings including 1 teaspoon each dried oregano and sweet paprika, and a small dash of cumin (about ½ teaspoon). Squeeze the juice of 1 lemon all over the fish and give it a toss then set aside briefly. Marinating the fish for just a little bit of time will give you great flavor!

Add the fish to the sauce and bake! Once the sauce has thickened a bit, add your seasoned fish fillets. Nestle the fish into the sauce and spooning a good bit of it over the top. Stick the fish in the oven and allow it to bake at 400°F for about 10 to 15 minutes or until the fish is cooked through. When ready the flesh should be white and it should flake easily.

Finish with parsley and more lemon juice. As soon as you take the fish out of the oven, hit it up with more lemon juice (or you can cut a lemon into wedges to serve on the side). Sprinkle with fresh parsley and serve immediately!
How to know when your fish is cooked?
Fish cooks quickly! When it's done, you'll notice the flesh turning white as opposed to its raw, grey or translucent look. The best way to tell if the fish is cooked is by testing it, at the thickest part, with a fork. Poke the fish with your fork and gently twist, it should flake easily.
The internal temperature of cooked fish should be around 140°F to 145°F.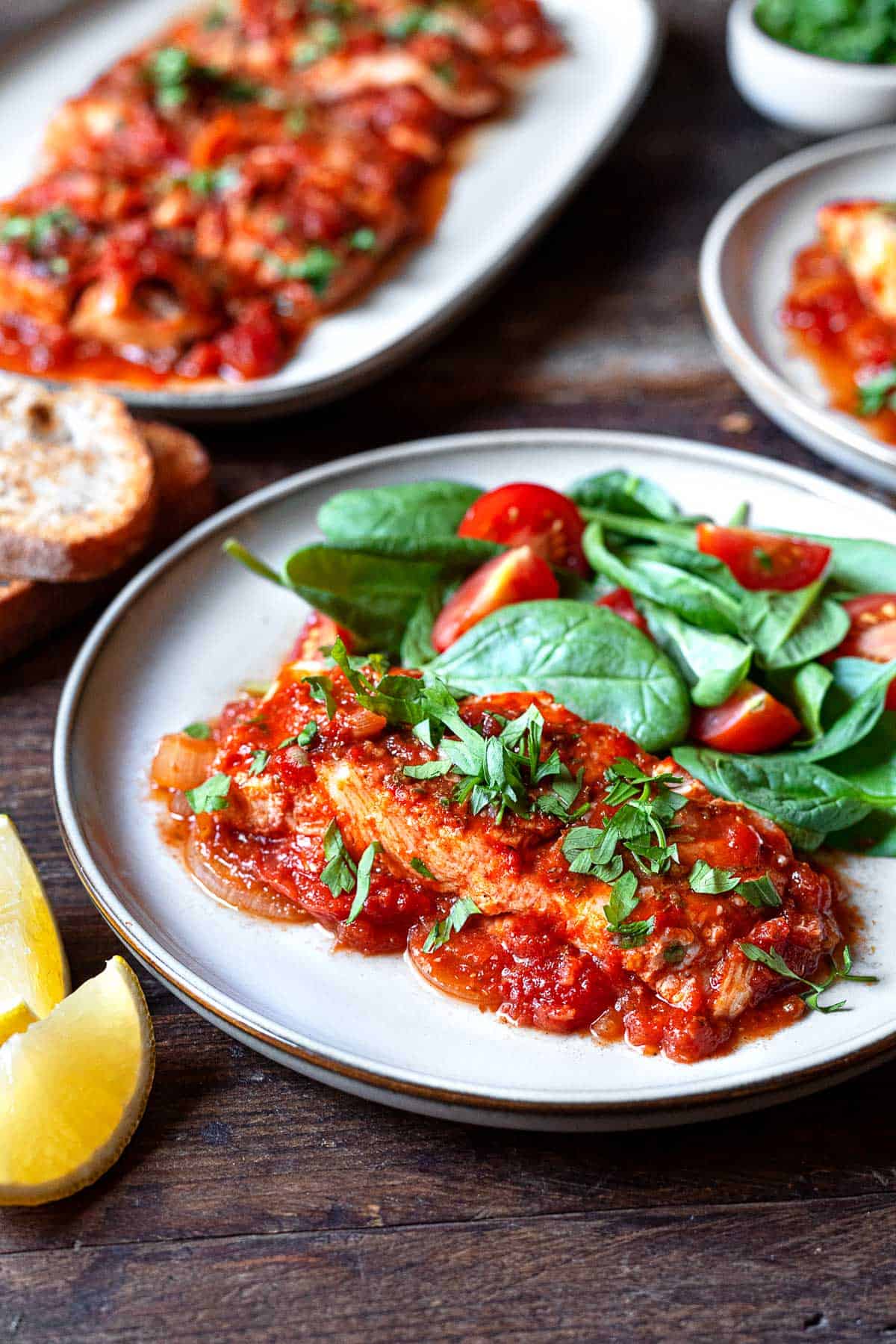 What to Serve with Baked Greek Fish?
To make use of the delicious sauce in this Greek fish recipe, I like serving it over a bed of rice or another grain such as farro or barley. You can also add another side or two like Greek potatoes, arugula salad, Greek green bean salad, or roasted cauliflower.


More Delicious Fish Recipes
Browse all Mediterranean recipes.

Visit Our Shop.
Try our Organic Ground Cumin!
Cumin and seafood are a match made in heaven. This bold, earthy spice is just what you need to take this Greek Fish recipe to the next level.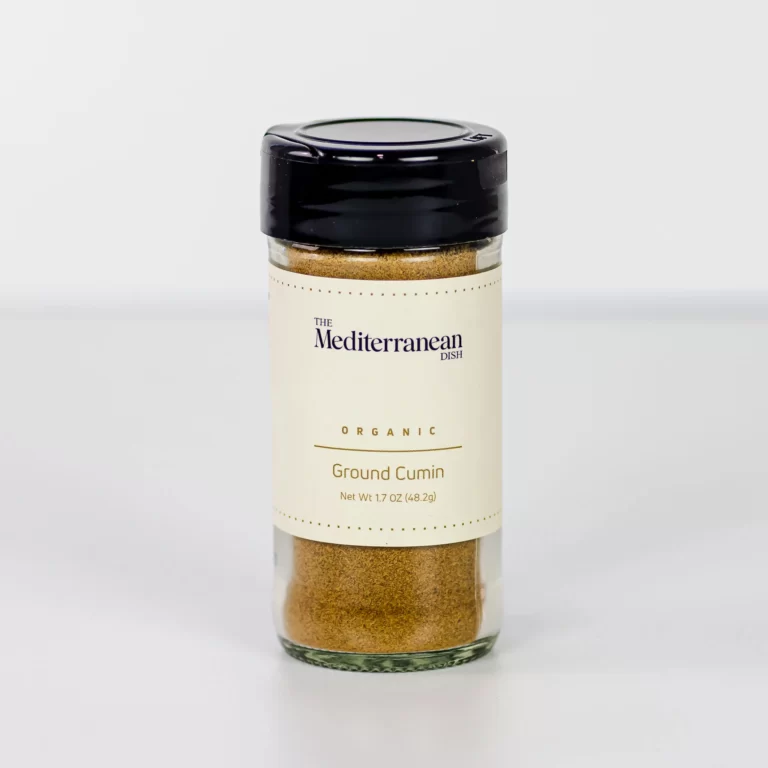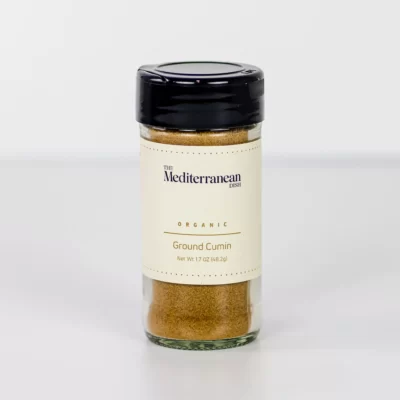 Greek Fish with Onions and Tomatoes (Psari Plaki)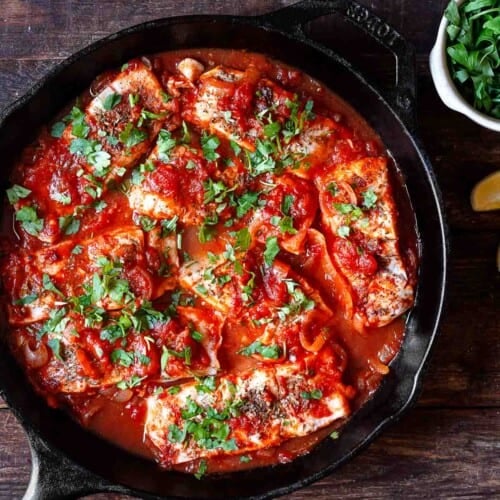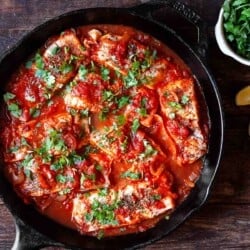 This Greek fish recipe, known as psari plaki, is a simple and delicious way to give your fish dinner a unique twist. It's made by baking white fish fillets with tomatoes, onions, and spices such as oregano and cumin, which creates a flavorful sauce. Perfect for a weeknight meal, the dish can be served with rustic bread or over a bed of rice or your favorite grain.
Ingredients
For the sauce:
2

tablespoons

Extra virgin olive oil

1

large yellow onion,

halved and thinly sliced (half moons)

2

large garlic cloves,

minced

1

(28-ounce) can whole peeled tomatoes

(I use whole san Marzano tomatoes)

2

teaspoons

dried oregano

Black pepper

2

pounds

white fish filet,

such as halibut or cod

Kosher salt and black pepper
For the fish:
Kosher salt

½

teaspoon

dried oregano

1

teaspoon

sweet paprika

½

teaspoon

ground cumin

2

lemons, divided

¼

cup

fresh parsley,

chopped
Instructions
Heat the oven. Preheat the oven to 400°F and position a rack in the middle.

Make the sauce. In a large oven-safe pan or skillet, heat 2 tablespoons extra virgin olive oil over medium-high heat until shimmering. Add the sliced onions and season with a big pinch of kosher salt. Cook, tossing regularly, until the onions have softened and gained a slight golden-brown color (about 7 minutes). Add the garlic toss briefly, then add the canned tomatoes with their juices. Using a wooden spoon, break the tomatoes up. Season with a dash more salt. Add the oregano and a big dash of black pepper. Bring the sauce to a boil, then lower the heat and let it simmer for 10 to 15 minutes or so.

Season the fish. Pat the fish dry and season on both sides with kosher salt, the oregano, paprika and cumin. Cut and squeeze one lemon over the fish (leave the other lemon for later).

Combine the sauce and the fish. When the sauce is ready, nestle the fish in the sauce and scoop up some of the sauce to cover the top of the fish well.

Bake. Place the fish on the center rack of the heated oven and bake until the fist turns opaque white and flakes easily at the touch of a fork (15 to 25 minutes, but because ovens do vary, it is a good idea to check occasionally to make sure the fish does not overcook or dry out).

Serve. Slice the remaining lemon into wedges. Finish the fish with the fresh parsley and serve with the lemon wedges to the side.
Notes
Leftover and Storage: This baked fish recipe is best served immediately. If you have leftovers, you can store them in the fridge for up to 2 days. To avoid overcooked fish, you can serve leftovers at room temperature.
Visit our shop to browse quality Mediterranean ingredients including olive oils, honey, jams and spices.
Nutrition
Calories:
160
kcal
Carbohydrates:
9.2
g
Protein:
28.4
g
Fat:
1.4
g
Saturated Fat:
0.3
g
Monounsaturated Fat:
0.2
g
Cholesterol:
65
mg
Sodium:
280.3
mg
Potassium:
870.7
mg
Fiber:
2.7
g
Sugar:
3.4
g
Vitamin A:
542.9
IU
Vitamin C:
32
mg
Calcium:
82.6
mg
Iron:
2.2
mg