There is a secret to making the BEST roasted cauliflower! This foolproof recipe gives you roasted cauliflower that are sweet, tender, and with just the right amount of char every single time (a few tips make all the difference.) And you'll find so much flavor from just a few ingredients. Spoiler alert, cumin and fresh lemon are involved.
Be sure to watch the video fro how to make roasted cauliflower and read on for important tips!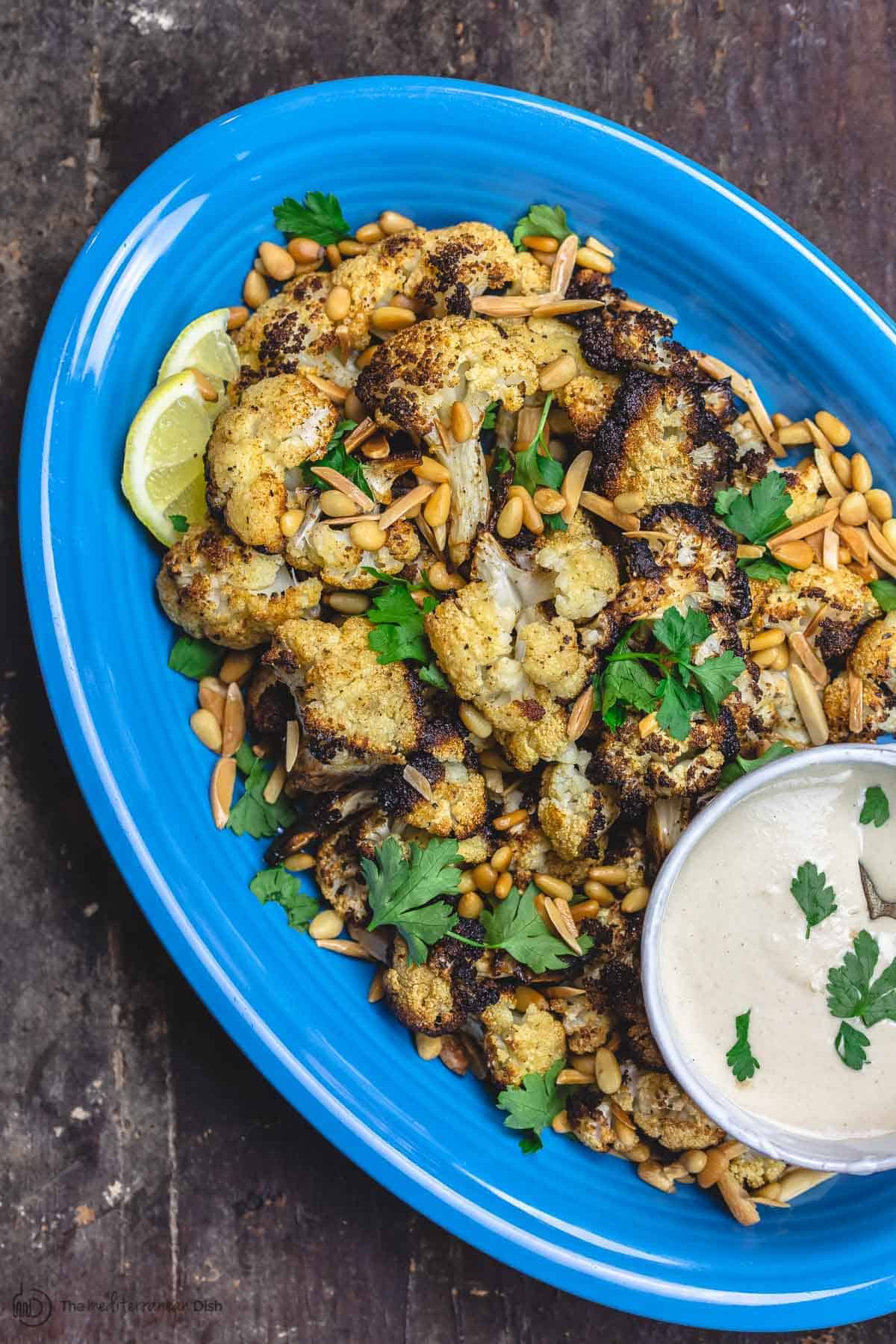 Oven roasted cauliflower is the way to go
Some think of cauliflower as bland and unimaginative, but I'd rather think of it as the perfect blank canvas.
If you like to keep it's essential taste, go ahead and steam or blanch your cauliflower in boiling water for 5 minutes or so. From there, jazz it up with your choice of spices and a good drizzle of extra virgin olive oil. And just like that, you've got yourself a healthy side dish.
But if you're looking for something more exciting and want to really taste the sweeter, much nuttier side of cauliflower, the method you want to follow is roasting.
Sweet, tender, nutty, and perfectly charred oven roasted cauliflower is anything BUT bland! And it's very easy to Make! 
But there is definitely a secret to achieving the best roasted cauliflower, and we're about to dig into that…
5 Tips for the best roasted cauliflower 
I shared a bit about this when I posted my couscous dinner bowls with cauliflower, but it's time we chat some more about the humble cauliflower and how to roast so that it's true elements really shine.
The best oven roasted cauliflower is: perfectly tender and sweet, while caramelized and even charred in some parts on the outside.
And the secret to this is in four simple tips:
1- Cut the cauliflower into florets that are close in size (as much as possible.) This will help them cook evenly and at the same time.
2- Don't be shy with your extra virgin olive oil. Toss the florets in the EVOO to make sure they are well coated, this will help them cook and create those caramelized edges.
3- Just like you would with any roasted vegetable dish, select a large enough sheet pan so that you're able to spread the cauliflower florets in one single layer. You want to make sure the florets do not overlap so that they can touch the hot surface of the pan and cook well.
4-  This IMPORTANT TIP makes all the difference is this: roast in a high-heated oven, and for the first 10 to 15 minutes of roasting, cover the pan of cauliflower with foil. This will trap just enough moisture to help cook the cauliflower properly.
Remove the foil for the remainder of the roasting time. The cauliflower will remain moist enough to withstand the high heat and will not dry up, BUT parts of it will char nicely in the meantime.
5- Rotate the pan and make sure to turn the cauliflower over. You want some nice dark charred pieces, but make sure the cauliflower is cooked evenly and to your liking.
Keep reading, and you'll see my step-by-step for how to roast cauliflower. Perfect every time!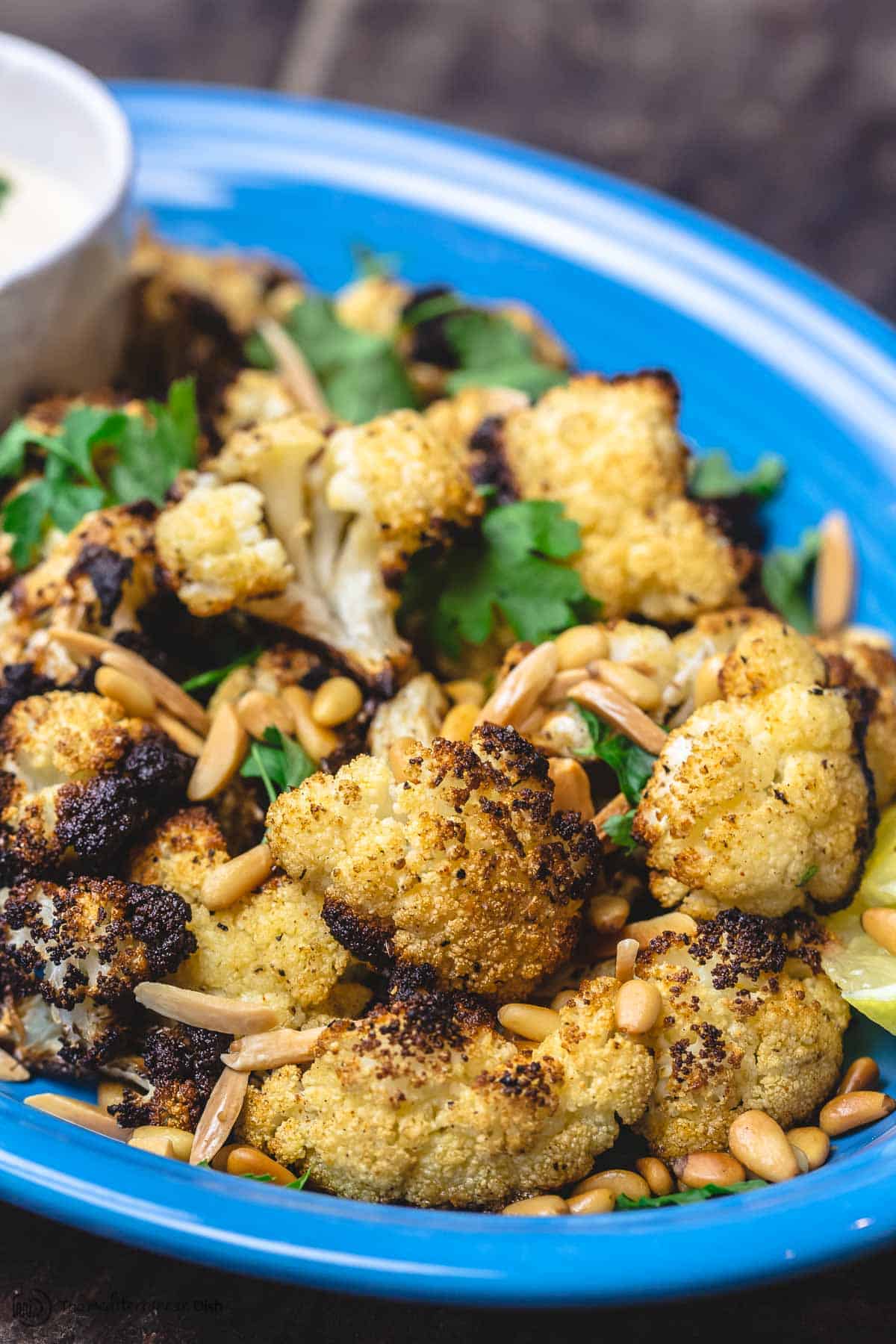 Roasted cauliflower with cumin and lemon
Like I said earlier, cauliflower is an excellent blank canvas. Because it's so plain, cauliflower is the perfect carrier for any number of flavors. And you can dress it up however you like.
I usually drizzle the cauliflower with quality extra virgin olive oil first, then add spices and a pinch of salt and pepper. Give everything a good toss to distribute the spices well.
This time, for my flavor choice, I'm going for a bit of a warm Moroccan theme:
– Ground cumin. Cumin is the perfect compliment to caramelized oven roasted cauliflower, adding depth and warmth. Cumin is also a digestion-enhancing spice. This is good because while cauliflower is tasty super-food, for many of us, eating this cruciferous vegetable can cause some stomach issues.
– Harissa spice blend. You may not be as familiar harissa, it is a unique spice blend which carries sweeter chili notes along with coriander, caraway and fennel.  (If you haven't tried it yet, find all-natural harissa at our online shop here!)
– Fresh lemon juice to finish. While the spices are added to the cauliflower before roasting, a squeeze of fresh lemon juice is added to our hot-out-of-the-oven roasted cauliflower. This adds brightness and really rounds out flavor.
Flavor Variations
You can dress up cauliflower however you like.  I've used a combination of turmeric, cumin and coriander before. Za'atar and sumac is another awesome option. Or, you can go Greek and do dried oregano and a little pinch of cumin.
For me, fresh lemon juice over hot oven roasted cauliflower is a must no matter what combination of spices!
How to roast cauliflower (the BEST, that is!)
1. First, cut the cauliflower into smaller florets of equal size (they don't have to be perfectly equal)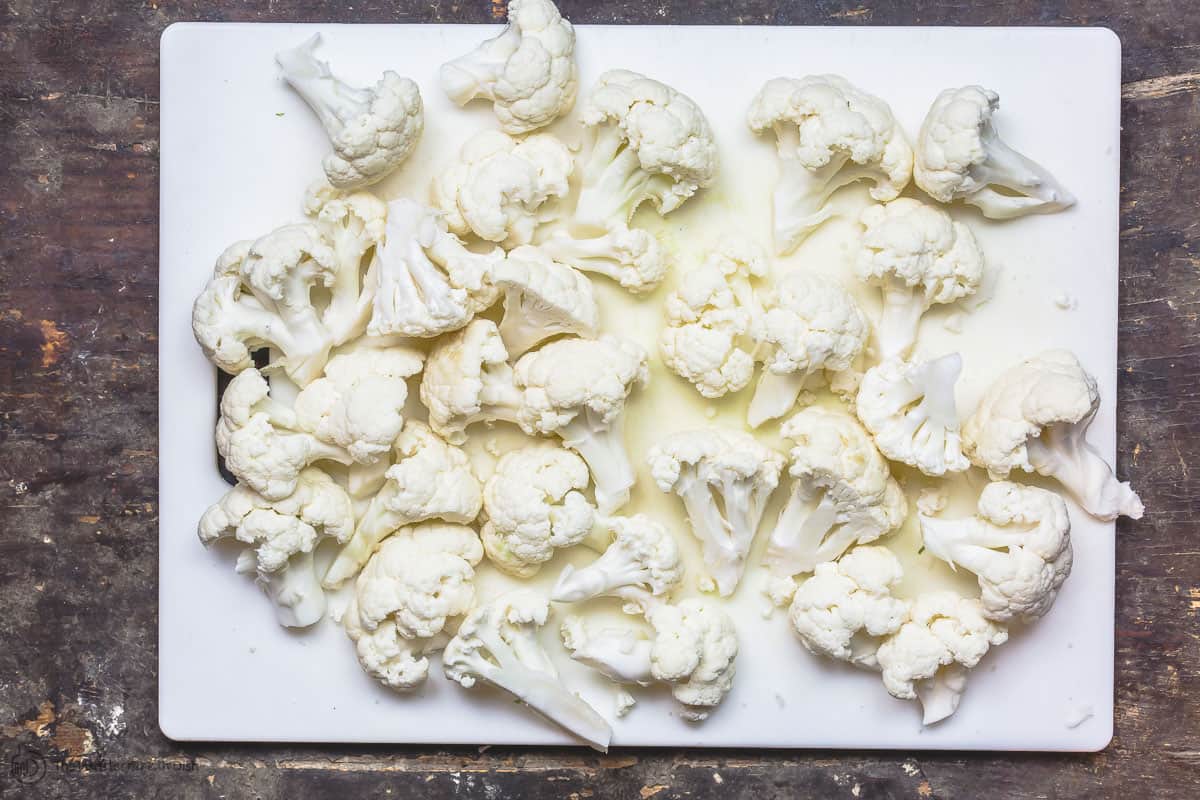 2. Drizzle with Private Reserve extra virgin olive oil, then hit up the cauliflower with spices, salt and pepper. Toss to make sure everything is well coated. Spread well on baking sheet.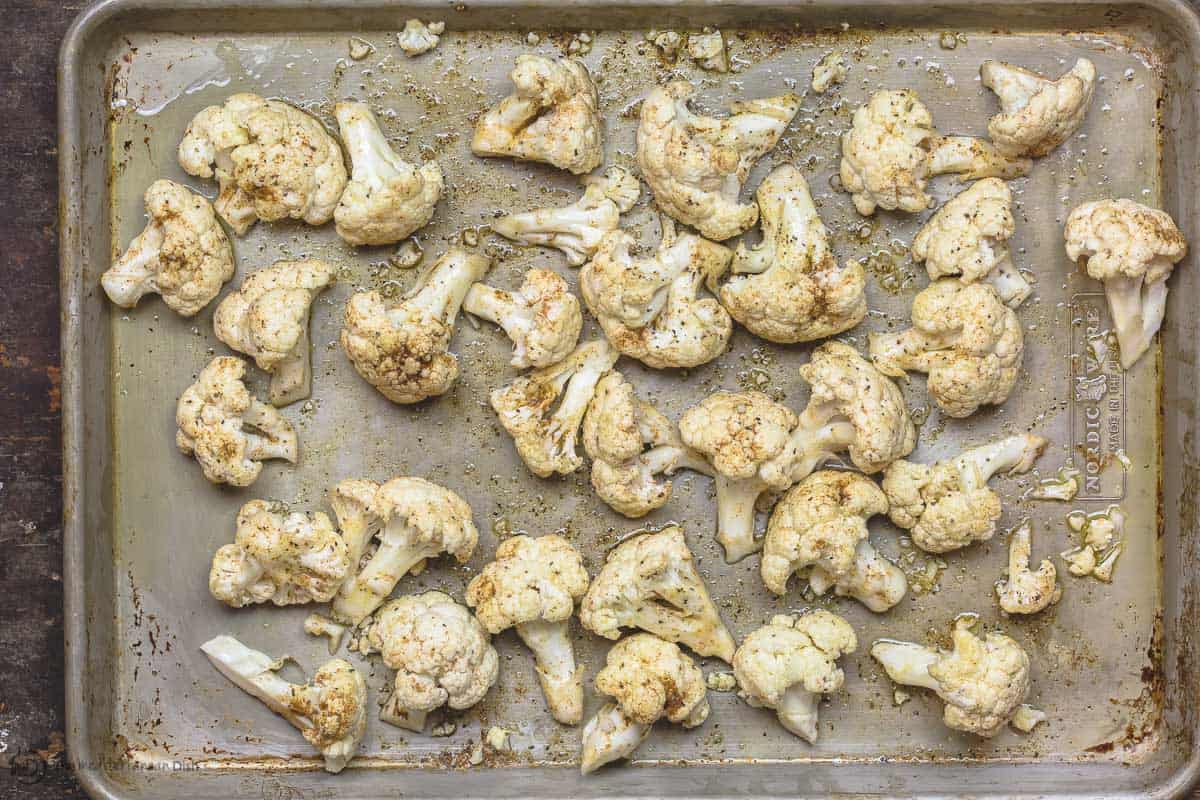 3. Cover with foil and roast in high-heated oven for 15 minutes, then uncover and roast until well caramelized and even charred in some places (make sure to rotate baking sheet occasionally, and turn cauliflower over). This will take about 30 minutes or so. You can adjust the cooking time, if you don't like your cauliflower too caramelized or charred (but it's so good this way!)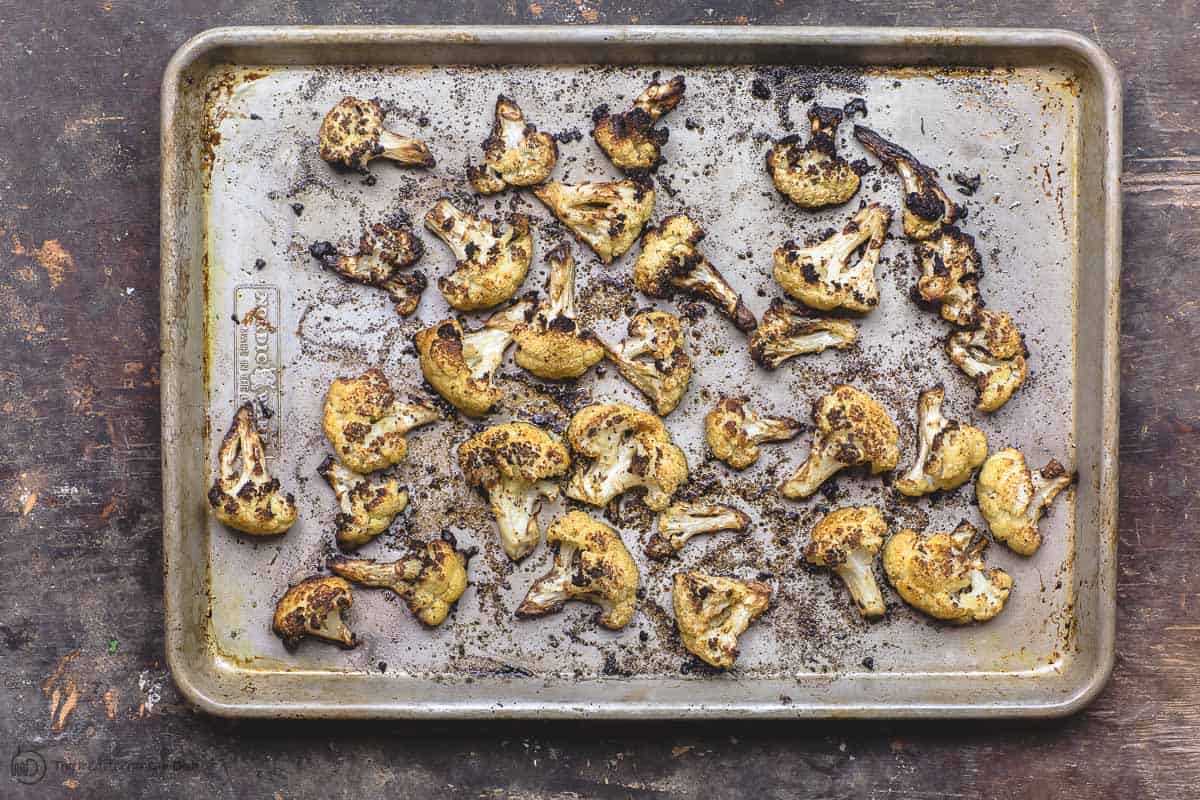 4-Transfer to a serving platter and, while nice and hot, hit it up with lemon juice. Garnish with toasted nuts and fresh parsley.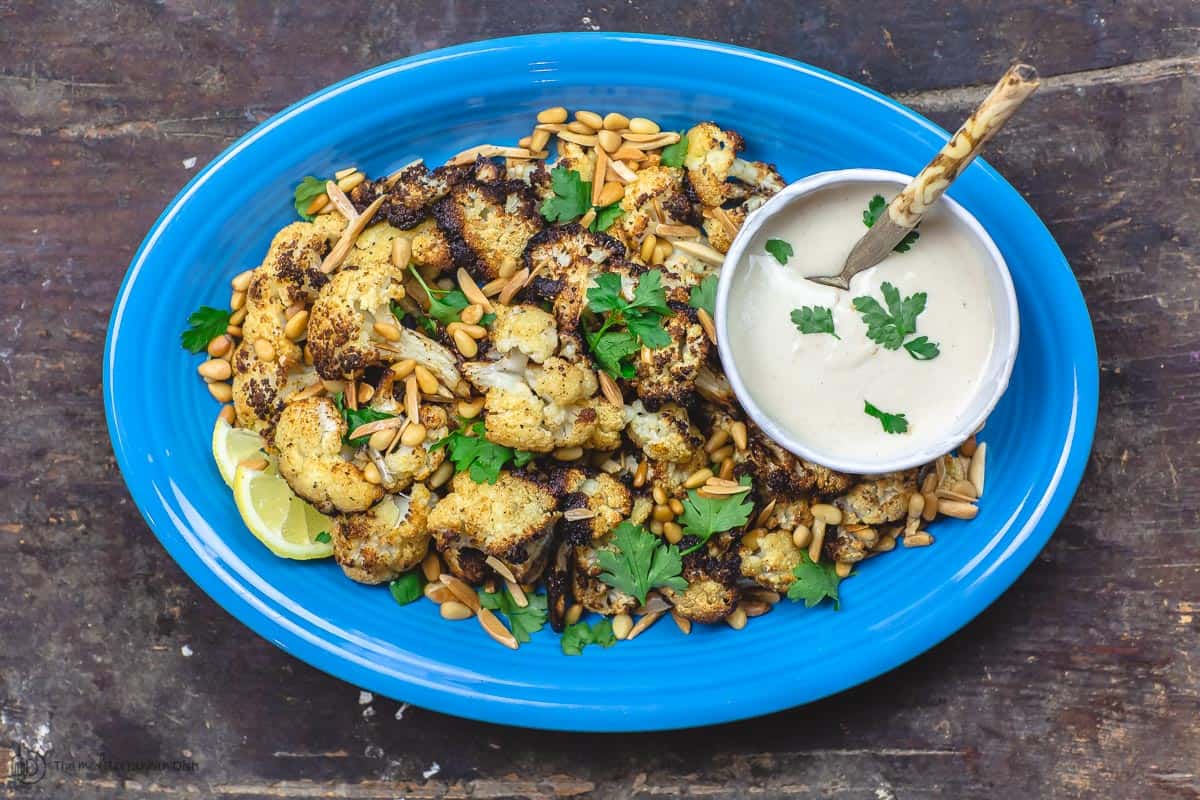 Can I roast frozen cauliflower? 
Frozen cauliflower is convenient–comes in bag already cut into florets and all. You can absolutely roast frozen cauliflower, although in this recipe, I used fresh cauliflower.
You do not need to thaw frozen cauliflower in order to roast it, but be sure to toss the frozen florets in extra virgin olive oil and coat them well. And of course, season to your liking.
From there, place the frozen cauliflower on a sheet pan and roast, but DO NOT cover with foil at any point.You want the high heat to evaporate any ice condensation on the frozen florets.
Remember that frozen cauliflower had been blanched or steamed earlier before it was packaged to freeze, so they will likely roast more quickly.   Do watch and turn the tray around, flip cauliflower over as needed.
What to serve it with
This roasted cauliflower is a super versatile dish. Great as an appetizer with tahini or hummus and warm pita bread.
I often serve it as a side next to roast chicken, lamb or even salmon (lots more ideas below the recipe!)
But you can easily turn roasted cauliflower into dinner bowls or these tasty, wholesome vegan sandwich wraps!
How to store leftovers
If you have any leftover roasted cauliflower, let them cool then refrigerate in tight-lid glass containers for 3 to 4 days. Leftovers are great cold or at room temperature!
You may also like:
Roasted Cauliflower and Chickpea Stew
Mediterranean-Style Roasted Eggplant
Easy Baked Zucchini with Thyme and Parmesan
Watch the video to make this roasted cauliflower recipe: 
NEVER MISS A RECIPE! JOIN MY FREE E-MAIL LIST HERE.
SHOP OUR ONLINE STORE FOR QUALITY OLIVE OILS, ALL-NATURAL SPICES AND MORE.
Print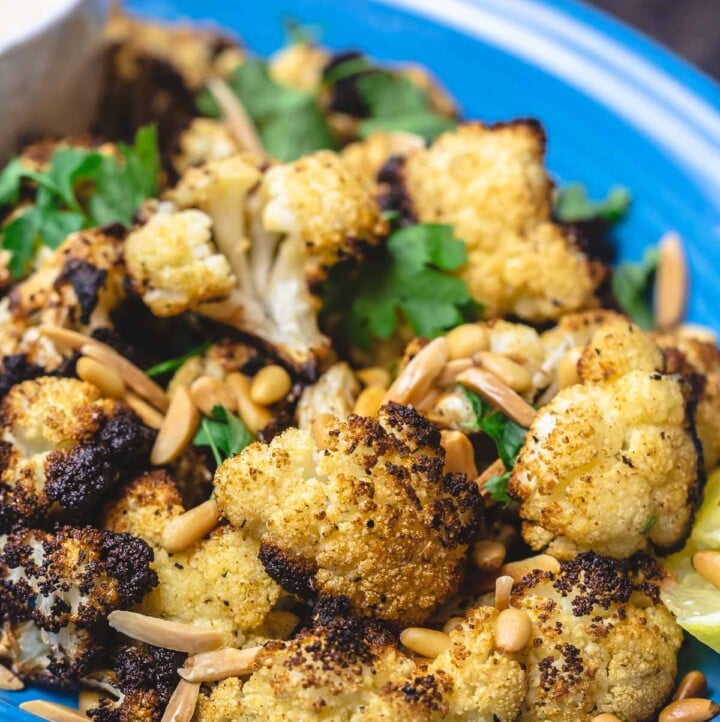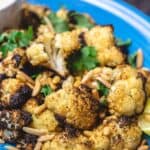 Best Roasted Cauliflower with Lemon and Tahini
---
Description
BEST roasted cauliflower recipe! Such simple steps and so few ingredients, including cumin and lemon, create amazing flavor. Be sure to watch the video in the post above for how to roast cauliflower perfectly every time!
You can serve roasted cauliflower as an appetizer or side. See our ideas for what to serve along.
---
Scale
Ingredients
1

head cauliflower, cored and divided into small florets
Private Reserve Greek extra virgin olive oil

2 tsp

ground cumin

1 tsp

harissa spice
Salt and pepper

1

to

2

tbsp lemon juice (or juice of

1/2

to

1

lemon to your liking)
Handful fresh parsley for garnish, optional

1/4 cup

/30 g toasted pine nuts (or toasted slivered almonds), optional
For Tahini (optional)
---
Instructions
Preheat oven to somewhere around 450 degrees to 475 degrees F (or 250 degrees C)
Place cauliflower florets on a large baking sheet. Drizzle extra virgin olive oil and toss to make sure florets are coated, add more EVOO as needed.
Combine cumin and harissa in a small dish. Season cauliflower with the spice mixture and a generous pinch of salt and black pepper. Toss again to combine. Spread cauliflower florets well on the baking sheet so that they are in one layer.
Cover the baking sheet with foil and place on middle rack of  heated oven. Roast, covered, for 15 minutes, then carefully remove foil and return baking sheet to the oven. Roast for another 20 to 30 minutes or so, occasionally rotating the baking sheet and  turning cauliflower florets over (using tongs). Cauliflower should be so tender and caramelized or even charred in some parts.
While cauliflower is roasting, prepare tahini sauce according to this recipe.
Remove from heat and carefully transfer roasted cauliflower to a serving dish. Immediately hit with lemon juice, a little drizzle of tahini (if you like), toasted nuts and a little fresh parsley for garnish.  If you're like me and want even more flavor, sprinkle a bit more harissa spice.
Serve tahini sauce in a bowl on the side for dipping.
---
Notes
How to Serve this Cauliflower: this roasted cauliflower is a super versetile dish. Great as an appetizer with tahini and warm pita bread. Or as a side dish next to your favorite entree like baked fish; lemon chicken; souvlaki; or Greek Keftede meatballs.
Roasted Cauliflower as a Main Course? Sure! Turn this roasted cauliflower into dinner bowls or this tasty, wholesome vegan sandwich wrap. 
Tip for Storing leftovers: If you have any leftover roasted cauliflower, let them cool then refrigerate in tight-lid glass containers for 3 to 4 days. Leftovers are great cold or at room temperature, and you can re-purpose them in dinner bowls or sandwich wraps as mentioned above.
Visit our Online Shop to browse our all-natural and organic spices, extra virgin olive oils and more.
Category:

Side

Method:

Roasted

Cuisine:

Mediterranean
Keywords: Roasted Cauliflower, How to Roast Cauliflower, Best Roasted Cauliflower
*This post first appeared on The Mediterranean Dish in March 2019 and has been recently updated with new information and media for readers benefit.  Enjoy!