Flavor-packed Mediterranean vegan wraps with roasted cauliflower, tahini, and a peppery arugula salad! Healthy, satisfying, and perfect for meal prep!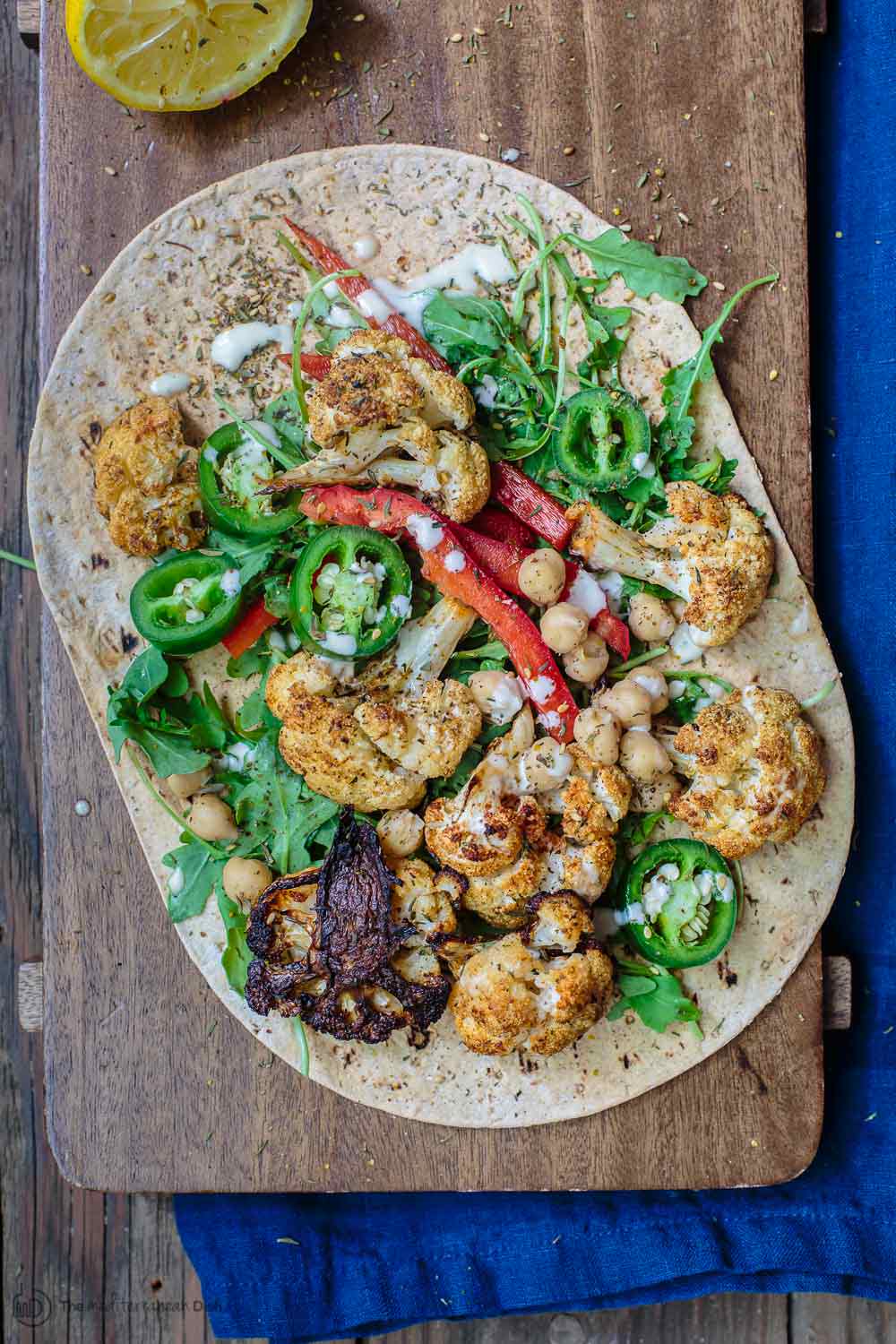 Easy vegan wraps with a Mediterranean twist!
When in doubt, wraps for dinner! And these vegan wraps, stuffed with perfectly charred roasted cauliflower, fresh veggies, and a drizzle of good tahini sauce, will not disappoint.
The inspiration for this recipe came from one of my favorite restaurants called Marie Catrib's, a family-owned joint that once sat on the corner of East Hills Center (of the Universe) in Grand Rapids, Michigan.
Their eclectic menu with a Lebanese twist included a wide variety of vegan options, my favorite being a sturdy sandwich they called "the handy man," filled with a bunch of tasty roasted veggies. I usually ordered it in wrap form, with tahini for a sauce. Still fond of this wrap, I created a version of my own: A satisfying Mediterranean vegan wrap with za'atar roasted cauliflower and my own homemade tahini sauce.
It needed a bit of something "punchy" to balance out the warm, charred cauliflower. So I added a simple, peppery arugula salad with onions and peppers, all tossed in extra virgin olive oil and lemon juice.
These hearty vegan wraps tick all the boxes for me--packed with flavor, protein, and fiber. And if you prep the veggies in advance, these wraps take very little time to make on a whim.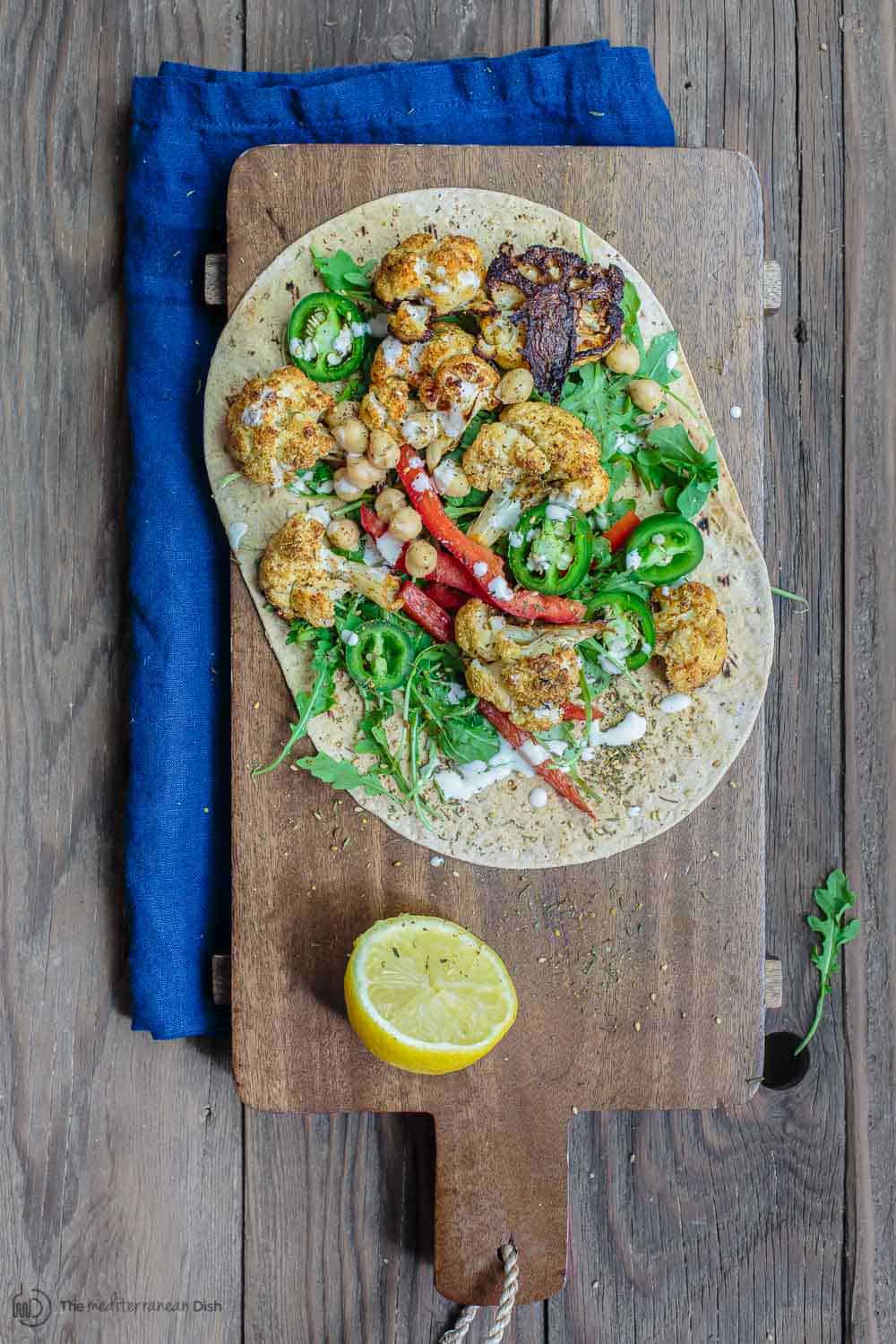 What's in these roasted cauliflower wraps?
Roasted cauliflower is the star of these vegan wraps, and they are what makes them hearty and satisfying. But I also like to add texture and flavor from other colorful vegetables. Here is what I used to make these wraps:
Cauliflower: Roasted cauliflower with a bit of a char has a delightful taste. Seasoned with bold za'atar, paprika, and cumin, cauliflower adds flavor and bulk to the wrap.
Arugula: I love the peppery flavor arugula brings to any dish, and it pairs particularly well with the cauliflower here.
Bell peppers: Bell peppers are a triple threat in this cauliflower wrap recipe – they add color, crunch, and a nutritional punch!
Red onion: Red onions also contribute some kick to this dish, and, of course, a great crunch, too.
Chickpeas: Chickpeas are a wonderful way to add protein to a vegan meal. They also make the dish more substantial, making the wraps more filling. I have tried a number of vegan wrap recipes, and a common thread among them is that they are not filling enough – I find myself hungry again after a couple of hours. Chickpeas help to eliminate that issue.
Jalapeños: These are optional, so if you're not a fan of spicy foods, feel free to skip them! I love them, though, as they add a bit of heat without being overwhelming.
Tahini sauce to drizzle. Many wraps will use mayonnaise or other sauce options, but tahini adds richness and flavor, while keeping this a healthy vegan meal.
What type of flatbread should I use for wraps?
For this vegan wrap, I reached for FlatOut Flatbread wraps, which make a perfectly light and satisfying carrier for my veggies. I used the light original, but you can use their gluten-free wraps if you need to! You can also use naan bread, pita, or any of the several options at the grocery store.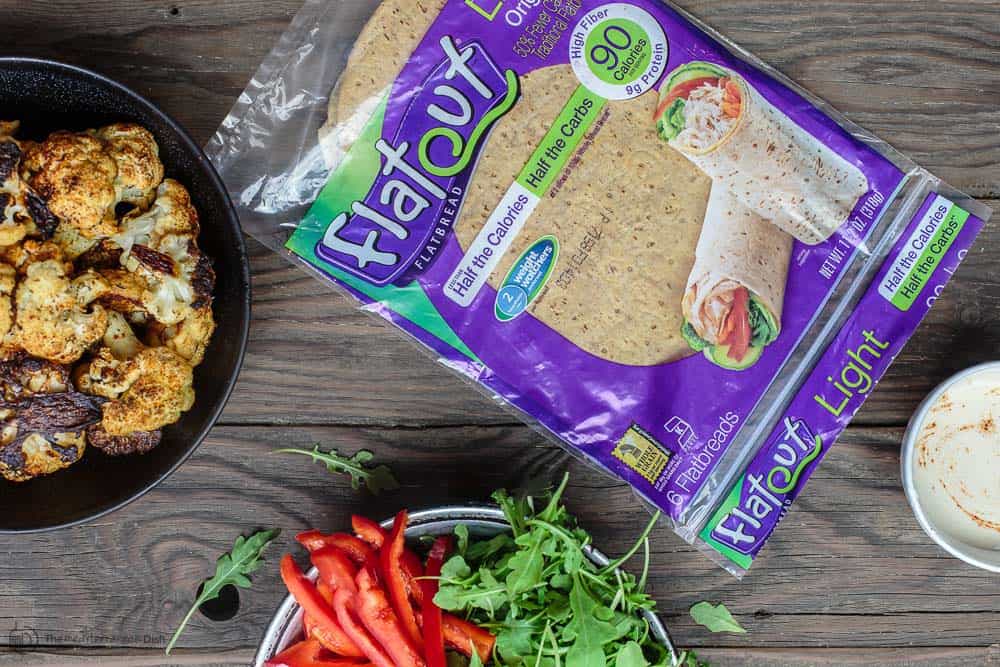 Vegan lettuce wraps option
For a low-carb option, you could definitely use lettuce wraps. Using lettuce is also a simple way to make these cauliflower wraps gluten-free.
Most types of lettuce would work, but I recommend a large leaf variety such as butter lettuce (also called Boston Bibb) or Romaine lettuce. Larger leaves just make a better vessel to carry your roasted cauliflower and other vegetables. I'd also recommend using less filling per lettuce wrap than you would normally, to prevent the lettuce from ripping.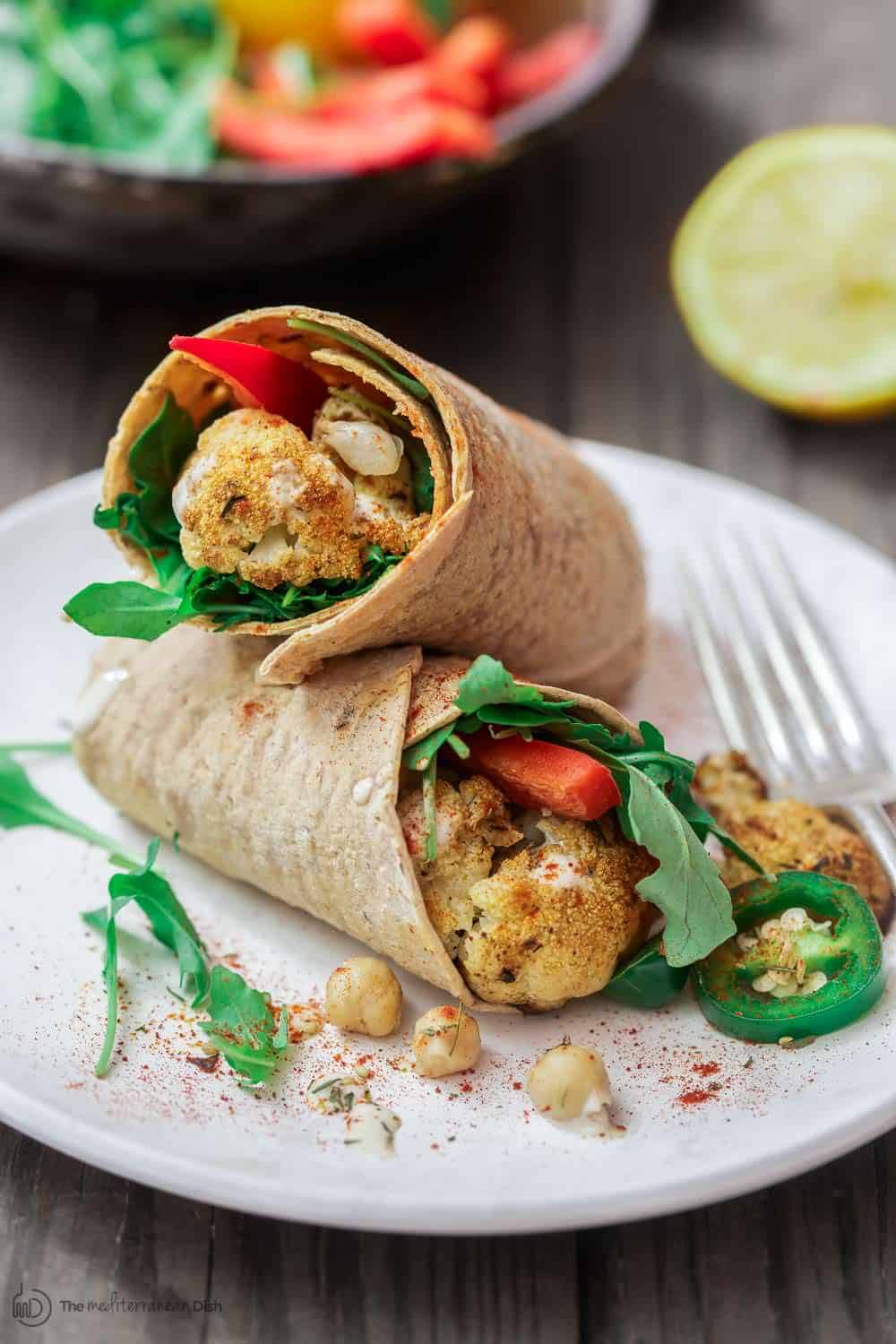 Make ahead tips
You can prepare parts of this vegan wrap recipe ahead of time and keep them in the fridge for later use. Here are ideas to meal prep these wraps:
Roast the cauliflower one or two days ahead of time.
Chop your vegetables and keep them in tight-lid container in the fridge.
Make the tahini sauce well in advance, as it will keep in the fridge in a tight-lid jar for up to a week.
More cauliflower recipes
Browse more vegan recipes. Browse all Mediterranean recipes.
Mediterranean Vegan Wraps with Cauliflower and Tahini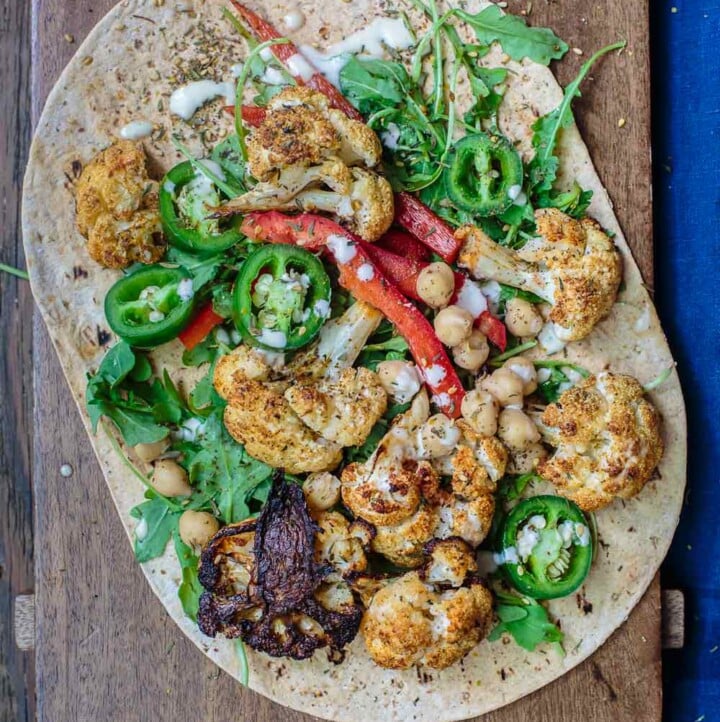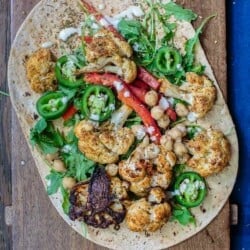 Mediterranean Vegan Wraps with roasted cauliflower, tahini, and a peppery arugula salad! This healthy and hearty recipe can be prepared ahead for lunch or a light dinner. Be sure to read through the tips and variation ideas.
Ingredients
1

large head cauliflower,

cut into florets

extra virgin olive oil, I use our Private Reserve EVOO

kosher salt

2

teaspoon za'atar spice,

more for later

1

teaspoon

sweet Spanish paprika

½

teaspoon

cumin

1

lemon,

cut in half (you'll use as much of the lemon juice to your liking)

2

cups

baby arugula

1

small red onion,

halved then thinly sliced

1

cup

chickpeas

1

bell pepper,

any color, cored and sliced into thin batons

2

jalapeno peppers,

sliced into rounds (optional)
Instructions
Preheat the oven to 450 degrees F.

Make the tahini sauce according to

this recipe

and set aside for now.

Place the cauliflower on a large baking sheet. Add a generous drizzle of extra virgin olive oil (I used a little more than ¼ cup

Private Reserve EVOO

). Toss to coat. Season with salt,

za'atar

,

paprika

, and

cumin

. Toss again until cauliflower is well coated with the spices and olive oil.

Roast in the 450 degrees heated oven for 20 minutes. Turn florets over and roast for another 10 to 15 minutes or until browned to your liking (I like mine deeply browned, so I tend to leave them in the oven even longer). Remove from oven. Add a sprinkle of za'atar and squeeze just a little fresh lemon juice on top.

While cauliflower is roasting, make the salad. In a salad bowl, mix arugula, red onion, chickpeas, bell peppers, and jalapenos. Add a pinch of salt, extra virgin olive oil, and a little lemon juice to your liking. Toss to combine.

Assemble the Mediterranean vegan wraps. Lay flatbreads flat, spread some tahini sauce on top. Add roasted cauliflower, and arugula salad. Drizzle with more tahini and roll the flatbreads from one end to another making 4 sandwich wraps. Enjoy!
Notes
Prepare ahead tips: To save time on prep, roast the cauliflower and chop the veggies ahead of time. The tahini sauce can be made in advance, as it can be refrigerated for up to a week.
For best results: Don't dress the salad until you're ready to assemble your vegan wraps. (This will help prevent the arugula from getting wilted.)
Don't assemble the wraps ahead of time. They would be difficult to re-heat without the wrap becoming tough and rubbery.
Variations: Use other seasonal vegetables you have on hand. I have used my leftover roasted sweet potatoes and my Italian roasted vegetables in place of the cauliflower. Look for hefty vegetables that will be filling. You can also change up the seasoning to your liking.
Leftover wraps: If you want to stick to a vegan meal, simply place the cauliflower and arugula salad atop more leafy greens for a light lunch. It also makes a tasty side for these Vegan Eggplant "Meatballs".
Visit our store to browse our spices, olive oils and bundles!
Nutrition
Calories:
244.5
kcal
Carbohydrates:
48.5
g
Protein:
11.6
g
Fat:
2.9
g
Saturated Fat:
0.4
g
Sodium:
230.1
mg
Potassium:
827.4
mg
Fiber:
11.4
g
Sugar:
-0.3
g
Vitamin A:
1511.2
IU
Vitamin C:
134
mg
Calcium:
93.5
mg
Iron:
3.8
mg