Perfectly fluffy cauliflower fritters, packed with fresh herbs, cumin and other warm spices. Serve them as an appetizer or snack with a squeeze of lemon juice or mint yogurt! Or pile them into a little pita for lunch. Lots of ideas below.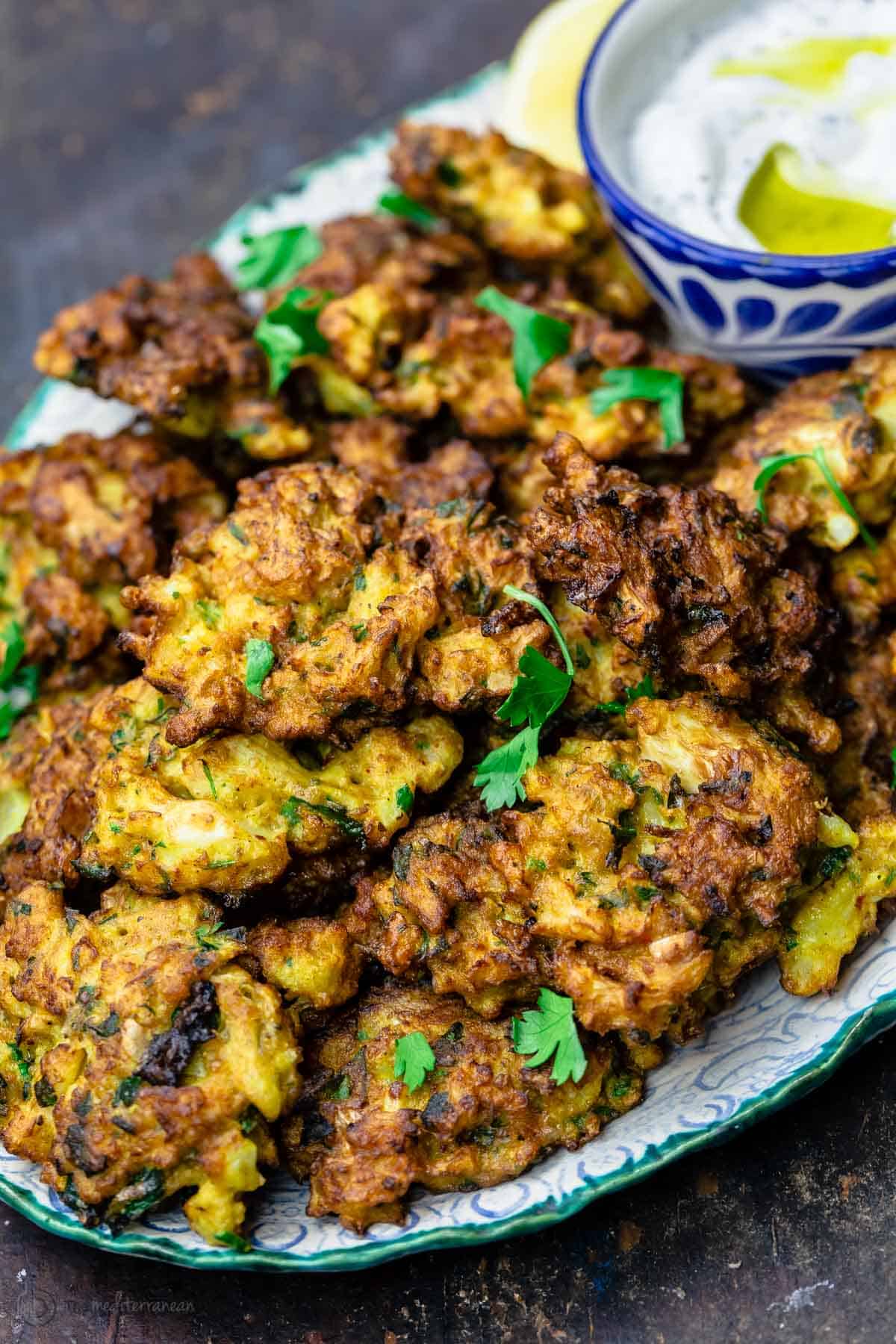 I've not met vegetable fritters I did not like, but today's cauliflower fritters recipe tops them all! Satisfying, fluffy, and layered with warm flavors.
Every so often, I get to share a recipe from a cherished cookbook from my library. Today's recipe is from Falastin by Sami Tamimi and Tara Wigley. Let me say, it was difficult to choose just one recipe to share. The book is a marvelous selection of doable and exciting recipes that will wake your taste buds in a great way. And the inspiring stories are worth a read. Definitely check it out (and enter the giveaway below for a chance at a free copy).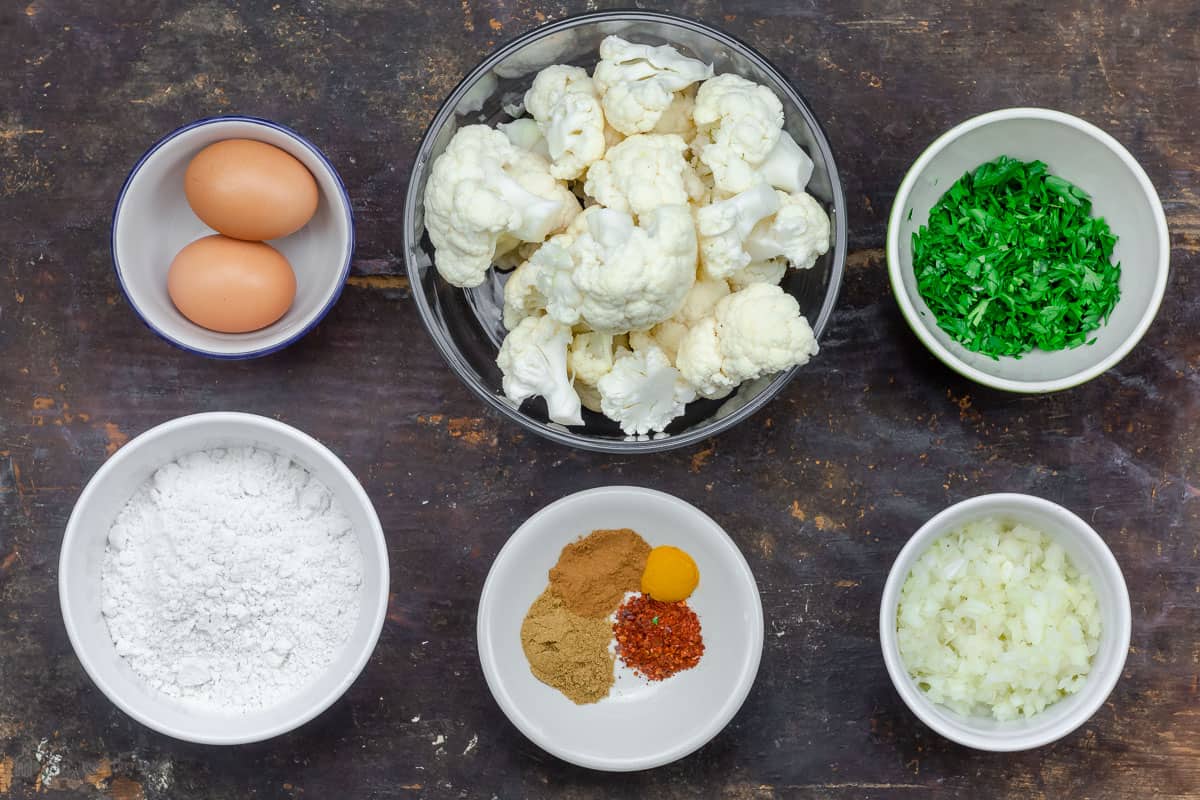 About these fritters
You know from my earlier roasted cauliflower recipe that I am partial to cauliflower and cumin, the combo just works! That's part of why I wanted to try these cauliflower fritters with cumin.
But then I saw the fritters batter includes onions, fresh parsley and more warm Middle Eastern flavors like turmeric, Aleppo pepper flakes and hints of cinnamon. I knew it was a flavor explosion waiting to happen! I took one bite and knew I liked them almost as much as I like falafel, which is saying a lot!
If you haven't made fritters before, they're easier than you think. This recipe begins by blanching the cauliflower until soft, then smashing the florets in with a tasty batter of fresh herbs and spices, bound together with a little egg and flour. From there, you just pan-fry the fritters! Yes, there is a way to bake them if you must, see below. But I will tell you these fritters are better fried.
How to make cauliflower fritters
The print-friendly recipe with ingredient list is just below, but for those of us who need a visual, here is how this recipe goes:
Cook the cauliflower
Cut up a small cauliflower head into florets and add them to boiling salted water for about 4 minutes or so. Keep a little bit of the cooking water and drain well. Mash the cooked cauli with a fork or a potato masher (just mash lightly)


Make the batter
In a large bowl, mix together the mashed cauliflower with 1 cup all-purpose flour, fresh parsley, one small onion finely chopped, 2 eggs, a good bit of ground cumin (1 ½ teaspoons), a dash of ground cinnamon, and about ½ teaspoon each turmeric or Aleppo pepper flakes (which you need to try if you don't have it, but you can replace it with ¼ teaspoon of red pepper flakes, if you must). Add a good dash of kosher salt and black pepper. Mix to combine. The batter will be wet.


Pan-fry the fritters
This is not the kind of batter you should use your hands to form into balls or fritter patties, it's fairly wet. Use a spoon to scoop up about 2 to 3 tablespoons per fritter directly into a frying pan with heated sunflower oil (make sure the oil is hot). Do this in batches and do not crowd the pan (I cooked about 5 fritters at a time).

Cook on one side until golden brown, then carefully turn the fritters over to cook on the other side (the book listed 5 minutes in total, but mine went more like 3 ½ minutes).

Use a slotted spoon to transfer the cooked veggie fritters to a large plate lined with paper towel. This will help absorb any extra oil.


How to serve them?
These fritters are glorious hot off the pan with a quick squeeze of lemon juice or with mint yogurt, which is super easy to make by mixing dried mint with Greek yogurt, lemon juice, some good olive oil and a dash of kosher salt.
I also tried them with tahini sauce and with tzatziki (Greek cucumber yogurt sauce). And another one that I thought of last minute, and I'm so glad I did: harissa! If you love spicy food, try spooning a tiny bit of homemade harissa over a cauliflower fritter...so good!
In their book, Sami and Tara also suggest turning them into a little meal by piling them into some flatbread or pita.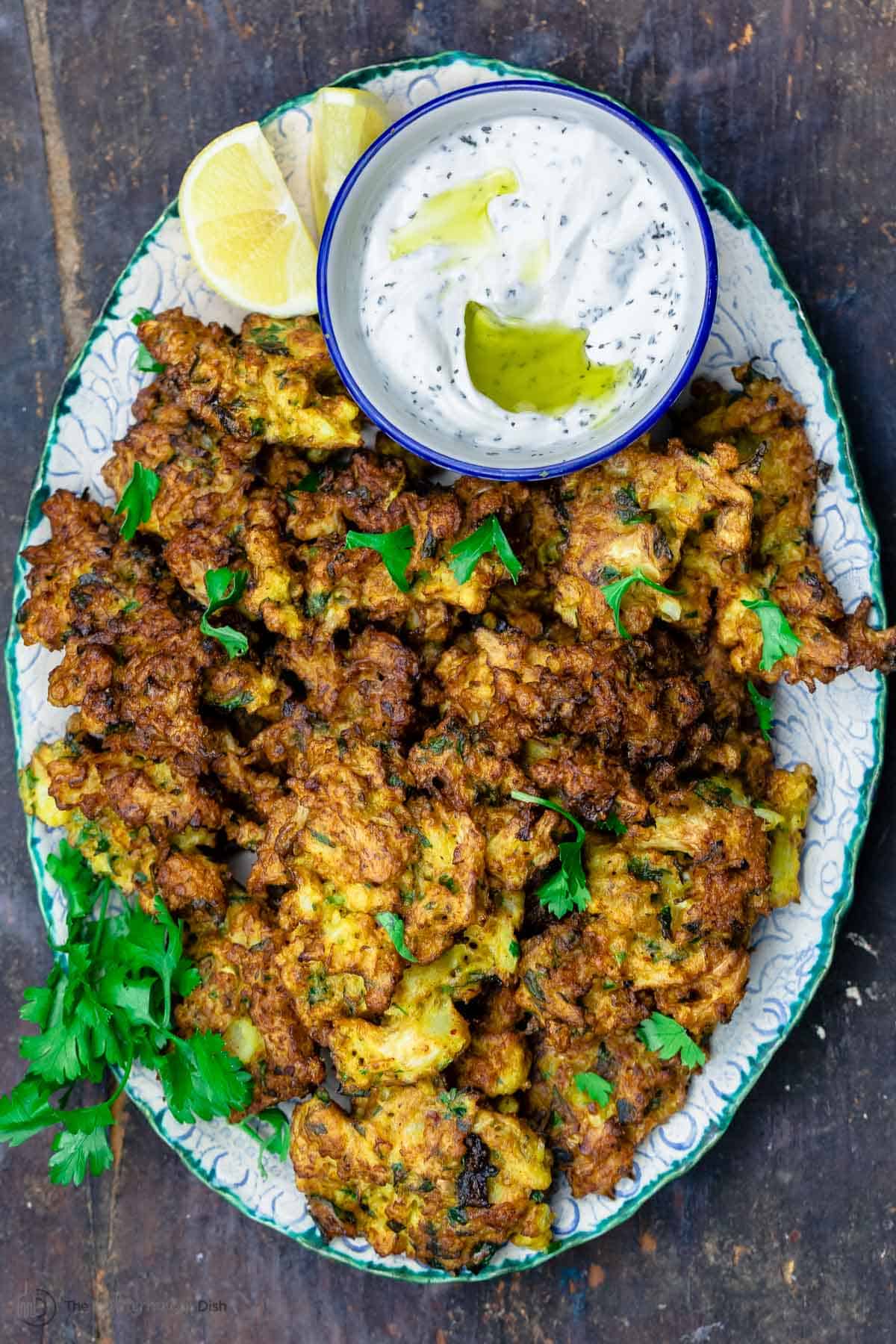 Can I make these vegetable fritters ahead?
Yes! You can prepare the fritters batter one night in advance. Store it in the fridge in a tight-lid glass container until you are ready to cook.
Leftover cauliflower fritters are great at room temperature or warmed up in a medium-heated oven.
Baked fritters option
I will say that pan-frying will produce the best results for this cauliflower fritter (and that is how the recipe is written). But you can bake them in the oven if you absolutely need to. Here is what you do:
Once you prepare the fritters batter, refrigerate for 30 minutes.
Heat your oven to 400 degrees F.
Prepare a large rimmed baking sheet lined with parchment paper. Brush the parchment paper with olive oil.
Spoon about 2 to 3 tablespoons of the batter per fritter and arrange on the prepared baking sheet, making sure you space things out well.
Bake for about 15 to 20 minutes, turning over once midway through, or until the fritters are cooked well and both sides are golden brown.
You may also like
Browse more Middle Eastern recipes. You may also enjoy 50+ Top Mediterranean diet recipes. For all recipes, visit us here.
Cauliflower Fritters Recipe with Cumin and Mint Yogurt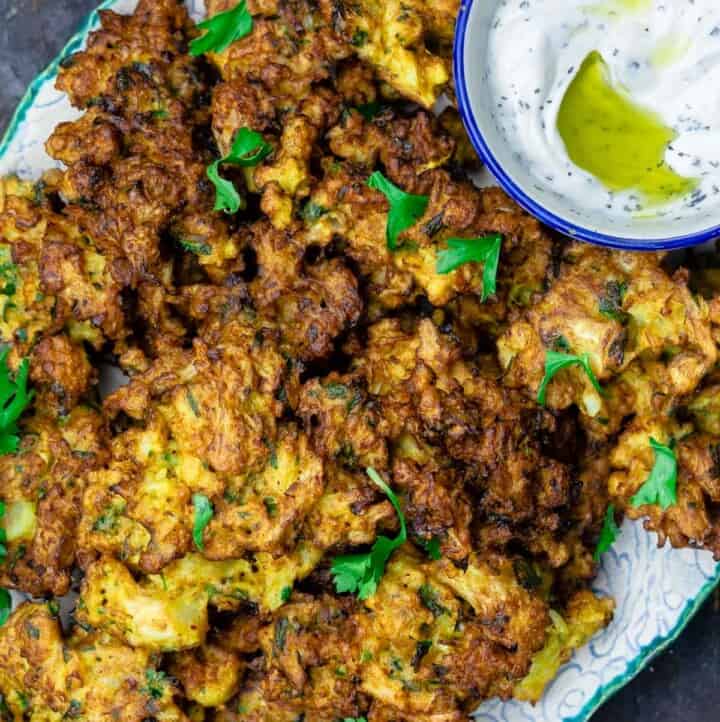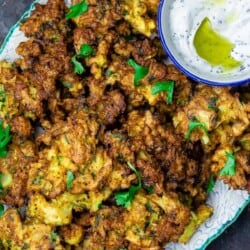 Easy, perfectly fluffy cauliflower fritters with fresh parsley and a few warm Middle Eastern spices including cumin, turmeric, and Aleppo pepper (you can use red pepper flakes instead, if you need more heat). These are great right off the pan or at room temperature with the mint yogurt or with a simple splash of lemon juice!
Ingredients
For the Mint Yogurt

1

cup

Greek yogurt

½

teaspoon

dried mint

2

tablespoon

lemon juice

1

tablespoon

olive oil

½

teaspoon

salt

For the Cauliflower Fritters

1

small cauliflower,

cut into 1 ½-inch florets (3 cups florets)

1

cup

all-purpose flour

1

cup

fresh parsley,

finely chopped

1

small onion,

finely chopped (about ¾ cup)

2

eggs

1 ½

teaspoon

cumin

¾

teaspoon

ground cinnamon

½

teaspoon

turmeric

½

teaspoon

Aleppo pepper,

(or ¼ teaspoon red pepper flakes)

½

teaspoon

baking powder

Kosher salt and black pepper

1

cup

sunflower oil
Instructions
To make the yogurt, place all the ingredients for the mint yogurt in a bowl. Mix to combine and keep in the fridge until ready to serve.

Bring a medium saucepan of salted water to a boil and add the cauliflower. Simmer for 4 minutes, then (making sure to reserve 3 to 4 tablespoons of the cooking water) drain into a colander.

Using a fork or a potato masher, crush the cauliflower, then transfer it to a large bowl.

Add the flour, parsley, onion, eggs, cumin, cinnamon, turmeric, Aleppo pepper flakes, baking powder, and 1 ¼ salt and a good grind of black pepper. Add 3 tablespoons of the cooking water and mix well to combine.

Line a large plate with paper towels.

In a large saute pan (about 9 inches wide), heat the oil. Once the oil is hot, carefully spoon 2 to 3 tablespoons of batter per fritter into the oil. You'll need to do this in batches (adding 4 to 5 fritters at a time) so as not to crowd the pan, and use a spatula to keep them apart. Fry for about 4 to 5 minutes, flipping over halfway through, until both sides are golden brown (mine took 2 minutes on each side).

Using a slotted spoon, transfer the cooked fritters to the prepared plate and set aside while you continue with the remaining batches.

Serve warm or at room temperature, with the mint yogurt on the side.
Notes
This recipe is from the cookbook Falastin by Sami Tamimi and Tara Wigley.
To serve: the mint yogurt is optional but amazing! If you don't make it, finish the fritters with a squeeze of lemon juice. I've also tried these with Tzatziki sauce and tahini sauce!
Make-Ahead Tip: The batter will keep in the fridge for 1 day, so you can make it in advance and keep it in the fridge for one night until you are ready to fry.
Leftovers: Keep leftover cauliflower fritters in a tight-lid container in the fridge for 2 to 3 nights.
Visit our online shop to browse quality Mediterranean ingredients including spices like Aleppo pepper flakes, cumin, turmeric used in this recipe. You'll also find olive oils and more!
Nutrition
Calories:
179.6
kcal
Carbohydrates:
9.5
g
Protein:
3.7
g
Saturated Fat:
1.6
g
Trans Fat:
0.1
g
Cholesterol:
21.1
mg
Sodium:
192.4
mg
Potassium:
179.7
mg
Fiber:
1.3
g
Sugar:
1.5
g
Vitamin A:
352.6
IU
Vitamin C:
23.6
mg
Calcium:
43.5
mg
Iron:
1.1
mg