Simple and delicious Italian Oven Roasted Vegetables! The perfect side dish in minutes!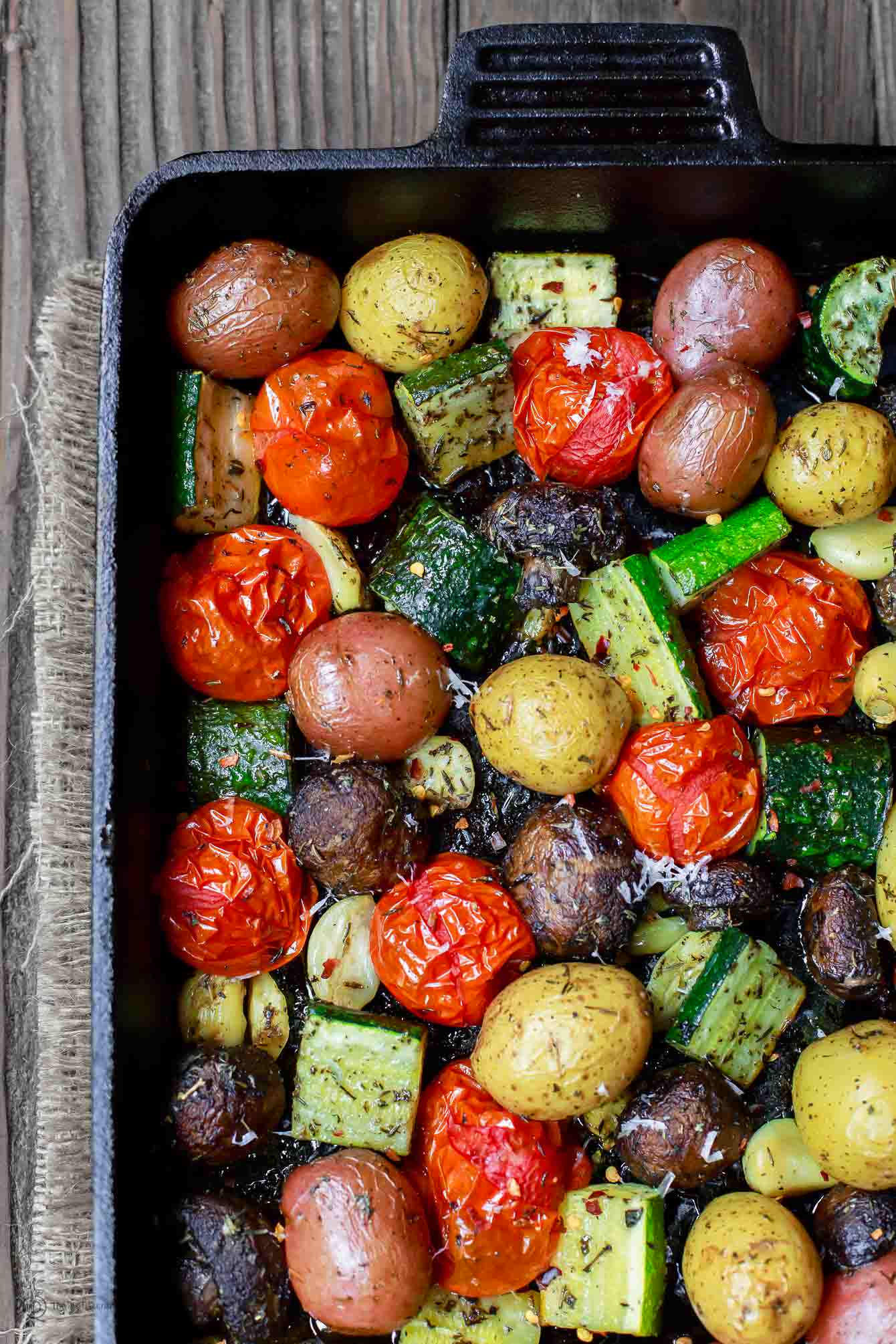 When we think roasted vegetables, root vegetables like carrots, potatoes, or parsnips, are a an obvious choice. But nearly every vegetable can be prepared in the same way.
My go-to oven roasted vegetables take on a simple Italian twist. Along with baby potatoes, I like to use mushrooms, tomatoes, and zucchini.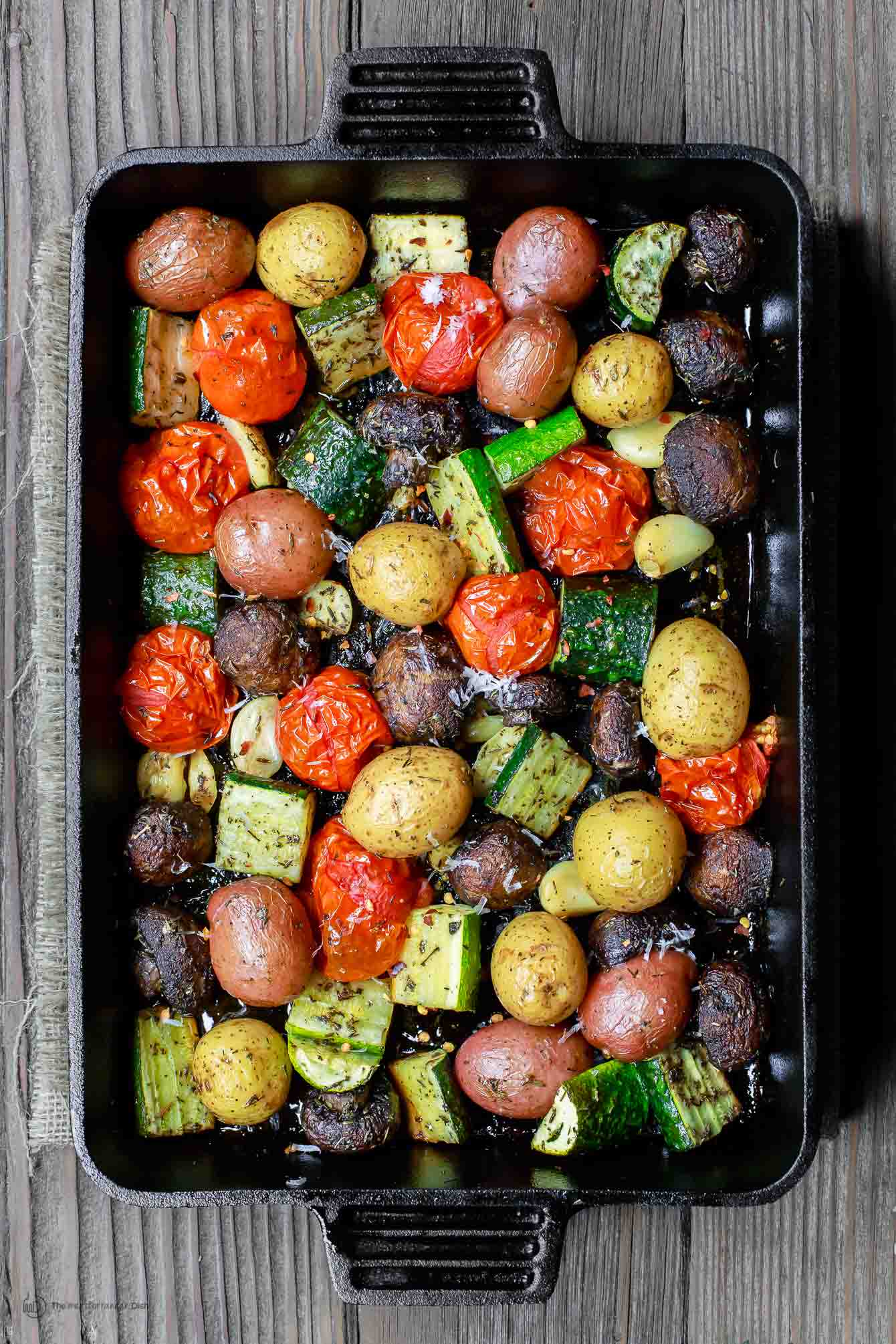 Tips for Best Oven Roasted Vegetables
You hardly need to think about this dish, but if you're looking for exceptional results, I have a few secrets for you:
1- Garlic! Lots of garlic, in fact. In this recipe, I usually add 10-12 garlic cloves. Once roasted, the garlic lavishes a welcomed sweetness and earthiness.
2- Quality olive oil. I use a lighter olive oil with a hint of fruitiness here. And although the recipe says "drizzle," the key is not to skimp on the oil. You will need a generous enough amount to make sure everything is well coated. This gives great flavor and allows the veggies, especially the zucchini and tomato to char a little.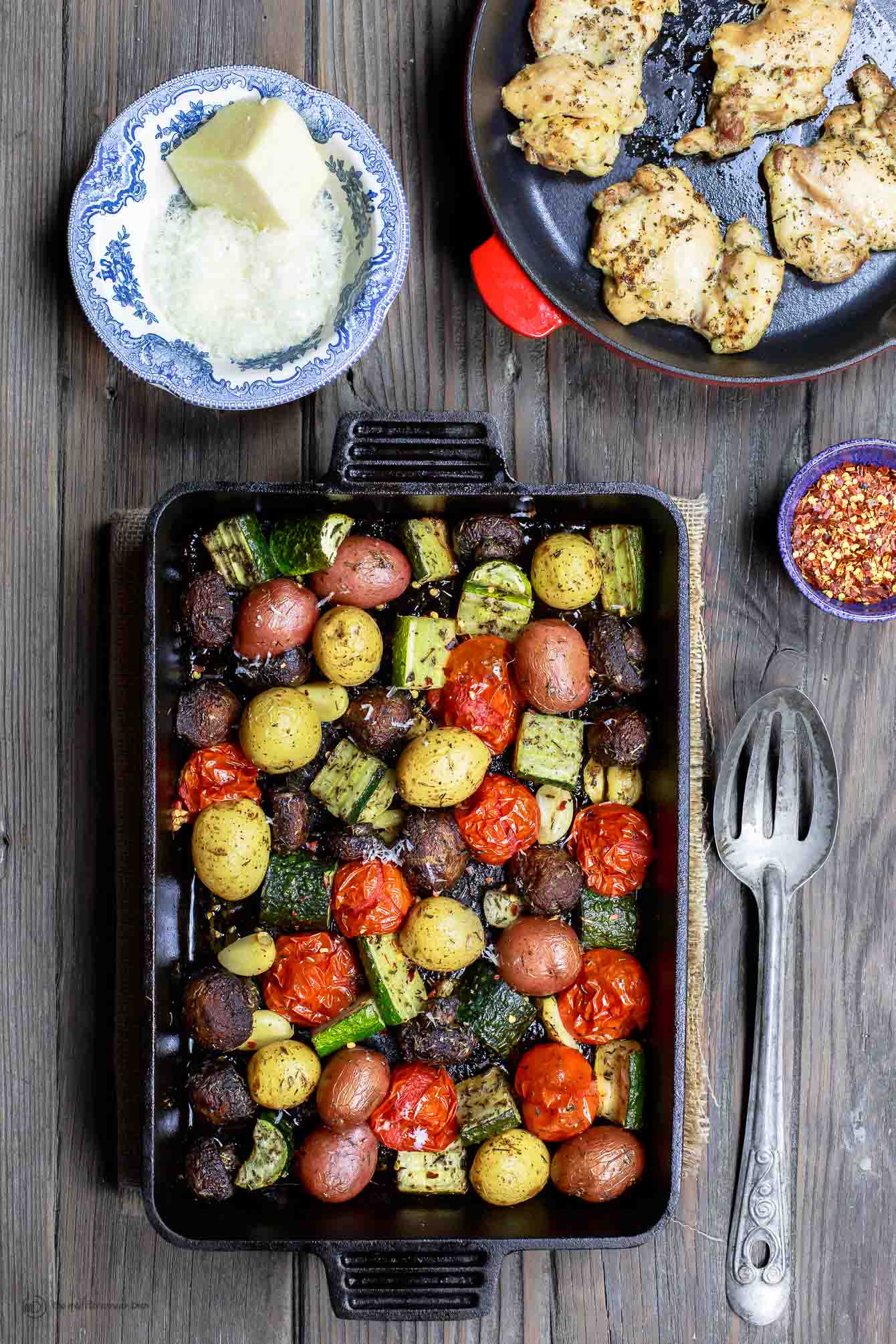 3- Keep the seasoning simple. True to Italian flavors, I used a little dried oregano and thyme (an already mixed Italian seasoning would work great here). I like to serve grated Parmesan cheese and crushed red pepper flakes next to these oven roasted veggies. That way, those who need a little more punch, can sprinkle away!
Watch how to make these Italian Oven Roasted Vegetables
Print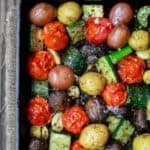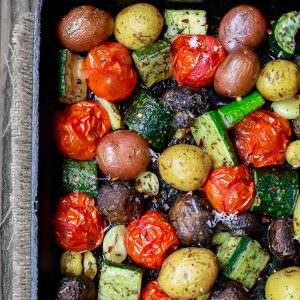 Italian Oven Roasted Vegetables
---
Author:

Prep Time:

10 mins

Cook Time:

20 mins

Total Time:

30 minutes

Yield:

serves 6 people

Method:

Roasted

Cuisine:

Italian
Ingredients
8 oz baby bella mushrooms, cleaned, ends trimmed
12 oz baby potatoes, scrubbed (Or cut potatoes in halves or cubes depending on size. You want them to be small)
12 oz Campari tomatoes (grape or cherry tomatoes will work also)
2 zucchini (or summer squash), cut into 1-inch pieces
10-12 large garlic cloves, peeled
Olive oil
1/2 tbsp dried oregano
1 tsp dried thyme
Salt and pepper
Freshly grated Parmesan cheese for serving, optional
Crushed red pepper flakes, optional
---
Instructions
Preheat the oven to 425 degrees F.
Place the mushrooms, veggies, and garlic in a large mixing bowl. Drizzle generously with olive oil (about 1/4 cup olive oil or so). Add the dried oregano, thyme, salt and pepper. Toss to combine.
Take the potatoes only and spread them on a lightly-oiled baking sheet. Roast in heated oven for 10 minutes. Remove from heat, and then add the mushrooms and remaining vegetables. Return to oven to roast for another 20 minutes until the veggies are fork-tender (some charring is good!)
Serve immediately with a sprinkle of freshly grated Parmesan cheese and crushed red pepper flakes (optional)
Keywords: Oven roasted vegetables, Italian Roasted Vegetables, Baked Vegetables, Roasted Vegetables
More Recipes to Try
Mediterranean Roasted Artichoke
Mediterranean Grilled Zucchini Boats
Mediterranean Chickpea Salad and Eggplants