Saffron and turmeric infuse this whole roasted cauliflower with color and flavor. This vegetarian centerpiece is then drizzled with olive oil, roasted to perfection, and set atop a creamy sauce of lemony whipped feta. It's healthy, delicious, and gorgeous on the table.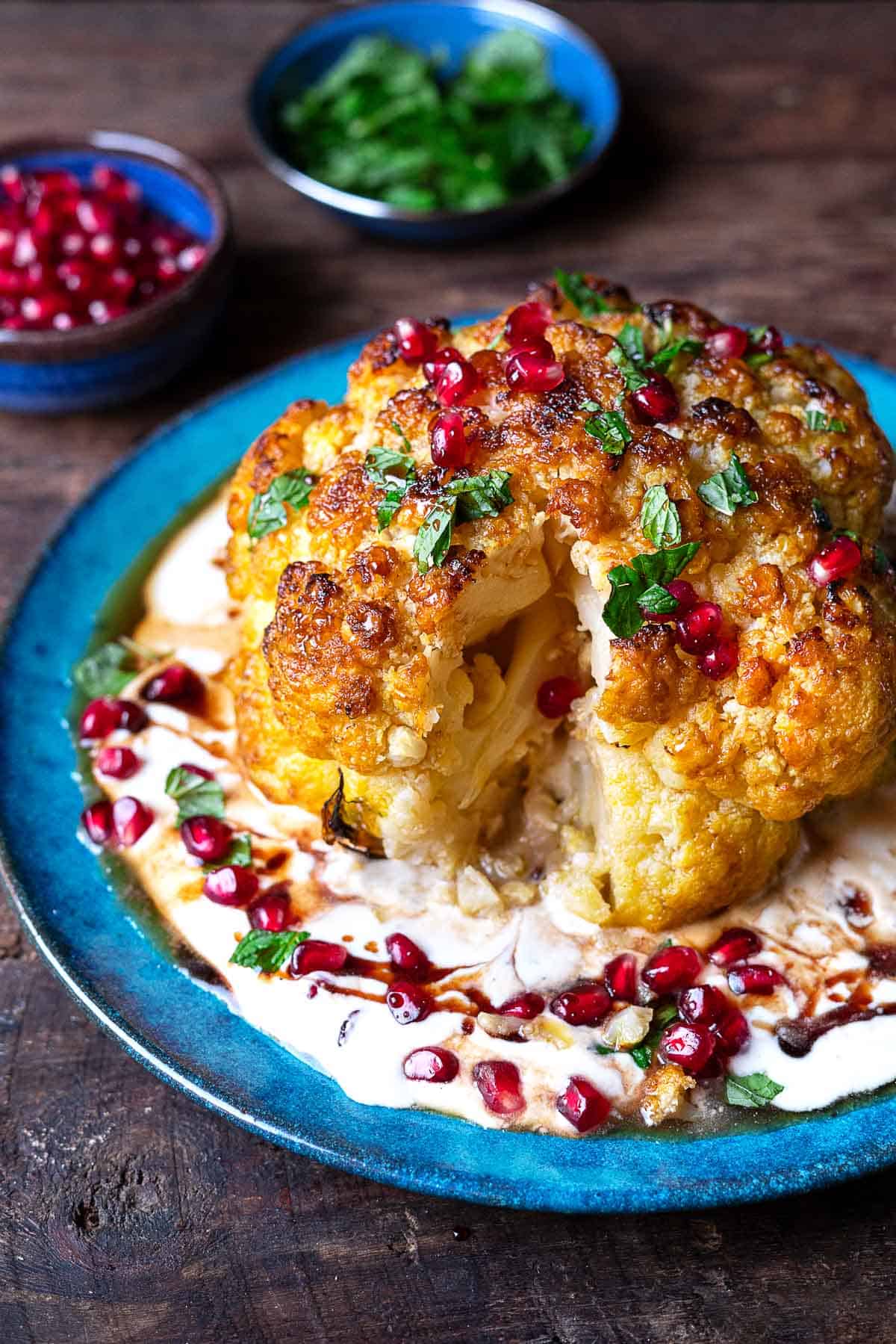 One evening, while out in East London, I stumbled upon a Mediterranean and Middle Eastern fusion concept restaurant where I saw a whole roasted cauliflower served to diners.
Intrigued, I tucked into the restaurant and ordered the dish for myself. The whole roasted cauliflower was yellow in color, nestled on atop a creme fraiche and lemon sauce, drizzled with pomegranate molasses and finished with a scattering of pomegranate seeds. It was a delightful dish, and after my first mouthful, I knew I had to create a version to have at home.
This whole roasted cauliflower recipe has everything you're looking for in a vegetarian main dish. It has fresh, bold, flavors, and a variety of textures. In my adaptation, I swapped the restaurant's creme fraiche for a creamy whipped feta sauce. When the sauce is paired with the slightly charred cauliflower and the joyful bite of pomegranate seeds it's heavenly.
Whole roasted cauliflower is a showstopping vegetarian main, especially rounded out with filling and equally showy Persian Rice with Potato Tahdig. It also works as a side for chicken or fish like these baked lemon drumsticks or baked cod.
Table of Contents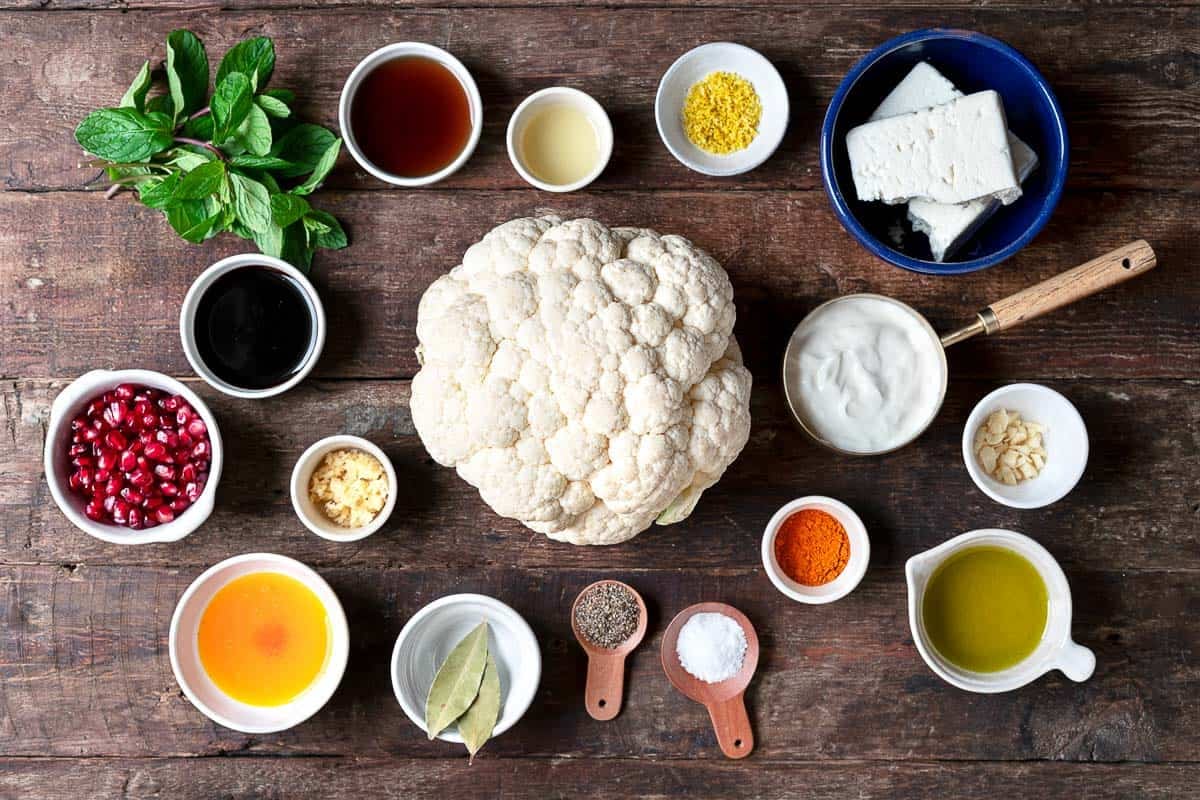 Ingredients for Whole Roasted Cauliflower
This recipe for a whole roasted cauliflower consists of 3 main parts: the saffron and turmeric infused roasted cauliflower, the feta and yogurt sauce flavored with lemon and garlic, and the pomegranate dressing. To finish it all off, I garnish this dish with fresh mint and pomegranate seeds.
Roasted Cauliflower
Feta and Yogurt Sauce
I love a good sauce, it just brings so many elements together. In this case, the sauce is inspired by Suzy's recipe for 5-minute creamy whipped feta dip but with the addition of a few extra ingredients. It's one of those back-pocket recipes you can amend and adapt in so many ways. If you happen to have more sauce than you need, use it as a dip for veggies or thin it and drizzle over a salad.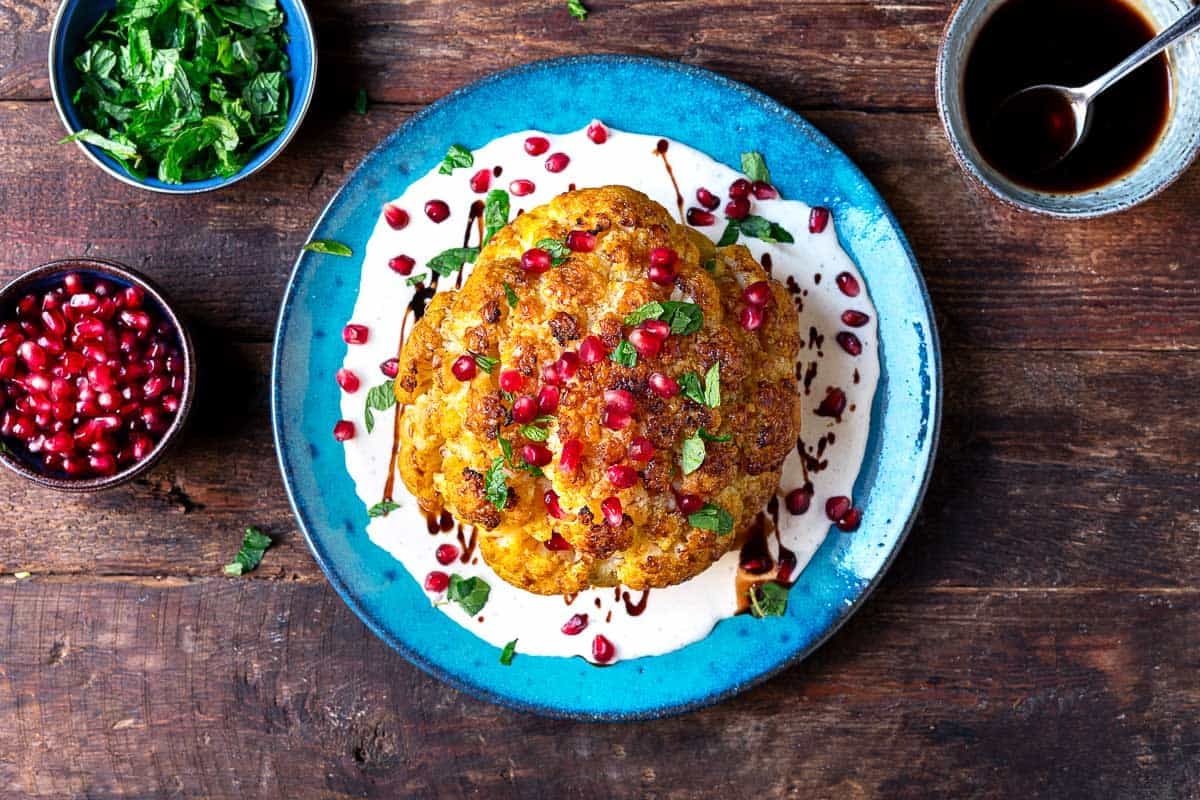 How to make Saffron Roasted Cauliflower
This recipe might look complicated with making a sauce and a dressing, but you make both while the cauliflower cooks so it comes together more quickly than you might expect.
To make this whole roasted cauliflower recipe, I infuse the cauliflower with saffron and turmeric first then roast it in the oven until slightly charred. While the cauliflower is roasting in the oven, I whip up a lemony yogurt feta sauce.
To put it all together, spoon the feta sauce onto a serving platter. Then, set the slightly charred cauliflower on top. To finish, I drizzle a simple pomegranate molasses dressing over the top and a sprinkle fresh mint.
Tips for making Whole Roasted Cauliflower
What to Serve with Cauliflower
This dish is really a meal on it's own. Enjoy with homemade pita bread to scoop up any leftover sauce. Think beyond weeknight dinner and serve this whole roasted cauliflower as part of a mezze-style offering with lots of other dishes for your guests to load their plates.
I love eating this with a side of a hearty salad made with lentils or legumes such as Balela Salad, some crispy potatoes such as Crispiest Garlic Smashed Potatoes or even this fluffy and fragrant Saffron Rice.
More Vibrant Vegetarian Mains
Browse all Mediterranean recipes.

Visit Our Shop.
Try our Nocellara- Italian EVOO!
This exquisite, medium intensity extra virgin olive oil boasts aromas of freshly-picked tomatoes and veggies with a slightly spicy finish. Perfect to use in this whole roasted cauliflower dish.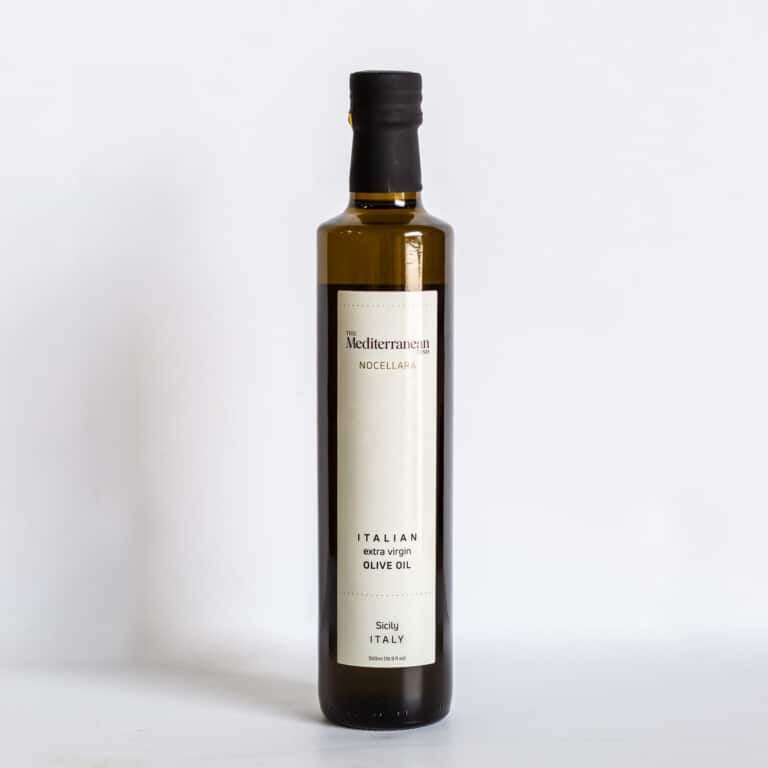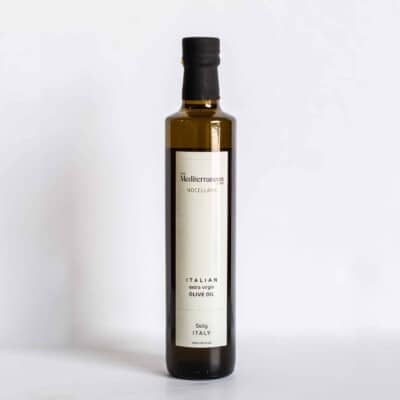 Whole Roasted Cauliflower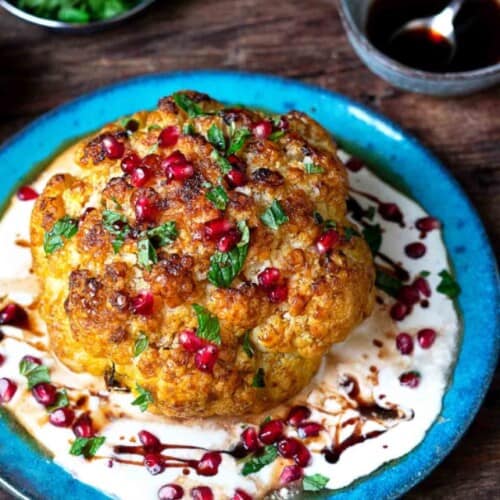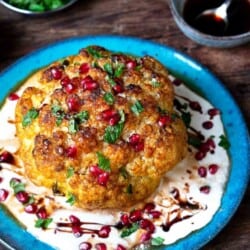 An elegant vegetarian dish, flavorsome and highly nutritious. This perfectly charred cauliflower with accompanying delicious sauces will even impress the most ardent meat eaters.
Ingredients
Roasted Cauliflower
1

large cauliflower

½

teaspoon

saffron threads

1

teaspoon

Kosher salt

½

teaspoon

turmeric

2

bay leaves

1

clove

garlic,

roughly chopped

2

tablespoons

extra virgin olive oil
Feta and Yogurt Sauce
5

ounces

block quality feta cheese,

drained

½

cup

Greek yogurt

1

clove

garlic,

crushed or minced

1

lemon,

zested

2

teaspoons

fresh lemon juice

½

teaspoon

freshly ground pepper

1

tablespoons

extra virgin olive oil,

more as needed
Pomegranate Dressing and Garnish
Instructions
Prepare the oven and baking sheet: Preheat the oven to 400°F and line a baking sheet with foil.

Bloom the saffron: Grind a ½ teaspoon of saffron threads (about 10 threads) in a mortar and pestle or a spice grinder. This should yield about an ⅛ to a ¼ teaspoon of ground saffron. Add ¼ teaspoon of ground saffron to 3 tablespoons of water. Set aside until ready to use.

Trim the cauliflower: Take the cauliflower, remove the larger tougher leaves, and trim the stalk a little. You still want the cauliflower to remain whole.

Boil the cauliflower: Fill a saucepan, large enough for the cauliflower to fit in it and be fully submerged, with water. Add kosher salt, turmeric, bloomed saffron, bay leaves and chopped garlic. Bring the cooking liquid to a low boil over medium high heat. Slowly and carefully lower the cauliflower top side down into the saucepan. Cover the pan with the lid and cook for 10 to 15 minutes, depending upon the size of the cauliflower.

Make the feta and yogurt sauce: While the cauliflower cooks, combine the feta, Greek yogurt, crushed garlic, lemon zest, lemon juice, pepper, in a food processor and blend. While the processor is running, drizzle the olive oil through the top opening, until whipped to a smooth texture. Set aside until ready to serve. Depending on the size of your cauliflower, You may have some leftover sauce for dips to use later in the week.

Make the pomegranate dressing: Take a small bowl and make the dressing by stirring together the pomegranate molasses, maple syrup and olive oil until fully incorporated. Set aside until ready to serve.

Drain the cauliflower and roast: Once the cauliflower is tender enough to insert a knife in the stem without resistance use a large, slotted spoon or a large fork and tongs to remove it from the pot. Set it in a colander to drain well. Place the cauliflower stem-side down on a foil-lined baking tray. Drizzle 2 tablespoons of olive oil over the cauliflower and roast in the oven for approximately 40 to 45 minutes.

Assemble the dish: Once the cauliflower has cooked through and has charred a little on top, remove from the oven and assemble the final dish. Spread the feta and yogurt sauce on a serving dish. Place the whole roasted cauliflower on top of the feta and yogurt sauce.

Garnish and serve: Drizzle with the pomegranate dressing and a little more extra virgin olive oil if you wish. Scatter pomegranate seeds and freshly chopped mint before serving.
Notes
Visit our shop to browse quality Mediterranean ingredients including olive oils, honey, jams and spices.
Olive oil should be high quality. It should have spice and or floral notes. In this dish I prefer to use Nocellara Olive Oil imported from Italy.
Size matters: Cauliflower comes in different sizes. If you're cauliflower is on the smaller side, check it during the boiling process sooner. You want it tender but not mushy.
Pomegranate Molasses: Depending upon where you live it may be easy or challenging to find pomegranate molasses, but you can probably find pomegranate juice. As long as you have the juice it's super easy to make homemade pomegranate molasses.
Nutrition
Calories:
227.5
kcal
Carbohydrates:
18.5
g
Protein:
7.3
g
Fat:
14.9
g
Saturated Fat:
4.6
g
Polyunsaturated Fat:
1.2
g
Monounsaturated Fat:
8
g
Trans Fat:
0.002
g
Cholesterol:
21.9
mg
Sodium:
695.1
mg
Potassium:
390.8
mg
Fiber:
2.7
g
Sugar:
10.7
g
Vitamin A:
107.5
IU
Vitamin C:
57.3
mg
Calcium:
172.5
mg
Iron:
0.9
mg