You'll love my take on this hearty, quick Italian minestrone soup, brimming with vegetables, beans and a little pasta. The draw here is in the flavorful tomato broth with piney rosemary, lots of fresh herbs and more! This easy recipe is the perfect weeknight dinner and you can adapt it to use whatever vegetables you have on hand.
Be sure to watch my video and grab my tips below.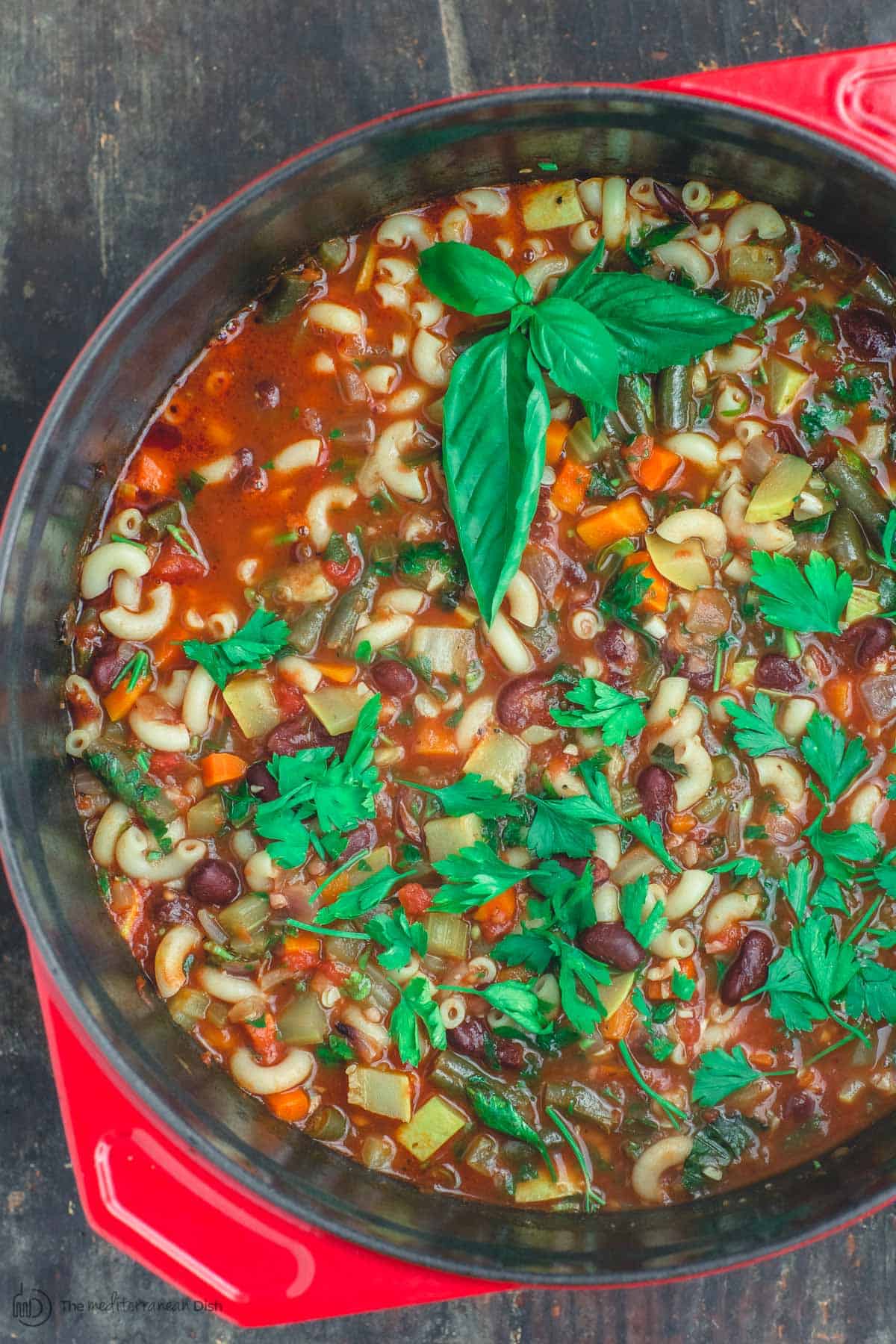 Minestrone soup is one of my favorite one-pot meals of all time! Easy, hearty, and loaded with veggies and affordable items like beans and pasta that are often on my shopping list.
I've made several versions, including this minestrone with Italian sausage, artichoke hearts and bow-tie pasta (a fan favorite and definitely worth a try when you want something meaty!) But today, I'm sticking with a basic vegetarian minestrone soup, which is perfect for any night of the week and does not require a special trip to the grocery store.
What is the difference between minestrone soup and vegetable soup?
This is a frequently asked question and the answer is very simple. Minestrone soup is a heartier, more satisfying version of vegetable soup. In addition to vegetables, minestrone is typcially bulked up with protein-packed beans and small pasta. So let's get into it some more...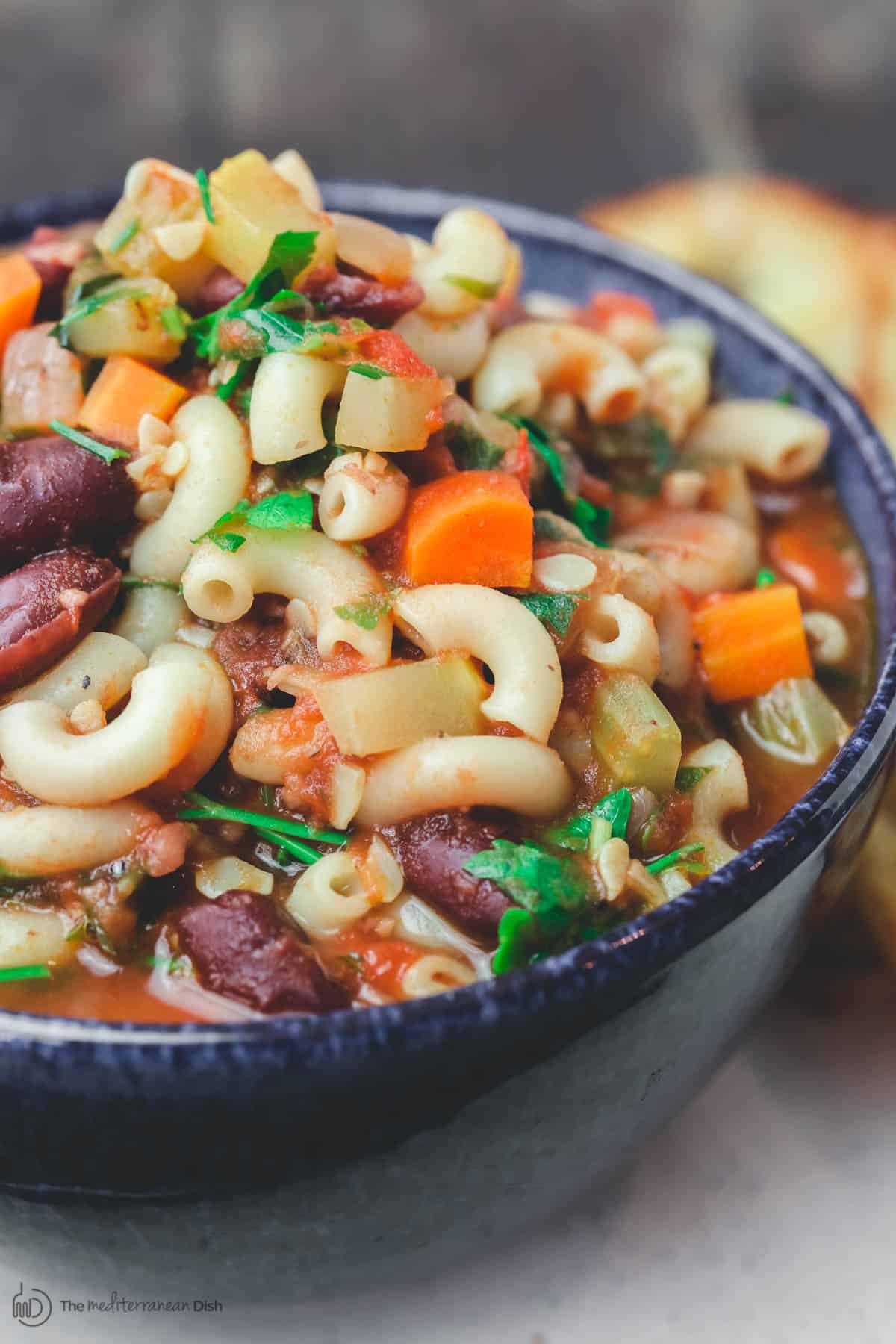 What is Minestrone Soup?
Minestrone is a popular thick and hearty Italian soup, combining vegetables, beans, and small pasta. Like Tuscan ribollita, there is no uniform Italian minestrone soup recipe because it's another beautiful one-pot meal that is meant to use whatever vegetables are in season or whatever you have on hand.
Actually, the history of minestrone soup points to it being what the Italians called "cucina povera," which literally means, "poor kitchen," because it was primarily made with leftovers. I just love that!
For this reason, minestrone recipes will differ from one region to another; from season to another; and from one household to another, depending on what is most commonly available. In Northern Italy, for example, they may use more root vegetables like potatoes along with carrots, celery and onions. But in Southern Italy, you might see zucchini or even peas thrown into minestrone.
What is in it?
There are a few basic ingredients you'll find in most minestrone soup recipes:
Onions, carrots and celery
Tomatoes: fresh or from a can
Beans: kidney beans, white beans, or a combination
Other vegetables and herbs: this will vary according to what's available. In this minestrone soup, I went more the Southern Italy route by adding a bit of yellow squash (or zucchini) and a cup of green beans along with onions, carrots, and celery. But again, any vegetables you have will work.
Small pasta: ditalini or elbow pasta or something similar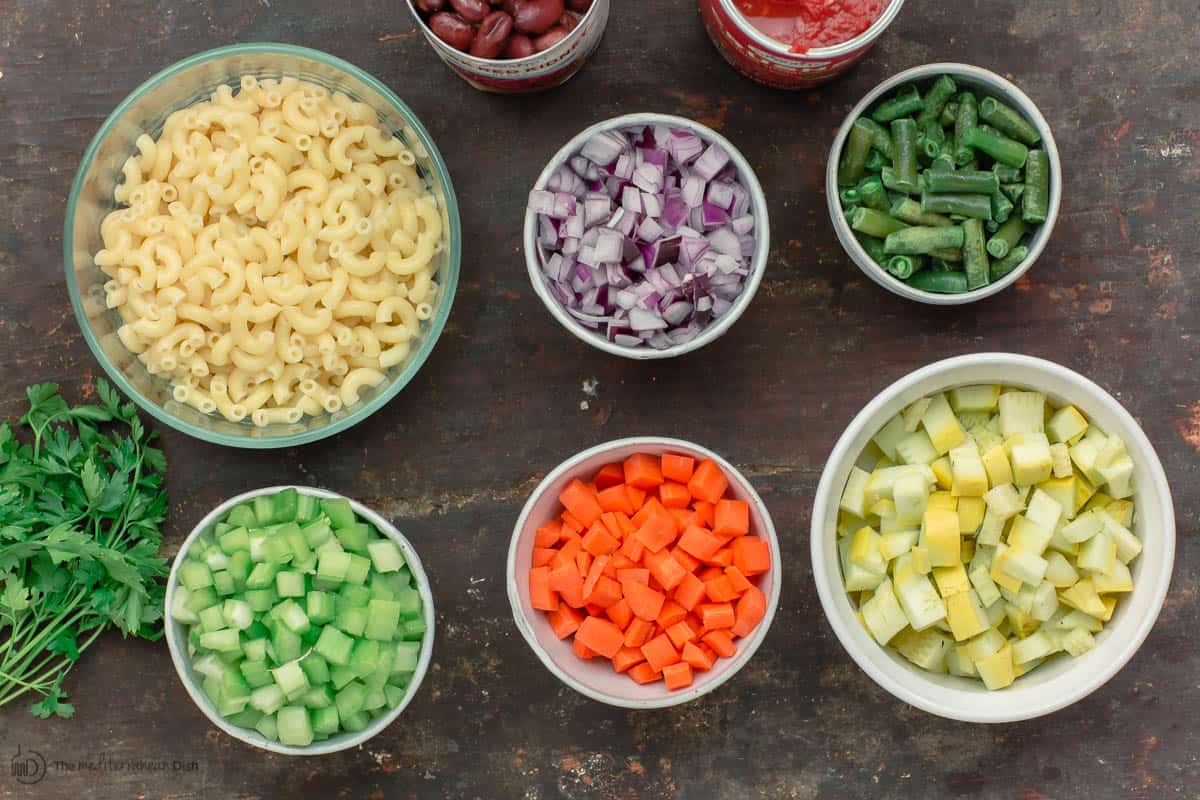 How do you add flavor to minestrone soup?
To me, the draw to this simple recipe is in the rich, flavor-packed broth. A few important flavor-makers ensure that the tomato broth here is anything but flat:
Onions, garlic, celery, and carrots. These aromatic ingredients, sauteed first in extra virgin olive oil, begin the flavoring process.
Spices and dry herbs: Sweet paprika, a hint of piney rosemary, and bay leaf. These are added earlier in the cooking process to infuse the soup with flavor as it simmers.
Fresh herbs: parsley and basil, which you will add toward the very end
Parmesan cheese rind: this optional secret ingredient used by Italian grandmothers is what really kicks the flavor a few notches up. The Parmesan rind will infuse your soup with with extra umami and savor, while thickening it to a heartier consistency. Once the soup is ready, the cheese rind has done it's job and you can just remove whatever remains or it (it won't completely dissolve in your soup.) So next time you are about to finish up that Permasan or Pecorino, save the rind for your soups and sauces!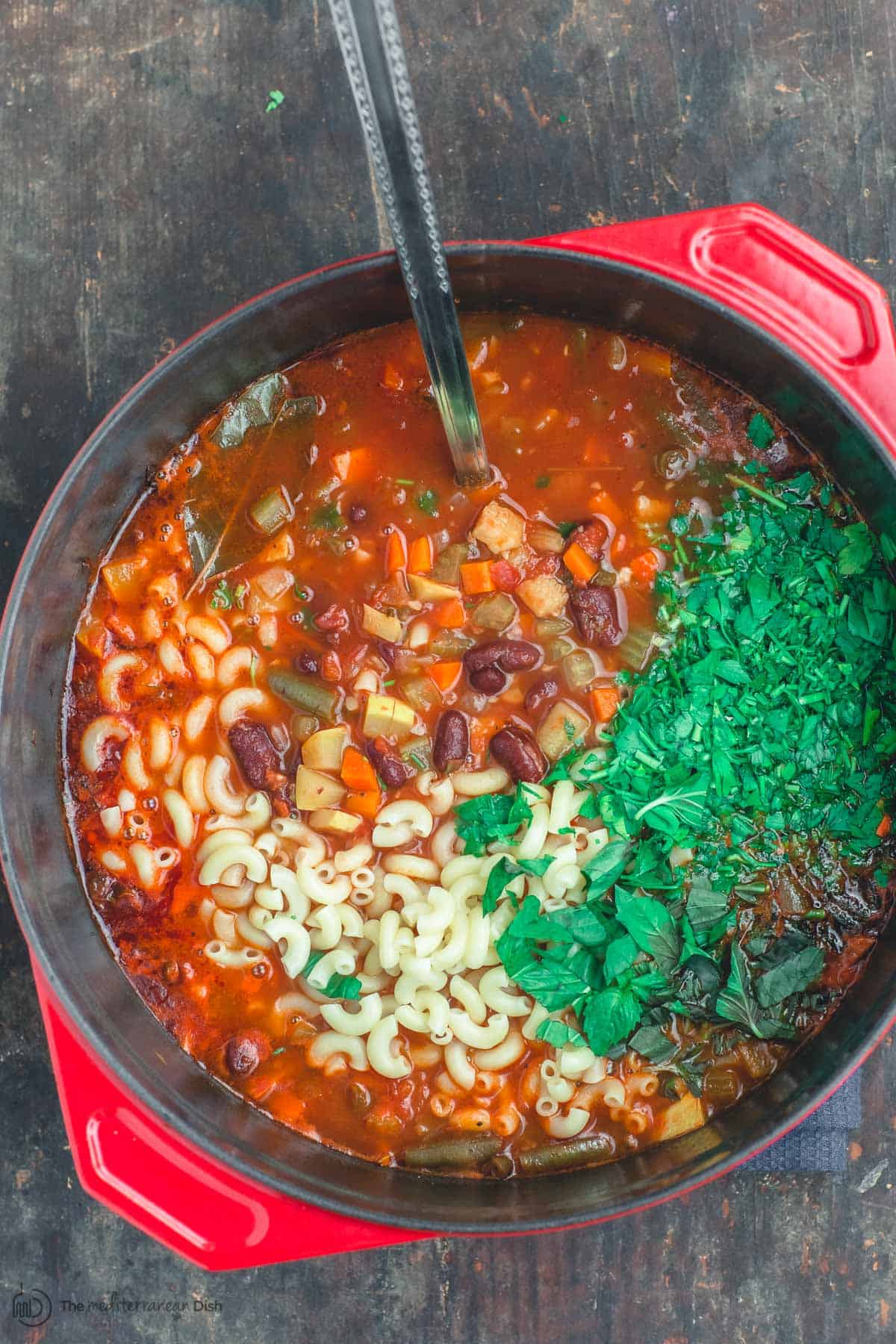 One important tip
Cook the passta separately and add it in just before you serve the soup! This gives you best texture as it prevent the pasta from soaking up too much of the broth and getting too mushy.
Better yet, when I prepare minestrone in advance, say for next day's lunch, it's best to store the cooked pasta separate from the minstrone. When ready to serve, just portion a little bit of pasta right into the serving bowls and top with the minestrone soup.
Minestrone variations
Remember, something as communal as a pot of vegetable soup is an invitation for each home cook to get creative using what they already have on hand. Here are a few ways to adapt this minestrone recipe.
Change up the veggies to your liking and use what's in season. Because it's warmer, and we have an abundance of yellow squash and zucchini, that's what I've been using these days. But come fall, I may use more root vegetables such as potatoes or even sweet potatoes (diced fairly small so they will cook quickly and evenly.) Adding leafy greens is also another way to change things up; try a large handful of fresh spinach, just add it toward the end of cooking time.

Omit the pasta. If you're looking for a low-carb option, simply omit the pasta. In this case, I always opt to throw in more veggies.

Add cooked turkey or chicken for more lean protein. I've already mentioned my Italian sausage minestrone recipe, but you can adapt today's recipe by adding cooked ground or shredded turkey or even left-over rotisserie chicken. You can add it early on, once you've cooked the onions, carrots, and celery.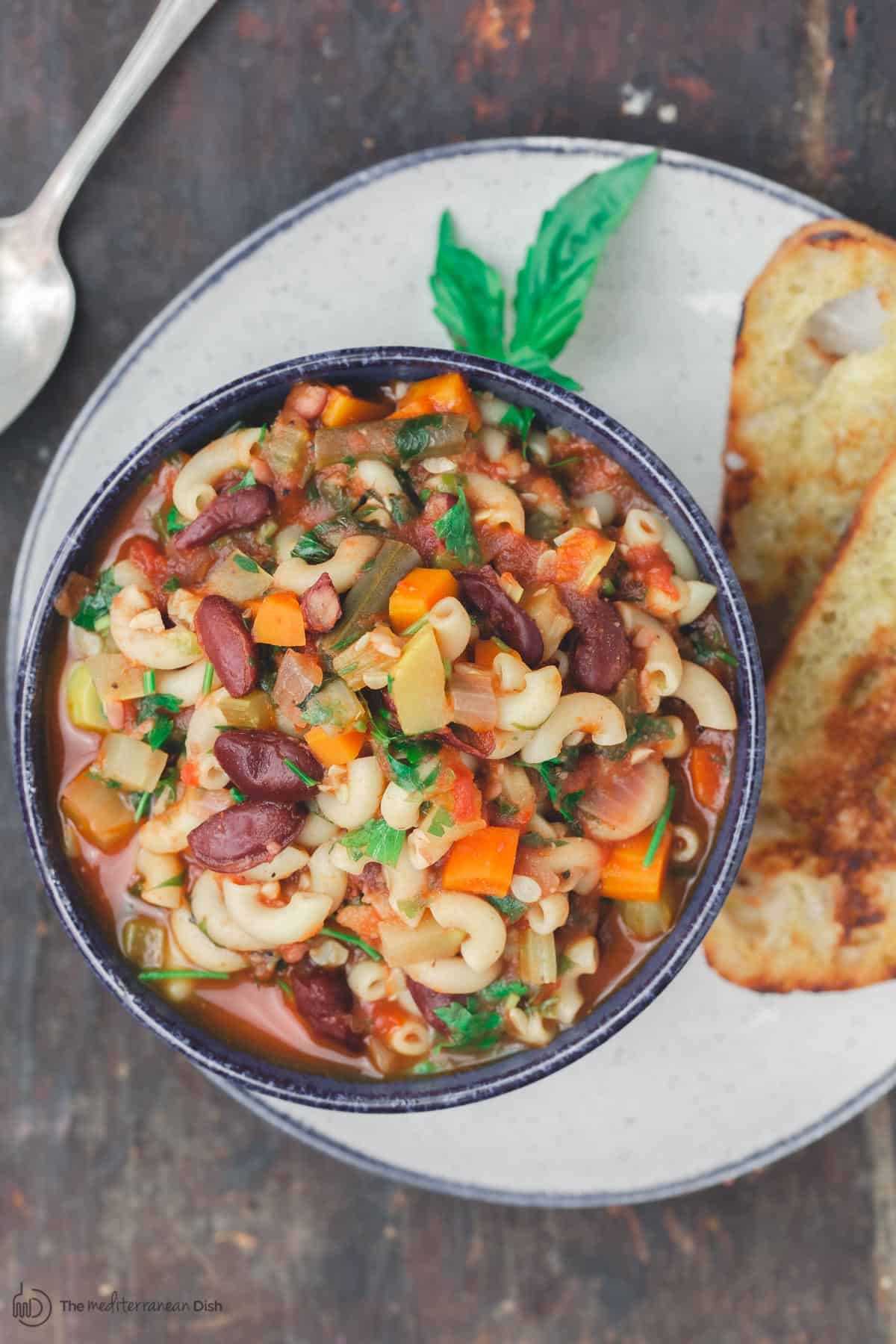 You may also like
Browse our collection of Italian recipes top Mediterranean diet recipes.
All Mediterranean recipes JOIN MY FREE E-MAIL LIST for weekly meal plans and more!
Simple Italian Minestrone Soup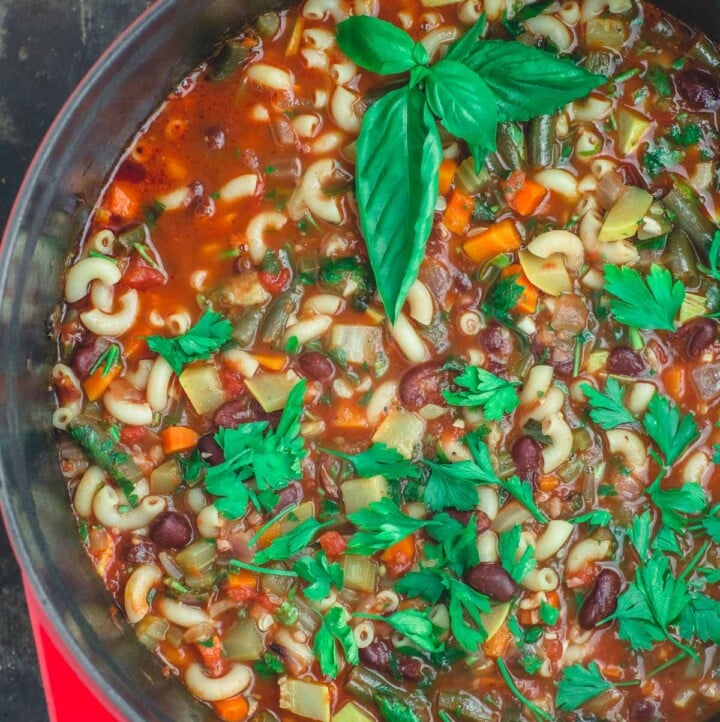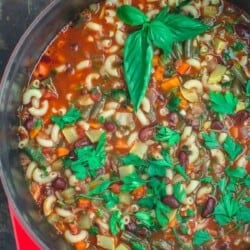 Simple and hearty Italian minestrone soup, brimming with vegetables, beans and a little pasta. The draw here is in the thick, flavorful tomato broth with piney rosemary, lots of fresh herbs, and Parmesan rind (a secret ingredient that Italian grandmothers have been using for years to flavor their soups)!
Ingredients
¼

cup

extra virgin olive oil see our olive oil options here

1

small yellow onion

chopped

2

carrots

chopped

2

celery stalks

diced

4

garlic cloves

minced

1

zucchini or yellow squash

diced

1

cup

green beans

fresh or frozen, trimmed and cut into 1-inch pieces, if needed

Salt and pepper

1

teaspoon

paprika

½

teaspoon

rosemary

1 15-

oz

can crushed tomatoes

6

cups

broth

vegetable or chicken broth

1-

inch

Parmesan cheese rind

optional

1

bay leaf

2 to 3

springs fresh thyme

1 15-

oz

can kidney beans

Large handful chopped parsley

Handful fresh basil leaves

Grated Parmesan cheese

to serve (optional)

2

cups

already cooked small pasta such as ditalini or elbow pasta
Instructions
In a large Dutch oven, heat the extra virgin olive oil over medium heat until shimmering but not smoking. Add onions, carrots and celery. Raise heat to medium-high, if you need to, and cook, tossing regularly, until the veggies soften a bit (about 5 minutes or so). Add the garlic and cook another minute, tossing regularly.

Add the zucchini or yellow squash and green beans. Season with paprika, rosemary, and a generous pinch of kosher salt and pepper. Toss to combine.

Now add the crushed tomatoes, broth, fresh thyme, bay leaf and Parmesan rind (if using.) Bring to a boil, then reduce the heat to a gentle simmer and partially cover the pot. Let simmer for about 20 minutes or so.

Uncover the pot and add the kidney beans. Cook for another 5 to 10 minutes.

Finally, Stir in the parsley and fresh basil. And, if serving immediately, stir in the cooked pasta and simmer ever so briefly till the pasta is warmed through; do not overcook. (See Cook's Tip #2)

Remove the cheese rind and bay leaf. Taste and adjust seasoning to your liking. Serve the minestrone hot in dinner bowls with a sprinkle of grated Parmesan (optional.)
Notes
Note: Pasta is already cooked before adding to the soup, simply follow package instructions. You will start with 1 cup of dry pasta, which will yield 2 cups cooked pasta.
Cook's Tip #1 (Make it Your Own): Minestrone is meant to be adapted, so feel free to make this recipe your own by using what vegetables and beans you have on hand. Adding a handful of spinach or diced potatoes is common. You can use white beans instead of kidney beans, or use a combination of both. If you're looking for a low-carb option, feel free to omit the pasta. And if you need something meaty, add cooked ground turkey or even left-over rotisserie chicken. You can add that early on, once you've cooked the onions, carrots, and celery.
Cook's Tip #2 (Make-Ahead): If you are not serving this minestrone soup immediately, do not add the cooked pasta to the pot until you are ready to serve. This will give you best results and will prevent the pasta from soaking up too much of the broth and getting too mushy.
Cook's Tip #3 for Meal Prep: Related to the note above, if you plan to make minestrone to use for lunch over server days, definitely keep the cooked pasta out. You can just add a small portion of the pasta directly to your bowl, and then add an appropriate portion of hot minestrone on top.
Recommended for this recipe: from our all-natural and organic spice collections, sweet paprika and rosemary. And be sure to see our selection of extra virgin olive oils including Private Reserve and Early Harvest Greek extra virgin olive oil.
Visit Our Online Shop
Nutrition
Calories:
211.9
kcal
Carbohydrates:
26.7
g
Protein:
6.8
g
Saturated Fat:
1.5
g
Cholesterol:
0.7
mg
Potassium:
650.6
mg
Fiber:
7.4
g
Vitamin A:
4456.4
IU
Vitamin C:
19.4
mg
Calcium:
83.3
mg
Iron:
2.6
mg
*This post originally appeared on The Mediterranean Dish in 2019 and has been recently updated for readers' benefit.