You'll love my take on this classic Italian minestrone soup! Vegetables, kidney beans and elbow pasta are simmered in a rich tomato broth and scented with rosemary and fresh herbs. This easy vegetarian minestrone soup recipe is the best for busy weeknights when you want something healthy, but also hearty.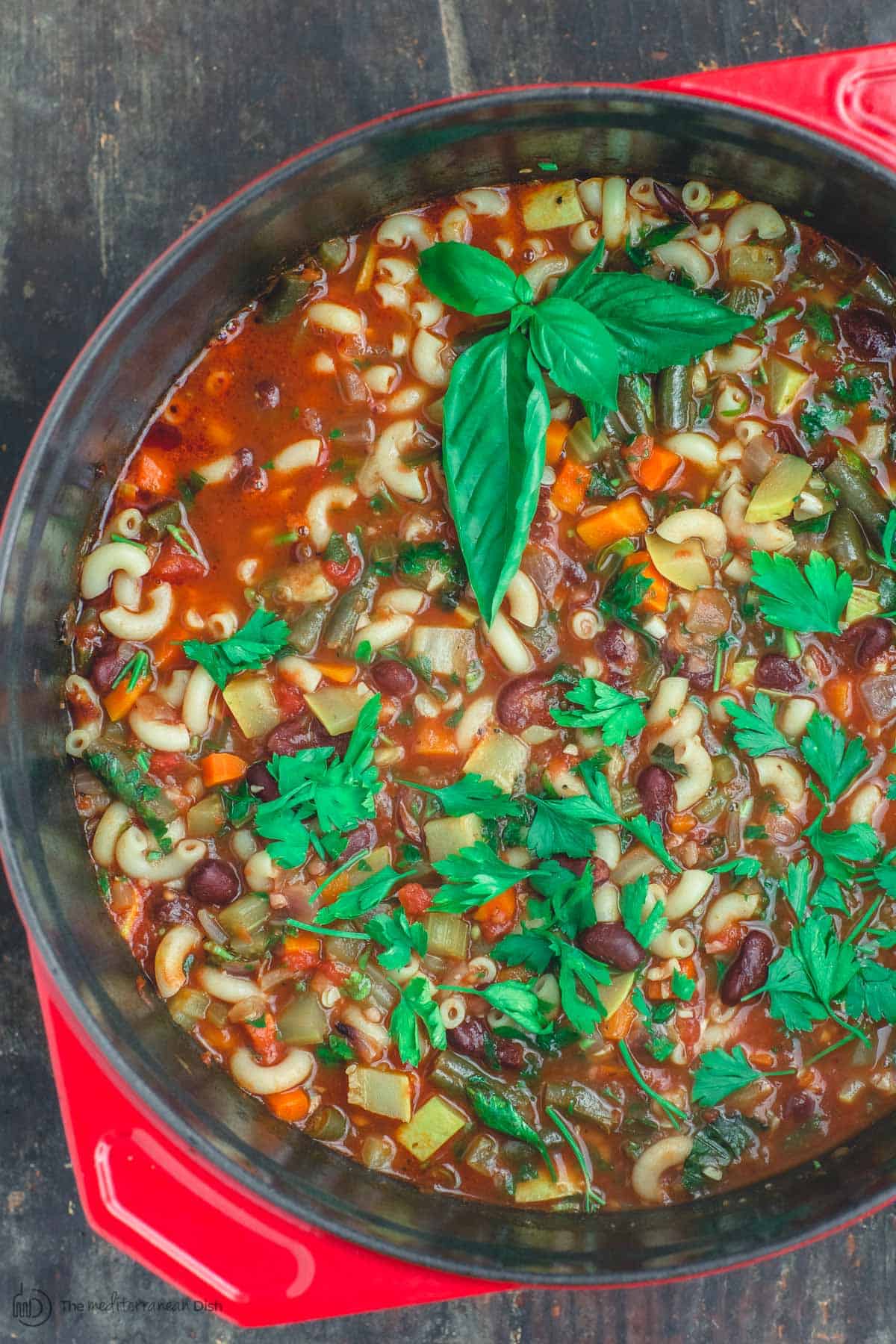 Minestrone soup is a healthy, hearty budget-friendly one-pot meal. It's loaded with vegetables and affordable items like canned beans and pasta that are often on my shopping list.
This Italian soup recipe is easy to adapt based on what you have in the kitchen so feel free to play around. Today's minestrone recipe is vegetarian, but I have also made Italian sausage minestrone and both are delicious.
If your only experience with this recipe is eating a bottomless bowl of it at the Olive Garden then you're in for a real treat. Once you realize how easy it is to make classic minestrone soup at home you'll put it on the weekly rotation all winter long!
Table of Contents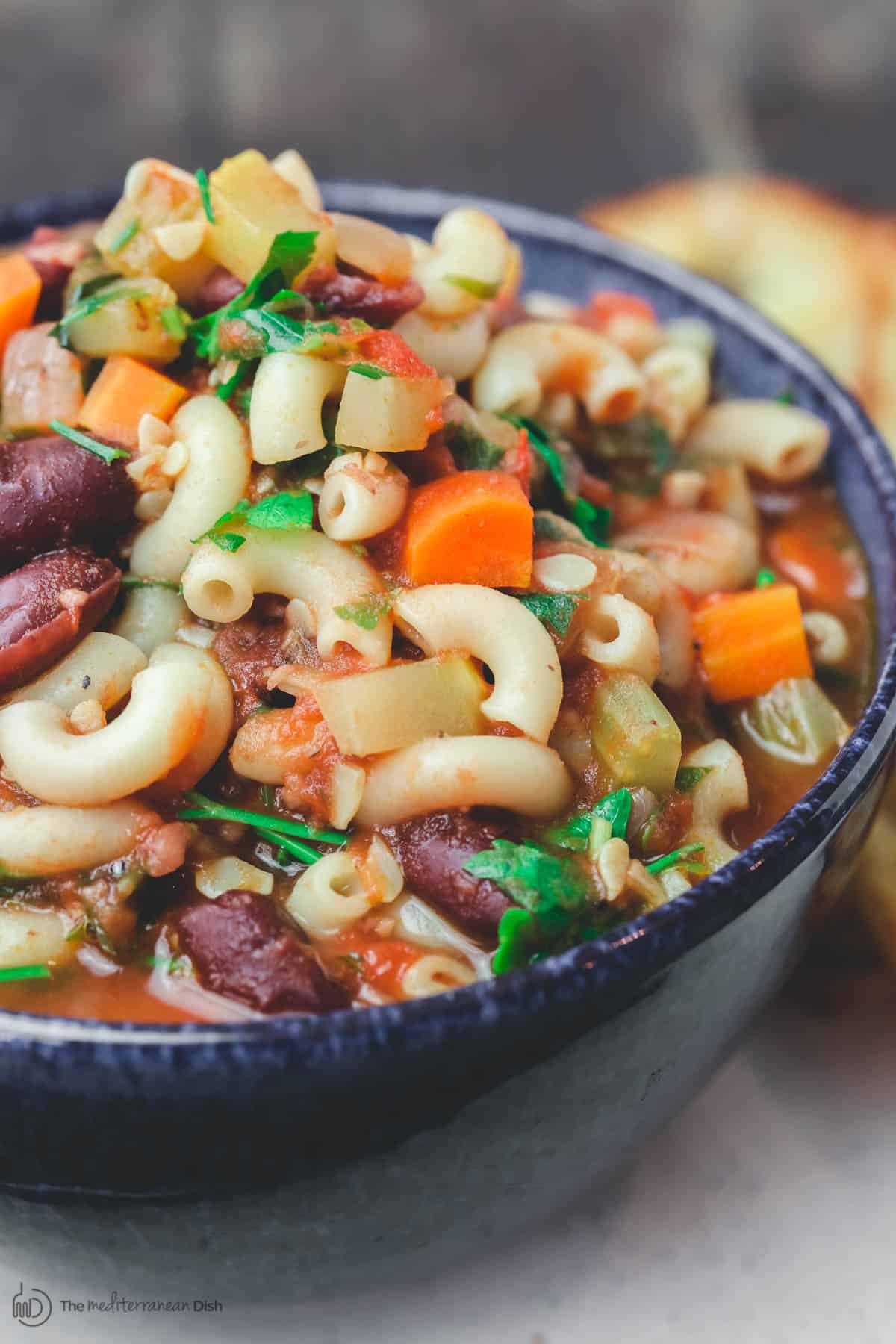 What is minestrone soup?
Minestrone (pronounced min-nuh-strow-nee) is a popular thick and hearty Italian soup, combining vegetables, beans, and small pasta.
Actually, the history of minestrone soup points to it being what the Italians called "cucina povera," which literally means, "poor kitchen," because it was primarily made with leftovers. I just love that!
For this reason,
Minestrone recipes will differ from one region, season, and household to another, depending on what is most commonly available.
In Northern Italy, for example, they may use more root vegetables like potatoes, carrots, and onions along with celery, but in Southern Italy, you might see zucchini or even peas thrown into minestrone.
Similar to ribollita, which is a white bean soup from Tuscany, there is no single way to make it. Use whatever vegetables are in season or whatever you have on hand.
Drizzling each bowl of soup with Italian extra virgin olive oil just before serving is a great way to add a little flavor and dress up this humble soup.
You should feel comfortable using my recipe as a foundation to get creative in your own kitchen.
What is the difference between minestrone soup and vegetable soup?
While both minestrone and vegetable soup can be considered vegetarian, minestrone soup is heartier because it's bulked up with beans (which, according to the USDA, are packed with protein) and small pasta, which adds texture and body to the soup.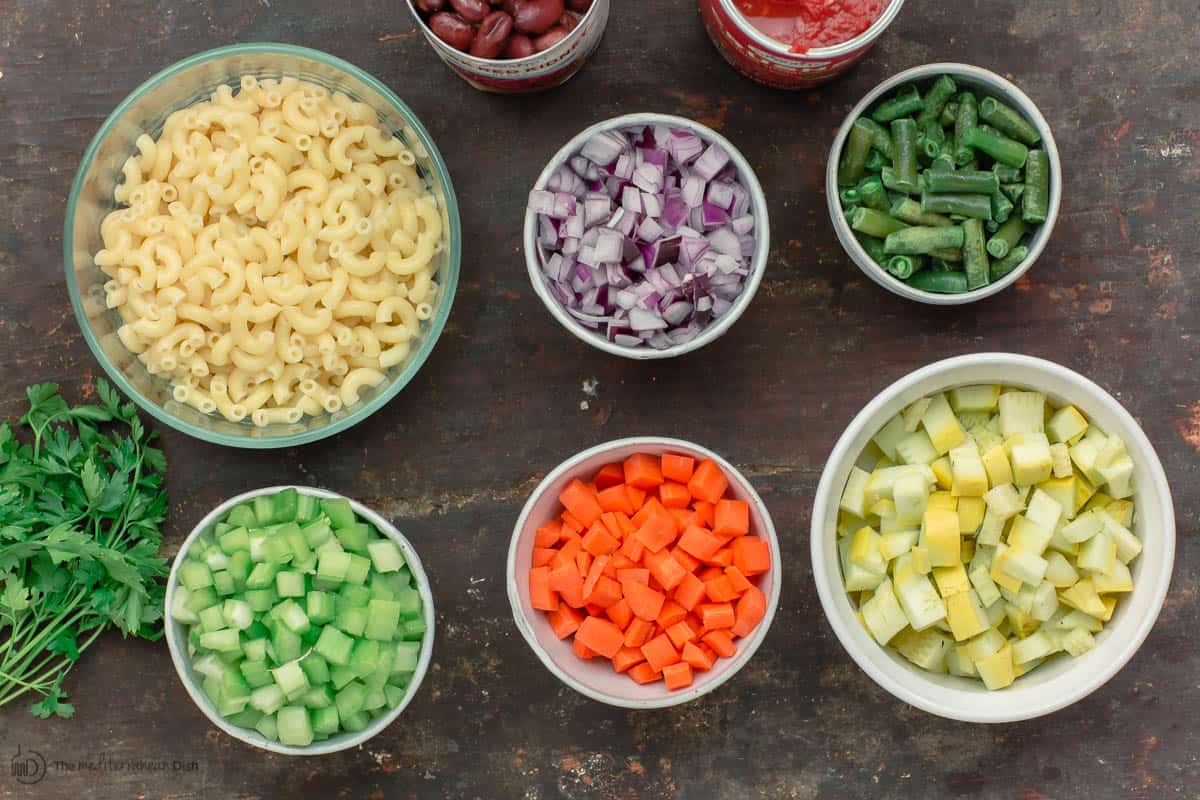 What is in minestrone soup?
While you can really add whatever vegetables you have on hand, there are a few basic ingredients you'll find in most minestrone soup recipes:
Onions, carrots, and celery
Tomatoes: fresh or from a can — either is fine!
Beans: kidney beans, white beans, or a combination
Additional vegetables: This will vary according to what's available. In this minestrone soup, I went the Southern Italy route by adding a bit of yellow squash (or zucchini) and a cup of green beans along with onions, carrots, and celery. But again, any vegetables you have will work.
Herbs: These can range from sturdy herbs like rosemary to softer more delicate herbs like basil and parsley.
Small pasta: Like ditalini or elbow pasta.
What does minestrone soup taste like?
Vegetarian minestrone soup is slightly acidic from the tomatoes, a little peppery from the olive oil, and herbal from the parsley, basil, rosemary, and bay leaf. The beans and pasta provide earthy base notes.

When everything simmers together magic happens and you're left with a rich, bold and complex broth with a slight nuttiness from the Parmesan cheese rind. No single flavor will be more pronounced over another, they just blend like a symphony for your tastebuds.
Pro-tip: Add cheese rinds to your soup!
The rind from a leftover piece of Parmesan cheese (truly when it comes to this soup nothing is wasted) is an old trick passed on from generations of Italian grandmothers.
I've use it in this recipe, but if you've been cooking from The Mediterranean Dish for a while then I'm sure you've seen it in other recipes like my Tuscan Farro Soup. It's totally optional but something you should consider trying because it adds a meaty, nutty, umami flavor and helps to thicken the broth.
Once the soup is ready, the cheese rind has done its job and you can just remove whatever remains of it (it won't completely dissolve in your soup.) So next time you are about to finish up that Parmesan or Pecorino, save the rind in the freezer to use in your soups and sauces!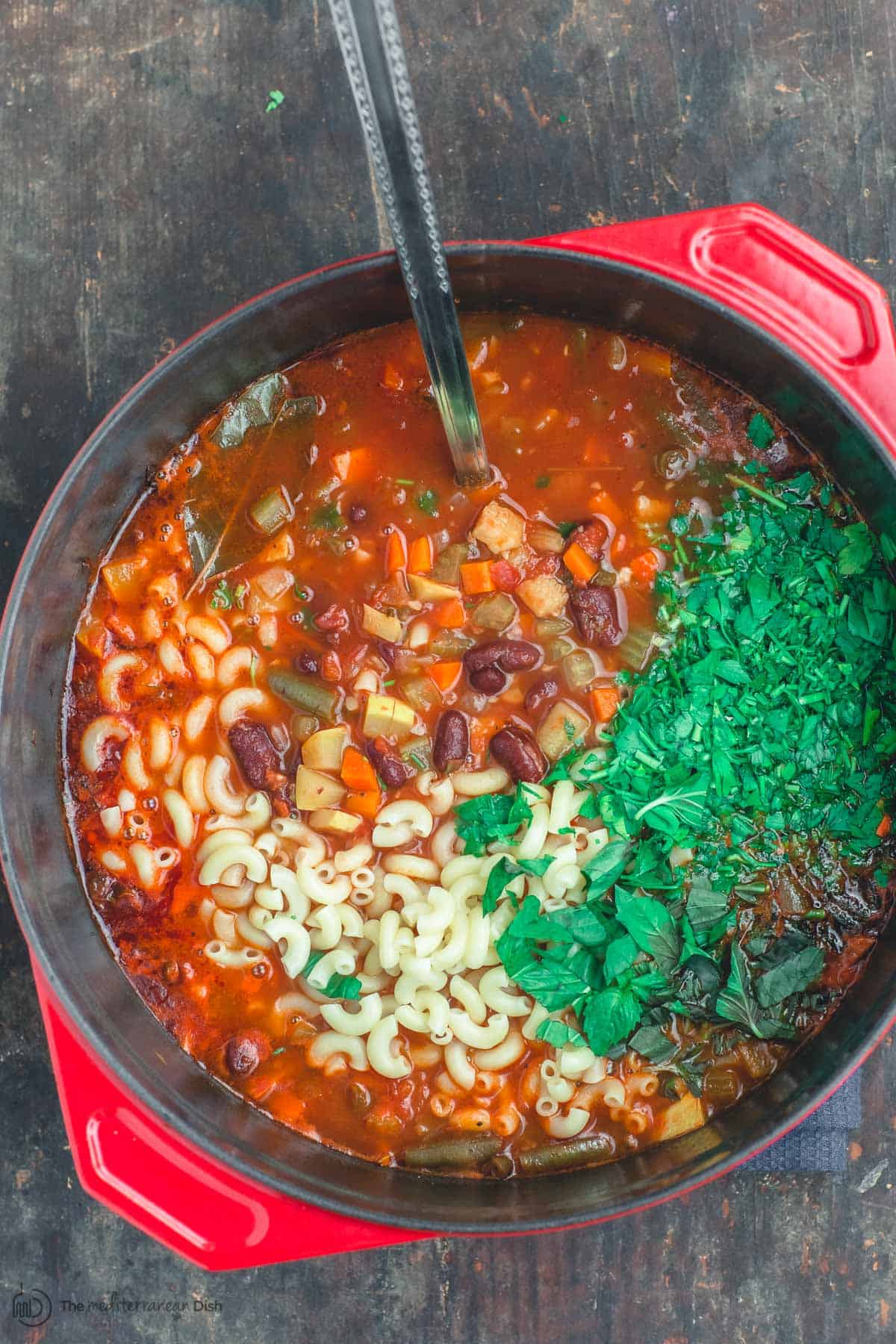 No more mushy pasta!
One easy but important tip for making sure your minestrone soup is the best minestrone soup is to cook the pasta separately and add it in just before you serve the soup!

I know it's an extra step (and an extra pot) but this tiny detail will provide you with the best texture, because it prevents the pasta from soaking up too much of the broth and getting mushy.
Minestrone variations
Remember, something as communal as a pot of vegetable soup is an invitation for each home cook to get creative using what they already have on hand. Here are a few ways to adapt this minestrone recipe.
Change up the veggies to your liking and use what's in season. In the warmer months, make use of your abundance of summer squash and zucchini in this soup. When the temperatures drop, I turn to root vegetables like potatoes or even sweet potatoes (diced fairly small so they will cook quickly and evenly). Adding leafy greens is also another way to change things up and to boost the nutrients. Try a large handful of fresh spinach; just add it toward the end of cooking time.
Omit the pasta. If you're looking for a low-carb option, simply leave out the pasta. In this case, I always opt to throw in more veggies to add bulk to my minestrone.
Swap the pasta: We sell all kinds of options in our shop like Farro or Freekeh (both healthy grains, with a chewy texture and nutty flavor). Or, if you're gluten-free, use your favorite gluten free pasta or try quinoa.
Add cooked turkey or chicken for more lean protein. I've already mentioned my Italian sausage minestrone recipe, but you can adapt this recipe by adding cooked ground or shredded turkey or even left-over rotisserie chicken. You can add it early on, once you've cooked the onions, carrots, and celery.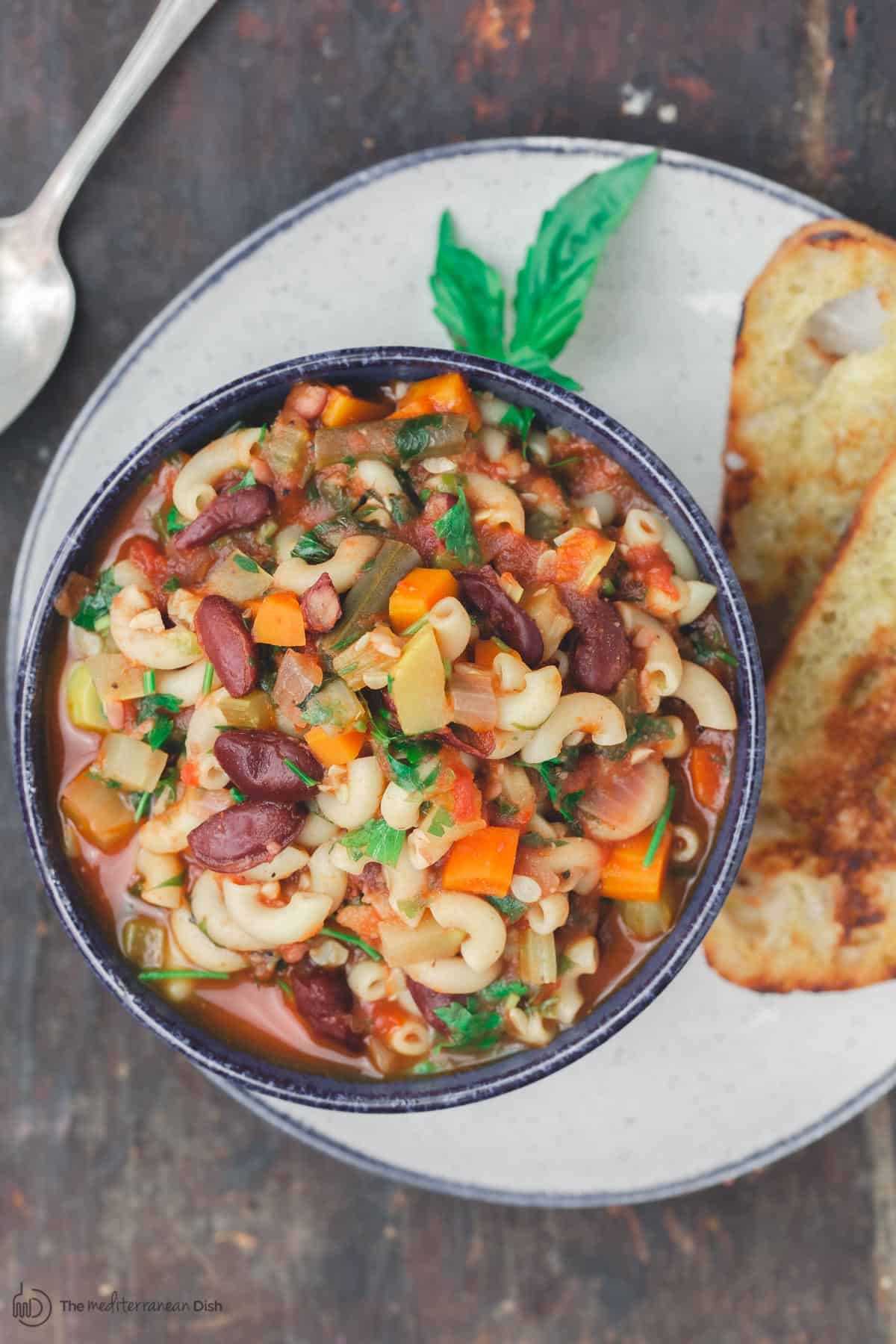 How to store and reheat leftovers
Wait for the minestrone to come to room temperature, then spoon or pour it into an airtight container. It will keep for up to 4 days. When you're ready to enjoy some leftovers, reheat the soup on the stove until it comes to a boil.

To make this soup ahead of time: If you are planning to make this soup a day or to in advance of company arriving then store the soup and the pasta separately.

Warm the soup 30 minutes before you're planning to serve it and then stir in the cooked pasta until just warmed through. This will prevent the pasta from absorbing all of the broth and maintain that toothy texture you want in perfectly cooked pasta.
More veggie-heavy soup recipes to try
Browse all Mediterranean recipes.

Visit Our Shop.
Vegetarian Minestrone Soup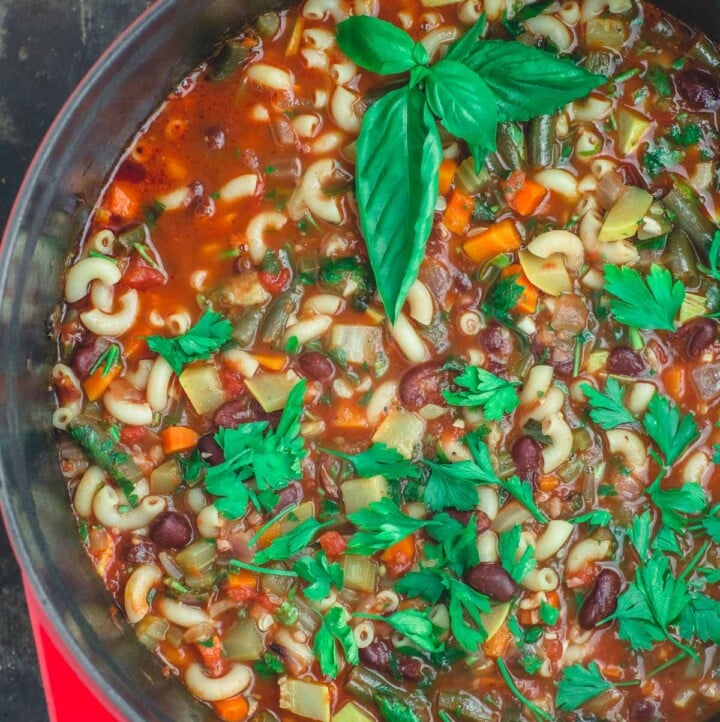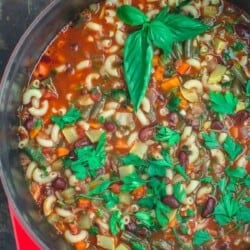 Hearty vegetarian minestrone soup is an Italian speciality. Brimming with vegetables, kidney beans, and pasta, it's a great soup to use up what you have on hand. The thick, flavorful tomato broth is scented with rosemary, lots of fresh herbs, and Parmesan! One bowl will never be enough!
Ingredients
¼

cup

extra virgin olive oil

1

small yellow onion,

chopped

2

carrots,

chopped

2

celery stalks,

diced

4

garlic cloves,

minced

1

zucchini or yellow squash,

diced

1

cup

green beans,

fresh or frozen, trimmed and cut into 1-inch pieces, if needed

Kosher salt and black pepper

1

teaspoon

paprika

½

teaspoon

rosemary

1 15-

oz

can crushed tomatoes

6

cups

broth,

vegetable or chicken broth

1-

inch

Parmesan cheese rind,

optional

1

bay leaf

2 to 3

sprigs fresh thyme

1 (15-

oz)

can kidney beans

Large handful chopped parsley

Handful fresh basil leaves

Grated Parmesan cheese,

to serve (optional)

2

cups

cooked ditalini or elbow pasta
Instructions
In a large Dutch oven, heat the extra virgin olive oil over medium heat until shimmering but not smoking. Add onions, carrots and celery. Raise heat to medium-high and cook stirring regularly, until the veggies soften a bit (about 5 minutes or so). Add the garlic and cook another minute, tossing regularly.

Add the zucchini or yellow squash and green beans. Season with paprika, rosemary, and a generous pinch of kosher salt and pepper. Toss to combine.

Now add the crushed tomatoes, broth, fresh thyme, bay leaf and Parmesan rind (if using.) Bring to a boil, then reduce the heat to a gentle simmer and partially cover the pot. Let simmer for about 20 minutes or so.

Uncover the pot and add the kidney beans. Cook for another 5 minutes.

Finally, Stir in the parsley and fresh basil. And, if serving immediately, stir in the cooked pasta and simmer just until the pasta is warmed through; do not overcook. (See Cook's Tip #2)

Remove the cheese rind and bay leaf. Taste and adjust seasoning to your liking. Serve the minestrone hot with a sprinkle of grated Parmesan and a drizzle of extra virgin olive oil.
Notes
Pasta reminder: Cook the pasta before adding it to the soup.Simply follow package instructions for al dente pasta. You will start with 1 cup of dry pasta, which will yield 2 cups cooked pasta.
Make it your own: Minestrone is meant to be adapted, so feel free to make this recipe your own by using what vegetables and beans you have on hand. Adding a handful of spinach or diced potatoes is common. You can use white beans instead of kidney beans, or use a combination of both. If you're looking for a low-carb option, feel free to omit the pasta. And if you need something meaty, add cooked ground turkey or even leftover rotisserie chicken. You can add that early on, once you've cooked the onions, carrots, and celery.
Make-ahead tip: If you are not serving this minestrone soup immediately, do not add the cooked pasta to the pot until you are ready to serve. This will give you best results and will prevent the pasta from soaking up too much of the broth and getting too mushy.
For meal prep: Related to the note above, if you plan to make minestrone to use for lunch over several days, definitely keep the cooked pasta out. You can just add a small portion of the pasta directly to your bowl, and then add an appropriate portion of hot minestrone on top.
Recommended for this recipe: From our all-natural and organic spice collections, sweet paprika and rosemary. And be sure to see our selection of extra virgin olive oils including Nocellara extra virgin olive oil.
Visit Our Shop for quality Mediterranean ingredients including extra virgin olive oils, spices, and grains.
Nutrition
Calories:
211.9
kcal
Carbohydrates:
26.7
g
Protein:
6.8
g
Saturated Fat:
1.5
g
Cholesterol:
0.7
mg
Potassium:
650.6
mg
Fiber:
7.4
g
Vitamin A:
4456.4
IU
Vitamin C:
19.4
mg
Calcium:
83.3
mg
Iron:
2.6
mg
*This post originally appeared on The Mediterranean Dish in 2019 and has been recently updated for readers' benefit.