Farro soup with white beans and vegetables is a rich, hearty, and flavorful meal. Eat it on its own, pair it with crusty garlic bread or a simple salad and dinner is served! It's like a hug in a bowl to keep you warm on chilly nights!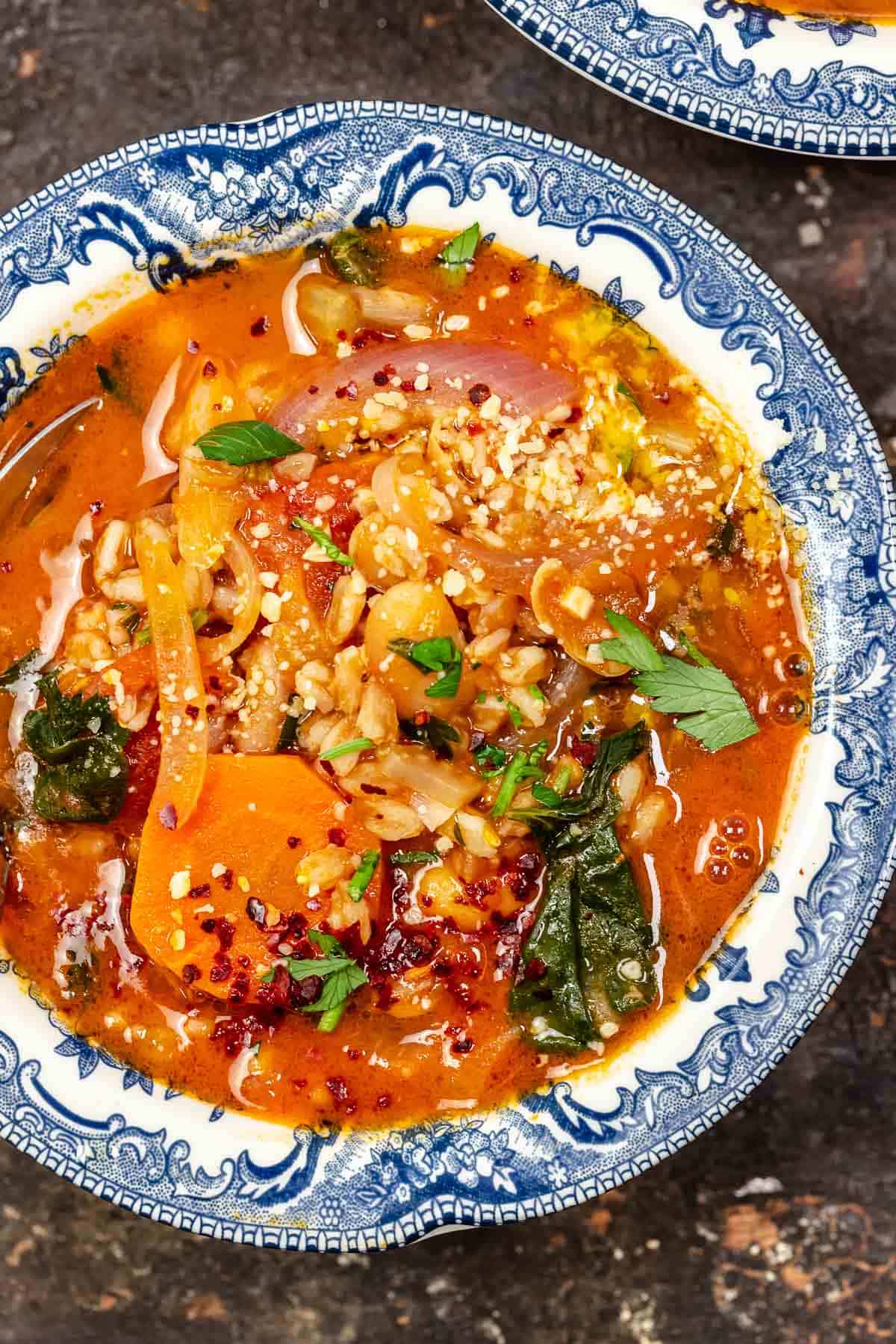 If you've been a reader of this site for a while, you'll know I'm the kind of person who eats soup year-round, regardless of the weather. It's true; I love soup that much!
And this simple, one-pot farro soup — inspired by a popular soup called zuppa di farro hailing from Lucca, Tuscany — hits all the notes for me: Easy, comforting, and budget friendly!
It's loaded with vegetables, can feed a crowd, and is good to freeze, but the best part is the farro, a chewy grain that adds heft and a mild nuttiness to the soup. Once you've tried farro you'll want to eat it in everything. (If I'm not making soup I make this Farro Risotto recipe.)

I build on the farro's flavor by coupling it with creamy white beans, spinach, carrots and onions. Together, they simmer in a rich broth finished with fresh herbs. It's the perfect soup to warm you from the inside out!
Table of Contents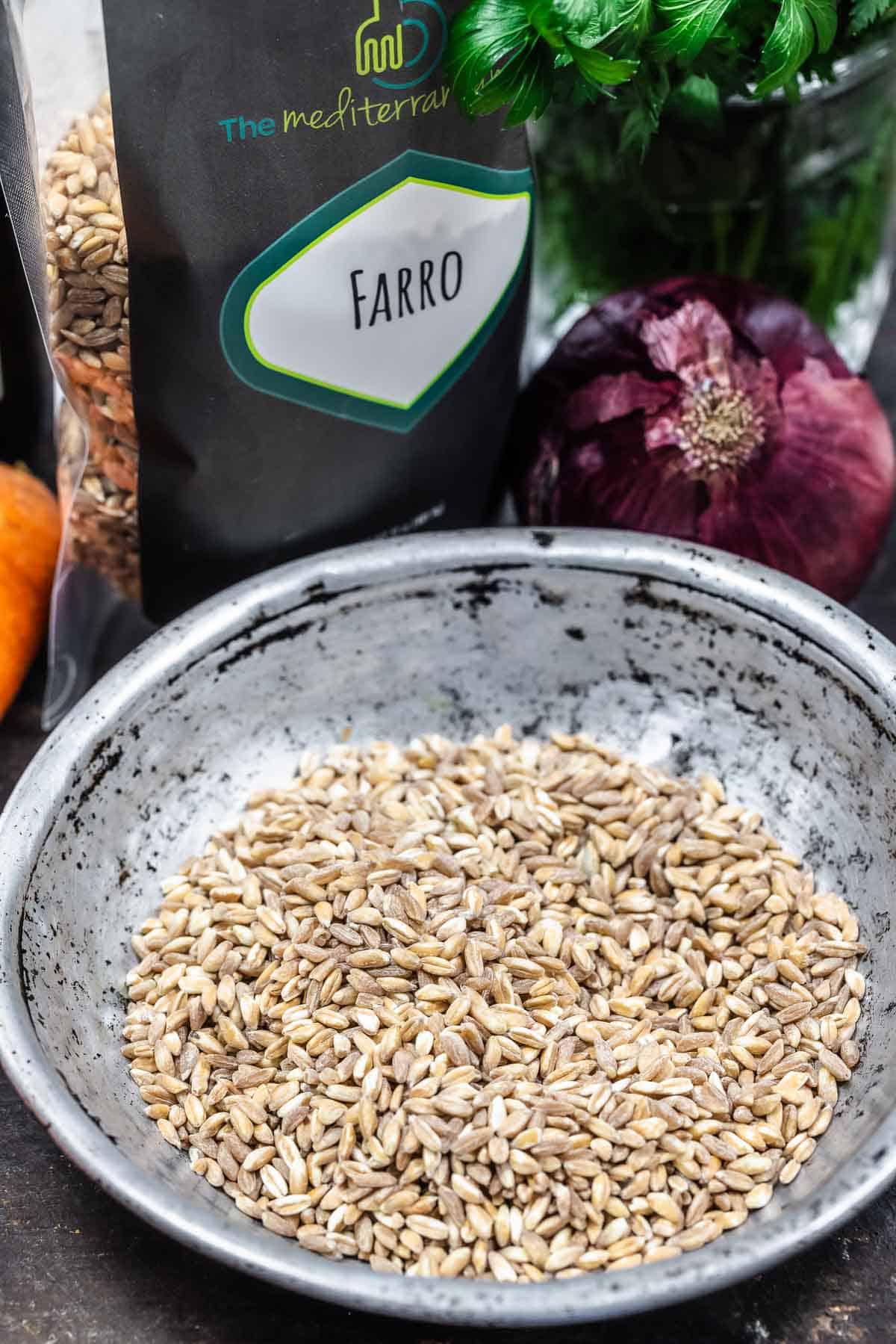 What is farro?
Farro is an ancient whole-grain, packed with fiber — it has about five times more fiber than white rice. It has a similar texture to barley, and becomes delightfully chewy when cooked. Farro also has a light, nutty flavor, which works well in a variety of different recipes like farro salad, and this Tuscan farro soup. You could even swap out the pasta in my Italian minestrone soup for cooked farro!

Keep in mind that farro contains gluten, and should be avoided by those who cannot tolerate gluten. (Don't worry, I have some gluten-free options for you later on in this post!)
Where to buy farro?
Find farro on The Mediterranean Dish online shop!
Our all-natural farro is high in fiber and other healthful nutrients. To speed up the cooking process, farro has been pearled to remove some of its bran layers. It is perfect for soups, salads, and more!
Parmesan cheese rind: The flavor booster
Don't throw away parmesan rinds! Parmesan cheese rinds are one of my secret weapons in the kitchen. When you finish a wedge of parmesan cheese just toss the rind into the freezer. Then when making soups, sauces, or stews plop a rind into the pot at the beginning of your cooking to add flavor and richness.
As the dish simmers, the parmesan rind will begin to release flavor into the liquid, enriching it with umami background notes. While not overwhelming, this step adds something extra special to your recipe making your family and friends ask for seconds every time!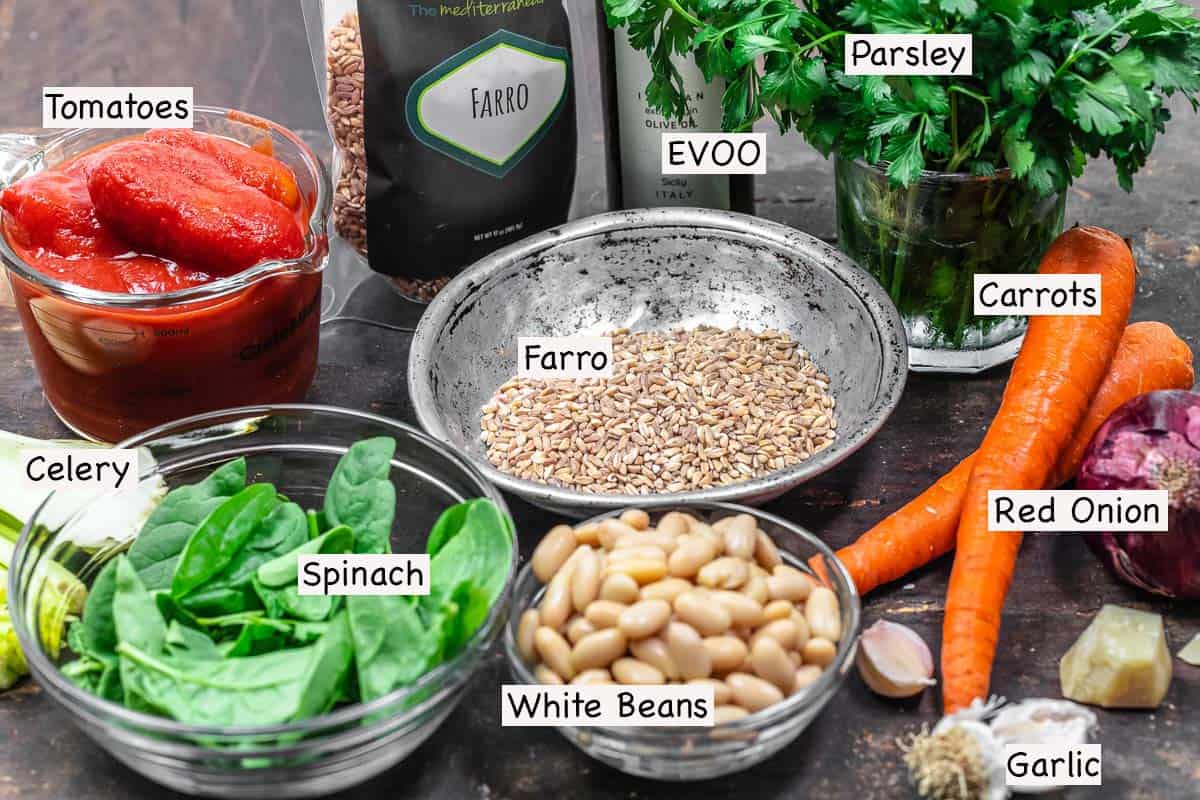 Ingredients for farro soup
Extra virgin olive oil: A medium-intensity oil is a good choice here. Since this is an Italian-style recipe, I used our Italian Nocellara EVOO.
Vegetables: Red onion, carrots, celery, and baby spinach.
Garlic: Mince 2 large garlic cloves — or more if you're passionate about garlic.
Stock: Use low-sodium vegetable or chicken stock.
Tomatoes: A 28-ounce can of whole San Marzano tomatoes adds richness and some acidity.
White beans: I used cannellini beans, but you can use other canned white beans of your choosing, like navy beans, great northern beans, or butter beans. The taste and texture will be slightly different, but you will still have a hearty, comforting soup. To save time, I used canned beans, but you can cook dry beans from scratch. Just budget enough time to do so.
Farro: A cup of uncooked farro goes directly into the pot to simmer. I used The Mediterranean Dish farro.
Parmesan rind: Yep the hard almost waxy outer edge of a wedge of Parmesan plopped into the soup adds umami and depth.
Fresh parsley: Stir in some fresh Italian parsley at the very end for a fresh herbal element.
Red wine vinegar: The acidity in the vinegar instantly brightens the soup. Salt does the same thing, but if you're watching your salt intake vinegar is a great addition. It just makes all the other flavors pop!
Grated parmesan cheese: This is the finishing touch that plays well with the parmesan-infused broth.
How to make Tuscan farro soup
This warm-your-belly farro soup is so easy to make! It's all done in one-pot which means fewer dishes. On a busy weeknight, that's exactly what I need — something healthy, nutritious and pretty hands-off. Here's how to make it:
Saute the vegetables: Heat 2 tablespoons extra virgin olive oil in a large Dutch oven over medium heat until shimmering. To the pot, add 1 thinly sliced red onion, 1 or 2 peeled and sliced carrots, and 2 chopped celery sticks. Season with kosher salt and cook for about 7 minutes or so, until the veggies have softened.
Add stock, aromatics, and more. Add 2 large minced garlic cloves and toss for about 30 seconds, until fragrant. Then add a 28-ounce can of whole San Marzano tomatoes, 6 cups low-sodium vegetable or chicken stock, a 15-ounce can of rinsed white beans, 1 cup uncooked farro, and a 1-inch piece of parmesan rind.
Simmer. Bring to a boil and then lower the heat. You want to see a gentle simmer, not a rapid boil. Cook until the farro is tender, which will take about 30 minutes.
Add finishing touches and serve. Once the farro is cooked, turn off the heat. If the parmesan rind hasn't dissolved, remove it from the pot. Stir in 2 cups of baby spinach, 1 cup chopped parsley, and 2 tablespoons red wine vinegar. Sprinkle some grated parmesan on top and serve hot.


What to serve with Tuscan farro soup
This hearty, filling soup doesn't need much else to go along with it, and I usually just serve it straight out of the pot.

If, however, you have to feed a crowd or want to stretch the meal a little further, then add a crusty loaf of bread to the mix or make a simple salad like this Parmesan Lettuce Salad. Both are easy enough to pull together.
Kitchen swaps and substitutions
Don't despair if you are missing ingredients for this soup! There are so many easy swaps you can make to use up what you have in your kitchen. Here are some ideas:
Farro substitutes: While farro is traditional in this soup, you can use other grains like barley, spelt, freekeh, coarse bulgur, quinoa, or brown rice. Brown rice and quinoa are good ways to turn this soup into a gluten-free-friendly meal.
Add mushrooms: Cut mushrooms of your choosing into bite-sized pieces and saute them along with the carrots, onion, and celery. From there, follow the recipe as written.
Instead of spinach, you can use baby kale. Kale in general is tougher than spinach, and takes more time to wilt down. Baby kale is a bit softer, but will still likely have more body than spinach, even after sitting in the broth for a while.
Vegan option: Use vegetable stock and omit the parmesan rind and cheese for a vegan alternative. Without the parmesan rind, you will lose some of the nutty, rich flavor. If you want to mimic this flavor, use a little nutritional yeast. You can add 2 to 3 teaspoons right after you add the stock. It will dissolve quite quickly.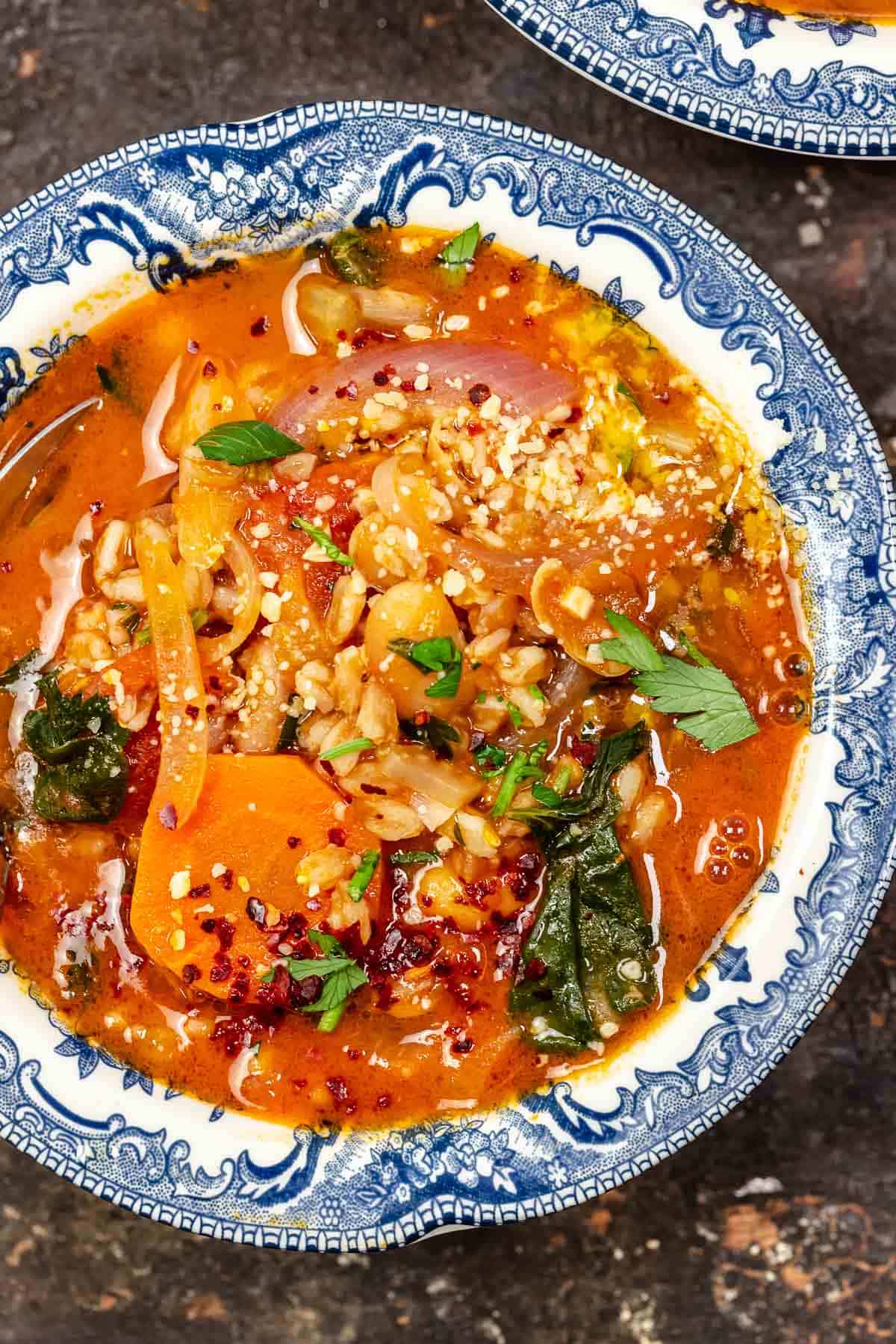 How to store and reheat leftover soup
Farro soup will keep well in the fridge for up to 4 days in an airtight container. Keep in mind that the farro will absorb liquid as it sits in the fridge, so you will likely need to add stock or water when you reheat the soup.

To reheat, transfer the soup to a large pot on the stove over medium heat and stir occasionally until the soup comes to a boil. Then reduce it to medium-low and serve.
How to batch cook and freeze farro soup
Feel free to double the recipe for batch cooking. If you're already at the stove you might as well double the recipe and keep some for another day when you're too busy. I'm a big believer in work smarter not harder!
Let the soup cool to room temperature, then portion it out into individual servings in freezer-safe containers. This way you can easily grab some for a workday-lunch or pull out a couple of containers and reheat them for a quick and easy family dinner down the road.
You can either thaw the soup in the fridge overnight or reheat it from frozen on the stovetop. If the soup has thickened up too much, add a little water or stock to thin it out.
More easy soup recipes
Browse all Mediterranean recipes.

Visit Our Shop.
Tuscan Farro Soup with White Beans and Vegetables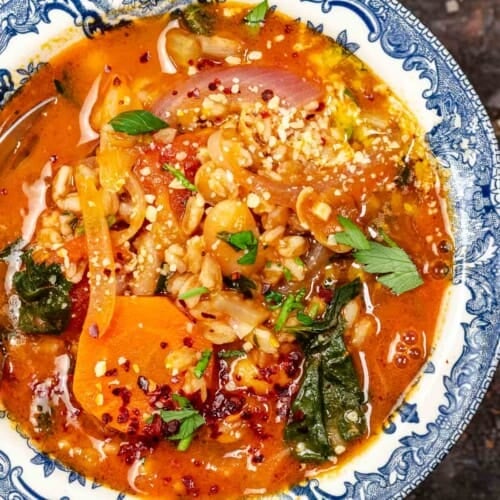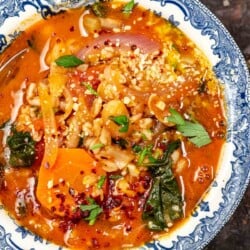 This easy, hearty, protein-rich farro soup is so comforting! Saute a few vegetables, add canned beans, tomatoes, stock, and farro. Let it simmer for about 30 minutes. Then stir in some spinach and fresh herbs. You'll have a big pot of flavor-packed soup, perfect for chilly evenings. It's also ideal for batch-cooking, as it freezes well! Serve it as is, or with some crusty bread.
Ingredients
Extra virgin olive oil,

I used the Italian Nocellara EVOO

1

medium red onion,

halved and thinly sliced

1 to 2

carrots,

peeled and sliced into ¼-inch thick rounds

2

celery sticks,

chopped

Kosher salt

2

large garlic cloves,

minced

6

cups

low-sodium vegetable or chicken stock

1 28-

ounce

can whole San Marzano tomatoes

1 15-

ounce

can white beans,

drained and rinsed

1

cup

farro,

rinsed

1-

inch

Parmesan rind

2

cups

fresh baby spinach,

packed

1

cup

chopped parsley

2

tablespoons

red wine vinegar

Grated Parmesan for serving
Instructions
In a large Dutch oven or pot, heat 2 tablespoons extra virgin olive oil over medium heat until shimmering. Add the onions, carrots, and celery. Season with a little kosher salt and cook, tossing occasionally until the vegetables have softened.

Add the garlic and toss for 30 seconds or so, then add the tomatoes, stock, white beans, farro, and parmesan rind.

Bring the liquid to a boil, then lower the heat watching for the steady, gentle simmer. Allow the soup to simmer until the farro is tender, about 30 minutes or so.

Turn the heat off and remove the Parmesan rind (sometimes the rind will have dissolved into the soup). Stir in the spinach, parsley, and red wine vinegar.
Notes
Variations: Instead of farro, you can use coarse bulgur wheat, spelt, freekeh, or barley. You can also add mushrooms for a bit more heft, and swap out spinach for baby kale.
Vegan option: Omit the parmesan rind and grated parmesan. If you still want some cheesy flavor, you can add 2 to 3 teaspoons of nutritional yeast to the soup as it simmers. It will dissolve quite fast.
How to store leftovers: Store leftovers in an airtight container in the fridge for up to 4 days. When reheating, you might need to add a little stock or water as the farro will absorb liquid as it sits.
How to freeze farro soup: Allow the soup to return to room temperature and store in a freezer-safe container.
Nutrition
Calories:
172.4
kcal
Carbohydrates:
26.2
g
Protein:
5.8
g
Fat:
5.7
g
Saturated Fat:
0.8
g
Polyunsaturated Fat:
0.7
g
Monounsaturated Fat:
3.9
g
Sodium:
872.5
mg
Potassium:
587.8
mg
Fiber:
5.2
g
Sugar:
5.2
g
Vitamin A:
3110.8
IU
Vitamin C:
23.4
mg
Calcium:
98.3
mg
Iron:
3.6
mg