Farro is an ancient whole grain with a pleasantly chewy texture and nutty flavor. Use it soups, salads or toss it with roasted vegetables for an easy and delicious side dish. If you've ever been curious about farro wonder no more! We have everything you need to know about buying, cooking and storing this wholesome grain.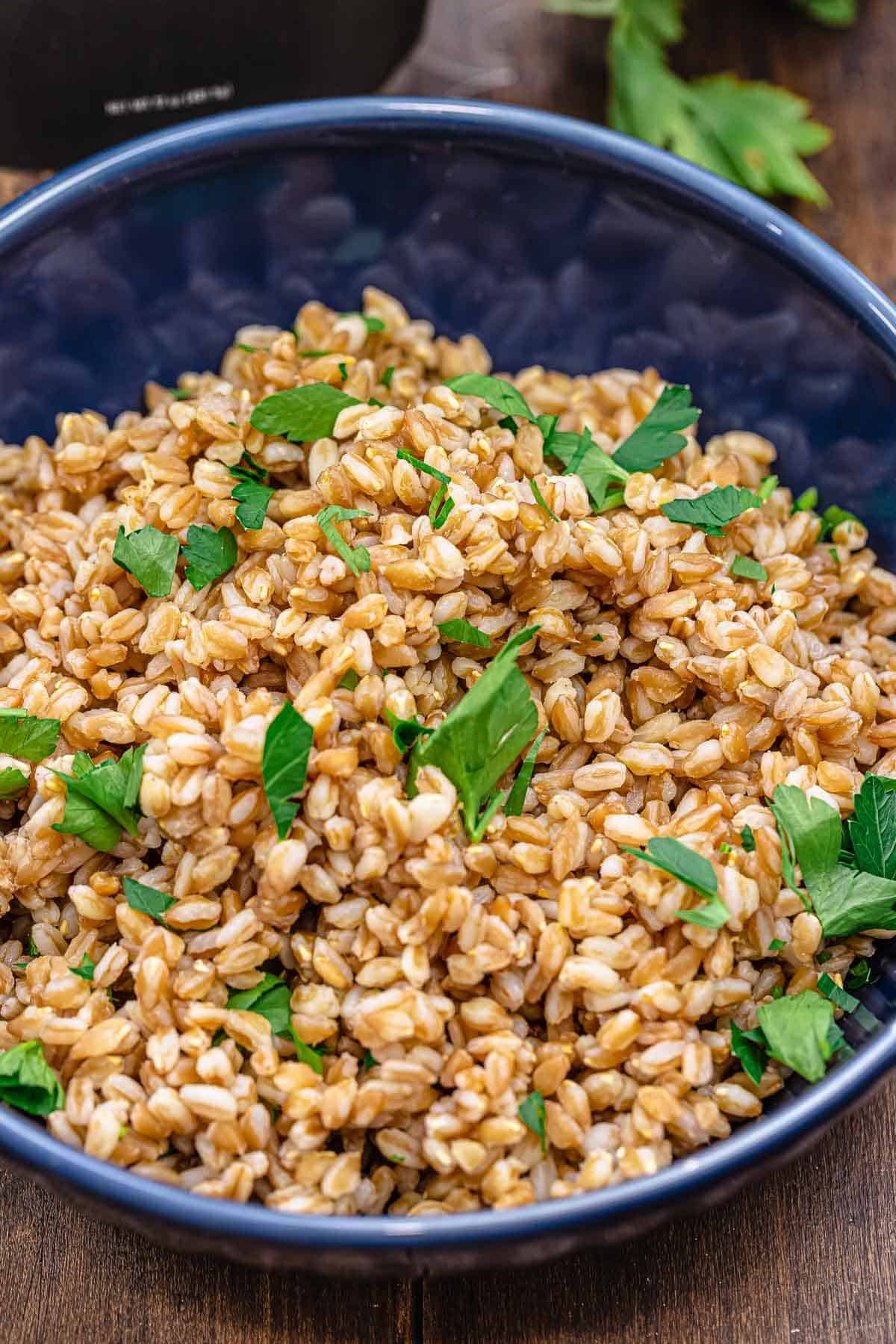 Farro is a chewy, nutty tasting type of wheat that's been cultivated in the Middle East and Mediterranean for thousands of years. Use this hearty grain in everything from soups to salads or stand alone as a side dish. It pairs as well with weeknight chicken as it does for a special occasion beef tenderloin.

I love its versatility: Farro is delicious warm, cold or at room temperature, which makes it great for gatherings both large and small. It also stands up to time in the fridge for freezer, meaning it's a good choice for batch cooking. I mean, really, what's not to love?

Having become more popular in recent years, farro is pretty easy to find in well-stocked grocery stores, but you can also purchase it in our online shop. Here's everything you need to know about buying, cooking, and storing this ancient, healthy and delicious pantry staple.
Table of Contents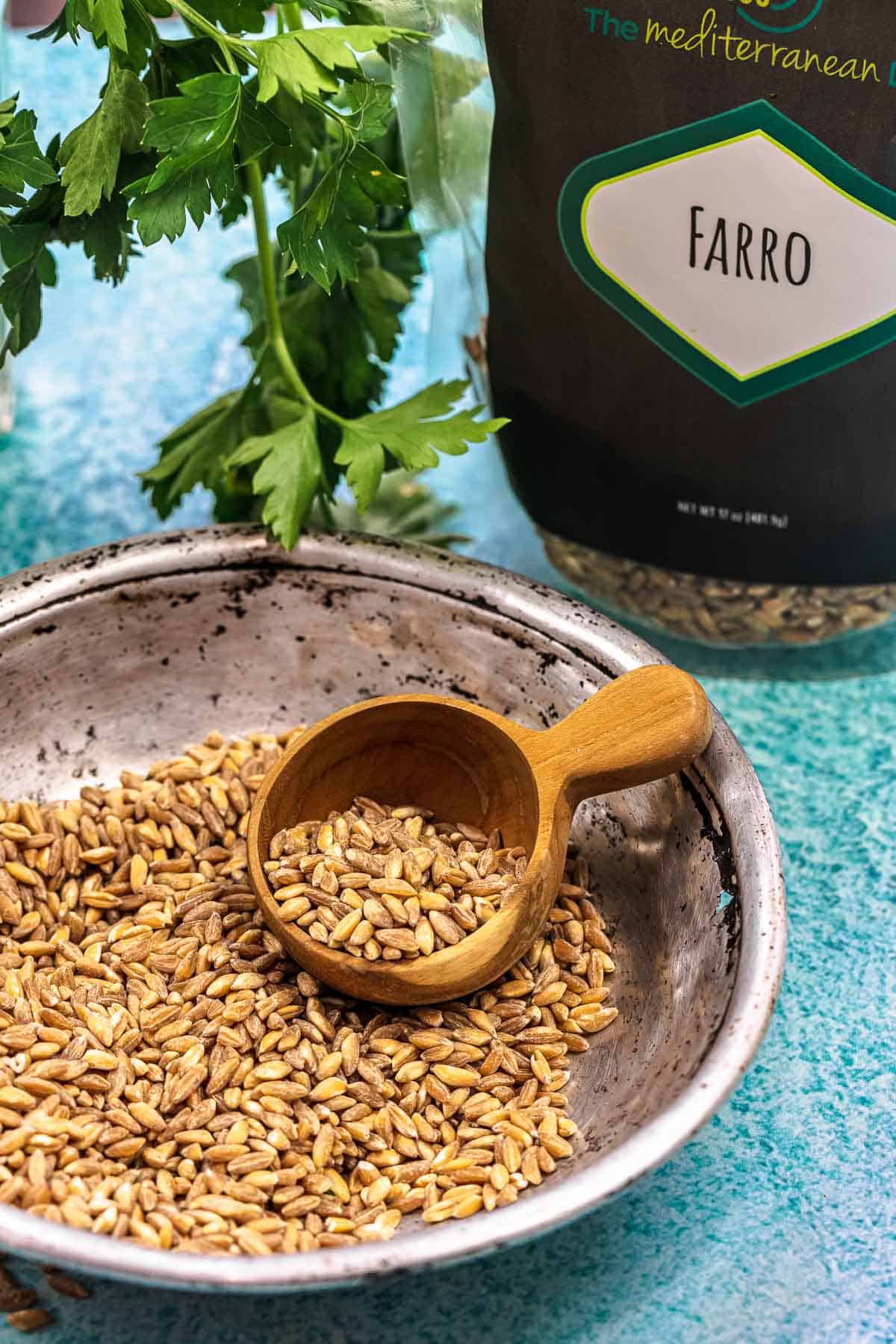 What Is Farro?
Farro is a sturdy, versatile, and nutrient-rich grain that looks similar to barley but it is longer and more oblong in shape.
Technically the word Farro refers to three specific sizes of grain that also includes name variations:
farro piccolo (little farro) (einkorn)
farro medio (medium farro) (emmer)
farro grande (large farro) (spelt)
Most farro sold in the United States is emmer. It's a medium sized grain with a nutty flavor and pleasant chewy texture. This grain has gained popularity in the U.S. in recent years, but it's been a favorite standby for centuries in European and Middle Eastern countries.
What Exactly is an Ancient Grain?
According to the Oldways Whole Grain Council, an ancient grain is one that is "largely unchanged over the last several hundred years," meaning it hasn't been genetically altered or processed in a new way.
Farro definitely fits the bill, but the history dates back more like 10,000 years than several hundred. The grain originated in the Fertile Crescent, the first agricultural region in the Mediterranean and Middle East (which currently makes up parts of Southern Iraq, Syria, Lebanon, Jordan, Palestine, Israel, Egypt, and some of Turkey and Iran.)
It was even found in the tombs of some Egyptian kings! And it's stood the test of time.
Is Farro Gluten-Free?
Unfortunately, farro is not gluten free because it's wheat grain. If you have gluten sensitivity or celiac disease it's best to steer clear of any wheat products. However, quinoa or millet are both great options for those with gluten concerns.
Is Farro Healthy?
Not only is this chewy, nutty grain delicious, it's also nutrient-dense—high in protein, fiber, and iron. Because of the fiber and protein content it's great for volume eaters who like a filling meal.
A ½ cup of farro contains six grams of protein, three grams of fiber (11 percent of one's daily value), and almost one milligram of iron (six percent of one's daily value).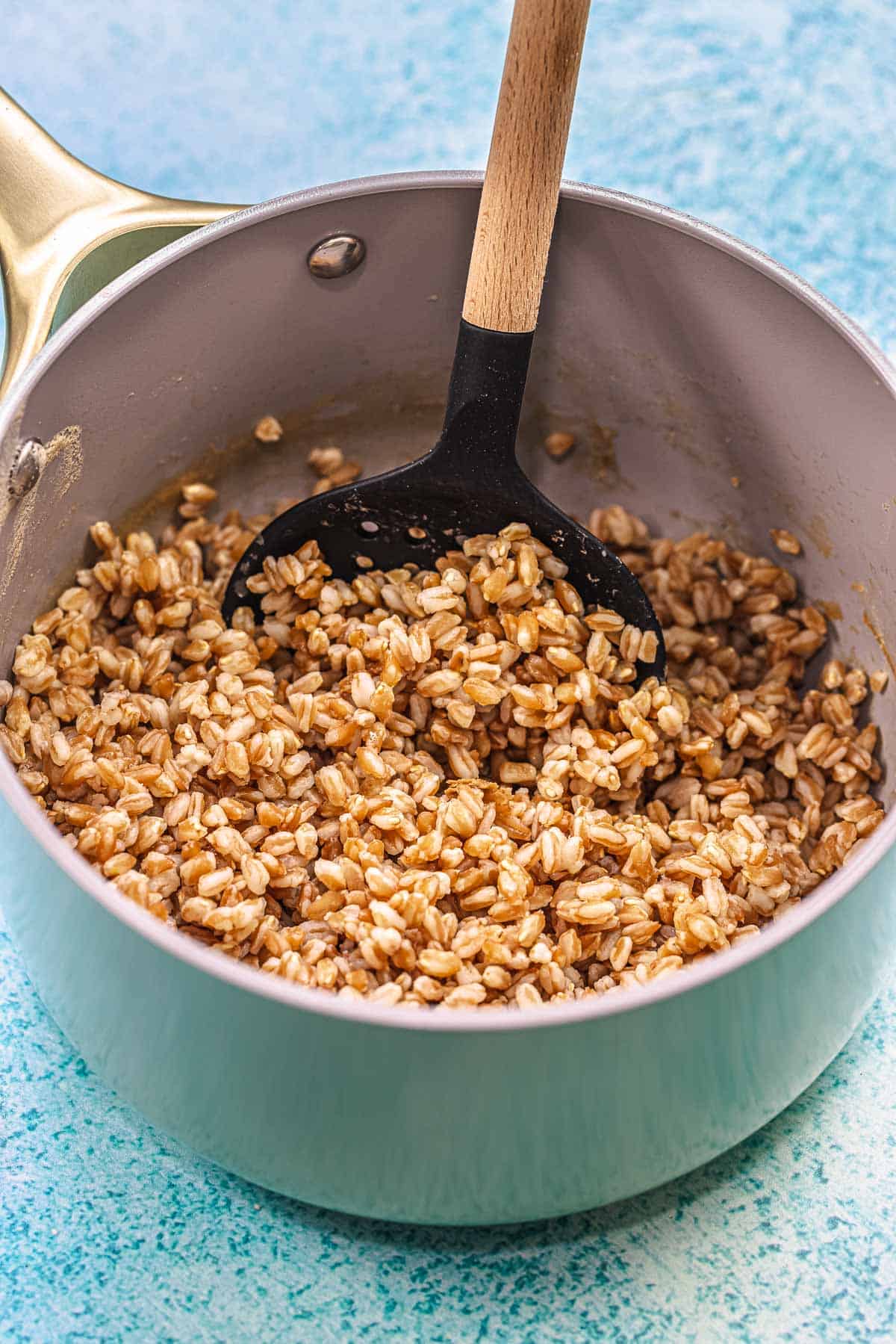 How to Cook Farro?
The time it takes to cook depends on whether the grain is considered pearled, semi-pearled or whole, so always look at the package for guidance. You'll know it's ready if it's tender but still retains a chewy, al-dente texture.
Whole takes the longest to cook, clocking in anywhere between 20 and 60 minutes, depending on how long it soaked, or if it's soaked at all.
Semi-pearled generally takes between 25 and 40 minutes
Pearled takes anywhere between 15 and 30 minutes.
It's always a good idea to rinse and drain before cooking, like you would lentils. This will remove any dry, powdery coating that might have developed in processing.
There are two methods of cooking farro: Using an intentional ratio of liquid to grain, or cooking it in a larger quantity of liquid and then draining, like you would pasta.
Ratio method: This approach is great if you're cooking it in the oven or slow cooker or you're great at paying attention to what's on the stovetop. If you're cooking by ratio, follow the instructions on the package, which will typically tell you to use 2 ½ to 3 cups of liquid for one cup of farro. It's ready when the farro is tender and you can see little steam holes coming up through the grains.
To cook it like pasta: If you're not one to break out the measuring cups or pay close attention to what you're cooking, then this method is a little easier. Just fill the pot like you're going to cook pasta, add the farro and cook until tender. Drain and enjoy.
If you're looking to enhance the flavor, there are a number of tricks you could try.
Toast the dry grains in a pan for a few minutes until you start to smell a nutty aroma. This will bring out those roasted, nutty notes.
Cook the grain in a flavored liquid, whether that's water containing aromatics—like herbs, peppercorn, or alliums—chicken stock, or apple cider.
Add a tablespoon of citrus juice or vinegar to cooking water to give the grains a little bite.
Whatever cooking liquid you choose, salt it first!
Once cooked, a quick drizzle with some good extra virgin olive oil and a sprinkle of salt is enough to make this shine, but you can also toss freshly cut tomatoes, cucumbers and pickled red onions into the mix to make a quick grain salad.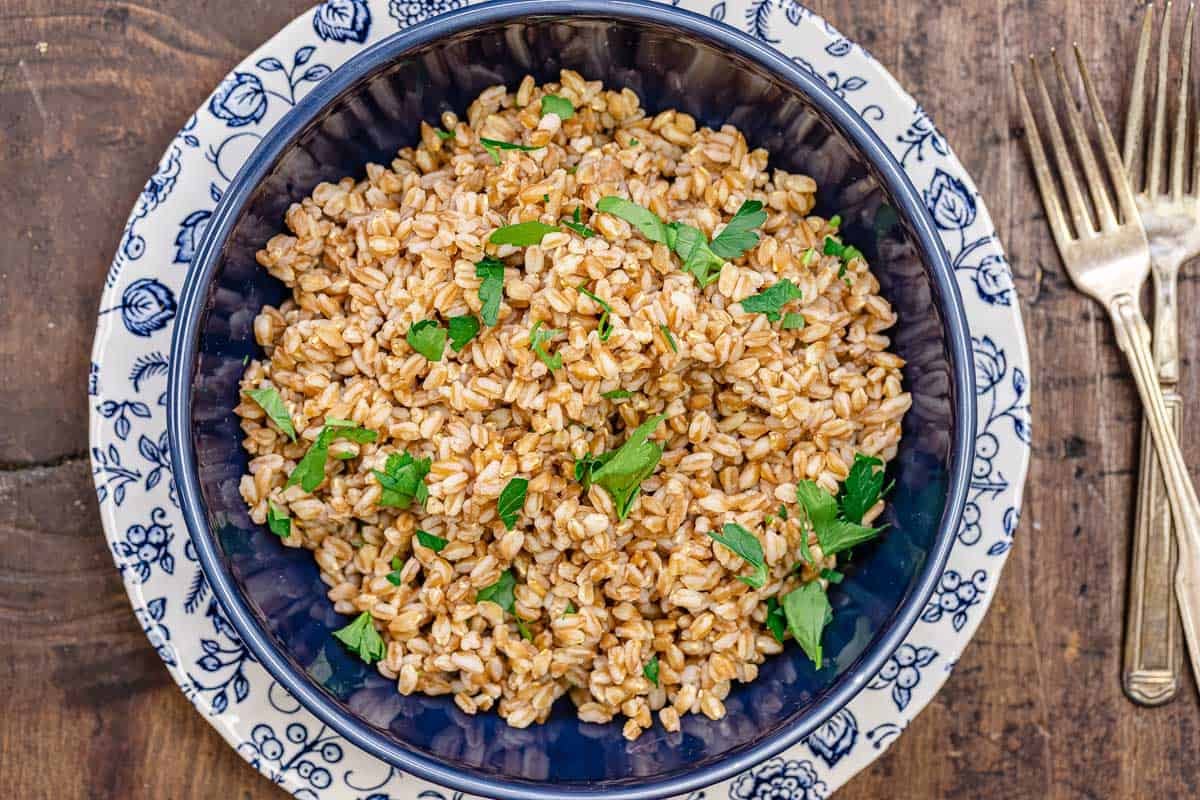 Dry to Cooked Ratios
Grains tend to expand once cooked so it's always nice to know the dried to cooked ratio, especially if you are making it to mix-in other ingredients like roasted vegetables.
1 cup uncooked farro yields between 2 and 3 cups of cooked .
½ cup uncooked farro yields between 1 and 2 cups cooked.
How Do You Use Farro?
Farro's al-dente texture makes it versatile and a good base for salads of all kinds, addition to soups, and filling for stuffed vegetable dishes. It also makes a great substitute for Aborio rice in risotto, or a hearty and warming breakfast porridge.
Try our Farro!
This amazing grain is high in fiber and other nutrients. It's great to use in soups, salads and more!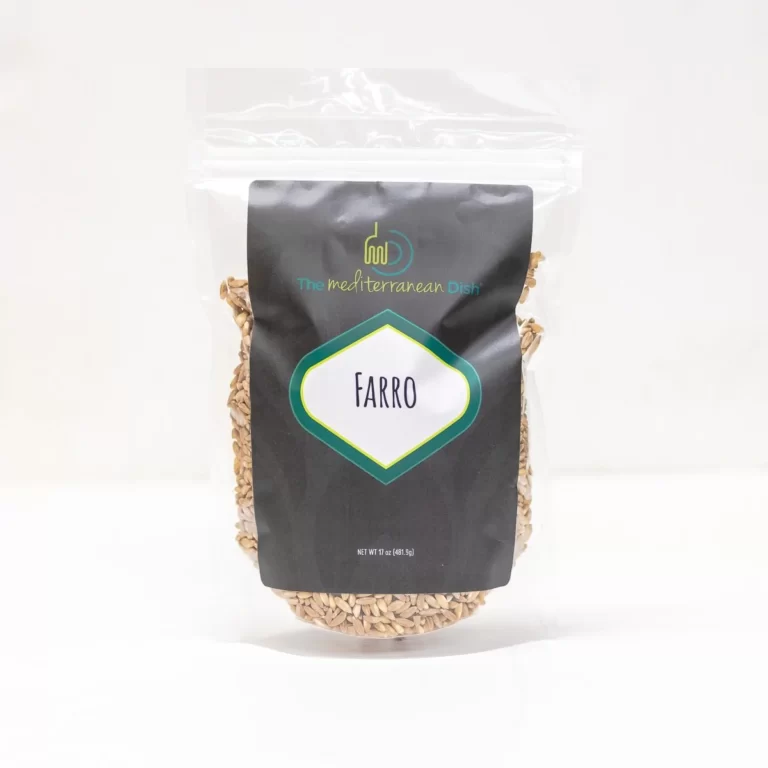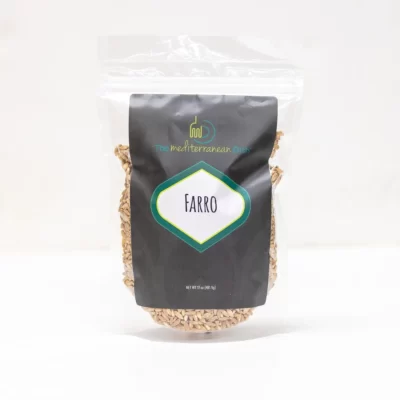 How to Batch Cook and Freeze
Farro's sturdy texture also makes it a good item to cook and freeze. To freeze most grains, cook, then let them cool. Then place them in a sealed plastic bag and lay flat. When ready to use defrost over low heat on the stove, with a little liquid if necessary.
Fantastic Farro Recipes
Browse all Mediterranean recipes.

Visit Our Shop.