Succulent baked balsamic chicken, loaded with flavor from a bold balsamic marinade with garlic, lemon juice, and herbs! Ready in just over 30 minutes.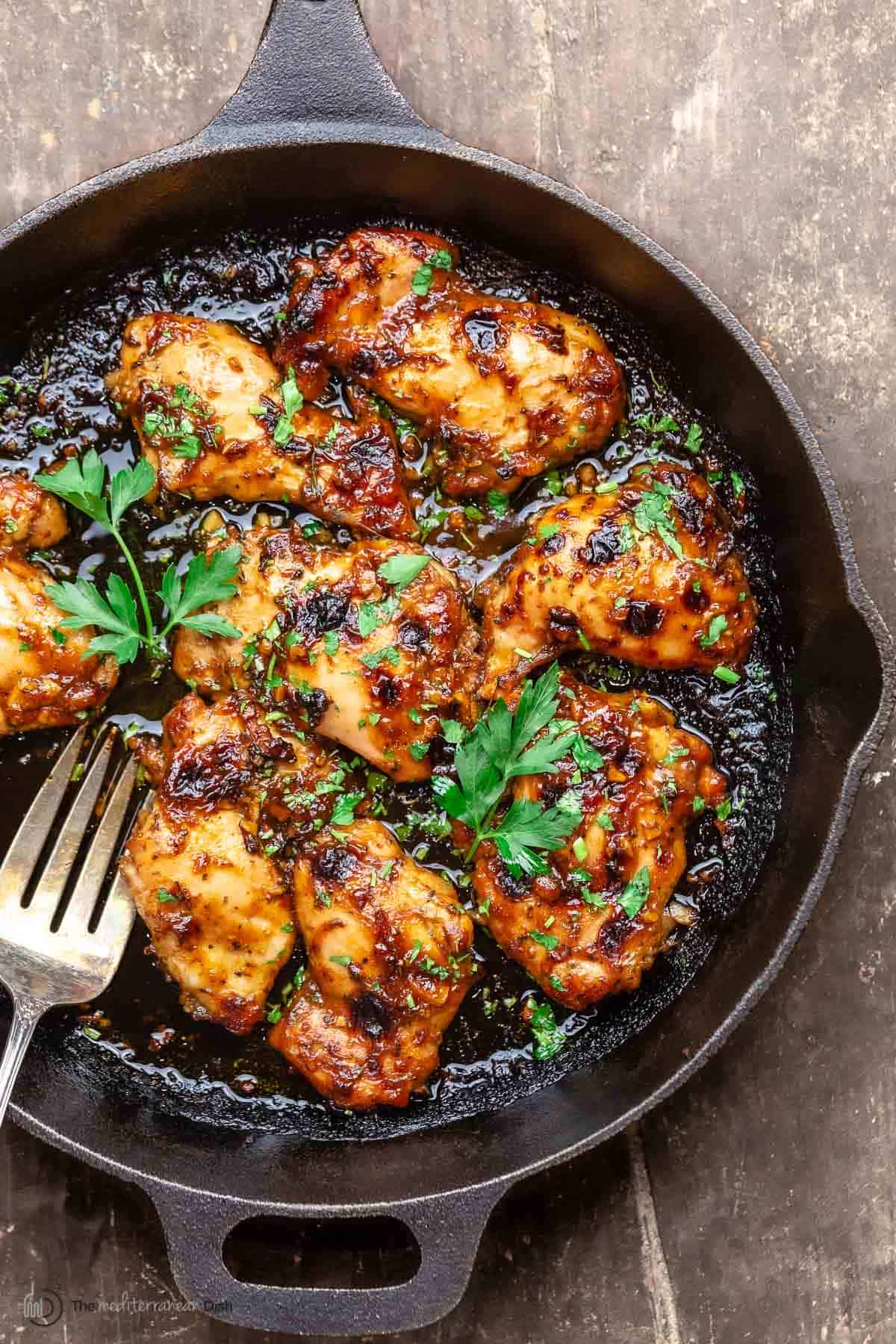 Balsamic glazed chicken you'll be making on repeat!
An easy, unassuming balsamic marinade takes your average baked chicken dinner to a new level of delicious!
This juicy, garlicky, appropriately sticky balsamic chicken recipe takes less than 10 minutes to prep. Once tossed in the quick marinade with balsamic glaze, garlic, lemon juice, and herbs, put it in the oven for 30 minutes or so.
I'm a big fan of chicken thighs for quick weeknight dinners; besides, it's really hard to mess them up. But if you prefer boneless chicken breasts in this recipe, that will work. You'll want to adjust the cooking time to make sure the breasts don't dry out (I'll give you a few more tips on this later).
Ingredients for balsamic chicken marinade
There's something decadent about food with a slight syrupy stickiness to them. What I love about this honey balsamic chicken is that it provides all that comfort without being overwhelmingly sweet. It is all thanks to a perfectly balanced balsamic marinade made of simple ingredients:
Extra virgin olive oil - a generous amount of good extra virgin olive oil forms the base of this glazed balsamic chicken recipe.
Balsamic glaze – the main flavor maker in this recipe. I used store-bought to save time, but you can also make your own (see my tips below)
Tomato paste – adds a hint of tantalizing umami
Honey – just a touch works with the balsamic glaze to add subtle sweetness to the dish
Fresh lemon – lemon juice adds bright flavor and keeps the dish from tasting too sweet
Fresh minced garlic – Don't skimp on the garlic! It elevates the flavor of the sticky marinade.
Fresh thyme
Dried oregano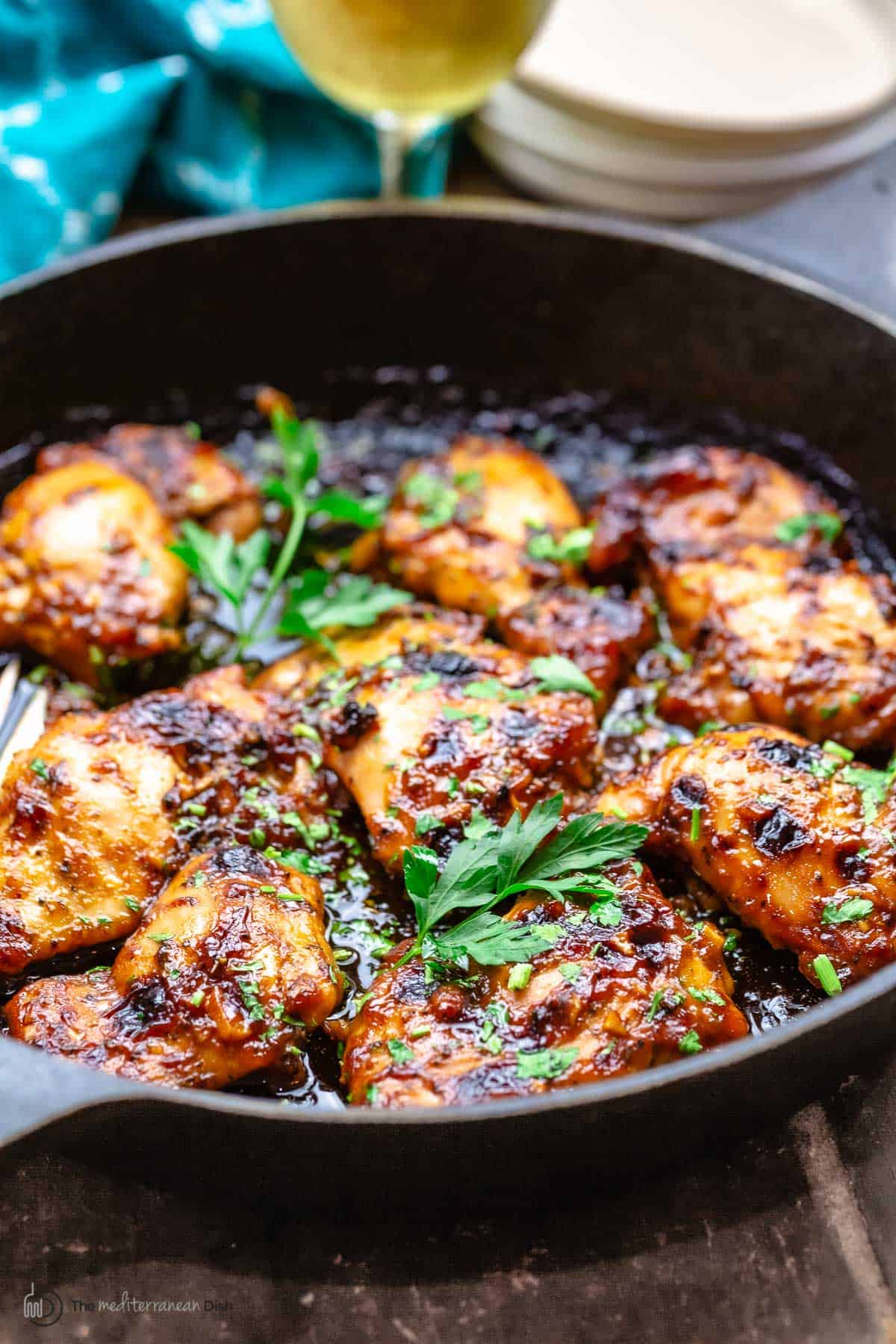 What is balsamic glaze?
Balsamic glaze is also known as balsamic reduction, and it is simply balsamic vinegar simmered until reduced and thickens. Often times, a sweetening agent such as sugar or honey is added to enhance flavor and balance the tanginess of the vinegar.
Homemade balsamic glaze can be stored in the fridge (in a tightly closed mason jar) for 1 to 2 weeks, and you can use it on many things from your skillet zucchini to a delicious baked salmon.
How to make balsamic glaze from scratch
In this balsamic chicken thighs recipe, I took a shortcut and used store-bought balsamic glaze. But if you have some balsamic vinegar already in your pantry, you can make your own from scratch ahead of time. Here is how:
Bring 1 cup balsamic vinegar and 2 tablespoons brown sugar to a boil in a saucepan.
Reduce the heat to medium-low and allow it to simmer for 20 minutes, stirring occasionally.
Remove from the heat and let it cool completely. This is important, because the reduction will thicken as it cools. Your balsamic glaze should be thick and pourable.
Let cool before you store it in a tight-lid mason jar. Keep it in the fridge for later use (1 to 2 weeks)
How to make balsamic chicken
This honey balsamic chicken is a breeze to make. Here is my step-by-step guide to make it (printer-friendly version below):
Make the balsamic marinade. Combine about ¼ cup extra virgin olive oil, 3 tablespoons balsamic glaze, tomato paste, 1 teaspoon of honey, juice of 1 lemon in a big mixing bowl. Then add minced garlic (a good 5 cloves), thyme, dried oregano and sweet paprika and whisk (you should have a bit of a thick marinade with a syrupy consistency).



Marinate the chicken. Season the chicken generously with salt and pepper and toss it with the balsamic marinade. If you have the time, cover and refrigerate for a couple hours, otherwise, set it aside for a few minutes at room temp.



Bake. Arrange the chicken in a baking dish or heat-safe skillet, and bake in a 425-degree F heated oven for about 30 minutes, or until a thermometer, inserted at the thickest part, registers an internal temperature of 165 degrees F.


Tips for success
Marinate the chicken ahead of time. If you have time, allow the chicken thighs to sit in the balsamic marinade in the fridge for 2 to 4 hours. This will really amp up the flavor.
Don't skip the honey. Even though this recipe only calls for a teaspoon of honey, it does make a difference. Along with the balsamic glaze, it adds a subtle sweetness and balances the flavor.
Use a meat thermometer to check whether your chicken thighs are done. Ovens do vary, so you'll want to watch and decide when your chicken is ready. Insert a meat thermometer in the thickest part, the chicken is ready when the internal temperature reads 165 degrees F.
Serve it with
This balsamic glazed chicken is versatile and can be paired with a number of things including Italian roasted veggies, butternut squash, crispy fried burssels sprouts or baked zucchini. For a grain, you can try basmati rice or fluffy couscous.
Additional FAQs for this balsamic chicken recipe
Can I use chicken breasts instead?
Yes, but chicken breasts cook faster than thighs, and they are prone to drying out. A perk of using breasts instead of thighs though is that chicken breasts typically absorb flavor from marinades better. For best results, use chicken breasts that are similar in thickness. To do this, lightly pound each breast with a meat mallet (like I do in my Italian baked chicken breast recipe). Chicken breasts baked at 425 degrees will take about 18 minutes or so to fully cook, and it does help to start the chicken covered in the oven for the first 10 minutes or so.
Can I cook balsamic chicken thighs on the stovetop?
Yes. You can cook it on the stove over medium heat. You will have to turn the thighs while they cook to prevent the glaze from burning. I prefer baking the chicken because I can pop it into the oven and forget about it until it's ready!
How long will it keep?
Leftover balsamic chicken will keep in an airtight container in the fridge for three to four days.
More chicken recipes for you to try
Hungry for more? Here are all our Mediterranean Recipes!

Visit Our Shop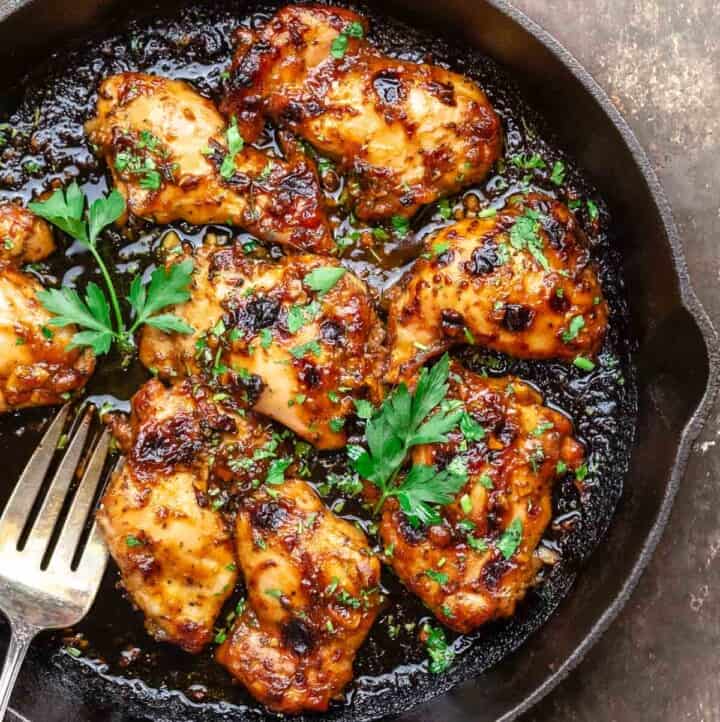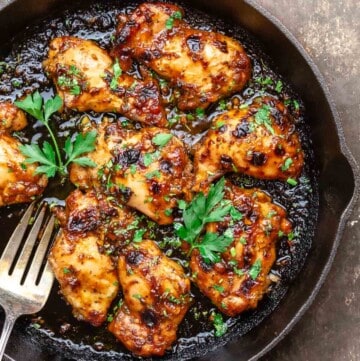 Easy Balsamic Chicken
Succulent baked balsamic chicken with a bold marinade made with balsamic glaze, garlic, lemon juice, honey, and herbs. Ready in just over 30 minutes. I used boneless, skinless chicken thighs, but you can use use chicken breasts, if you prefer (see the recipe notes).
Ingredients
Balsamic chicken marinade
¼

cup

extra virgin olive oil

3

tablespoon

balsamic glaze,

store-bought is fine

1

tablespoon

tomato paste

1

teaspoon

honey

1

lemon,

juice of

4 to 5

large garlic cloves,

minced

1

tablespoon

fresh thyme

1

teaspoon

dried oregano

½

teaspoon

sweet paprika
For the chicken
8

boneless and skinless chicken thighs,

(about 1 ½ pounds)

Kosher salt and black pepper
Instructions
In a large mixing bowl, whisk together the olive oil, balsamic glaze, tomato paste, honey and lemon juice. Add the garlic cloves, thyme, oregano and sweet paprika. Whisk again to combine.

Pat the chicken dry and season generously with kosher salt and black pepper on both sides.

Add the chicken to the mixing bowl and toss to coat with the balsamic marinade. Set aside briefly for a few minutes while you heat the oven (or if you have time, cover and refrigerate for a couple hours).

Heat the oven to 425 degrees F and adjust a rack in the middle.

Transfer the chicken to a baking dish or a heat-safe skillet. Bake on the center rack of the heated oven for about 25 to 30 minutes or until the chicken is fully cooked through (internal temperature of cooked chicken should register 165 degrees F).
Notes
Marinate the chicken ahead of time. If you have time, allow the chicken thighs to sit in the balsamic marinade in the fridge for 2 to 4 hours. This will really amp up the flavor.
Chicken Breast Option:
Leftovers and Storage: Allow any cooked balsamic chicken to cool, then transfer to a tight-lid container and refrigerate for 3 to 4 days.
Visit Our Shop for quality Mediterranean ingredients including extra virgin olive oils and spices.
Nutrition
Calories:
287.8
kcal
Carbohydrates:
7.9
g
Protein:
29.6
g
Fat:
15.3
g
Saturated Fat:
2.8
g
Polyunsaturated Fat:
2.4
g
Monounsaturated Fat:
8.7
g
Trans Fat:
0.1
g
Cholesterol:
143.1
mg
Sodium:
350.2
mg
Potassium:
444.9
mg
Fiber:
1
g
Sugar:
3.3
g
Vitamin A:
224.2
IU
Vitamin C:
12.6
mg
Calcium:
33.5
mg
Iron:
1.8
mg