This simple Mediterranean-style sautéed shrimp and vegetables recipe comes together in just over 20 minutes! Zucchini, onions, and bell pepper, paired with succulent shrimp, and protein-packed chickpeas come together in just one skillet. And you'll love the bold Mediterranean flavors from spices, tangy lemon juice, and fresh herbs. Want to cook shrimp perfectly every time? Be sure to read on for my tips, and grab suggested sides and salads too!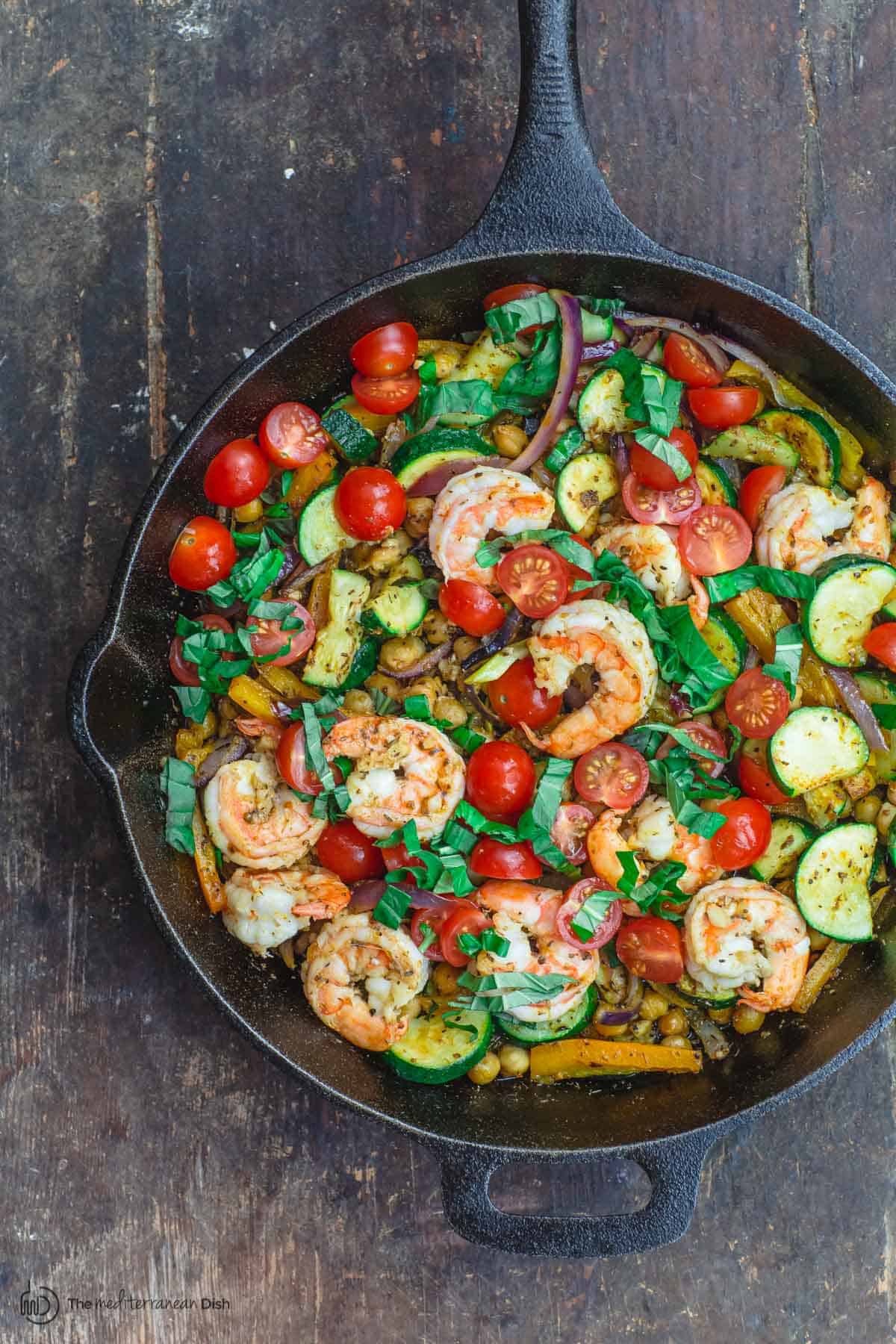 I love cooking with shrimp because it is packed with protein, lean, low in calories, and is one of the fastest foods you can cook! Since shrimp cooks in the blink of an eye, it makes it ideal for whipping together something quick, like this healthy shrimp and vegetables dinner, any night of the week.
Shrimp is also a huge part of a Mediterranean diet because fresh fish and seafood are key sources of healthy protein and other nutrients. We aim to eat seafood about two times per week (as the Mediterranean diet recommends,) and this sautéed shrimp is an easy way to do that.
You'll love this healthy shrimp and vegetables recipe. Fresh veggies--zucchini, onions, and bell peppers--paired with succulent shrimp, and protein packed chickpeas. And the flavors will surprise you in the best way possible--a few spices, coupled with lemon juice and a bright pop of fresh basil! So good.
And if you've ever been intimated by cooking shrimp, fear not! It's super easy to cook shrimp in the skillet, but a couple of tips make all the difference, so read on...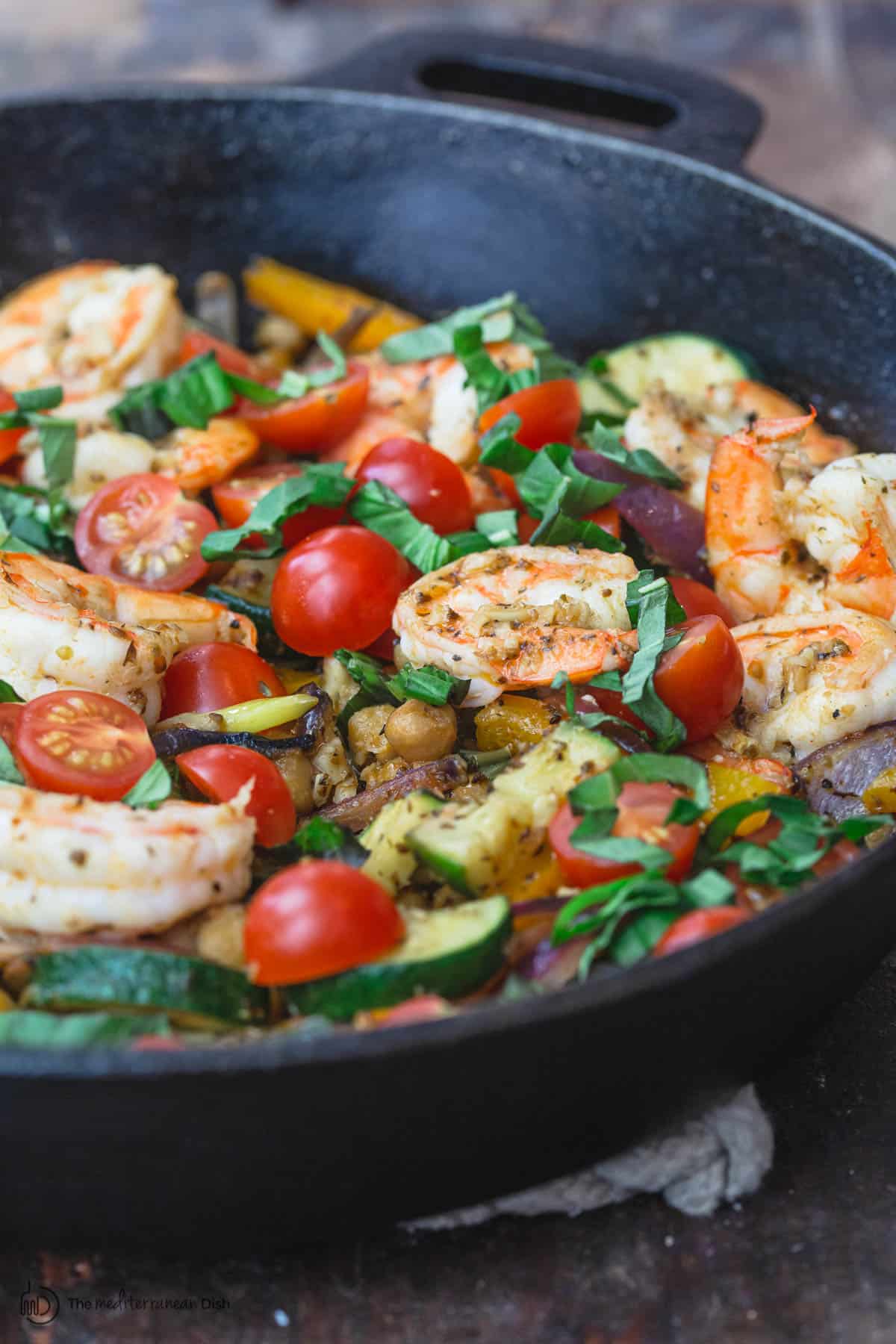 Why this sautéed shrimp recipe works?
Three things I love about this satueed shrimp and zucchini recipe: few ingredients; one skillet; and just over 20 minutes start-to-finish!
And the biggest draw for me is just how bright and wholesome this dish is. Tender zucchini, onions, and bell peppers pack the dish with fresh veggies. Chickpeas add more protein and fiber. And the additions of warm spices (oregano, cumin, coriander, paprika), along with bright lemon juice, fresh basil, and cherry tomatoes make the dish pop with color and flavor!
And...at 234 calories per serving; less than 6 grams of good fat; and loads of fiber and protein, this shrimp and vegetables recipe makes one light and feel-good weeknight meal.
Here's what's in it in detail...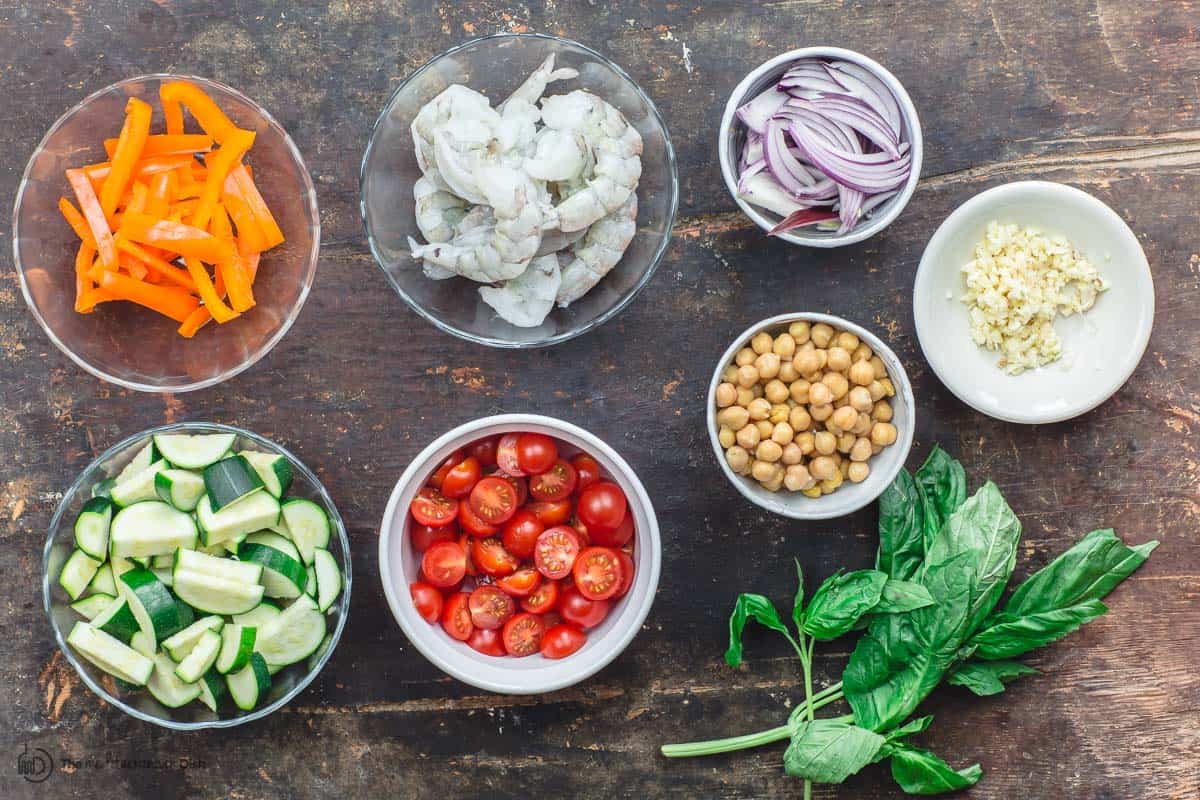 Ingredients for shrimp and zucchini recipe
Large Shrimp (Prawns) – Prawns are like large shrimp, which are great in this recipe since they are a little bigger and heartier. They are mild and sweet in flavor and are beautifully tender when cooked right(tips below)! However, shrimp and prawns are very similar in flavor and texture and can be used interchangeably.
Chickpeas – Chickpeas add great texture, volume, and plant-based protein to this sautéed shrimp and vegetables. They have a bit of nuttiness and a meaty texture. Using canned and drained chickpeas in this recipe keeps the meal easy-peasy.
Vegetables- Loads of beautiful veggies to bring in texture, flavor and color
Onions, thinly sliced
Bell peppers, sliced into sticks
Zucchini, sliced into half moons
Cherry tomatoes, halved
These fresh veggies are a tasty combo of flavors. Onions provide lots of sweet flavor and great depth, zucchini is tender and mild, bell peppers are packed with sweetness, and the halved cherry tomatoes at the very end give a tasty burst of freshness and make the dish feel extra light.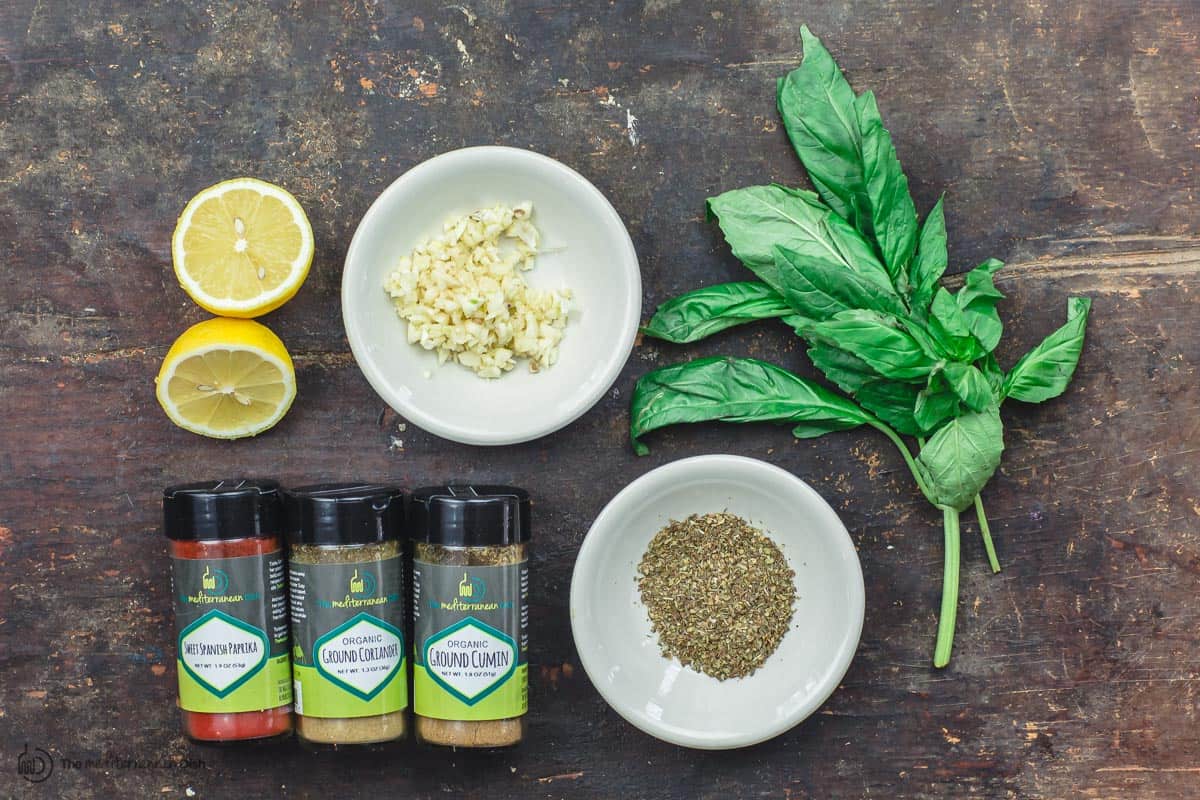 Lemon Juice- lemon is the perfect blast of acidity for the dish.Lemon and shrimp are a match made in heaven. Fresh lemon juice brings even more bright flavor to the sautéed shrimp and zucchini.
Fresh Garlic and Spices – Fresh garlic cloves go well in everything, I like to mince the garlic real small to capitalize on its flavor. The garlic is sauteed with the onions at first to kick start the flavoring process, while dried spices like oregano, coriander, cumin, and sweet paprika create depth of flavor.
Fresh Herbs – In this sautéed shrimp recipe, I used fresh basil at the very end. Do not skip this part, it really does make a difference. But, if basil is not available to you, you can use any fresh herb you like or have in the house. Fresh parsley or cilantro would go perfectly.
Tips for how to cook shrimp in a skillet
Cooking shrimp in a skillet it as simple as it can get, but it is easy to overcook shrimp. A few tips do make all the difference for getting perfectly sautéed shrimp every time:
Cook the shrimp until just pink
Even large shrimp cook super quickly. Overcooking shrimp is about the only way you can ruin them (they become chewy and tough.) Cook the shrimp until they turn that pinkish color, they curl in a bit, and the translucent grey color turns white. That's it, they are done! Usually they need no more than a few minutes of cooking time. In this recipe, they will not take longer than 4-5 minutes (about 2 minutes or so per side).
Make Sure Your Skillet is Hot
Making sure that your skillet is on medium-high heat will give you the best cooked shrimp. Not only will the shrimp cook quickly, but they will get a bit of a browned crust on the outside, which provides a lot of delicious flavor.

To make sure everything is cooked properly in this recipe, you'll start by cooking the veggies first and then the shrimp separately. Here is how...
How to make sautéed shrimp with veggies
Season the shrimp
Mix your combine your dried oregano, ground cumin, ground coriander, and sweet paprika in a small bowl. Pat the shrimp dry and toss it with kosher salt, black pepper, and about 1 ½ teaspoons of the spice mixture. Refrigerate for now, or if you're working quickly, set the shrimp aside.
Sautee the vegetables
In a large skillet, cook the garlic and onion in a bit of extra virgin olive oil, tossing until they soften a bit, then add the zucchini, bell peppers, and chickpeas. Season with a bit of kosher salt and black pepper and the remaining spices. Toss and cook for 5 to 7 minutes until the veggies soften and char in some parts. Transfer the veggies and chickpeas to a plate for now.


Sautee the shrimp
To the skillet, add a drizzle of olive oil. Add the shrimp, a little more garlic and cook over medium-high heat, tossing occasionally, until the shrimp turns pink (about 3 minutes or so, depending on the size of the shrimp.


Combine the shrimp, veggies, tomatoes and fresh basil
Add the veggies and chickpeas back to the skillet. Add the tomatoes and toss briefly. Finish with fresh lemon juice and basil. Serve!


Leftovers?
You can store leftover sauteed shrimp and vegetables in an airtight container for about 3 days.
How to reheat shrimp?
The best way to reheat shrimp and your leftovers is by heating a skillet over medium-high heat and giving it a quick warm through, don't keep it on the heat too long. Your goal is to warm the food, but not completely overcook your shrimp.
What to serve with sauteed shrimp?
In this sauteed shrimp recipe, we already have our protein and veggies in one skillet. You barely need to add anything else! But here are a few suggestions, if you're looking for something more to add:
More Easy Shrimp Recipes
Browse top Mediterranean diet recipes. Browse all Mediterranean recipes
Mediterranean-Style Sauteed Shrimp and Zucchini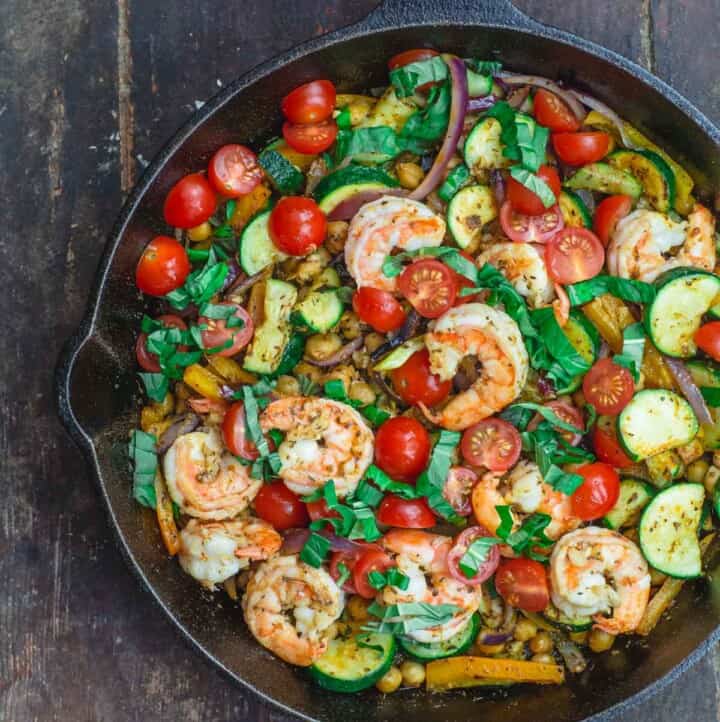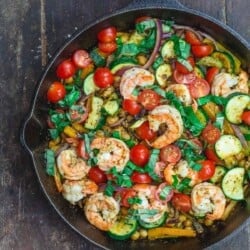 This EASY recipe for sauteed shrimp with vegetables is colorful, flavorful and bursting with Mediterranean flavors. Healthy never tasted so good!
Ingredients
1 ½

tablespoon

dry oregano

1

teaspoon

ground cumin

1

teaspoon

ground coriander

½

teaspoon

sweet paprika

1

lb

large shrimp

prawns, peeled, and deveined

2

tablespoon

Extra virgin olive oil I used Private Reserve Greek EVOO

½

medium red onion

thinly sliced

5

garlic cloves

minced and divided

1

bell pepper

cored and sliced into sticks

1 to 2

zucchini

halved length-wise, sliced into ½ moons (you can use 1 zucchini and 1 yellow squash)

1

cup

cooked chickpeas

from canned chickpeas, drained

1 ½

cups

cherry tomatoes

halved

Pinch

kosher salt

Pinch

black pepper

1

large lemon

juice of

Handful

fresh basil leaves

torn or sliced into ribbons (you can use a different herb, depending on what's available to you)
Instructions
In a small bowl, combine the spices (oregano, cumin, coriander, and paprika.)

Pat shrimp dry and season with kosher salt and 1 ½ teaspoon of the spice mixture. Set aside briefly or refrigerate till later. (Reserve the remaining spice mixture for the vegetables.)

In a large cast iron skillet, heat 2 tablespoon extra virgin olive oil over medium heat. Add onions and ½ the amount of garlic and cook for 3 to 4 minutes, tossing regularly till fragrant (do not allow the garlic to burn.)

Add zucchini, bell peppers, and chickpeas. Season with salt and pepper and the remaining spice mixture. Toss to combine. If needed, raise the heat just a bit and cook the veggies until tender, tossing regularly (about 5 to 7 minutes.)

Transfer the veggies to a large plate for now. Return the skillet to the heat and add a little bit of extra virgin olive oil. Add the seasoned shrimp and remaining garlic. Cook over medium-high heat, stirring occasionally, until shrimp is totally pink (about 4 to 5 minutes).

Add the cooked vegetables back to the skillet with the shrimp. Add cherry tomatoes and lemon juice. Give everything a good toss. Finish with the fresh basil.
Notes
Cook's Tip: Do not overcook the shrimp. Even large shrimp cooks very quickly, so watch carefully, and once it turns from grey to pink in the thickest part, your shrimp is ready. Depending on the size of your shrimp and how many you have in the pan, this will usually take 4 to 5 minutes.
Visit our 0nline shop to browse our selection of extra virgin olive oils (including Private Reserve Greek EVOO) and our all-natural spices, including cumin, coriander, and paprika.
Nutrition
Calories:
298.7
kcal
Carbohydrates:
23.9
g
Protein:
29.3
g
Fat:
10.4
g
Saturated Fat:
1.4
g
Polyunsaturated Fat:
2.2
g
Monounsaturated Fat:
5.6
g
Cholesterol:
285.8
mg
Sodium:
455
mg
Potassium:
642.9
mg
Fiber:
6.9
g
Sugar:
7.2
g
Vitamin A:
1483.1
IU
Vitamin C:
81.4
mg
Calcium:
257.6
mg
Iron:
5.8
mg