Everyone loves hummus, but there is a whole world of delicious chickpea recipes beyond the creamy dip! I have a list of 17 insanely delicious ideas to prove it! Whether you need a healthy snack, an easy meatless Monday recipe, a hearty stew, or some low-budget dinners, chickpeas have you covered!
Healthy, protein-packed, and fiber-rich, chickpeas make a great addition to salads, stews, and much more. They may just be your new favorite super food. I've complied everything you need to know about chickpeas + a list of easy delicious chickpea recipes all below...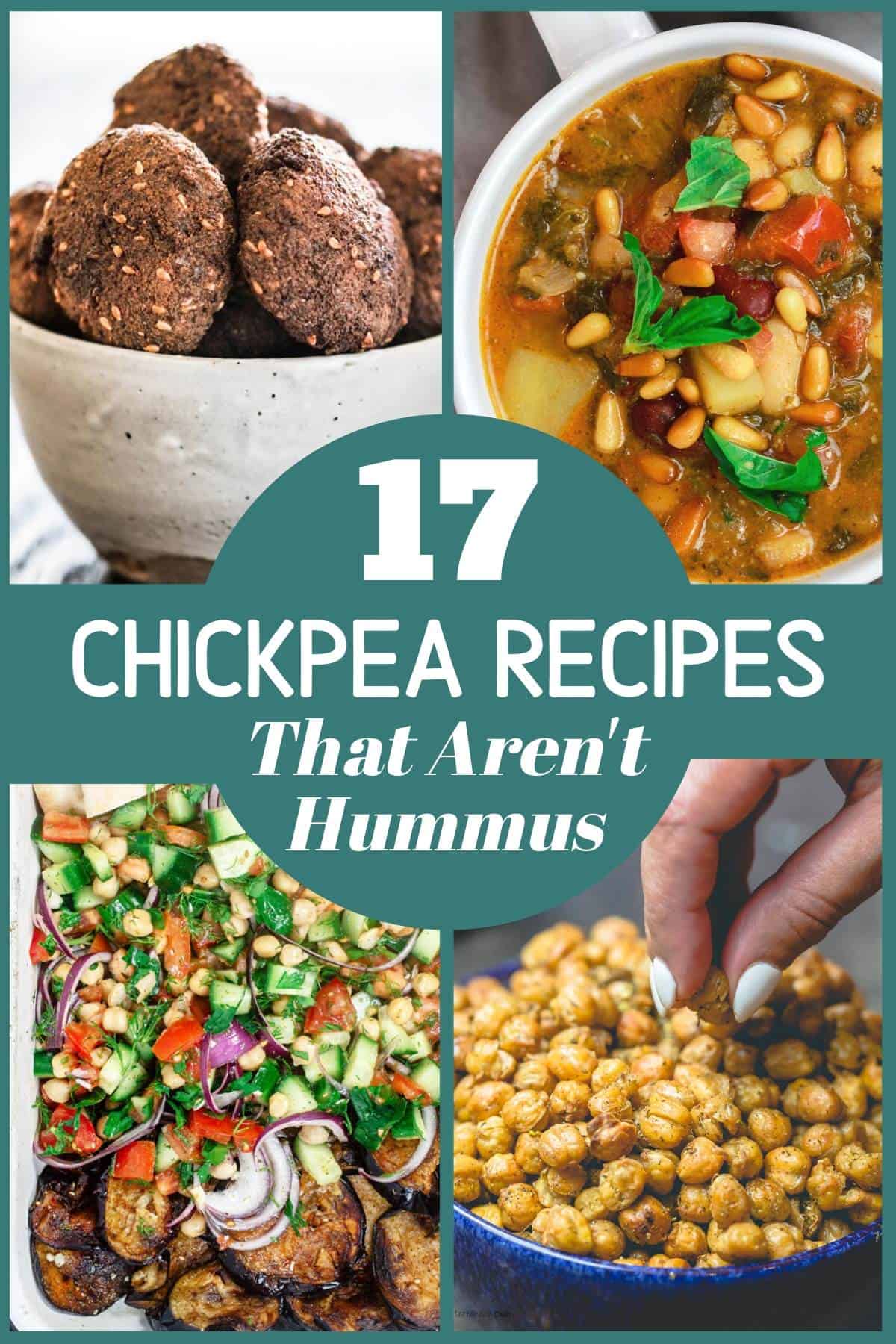 What are Chickpeas?
Although the same bean, "chickpeas" and "garbanzo beans" are often mistaken as two different foods. Garbanzo simply refers to the Spanish name, while chickpeas is the more familiar name.
Chickpeas are legumes or pulses, if you're using them in their dry form. They originally came from the Mediterranean region and are widely used in both Mediterranean and Middle Eastern cooking.
These days, most grocery stores carry a white version (tannish colored), although some specialty markets offer different chickpea varieties-- brown, green, black, and even red. If you can find them, don't be afraid to try the different varieties!
Chickpeas: Healthy, Affordable, Versatile
Chickpeas are the pinnacle food in Mediterranean cooking. Actually, cultures around the world turn to chickpeas not just because they're affordable and versatile but because they provide so many amazing health benefits
Among other things, chickpeas are a good source of plant-based protein, fiber, and carbohydrates. And those on heart-healthy, diabetic, and weight-loss diets can especially benefit from chickpea recipes as a healthier option to meat and soy-based proteins.
Heart-healthy option:

chickpeas help reduce cholesterol and are an excellent alternative for diets low in saturated fats

Diabetic friendly:

chickpeas are a slow-digesting starch that can help control blood sugar

High in fiber:

They are full of fiber and protein, helping you to stay fuller longer
Lucky for us, chickpeas are easy to cook with, and because they are mild and nutty-tasting, they taste great on their own and take heavier seasonings really well.
Add them into salads for extra protein, use in stews for added bulk, or let them lead the show in some crispy falafels!
Canned Versus Dried Chickpeas
Readers often ask about the use of canned chickpeas vs. dried ones. For the most part, this is a personal preference.
A few recipes, like authentic falafel, do require using dry chickpeas (if you use canned chickpeas when making falafel, your falafel patties will not hold and will likely disintegrate when frying.)
Canned chickpeas are easier to find in most grocery stores and definitely quicker to prepare. I always keep a couple of cans stocked in my pantry for a quick weeknight meal or as an on-the-fly addition to salads and stews.
You can use canned chickpeas in many recipes, even when the recipe involves them getting nice and crispy like my go-to savory snacks, roasted chickpeas with a dash of za'atar and harissa spice.
Dried chickpeas are creamier and cheaper than canned, plus, you can really control the sodium content. But dry chickpeas do take a bit more work to prepare. Soaking the dried beans in water for a few hours or even overnight adds a lot more time to a quick recipe. But it is worth it, if you have the time, and especially if you want to make the creamiest homemade hummus (I know, we're not addressing hummus today, but I had to!)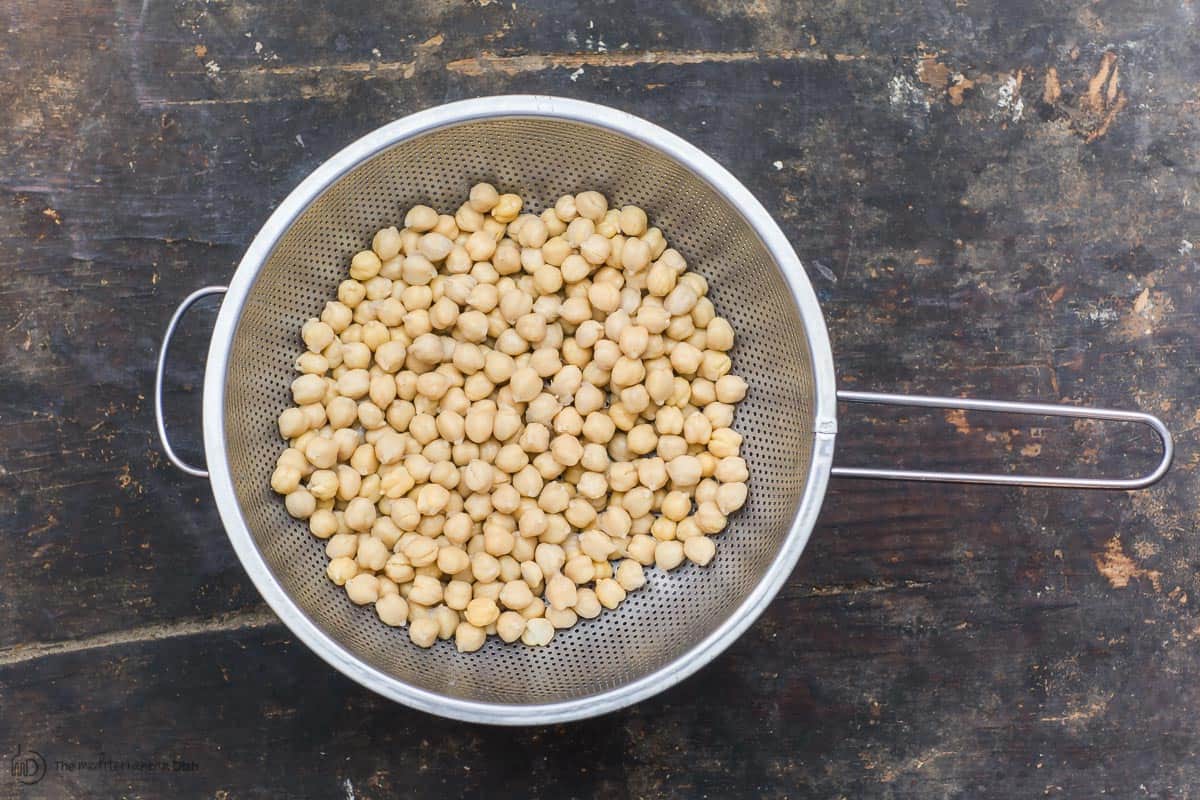 How to Cook Chickpeas from Scratch
A quick conversion fact to remember when working with dry chickpeas: 1 cup of dry chickpeas = about 2.5 cups soaked beans = 3 cups or so of cooked beans.
To cook your chickpeas from dry:
Soak chickpeas overnight for 8 to 10 hours in plenty of water. Drain.

Transfer chickpeas to a pot and cover by about 2 inches of water. Add salt, garlic, or seasonings of choice.

Bring to a boil, then lower heat. Cover and let simmer for about 1 to 2 hours. (At the 1 hour mark, start testing the chickpeas for doneness. If they're still too firm, keep going until they are nice and tender.)
Now, that we've covered chickpea basics, let's get to the tasty list of chickpea recipes!
Everything from vegan chickpea recipes, to hearty stews, quick dinners and more. Here we go...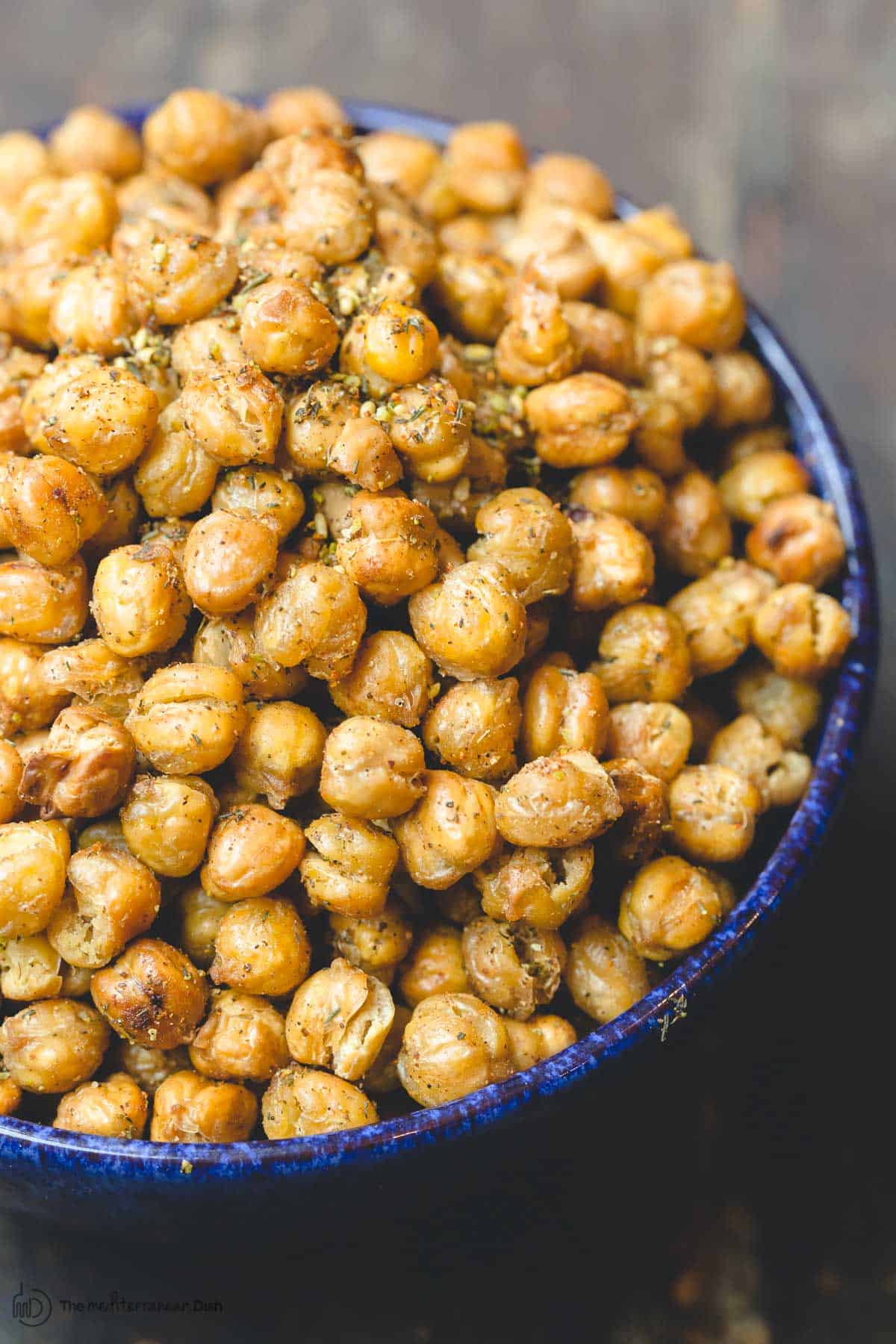 17 Mediterranean Chickpea Recipes that Are Not Hummus
(Tap on recipe names in red to see the full recipe)
Great for on-the-go snacks or party appetizers, these crunchy roasted chickpeas are a healthy alternative packed with protein. And with only four ingredients, there's no reason not to try it.
2. Mediterranean Chickpea Salad with Za'atar and Fried Eggplant
Caramelized eggplant topped with a rustic blend of chopped vegetables, fresh herbs, and chickpeas tossed in a zesty Mediterranean vinaigrette makes this budget meal a weeknight treat.
3. Balela Salad
An MVP in any Mediterranean diet! Packed with pops of color from fresh red tomatoes, chickpeas, and green olives, this chickpea recipe makes a festive addition to any holiday table.
4. Mediterranean Chickpea Egg Salad
Crunchy, creamy, spicy, sweet—this chickpea recipe has it all. And with less than 200 calories per serving, it's a recipe you can feel good about eating.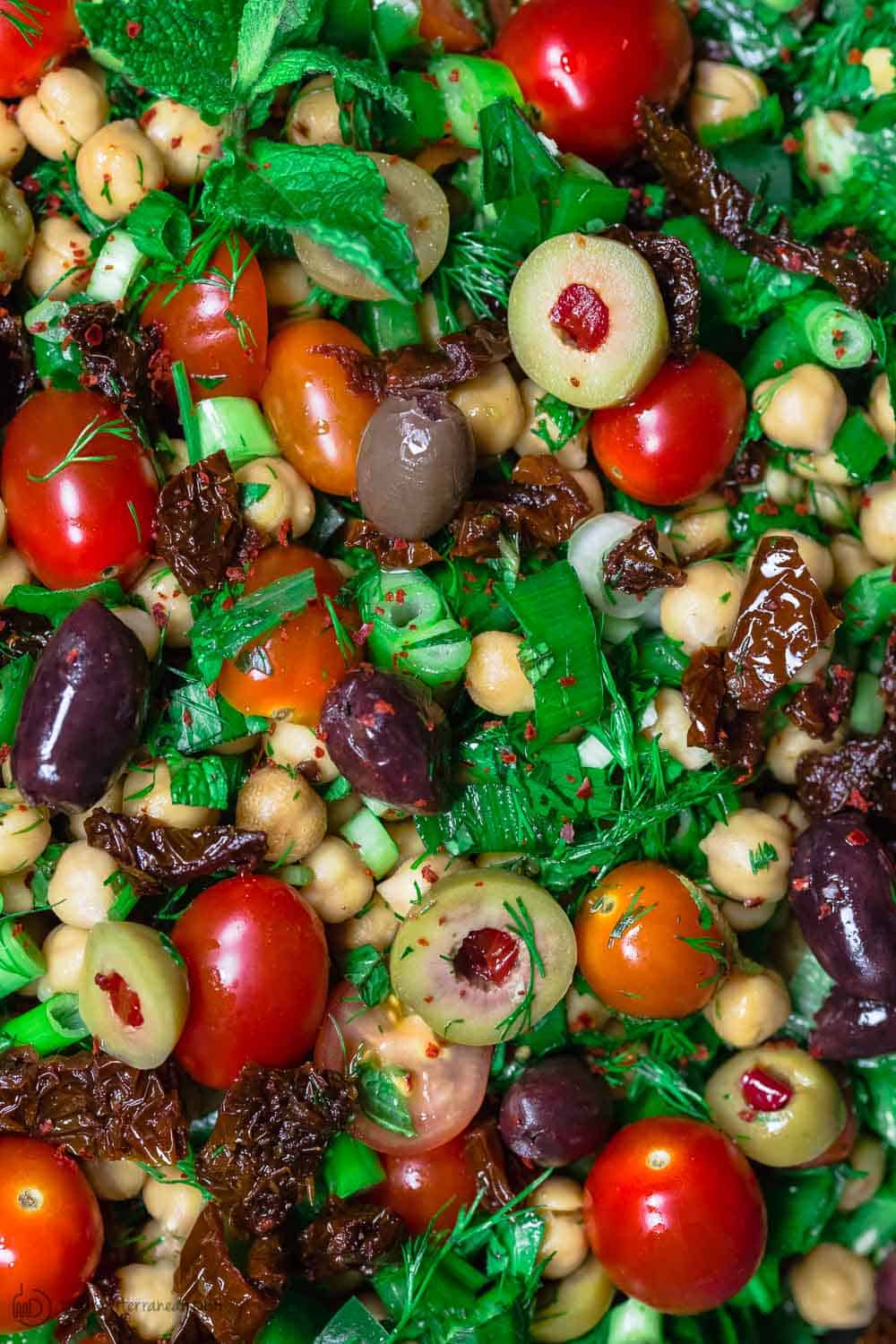 5. Mediterranean Couscous Salad
When I say the best, it really is the best. Pearl couscous loaded with sweet grape tomatoes, hearty chickpeas, salty olives, and creamy cheese turns a frown upside down every time.
6. Mediterranean Chickpea Farro Salad with Shrimp
Seafood, grains, chickpeas, and quality extra virgin olive oil are all hallmark staples of the Mediterranean diet and this salad does not disappoint! Make it ahead or make extra for leftovers, as it gets better the longer it sits.
7. Mediterranean Grain Bowls Recipe with Lentils and Chickpeas
Every meal prep maven should have one grain-bowl recipe up their sleeve. Grain bowls like this one featuring both chickpeas and lentils are great options for light lunches or a healthy and hearty meal after a long day of work.
Despite the title, the recipe contains directions for stovetop cooking for those who don't own an instant pot. And yes—it's just as delicious!
9. Mediterranean Bean Soup Recipe with Tomato Pesto
This chunky soup has three different beans and a whole host of immunity-boosting ingredients to keep you running strong. And that tomato pesto sauce makes all the difference!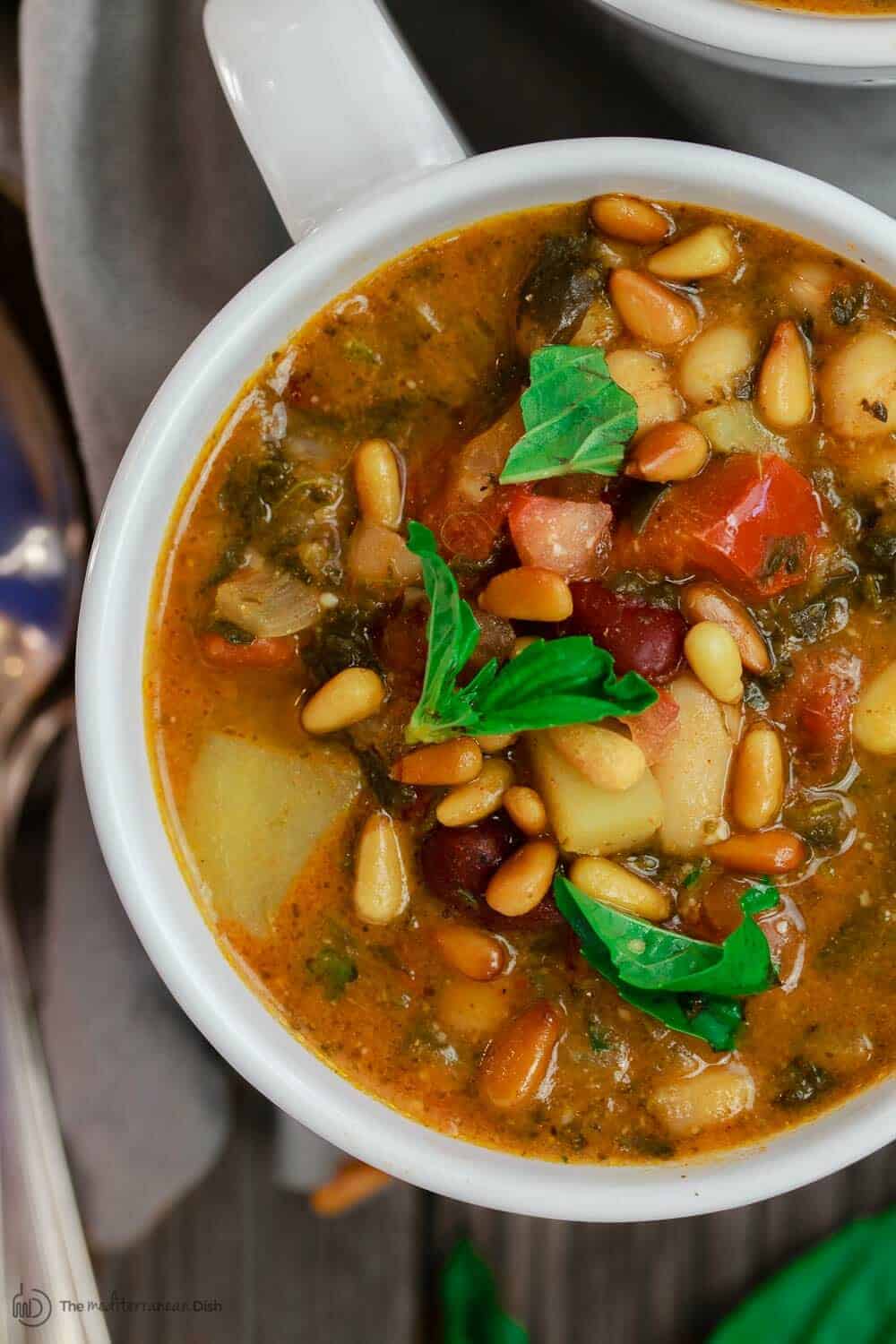 10. Turmeric Roasted Cauliflower and Chickpea Stew
This Mediterranean version of Indian chana gobhi curry is your new favorite takeout-made-at-home recipe. You're welcome.
11. Spanish Chickpea Stew (Espinacas Con Garbanzos)
Crushed almonds make a surprising appearance in this hearty recipe. Although traditionally served as tapas, it's so good you'll want a bigger plate.
12. Greek-Style Braised Eggplant Recipe
A go-to meatless Monday dinner, you won't miss any of the meat in this Greek-style chickpea recipe. Tip: Go heavy on the olive oil. Trust me.
If you want to make the best authentic falafels from scratch, this recipe is your ticket! Crispy, crunchy, flavorful, and incredibly satisfying, it will easily become your favorite use of chickpeas.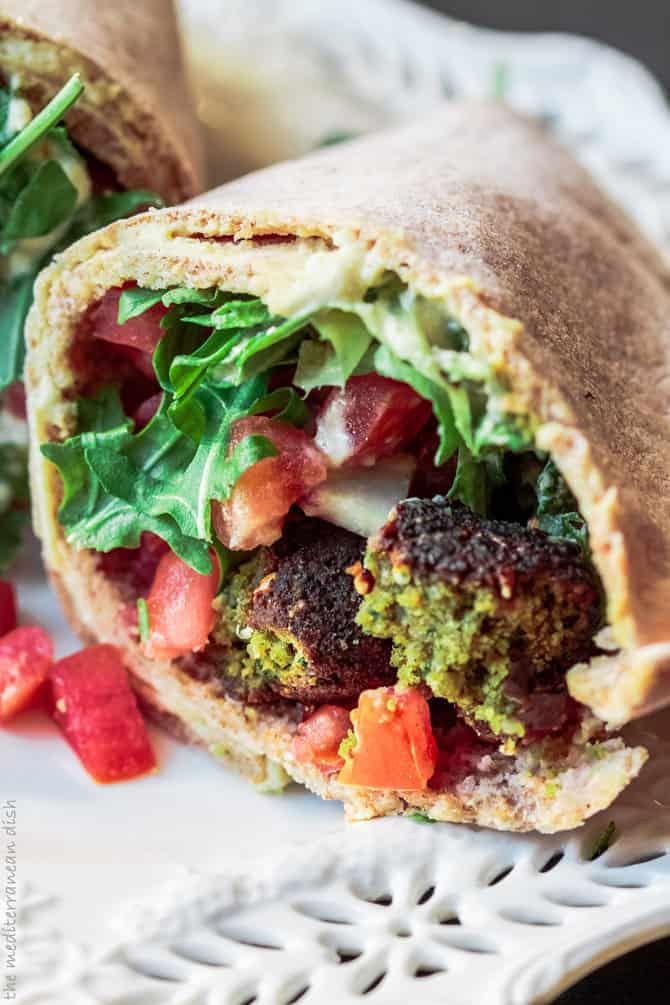 14. Easy Moroccan Vegetable Tagine Recipe
Vegan, gluten-free, low-calorie, one-pot, budget meal friendly, need I say more? Seriously, though, it's so easy to make and you can use any in-season vegetables you have on hand.
15. Easy Moroccan Lamb Stew Recipe
Rich lamb broth seasoned with layers of spices and herbs tops the buttery braised lamb and creamy chickpeas in this hearty stew. You'll want to soak up every last drop of this stew, so have lots of fresh pita handy.
16. Mediterranean Orzo Recipe with Zucchini and Chickpeas
For many Mediterranean families (including mine), orzo is life. Serve this dish warm or cold, and even as a make-ahead recipe.
17. The Best Moroccan Fish Recipe
This fish and chickpea recipe is often made to celebrate important holidays and events—but don't let that deter you from making it on a weeknight! The comforting warmth from the spices, nuttiness from the chickpeas, and flakiness of the fish make any day something special.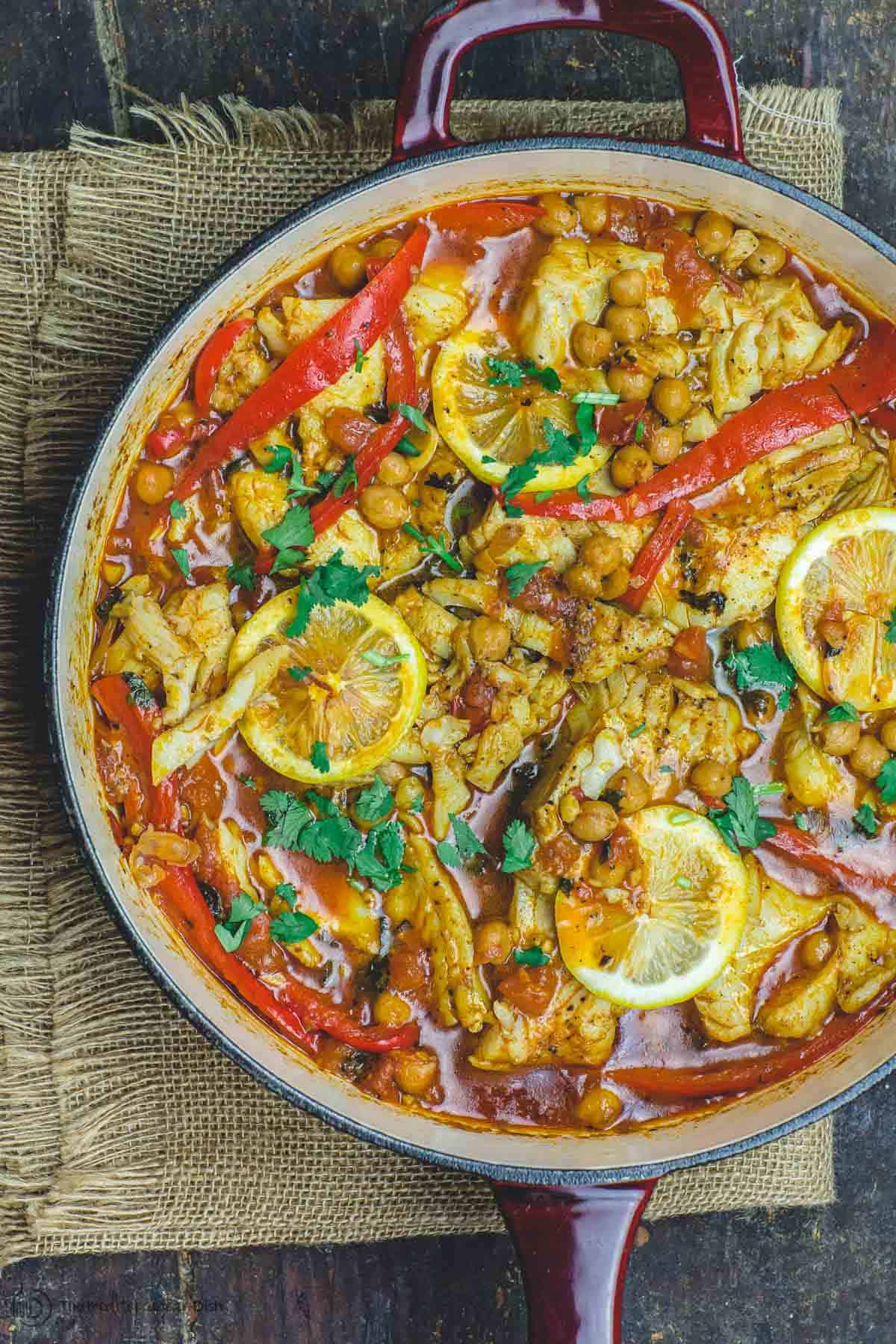 There you have it! A full list of chickpea recipes you need to try ASAP. With so many delicious uses and health benefits, make chickpeas a regular part of your meal rotation!
Which chickpea recipe will you try first? Let me know in the comments!
Hungry for More? Join my e-mail list HERE to receive new recipes and my weekly dinner plan!
Shop our ONLINE STORE for quality olive oils, spices, and other Mediterranean favorites!
*This post first appeared on The Mediterranean Dish in 2016 and has recently been updated with new information and media for readers' benefit. Enjoy!