Everyone loves hummus, but there is a whole world of delicious chickpea recipes beyond the creamy dip! Check out my list of 21 insanely delicious things to do with chickpeas from salads and snacks to hearty dinners!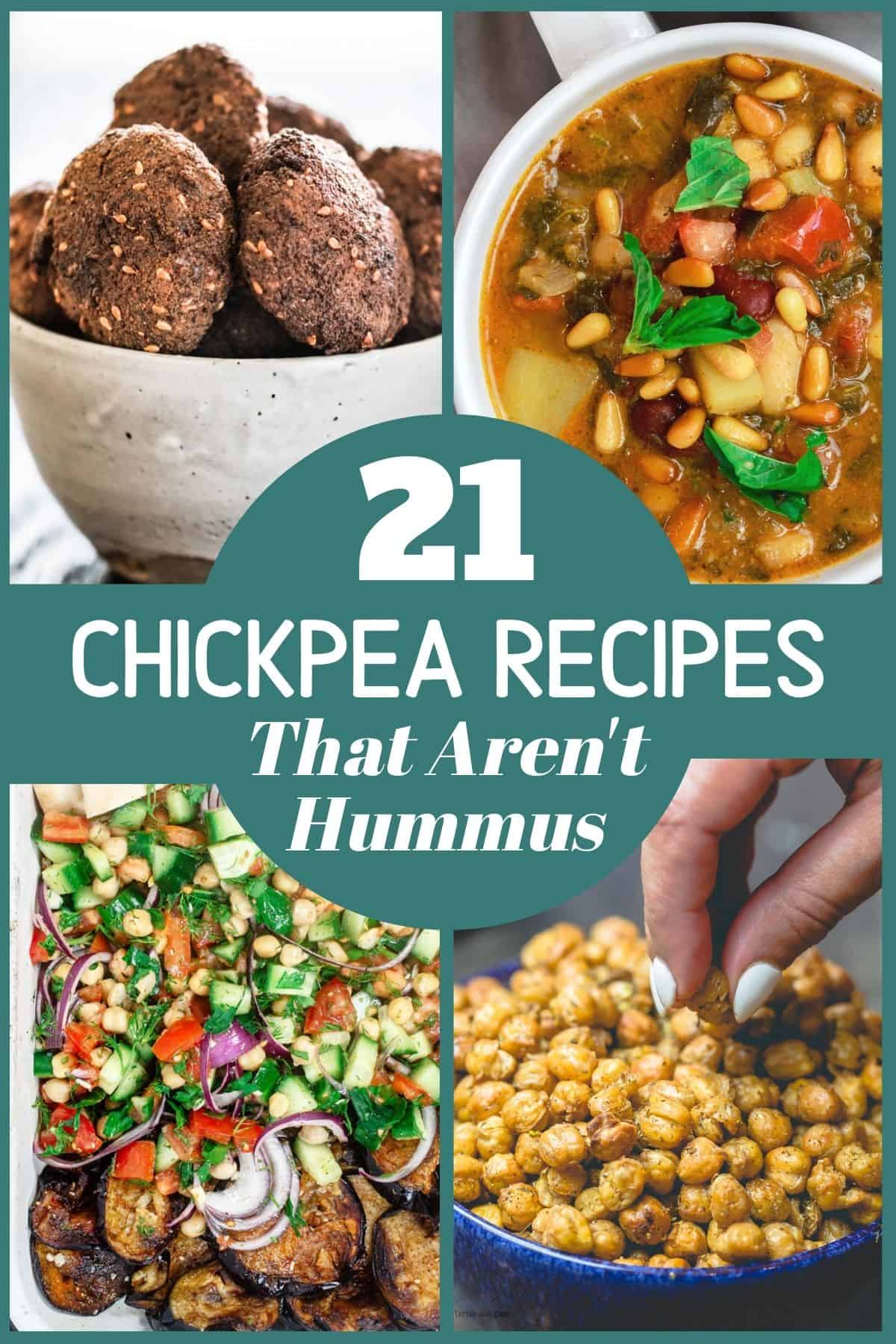 Healthy, protein-packed, and fiber-rich, chickpeas are a powerhouse ingredient that is part of the Mediterranean diet. Plus, they are relatively cheap and easy to use in many ways from salads and snacks to hearty dinners.
In this post, I am sharing everything to know about chickpeas + a list of my favorite chickpea recipes!
What are Chickpeas?
Chickpeas, also known as garbanzo beans, are a type of legume. Like other legumes and pulses such as lentils and beans, chickpeas are chockfull of fiber, plant-based protein, and several key vitamins and minerals. These days, most grocery stores carry a white version (tannish colored), although some specialty markets offer different chickpea varieties-- brown, green, black, and even red. If you can find them, don't be afraid to try the different varieties!
You can find chickpeas canned or dry, and both are great options for cooking.
Chickpeas: Healthy, Affordable, Versatile
Chickpeas are the pinnacle food in Mediterranean cooking. Actually, cultures around the world turn to chickpeas not just because they're affordable and versatile but because they provide so many amazing health benefits.
Among other things, chickpeas are a good source of plant-based protein, fiber, and carbohydrates. And those on heart-healthy, diabetic, and weight-loss diets can especially benefit from chickpea recipes as a healthier option to meat and soy-based proteins.
Heart-healthy option:

chickpeas help reduce cholesterol and are an excellent alternative for diets low in saturated fats

Diabetic friendly:

chickpeas are a slow-digesting starch that can help control blood sugar

High in fiber:

They are full of fiber and protein, helping you to stay fuller longer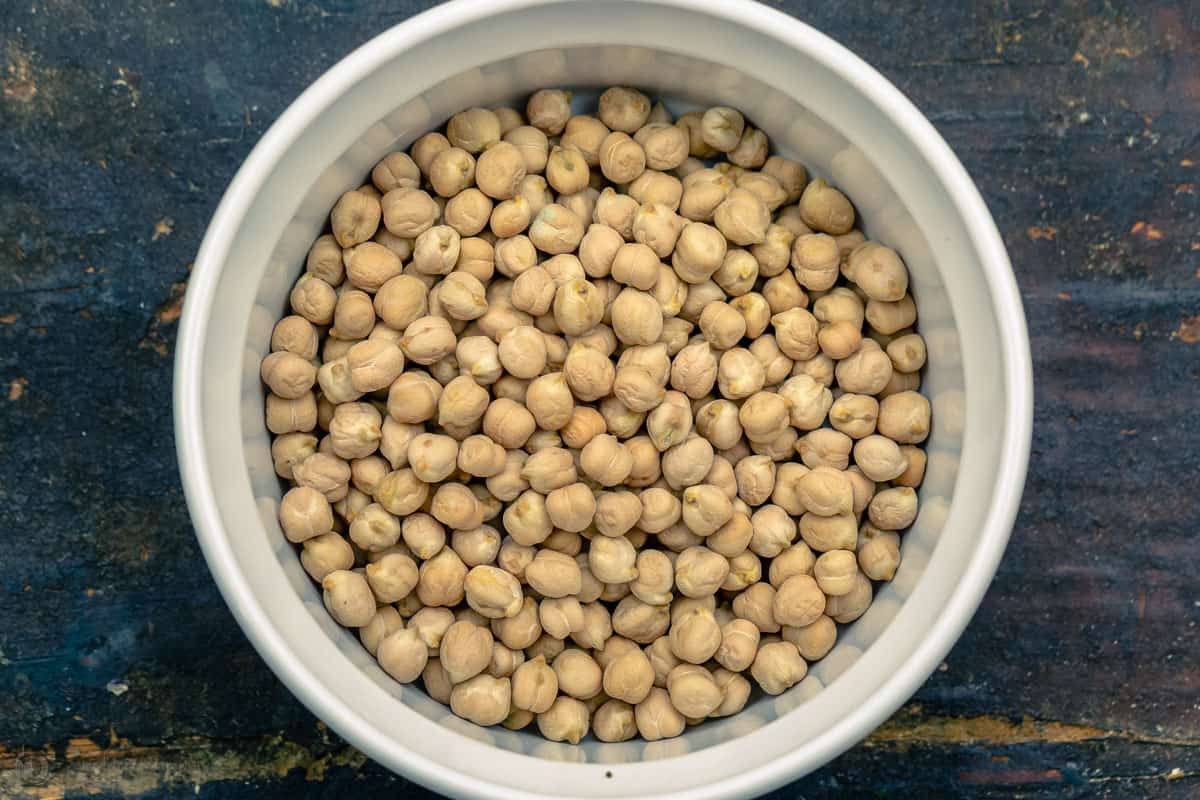 Canned vs. dried chickpeas
Readers often ask about the use of canned vs. dried chickpeas. For the most part, this is a personal preference. I do keep both on. hand for different uses.
Canned chickpeas are easier to find in most grocery stores, and a great thing to keep in pantry for a quick weeknight meal or as an on-the-fly addition to salads and stews.
On the other hand, a bag of these dried beans is far more economical, and I promise you learning how to cook chickpeas is not difficult. It requires no special skills, just a little extra time for soaking and cooking. Plus, cooking them from scratch will produce a creamier chickpea, plus you can control the sodium content.
There are occasions, like when making authentic falafel, that require using dry chickpeas. You can not use the canned ones or your falafel patties will disintegrate when frying.
21 Chickpea recipes that aren't hummus!
Most people associate chickpeas with hummus, and believe me, I'm all for the creamy dip and its fun variations--avocado hummus, roasted red pepper hummus, beet hummus, you name it! But there is so much more you can do with the humble chickpea.
That's why I put together a list of my favorite recipes using chickpeas (or garbanzo beans) to share with you today. Here we go...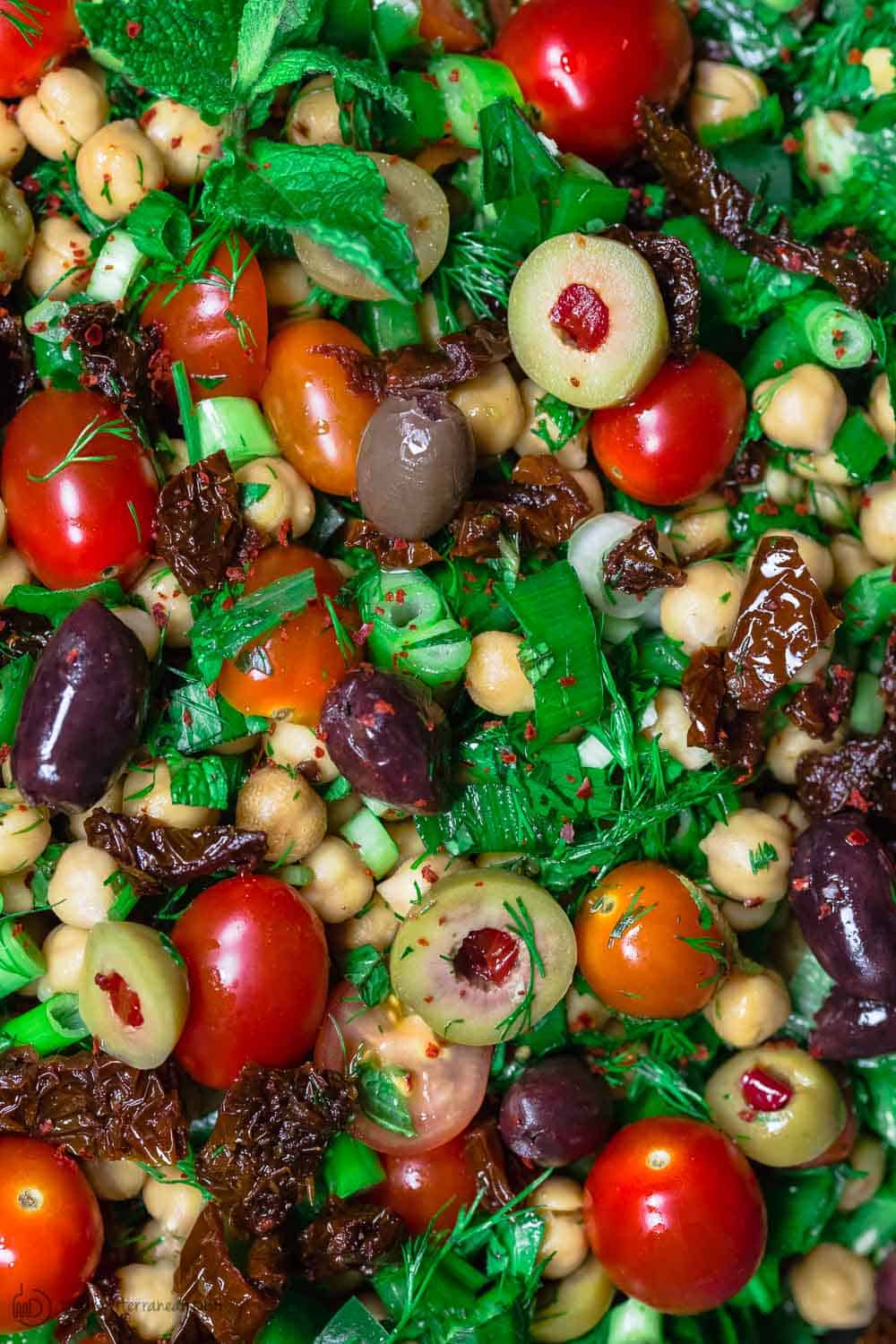 Chickpea salad and snack recipes
(Tap on recipe names in red to see the full recipe)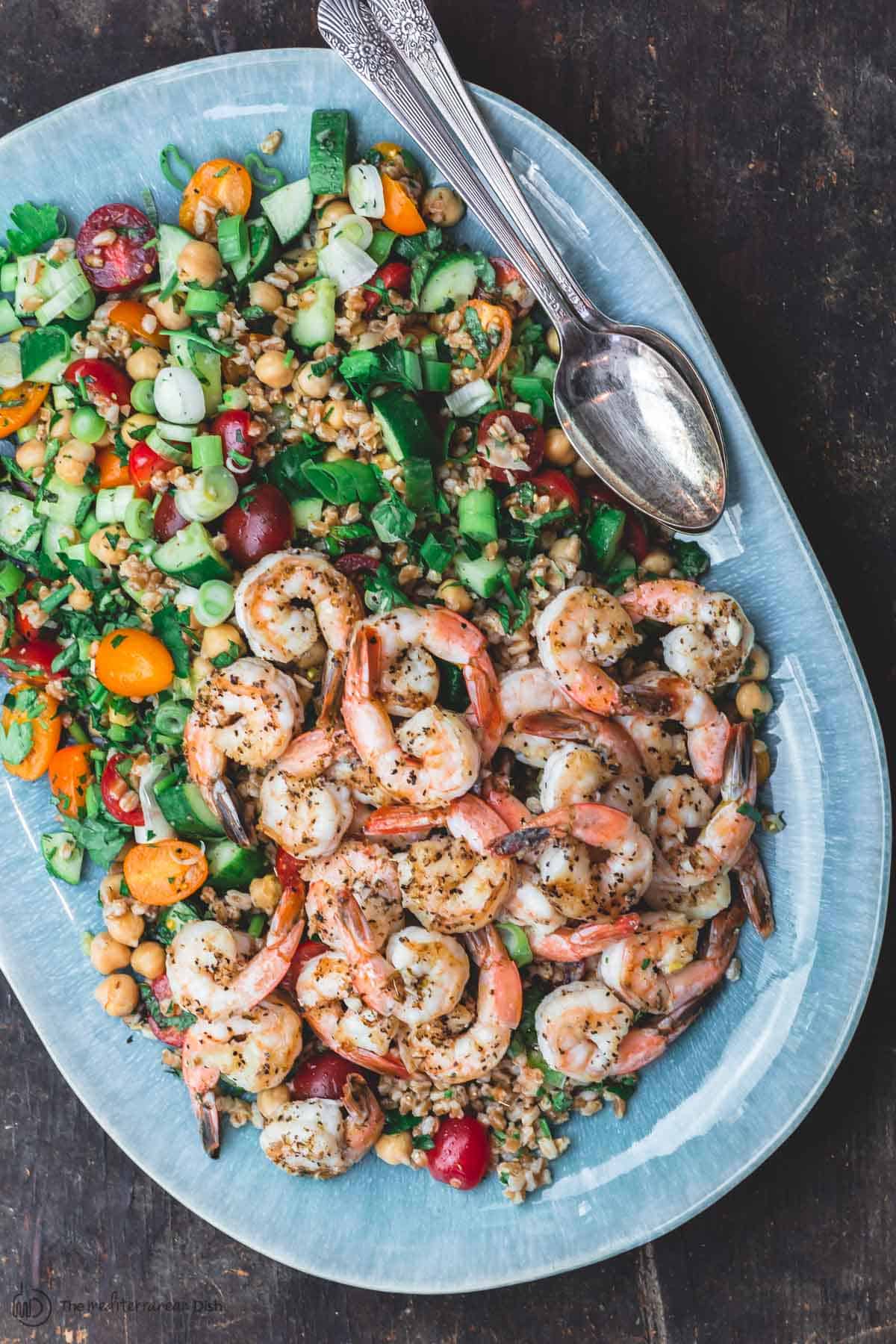 Chickpea recipes for dinner
The Best Moroccan Fish Recipe. The comforting warmth from the spices, nuttiness from the chickpeas, and flakiness of the fish make a special one-pan dinner.
Tomato Chickpea Chili (Two Ways). The perfect vegan chili, layered with veggies, aromatics, and a simple chili seasoning. You can make it in the slow cooker or on the stovetop.
One-Pot Chicken and Rice. Simple, comforting, one-pot chicken and rice recipe with chopped veggies, garbanzo, and warm Middle Eastern spices. Ready in just over 30 minutes.
Mediterranean Grain Bowls Recipe with Lentils and Chickpeas.

Every meal prep maven should have one grain-bowl recipe up their sleeve. Grain bowls like this one featuring both chickpeas and

lentils

are great options for light lunches or a healthy and hearty meal after a long day of work.

Easy Orzo Recipe with Chickpeas and Zucchini. A quick one-pot meal for any night of the week.
Mediterranean Potato Hash with Chickpeas and Asparagus. Loads of veggies and big bold spices!
Greek-Style Braised Eggplant with Chickpeas. There is a reason this is one of the top recipes on the site, and definitely one of my most popular eggplant recipes. The combination of velvety tender eggplant and hearty chickpeas is satisfying and delicious.
Spanish Chickpea Recipe (Espinacas Con Garbanzos). Bell peppers, almonds, and spinach together with garbanzo... Full of flavor from garlic, vinegar, and warm notes of cumin and smoked paprika. Perfect as tapas or a satisfying vegan dinner! Chickpea Farro Salad with Shrimp. Nutty farro grains with chickpeas, shrimp, veggies and herbs. The perfect big supper salad.
Falafel. If you want to make the best authentic falafels from scratch, this recipe is your ticket! Crispy, crunchy, flavorful, and incredibly satisfying, it will easily become your favorite use of chickpeas.
Smashed Chickpea Toast. This vegetarian recipe takes a humble can of chickpeas and a couple of boiled eggs and turns them into dinner in 10 minutes or less. You can also make it vegan by skipping the eggs.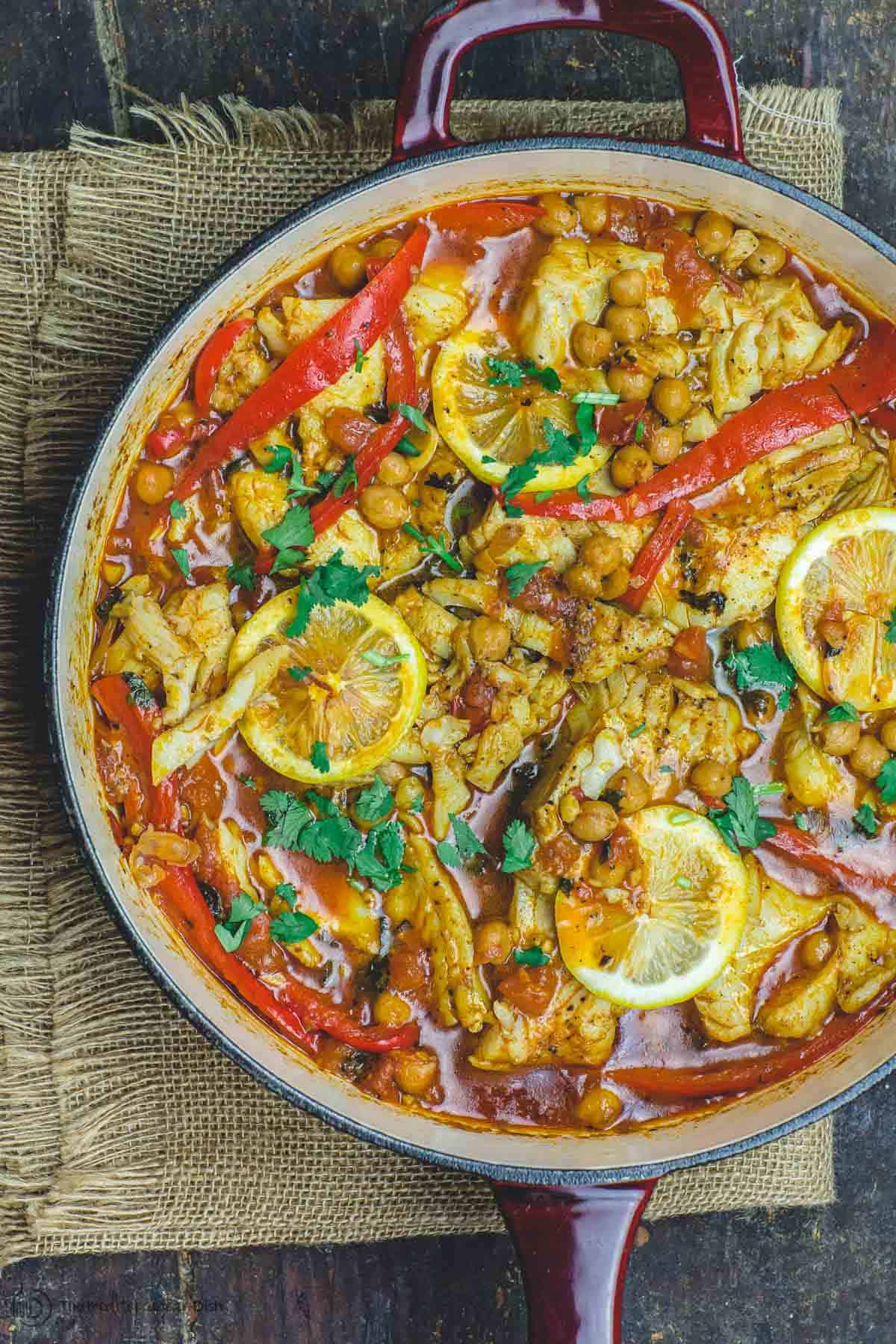 Comforting chickpea soups and stews
Related recipes and articles you may like
21 Mediterranean Chickpea Recipes that are NOT hummus: How to cook chickpeas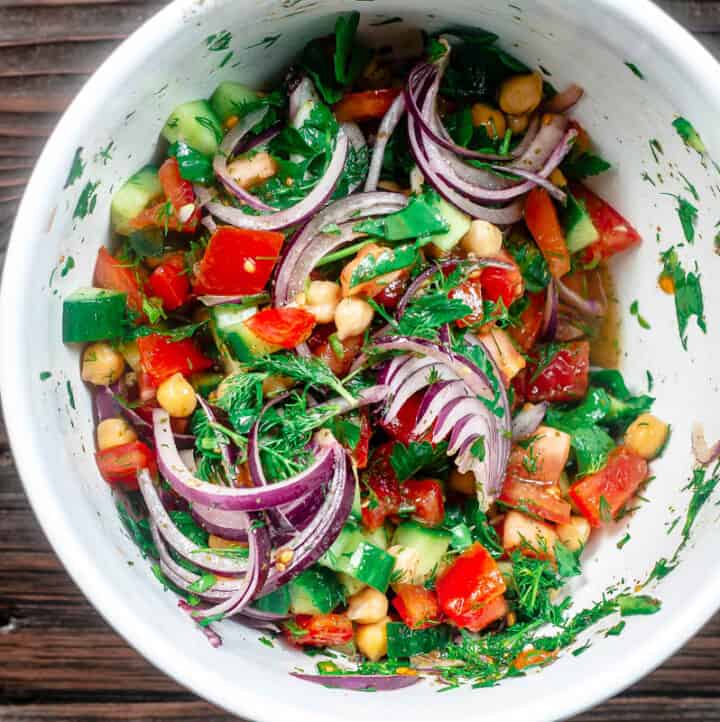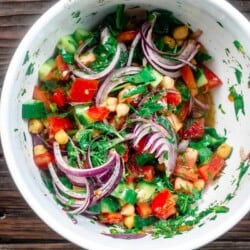 Once you learn how to cook chickpeas on the stovetop, you can store them in the fridge for up to 5 days to use in any of my Mediterranean chickpea recipes!
Ingredients
1

pound

dry chickpeas,

approximately 2 cups dry chickpeas

½ to 1

teaspoon

baking soda,

depending on the cooking mehtod

water

Kosher salt

1 to 2

bay leaves

2

garlic cloves.

lightly smashed
Instructions
Soak the chickpeas. You can either soak them overnight or try the quick soaking method. To soak overnight, put the chickpeas in a large bowl and add plenty of water to cover the chickpeas by a good 3 inches. Set aside for 24 hours. For the quick soak method, put the chickpeas in a pot and add 6 cups of water. Bring to a boil and cook for 2 minute. Turn the heat off, cover and let the chickpeas soak for 1 hour. Drain.

Stovetop Method. In a large cooking pot, put the chickpeas and 1 teaspoon of baking soda. Cook over medium-high heat, tossing constantly for about 3 to 4 minutes. Add 7 cups of water to cover the beans by several inches. Season with a big pinch of kosher salt (about 1 teaspoon or more if you like). Add the bay leaf and garlic. Bring to a boil, then turn the heat down and simmer, skimming off any foam or skins that float to the top. Chickpeas will cook anywhere from 40 minutes to 1 ½ hour or until tender (cooking time will vary depending on the type and freshness of the chickpeas).
Notes
Yield: This recipe will yield approximately 5 to 6 cups of cooked chickpeas. Serving size is estimated to be ½ cup.
Can you freeze cooked chickpeas? First, pat the chickpeas dry and put them in ziptop bags (it helps to spread them in a single layer and freeze them laying flat). They will last 6 months or longer in the freezer.
Can you cook chickpeas in the slow cooker or pressure cooker? Yes! See my complete guide on How to Cook Chickpeas.
Visit our shop to browse quality Mediterranean ingredients including extra virgin olive oils and spice.
Nutrition
Calories:
138.4
kcal
Carbohydrates:
23.1
g
Protein:
7.3
g
Fat:
2.3
g
Saturated Fat:
0.2
g
Polyunsaturated Fat:
1
g
Monounsaturated Fat:
0.5
g
Sodium:
54.8
mg
Potassium:
332.8
mg
Fiber:
6.6
g
Sugar:
4
g
Vitamin A:
25.9
IU
Vitamin C:
1.7
mg
Calcium:
40.7
mg
Iron:
2.4
mg