Bold, tangy, and perfectly crunchy, Middle Eastern pickled turnips are an easy condiment you'll love on sandwiches, salads, mezze platters and more!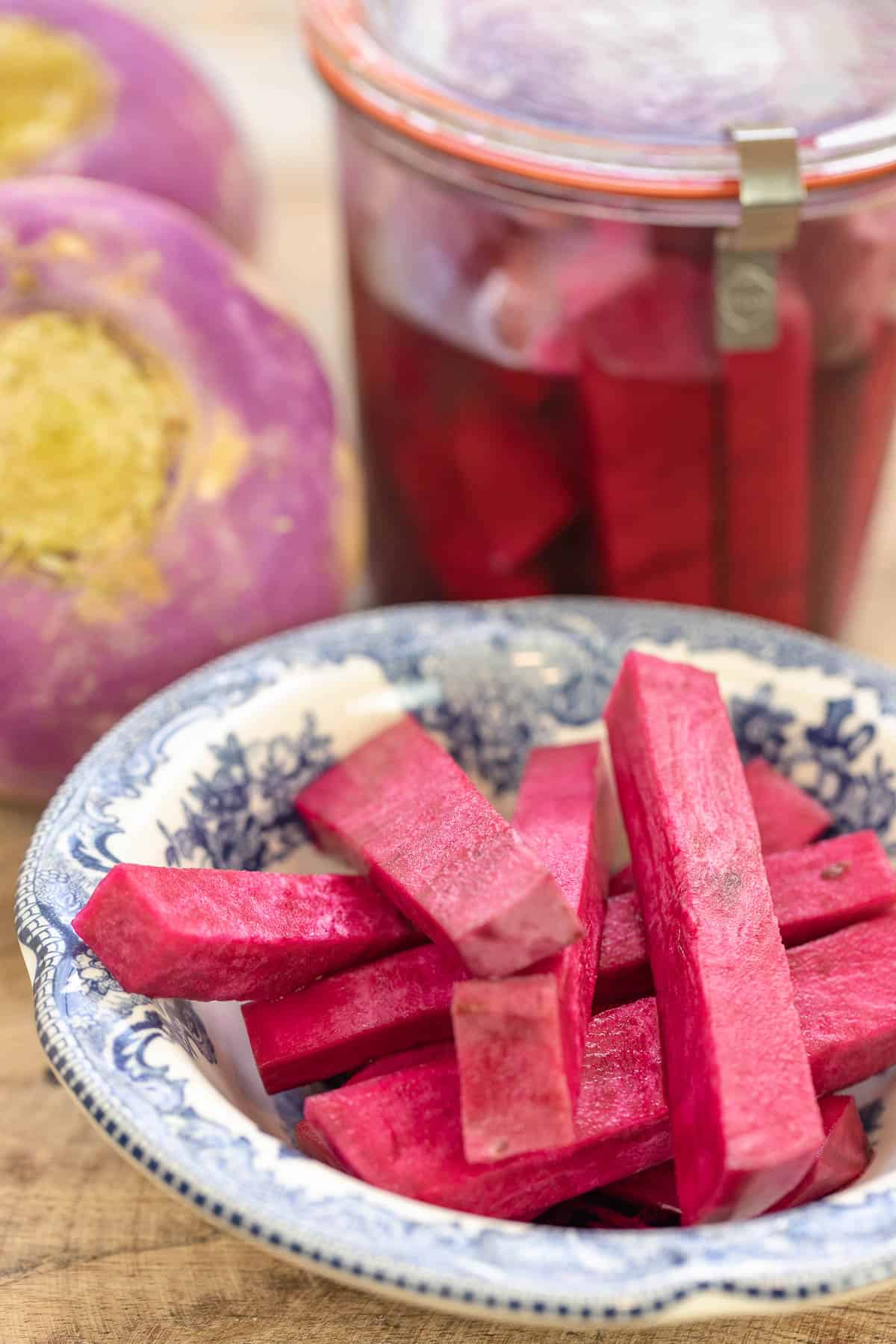 Pickled turnips
Beautiful pink pickled turnips are a staple in Middle Eastern kitchens. Perfectly vinegary, slightly sour, and subtly spicy, these crisp refrigerator pickles are easy to make in just 10 minutes. Simply brine, refrigerate, and let the magic happen.
This simple 6-ingredient recipe is a riff off of one from my mother-in-law Dina, who keeps jars of pickled turnips, pickled cucumbers, and preserved lemons to serve for brunch next to favorites like foul mudammas, tangy labneh, and boiled eggs.
Turnips (and beets, which are responsible for the beautiful magenta hue) + a quick brine make up this recipe...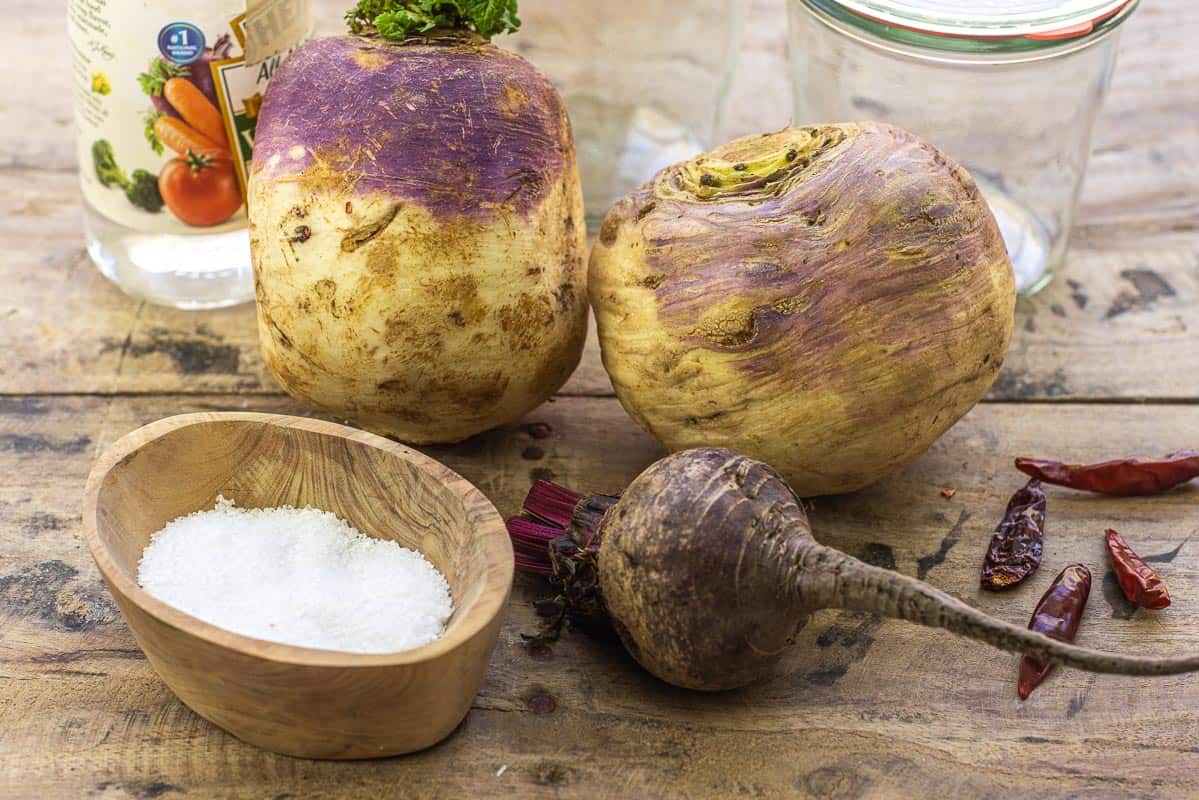 Turnips and beets
Turnips are root vegetables that are mostly white in color with a hint of lovely purple or pink skin. Younger, smaller turnips tend to be sweeter and more crisp, while older turnips have a sharper flavor. I use large turnips in this recipe, but you could use smaller ones as well – just get about 2 pounds! Avoid turnips with brown, soft spots. You need the turnips to be as fresh and crisp as possible so your pink pickles are nice and crunchy.
The secret to Middle Eastern pickled turnips' pretty pink hue is red beets. You just need 1 small sliced beet, which is enough to tint the white turnips varying shades of pink.
Once the turnip pickle is ready, you can eat both the turnips and the beetroot. Just remember that the beets will not be crunchy – they will be chewy and a bit more rubbery.
The pickling brine
The brine is probably the most important part of this quick pickling process. Its strong flavor comes from salt and vinegar, which give the pickled turnips perfectly balanced tang and sourness.
This super easy brine takes just 3 simple ingredients and no boiling! Here's what you'll need to make it:
Distilled water - If you use tap water instead, you will need to boil it first with the salt before you stir in the vinegar. Let it cool completely before adding the turnips and beets.
Kosher salt - Do not use table salt. The turnip pickle will turn out really bitter.
Distilled white vinegar - Vinegar's acidity helps to preserve the turnips, and also gives them a really nice tang.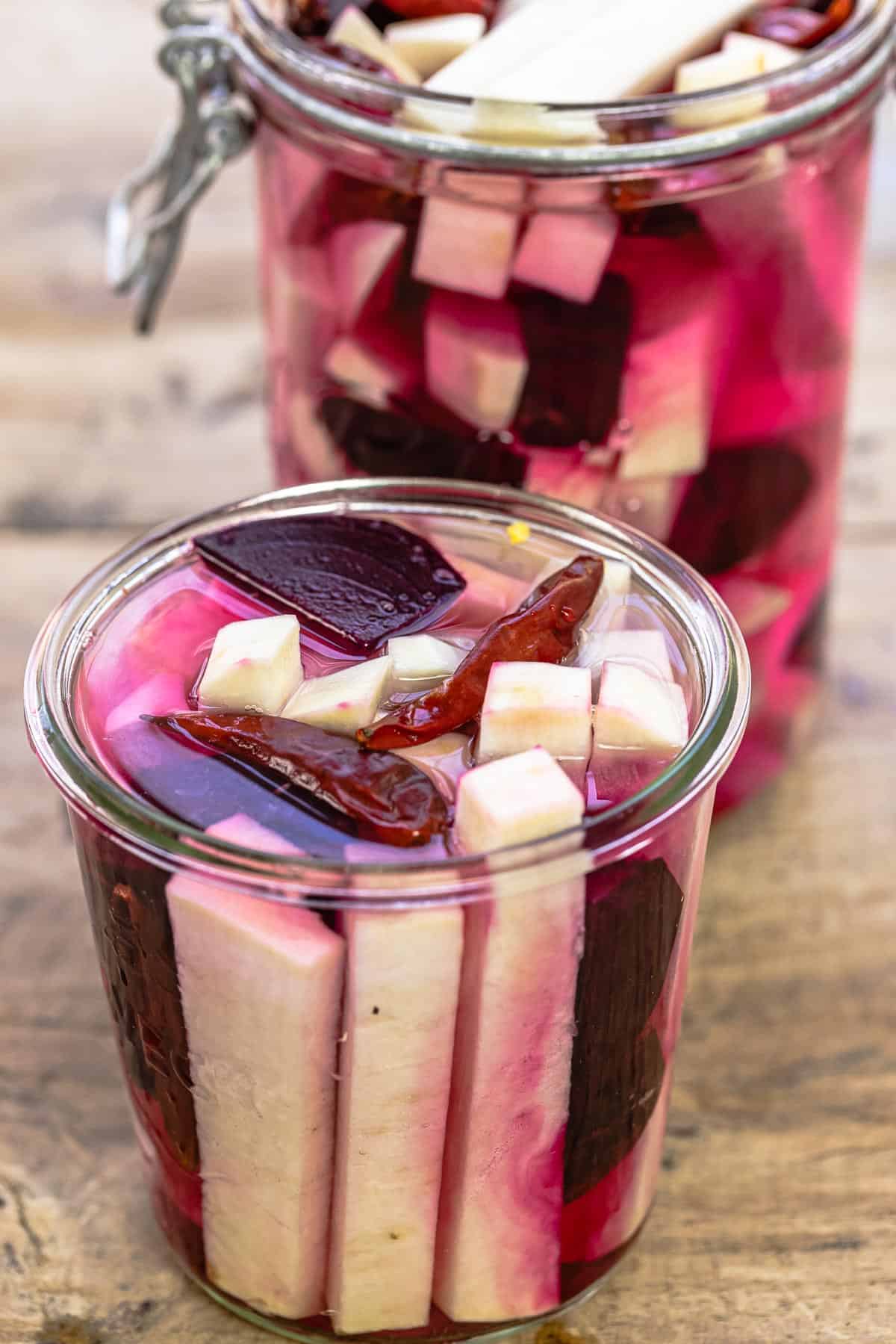 How to make Middle Eastern pickled turnips
Turnip pickle is so easy to make in just 3 steps! Here's how:
Make the brine. Combine 3 cups distilled water and ¼ cup kosher salt in a large cup or bowl with a pour spout. Stir vigorously until the salt has dissolved. Then stir in 1 cup distilled white vinegar. Set aside.
Prepare the turnips and beets in a jar (or jars). Peel 2 large turnips and cut them into ½-inch-thick batons. Do the same with 1 small beet. Grab a large mason jar with a lid and place the vegetables inside. If you need to, use a second jar, but make sure each one has some beets in it, so all the turnips can turn a pretty pink. Add the chile peppers (or red pepper flakes), if using.
Pickle the turnips. Pour the brine into the jar/s. The liquid should cover the vegetables completely. Close the mason jar tightly and refrigerate. After about 5 days, the Middle Eastern pickled turnips are ready to enjoy! You can eat the beets as well, but note that they will be more chewy and a little rubbery after pickling.
Variations
To change up the flavor of your pink pickles, you can add different herbs and aromatics. Play around and see what combination you like best!
Bay leaves - You can use 1 to 3 bay leaves.
Garlic - A clove of garlic or 2 (roughly chopped or sliced) imparts delicious flavor. Just don't eat the garlic after it has been sitting in the pickling liquid! Trust me!
Spices - A teaspoon or so of fennel seeds, coriander seeds, or peppercorns add even more Middle Eastern flair to pickled turnips.
Red pepper flakes - If you don't want to use chili peppers or jalapeno, but still want a little heat, ¼ to ½ teaspoon red pepper flakes is a great way to add a slight kick.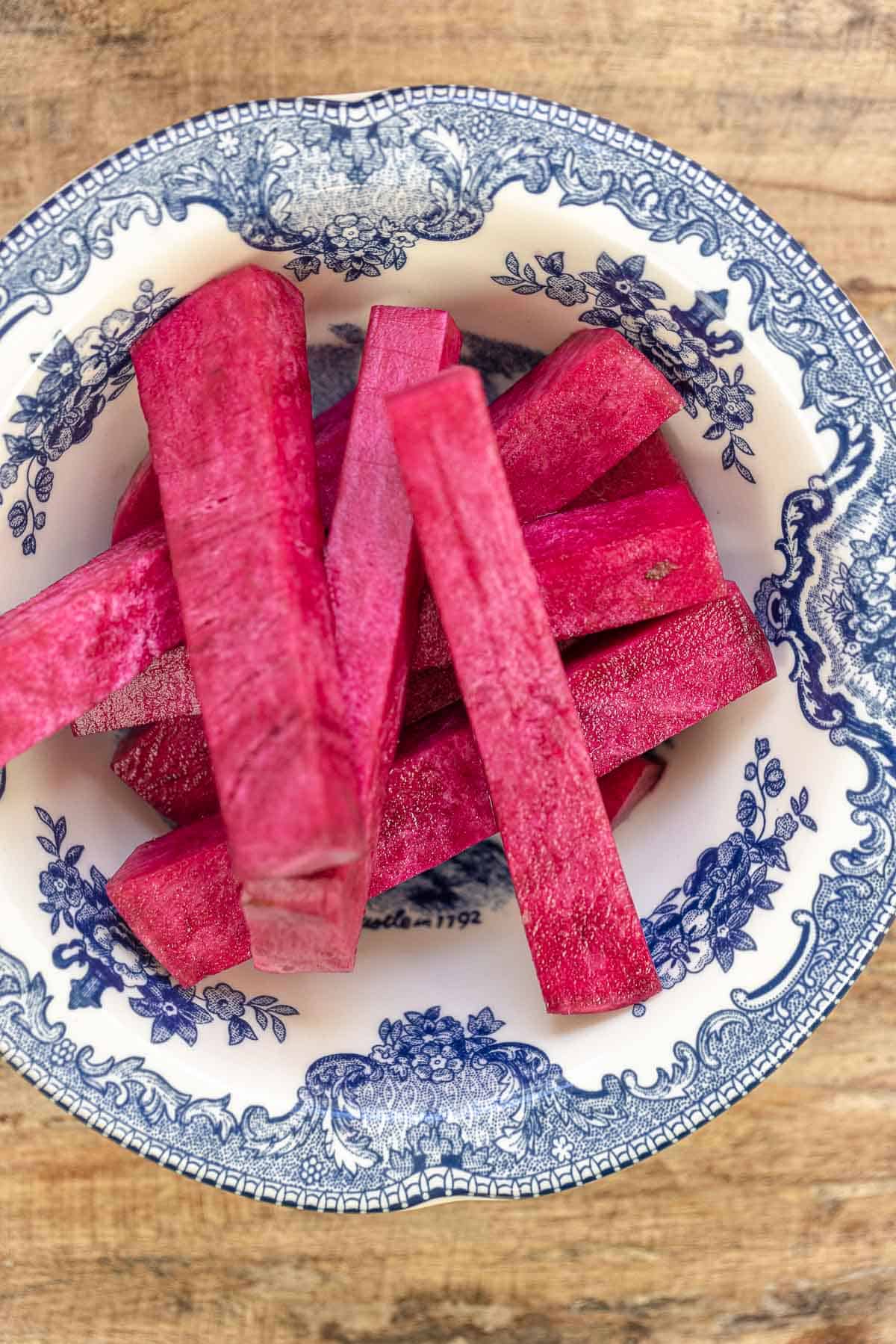 All the ways to use pink pickled turnips!
Trust me, once you try them, you'll want to eat these pickled turnips with everything (or by themselves, straight out of the jar, like I do!) I like to stuff them into pita wraps with falafel or chicken shawarma, maybe with a Mediterranean cucumber and tomato salad and a drizzle of tahini sauce on top. Middle Eastern pickled turnips are also a delicious addition to a simple mezze platter alongside briny olives, roasted eggplant, and creamy hummus.
How to store pickled turnips
Middle Eastern turnip pickle can be stored in the refrigerator for up to 1 month. Be sure to close the lid tightly each time you grab some pink pickles to help them last longer.
More Mediterranean condiments
Browse all Mediterranean Recipes

Visit Our Shop
Middle Eastern Pickled Turnips (Pink Pickles!)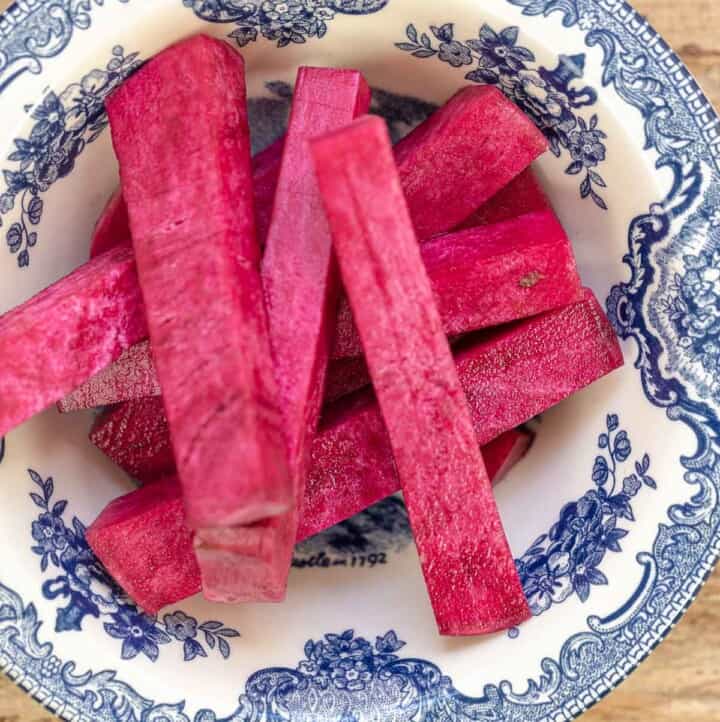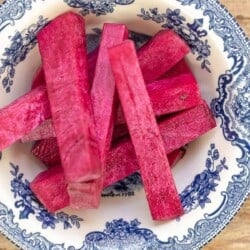 Easy Middle Eastern pickled turnips and beets take just 10 minutes to prepare thanks to the no-boil brine! Perfectly tangy, slightly sour, and so crunchy, you'll love eating these pink pickles with pretty much any Middle Eastern meal! I love them for brunch with some boiled eggs and labneh, chopped and sprinkled onto salads, and stuffed into pita sandwiches with falafel or shawarma.
Ingredients
3

cups

distilled water,

see note if you want to use tap water

¼

cup

kosher salt,

do not use table salt

1

cup

distilled white vinegar

2

large turnips,

about 2 pounds, peeled and cut into ½-inch-thick batons

1

small beet,

peeled and cut into ½ -inch-thick batons

Dried red chili peppers or red pepper flakes,

optional, to your liking
Instructions
Make the brine. In a large measuring cup or a bowl with a pour spout, combine the distilled water and kosher salt. Stir until the salt has fully dissolved, then stir in the vinegar.

In a large mason jar with a lid, arrange the turnips and beets (use two jars if you need to, making sure each jar has some beets for color). Add the chili peppers (or red pepper flakes), if using.

Pour the brine into the jar/s, making sure the liquid covers the turnips all the way to the top.

Cover the jar tightly and refrigerate for 5 days before using.
Notes
If using tap water to make the brine, combine the water and salt in a saucepan and bring to a boil, stirring until the salt has completely dissolved. Stir in the vinegar. Allow the liquid to cool completely and follow the recipe from step #2 on.
Use kosher salt, not table salt, in the brine.
Serving ideas: Pickled turnips go well with most Middle Eastern meals. Try it as part of a mezze platter, with shawarma, on a salad, or on the side of some boiled eggs and labneh.
Storage: Pickled turnips in the brine will last in the fridge for about 4 weeks.
Visit our Shop to browse Mediterranean ingredients including extra virgin olive oils and all-natural and organic spices.
Nutrition
Calories:
20.9
kcal
Carbohydrates:
4.1
g
Protein:
0.6
g
Fat:
0.1
g
Saturated Fat:
0.1
g
Polyunsaturated Fat:
0.1
g
Monounsaturated Fat:
0.1
g
Sodium:
1812.9
mg
Potassium:
125.6
mg
Fiber:
1.2
g
Sugar:
2.5
g
Vitamin A:
1.7
IU
Vitamin C:
12.2
mg
Calcium:
21.2
mg
Iron:
0.2
mg