This recipe is all you need to make the best, super crispy homemade pita chips! They're so darn easy to make, and you can customize the flavor with any number of awesome Mediterranean spices. Keep them on hand to use as a snack; serve with your favorite dips and salsas; with these tasty roasted tomatoes; or throw them into a bright fattoush salad and more! Be sure to check out all my tips below
Be sure to grab my tips for the crispiest pita chips below. And lots of ideas for how to store and use them!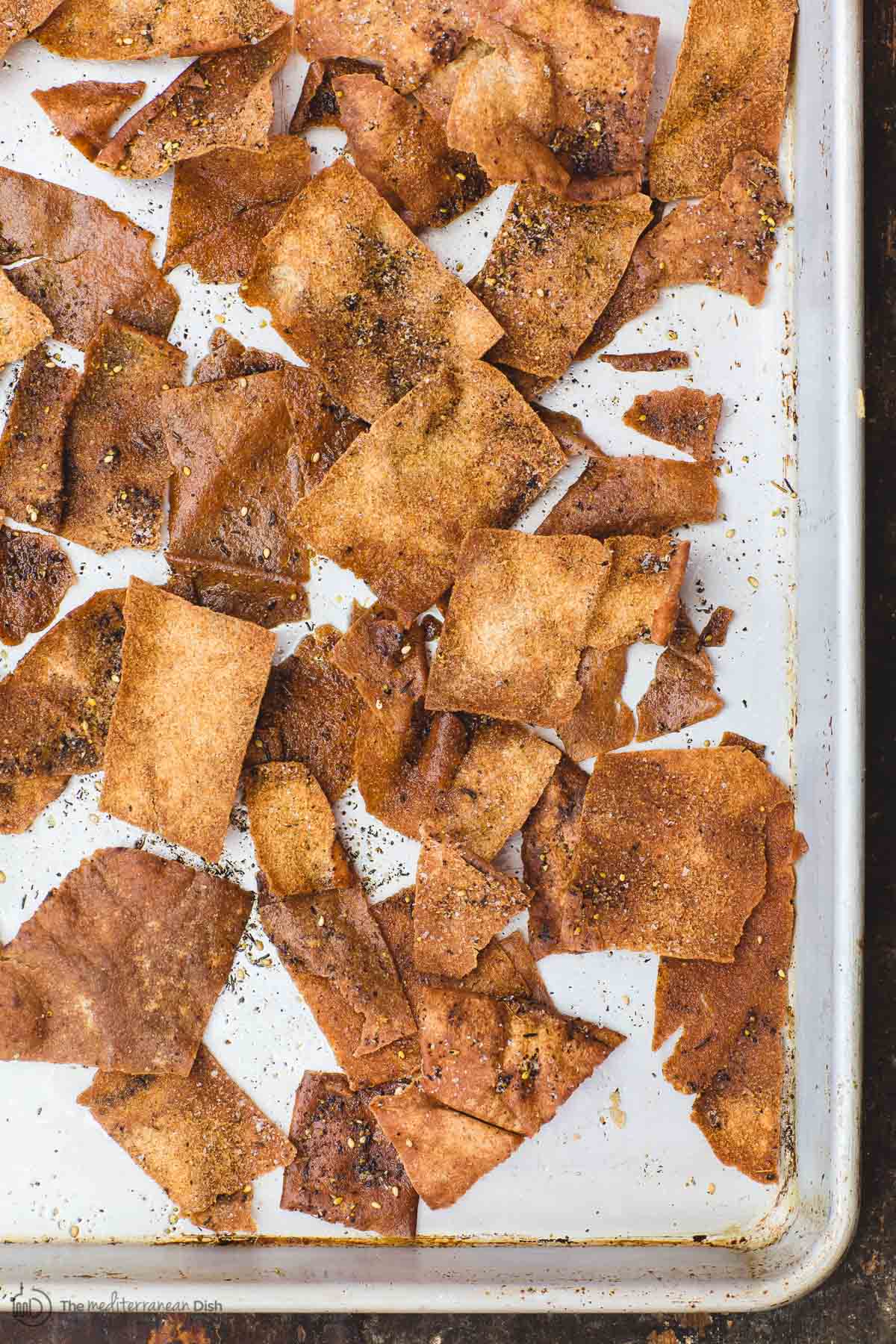 Since I shared my Mediterranean-style salsa recipe, I've been receiving inquiries for how to make homemade pita chips. Because, obviously, a good salsa needs a chip!
Homemade pita chips are easy to make, and you can use them in many different ways. First of all, they are a tasty snack on their own. But even better with hummus, baba ganoush, creamy labneh or this Mediterranean citrus avocado dip etc. Or, the super obvious choice, just eat'em as a quick snack on their own.
How to Make Pita Chips 
1. Homemade pita chips require three main ingredients: pita (wheat or white pita cut into small pieces or triangles), some good extra virgin olive oil, and a pinch of kosher salt.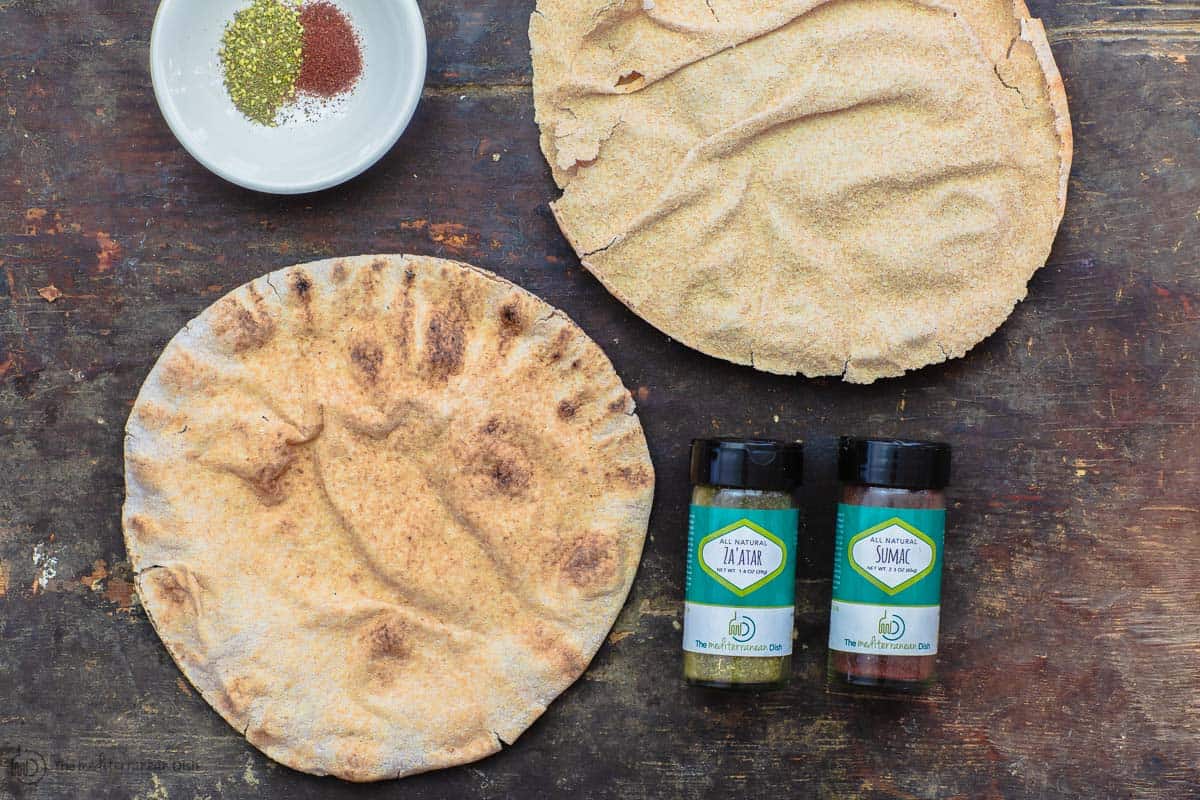 2. From here, you can totally customize the seasonings. This time, I went for a Middle Eastern combo using sumac and  Za'atar (Za'atar is a blend of Mediterranean wild thyme and toasted sesame seeds. Check out this article–>what is za'atar and how to use it.)
You can season your pita chips however you want. In the mood for Moroccan? Try Ras El Hanout. Want more of an Italian vibe? Try a combination of oregano and dry parsley flakes. (Note: There is not a right or wrong flavor combo, but be sure to use spices and dry herbs as opposed to pastes or or fresh herbs.)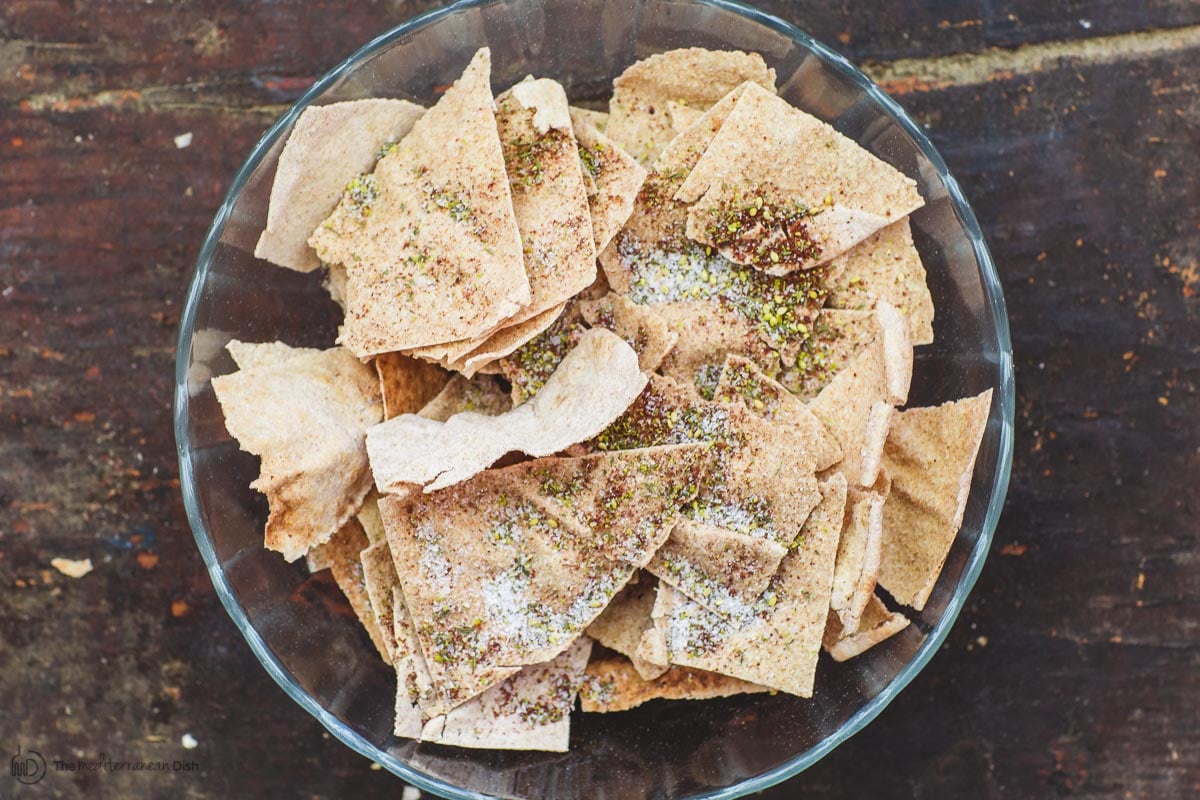 3. Once you toss your pita pieces with the extra virgin olive oil and seasonings. Spread on a large sheet pan that's lined with parchment paper and bake in a high-heated oven briefly (you'll do some turning midway through baking to make sure the pita chips are evenly colored.)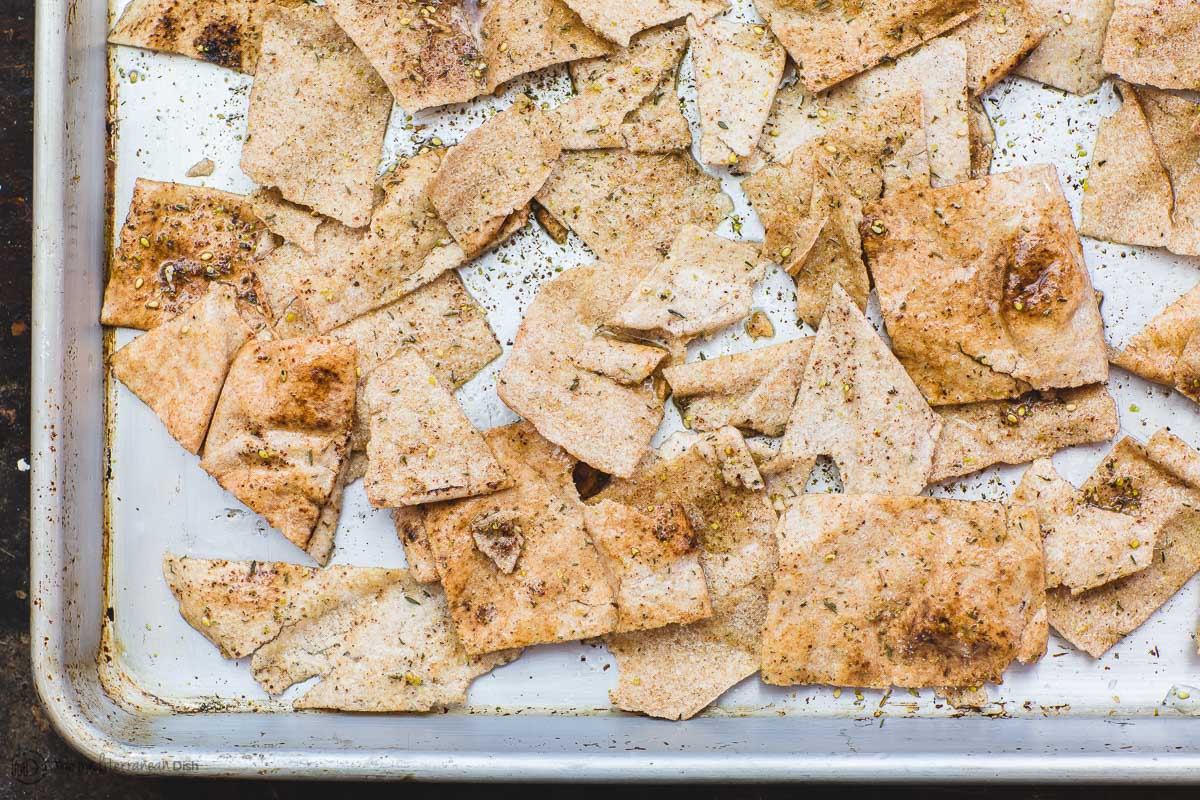 Tips for Crispy Homemade Pita Chips
You can see pita chips don't require a ton of skill to make, but these few tips help make the best pita chips:
1. What kind of pita is best for pita chips? You can use any kind of pita you like. I prefer pocket pitas that you can split at the seam in halves so that you have a thinner layer to work with. But there are some thick pitas, lavish, or even naan that you can use to make thicker chips that have more substance to stand to your dips. You'll just want to adjust the cooking time to make sure they get enough color and crisp.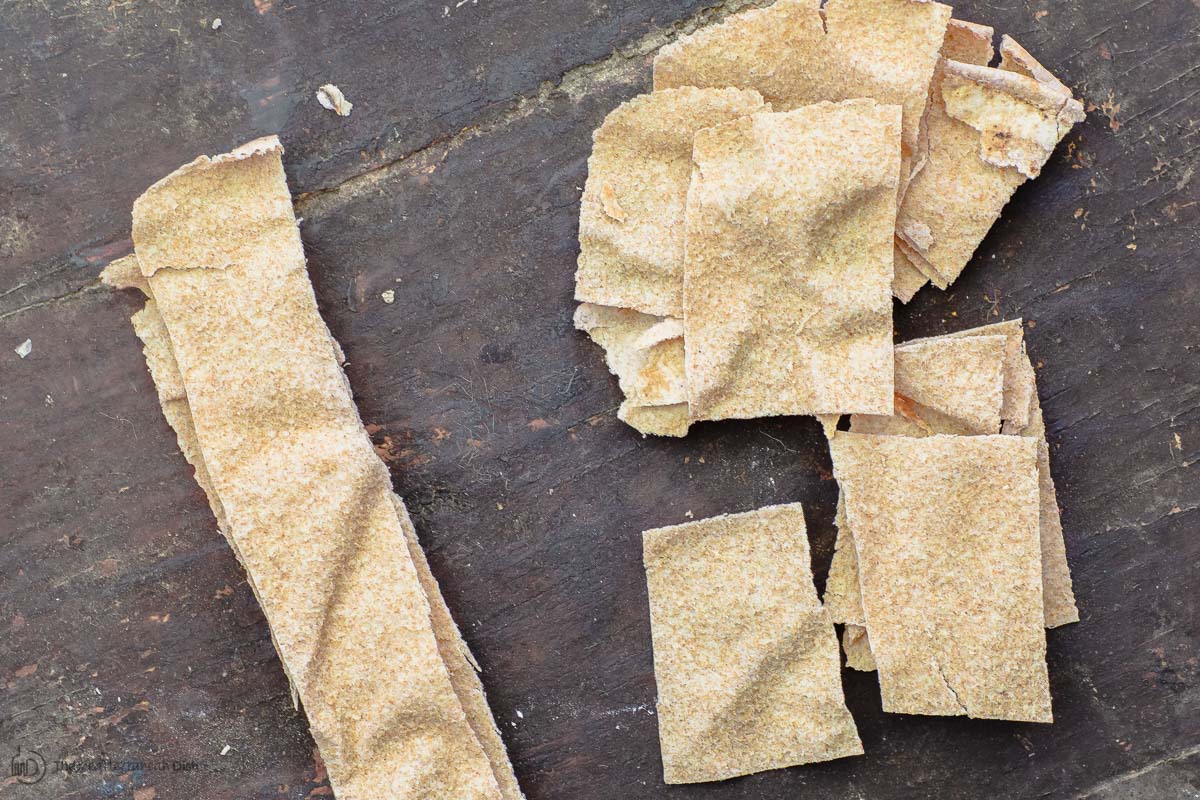 2. Use enough fat and higher heat. Use a tasty olive oil here to give the pita chips good flavor (I used Greek Private Reserve extra virgin olive oil), and use enough to give all the pita pieces a good coating. As far as the heat factor, if you're using thinner pitas like I am, heat the oven to about 375 degrees F. For thicker pitas or flatbreads like naan, raise heat to between 400 degrees to 425 degrees F (more instructions in the recipe below).
3. Let the pita chips cool completely before serving or storing. Do not cover them or put them in storage containers until they are have completely cooled. As they cool, they will get even crisper and become more sturdy to stand up to your roasted red pepper hummus!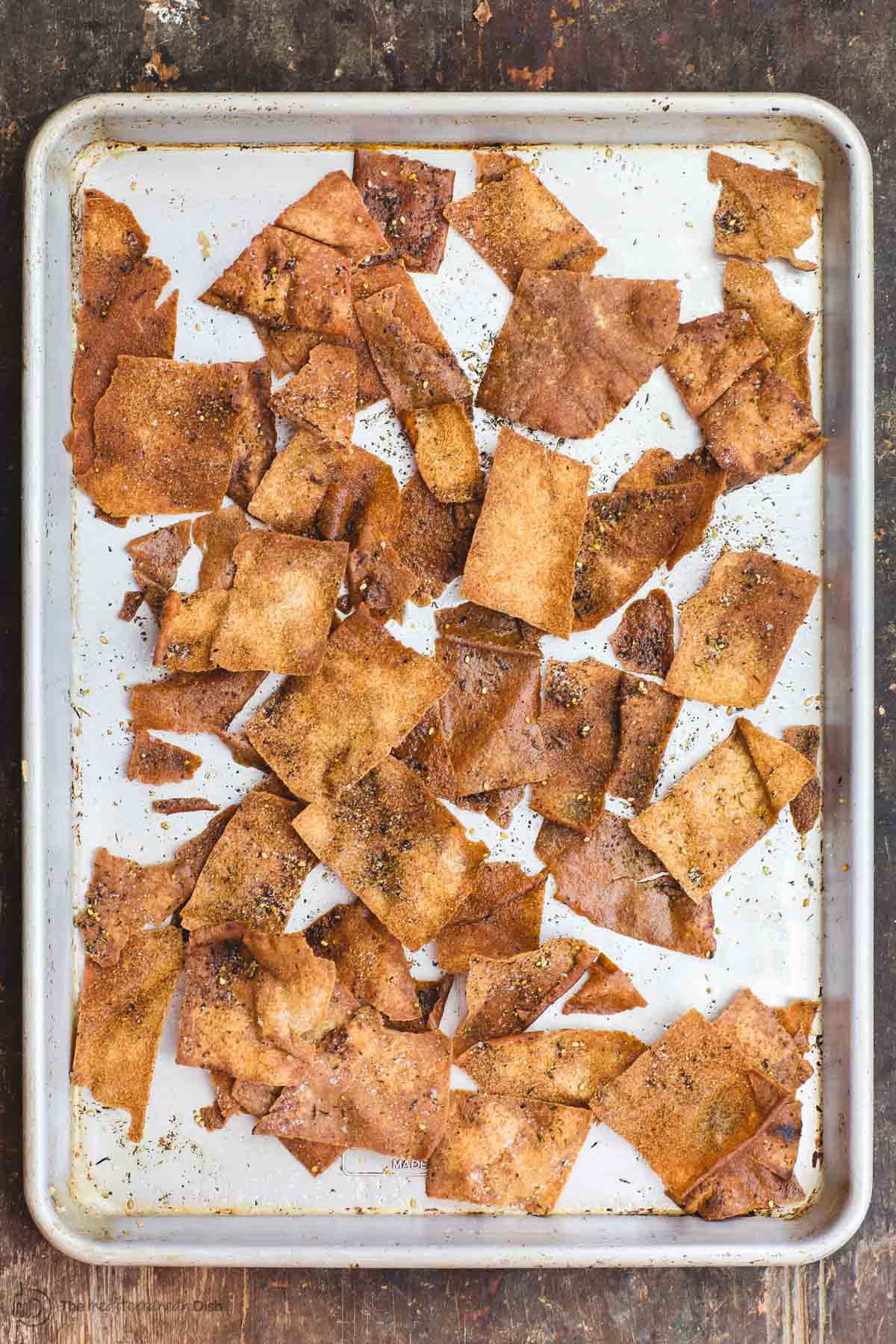 4. How to store pita chips? Once they are cool, you can store pita chips in airtight containers at room temperature for 3 days or so. I've seen it noted that you can store them for up to a week. That may be fine, but in my experience, for fresher, best-tasting pita chips, 3 days is better. (Honestly, these are addictive, they've never lasted this long in my house!)
More Recipes to Try
How to Make the Best Challah Bread
Easy Mediterranean Grilled Vegetables
NEVER MISS A RECIPE! JOIN MY FREE E-MAIL LIST HERE TO RECEIVE NEW RECIPES, WEEKLY MEDITERRANEAN DINNER PLANS, AND MY FREE E-COOKBOOK WITH 15 HEALTHY RECIPES TO TRY!
SHOP OUR ONLINE STORE FOR QUALITY OLIVE OILS, ALL-NATURAL SPICES AND MORE.
Print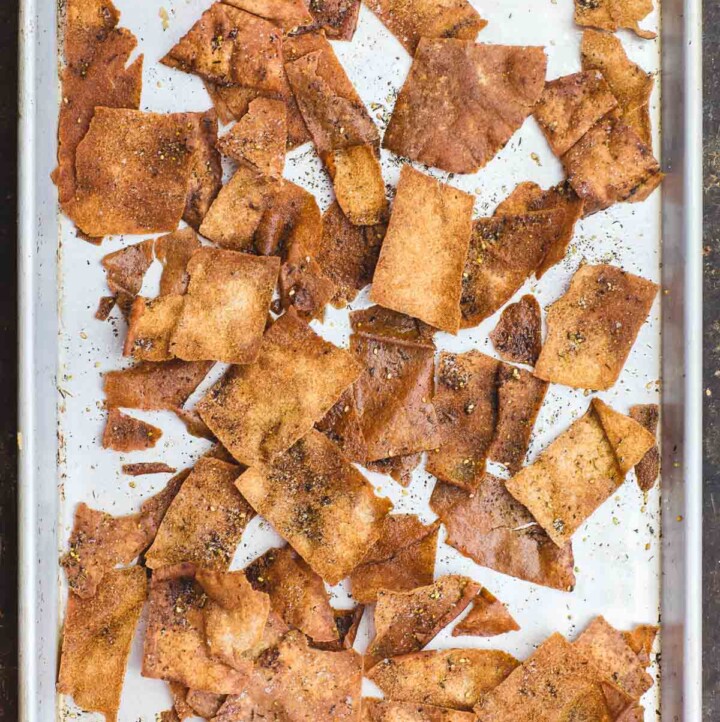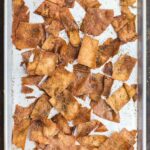 How to Make Homemade Pita Chips
---
Author:

Suzy Karadsheh

Prep Time:

5 minutes

Cook Time:

10 minutes

Total Time:

15 minutes

Yield:

Serves up to 8 people
Description
BEST, super crispy homemade pita chips, tossed with olive oil, za'atar and sumac. You can change up the seasonings to your liking, see notes.
---
Scale
Ingredients
2

to

3

loaves pita bread (whole wheat or white will work here. I used

2

large thin loaves 10-inch round each)
Extra virgin olive oil (I used Greek Private Reserve extra virgin olive oil)
Kosher Salt
---
Instructions
Preheat the oven to 375 degrees F (for thicker pita bread, turn oven to 400 degrees F.)
For pocket pitas, split the pita at the seams to make two single layers.
Using some kitchen shears or a sharp knife, cut the pita rounds into long strips, then cut them into 2-inch pieces each. (Or, cut the pitas into quarters, then into smaller triangles if you prefer this shape)
In a large mixing bowl, pour a generous drizzle of good extra virgin olive oil (about 1/4 cup or so). Add the pita chips, and give them a quick toss in the olive oil. Add kosher salt and seasonings (I used a generous sprinkle of za'atar and sumac. See more ideas below). Toss again to make sure the pita pieces are well coated with seasoning.
Spread seasoned pita pieces on an oiled baking sheet (or lined with parchment paper). Bake in heated oven for 5 minutes or so, then remove pan from heat and, using tongs, turn pitas on other side and return the pan to the oven for another 5 minute so so until golden brown. (Go a little longer for thicker pita until you reach desired color).
Remove pita chips from oven and let them cool completely before using.
Serve with favorite dips such as hummus, baba ganoush, Mediterranean citrus avocado dip. Or try them with this fresh Mediterranean salsa!  You can also use these pita chips for these loaded Mediterranean roasted tomato "nachos" 
---
Notes
Cook's Tip: You can season the pita chips to your liking. Za'atar and sumac are a wonderful Middle Eastern combination, but if you want to go for Moroccan, for example, try Ras El Hanout. If you're looking for more of an Italian vibe, try a combination of oregano and dried parsley flakes.
How to Store Homemade Pita Chips? To store, make sure the pita chips are completely cooled. Store them in an airtight container at room temperature for 3 days. (I've seen it noted that you can store pita chips for up to 1 week, that may be possible, but for fresh good-tasting pita chips, 3 days or so.)
Visit our online store for the best Greek extra virgin olive oils and our all-natural and organic spice collections including Ultimate Mediterranean Spice Bundle and the Exotic 4 Pack.
Keywords: pita chips, homemade pita chips, how to make pita chips