Ready to make the BEST cheese board for your next party? This here is the complete guide for how to make a cheese board. Answering ALL your questions from what cheeses and meats you need; to what else goes on a cheese board; how much you need; and how to arrange everything for a stunning cheese board every single time! Be sure to read through for all the tips and tricks.
And if you are strictly following the Mediterranean Diet, take a look at this Mezze Platter option.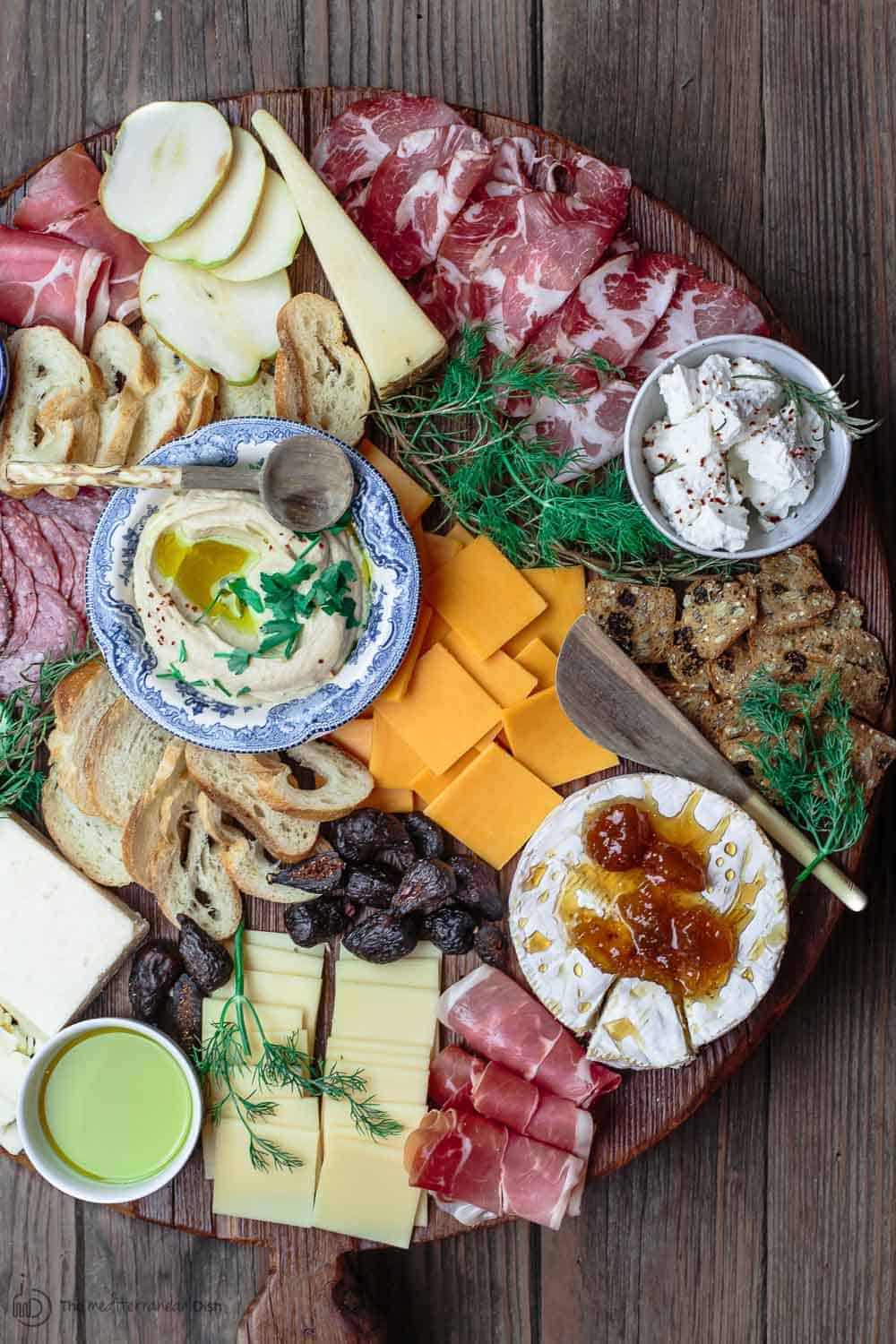 One should never feel bad about putting together a party appetizer of ready, store-bought items. Especially, if it's a stunning cheese board that is every bit as inviting and intimate, guests will be as enamored of it as they are of a big home cooked feast.
Still, it can be overwhelming to think about what all goes on a cheese board, so I've put together a simple guide. You can follow it loosely, but definitely make it your own!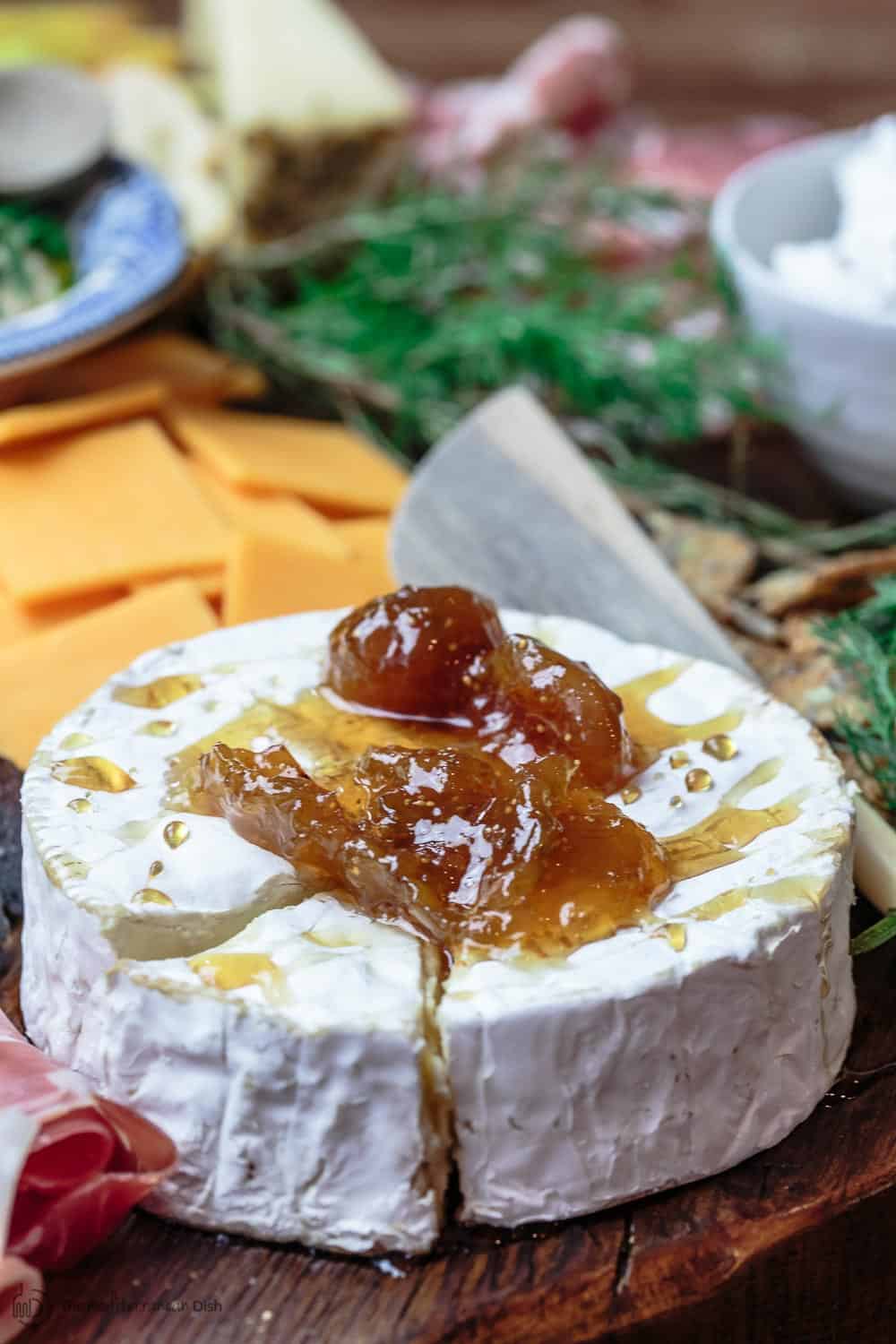 What goes on a Cheese Board?
There really are three main components that make the best cheese board: cheese, meats, and accompaniments. And, the fourth component, is a little element of surprise...
1- Cheese. What kind and how much? Think variety. Include at least 4 different cheeses on your board from different categories: firm, soft, and semi soft. And start with your favorites. For example, on my cheese board, I added two firm cheeses I love, Parmigiano-Reggiano and aged Cheddar. Both are also sharp in taste, so to balance that, I added a round of mild French brie (soft) and slices of Swiss (semi soft.) When I'm feeling fancy, I dress up my brie with nuts and jam like in this baked brie recipe.
From here, I filled in with other favorites, Greek feta with a sprinkle of crushed pepper flakes, and a few slices of a different cheddar.
When selecting what cheeses to put on your cheese board, it's also good to keep in mind shapes: square, rounds, triangle, sliced. This makes for a more interesting cheese board.
How much cheese per person? If you're serving this as an appetizer, you only need about 1 ounce of cheese per person. If the cheese board is the main event, then I'd go up to 2 ounces or so per person. Always have more on hand to replenish the board as needed.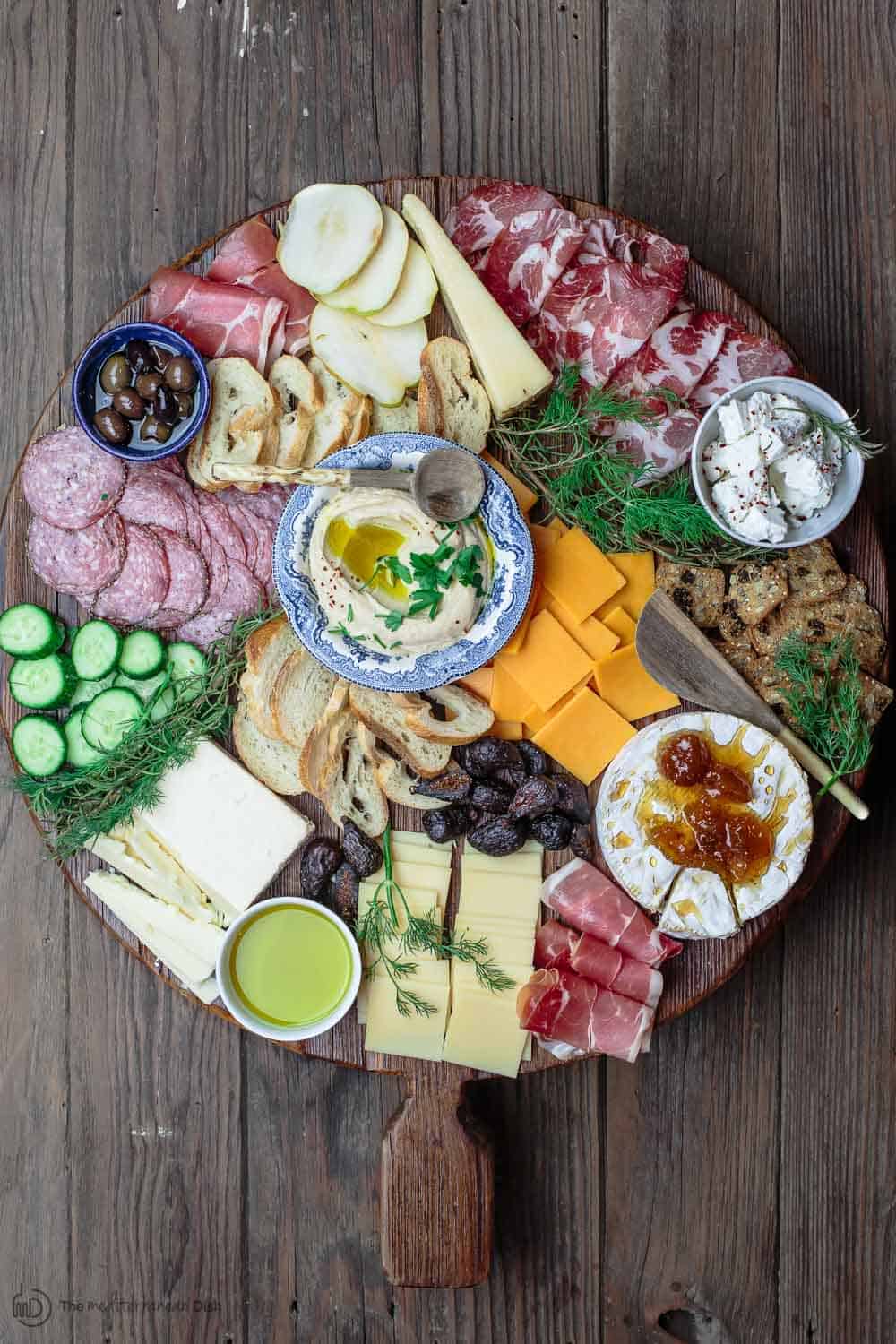 2- Meats is the second thing I think about when putting together a cheese board. I like to do about 3 to 4 options of Italian cured meats. Some are more expensive than others, but you can pretty much find what you need in the deli section of your local grocery store. Again, start with your favorites and fill in from there. For me, the must haves are Proscuitto di Parma and some sort of salami.
How much meat per person? There really is not a hard rule about this, but about 1 to 2 ounces of meat per person should be good.
3- Accompaniments. For me, accompaniments are not just fillers. They're the perfect opportunity to get creative and add interest and beauty to your cheese board. And hey, you can really use up a lot of what you already have on hand!
Breads and crackers are expected, of course. And I like to think of the rest of my cheese board accompaniments in categories like: fresh, sweet, salty, and tangy.
Fresh. The musts for me are fresh veggies and fruit; they balance things out and also act as palate cleansers. No hard rules on how many veggies and fruits to include, but I like at least one of each. On this cheese board, I used sliced cucumbers, and because pears happen to be in season, they were my fruit choice. I often use grapes as well.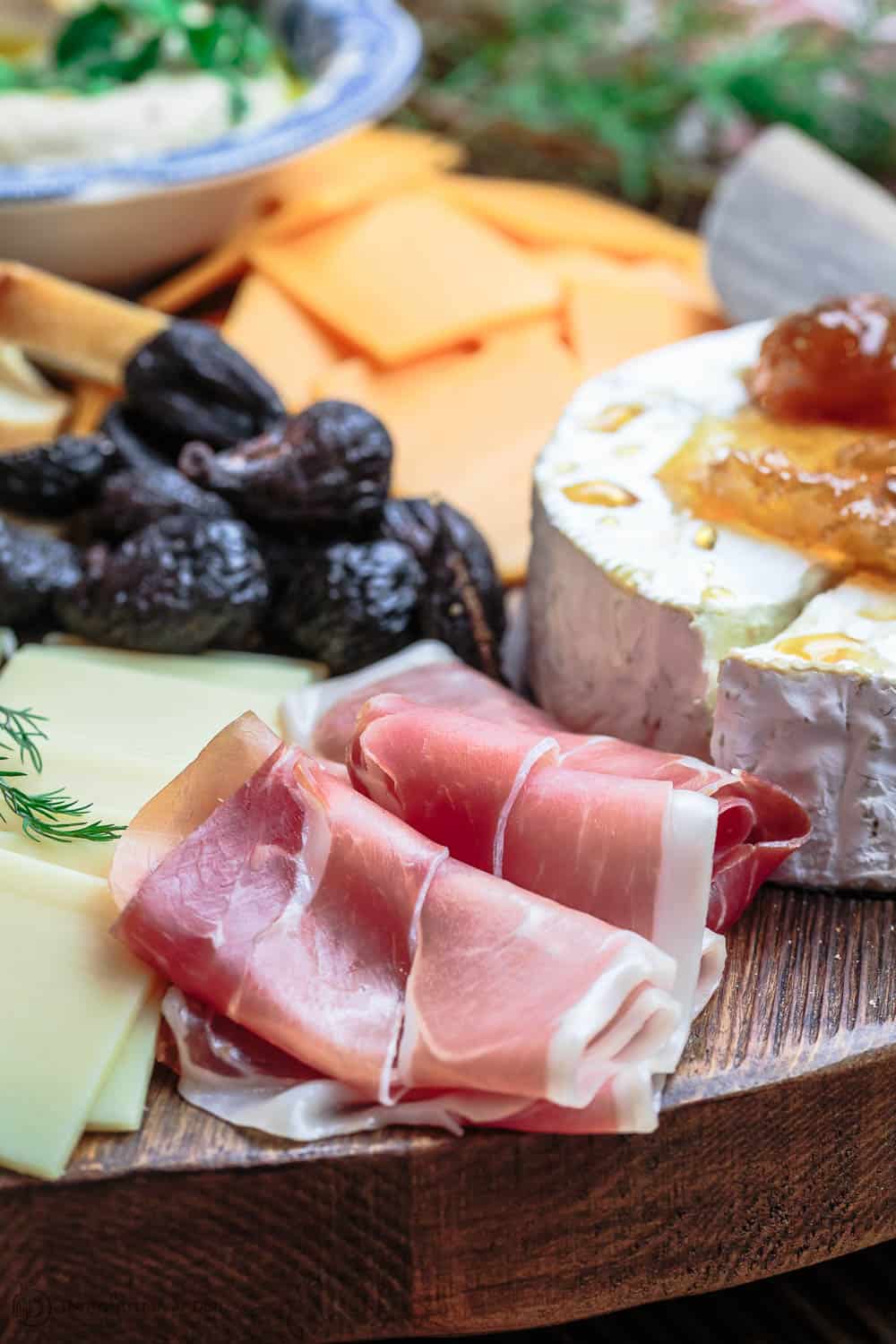 Sweet. With all the cheeses and cured meats, it's important to add a little something sweet on the board. Honey or jam is always a good option, and I like to add some dried fruit: dried apricots or dried figs, for example.
Salty and Tangy. There is enough salty on the board, but if needed, a handful of nuts are good to add for that element of crunch. I'm more interested in something tangy at this point, a little bowl of favorite olives or marinated artichokes are a must.
4- Surprise Elements. I like to step back and take a look at my cheese board. Ask,"what else do I have on hand that might be fun to add?" It may not be an obvious choice for a cheese board, like a bowl of creamy homemade hummus right in the center, or a small bowl of quality extra virgin olive oil for dipping a warm piece of bread.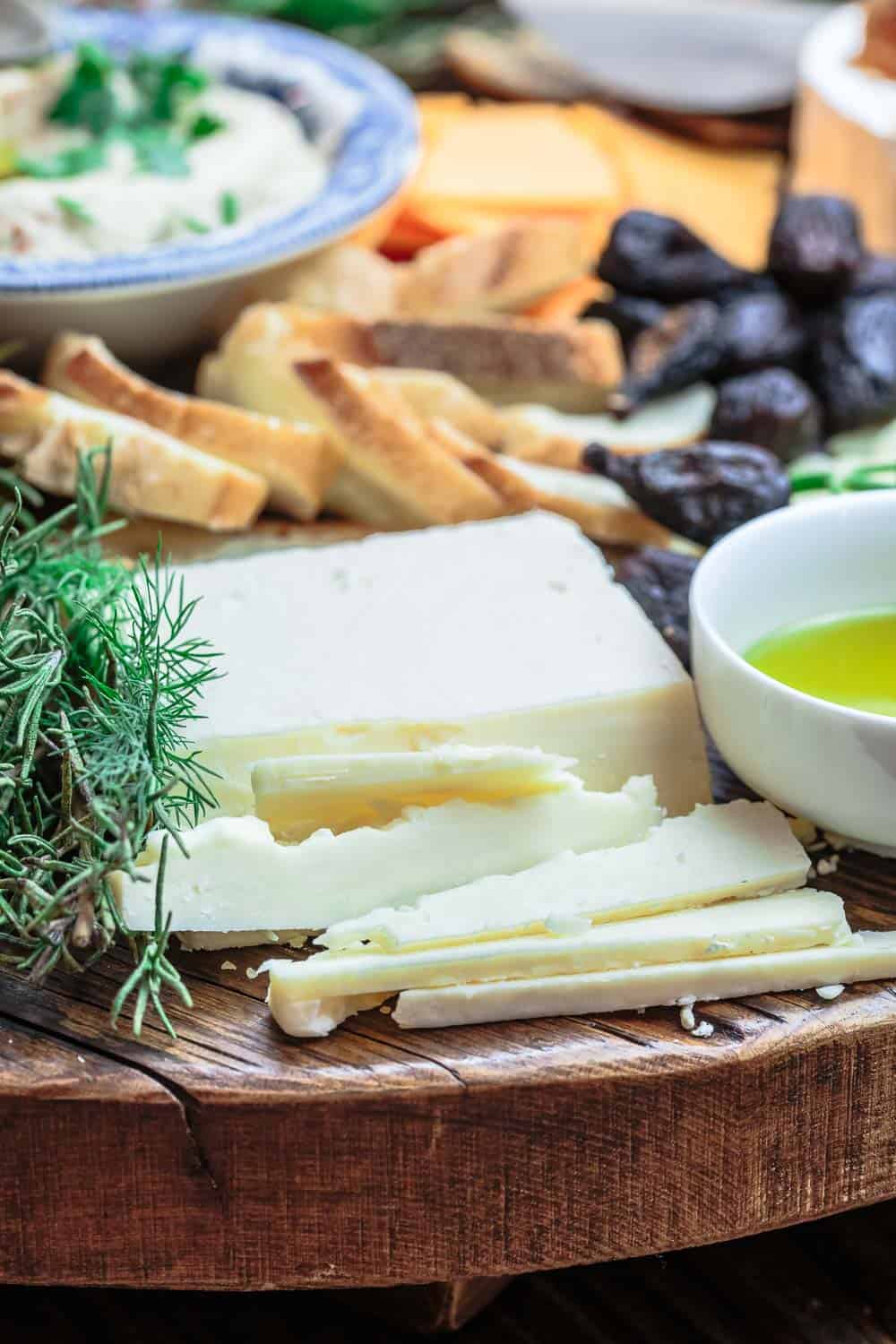 How to Arrange Your Cheese Board
So we've covered what goes on a cheese board. But how to put all that together so it looks interesting and beautiful?
When it comes to arranging things on your cheese board, be thoughtful, but don't stress out too much! Have fun! Don't be afraid to be whimsical in how you throw things on the board. You can choose to go simple and sparse, or you can go with a fuller cheese board. When entertaining a large crowd, I like the fuller, cornucopia look.
1- First, you need a large board, you can grab an inexpensive one like this. Slate or stone boards will work as well. And if all else fails, a large platter will work (like I do when serving mezze.)
2- To begin placing things on your board, create an anchor right in the center. In this case, I placed my bowl of hummus in the middle as my anchor. From there, think about the 4 corners of your board, and place something in each. My 4 corners house: brie, a square of aged cheddar, a bowl of olives, and a bowl of feta.
Now, just fill in the gaps from center to the 4 corners you created with the meats, rest of cheeses and accompaniments you've prepared. Take a step back and see if you need to pile on more of each (for that fuller look).
3- Add the final touches. Step back and take another look to see, are there any gaps you can fill? I love to add a garnish of fresh herbs to bring some life to the board. Here I added fresh dill and rosemary springs. The piney smell of the rosemary added just the right festive aroma!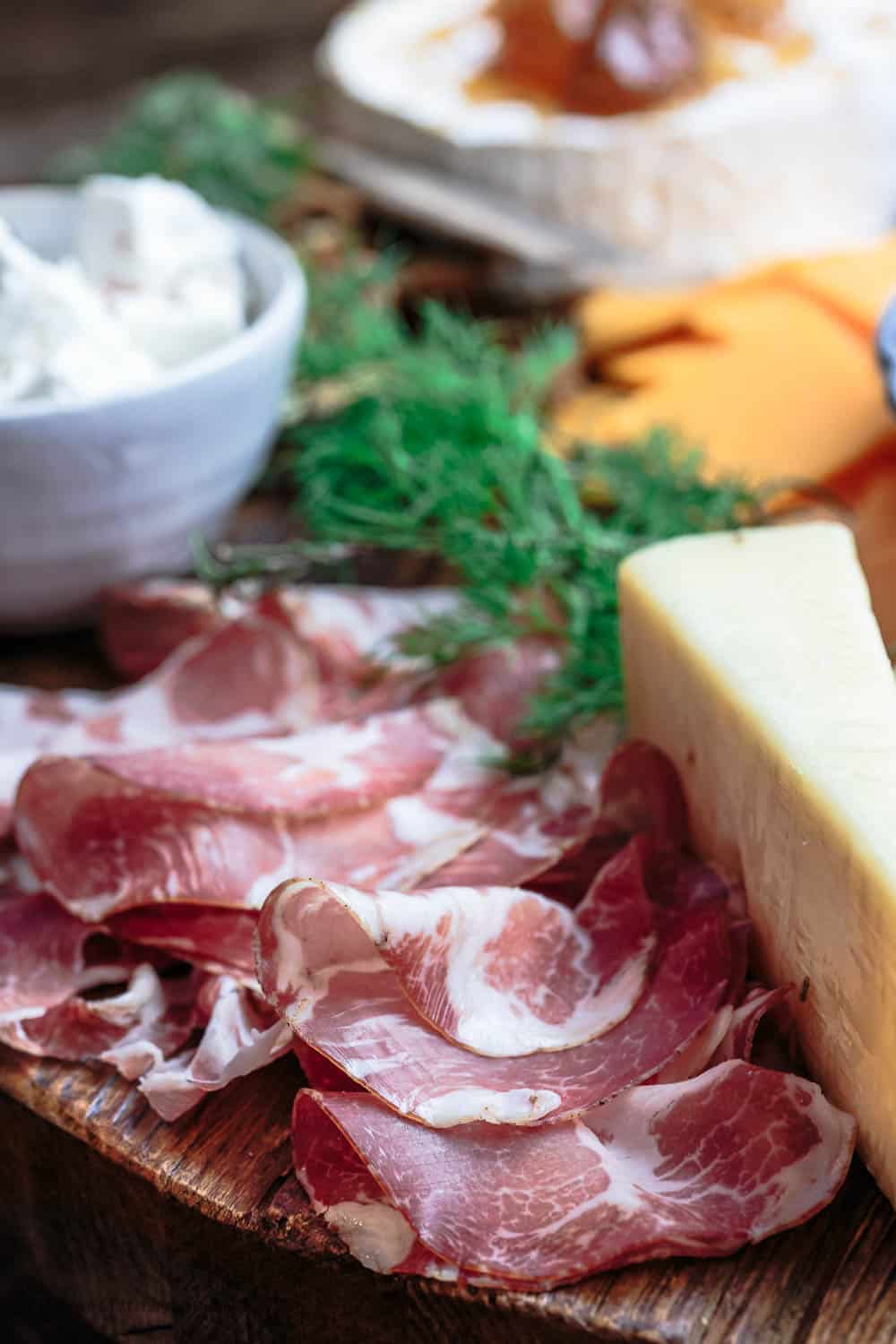 How Far In Advance Should One Prepare this Cheese Board?
One last important tip for you: remember, cheese tastes so much better at room temperature. They say, you should pull the cheese out of the fridge at least 1 hour before serving (but don't unwrap quite yet so it doesn't dry.) At room temperature, the aromatics and complex flavors of cheese are much more realized. So much better!
To arrange this cheese board, I usually allow 1 hour. I first, pull the cheeses out and let them rest (still wrapped in their packages), while I gather the rest of the ingredients. And I'll begin arranging the board about 30 minutes before guests arrive, so the cheeses will have been out of the fridge for about 1 hour or so.
Add the meats about 10 to 20 minutes before serving.
Looking for the perfect cocktail to compliment your cheese board? How about some red sangria, or even Italian mulled wine. Both full of flavor, and super easy to make.
More Recipes to Try:
How to make the Perfect Mediterranean Mezze Platter
The Ultimate Mediterranean Brunch Board
Greek Chicken and Potato Dinner
21 Mediterranean Christmas Brunch Recipes
Browse our collection of Italian recipes! All Mediterranean recipes.
JOIN MY FREE E-MAIL LIST for weekly meal plans and more!
Print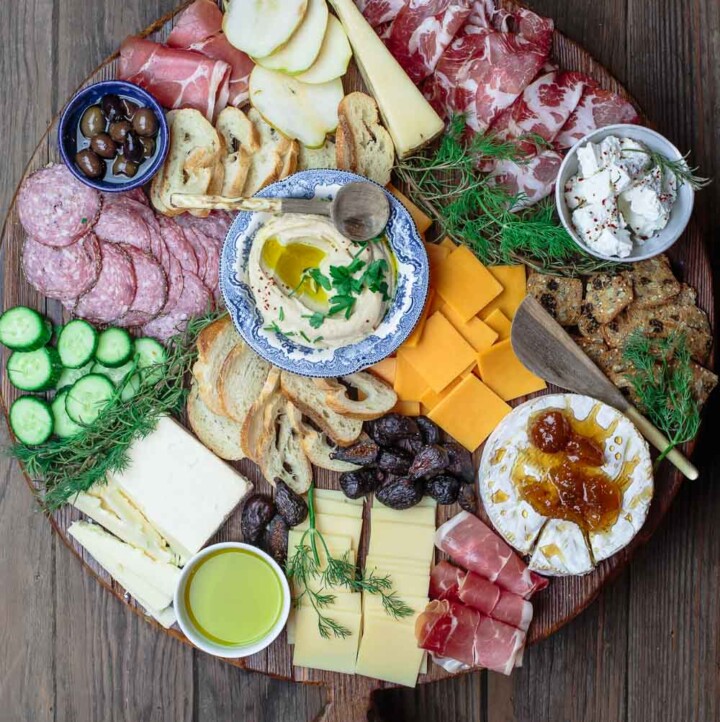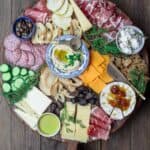 How to Make the BEST Cheese Board: A Complete Guide
---
Description
The perfect way to kick-off a party is an epic cheese board! Use this recipe/guide to make the perfect cheese board. Be whimsical and have fun!
---
For Cheese (4 options; 1 to 2 ounces per person)
Hard Cheeses: Parmagian Reggiano and Sharp Cheddar, for example
Soft Cheeses: Brie and creamy Greek Feta
Semi Soft Cheese: Sliced Swiss
Other: Sliced cheddar
For Meats ( 3 to 4 options; 1 to 2 ounces per person)
Proscuitto di Parma
Salami (hard or soft)
Coppa or Hot Capicola
Accompaniments
Crackers and small-sliced breads
Fresh vegetables and fruit: cucumbers; grapes; sliced pears or apples, for example
Sweet: dried figs; and honey or jam
Tangy: olives and other marinated items like artichokes
Other
Personal favorites (I added homemade hummus and a bowl of EVOO for dipping.)
Fresh herbs for garnish: dill; rosemary; basil, whatever you like
---
Instructions
On a large wood board or serving platter of your choice, place one ingredient in the center of the board and 4 others on each of the corners to create shape to the board. I placed my hummus bowl in the center of the board, and in the 4 corners, a round of brie; square of aged cheddar; a bowl of olives; and a bowl of creamy crumbled feta.
From there, fill in the board from the center to the corners with the remaining cheeses, meats, and accompaniments. Take a look and see where the gaps are, add more items as needed. Garnish with fresh herbs.
Notes
Pro-Tip:There are no hard rules about how much per person you need to serve, but generally speaking, be prepared with about 1 to 2 ounces of cheese per person and 1 to 2 ounces of meat per person. I always keep plenty of everything to replenish the board for a longer party.
Pro-Tip: Remember that cheese tastes better at room temperature. To arrange this cheese board, I usually allow 1 hour. First, I pull the cheeses out and let them rest in their wrappers (so they don't dry), while gathering the rest of the ingredients. And I'll begin arranging the board about 30 minutes before guests arrive, so the cheeses will have been out of the fridge for about 1 hour or so before serving. Add the meats in about 10 to 20 minutes before serving.
Pro-Tip: Remember, there is no right or wrong way to build a cheese board, so be sure to add your favorites and use up what you might have on hand. You can invest in one or two quality cheeses, but the ready sliced cheeses in your grocer's fridge make great fillers.
Visit The Mediterranean Dish store and check out our Greek EVOO bundle and more!
Prep Time:

30 mins

Category:

Appetizer

Method:

No-Cook

Cuisine:

Italian
Keywords: cheese board, how to make a cheese board, party platter