Vin Brulé, an Italian mulled wine, is a warm, spiced red wine drink with hints of orange, cinnamon, clove and honey. Learn how to make mulled wine at home with this super easy recipe.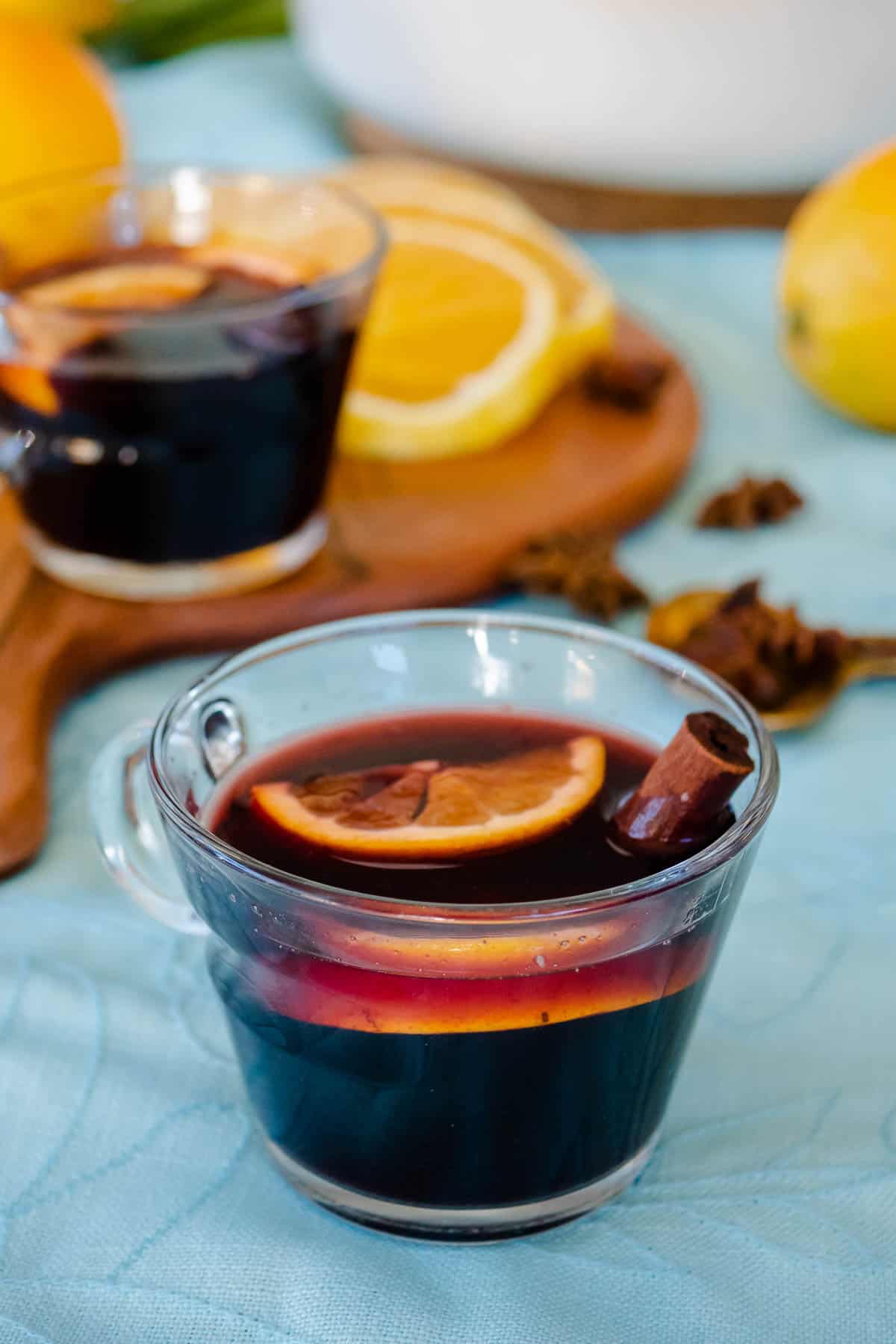 When celebrating the holidays this comforting, warm, citrusy, and richly spiced Vin Brulé, an Italian-style mulled wine, should be a staple on your winter table to warm the hands and hearts of your guests.

This mulled wine recipe is made for a holiday crowd and can be served in a dutch oven or slow cooker, but can easily be scaled down (or up if need be!) to fit your guest count. Serve it with some appetizers like baked brie with fig jam or dates stuffed with creamy goat cheese to get the conversation flowing.

Mulled wine is easy to make and loaded with flavor. To mull wine simply warm red wine and add spices, fruit, and sweetener. That's it!

Flavor variations are endless, (the practice has been around since ancient Greek and Roman times) but in this recipe I use oranges, lemon, honey, clove, cinnamon, and star anise.
Table of Contents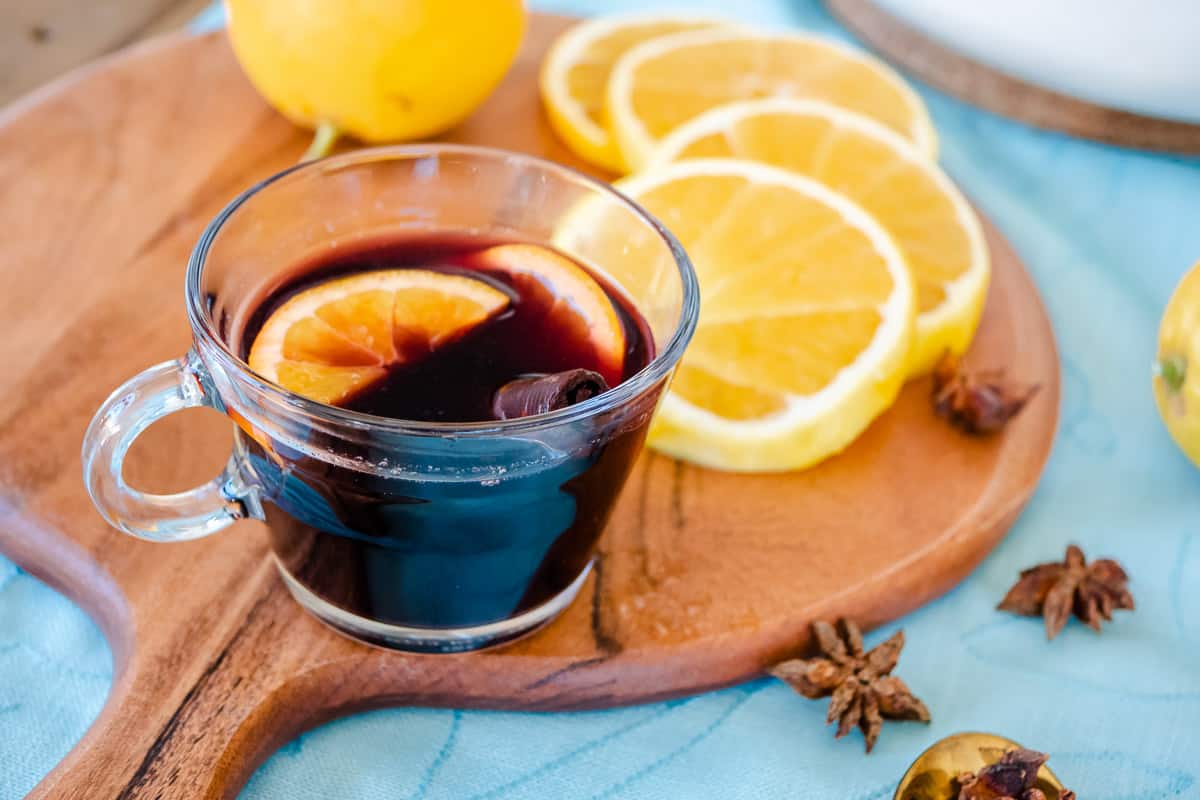 What is Mulled Wine?
Vin Brulé, an Italian mulled wine, is a warm, spiced red wine drink with hints of orange, cinnamon, clove and honey.
Learning how to make mulled wine is as easy as slicing up a few oranges and lemons, then popping them into a pot with spices, honey, and red wine. Set it over low heat to infuse the wine with flavor, and create a soothing warm drink for cold nights.
Throughout most wine-growing countries, you'll find some form of mulled wine. Heating wine and flavoring it made use of excess wine (or wine that didn't taste that great).
The popularity of mulled wine as a holiday drink came to a height during the Victorian era, when Charles Dickens' "A Christmas Carol" helped to cement some of those holiday traditions, including featuring mulled wine!
Best Wine and Liquor for Mulled Wine
While there is a tendency to think "cheap" when grabbing a wine bottle for mulling, I'd advise against grabbing something that you wouldn't drink on its own. And counterpoint, don't grab something you'd only break out for very special occasions.
A dry Italian red wine will help balance the sweetness from the fruit. Look for these wine varietals at your local wine and spirits store:
Chianti
Barbera
Lambrusco
Sangiovese
Wine is the most important "liquor" in this recipe, but one can often encounter mulled wine recipes featuring added liqueurs to enhance the overall flavor of the drink.
In Italy, brandy is common, and it can either be added to the simmering pot (where the alcohol content will decrease a bit) or directly added to the drink when served.
While brandy may be the most popular addition in mulled wine recipes, you needn't stop there. The addition of cognac, spiced rum—or my favorite, Italian amaretto—can be used to great effect. I especially love the nutty taste that amaretto imparts to the mulled wine, complementing the fruit flavors and reminding me of certain panettone breads at holiday time.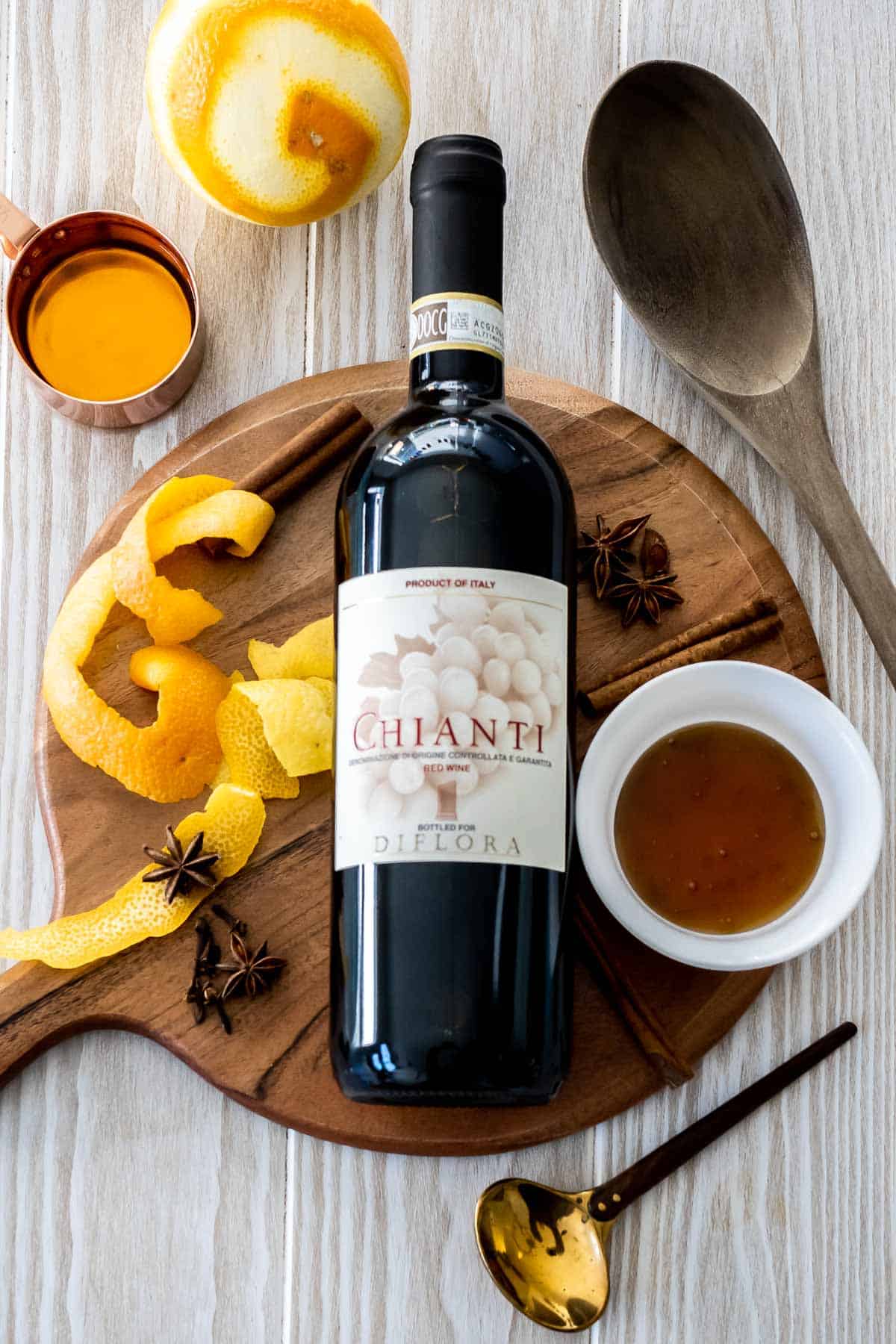 What is in Mulled Wine (Vin Brulé)?
After your wine and liqueur of choice, here are a few additional ingredients that bring the flavors of the holidays into your home with their sweet and spicy aromas.
Oranges: you will only need the outer peel of the oranges here. The outer peel releases the pungent orange oils into the hot wine. Save the fruit for another use or slice it just before serving and add it to the pot for a decorative touch.
Lemons: again, only the outer peel is needed for the aroma and flavor that it will impart into the wine.
Cinnamon sticks: rich and warming, whole cinnamon sticks are used (so skip the powder and save it for baking).
Star anise: a mild licorice flavor, star anise adds to the baking spice flavor and aroma while also being a visually striking element in the pot.
Cloves: sweet, pungent, and peppery, cloves are a tiny spice that packs a big flavor and aroma, which is why we only need a few for a big pot of Vin Brulé!
Honey: I prefer a natural sweetener here that adds a rich, earthy sweetness to the drink. I lightly sweeten the mixture but feel free to adjust up or down depending on your preference. The honey in our shop is great for this.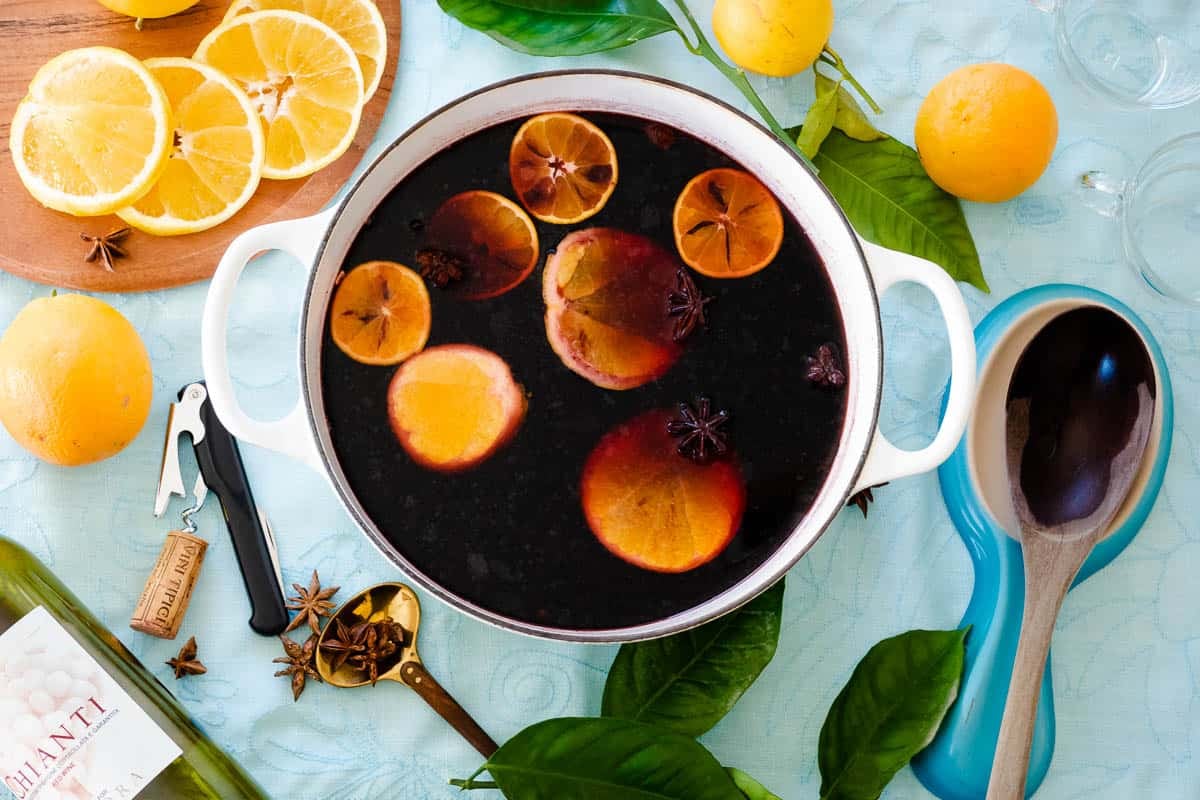 How to make Mulled Wine (Vin Brulé)
When you're entertaining, the last thing you want is to be away from guests, and this recipe for Vin Brulé is an effortless, hands off way to provide a delicious, warm drink for you and your guests. To make the drink:
Combine wine, liqueur, citrus peel, honey, and spices in a large dutch oven.
Simmer over medium-low heat for 5 minutes until small bubbles form around the edges.
Reduce the heat and keep at a bare simmer for another 10 minutes.
Remove from heat, serve (or keep it on low in a slow cooker and allow your guests to serve themselves at their leisure).
Tips and Tricks for Making Mulled Wine
You also can make this in a slow cooker by combining all the ingredients, cover, and let heat for 1 hour.
If you don't like spices floating around in the pan or in your serving cups, combine all the whole spices into a tea bag or cheesecloth sachet tied with butcher's twine. Secure tightly. Remove the sachet when you turn the heat off and remove the pan.
In addition to citrus, you can also add other seasonal fruit such as cranberries, apples, and/or pears to the pot.
If you do not want to use honey, you can also use granulated sugar or maple syrup as a sweetener. You also can optionally leave out any sweetener.
Want to make this mulled wine recipe ahead of time? Follow the instructions for making it on the stovetop, remove all the spices, and let it cool. Cover and refrigerate for up to 3 days. When you are ready to serve, warm it gently on the stove for 10 minutes. No need to add any extra spices, as it will already have the flavor infused from the first simmer.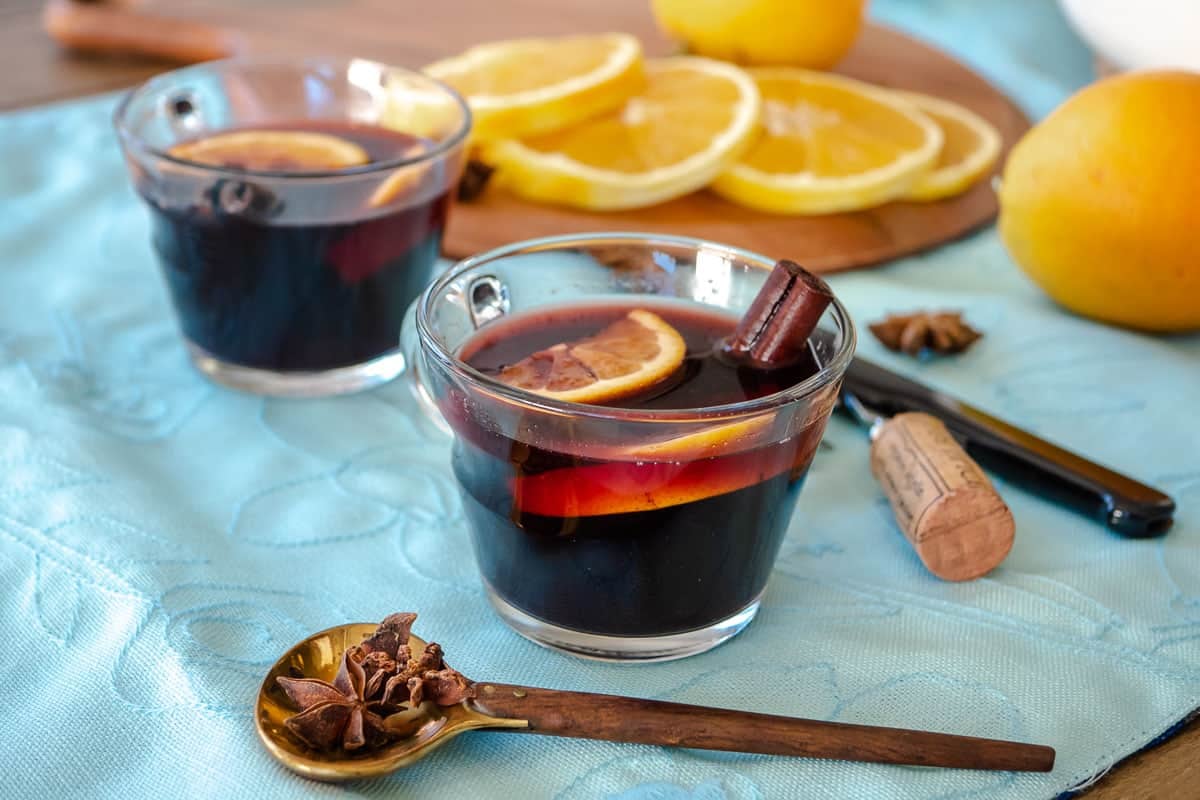 What to Serve with Vin Brulé
Italian mulled wine is perfect for the holidays because it makes a big batch and everyone can go at their own pace.
Let the scent of citrus and spices fill the air while guests snack on Pizzicati, a bite sized jam-filled Italian pinch cookie, eggplant caponata served over toasts, or keep it simple with a cheeseboard.
More Drink Recipes
Browse all Mediterranean recipes.

Visit Our Shop.
From high quality olive oils and spices, to scrumptious honeys, jams and more, we've got you covered! Our shop features a variety of Mediterranean favorites you need to stock your pantry.
Mulled Wine (Italian Vin Brulé)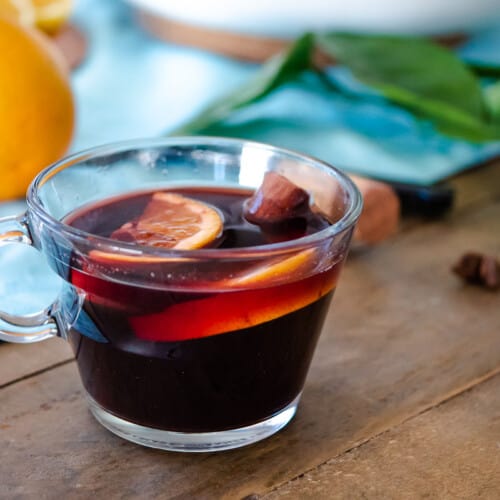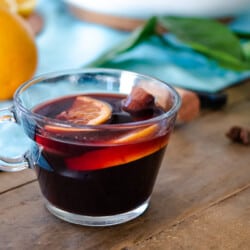 This flavorful mulled wine is so simple to make. Comforting, warm, citrusy and perfectly spiced, it's made for a holiday crowd but can easily be scaled down if needed.
Ingredients
2

bottles of dry red Italian wine,

like Chianti

3

oranges,

divided

1

lemon

⅓

cup

brandy,

optional

¼

cup

honey

4

whole cinnamon sticks

4

whole star anise

6

whole cloves

additional sliced orange wheels for garnish
Instructions
Use a vegetable peeler to remove only the outer skin of 2 oranges and the lemon. You want only the colored part for this recipe, leave as much of the bitter white pith behind as possible. Save the fruit for another time.

Combine the wine, liqueur (if using), peels, honey, and spices in a large dutch oven.

Simmer the mixture over medium-low heat for 5 minutes until small bubbles form around the edges.

Reduce the heat to low and keep it at a bare simmer for another 10 minutes.

Remove the pan from the heat and ladle into heatproof glasses or mugs. Slice the remaining orange into wheels or wedges to garnish glasses and serve.
Notes
Honey adds rich backnotes that I prefer in this recipe over sugar, but if sugar is all you have it will work just fine.
When making mulled wine you really just need the oils from the outer part of the citrus peel or rind to help flavor the drink. Use a vegetable peeler to get just the colored part of the lemon and orange peels
Get festive and garnish each glass with a wedge of orange and a cinnamon stick.
Visit our shop to browse quality Mediterranean ingredients including olive oils, honey, jams and spices.
Nutrition
Calories:
166.7
kcal
Carbohydrates:
15
g
Protein:
0.6
g
Fat:
0.1
g
Saturated Fat:
0.02
g
Polyunsaturated Fat:
0.04
g
Monounsaturated Fat:
0.05
g
Sodium:
1
mg
Potassium:
86.4
mg
Fiber:
1.8
g
Sugar:
9.1
g
Vitamin A:
80.3
IU
Vitamin C:
22.3
mg
Calcium:
30.3
mg
Iron:
0.4
mg