It takes just 4 ingredients and mere seconds to make this aperol spritz, which is bubbly, zesty, and refreshing in the best way! My take on this delicious Italian cocktail recipe requires no special skills or tools; we make it all summer long!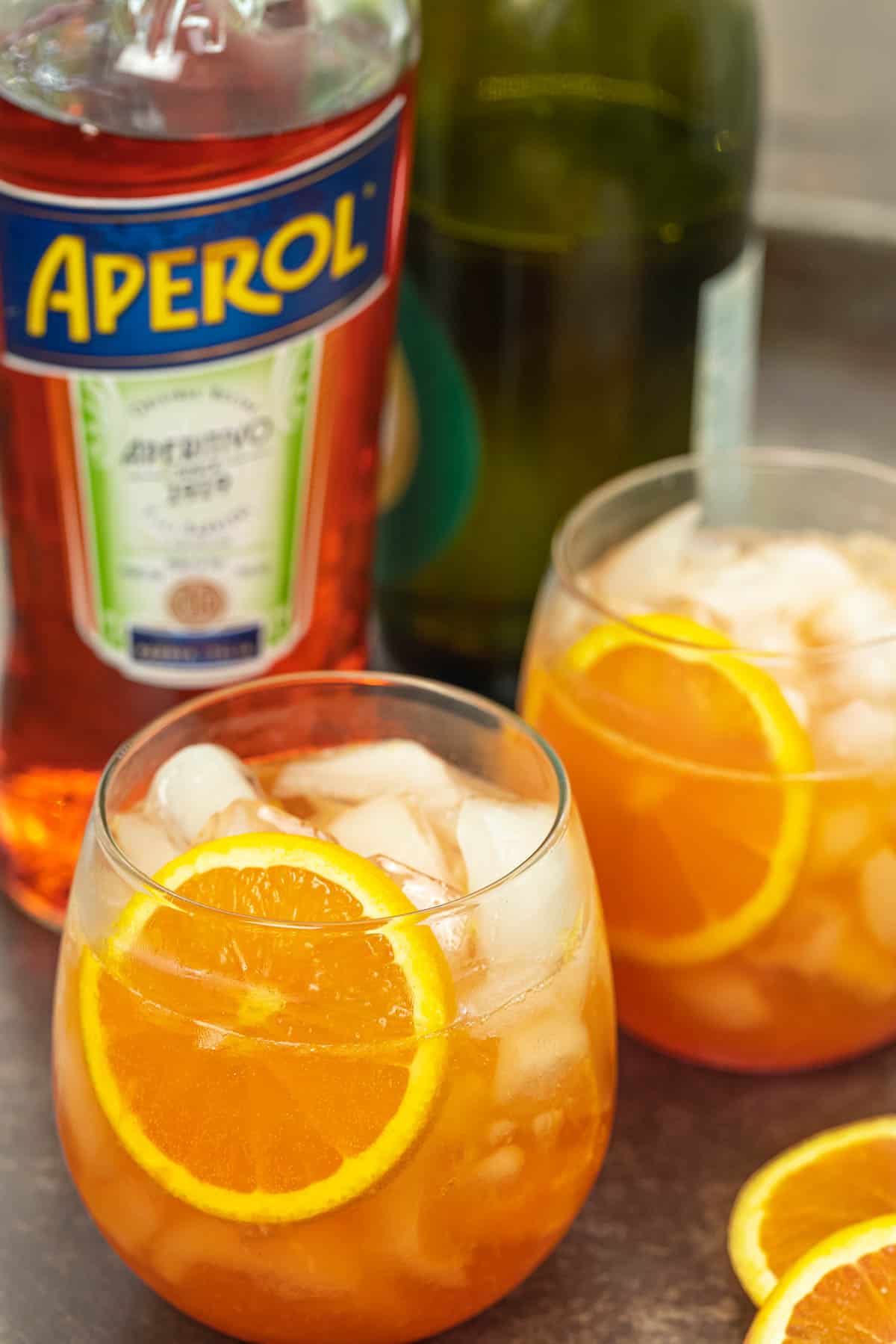 To me, nothing beats dining alfresco on a hot summer afternoon, especially if you're snacking on the perfect dip, a cheese board, Italian-style antipasto platter, or a simple burrata platter with crusty bread and delicious fixings.
But proper outdoor dining must start with a refreshing drink, don't you agree? And one of my favorites is aperol spritz.
So, allow me to introduce you to my take on this Italian cocktail, an easy aperol spritz recipe you can make with just 4 ingredients and in mere seconds!
What is aperol?
Aperol is a low-alcohol (11% ABV) Italian bitter typically served as an aperitif before a meal to stimulate the appetite. It is made with rhubarb, oranges, gentian root, cinchona bark, and more.
With its perfectly balanced sweet, bitter, and herby flavor, aperol is less polarizing than the better-known Italian aperitif, campari, which is too bitter in comparison.
Aperol is best known for its use in the popular bubbly Italian cocktail, the aperol spritz, which is perfect for sipping on a sunny afternoon, but equally refreshing in the fall.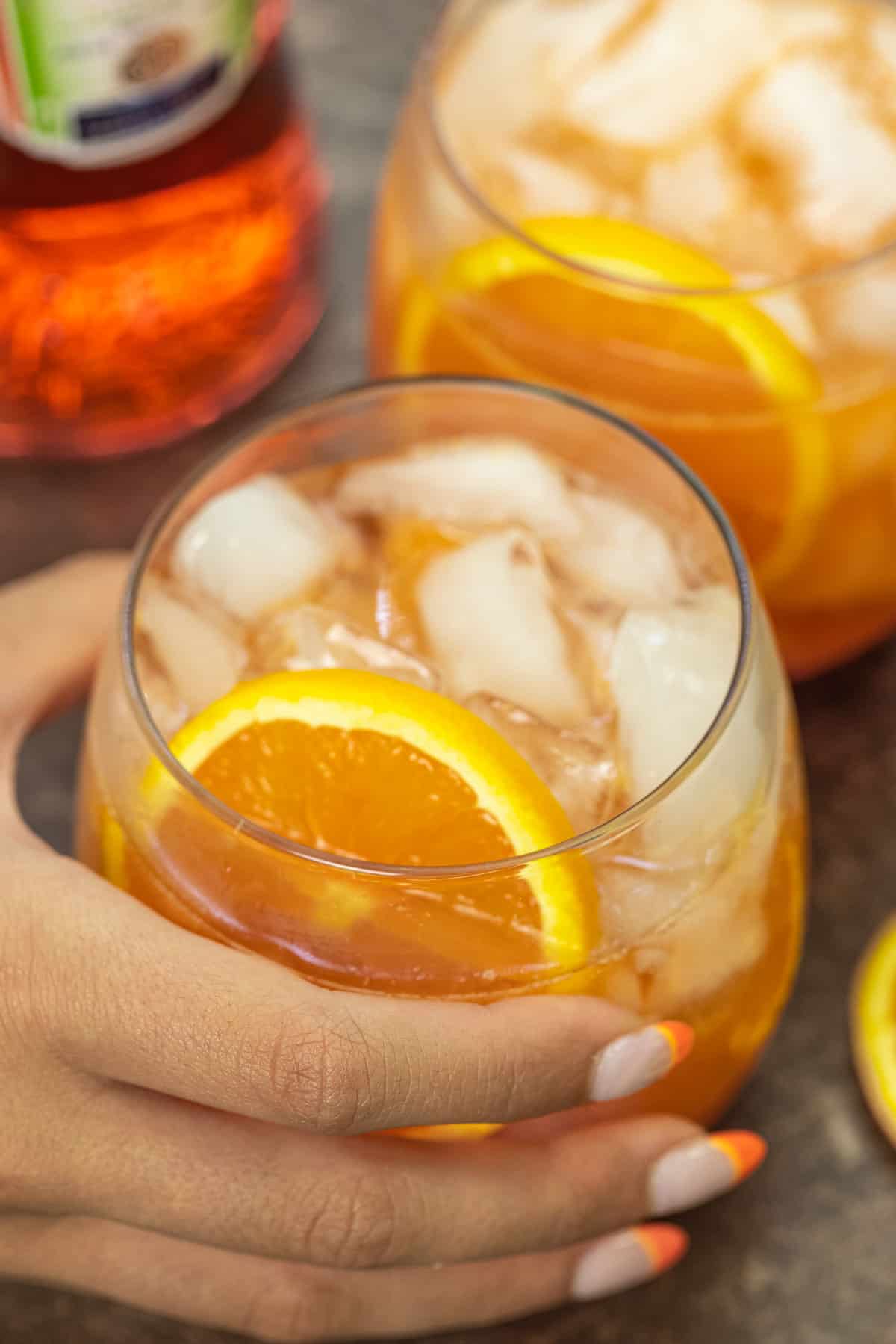 Aperol spritz
Kristina, who is on our team, spent some time studying food nutrition in Italy – that's when she became quite familiar with this popular orange Italian cocktail! It wasn't uncommon for her group to walk down the streets of Rome at the end of the work day to find many enjoying a little afternoon aperol spritz.
Classic aperol spritz is made of aperol, prosecco, and club soda (or soda water). In my recipe, I skip the club soda in favor of a little freshly squeezed orange juice. Orange juice adds a little natural sweetness to balance the bitterness of the aperol.
Any navel oranges would work, but this time I used cara cara oranges, which are pink fleshed and a tad sweeter than regular navel oranges. And, thanks to the prosecco, the cocktail is still plenty fizzy without the addition of club soda.
Mixed in a large wine glass with plenty of ice, this cocktail is the perfect light drink to relax.
Aperol spritz ingredients
With just a few ingredients, you can have a cold, refreshing aperol spritz in a flash!
Ice (Yes, ice is considered an ingredient in cocktails!) - To keep the drink cool and to appropriately dilute the other ingredients, bringing out and balancing their flavor.
Orange - I juiced 1 small cara cara navel orange to use in the cocktail, and you can slice another orange to add for garnish. Any navel orange would work. (Green olives are the typical garnish, so feel free to use those instead!)
Aperol - No substitutions! Aperol is available in most liquor stores and it is less bitter than campari.
Dry prosecco - You can also use champagne, if you do not have prosecco.
Orange slices, optional - For garnish and to make the cocktail look pretty.
How to make aperol spritz
This simple Italian cocktail doesn't require any special equipment, and it comes together in like 30 seconds.
To make this aperol spritz recipe, simply fill a wine glass with ice (almost to the top of the glass). Pour in 1 ½ ounces fresh orange juice (if using), and equal parts Aperol and dry prosecco (about 3 ounces each).
Because this aperol cocktail recipe is so simple, you could easily eyeball the ingredients and adjust to your taste. Want it sweeter? Add more orange juice. Need more bubbles? Top it off with a splash of prosecco. The beauty of this Italian cocktail is that it can be changed to suit you! And while you might not end up with a classic aperol spritz, you will still have a light, fresh cocktail to sip.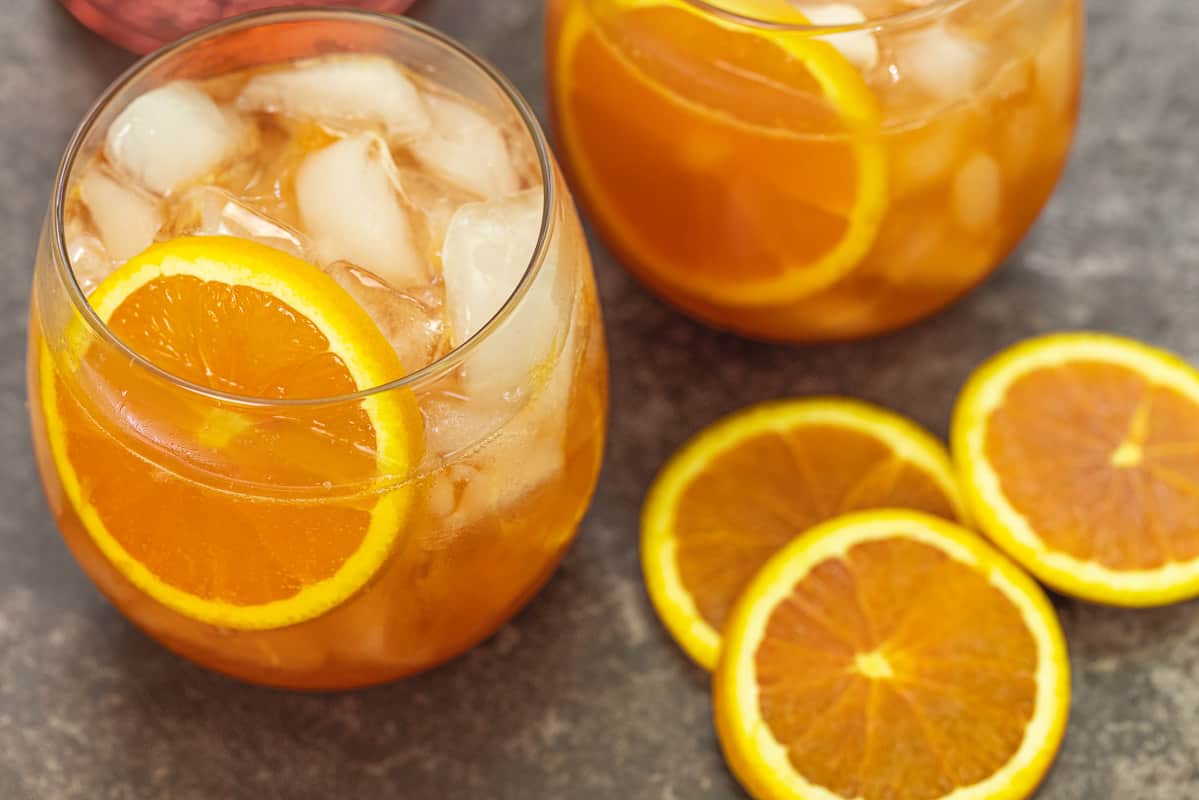 Important tips for this Italian aperol cocktail
Start with chilled aperol and prosecco: Don't rely only on the ice to fully cool the drink, you want to start with things already chilled to avoid a much too diluted drink.
Make one cocktail at a time: This cocktail is meant to be made one by one, that way, it is fresh and fizzy and it doesn't sit in a pitcher with ice that can dilute it. You can make more as you need to!
Use dry prosecco. Prosecco has 6 levels of sweetness. Brut nature or brut zero is the driest, while dolce is the sweetest. For this cocktail, I stick with extra sec, which is medium dry to the taste with 12-17 g/l residual sugar. Or, just dry, which is also known as sec with a 17-32 g/l residual sugar. Any good liquor store or wine shop would be able to recommend the right prosecco to use.
Do you find aperol to be too bitter? Add a splash of orange juice. This is not traditional, but as I mentioned earlier, a splash of orange juice can tame the bitterness of the aperol without making the drink too sweet. Play with the amount of orange juice used to your liking.
What to serve it with
This refreshing cocktail is usually served as an aperitif before meals to stimulate one's appetite.
Serve it with light Italian or Mediterranean-style nibbles. I mentioned my favorite burrata platter earlier, but antipasto skewers, a simple tomato bruschetta, or a plate of whipped feta with a side of pita chips are all good ideas! If you want to serve a little something sweet and salty, try melons wrapped in prosciutto.
I also like it with small seafood bites like shrimp wraps or smoked salmon.

If you're on the hunt for even more refreshing cocktails, be sure to check out our limoncello, pomegranate martini, rosé lemonade, and ouzo drink recipes. Or, if you'd like to try another fun spritz recipe, try a limoncello spritz!
Try this drink next
Browse all Mediterranean Recipes

Visit Our Shop
Easy Aperol Spritz Recipe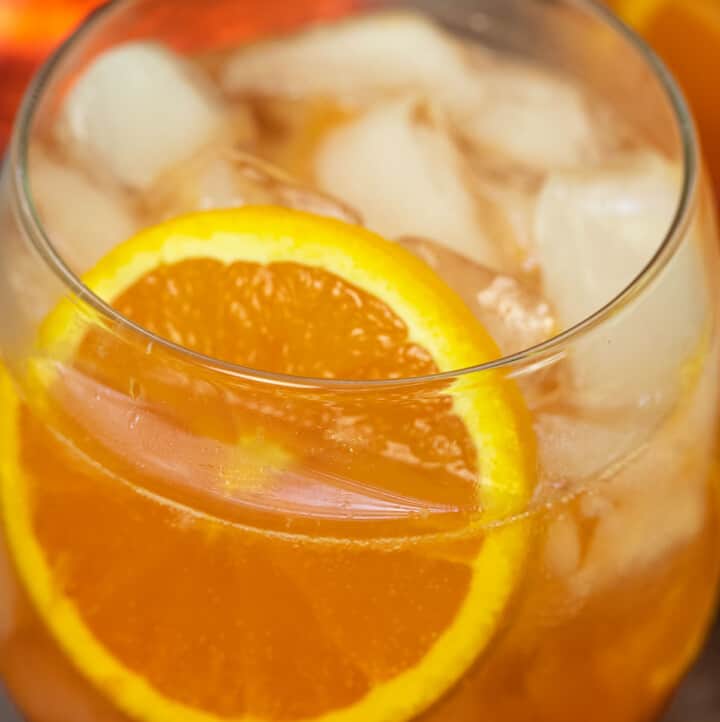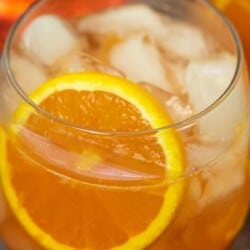 My 4-ingredient aperol spritz is bubbly, zesty, and refreshing! You don't need any special tools or skills, it takes seconds to make. I used some freshly squeezed orange juice from a cara cara orange to add some sweetness to counter the bitterness of the aperol. But any navel orange will work instead. Serve this cocktail before a meal with light Italian or Mediterranean-style nibbles (check out my ideas up in the post).
Ingredients
Ice

1 ½

ounces

fresh orange juice,

I used juice of 1 small cara cara orange, plus orange slices for garnish

3

ounces

chilled Aperol,

2 shots

3

ounces

chilled dry prosecco,

2 shots
Instructions
Fill a wine goblet with ice nearly to the top.

Pour in the orange juice, Aperol, and prosecco.

Add an orange slice for garnish. Enjoy immediately!
Notes
Chill the prosecco and aperol: You don't want the ice to dilute the drink too much or it will taste watered down, and having chilled ingredients will help.
Make one cocktail at a time:

This recipe is best made one by one, instead of making a large batch. This makes a fresh fizzy drink as it is easier to control the amount of ice used. Make more as needed.

Use a dry prosecco:

This is not supposed to be too sweet a cocktail. Any good wine shop or liquor store would be able to recommend the right prosecco (medium dry or dry would work). I find the

squeezed orange juice tames the bitterness of aperol without making the drink too sweet.

Visit our shop to browse quality Mediterranean ingredients.
Nutrition
Calories:
193.1
kcal
Carbohydrates:
4.4
g
Protein:
0.3
g
Fat:
0.1
g
Saturated Fat:
0.1
g
Polyunsaturated Fat:
0.1
g
Monounsaturated Fat:
0.1
g
Sodium:
0.4
mg
Potassium:
85
mg
Fiber:
0.1
g
Sugar:
3.6
g
Vitamin A:
85
IU
Vitamin C:
21.3
mg
Calcium:
4.7
mg
Iron:
0.1
mg