Learning how to make limoncello is easy with this three ingredient homemade limoncello recipe. It's delicious in a cocktail or ice cold on its own! This sunny, bright lemon liqueur also makes a lovely gift.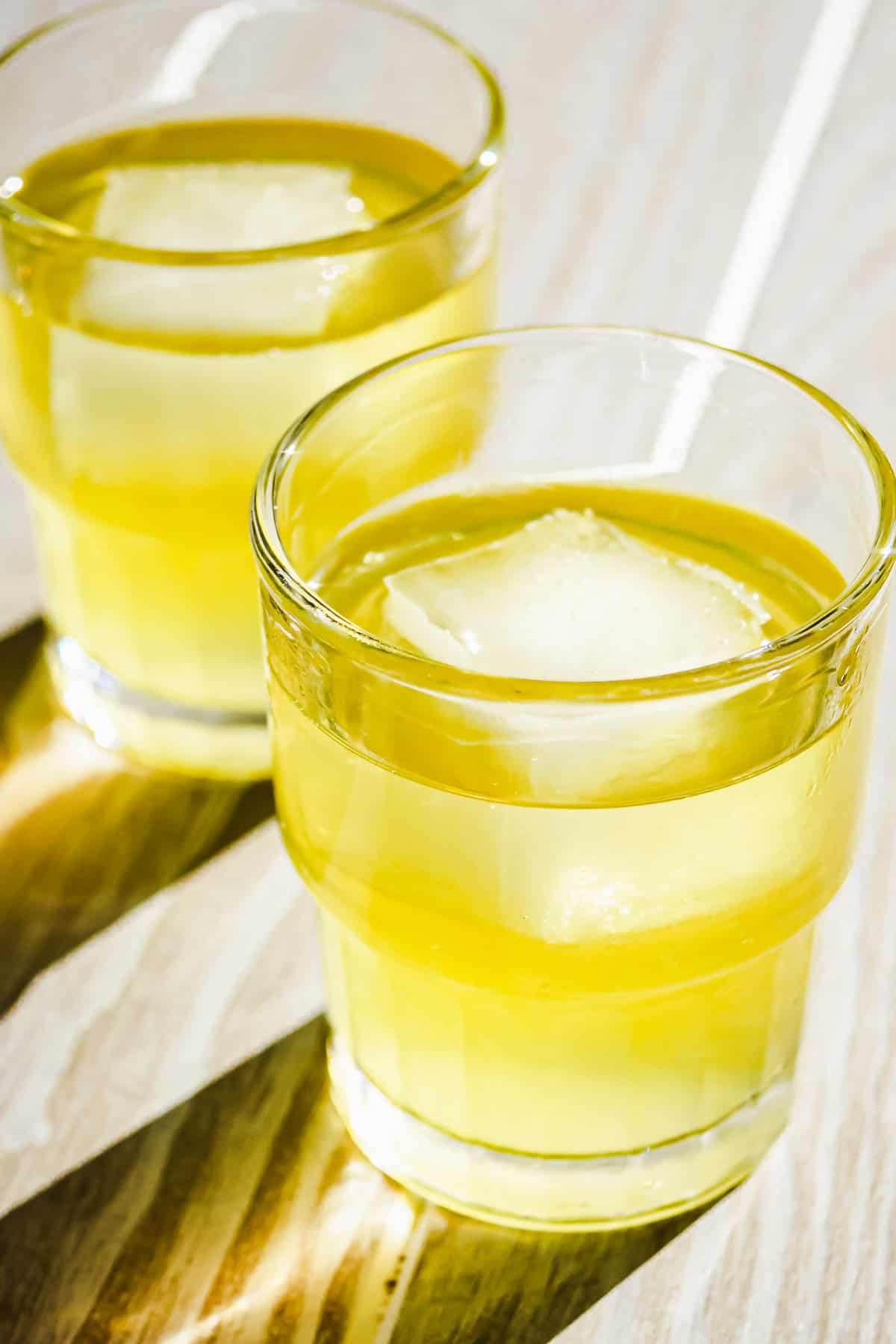 Italy, especially on the Amalfi coast, is known for its fragrant Sorrento lemons. These little, or not so little, bursts of sunshine can be found on ceramics, painted on frescoes, and are the base for the celebrated liqueur limoncello.
Making limoncello at home is easier than you think and it only requires a little time and 3 ingredients — lemon peel, high proof clear alcohol and sugar. (Water too, but we don't count that.) That's it!
Once you've learned how to make limoncello you'll serve this wonderfully refreshing drink in many ways for your favorite occasions. It's best to store limoncello in the freezer so it's ice cold and ready to serve.

Drink it on it's own, mix it with wine or sparkling water for a limoncello cocktail. Or, make a big festive pitcher of Limoncello Spritzes for easy entertaining. Try it with fish like this Greek-Style Roasted Branzino or set it out with different mixers at your next cocktail party with finger foods like these Cucumber Sandwiches and a big pitcher of Red Sangria.
Table of Contents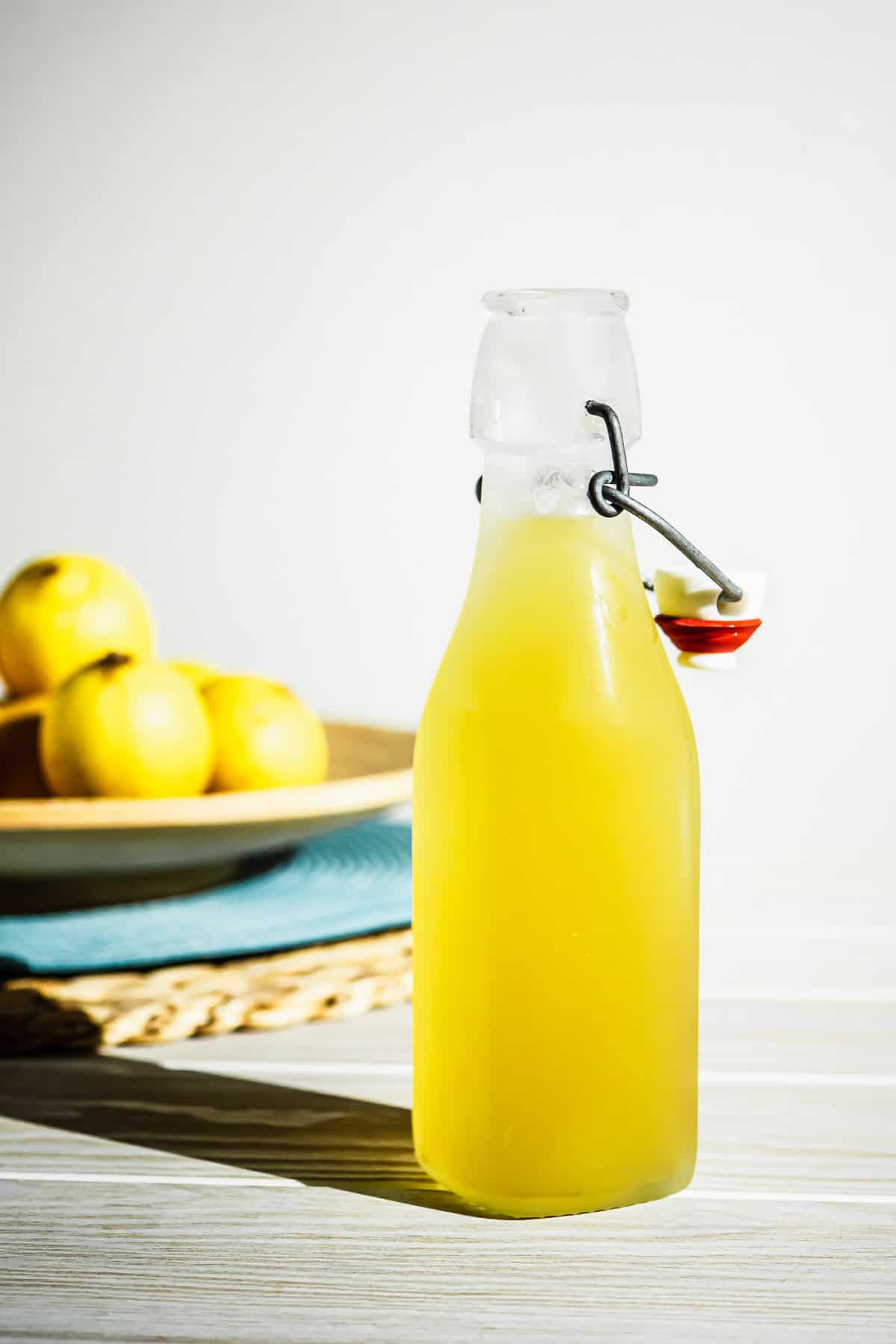 Limoncello: The Backstory
Italy has many traditions that span centuries, but Limoncello as a commercial product is actually a modern invention.

The brand was trademarked less than 40 years ago in the late 1980's by the Canale family. But prior to that trademark, you can discover stories of the liqueur's manufacture by the hands of nuns, monks, innkeepers, and various other Italians over hundreds of years.

It's likely that many people were taking lemons and infusing them in some kind of liquor as a way of preserving the fruit, and those limoncello recipes were passed down through generations.

So while this recipe may differ from what your Italian relatives might make in their kitchen, this gives you a foolproof way to make and bottle your own limoncello recipe — and perhaps pass it down to the next generation.

A true limoncello, as it has been given the Protected Geographical Indication (Indicazione Geografica Protetta/IGP), must be made from untreated (no pesticides) Sorrento lemons. But if a trip to the Amalfi coast is not in your near future, you can make your own limoncello at home with grocery store lemons!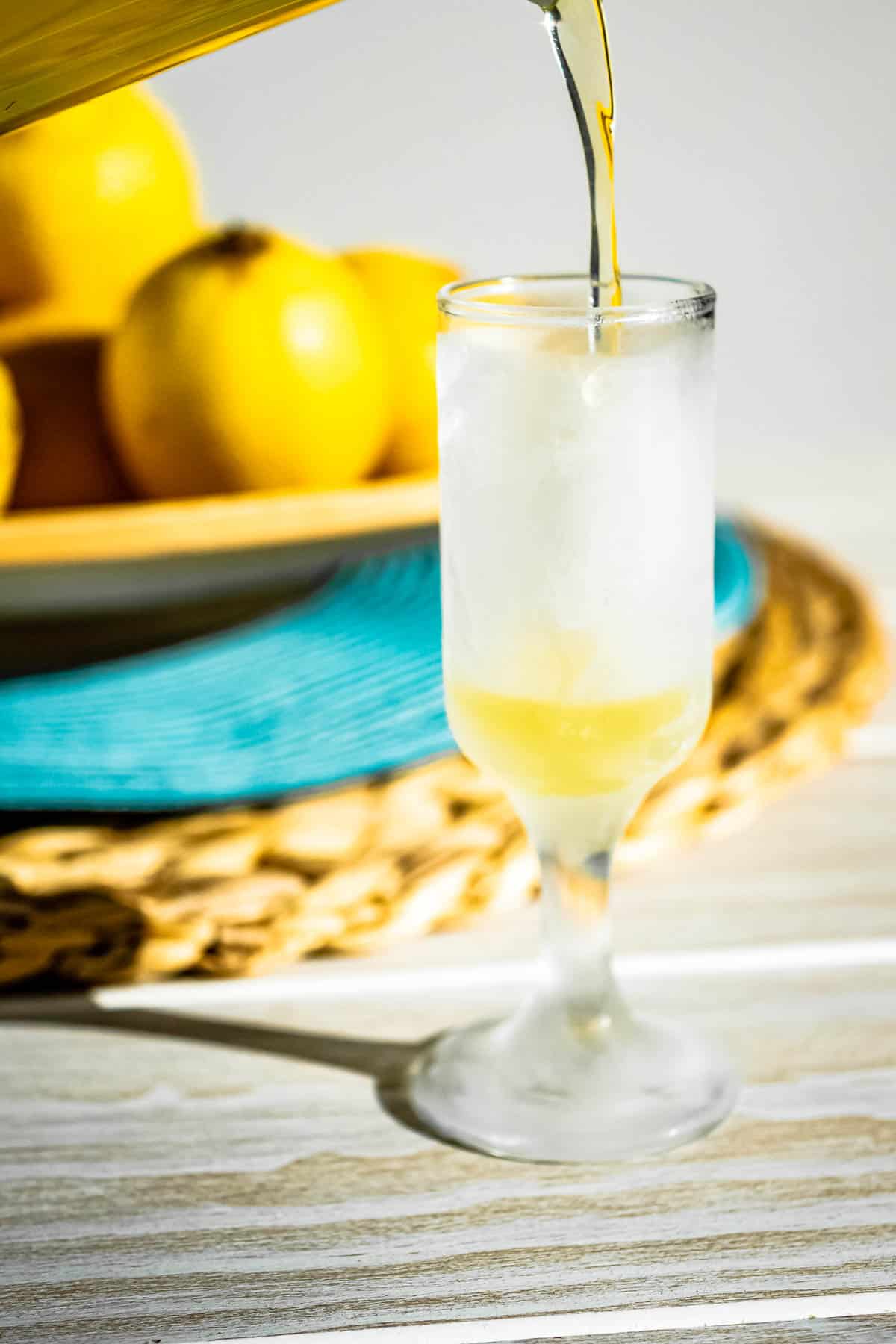 What's in this Limoncello?
You've gotta love a recipe with a short ingredient list! Limoncello consists of lemon peels or zest, high proof grain alcohol like vodka or everclear, sugar and water.
What's the Best Liquor for Making Homemade Limoncello?
When making homemade infusions like limoncello it's best to use a high proof grain alcohol. Why the high proof?
One reason is that the higher proof actually extracts more flavors from the ingredients you are using. Another is that to keep the Limoncello potent, you start with a higher proof alcohol since you will eventually be cutting it with sugar and water, which will bring down the overall proof of the drink.
My top choices are:
Everclear 190 or 151
Stoli 100 proof
Absolut 100 proof
The Best Lemons for Limoncello
As with any recipe with a short ingredient list the quality of the ingredients matter the most. This limoncello recipe uses only the outer peel (yellow skin only not the white pith) of the lemon so it's best to use organic lemons that haven't been treated with pesticides. The white pith is bitter and will impart a bitter taste to the final product so its best to use just the outer skin.
When buying lemons from the grocery store scrub them well under warm water to remove any food-grade wax. If you have a lemon tree (lucky you!) just rinse them to remove any dirt or debris.
A Eureka lemon has a nice thick skin that is easy to peel or zest without taking too much of the white pith with it
Meyer lemons are a great choice due to their highly aromatic nature, which comes from the oils in the skin and will infuse into the alcohol during their infusion. The skins of Meyer lemons are very thin, however, and can be cumbersome to peel.
Use either a fine zest or long peel of skin in your infusion. I prefer a microplane to create a fine zest, but really it's up to you. It will all be strained out in the next step.
How to Make Limoncello
Making infusions like homemade limoncello are relatively easy, as you just combine the ingredients in a jar and let them rest. A recipe really doesn't get much easier than that.
Combine the lemon zest or peels and alcohol in a sealed glass jar. Store it out of direct sunlight (I keep mine next to my coffee) and give the contents a gentle shake every few days. Taste every couple of days until you have a bright, tangy lemon flavor that shines through and prevails over the taste of the alcohol. This can take up to 3 weeks.


When you've tasted your infusion and are happy with it, it's time to strain. Use a very fine mesh strainer and double up with the cheesecloth. You don't want any debris from the lemons in your final mixture. (I love using a nut milk bag for this if you have one laying around.)
Transfer the mixture into a decorative bottle large enough to hold the infused mixture and the simple syrup. Don't try and re-strain into the bottle your alcohol came in! You won't have enough space to add in the simple syrup.
Make the simple syrup (sugar and water mixture). Let it cool then add it to the lemon infused alcohol.
After you've combined your infused liquor with a sugar syrup, tradition says to keep it in the freezer (where it will keep at least a year or more).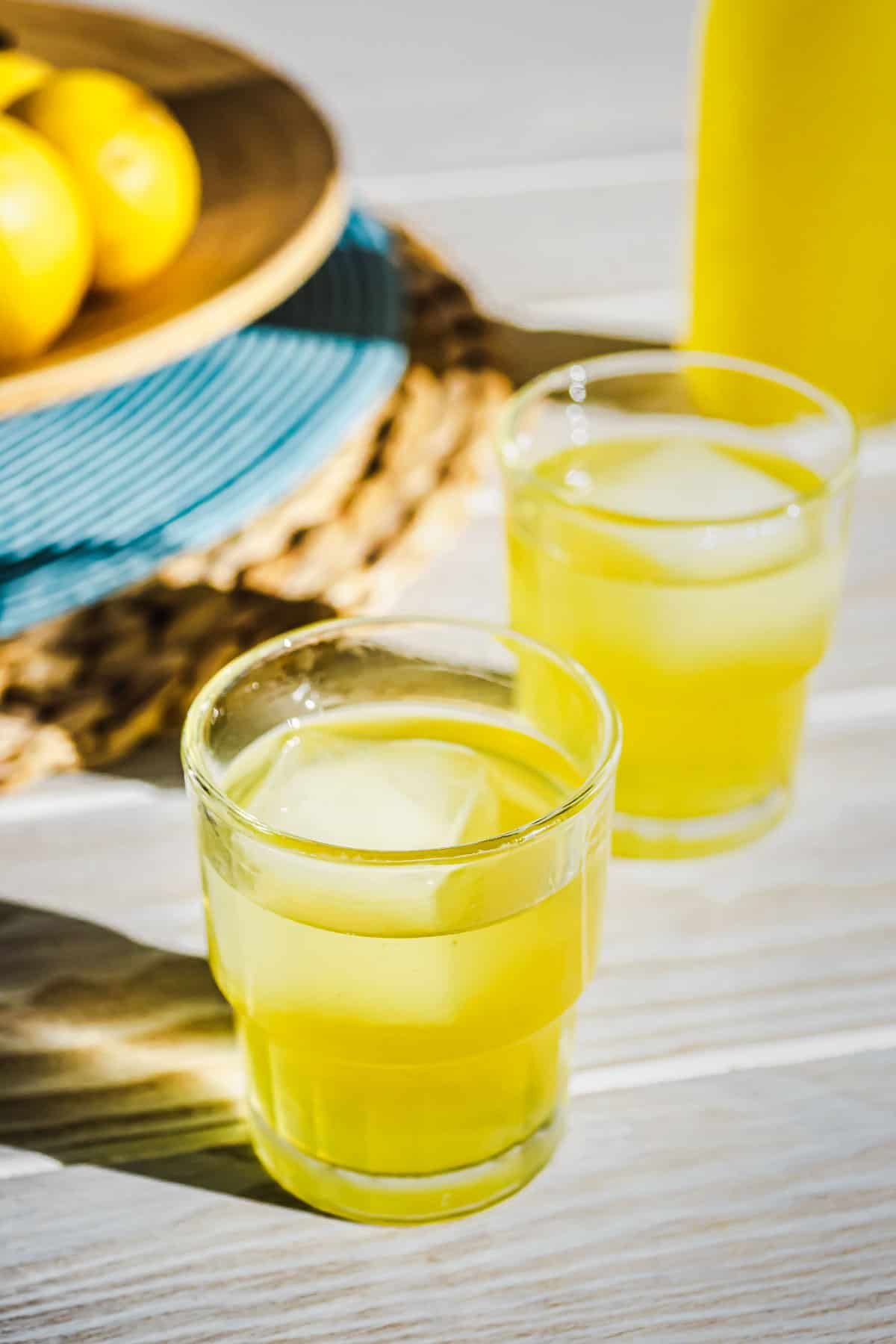 How to Drink Limoncello
Limoncello is best served ice cold in small chilled glasses. Because it's made using high proof liquor you can store it in the freezer and it won't freeze solid.
Pour as a digestif (drunk after the meal) or anytime you fancy a refreshing, sweet-tart drink.
Make a limoncello cocktail! Adding an ounce of limoncello to a flute of sparkling wine for a simple festive drink. Or just mix it with sparkling water in a rocks glass.
Use it to make Limoncello cake, or fold some into heavy whipping cream for Limoncello whipped cream, or even add it to a marinade for seafood.
Pour some into a decorative bottle with a label and you've got a wonderful handmade hostess gift. You could even attach a pour spout from the shop.
More Refreshing Drink Recipes
Browse all Mediterranean recipes.

Visit Our Shop.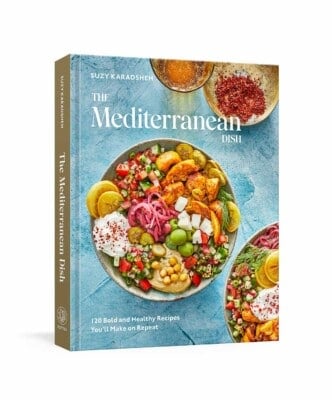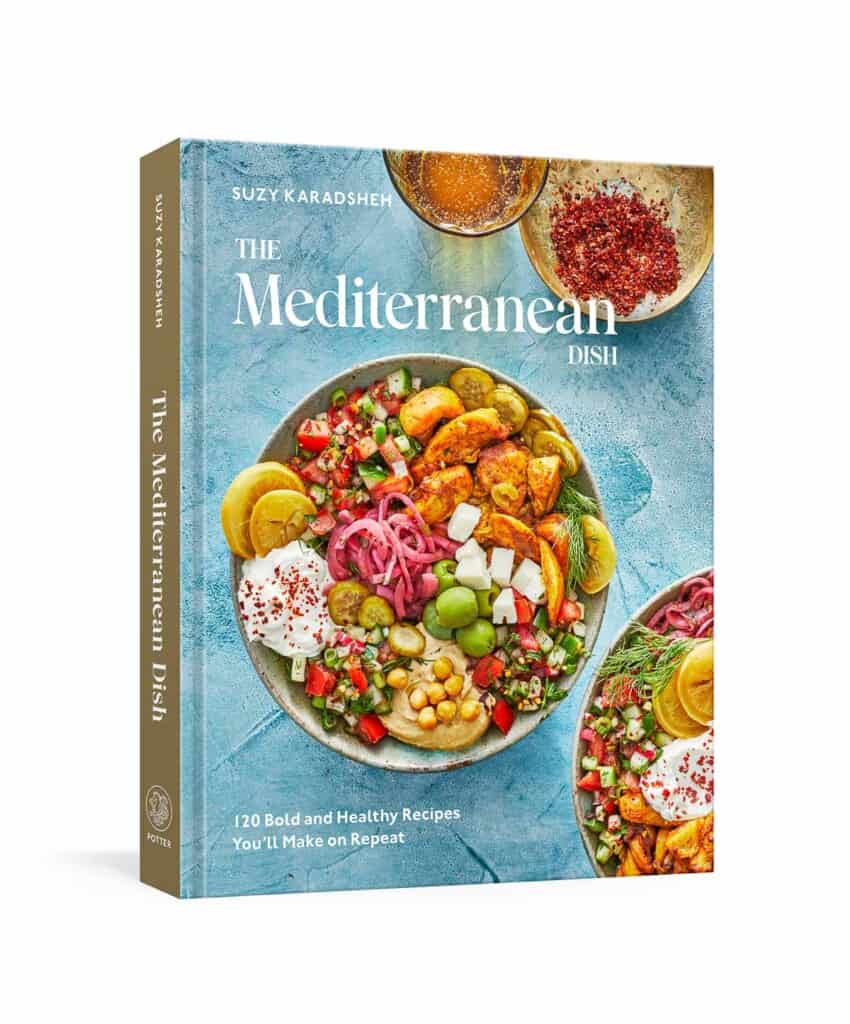 Limoncello Recipe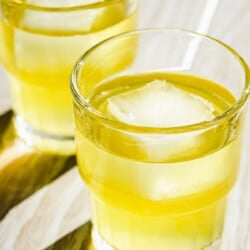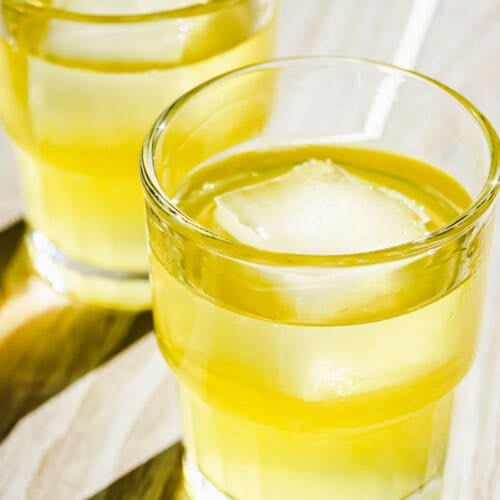 Three ingredients is all you need to make this classic citrusy liqueur right at home! There are so many ways to serve this refreshing drink. Try it on its own in small glasses, or mix with wine for a limoncello cocktail.
Equipment
Vegetable peeler or microplane zester

Fine strainer, cheesecloth, or strainer bag

Funnel

Swing top bottles
Ingredients
2

pounds

(about 8 or 9) organic lemons

scrubbed

1

(750ml) bottle Everclear,

or high-proof vodka such as Stoli 100

1

cup

sugar

1

cup

water
Instructions
Zest or peel the lemons: You don't want any of the white pith. To remove only the yellow skin use a microplane zester to zest the lemon skin or a vegetable peeler to remove only the yellow part. Save the peeled lemons to make lemonade later!

Combine the lemon peel and the liquor: Combine the lemon peels and high-proof liquor into a glass jar. Seal it and store it out of direct sunlight.

Swirl and wait: Swirl the mixture gently every few days for two weeks (see headnotes to check for when it is ready).

Strain: When ready, layer cheesecloth over a fine mesh strainer (or use a strainer bag) and pour the liquid with the lemon zest/peels over the top. Press down on the solids a little bit, then discard them and set liquid aside.

Make the simple syrup: In a small saucepan, combine the sugar and water over medium heat. Stir until the sugar has dissolved. Let the simple syrup cool to room temperature, and then mix into the strained liquid.

Transfer and store: Using a funnel, pour the Limoncello into swing top bottles. Seal and transfer to the freezer.

Serve! To enjoy, pour about 1-½ to 2 ounces straight from the freezer into a chilled glass.
Notes
The length of time needed to make the Limoncello can vary depending on the oil content of your lemons, as well as the proof of your liquor.

Unless you are pretty familiar with your lemon variety, this means that you have to be a detective and taste-test every few days after a week has passed. I find that two weeks works well using Everclear and my Eureka lemons.

A lower proof vodka will mean that you may need an additional week or more to reach maximum lemon flavor.

Don't worry about how much time your bottle is sitting out infusing, the high proof liquor will prevent mold from growing. However, should you see any signs of discoloration or something fuzzy growing, discard, sanitize your bottles, and start over.

A nut milk bag, or "strainer bag" is a first rate, one piece tool to use for straining fine particles. They're great to have around: I use mine for these types of infusions, but also for straining my almond milk, chicken stock—you name it.

​​

Visit our shop

to browse quality Mediterranean ingredients including

olive oils

,

spices

, and more.
Nutrition
Serving:
41
g
Calories:
155
kcal
Carbohydrates:
15.8
g
Protein:
0.6
g
Fat:
0.2
g
Saturated Fat:
0.02
g
Polyunsaturated Fat:
0.05
g
Monounsaturated Fat:
0.01
g
Sodium:
2.2
mg
Potassium:
70.2
mg
Fiber:
1.4
g
Sugar:
12.3
g
Vitamin A:
11.1
IU
Vitamin C:
26.7
mg
Calcium:
13.6
mg
Iron:
0.3
mg