The Limoncello Spritz is a light, citrusy take on the traditional Aperol Spritz. Made with only three ingredients, it's an easy cocktail recipe that can be mixed up in a snap. Looking for a bubbly, citrusy drink for brunch, but not in the mood for a Mimosa? Try this lemony take on a spritz!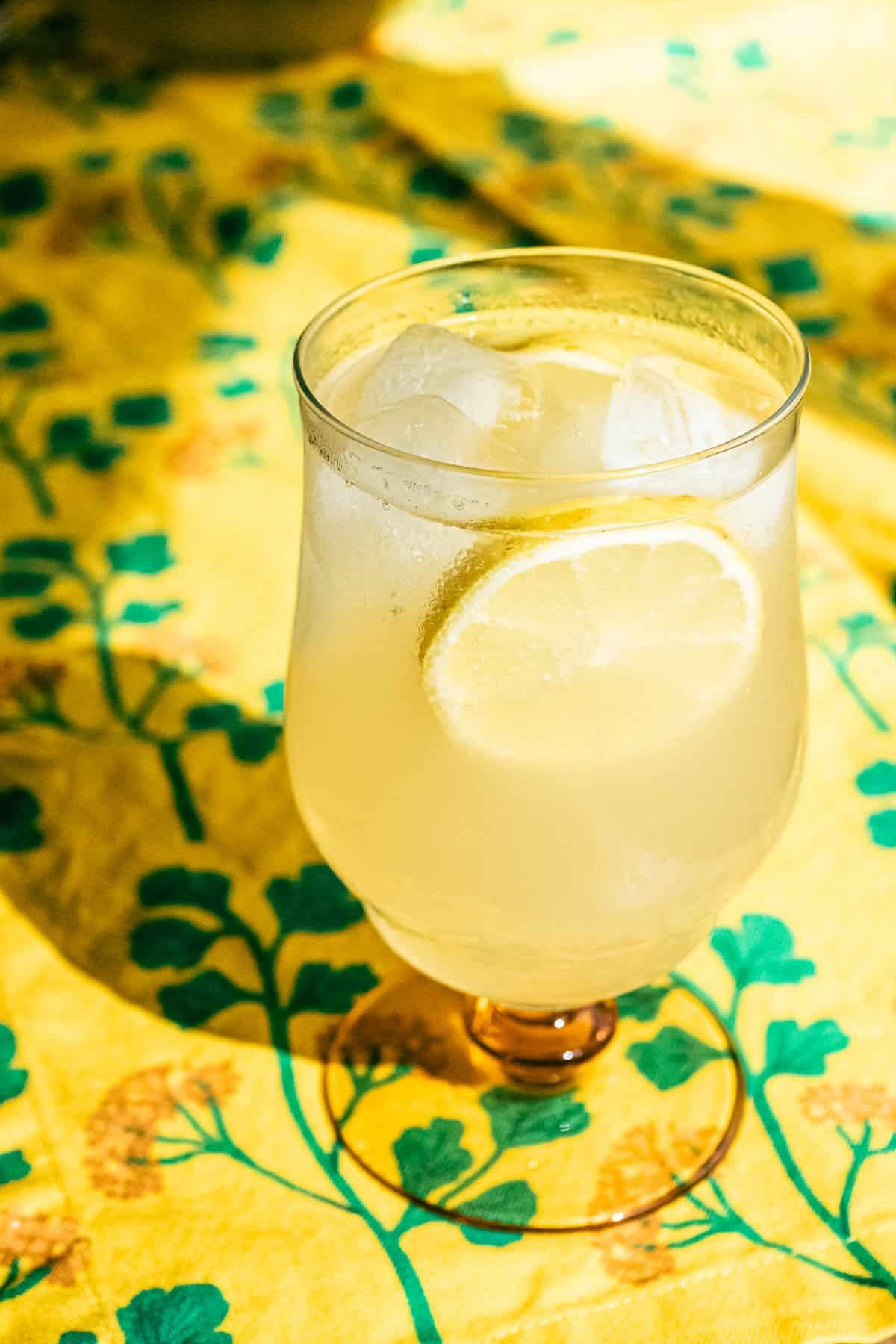 Table of Contents
A Limoncello spritz is sure to whisk you away to the south of Italy, where Italians sip on the bright, sweet, and tart Limoncello liqueur as an aperitif or after-dinner drink. Add in Prosecco, club soda, and a few citrus slices and you have a festive sparkling cocktail.
This Limoncello Spritz can be made by the glass or as a pitcher, so it's perfect for entertaining. Pass some spritzes around for a Mother's Day toast or your next brunch session with friends. If brunch isn't on the agenda it's also a wonderful summer sipper for when you're sitting poolside. The refreshingly bubbly beverage brings the fun to any occasion.
Serve it with a light meal to share, like Healthy Asparagus Quiche and a Strawberry Spinach Salad or snacky apps like Shrimp Ceviche and Mediterranean Nachos. This glass of sunshine goes well with almost anything!
What is a Spritz?
Both Limoncello and spritzes are iconic Italian drinks. Everywhere you go in Italy, you can easily find a spritz cocktail. This is particularly true in the southwest, where they're known for gorgeous lemons. It's there where you'll encounter the very best authentic Limoncello.
Luckily, you can find all the ingredients you need to make a delicious and refreshing Limoncello Spritz at your local store. And, if you'd like to try your hand at making Homemade Limoncello, you can do that too!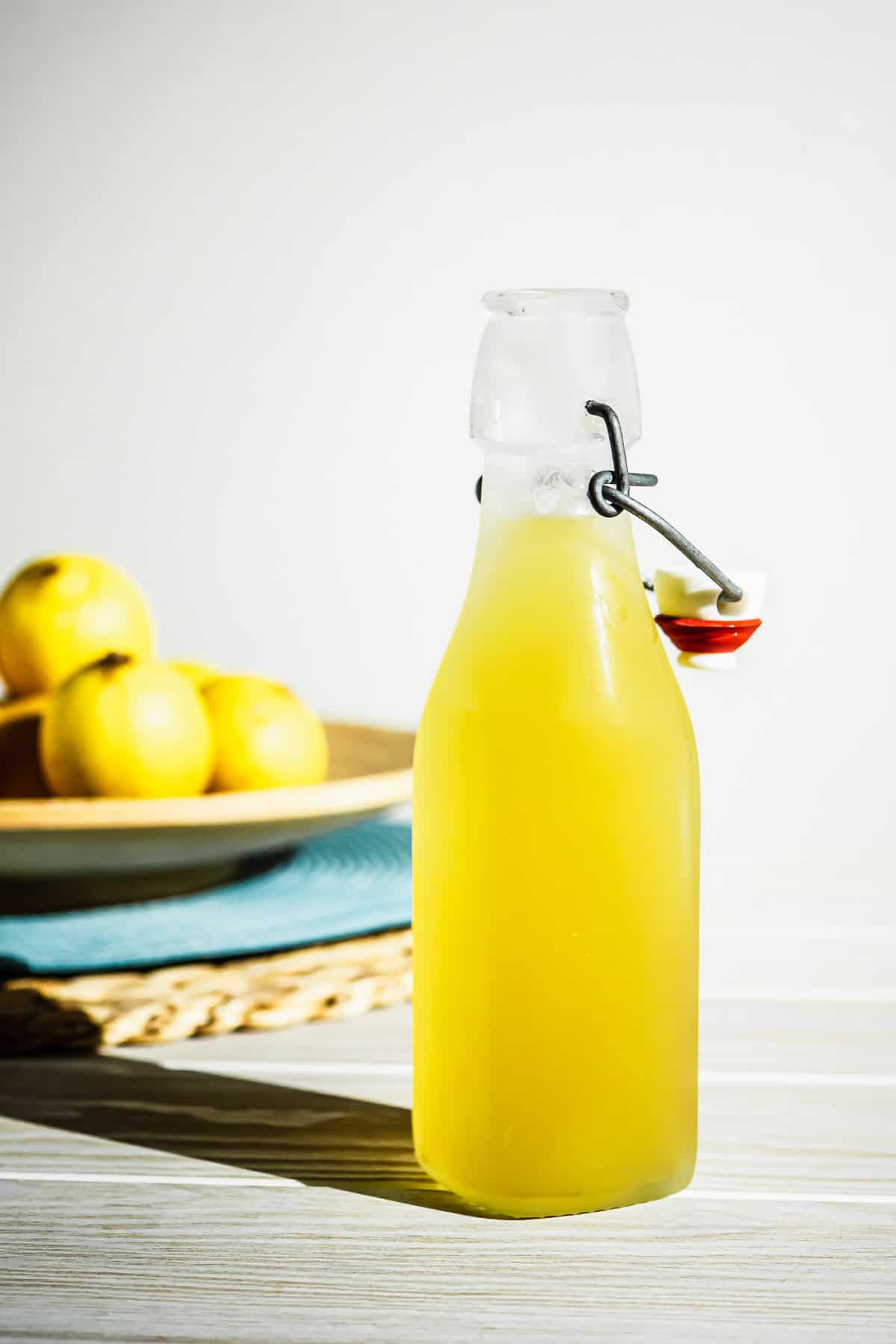 What is Limoncello?
When someone offers you Limoncello, you may imagine a small, frosty glass with a chilled, electric yellow drink. It's bright and slightly sweet with a strong lemon oil aroma.
True Limoncello is found throughout Southern Italy, made with large, bumpy Sorrento lemons. It's typically made with just the zest from the lemons, high-proof alcohol (like Everclear), sugar, and water. You can make it yourself with Eureka lemons, or you can find a ready-made bottle in most liquor stores. Two brands I recommend are Bellini and Luxardo, which offer flavorful budget-friendly bottles.
Although one of Italy's most celebrated spirits is very delicious on its own, Limoncello is also excellent for mixing in cocktails. It's sweet and strong, so a little goes a long way. Even with just a few ounces, that unmistakable burst of sunshine-y lemon will sing through whatever it's mixed with for a delightful twist.
Limoncello Spritz Ingredients
A Limoncello Spritz is made with just three key ingredients: Limoncello, Prosecco, and club soda. Together, they make a delicious cocktail in no time!
Prosecco: Prosecco is ideal for spritzes as it's typically lighter than other sparkling wines. Look for a dry Prosecco, labeled "brut" or "extra brut."
Limoncello: I like a high-quality store-bought variety that's not too sweet, like Bellini or Luxardo. You can also make it yourself with this limoncello recipe. Go full Italian-style and make your own signature limoncello, tweaking the sugar and lemon to your liking!
Club soda: Effervescent club soda lightens the drink and makes it more refreshing.
Sweetener: Totally optional, but I like to add a touch of simple syrup or agave for balance.
Garnish: The garnishes are up to you. Keep it simple with a few lemon slices. Or, go bold with rosemary sprigs, mint, thyme, candied lemon peel, or even a spoonful of fresh berry puree.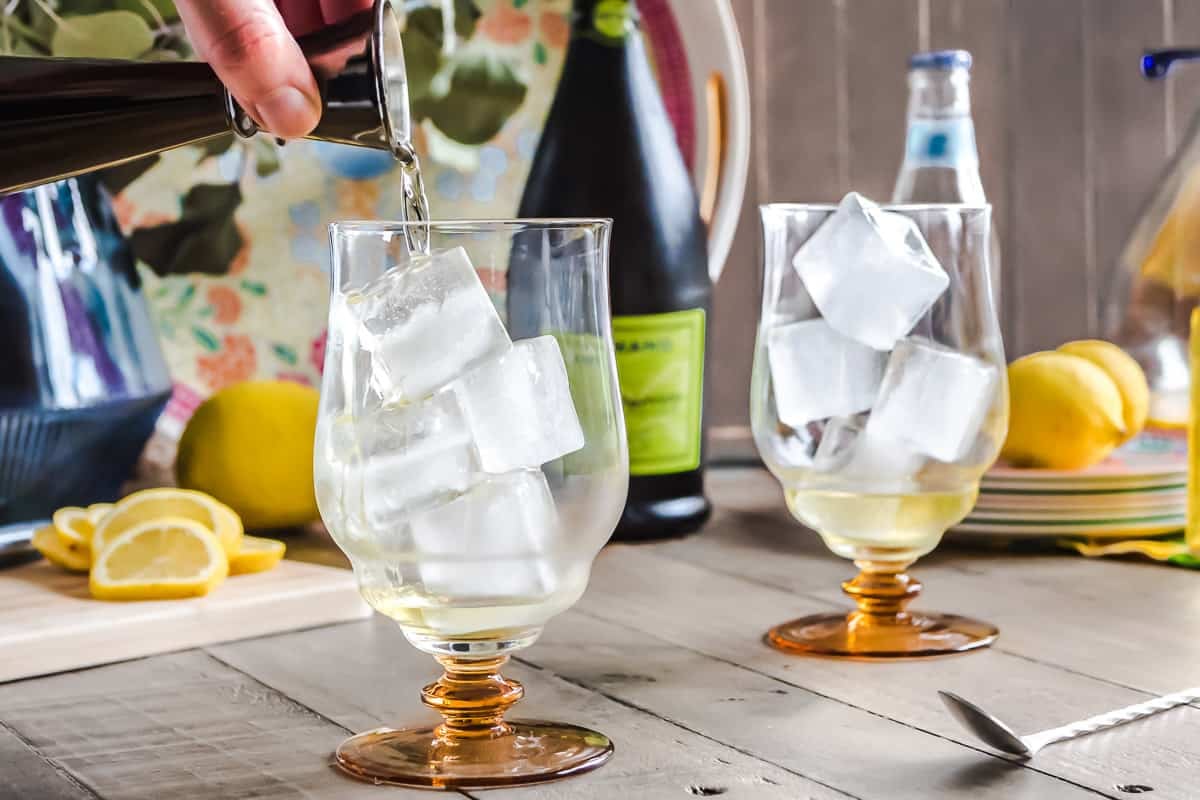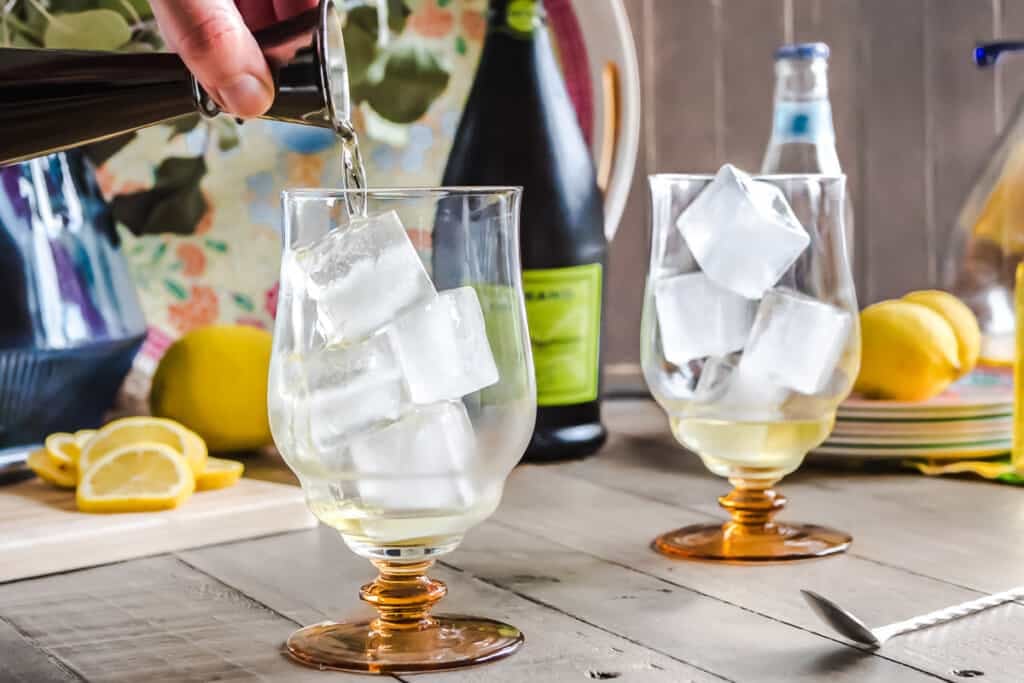 How to Make a Limoncello Spritz
There are two ways you can make a Limoncello Spritz: by the glass or by the pitcher. For a single drink:
Mix: Fill a wine glass or tumbler ⅔rds of the way full with ice. Add 3 ounces of Prosecco, 2 ounces of Limoncello, and 1 ounce of club soda. Add simple syrup or agave to taste (I add ¼ ounce).
Serve: Give it a stir and garnish as you please!
How to Make Limoncello Spritz for a Crowd
The Limoncello Spritz can also be made in a pitcher if you're entertaining a large crowd. Who doesn't like the ease of pre-batching drinks and sitting back and relaxing with their guests? To make a pitcher that serves approximately 8:
Mix: In a large pitcher, mix together a 750 ml bottle of Prosecco, 16 ounces of Limoncello, and 8 ounces of club soda. If including simple syrup, stir in 2 ounces.
Serve: Serve immediately with ice-filled glasses and your chosen garnishes. The bubbles will fade, so it's best consumed within an hour of making.
How to Make Simple Syrup
Limoncello's sugar content can vary greatly. Take a taste of your Limoncello first before mixing. If it's too harsh or sour, add ¼ ounce of simple syrup. You can buy simple syrup at the store, but it's often easier and less expensive to make it at home. To make your own:
Combine equal parts water and sugar in a saucepan. Set over medium heat, stirring occasionally until the sugar dissolves completely.
Let simmer for 5 minutes, then allow to cool to room temperature.
Transfer to a glass jar or bottle and store in your refrigerator for up to one month.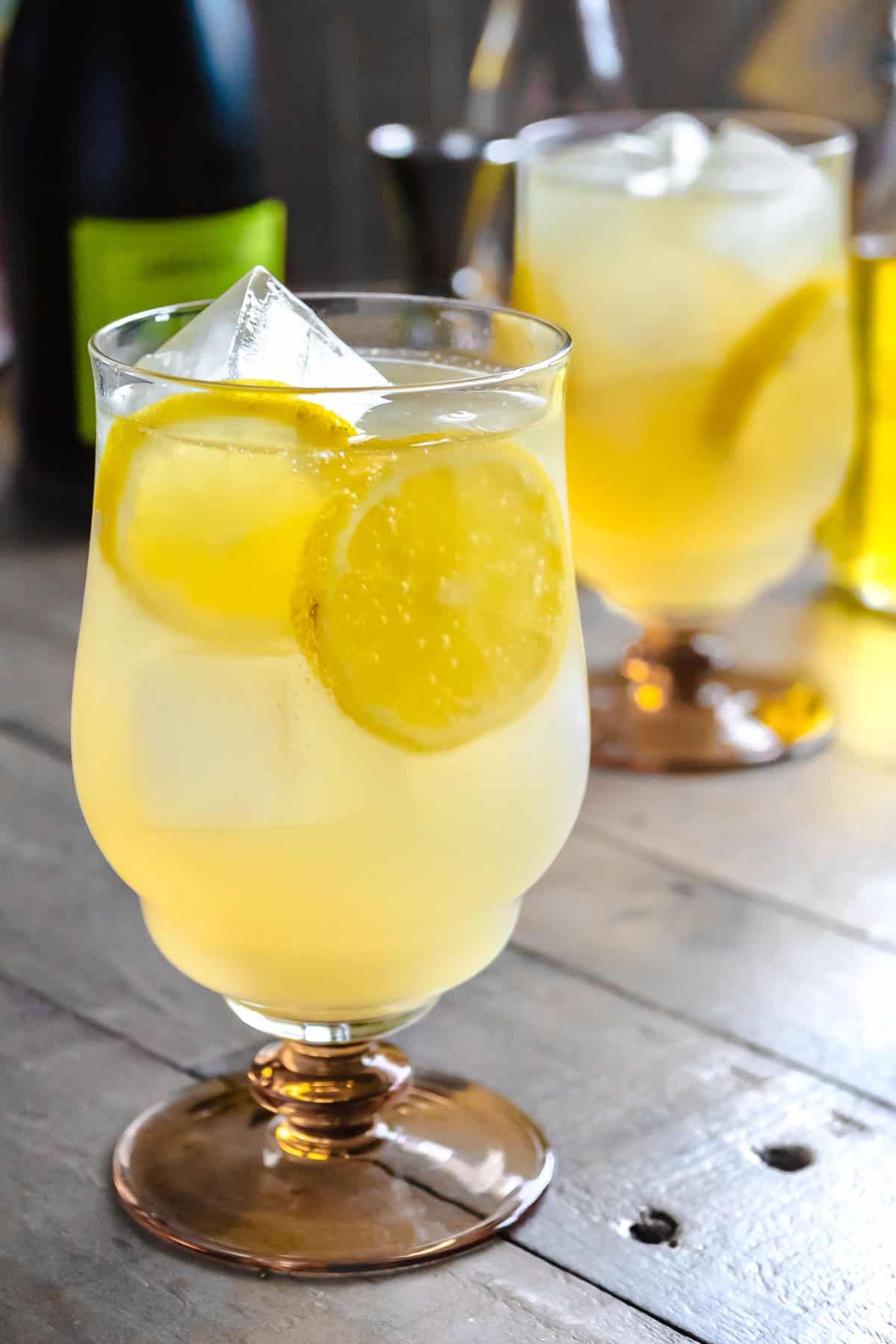 What to Serve with Limoncello Spritz
Bubbly Limoncello Spritzes call for other festive Italian appetizers. It's sweet and tart, so it's best with savory, salty finger foods.
Slice the crispy-meets-custardy Farinata (savory chickpea pancake) hot out of the oven with a chilled spritz on the side. Antipasto Skewers with herbs, veggies, cheese, and olives make for extra easy snaking. Salty, crispy Fried Calamari is the Spritz's perfect match, especially with a homemade Garlic Aioli on the side.
Easy Drink Recipes to Cheers To
Browse all Mediterranean recipes.
Visit Our Shop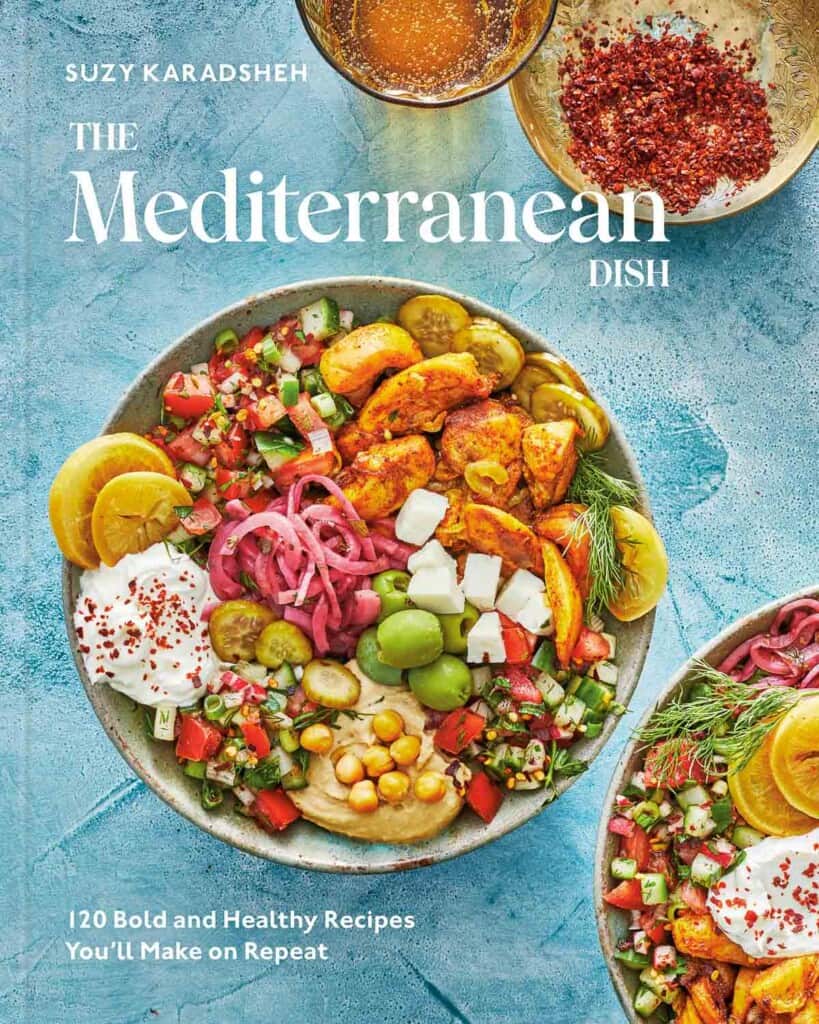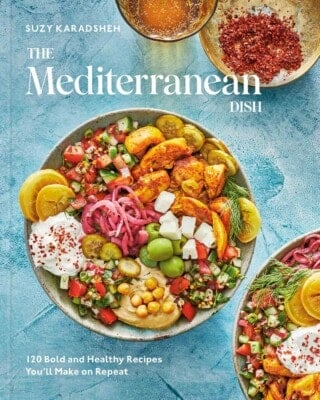 Limoncello Spritz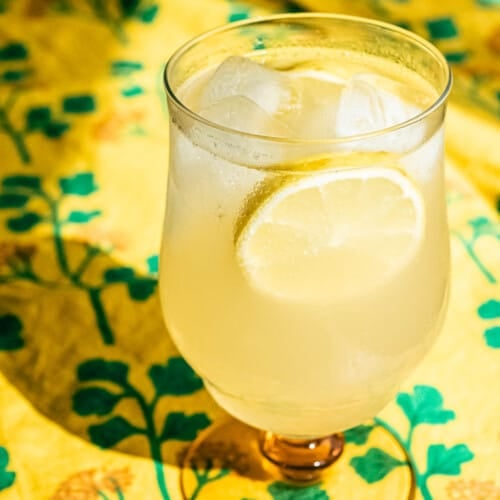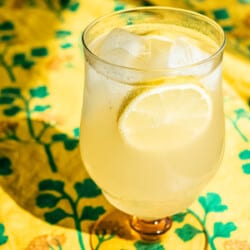 This Limoncello Spritz is a refreshing lemony take on a classic Aperol Spritz. Using just a handful of store-bought ingredients, it's an easy cocktail recipe perfect for entertaining.
Ingredients
3

ounces

Prosecco

2

ounces

Limoncello

1

ounce

club soda

¼

ounce

simple syrup or agave

(optional)

Lemon wheels,

for garnish
Instructions
Mix by the glass: In a wine glass or tumbler filled ⅔ of the way with ice, pour in the Prosecco, Limoncello, club soda, and simple syrup if using.

Serve: Stir gently to combine and garnish with lemon wheels. Enjoy!
Notes
To make a pitcher, combine a 750 ml bottle of Prosecco, 16 ounces of Limoncello, and 8 ounces of club soda. If including simple syrup, stir in 2 ounces. Serve immediately
Make sure to stir gently to keep all the bubbles.
Sugar content in Limoncello can vary greatly. Take a taste of your spritz, and if you feel it still needs more sweetness add a quarter ounce of simple syrup or agave.
Visit our shop to browse quality Mediterranean ingredients including olive oils, honey, jams and spices.
Nutrition
Calories:
266.7
kcal
Carbohydrates:
28.2
g
Protein:
0.1
g
Sodium:
16
mg
Potassium:
79.9
mg
Sugar:
28
g
Calcium:
10
mg
Iron:
0.6
mg