Bold, briny, and beautiful, these antipasto skewers are a crowd-pleasing appetizer that are so easy to make! All you need are some vegetables, cured meat, fresh herbs, and cheese!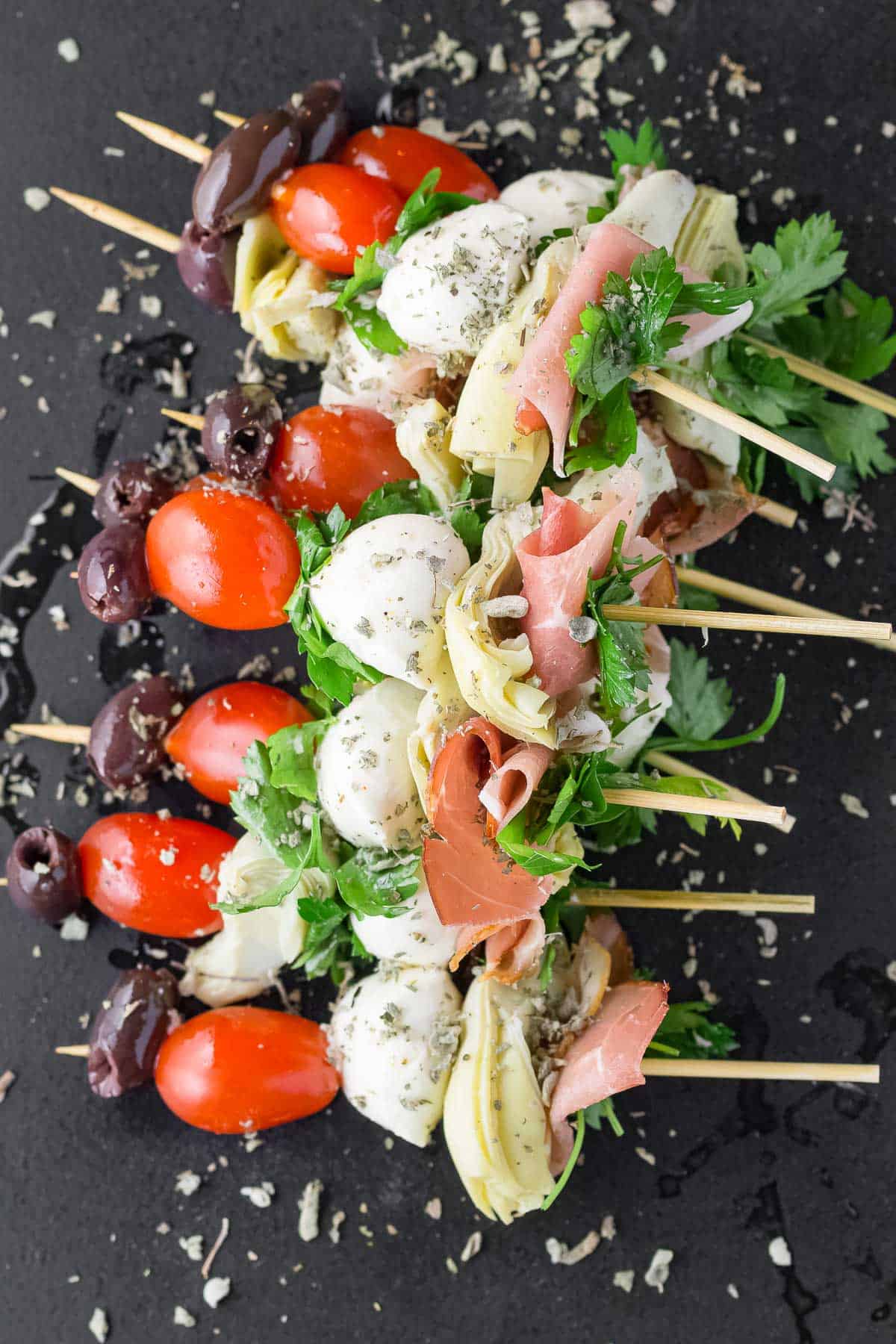 If you're a fan of food on a stick, like chicken kabobs, vegetable kabobs, or shish kebabs, you need to try these antipasti skewers. With fresh and marinated vegetables, cured meat, creamy cheese, and robust herbs, these appetizer skewers are a delightful hand-held appetizer for your next potluck.
Antipasti
Like tapas in Spain, or mezze in the Middle East, antipasti (plural of antipasto) are Italy's way of setting the stage for dinner. They are Italian appetizers that may include any number of foods, depending on the region, from fresh and marinated vegetables, to olives and pickles, to cured meats and farinata (chickpea pancakes). Some may even include seafood like shrimp or anchovies.
Antipasti are carefully selected for their color and texture to help stimulate the appetite and evoke all five senses–weather it's in antipasti salad, platters, sandwiches, or these skewers!
Antipasto skewers
I love the idea of a loaded, cornucopia-type antipasto and cheese board like this one or a quick burrata plate with prosciutto when I have guests over. But, like my Greek salad skewers, these beautiful and festive appetizer skewers are a great way to present antipasti as easy-to-handle finger food to feed a crowd. Plus, they require fewer ingredients.
To make these antipasto skewers, you'll need some mini wooden skewers and a few of your favorite antipasti. I like to soak the skewers beforehand to avoid splinters, but this is not a necessary step.
When selecting which antipasti go on my skewers, I keep in mind: color, texture and flavor. I typically add one meat such as prosciutto, but you can keep it all vegetarian if you like. Let's get into what you'll need for the perfect antipasto kebabs!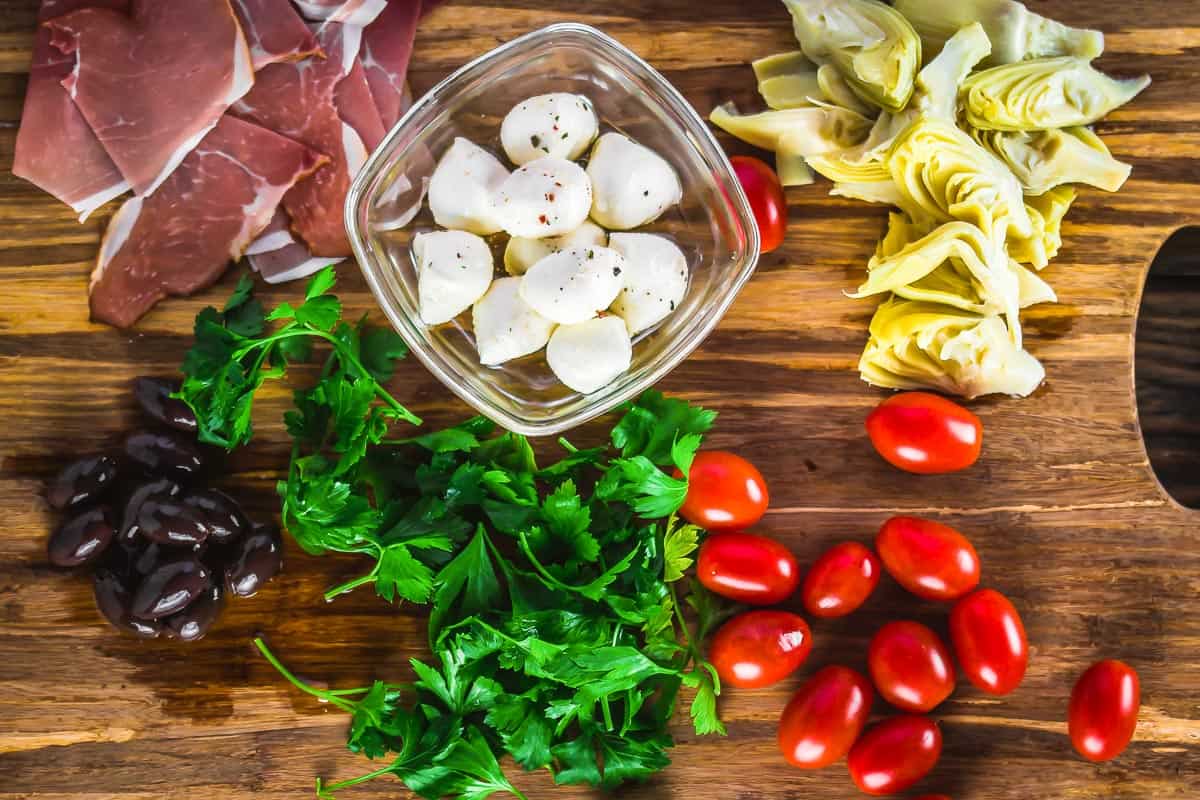 Ingredients you'll need for this antipasto recipe
For my antipasto skewers, I use a combination of one vegetable, one or two marinated options, cheese, meat, and a fresh herb. Here's what you'll need to make this antipasto:
Cured meat such as prosciutto di parma, salami, or pepperoni. Cut into smaller pieces and roll or fold the meat to fit easily on a skewer.
Cheese such as baby mozzarella balls or any firm mild cheese, cut into cubes.
Fresh cherry tomatoes. Cherry or grape tomatoes are ideal here given their size.
Marinated vegetables such as artichoke hearts. You can also try marinated mushrooms, marinated baby corn, or roasted red peppers (check the olive bar at your local grocery store for some delicious marinated veggies).
Olives. Use pitted olives you enjoy (I like kalamata olives here, which are just enough briny but not too bitter).
Fresh herbs such as basil leaves, mint, or large flat leaf parsley. Fresh herbs are a great way to add a pop of color and flavor.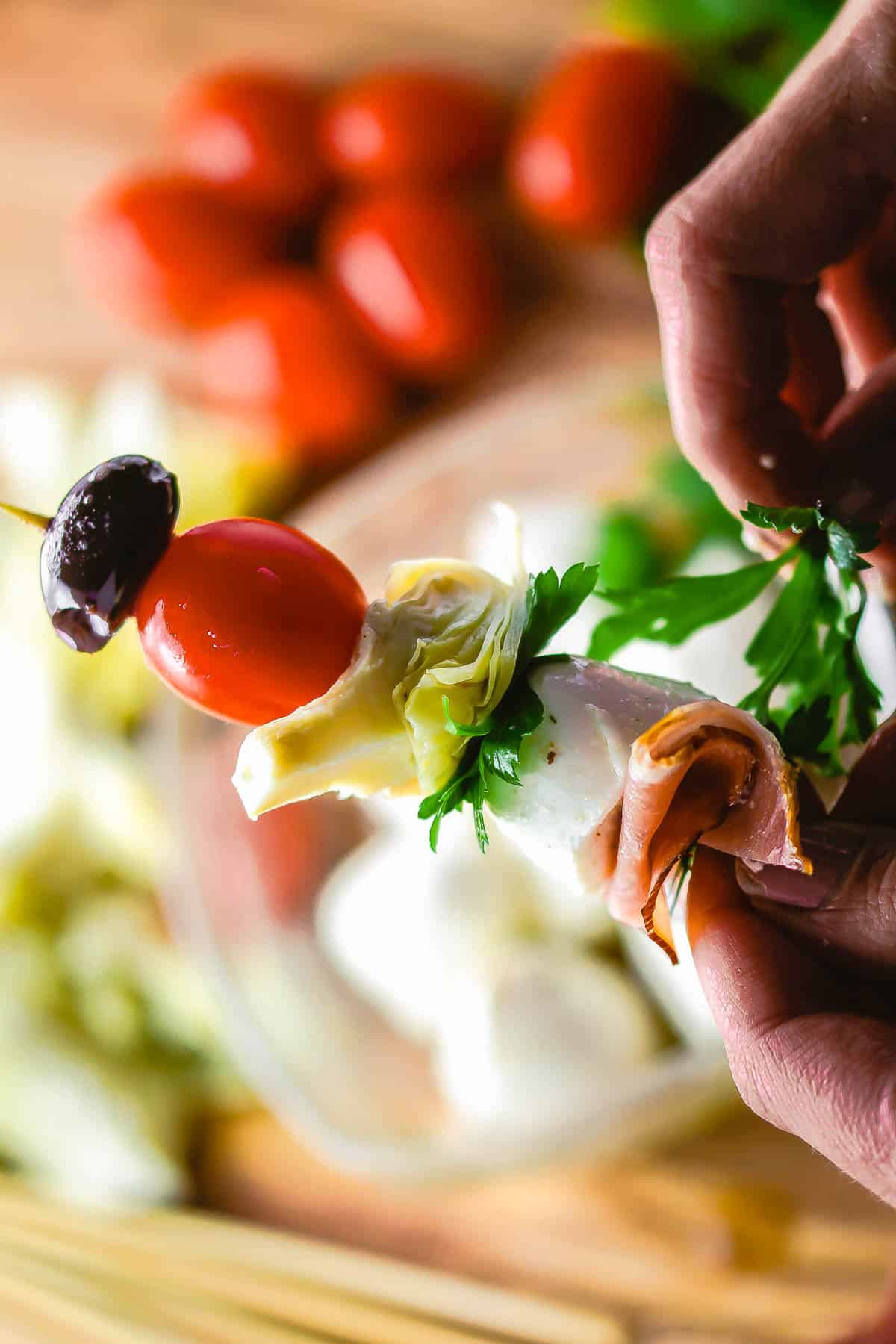 How to assemble antipasti skewers
There is no right or wrong way to thread the antipasto through the skewers. Simply pay attention to size, color, and shape, alternating between fresh and marinated ingredients to make it more interesting.
When making these antipasto kebabs, I like to start with the fresh herb, then add the meat slices as a hefty base to thread the rest on top. From there, alternate the rest of the ingredients, ending with the olive (the smallest item) at the very top of the skewer.
Once you put together one skewer with the antipasti of your choice, try to follow the same pattern as you make the others. This keeps things looking consistent and pretty. Arrange the delicious Italian skewers of antipasti on a platter or board, and to finish, you can sprinkle a little dried oregano with a drizzle of good extra virgin olive oil, or perhaps a bit of balsamic vinaigrette. Totally optional.
Serve cold or at room temperature – antipasti taste better at room temperature.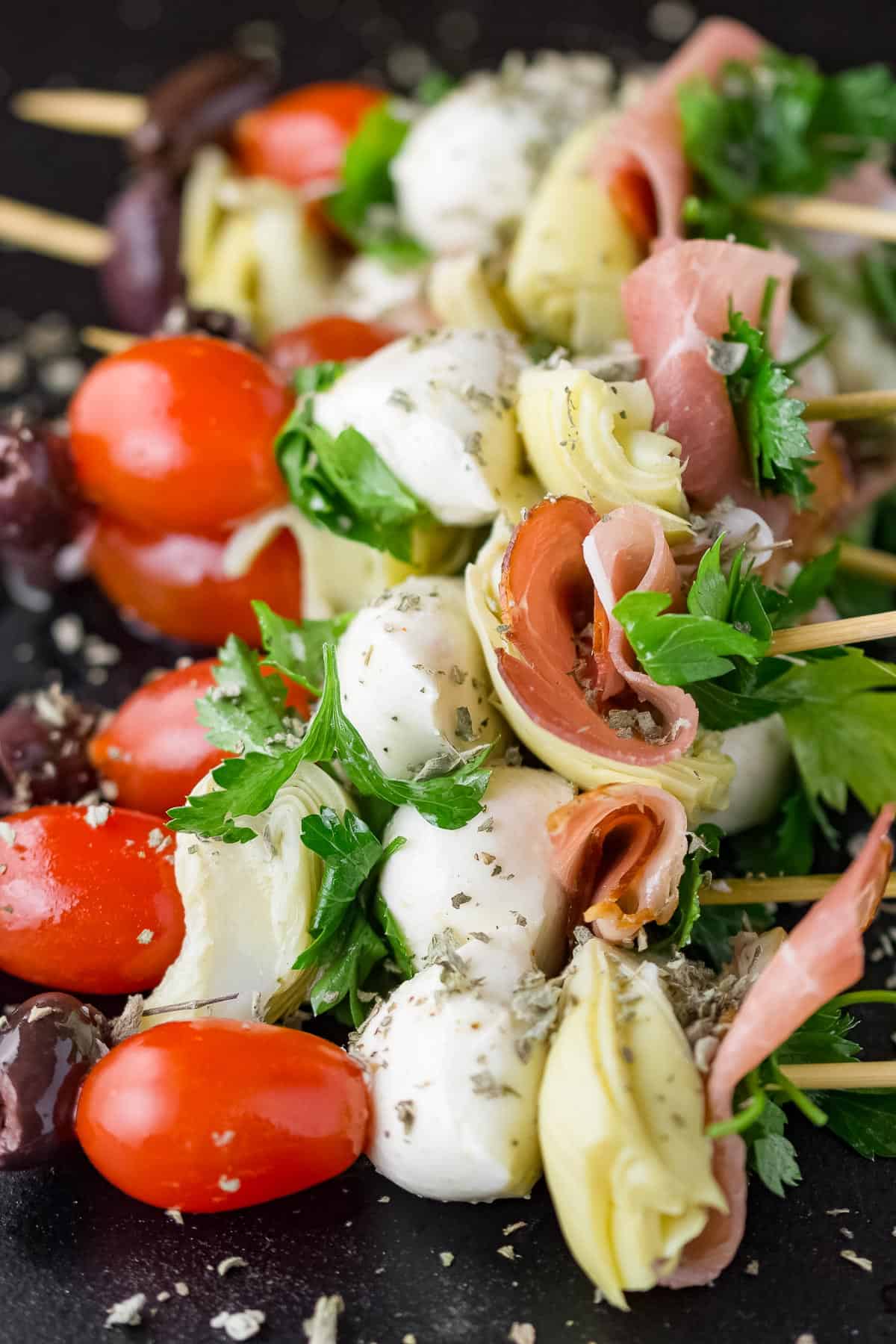 Variations
You can easily make these antipasto skewers your own. Here are some ideas:
Use different vegetables – Add some cucumber or bell peppers for more crunch.
Add shrimp – Not a fan of cured meat? Use some cooked shrimp instead. (Cook the shrimp as you would for my grilled shrimp – it takes just 5 minutes.)
Switch up the cheese – A mild option like provolone is a good option. If you aren't too fussed about keeping things totally Italian, you could also use cheddar or gouda cheese.
Make it vegetarian – Skip the meat altogether and add more vegetables (fresh or marinated!).
Add tortellini! – Many antipasto skewer recipes call for tortellini (personally, I love a tortellini salad, but these skewers are hefty enough and do not really require the pasta addition).
For a heartier meal with the same flavors, try our antipasto chicken sandwich with sun dried tomato aioli, roast peppers, and artichoke hearts.
Make-ahead tips
These pretty party appetizer skewers are a great make-ahead option. You can assemble the skewers and arrange them on a platter even one night in advance. Cover and refrigerate until your guests arrive! If you do make these antipasto skewers ahead, just don't drizzle any vinaigrette or olive oil on top – save that for just before you serve them.
Leftovers and storage
These skewers will keep in the fridge for up to 3 days if stored in airtight containers. Eat leftovers as is, or take apart the antipasto skewers for a sort of antipasto salad!
More easy appetizer recipes (Italian-style!)
Browse more Italian recipes. Browse all Mediterranean Recipes.

Visit Our Shop.
Easy Antipasto Skewers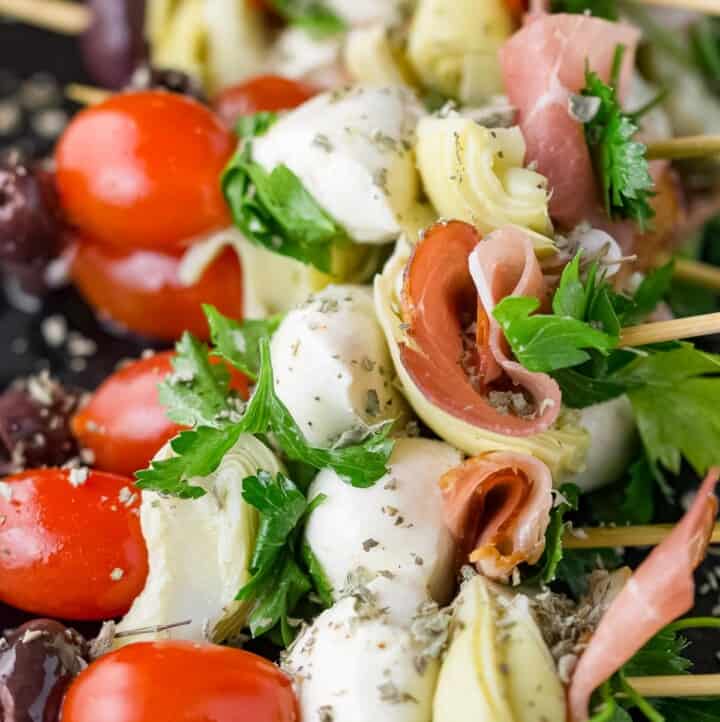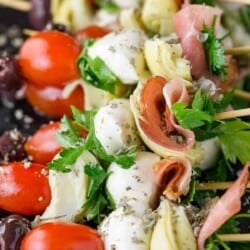 Simple antipasto skewers with tomatoes, fresh and marinated vegetables, cured meat, and fresh herbs. A beautiful appetizer to please a crowd! This antipasti recipe yields 10 skewers, but you can easily double or triple the ingredients for a larger party. If you like more crunch, you can add diced cucumber or bell peppers, and if you aren't a fan of cured meat, why not try some grilled shrimp instead?
Ingredients
10

mini wooden skewers

10

leaves fresh basil, mint, or flat-leaf parsley

10

pieces

prosciutto di parma (2 inches in length each),

rolled or folded

10

pieces

preserved artichoke hearts

10

mini mozzarella cheese balls,

or any firm enough mild cheese

10

pitted Kalamata olives

10

cherry tomatoes

pinch

dried oregano for garnish

extra virgin olive oil,

optional
Instructions
Soak mini wooden skewers in water for one hour. Pat dry before using.

Skewer the antipasto ingredients beginning perhaps with the basil or parsley, followed by the larger pieces like prosciutto or artichoke hearts. Place the Kalmata olive at the very top of the skewer. If you have more basil or parsley leaves, alternate them on the skewer.

Arrange skewers on a serving platter or slate board. If you like, finish with a sprinkle of dried oregano and drizzle of extra virgin olive oil. Serve cold or at room temperature.
Notes
To make more skewers: You can easily double or triple this recipe if you need to serve more people. You'll just need to have more of each of the ingredients to prepare more skewers.
Serving suggestion: Antipasti will taste better at room temperature, but can also be served cold.
Variations: You can switch up the meat to your liking or add cooked shrimp instead of meat. Keep it vegetarian by leaving out the meat altogether and simply adding more vegetables, like chopped cucumber or bell peppers. And if you don't have mozzarella, any firm, mild cheese will work well.
How to store leftovers: These appetizer skewers

can be stored in the fridge in an airtight container for up to 3 days.

Visit our Shop to browse Mediterranean ingredients including extra virgin olive oils (like the EVOO used in this recipe) and all-natural and organic spices.
*This post first appeared on The Mediterranean Dish in 2018 and has recently been updated with new information and media of readers' benefit.