This no-recipe recipe is my essential guide to building a gorgeous, vibrant antipasto platter with very little effort. Simply grab a cutting board and load it to capacity with fruits, vegetables, cured meats, cheeses, and other pantry goodies. What's best: you can make this photo-worthy yet easy appetizer ahead of time and have it ready to go in your fridge!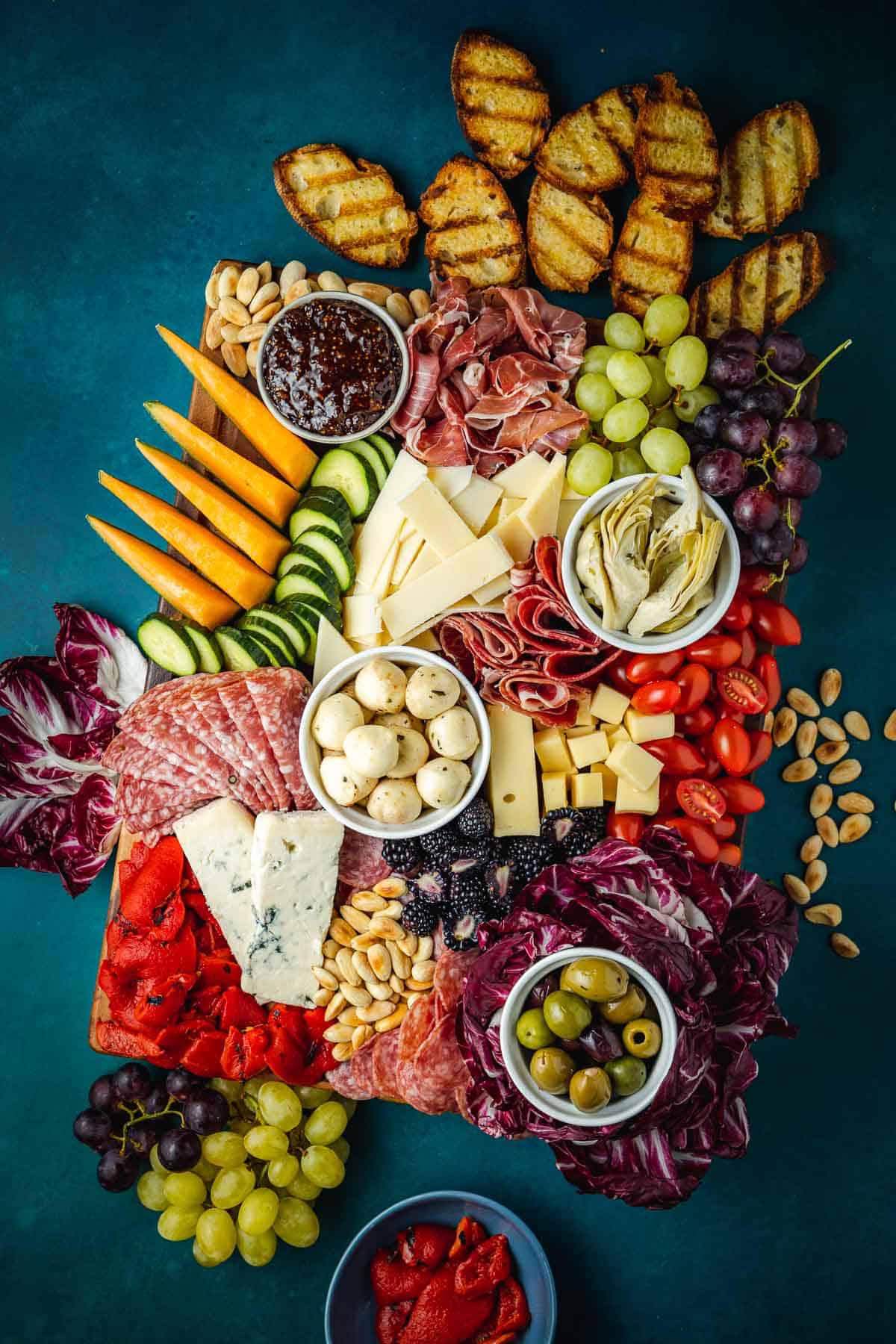 I love a big beautiful spread for when friends and family come to visit. If you know me, though, you know I'm not settling for the standard cheese and charcuterie board. I go for a bold, colorful platter that's packed with so many flavors and textures, like my Crudités, holiday fruit charcuterie board, or Mediterranean Party Platter.
My goal when I'm building a party platter is to make it borderline overwhelming to decide where to start. That bounty and generosity embodies the Mediterranean lifestyle's signature spirit of hospitality that I'm so passionate about!
This antipasto platter recipe features my top recommendations for building an Italian-inspired platter. From briny olives and marinated artichokes to creamy mozzarella, nutty Pecorino, salty Italian cured meats, toasted almonds, smoky roasted peppers, fresh fruits and veggies, and sweet honey for drizzling, there are so delicious combinations waiting to be discovered.
Use this antipasto platter recipe as a starting point to unleash your creativity. Pillage your pantry! Play with the flavors you have on hand and make you the happiest. Use up some of those half full jars of jams taking up space in your fridge. Maybe sip on a Negroni while you work to really get the creativity flowing. Just be sure to please share your stunning creations with me!
Table of Contents
What is Antipasto?
Antipasto is the singular form of antipasti, which literally translates to "before meal." So, technically this is an "antipasti" platter recipe, though the term has evolved in the US. In Italy, antipasto is often accompanied by a glass of wine or an aperitif like an Aperol Spritz. It's seen as a way to stimulate the appetite and prepare the taste buds for the main event.
The tradition of antipasto has evolved over time, with various regions showcasing their own unique takes and modern interpretations like our antipasto chicken sandwich, skewers, or salad. The tradition of the antipasto as a platter to enjoy before a meal remains a beloved and essential component of Italian cuisine.
For me, the best parties are the ones where the host is having a great time. The antipasto board is effortless, so it lets me kick back and enjoy myself while my guests are fully satisfied. This may be an antipasto recipe, but it's really a recipe for how to throw a good party!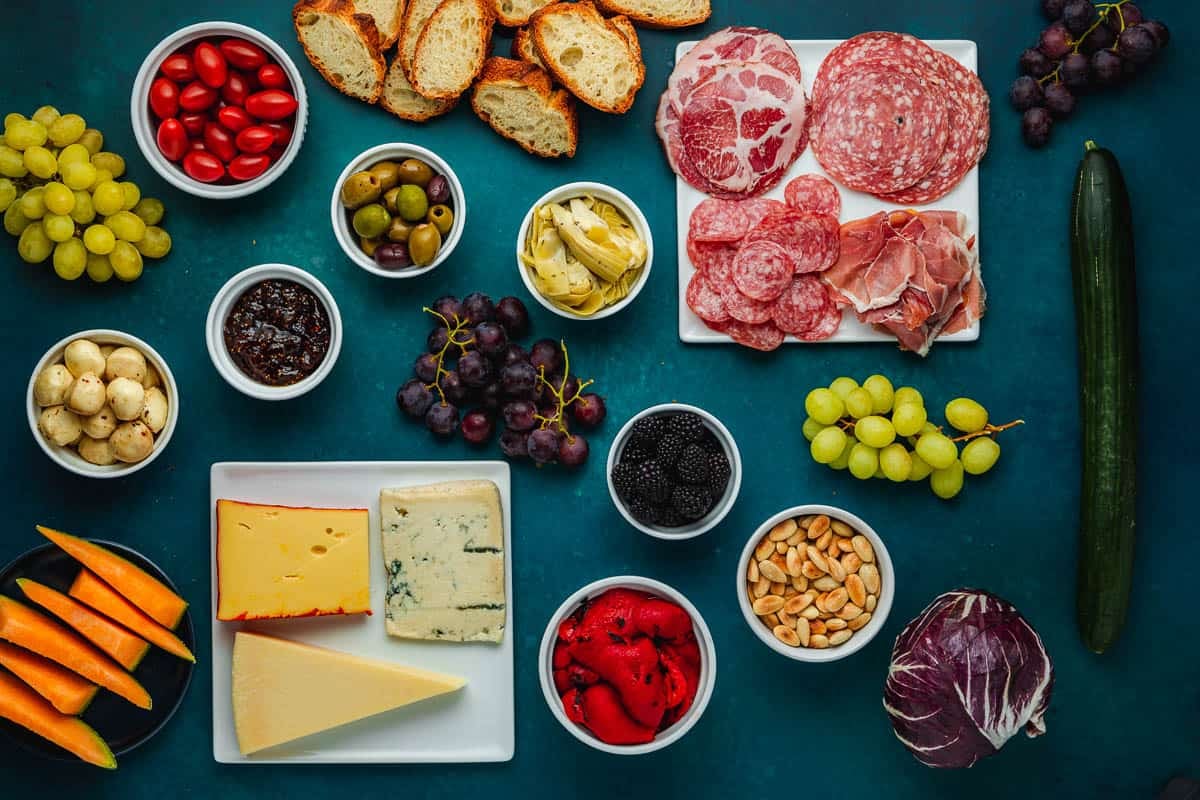 Antipasto Platter Ingredients
Think of this ingredient list as more of a suggestion than a hard-and-fast rule. I've given my recommendations to build my favorite Italian-style cheese and charcuterie platter. But this is your house, your board, your rules! Feel free to swap or add your favorite ingredients.
Whole cheeses: Look for a variety of textures and flavors. Grab your favorite soft, semi-hard, and hard cheese. I love funky gorgonzola, creamy fontina, and nutty Pecorino Romano.
Bread or crackers: These are the supporting roles for your antipasto platter. I love griddled French bread, but you can also serve with crackers of your choice. Or go all out with a cracker and bread situation! Heck toss some focaccia on there. If you're avoiding gluten, serve with lettuce spears or gluten-free crackers.
Marinated things: Marinated things add richness and flavor to the board. To keep the Italian theme, I went for marinated mozzarella, olives, and artichoke hearts. However, marinated feta or sun-dried tomatoes soaking in a bath of Italian olive oil would also be delicious.
Fresh things: Fresh seasonal fruits and vegetables bring the vibrant colors and textures that make this antipasto board so wow-worthy. I always add fresh veggies for crunch, and grapes as a palate cleanser.
Sweet things: Sweet honey or jam and salty cheese is one of those combinations that makes you stop mid-conversation and forget your train of thought. Don't forget to add something sweet and spreadable to your antipasto board! I go for my favorite Greek honey and fig jam (fig jam being a classic accompaniment to cured meats).
Salty things: Cured meats bring deeply savory, salty flavors to the flavor party. I like to grab a variety of styles, like spicy salami, delicate prosciutto, and rich capicola. If you want to build a vegetarian board, swap out the cured meats for pickles like cornichons. Or, exchange with tinned fish for a pescatarian version.
Something smoky: Velvety, smoky yet slightly sweet roasted red peppers bridge the gap between sweet and savory. Roast your own for the best flavor and texture, or grab a jar from the store to save time. Cubed grilled vegetables, like zucchini or eggplant, or whole Brussels sprouts would also be delicious.
Something crunchy: I love freshly roasted almonds, especially paired with nutty cheeses like Pecorino. You can play around with roasting different nuts or leave them off. Or, substitute with crispy roasted chickpeas or Marcona almonds.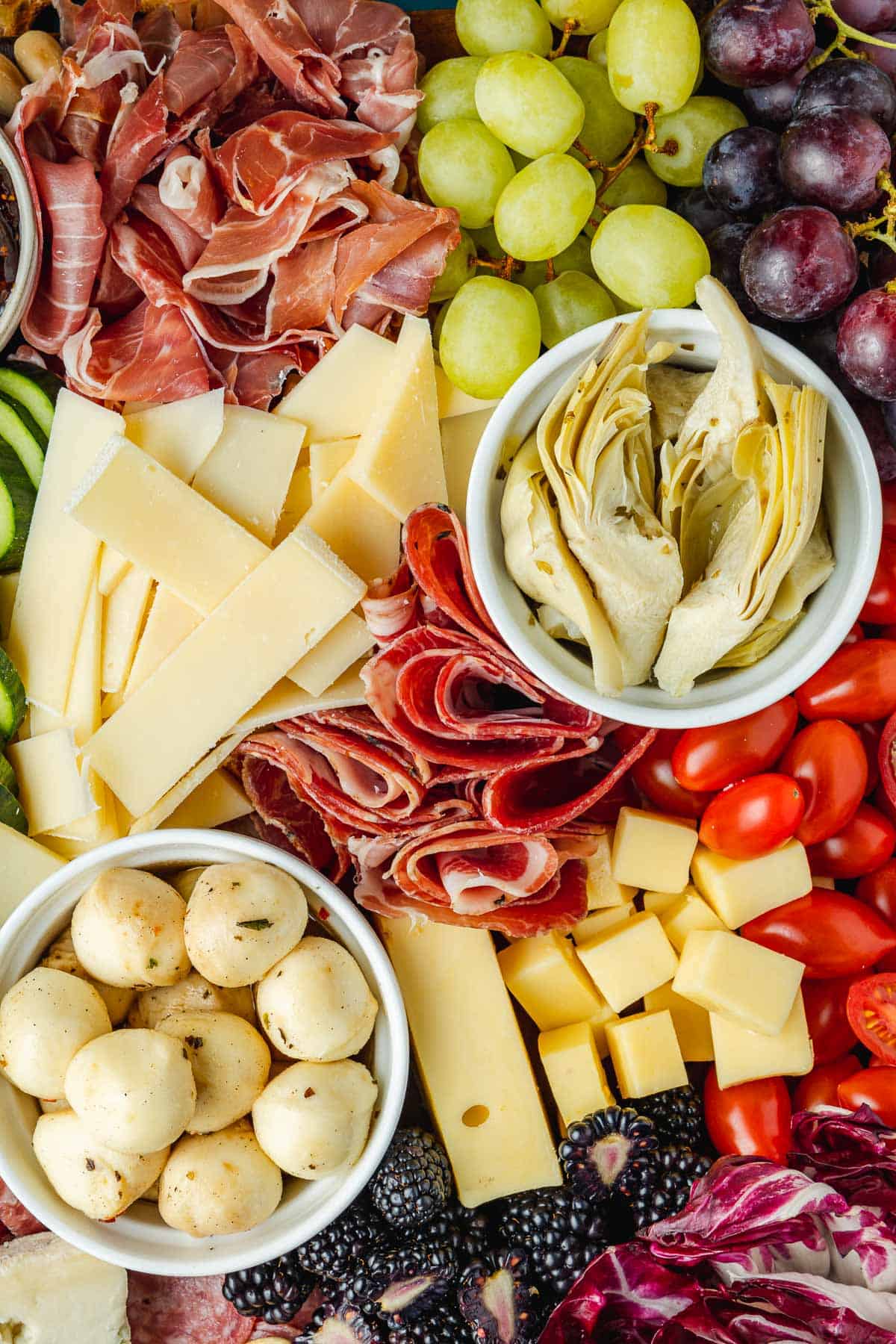 How to Build an Antipasto Platter
First, gather all your ingredients. Then comes the fun part! Get creative with your cheffy plating skills. Remember, it's just an appetizer board so you don't have to take it too seriously. This non-recipe is not a hard science by any means, but here's how I do it:
Pick a centerpiece. I chose my bowl of marinated baby mozzarella cheese for the recipe photo, and a bowl of roasted red peppers for our video day. Like I said, this is not a hard science! Go with what your heart desires. Set your prettiest bowl somewhere close to the center of a large cutting board or platter.
Stagger the small bowls. Place 1 cup each of marinated olives and mushrooms (or artichoke hearts) into small bowls. Scoop ½ cup of honey or fig jam into a small bowl. Set the bowls spaced apart on the board. You'll build around these.
Arrange the cheese blocks. Arrange a soft, semi-soft, and hard cheese (about 6 ounces each) on the board. Leave the softer cheeses like gorgonzola whole and slice or cube the harder cheeses (like fontina and pecorino). This makes it easy for your guests to serve themselves.
Arrange the cured meat. Slice any whole cured meat (like salami) into ¼-inch rounds. Fold, roll, or ruche softer meats like prosciutto into shapes you like. Arrange around the bowls and cheeses.
Fill in the gaps. Arrange roasted bell peppers, fresh seasonal fruits and vegetables, and toasted almonds in any blank spaces on the board.
Serve. Once it's finished, you can wrap the whole board in plastic and throw it in your fridge until you're ready to go (just bring it closer to room temperature before serving). When you're ready to serve, make sure everything is easy to eat. Next, set some grilled bread and/or crackers on the side. Set up some toothpicks for skewering, small forks and plates, and a small spoon in the honey or jam. Let your guests dig in!
What to Serve with an Antipasto Platter
This antipasto platter brings a festive, casual ambiance to a party. You get to enjoy yourself as the host, mingling and chatting and snacking as your guests serve themselves.
Match this energy with equally effortless cocktails. Make a pitcher of Red or Watermelon Sangria, Rosé Lemonade, Aperol or Limoncello Spritzes to pass around.
Once the party is in full swing, grab a seat and start the main course. Italian favorites like Shrimp and Polenta or Pasta alla Norma will keep the spirit going. Wrap things up with tea or espresso and Italian-style Carrot Cake or Cannoli.
More Good-Looking, Even Better Tasting Appetizers
Browse all Mediterranean recipes.
Visit Our Shop
Bundle and Save!
Four of our best-selling signature olive oils, perfect for everyday use.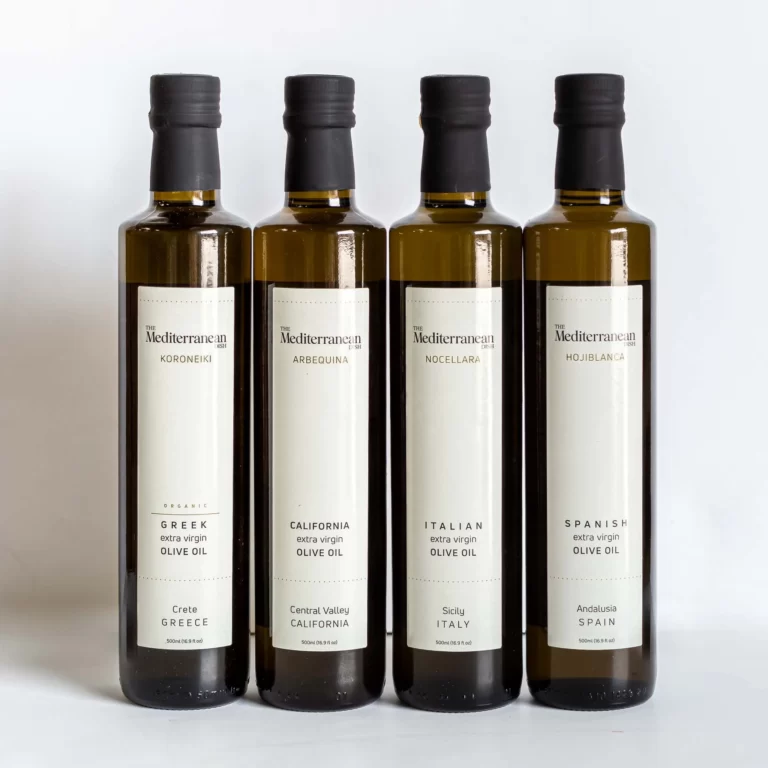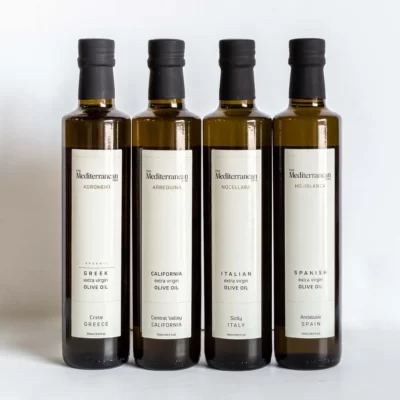 Antipasto Platter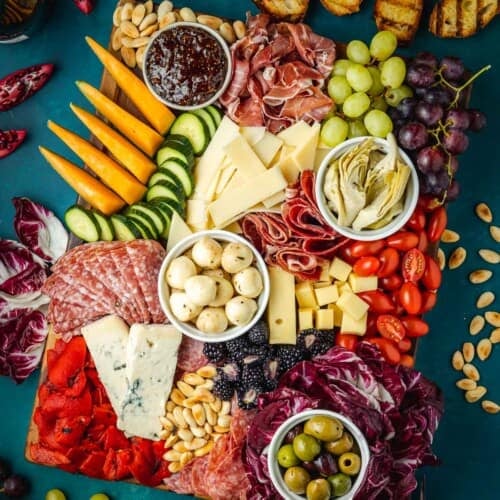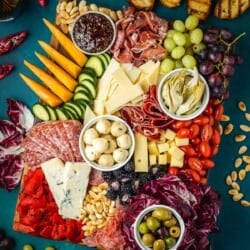 This beautiful antipasto platter, with its variety of textures, flavors, and colors, is a simple appetizer recipe that is sure to wow your guests. Make it ahead of time for stress-free entertaining.
Ingredients
1

cup

marinated baby mozzarella cheese

1

cup

marinated olives

1

cup

marinated mushrooms or artichoke hearts

½

cup

good honey or fig jam

6

ounces

soft cheese

(like gorgonzola)

6

ounces

semi-soft cheese

(like fontina)

6

ounces

hard Italian cheese

(like Pecorino Romano)

1

pound

Italian-style cured meats

(like salami, prosciutto, and capicola)

2

roasted red bell peppers,

torn (or a 12-ounce jar of roasted bell peppers, drained)

Assorted vegetables

(like sliced cucumber, radicchio, and cherry tomatoes)

Fresh seasonal fruit

(like red grapes and figs)

1

cup

blanched almonds,

toasted (optional)

Crackers or 1 loaf of crusty bread,

cut on the diagonal (I like to brush mine with olive oil and grill)
Instructions
Arrange the small items: On a large serving board or platter, place the marinated baby mozzarella in a small bowl and set somewhat close to the middle. Put the olives, marinated mushrooms, and honey or jam in smaller bowls. Arrange the bowls on different parts of the board.

Arrange the cheese blocks: Arrange the soft, semi-soft, and hard cheeses on the board. Leave the softer cheeses like gorgonzola whole and slicing or cube the harder cheeses (I like a variety of textures and looks).

Arrange the meats: Slice the hard salami into ¼-inch rounds. For the softer, more pliable meats, fold or roll them into shapes you like. It's also pretty to arrange softer meats like prosciutto in a ruched, more whimsical manner.

Fill in the gaps: Arrange the roasted bell peppers, fresh veggies, fruit, and almonds, if using, in any blank space.

Serve: Wrap in plastic and store in your refrigerator until you're ready, allowing it to come to room temperature before serving. Serve with crackers or bread on the side, spoons for drizzling, knives for cutting, toothpicks for skewering, and plenty of napkins.
Notes
If you don't have an extra large cutting board or serving tray and you're entertaining a big group, this board can be built directly on your counter. Simply tear off a large piece of parchment paper and place it on your table or kitchen island. Build on top!
Visit Our Shop to browse quality Mediterranean ingredients including olive oils and spices!
Nutrition
Calories:
385.1
kcal
Carbohydrates:
10
g
Protein:
15.5
g
Fat:
31.6
g
Saturated Fat:
13.9
g
Polyunsaturated Fat:
3.1
g
Monounsaturated Fat:
11.5
g
Trans Fat:
0.05
g
Cholesterol:
73.4
mg
Sodium:
868
mg
Potassium:
135.7
mg
Fiber:
0.5
g
Sugar:
5.4
g
Vitamin A:
468.9
IU
Vitamin C:
3.7
mg
Calcium:
284.4
mg
Iron:
0.5
mg