This chicken sandwich recipe, packed with the fixings of an Italian antipasto platter, comes together quickly but tastes like it took all day. Make this nutritious Italian-style sandwich as a healthy yet indulgent lunch or dinner that everyone is sure to love.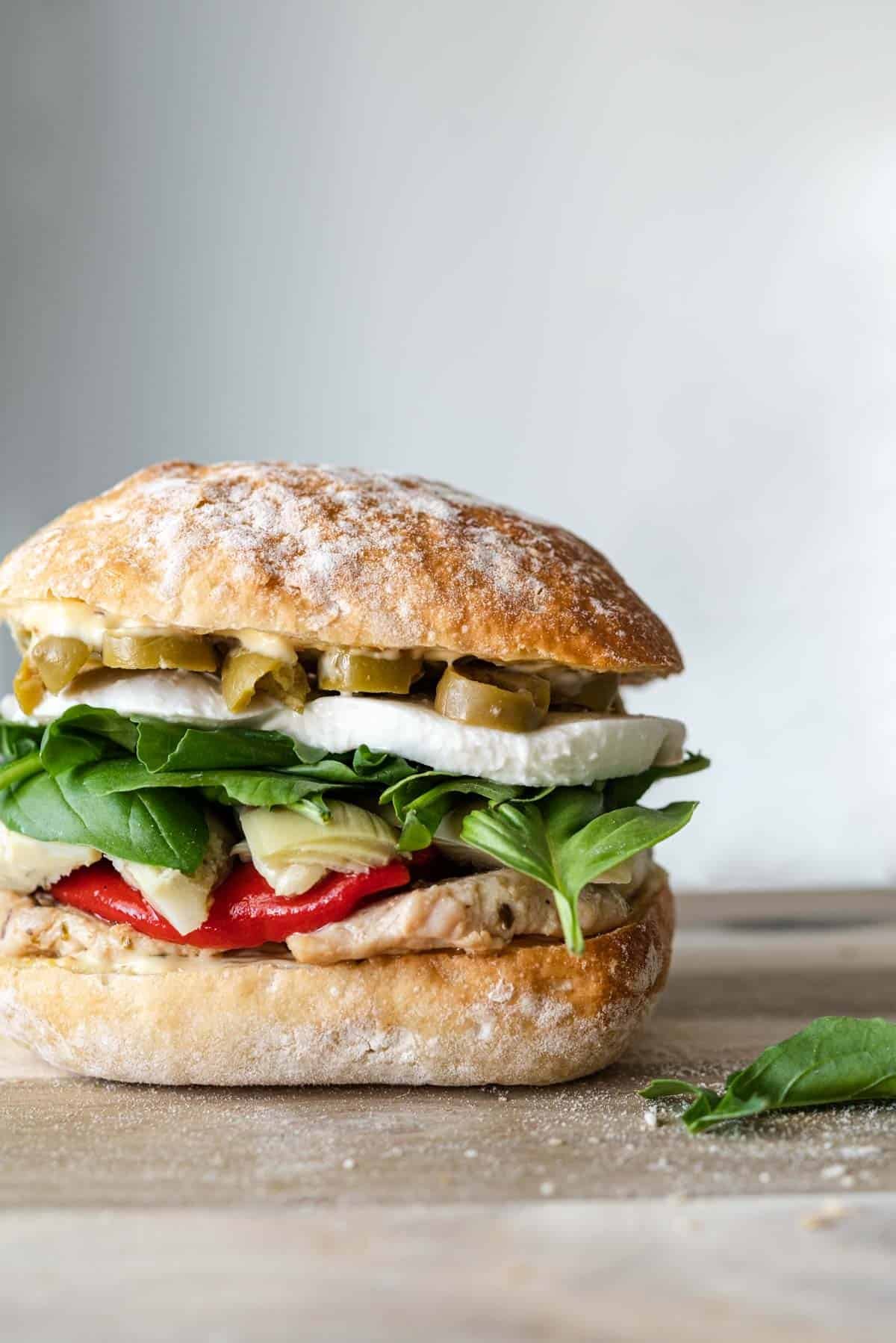 This chicken sandwich recipe is a total crowd-pleaser. That's mostly thanks to the slightly sweet roasted red peppers, meaty marinated artichokes, and tangy olives. Each antipasto boasts its own unique flavor, but put them together and the combination is mouthwatering!
While the antipasto ingredients are classic, the sweet and spicy homemade aioli really brings this chicken sandwich over the top. A classic lemon and garlic aioli gets a little twist from sundried tomatoes and pinch of red chili flakes. Spread some on both halves for a little extra oomph–the simple yet delicious condiment elevates this chicken sandwich with a layer of irresistible flavor.
Finally, lean chicken breasts are infused with a punchy marinade and pan-seared until golden brown and tender. Spicy arugula and aromatic basil are added in the final moments for freshness, and it's all placed between pillowy bread with a flaky crust. It's pretty much heaven—if heaven were a sandwich.
Table of Contents
Food Stories: History of Antipasto
The word antipasto simply means "before the meal." The concept can be traced back to medieval Italy, where the largest meal of the day began with bite-sized foods—usually at room temperature—meant to entice the appetite and prepare diners for the subsequent courses.
These small bites traditionally consisted of cured meats, marinated vegetables, fermented fruits, and an assortment of cheeses and breads. In fact, if you travel to Venice, you'll still see cicchetti, a version of antipasto, at local bacari (little wine and snack bars). Small portions of these traditional foods are precariously piled on little rounds of fresh bread like Foccacia or Bruschetta.
In medieval times, Gondoliers and merchants would pull up alongside the canals, throw back a few cicchetti along with a glass of wine and be on their way.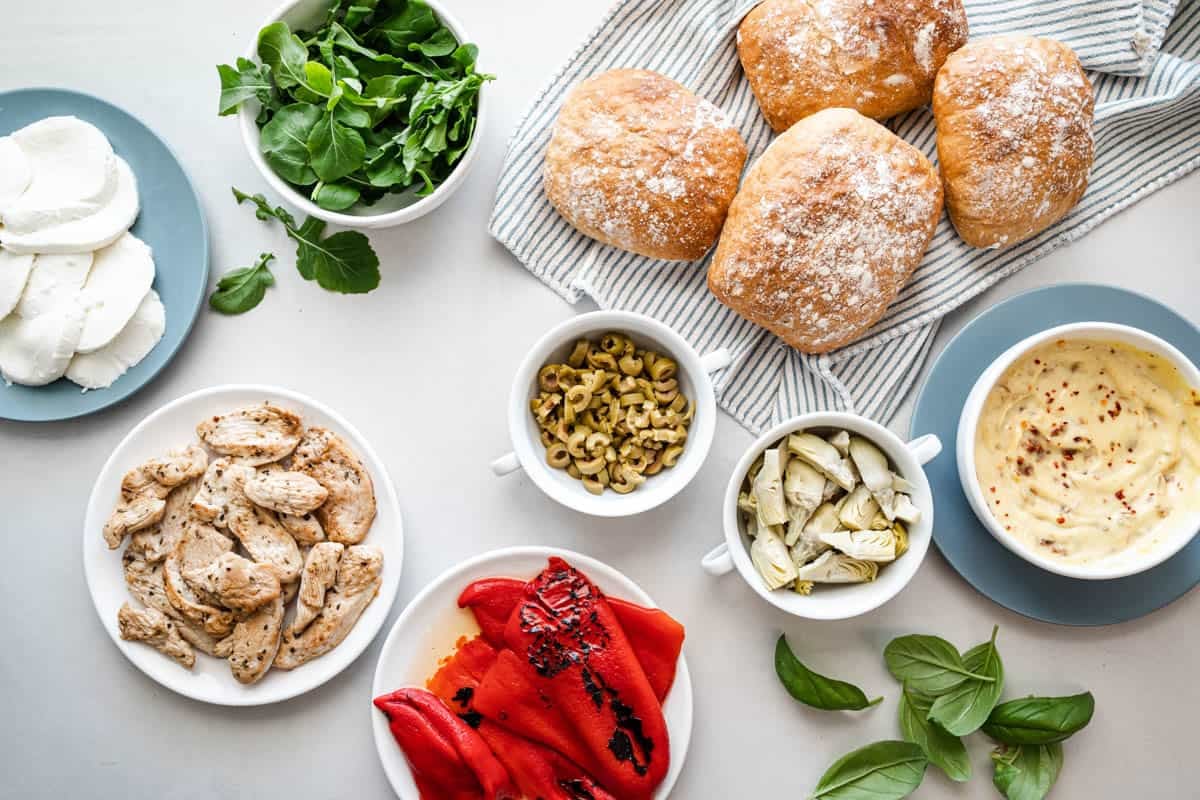 Chicken Sandwich Recipe Ingredients
If you'd like, you could easily slice these sandwiches into small portions and serve them as appetizers. Or, halve them and eat them with a side salad, which tastes particularly delicious al fresco on a sunny day!
Marinade: If you're thinking that the words quick and marinate don't go together, you're mostly right. The beauty of this recipe, though, is that it needs just a quick soak to absorb the lemon and herbs while you prepare the other ingredients. The bold marinade is made from lemon, olive oil (I like Italian Nocellara for this recipe), salt, garlic, and oregano.
Fixings: An assortment of marinated and preserved ingredients bring flavor and texture to this chicken sandwich. I use jarred roasted red peppers to save time (though roasting your own would be extra delicious). Jarred artichokes and olives add sweetness, tanginess, and texture and are quintessential Italian antipasto foods.
Mozzarella cheese: Fresh mozzarella adds a creamy touch to this sandwich and brings out the grassy notes in the arugula leaves. Opt for whole milk mozzarella packed in brine, as it tends to be the creamiest.
Fresh herbs & greens: Arugula has a slightly peppery and spicy taste while the fresh basil has a sweeter profile with hints of anise.
Aioli: Whisk your own aioli with just olive oil, lemon, garlic, salt and egg yolk for the best flavor. From there, sundried tomatoes and red chili flakes transform into a rich spread packed with intense flavor. You only need a little for this sandwich so save the rest to serve with crispy, fresh vegetables at a later date.
Bread: The fixings are important, but good bread is crucial. It has to be fresh! Trust me, the wrong bread could ruin the whole thing. For this particular sandwich, your local Italian market is going to be your best friend. Look for ciabatta or filone.
Chicken: Skinless, boneless chicken breasts are lean, nutritious, and cook quickly. You can substitute with thighs if you'd like, but give yourself some extra time and expect a slightly richer sandwich.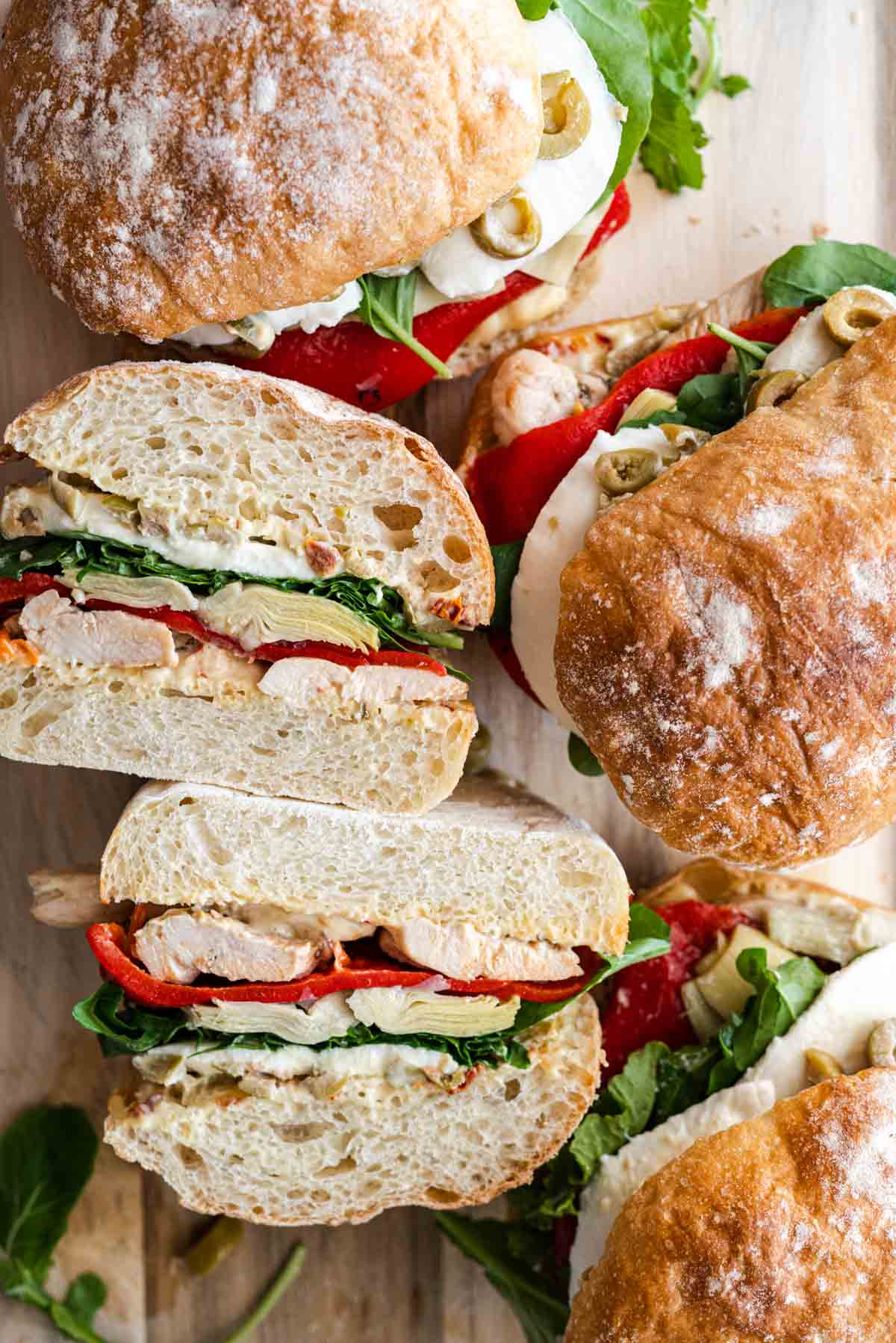 How To Build The Perfect Chicken Sandwich
The perfect chicken sandwich recipe isn't necessarily about any specific ingredients. Rather, it's about the quality of those ingredients and the proportions. The flavors and textures of each component should stand out, creating a harmonious mix. Here's my recipe for perfect chicken sandwich:
Prepare the chicken: Thinly slice 1 ½ pounds of boneless, skinless chicken breast into cutlets (or, to serve them whole, pound them flat). Toss in a bowl with the juice of 1 lemon, 2 tablespoons of olive oil, 1 teaspoon of salt, 2 minced garlic cloves, and 1 teaspoon of dried oregano. Let marinate while you prepare the other ingredients.
Next up, the aioli: Prepare the aioli according to our favorite aioli recipe. Once all of the oil is emulsified, add 1 tablespoon of minced sun dried tomatoes (I like to scrape in any oil here as well). Spice things up with ¼ teaspoon of red chili flakes and stir gently to combine.
Sear the chicken: Heat the remaining 1 tablespoon of olive oil in a large sauté pan on medium-high until shimmering, about 2 minutes. Add the chicken to the hot oil, shaking off any excess marinade. Cook, flipping until the chicken is golden and reaches an internal temperature of 165°F. Turn off the heat and set aside.
Set up your station: Line up your fixings. Drain a jar of roasted red peppers and marinated artichoke hearts. Pit and coarsely chop 1 cup of green olives. Slice 8 ounces of fresh mozzarella.
Start building: Spread the aioli on one or both slices of the bread and begin layering. Add the chicken, followed by the peppers, artichokes, olives, and cheese. Top it all off with a generous handful of arugula and a couple of basil leaves before closing it all up. Enjoy!
What To Serve With Antipasto Chicken Sandwiches
This sandwich has got it all in terms of ingredients and is a meal in and of itself so go ahead and dive in with a refreshing drink like a Limoncello Spritz.
Or, if you'd rather serve it as an appetizer, place toothpicks in the sandwich so it holds together while slicing and then divide it into halves or quarters, and serve it with a Simple Green Salad or Fruit Salad. Another excellent strategy would be to hold off on the sides, give yourself a second to digest, and save room for a dessert like our Italian Carrot Cake.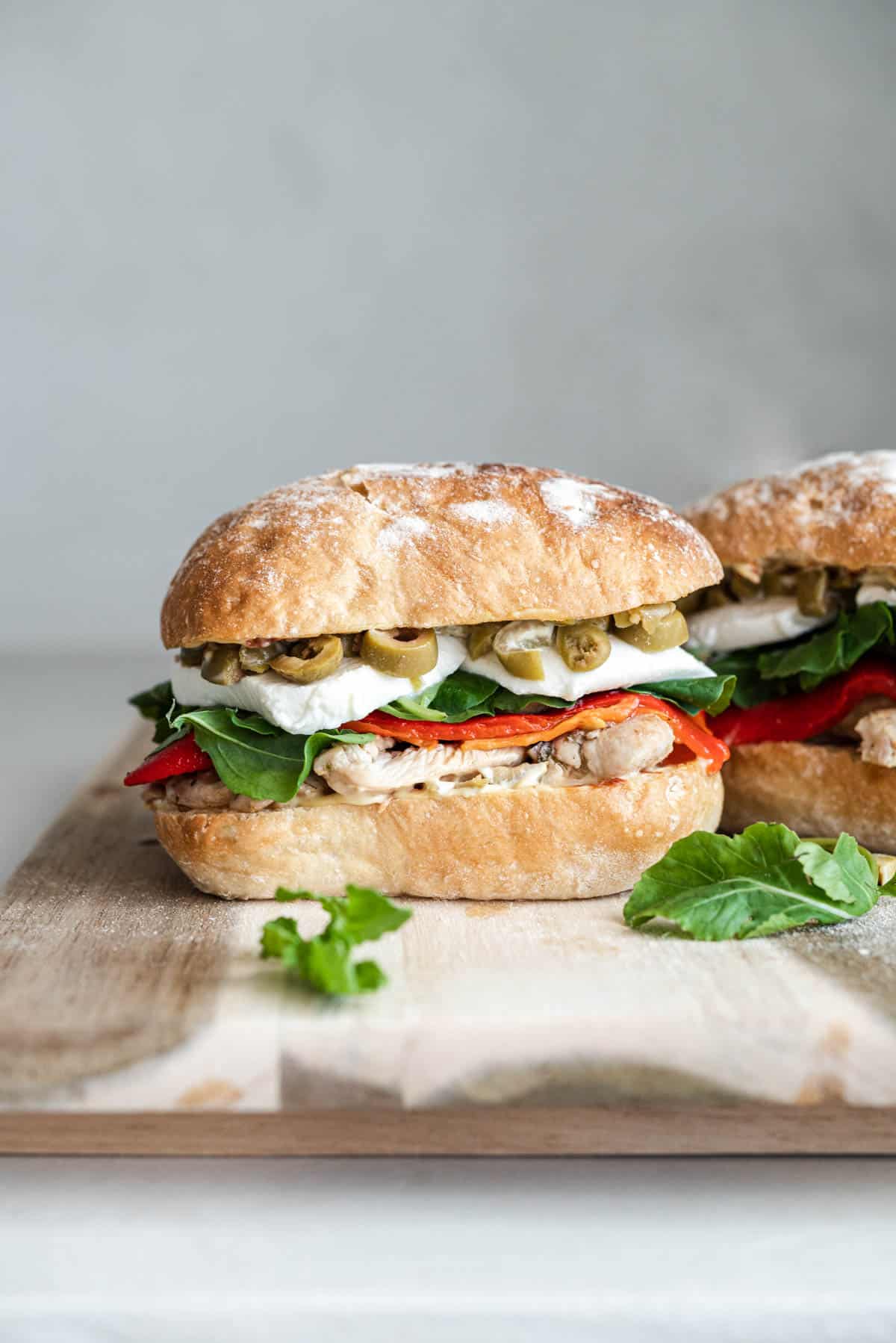 More Heavenly Sandwich Recipes
Browse all Mediterranean recipes.
Visit Our Shop.
Buttery & Smooth Italian EVOO
Extra Virgin Olive Oil from hand-picked, cold-extracted Nocellara olives.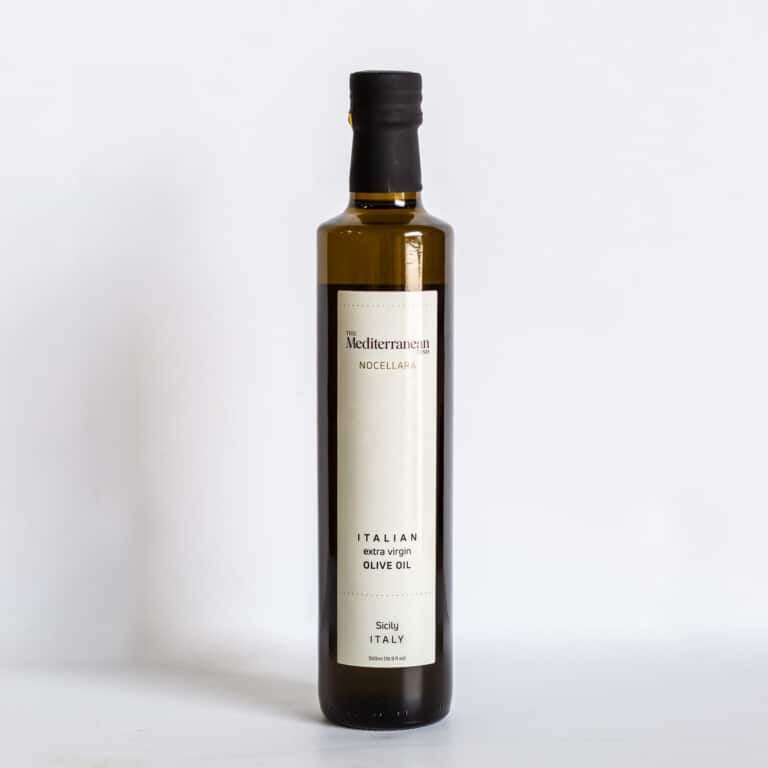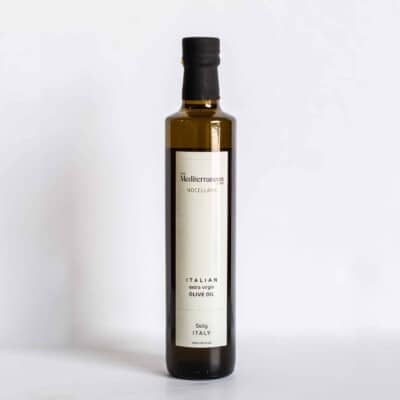 Antipasto Chicken Sandwich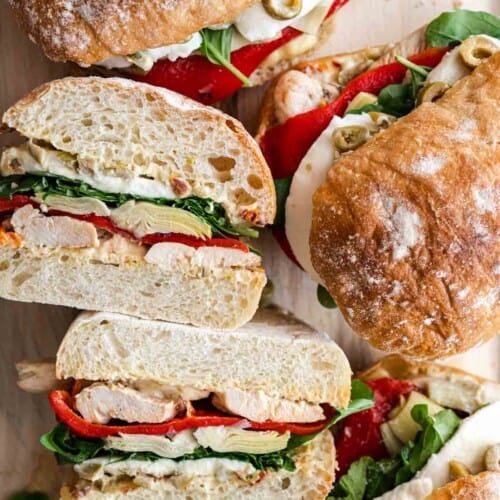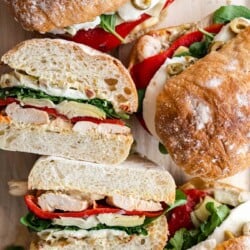 This chicken sandwich recipe is your favorite Italian charcuterie platter in sandwich form. Lean and nutritious pan-seared chicken breasts are loaded with flavor thanks to a quick marinade, pantry basics build tons of flavor, and it's all piled high between two slices of pillowy ciabatta bread. The secret lies in the sweet and spicy sun-dried tomato aioli, which adds a satisfying kick.
Ingredients
For the Chicken:
1 ½

pounds

boneless skinless chicken breast,

thinly sliced

1

large lemon,

juiced

3

tablespoons

extra-virgin olive oil,

divided

1

teaspoon

fine salt

2

garlic cloves,

minced

1

teaspoon

dried oregano
For the Sundried Tomato Aioli:
¼

cup

aioli

⅛

teaspoon

red chili flakes

2

teaspoons

minced marinated sundried tomatoes
For the Sandwich:
1

(16-ounce) jar roasted red peppers,

drained

1

(12-ounce) jar quartered marinated artichoke hearts,

drained

¾

cup

Italian green olives,

pitted and coarsely chopped

4-

ounces

fresh mozzarella cheese,

thinly sliced

3 ½

ounces

arugula

Fresh basil leaves

4

ciabatta rolls

or similar, halved lengthwise
Instructions
Marinate the chicken: Place the chicken in a mixing bowl and add the lemon juice, 2 tablespoons of the extra-virgin olive oil, salt, garlic, and oregano. Toss and set aside at room temperature while you prepare the aioli and other sandwich fixings.

Flavor the aioli: Prepare the aioli according to this aioli recipe. Once finished, add the chili flakes and sundried tomatoes and stir to combine.

Sear the chicken: Heat the remaining 1 tablespoon of olive oil in a large sauté pan on medium-high until shimmering, about 2 minutes. Add the chicken to the hot oil, shaking off any excess marinade. Cook, flipping until the chicken is golden and reaches an internal temperature of 165°F. Turn off the heat and set aside.

Sandwich time! Set up your prep station with all your fixings. Begin building the sandwiches by spreading the aioli to one or both halves of the rolls, followed by equally distributing the chicken, peppers, artichokes, olives, and mozzarella.

Finish and serve: Just before serving, add the arugula and basil, for last before close the two halves of each roll together, and enjoy!
Notes
This sandwich can be partially made ahead by preparing the chicken up to 2 days before and refrigerating it in an airtight container. The aioli can also be made up to one week in advance, so all you need to do is assemble!
If you'd like to roast the red peppers yourself, check out our two favorite ways here.
You can also serve this sandwich cutlet-style. Simply marinate and cook the chicken breast whole (you may just want to pound it out if it's particularly thick.)
Visit our shop to browse quality Mediterranean ingredients including olive oils, honey, jams and spices.
Nutrition
Calories:
625.1
kcal
Carbohydrates:
34.6
g
Protein:
48.6
g
Fat:
31.7
g
Saturated Fat:
7.9
g
Polyunsaturated Fat:
2.5
g
Monounsaturated Fat:
13.9
g
Trans Fat:
0.02
g
Cholesterol:
135.9
mg
Sodium:
1771.8
mg
Potassium:
842.7
mg
Fiber:
3
g
Sugar:
1.7
g
Vitamin A:
995.6
IU
Vitamin C:
23.1
mg
Calcium:
224.1
mg
Iron:
1.8
mg