Middle Eastern ground beef pita sandwiches are a fun, tasty, and easy way to use up ground beef sitting in your fridge or freezer. Consider it a fuss-free (and weeknight-friendly) spin on my kofta kebab recipe.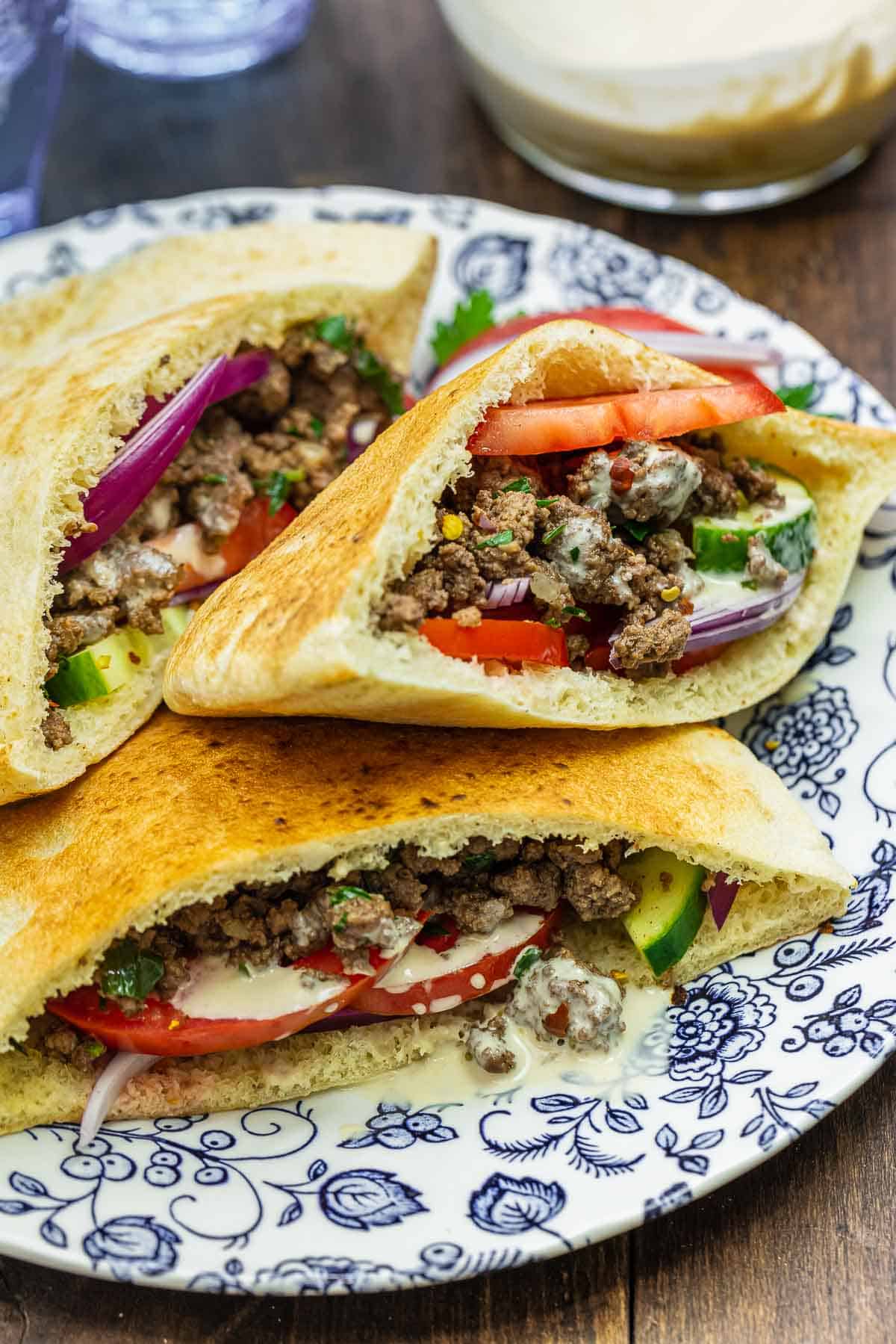 Skip the usual meatballs, burgers, or casseroles tonight and make these ground beef sandwiches instead! Consider this recipe a time-saving twist on kofta—all of the incredible Middle Eastern flavors you love and none of the fuss.
I season ground beef the same way I season my kofta kebabs—with onions, garlic, and a good dose of allspice and cardamom, but rather than shaping the beef onto skewers to grill I just cook it in a skillet, breaking it up until it's fully browned. While the beef is cooking I wash and slice some cucumbers, tomatoes, and red onions then I prepare my favorite sauces like tahini, hummus, or tzatziki--take your pick! Or, you can also make this cucumber tomato tahini salad, which gives you both the veggies and the sauce at once! But if you don't have time for a homemade dip or sauce, then skip it and pick up your favorite brand at the supermarket. When the ground beef is ready, stuff it inside a pita pocket (store-bought pita is fine), and add in the veggies and sauce of choice.
Think of these pita sandwiches as free-form or deconstructed kofta sandwiches! They have all the flavors you love in kofta with less work. You don't have to stick with cucumbers and tomatoes either. Feel free to use up what you have on hand —add some lettuce, spicy arugula, sliced radish, even peppers. Anything goes!

These pita sandwiches take sandwich night a few notches up! Give them a try soon and let me know.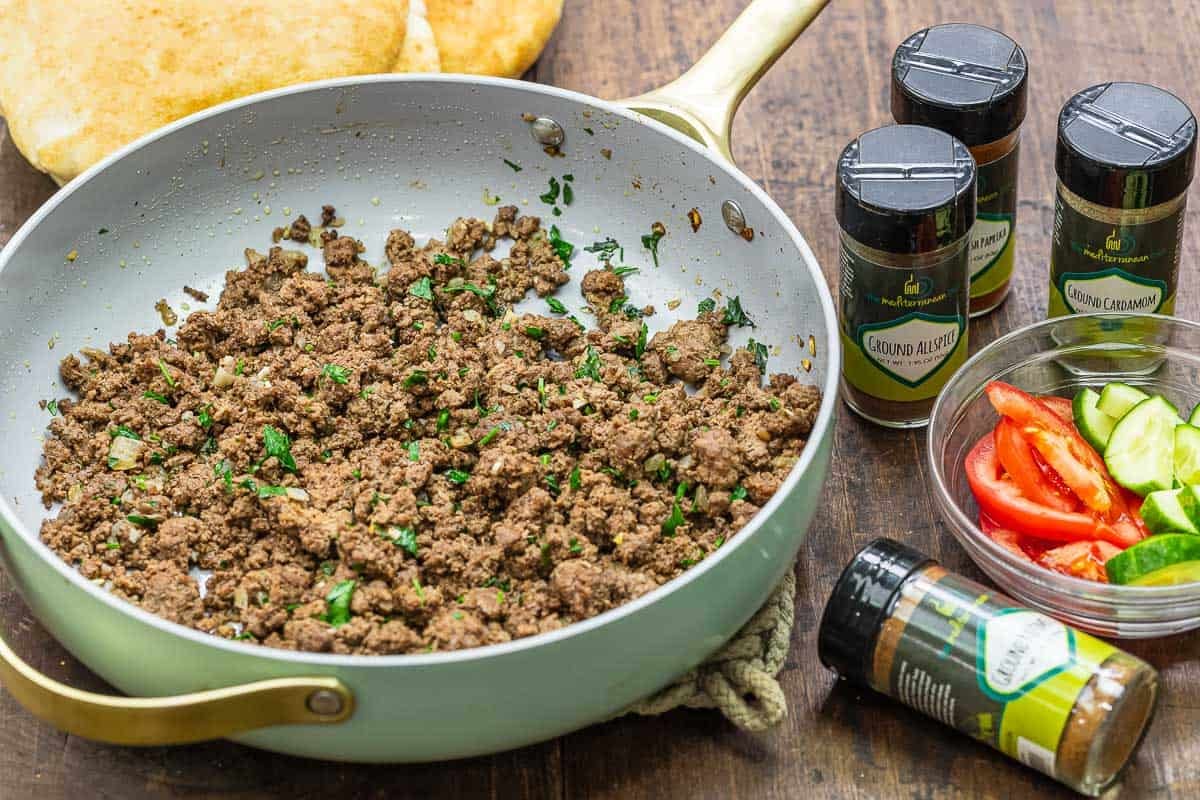 Ingredients for a ground beef sandwich
Extra virgin olive oil: A good medium-intensity oil with mild flavor would work well here, like our Arbequina California or Private Reserve Greek EVOOs.
Yellow onion: If you don't have a yellow onion, a red onion would work just as well.
Fresh garlic: Chop up a couple of cloves to sauté with the onions. Garlic adds a hint of spice.
Ground beef: Leaner ground beef would be my choice here so you don't have too much fat to drain, and so you don't end up with soggy, oily pita sandwiches. For an even leaner option, use ground turkey. Just note that ground turkey tends to dry out, so you will likely need more cooking fat to counter that.
Spices: Get all the comforting kofta flavor with ground allspice, cayenne pepper, green cardamom, ground nutmeg, and paprika.
Fresh parsley: Chopped flat-leaf parsley adds some freshness and bright color to the earthy tones of the ground beef.
To serve: You will need some pita bread, cut in half to form pita pockets. You can use either easy homemade pita or store-bought. I also like to add some thinly sliced tomato, red onion, and cucumber for color and crunch, as well as a drizzle of sauce like tahini sauce or tzatziki.
Best ground beef for this recipe
Ground beef is sold in various percentages of lean meat and fat. You might see packages labeled "80% lean," "90% lean," or "93% lean." These numbers indicate that 80, 90, or 93 percent of the package of ground beef is lean meat, while the rest is fat.
In this ground beef pita sandwich recipe, I'd recommend using either 80% or 90% lean ground beef. Fat infuses dishes with moisture and flavor. If you go too lean you could end up with dry meat by the time it's done cooking. Keep in mind that we drain the beef once it is browned anyway, so the dish itself is not fatty. You'll end up with moist, flavor-packed ground beef with ever so slightly crisp edges.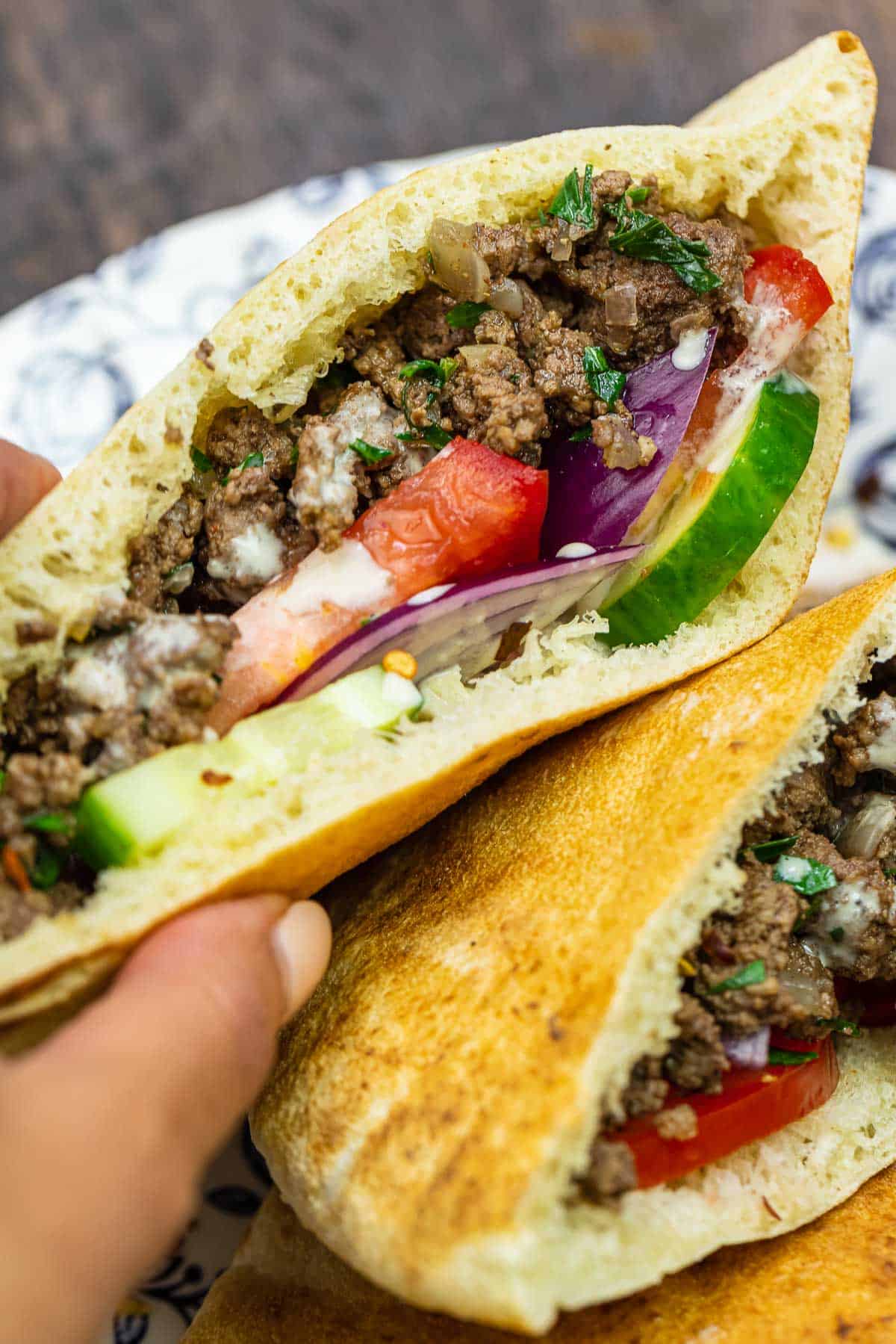 How to make a pita sandwich
This easy ground beef recipe is as easy as 1, 2, 3! To save time, work on your fixings while the beef cooks. Here's how to make pita sandwiches:
Saute onions and garlic. Warm 2 tablespoons of extra virgin olive oil in a large non-stick pan over medium-high heat. Add 1 chopped yellow onion and 2 chopped garlic cloves and cook until the onions are translucent and have gained some nice golden brown color. This will take 3 to 5 minutes.
Cook the ground beef. Add 1 ½ pounds lean ground beef to the hot pan and break it up with a wooden spoon. Cook until the meat is fully cooked, breaking it up a little more each time you stir. Once the beef is cooked, drain any excess fat. (If you used 80/20 beef, you will have quite a bit to drain. If you went with 90/10, there will be very little fat.) Season with kosher salt and black pepper, before adding 1 ½ teaspoons of allspice and ½ teaspoon each cayenne pepper, green cardamom, ground nutmeg, and paprika. Drop in ½ cup chopped flat-leaf parsley and toss to coat the meat in the herbs and spices.
Assemble your Middle Eastern ground beef pita sandwich. Start by cutting 3 pitas in half. You should end up with 6 pita pockets. I like using my pillowy pita bread recipe, but good store-bought pita will work as well. Add some of the ground beef mixture to each pita pocket, followed by some slices of tomato and cucumber. Finish with a drizzle of creamy tahini sauce and serve immediately!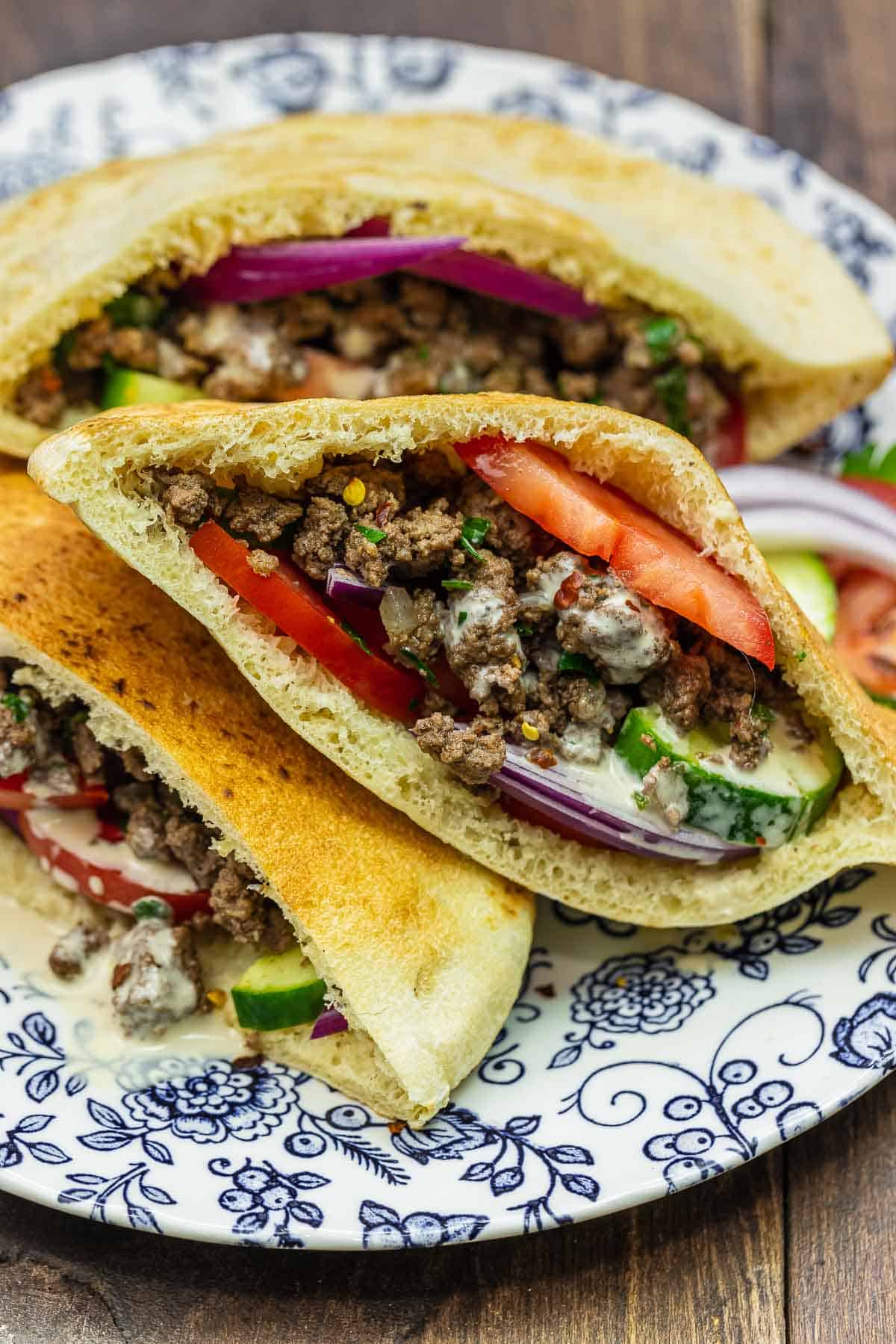 Serving suggestions
I love how customizable this ground beef sandwich is! Stuff your pita pockets with as many or as few fixings as you want. Here are some ideas:
How to store leftovers
I don't usually have leftovers, but if you have a smaller family this recipe makes great leftovers and if you're a planner it's an easy make-ahead meal for dinner or work lunches.
Pita will stay fresh for up to 3 days when stored in an airtight bag on your counter.
Pre-cook the ground beef and keep in an airtight container in the fridge for up to four days.
Wash and slice the veggies and store them separately. The one thing to remember is that tomatoes are best sliced and eaten the day you plan to use them, but everything else can be prepped head of time.
When you're ready to eat, drizzle a skillet with a little olive oil, add the beef and warm it over medium heat. It should only take about 10 to 15 minutes. Assemble in pita pockets with your favorite veggies and sauces.
More ground beef recipes
Browse all Mediterranean recipes.

Visit Our Shop.
Middle Eastern Ground Beef Pita Sandwich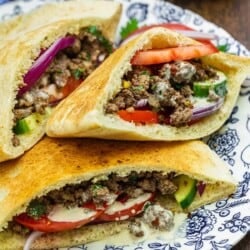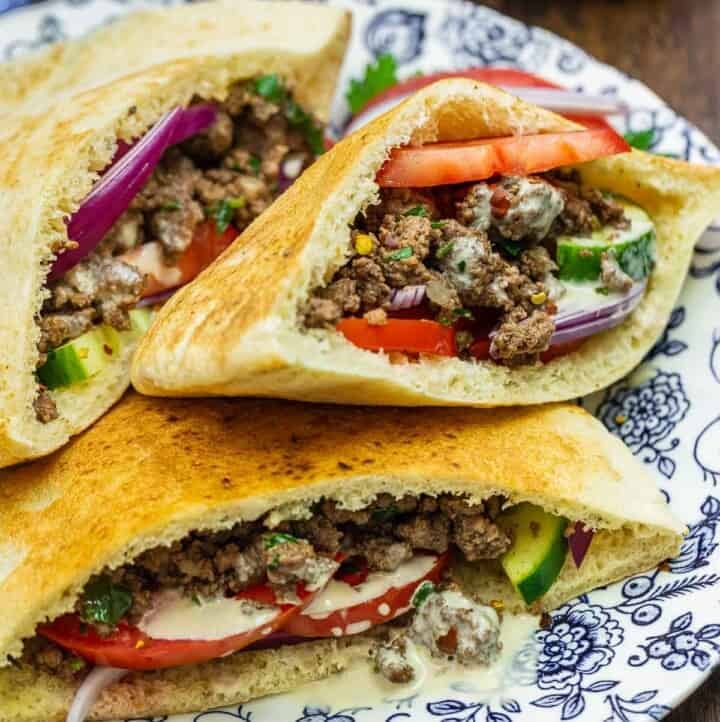 Sandwich night is about to get better with this easy ground beef pita sandwich recipe. Simply cook up and season some lean ground beef and load it into warm pita pockets with tomatoes, cucumber, and a sauce of your choice. Dinner in 20 minutes!
Ingredients
1

medium yellow onion,

chopped

2

garlic cloves,

chopped

1 ½

pounds

ground beef or ground turkey

Salt and pepper

1 ½

teaspoon

ground allspice

½

teaspoon

cayenne pepper

½

teaspoon

green cardamom

½

teaspoon

ground nutmeg

½

teaspoon

paprika

½

cup

chopped flat-leaf parsley
To serve
3

Pitas,

cut into halves (should make 6 pita pockets)

2

medium tomatoes,

halved and thinly sliced

1

small red onion,

sliced

½

English cucumber,

halved and thinly sliced (half moons)

1

radish,

sliced (optional)

1

Tahini sauce recipe, tzatziki or hummus will also work here
Instructions
In a large non-stick pan, heat about 2 tablespoons extra virgin olive oil over medium-high heat until shimmering. Add the onions and garlic and cook, stirring regularly, until golden brown (about 3 to 5 minutes).

Add the ground meat and break it up with a wooden spoon. Cook, stirring occasionally, until the meat is fully browned. Carefully drain extra fat (this is especially helpful if you did not use lean meat). Season with Kosher salt and black pepper. Add the rest of the spices and the parsley and toss to combine.

To assemble the pita sandwiches, stuff each pita pocket (or pita half) with the meat mixture. Tuck slices of tomatoes, onions and cucumbers around the beef. Finish with a drizzle of tahini sauce and serve!
Notes
Best ground beef for this recipe: 80% or 90% lean ground beef works best in this recipe. Meat that is any leaner will become too dry when cooked. And we drain the fat, so don't worry about the beef being too fatty and oily when it's cooked.
Swap the beef: For an even leaner option, you could use ground turkey instead of beef. But because turkey is so lean, it is prone to drying out, so you will need more cooking fat (like olive oil) to counter this.
Serving ideas: Stuff your pita sandwich simply like I do, with tomato and cucumber. A simple drizzle of tahini sauce is a great finishing touch. Or, add fixings of your choice like pickled turnips or pickled cucumbers. A different sauce like tzatziki or herby chermoula would be great. For sides,

try a

tomato salad

,

Greek potatoes

, or

sweet potato fries

.

How to store leftovers: Ground beef keeps in an airtight container in the fridge for up to 4 days. To reheat, pop it into a skillet with a little olive oil, and warm up on medium heat. Pita will stay fresh for 2 to 3 days in an airtight bag on your counter.
Visit our Shop to browse quality Mediterranean ingredients including extra virgin olive oils, organic spices, and more!
Nutrition
Calories:
309.4
kcal
Carbohydrates:
22.9
g
Protein:
26.5
g
Fat:
12
g
Saturated Fat:
4.8
g
Polyunsaturated Fat:
0.6
g
Monounsaturated Fat:
5
g
Trans Fat:
0.7
g
Cholesterol:
73.7
mg
Sodium:
426.3
mg
Potassium:
631.6
mg
Fiber:
2.3
g
Sugar:
3.2
g
Vitamin A:
944.1
IU
Vitamin C:
16.4
mg
Calcium:
67.9
mg
Iron:
3.6
mg