Simple and fresh heirloom tomato salad, jazzed up Mediterranean-style with a special garlicy, lemony dressing, and a dash of insanely delicious dukkah! You'll want to eat this every day! And there are lots of ways to change it up.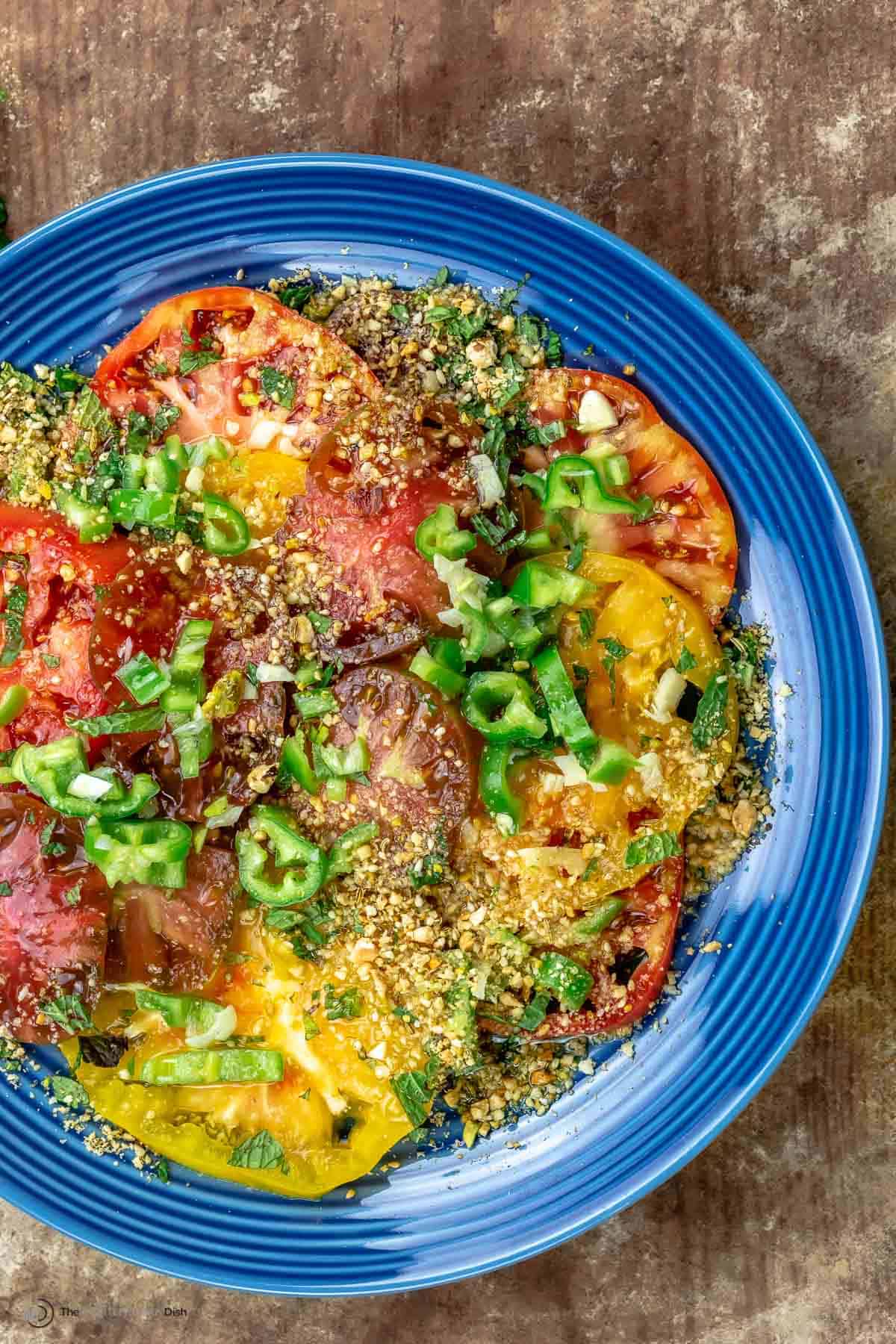 When tomatoes are in season, I go to town with things like roasted tomato soup, garlic fried tomatoes, and of course, the ever present shakshuka eggs.
But I get most excited about using my summer tomatoes in their best form: raw!
Fresh little tomatoes make the best topping for my family's favorite summer grilled pizza. And when I have day-old, stale bread, I'm all about bold tomato salads like panzanella or fattoush.
Fresh heirloom tomato recipe
This simple heirloom tomato salad is my latest obsession. Tomatoes are truly the star ingredient here with nothing else competing for attention! Slice up your tomatoes, arrange them on a plate and jazz them up with a dash of my nutty homemade dukkah and a simple garlicy, lemony dressing kicked up with spicy peppers. Nothing better!
I grew up with dukkah, a very easy Egyptian condiment, made by grinding nuts and spices. My dukkah recipe is made with sesame seeds, hazelnuts, and pistachios along with warm spices like cumin, coriander and fennel seeds. I save it in the freezer to use on everything from salads and soups to adding a special crust on fish or even chicken! So worth a try.
Heirloom tomatoes, why are they so special anyway?
I've never met a ripened summer tomato I didn't love--blame it on my Mediterranean blood. But there is something a little extra special about heirloom tomatoes. Maybe it's their happy colors-green, red, yellow, or even a purplish brown. Or maybe we're drawn to their funny, unique shapes--no two heirloom tomatoes look alike, and they're never uniform or perfectly round.
The seeds is what makes heirloom tomatoes extra special. As the name suggests, "heirloom," meaning passed down by generations, these tomatoes are passed down from season to season, so to speak. Generations of farmers save the seeds of their best produce, selected with certain characteristics--juiciness, size, shape, color, flavor...etc And they are often open-pollinated naturally, so no genetic modification takes place.
That's why heirloom tomatoes are never uniform in look nor in flavor. Bright red heirloom tomatoes, for example, are robust and slightly more acidic, while marbled heirlooms (the bi-colored onwa), are rich and juicy, and because they are low in acid, they are very sweet. Orange heirloom tomatoes are also sweeter than the bright red ones, and the yellow ones are milder and more creamy-textured.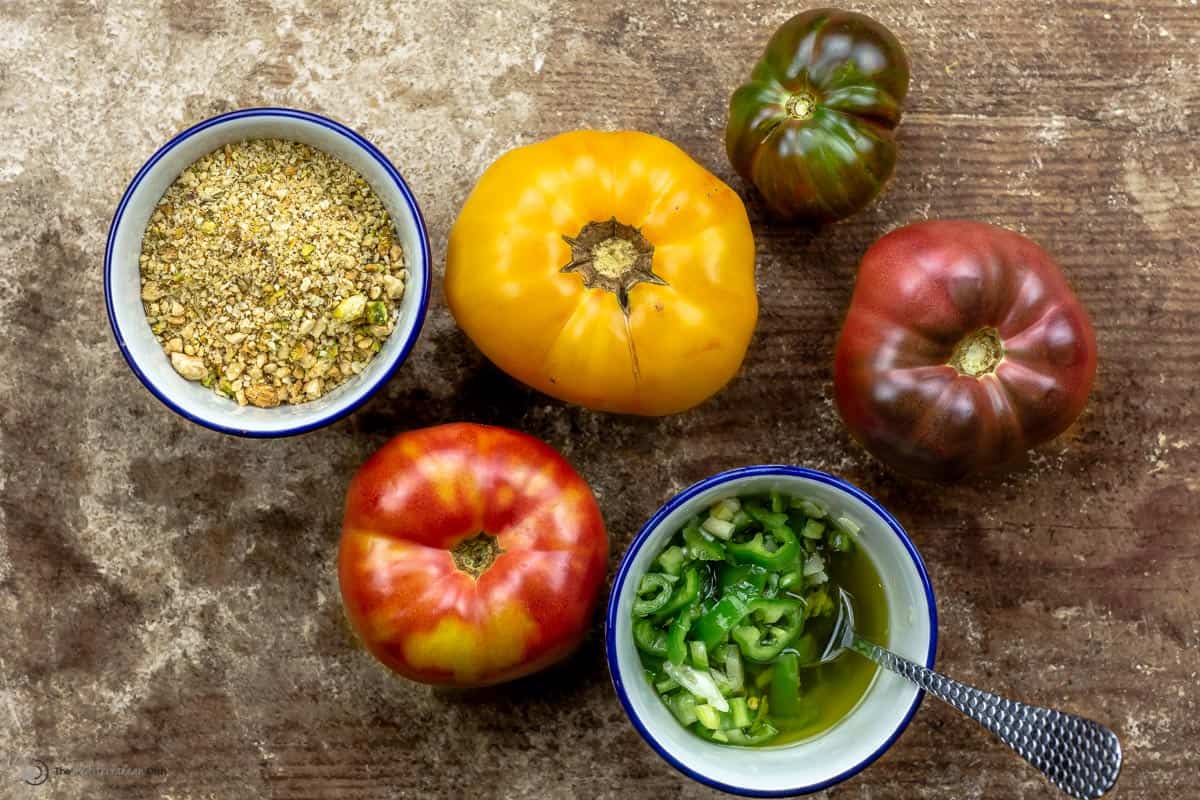 What you need for this heirloom tomato salad
If you can, opt for using different colors of heirloom tomatoes in this salad, this way, you can capitalize on their different flavors and textures! I love serving this salad as a composed salad, topped with a good dash of dukkah and a simple garlic and lemon dressing. Here are the ingredients:
Large heirloom tomatoes -- 3 tomatoes or about 1.5 pounds, sliced into ¼-inch thick rounds
Kosher salt and black pepper
Garlic- 2 fresh cloves, minced
Lemon- juice of 1 lemon
Extra virgin olive oil- This Italian Nocellara Extra Virgin Olive Oil pairs well with this salad because of its medium intensity and undertones of freshly-picked tomatoes and vegetables, with a mildly bitter and spicy finish.
Jalapeno or Ancho Chili Pepper- I use this in the dressing this is optional, if you like a little bit of heat.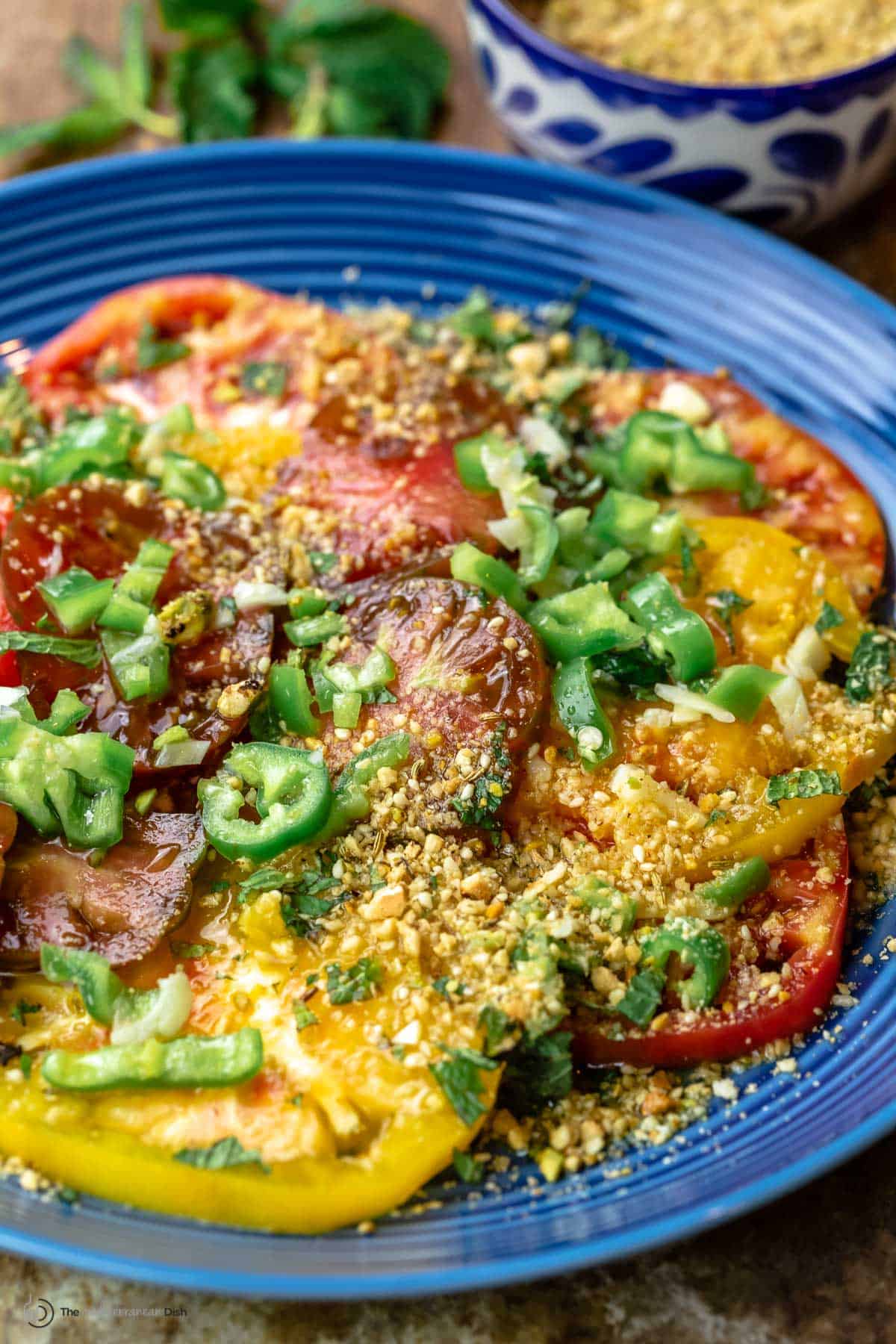 Serve it as a composed tomato salad!
This is any easy salad that takes very little effort to put together. To serve it, assemble the tomato slices on top of a large plate, then dress with the garlic and lemon dressing. Finally, top with a good sprinkle of dukkah (or za'atar, if you prefer), and fresh mint leaves!
Variations
Make this tomato salad recipe your own! Here are a few variations to try:
Switch up the seasoning! Try za'atar (toasted sesame seed and wild thyme blend) in place of dukkah. Or add a dash of sumac for extra brightness and tang.
Add more fresh herbs such as basil, parsley, cilantro, or chives
Mix in other tomatoes such as grape or cherry tomatoes
Turn it into a tomato and cucumber salad. Just slice up some small Persian cucumbers or a hot house cucumber to arrange with the tomatoes. If you like, add shallots or red onions as well.
Add your favorite cheese! I love a good tomato and feta salad, but you can also add baby mozzarella or a sprinkle of shaved parmesan will work! Or, really bring this salad to the next level by topping with crispy fried goat cheese coated in a za'atar spice blend.
Need more tomato recipes?
Peak summer is a great time to use up all those delicious tomatoes. check out my 30+ Mediterranean Fresh Tomato Recipes.
Browse our top Mediterranean diet recipes or all Mediterranean recipes.
Heirloom Tomato Salad with Dukkah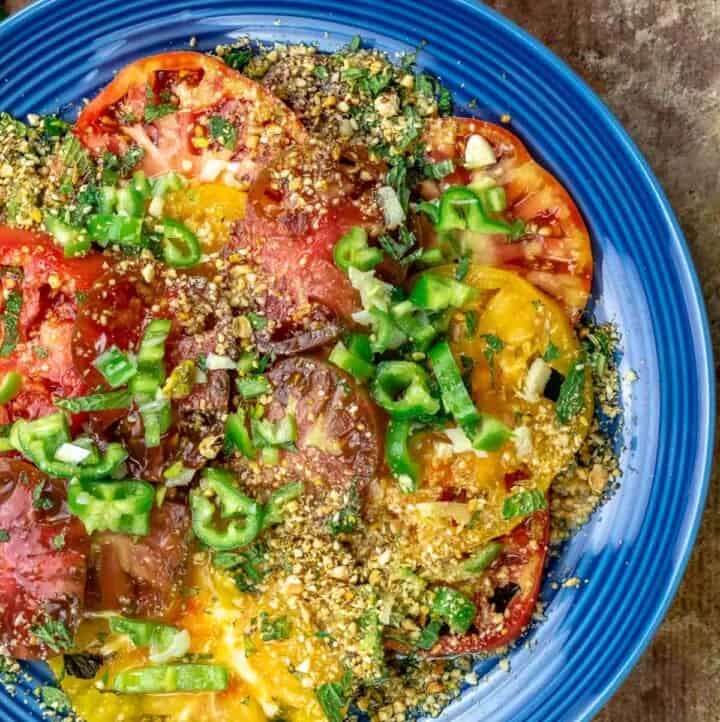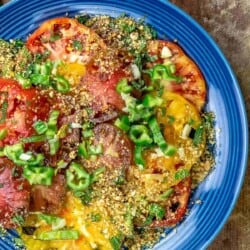 Ingredients
For the Dressing
2

garlic cloves,

minced

1

lemon,

juice of

⅓

cup

extra virgin olive oil

Kosher salt and black pepper

1

ancho or jalapeno pepper,

seeded and thinly sliced (optional)

4 to 6

tablespoon

Dukkah,

follow this homemade dukkah recipe (see note for other options)
For the Tomato Salad
3

large heirloom tomatoes

about 1 ½ pounds, sliced into rounds

Kosher Salt

a pinch

1

tablespoon

chopped fresh mint,

optional
Instructions
In a small bowl, combine the garlic, lemon juice, olive oil, and a good pinch of kosher salt. Whisk well to combine. Add the chili peppers, if using , and give it another whisk. Set aside for now.

Slice the heirloom tomatoes into ¼-inch round slices and arrange them on a large plate. Drizzle with as much of the dressing as you like and keep the rest to the side for dipping.

Top with the dukkah and fresh mint. Serve!
Notes
Make the Dukkah Ahead of Time: You can make dukkah ahead of time and keep it in the freezer to use as a topping to salads and soups, or to make a crust for baked fish, and more!
Variations: You can use za'atar in place of dukkah in this recipe. You can also add other herbs such as basil or parsley in place of the mint. Add some crumbled feta or baby mozzarella. Or mix in other tomatoes such as cherry or grape tomatoes.
Leftovers: store leftover tomato salad in the fridge in a tightly-closed container for up to 2 days.
Visit Our Shop to browse quality Mediterranean ingredients including extra virgin olive oils and spices.
Nutrition
Calories:
187.7
kcal
Carbohydrates:
7
g
Protein:
1.3
g
Fat:
18.3
g
Saturated Fat:
2.5
g
Sodium:
296.9
mg
Potassium:
277.9
mg
Fiber:
2.1
g
Sugar:
3.3
g
Vitamin A:
865.3
IU
Vitamin C:
32
mg
Calcium:
22.8
mg
Iron:
0.6
mg