Give your favorite comfort food a nutritious makeover with this quick and easy one-pot healthy potato soup recipe! This creamy potato soup is perfect for cold days when you need an easy way to warm up from the inside out.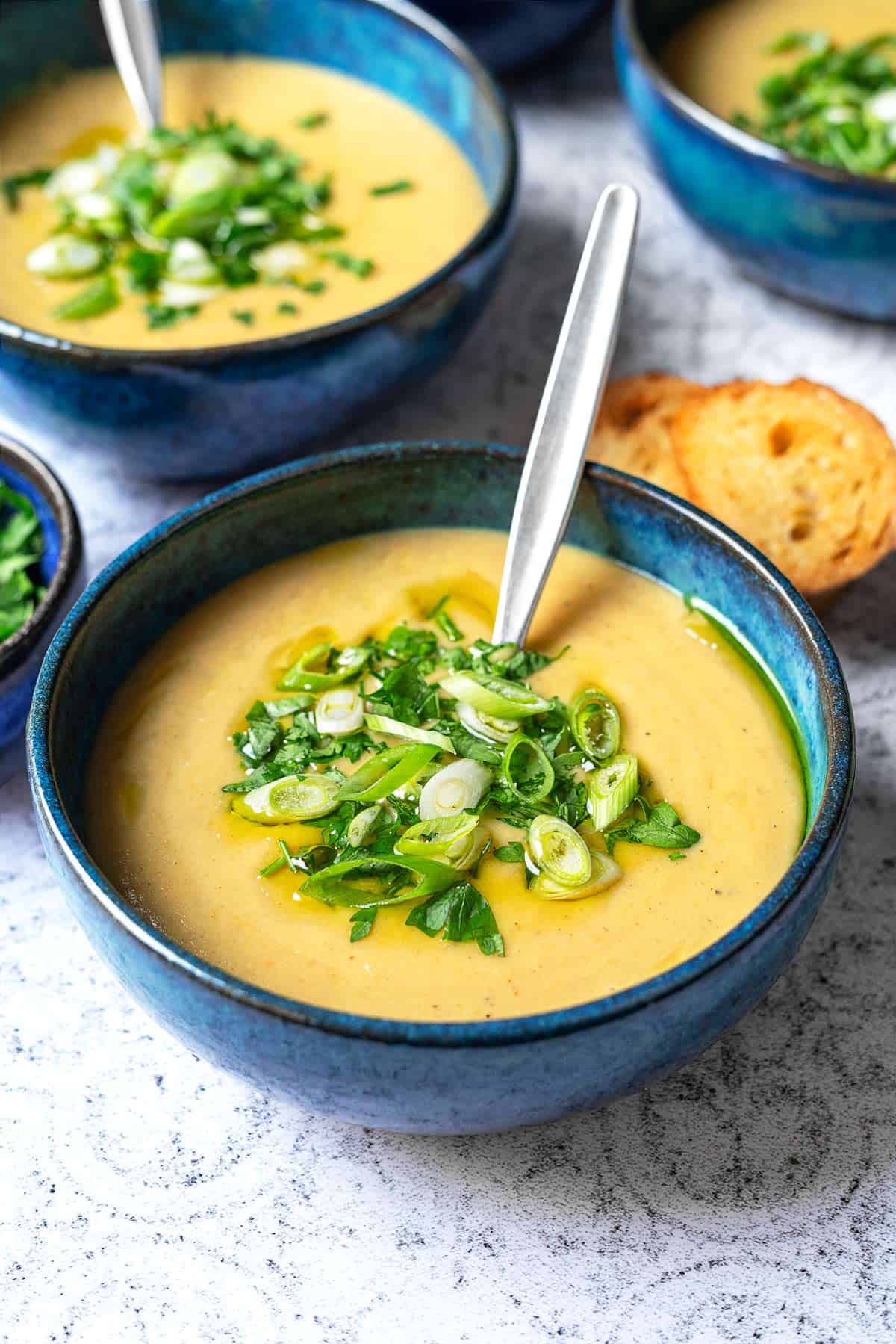 A better-for-you version of a classic recipe, this healthy potato soup is comfort in a bowl! Made with fresh veggies and warm Mediterranean spices, it's quick, easy, creamy, and full of flavor. Serve it on its own or with your favorite sides for a cozy meal everyone will adore!

Creamy potato soup is one of my favorite childhood meals, and I find myself craving my mom's recipe as soon as the weather begins to cool! Afterall, nothing warms you up quite like a big bowl of piping hot soup, and this recipe always hits the spot.

I'm telling you, it's every bit as comforting and delicious as lemon chicken orzo soup or roasted tomato basil soup! Even better, it's loaded with veggies and nutrients, similar to a good homemade vegetable soup.

You see, unlike most recipes, this healthy potato soup is made without all the bacon and cheese. Don't worry, though! It's still unbelievably delicious, proving nutritious foods can (and should) taste good and leave you feeling satisfied, too.
Not to mention, it comes together in one pot and cooks in no time for quick weeknight dinners. Plus, leftovers keep well, meaning you can enjoy comforting meals for days!
Table of Contents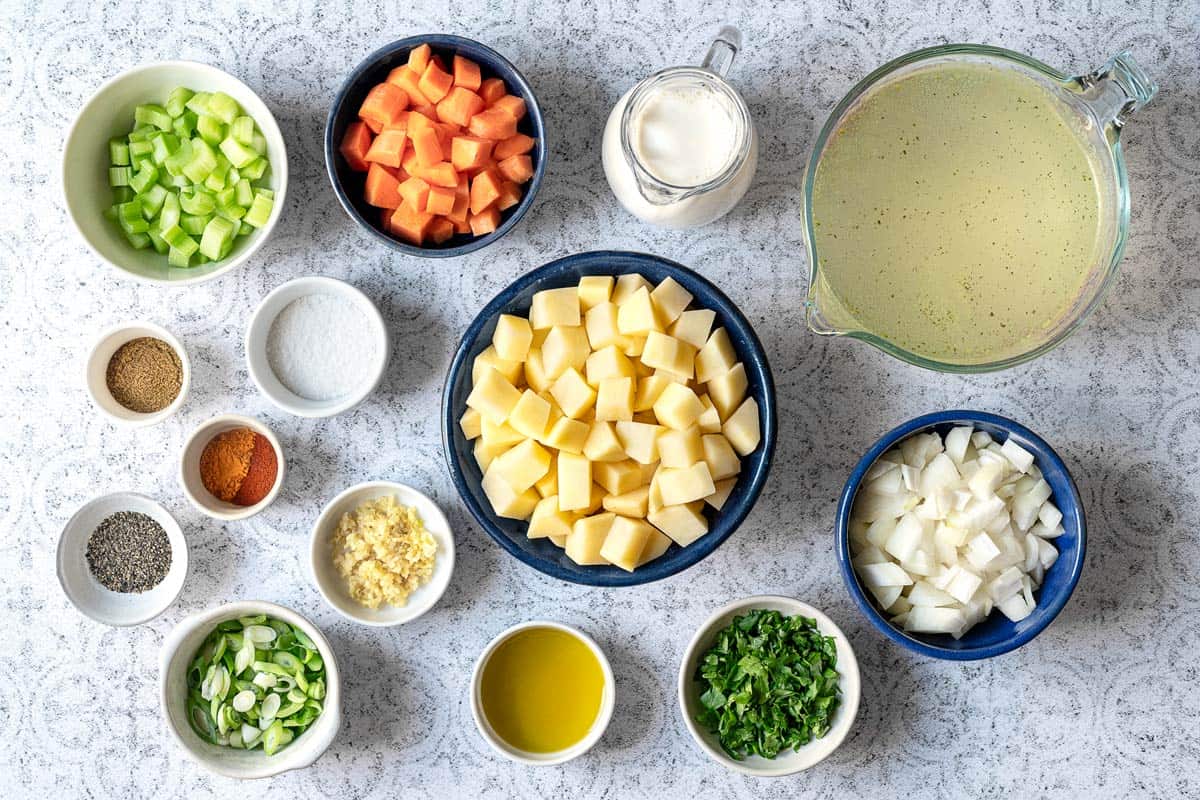 Healthy Potato Soup Ingredients
Gather up a whole bunch of fresh veggies, raid your spice cabinet, and don't forget your potatoes! Combine them all together, and before you know it, you'll have a warm bowl of creamy potato soup waiting for you.
Extra virgin olive oil: I love a good medium-intensity EVOO here like our Nocellara Italian extra virgin olive oil. It's mild and peppery in flavor, which makes it the perfect complement to the bold taste of the soup.
Veggies: Plenty of veggies are included here for extra nutrients, flavor, and bulk. You'll need yellow onion, peeled carrots, celery sticks, and green onions.
Garlic: If you know me, you know I can't resist adding garlic to a recipe! Two cloves are minced and added for a peppery kick. If you have some roasted garlic hanging around toss that in there too.
Potatoes: Okay, they're technically a vegetable, but they deserve their own call out! Yellow gold potatoes are best as they have a soft texture and a rich, buttery flavor that's absolutely to die for. However, if needed, regular Russet potatoes would work, too.
Broth: Use low-sodium vegetable (or chicken) broth to control the saltiness of the dish.
Milk: We recommend using full-fat milk to enhance the creaminess of the soup, but any percentage will still taste great.
How to Make Potato Soup
Learning how to make healthy potato soup is pretty easy. Essentially, you just combine ingredients in one pot! Just chop your veggies, simmer with the milk and broth, blend, and dinner is served. Of course, don't forget to add a side of crusty bread (like our rosemary focaccia with roasted garlic) for dipping in creamy potato soup!
Sauté the vegetables. Add 2 tablespoons of olive oil to a large soup pot over medium-high heat. Once it's warm (but not so hot it's sizzling), add the onions, carrots, celery, garlic, and potatoes. Next, go ahead and include the seasonings, and let the veggies cook until they begin to soften a bit. Don't forget to stir them occasionally! This will ensure they cook evenly and prevent them from sticking to the bottom of the pot.
Add the broth and simmer. Pour the broth into the mix, and raise the heat, bringing the ingredients to a boil. After about 5 minutes, lower the heat back to medium or medium-low, cover the pot partway, and let your soup simmer until the potatoes are fork-tender. (This is a great time to start preparing your bread or any extra sides!)
Pour in the milk and adjust the seasonings. Turn off the heat, and stir in the milk. Then, go ahead and give your soup a taste, and adjust any seasonings to your preferences.
Blend. Use an immersion blender to blend the soup until it is smooth and creamy.
Add the finishing touches and serve. Transfer your healthy potato soup to bowls, top it off with your garnishes of choice (I like a drizzle of olive oil, parsley, and chopped onions.), and enjoy!
Ways to Dress Up Creamy Potato Soup
I love a recipe that can work in 100 different ways. Ok, well maybe not 100, but you know what I mean! Consider this healthy potato soup recipe a jumping off point for tons of flavor combos. Here are a few ideas to get you started:
Dress it up: Don't be afraid to get a little extra and have some fun with all your favorite toppings! For example, some of my favorite options include an extra drizzle of olive oil, fresh parsley, chopped onions, Parmesan cheese, and crispy chickpeas.
Add some texture: If you prefer a chunkier soup, don't purée it all the way, leaving some pieces of potatoes and vegetables in the broth.
Veggies: This creamy potato soup is a great way to use up any extra veggies you have on hand! Try mixing in mushrooms, kale, or peppers for more nutrients.
Protein: Make this recipe even more satisfying with chicken, ham, or turkey for a boost of protein.
Dairy-free: If you can't consume dairy, simply replace the milk with your favorite dairy-free alternative.
Try buttermilk: Swap half the milk for buttermilk. It's lower in fat and has a pleasant, tangy flavor.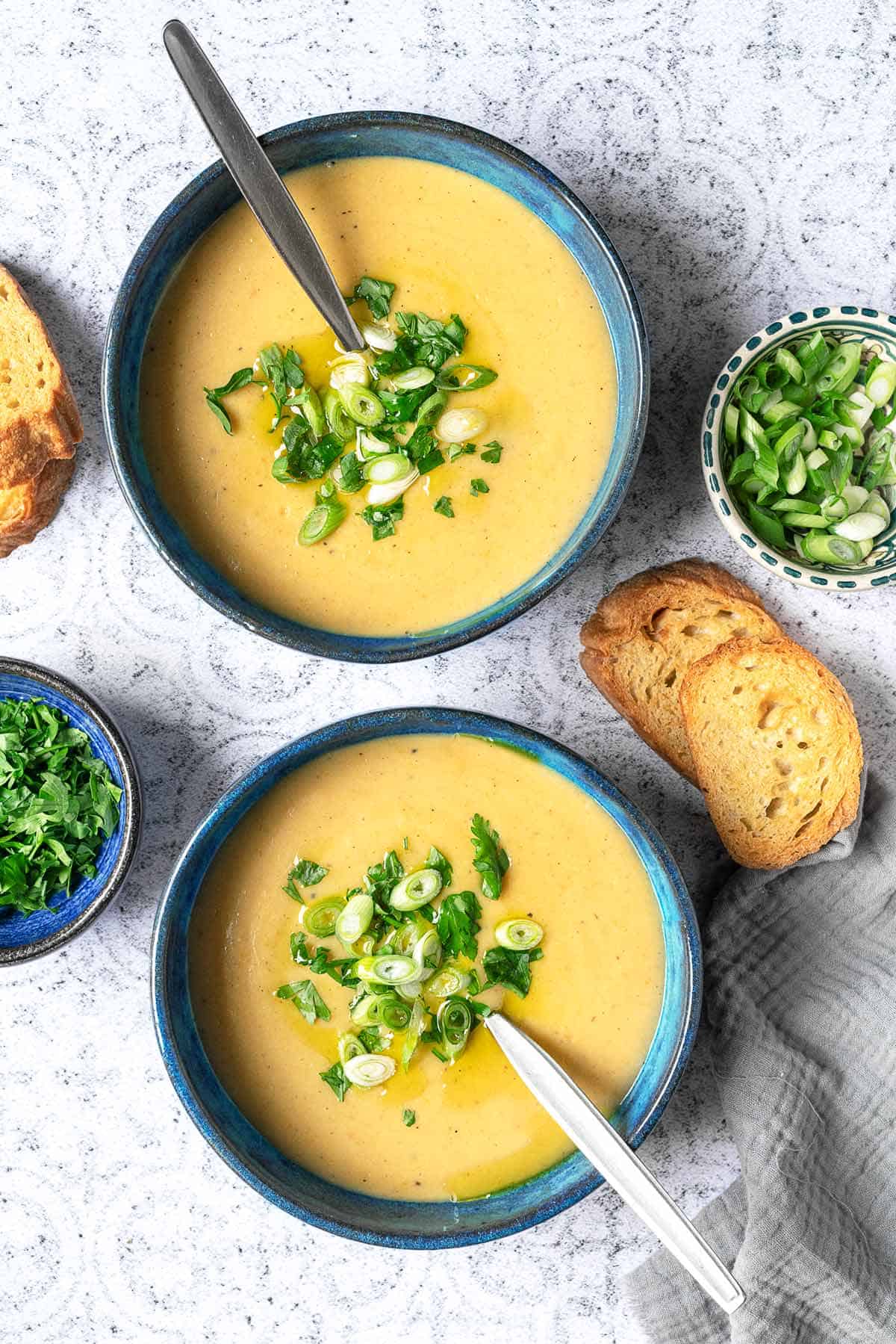 What to Serve with Potato Soup
We love to serve this hearty soup as an appetizer or side with protein-rich main courses such as Loaded Grilled Roast Beef Sandwich, Easy Turmeric Chicken, or Homemade Beef Shawarma.
Or, if you prefer enjoying it as main dish, make it a soup and salad situation with refreshing recipes like a Radicchio Salad, Shaved Brussels Sprouts Salad with Apples and Arugula, or a simple Lemon Parmesan Lettuce Salad.
And of course, don't forget a side of Easy Challah Bread, either!
More Amazing Soup Recipes
Browse all Mediterranean recipes.

Visit Our Shop.
Try our Organic Cumin!
The perfect spice to add warmth and depth to your favorite soups, stews and more!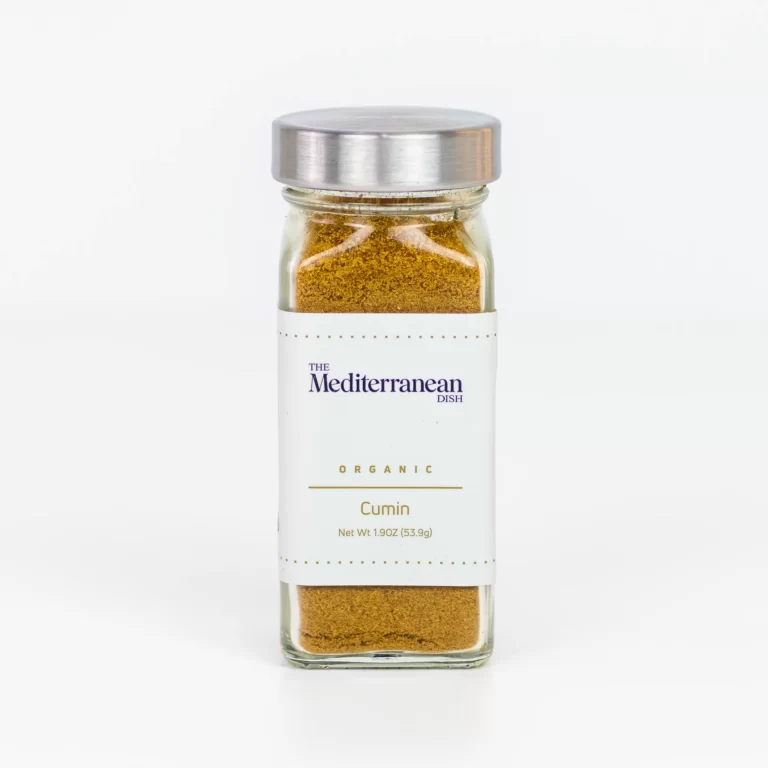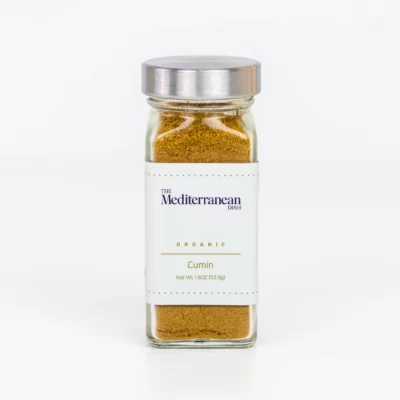 Healthy Potato Soup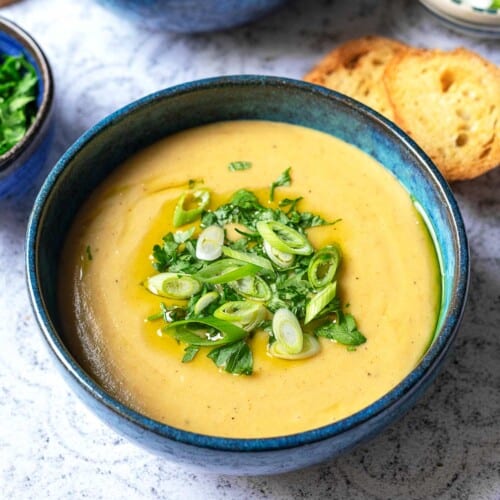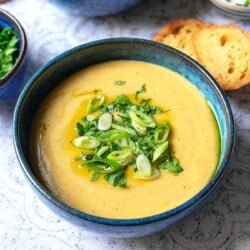 This healthier version of classic potato soup is made with fresh veggies and flavorful Mediterranean spices. It's a quick and easy recipe that comes together in just one pot. Creamy and nutritious pure comfort in a bowl!
Ingredients
2

tablespoons

extra virgin olive oil

1

medium yellow onion,

chopped

1

carrot,

peeled and chopped

2

celery sticks,

peeled and chopped

2

large garlic cloves,

minced

1 ½

pounds

yellow gold potatoes,

peeled and cubed into ½-inch cubes

Kosher salt

black pepper

1

teaspoon

ground cumin

½

teaspoon

paprika

¼

teaspoon

turmeric

4

cups

vegetable broth

1

cup

milk

½

cup

chopped fresh parsley

1 to 2

green onions,

trimmed and chopped (both white and green parts)
Instructions
Heat oil and sautée vegetables: In a large cooking pot set over medium-high heat, add extra virgin olive oil. Add the onions, carrots, celery, garlic, and potatoes. Season with kosher salt, black pepper, cumin, paprika, and turmeric. Cook the vegetables, tossing occasionally, for about 5 to 7 minutes until softened a bit.

Add the broth and simmer: Add the broth and bring to a boil for about 5 minutes, then lower the heat and cover the pot partway. Allow the soup to simmer for about 20 to 30 minutes or until the potatoes are cooked through and very tender.

Add the milk and adjust seasoning: Remove the pot from the heat, and stir in the milk. Taste and adjust for seasoning.

Use an immersion blender: Using an immersion blender, carefully blend the soup until smooth. Alternatively, you can transfer the soup ⅓ at a time to a countertop blender until all the soup is smooth.

Serve: Transfer to serving bowls and garnish with a drizzle of olive oil, parsley, and chopped onions.
Notes
This potato soup will keep in the fridge for up to 4 days. To store, allow the soup to cool, then transfer to a glass container with a tight lid. Refrigerate.

If you prefer your sop with a little texture, don't puree it at all or only puree part of it.

Visit our shop to browse quality Mediterranean ingredients including olive oils, honey, jams and spices.
Nutrition
Calories:
178.4
kcal
Carbohydrates:
27.5
g
Protein:
4.3
g
Fat:
6.3
g
Saturated Fat:
1.5
g
Polyunsaturated Fat:
0.6
g
Monounsaturated Fat:
3.8
g
Cholesterol:
4.9
mg
Sodium:
661.8
mg
Potassium:
650.3
mg
Fiber:
3.5
g
Sugar:
5.6
g
Vitamin A:
2634.2
IU
Vitamin C:
31.7
mg
Calcium:
85.6
mg
Iron:
1.6
mg