You can have your favorite beef shawarma sandwich right at home, this easy recipe is all you need! I'm sharing my family's secrets complete with the shawarma seasoning, which makes all the difference. Be sure to check out the tips and video below.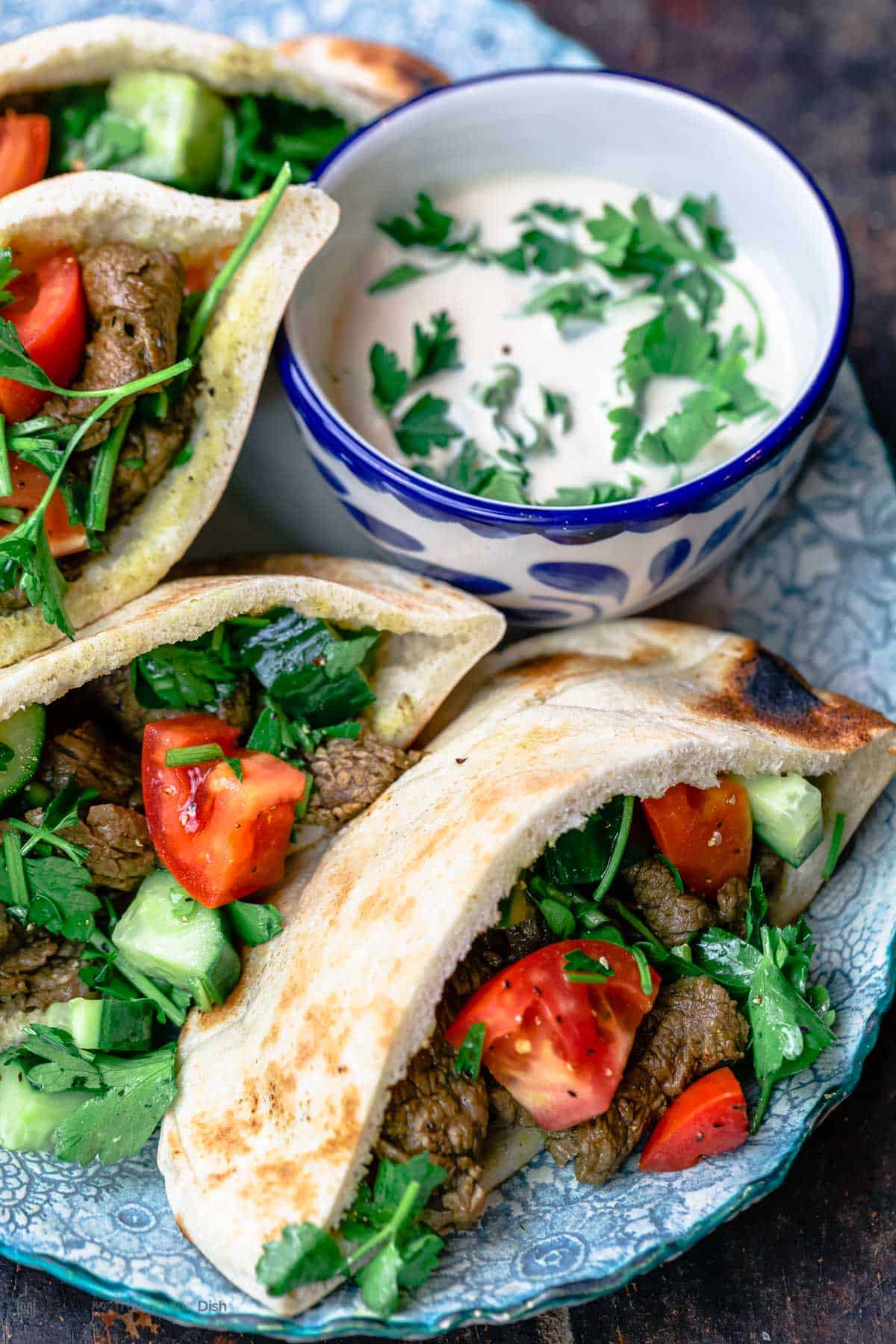 Like hummus, falafel, and kofta Kebab, shawarma is another popular Middle Eastern street food that has become widely known throughout the world! And the good news is, beef shawarma is easy to make right at home, no special equipment needed.
Since I shared my chicken shawarma recipe earlier, many have reached out asking for the beef version. I'm excited to share yet another family favorite with you today, and will be answering all your questions including: what's the shawarma seasoning? What kind of meat is best? Plus, how to make the BEST shawarma sandwich!
What is shawarma?
This famous Middle Eastern street food is basically heavily-marinated meat (or chicken), layered on a vertical rotisserie or spit where it is slow-roasted for days until perfectly tender and extra flavorful! To serve it, thin layers of meat are shaved off the spit and piled up into a warm pita pocket with heaps of fresh toppings and a good drizzle of tahini sauce.
You do not need a special rotisserie or spit to make it at home. In this easy homemade shawarma recipe, you just need a large skillet or cast iron grill pan. And to make sure we get as close as possible to the texture and authentic flavor of beef shawarma, slice up your meat very thinly and toss it in the tantalizing shawarma seasoning with a bit of garlic, onions, lemon juice and olive oil.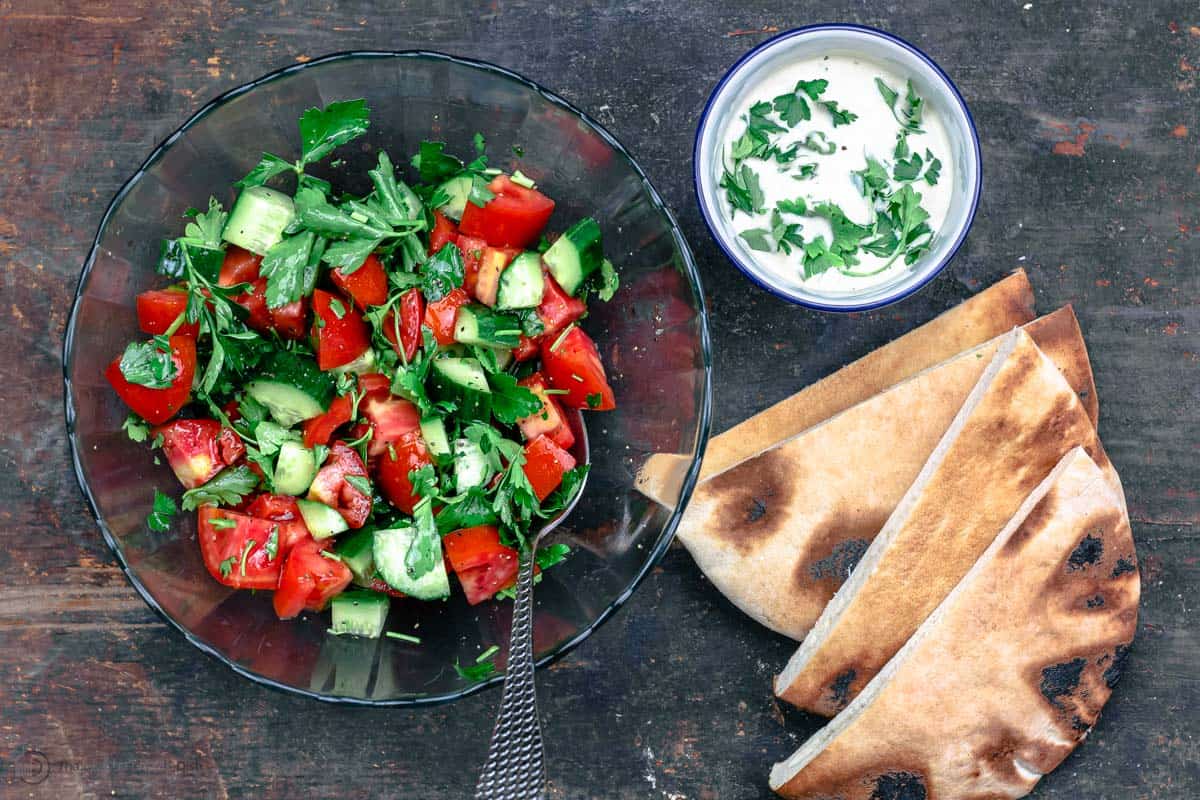 Shawarma seasoning
You may not have special equipment to make authentic shawarma like they make on the streets of the Middle East, but you can come very close to the flavors by using the right spices! This shawarma seasoning makes all the difference, and you may already have these spices on hand (but if not, check out our online shop). What's in it?
What kind of meat to use for beef shawarma?
Several kinds of meat can be used to make shawarma at home. In this recipe, I used 1 ½ pounds of beef flap steak, which is a thin, relatively lean steak that is part of the sirloin butt. Depending on where you live, flap steak goes by other names like sirloin tip or bavette. It is not an expensive cut of beef and has just enough fat for flavor.
Flank steak will work here as well, although flap meat has a little bit more marbling which makes it juicer and more tender. If you have the budget and want to splurge for a beef rib eye steak that will work as well.
On the streets of the Middle East, you'll find chicken shawarma, beef shawarma (or a combination of beef and lamb) layered on top of each other. So feel free to try different variations using the shawarma seasoning in this recipe.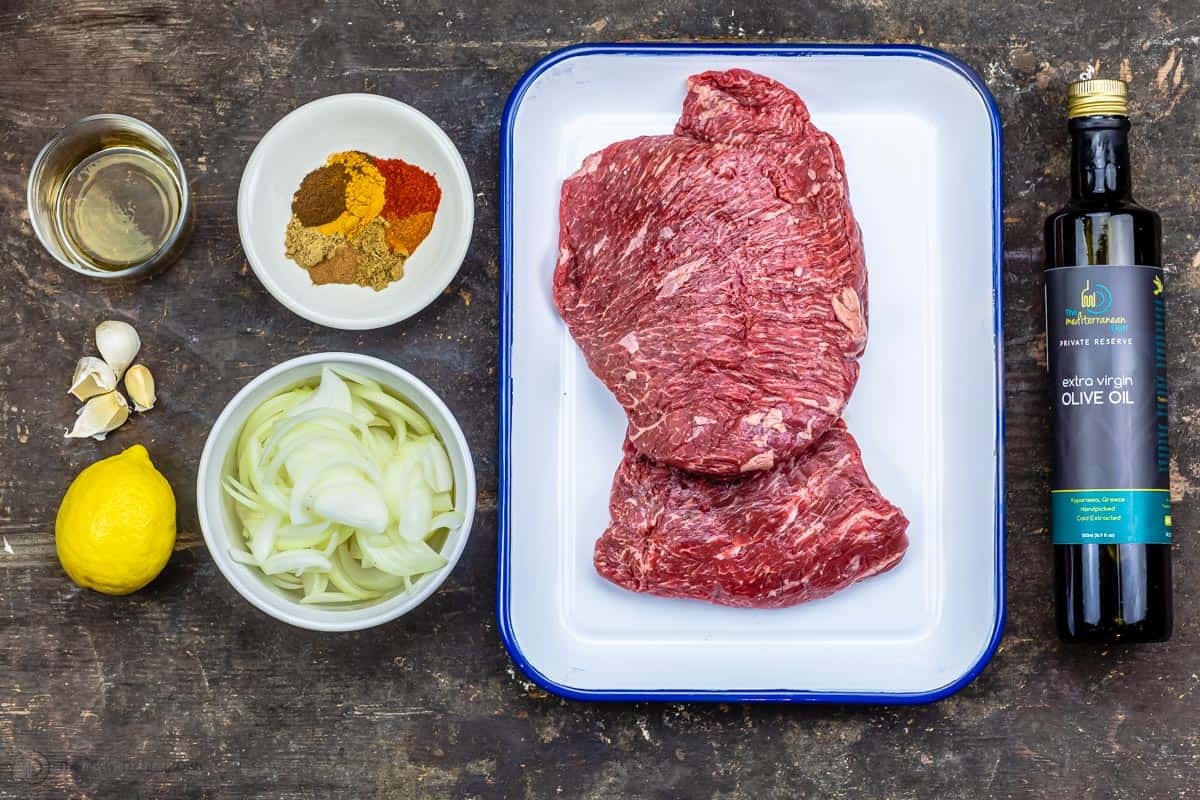 How to make beef shawarma: Step-by-step
Prepare the shawarma spices and marinade
Grab one large mixing bowl and mix together the shawarma seasoning (listed above) with ¼ cup olive oil, ¼ cup white wine vinegar and zest and juice of one lemon. This makes your marinade for the meat.

Slice up the meat
Thinly slice your meat against the grain (this is especially helpful if you're using flap steak or flank steak, which can be chewy if cut incorrectly). The pieces of meat need to be a good bite size (3-inches or so) but more importantly, they need to be fairly thin for the best texture.



Marinate the meat
Put the sliced meat in the big bowl the marinade. Season well with a big dash of kosher salt and black pepper, then add fresh garlic and onion slices. Using a pair of tongs, give everything a good toss to make sure the meat is well-coated. At this point, you can let it marinate at room temperature for a few minutes (20 to 30 or so), or cover and refrigerate for up to 2 hours.

Cook the beef shawarma
I like to use a large cast iron pan or skillet, but if you don't have one any large pan will work. Heat the pan over high heat, and using your tongs, add the meat in. Spread the meat out so that as much of it is touching the hot surface as possible (and if you need to, do this in batches). Cook for 8 to 15 minutes, flipping and tossing occasionally (if you like less juice and for the meat to be more charred, you will likely go 15 minutes)


Make a mean shawarma sandwich!
If you're wondering how to serve it at home, you can serve it a couple of different ways:
Shawarma sandwiches. What you need for this are some warm pita bread (halved to create pockets). Load up each pita pocket with the cooked beef shawarma, my lazy 3-ingredient Mediterranean salad (which is basically tomato and cucumber salad with parsley), and finish with a big drizzle of tahini sauce. If you like, add some pickled onions, pickled cucumbers or thin slices of preserved lemons, totally optional.

Dinner bowls. If you're looking to cut the carbs, try something like I did with my chicken shawarma salad bowls. Grab some dinner bowls (or plates), spoon some beef, add a Mediterranean salad of your choice (tabouli is great), then add a bit of hummus on the side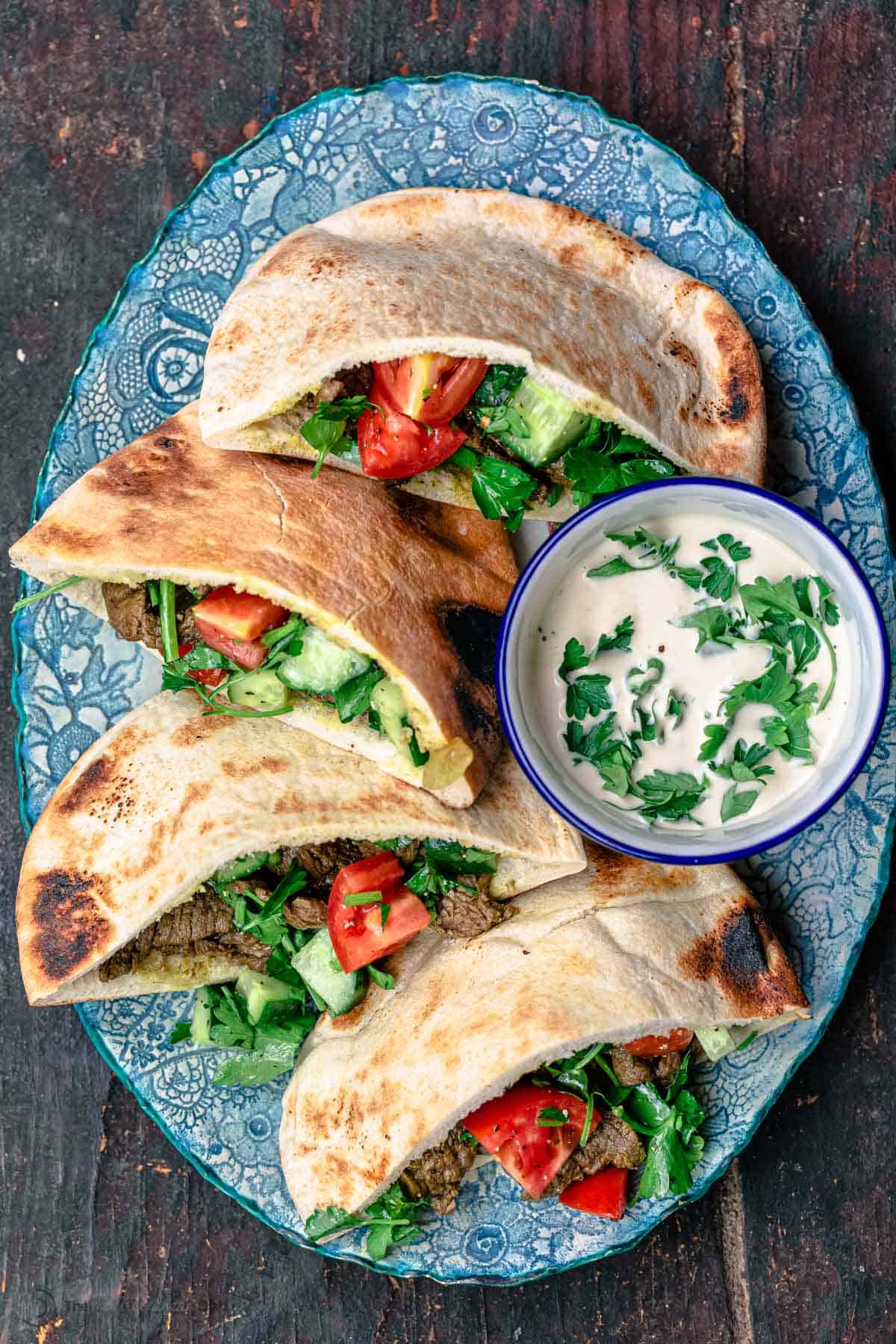 Equipment and special ingredients used in this recipe
More sandwiches and wraps you may like
Browse more Middle Eastern recipes. You may also enjoy 50+ Top Mediterranean diet recipes.
Beef Shawarma Recipe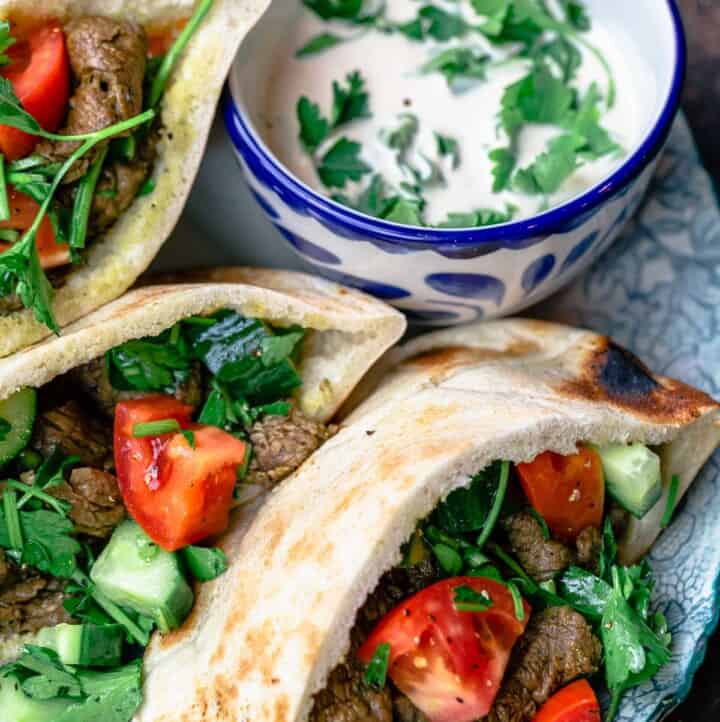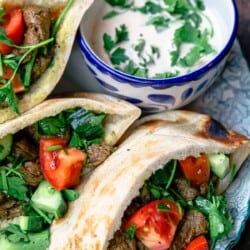 Ingredients
For Shawarma + Marinade
¼

cup

extra virgin olive oil

¼

cup

white wine vinegar

1

lemon

1 ½

lb

beef flap steak or flank steak,

cut very thinly against the grain into bite size pieces

Kosher salt and black pepper

4

garlic cloves,

minced

1

medium yellow onion,

halved and sliced
To Serve
4

Pita bread loaves,

halved (8 pita pockets)

3-Ingredient Mediterranean salad,

(or sliced tomatoes and cucumbers, and chopped parsley)

1

Homemade Tahini Sauce,

follow this tahini sauce recipe

Pickled Cucumbers,

optional.
Instructions
In the bottom of large mixing bowl, add the shawarma spices. Add the olive oil, vinegar, and zest and juice of one lemon. Using a spoon, mix to combine.

Using a chef's knife, cut the flap steak against the grain into thin bite-size slices (no more than ¼-inch in thickness).

Add the sliced meat to the bowl. Season with kosher salt and black pepper. Add the garlic and onions. Using a pair of tongs, toss very well to make sure the meat is well-coated with the marinade. Set aside to marinate at room temperature for a few minutes (or, if you have the time, cover and refrigerate for a couple of hours).

Heat a large cast iron grill pan or skillet over high heat. Using a pair of tongs, add the meat pieces, spreading them as much as you are able. Cook over high heat for anywhere between 8 and 15 minutes, until the meat is fully cooked. (If you like less liquid in your pan and extra char on the meat, you'll likely cook it for about 15 minutes. And if your pan is not large enough, cook the meat in batches).

While the meat is cooking, prepare the pita pockets and fixings. Make my 3-ingredient Mediterranean salad with tomatoes, cucumbers, and parsley. Make the tahini sauce. And prepare your pickled cucumbers, if using.

Assemble the shawarma sandwiches. Open up your pita pockets and load them up with the beef shawarma, salad, and finish with a generous drizzle of tahini sauce. Serve immediately!
Notes
This recipe makes 8 pita pocket sandwiches. The serving size is 1 pita pocket sandwich.
For spices and olive oil used in this recipe, visit our online shop here.
Storage: allow any leftover beef shawarma to cool completely, then store separately in the fridge in a tight-lid glass container. It should keep well for 2 to 3 days.
Nutrition
Calories:
206.9
kcal
Carbohydrates:
3.8
g
Protein:
18.9
g
Saturated Fat:
3.3
g
Trans Fat:
0.3
g
Cholesterol:
53.6
mg
Sodium:
204.4
mg
Potassium:
318.2
mg
Fiber:
1
g
Vitamin A:
183.9
IU
Vitamin C:
8.9
mg
Calcium:
22.3
mg
Iron:
2.1
mg
*This post and recipe first appeared on The Mediterranean Dish in 2018 and has been recently updated with new information and media for readers' benefit.