This here is all the flavor! Grilled beef shawarma recipe, and you get to mix your own shawarma spices. Serve it with warm pita and all the fixings for sandwich night (see suggestions below!)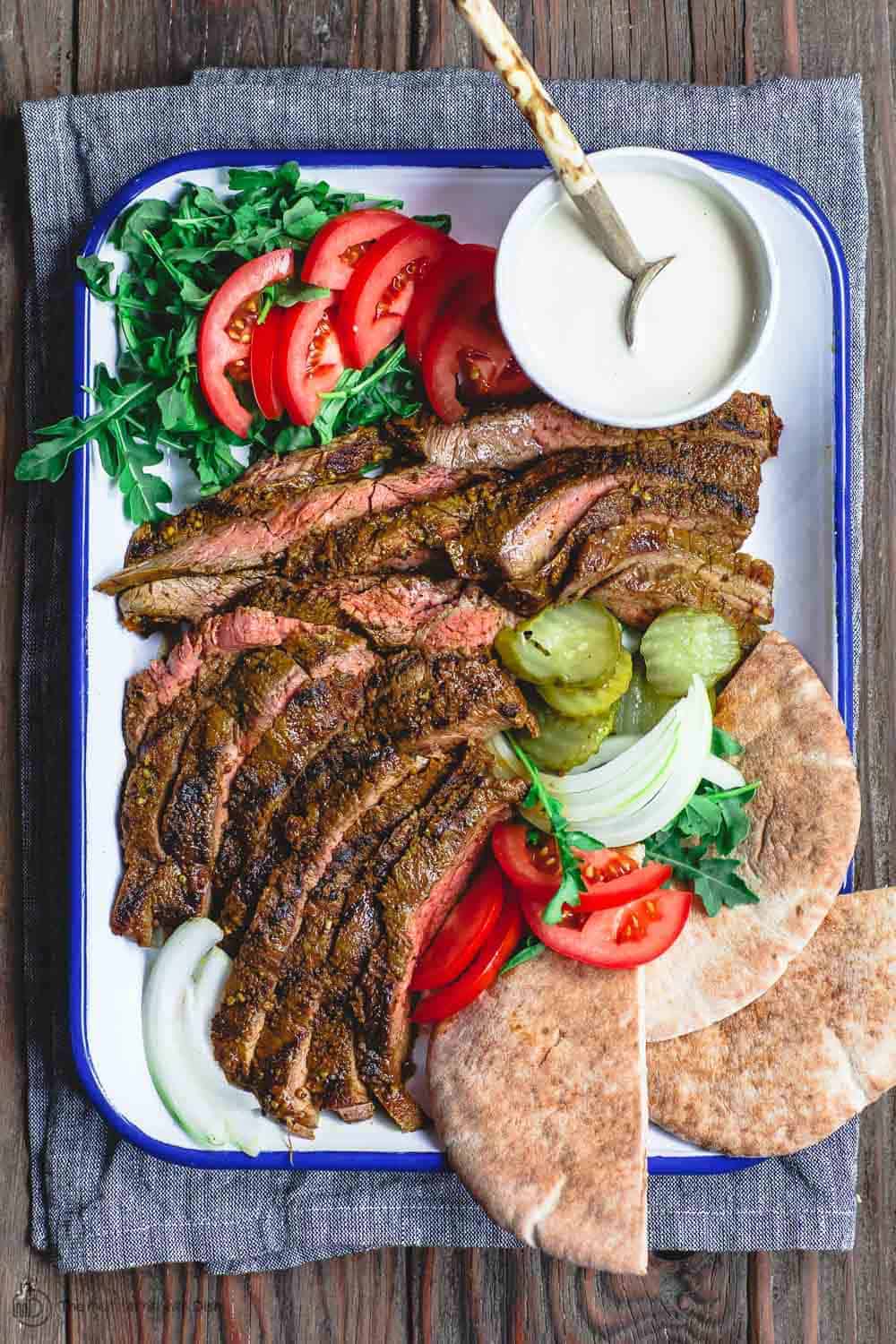 If you are familiar with Middle Eastern meat shawarma, you know that it is typically made of perfectly spiced layers of tender beef and lamb grilled on a large rotating spit. When ready, the meat is shaved off the spit and assembled into sandwiches with lots of yummy fixings.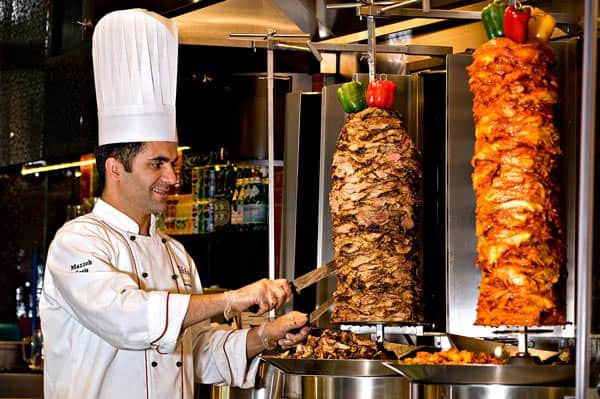 Homemade Beef Shawarma Recipe
My homemade beef shawarma recipe is a bit different. In the absence of a giant rotating skewer--because, really, who owns one of those--I used my outdoor gas grill.
And in my grilled beef shawarma version, the meat of choice is flank steak, which comes from the well-excericsed abodminal muscles of the cow, and a far is far leaner choice than what is typically used in Middle Eastern shawarma. But as lean as it is, flank steak is truly rich in flavor. And if you have to feed a crowd, it is a good economical choice for homemade beef shawarama.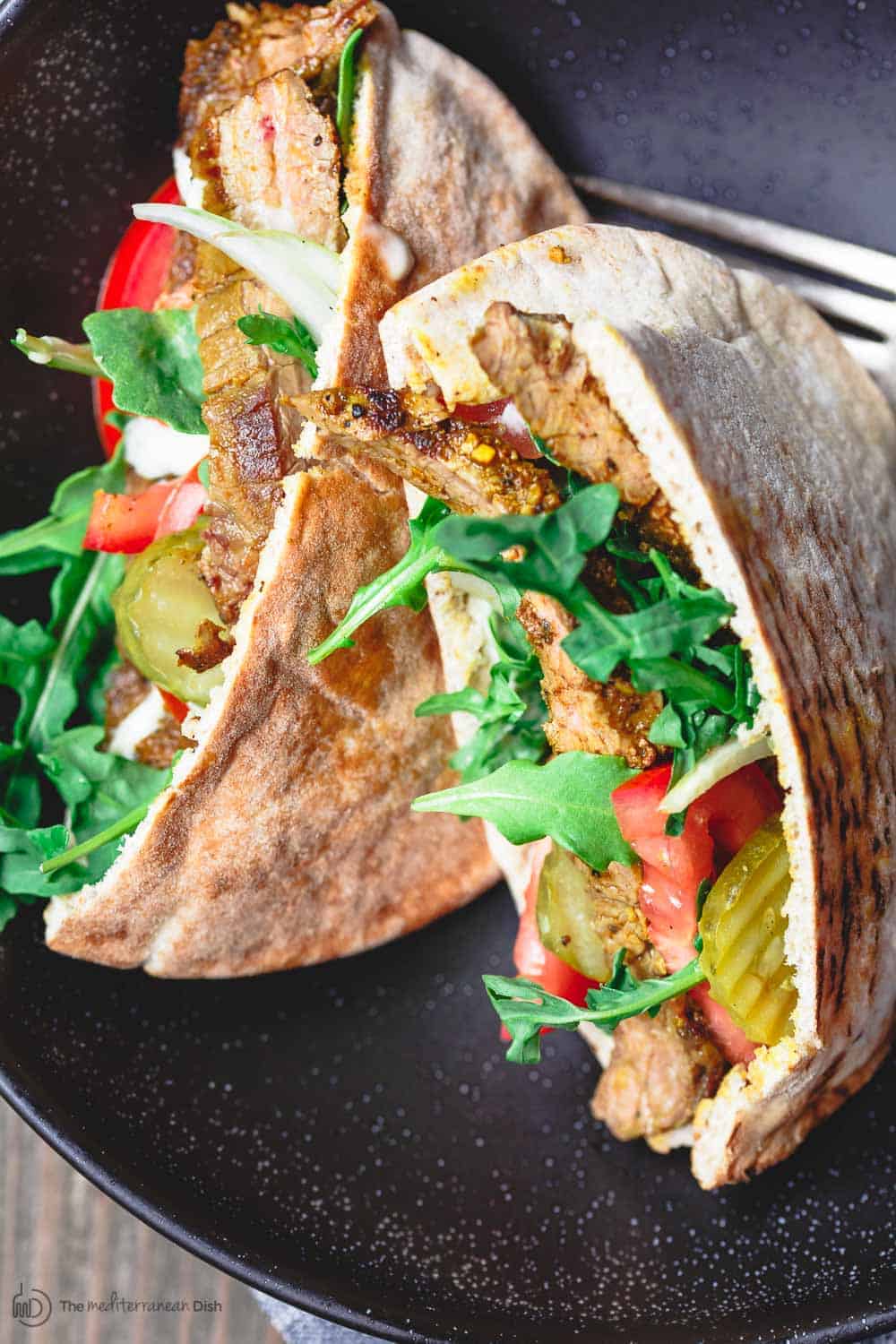 Shawarma Spices
The key to homemade shawarma, whether using chicken or beef, is in the flavor. What transforms my ordinary piece of flank steak into something resembling Middle Eastern beef shawarma is the shawarma spices.
I've been mixing my own shawarma spice rub using a set of warm and earthy spices: cumin, coriander, turmeric, paprika, cloves, cinnamon and a pinch of cayenne (most of these spices are available as part of our all-natural Ultimate Mediterranean Spice Bundle!)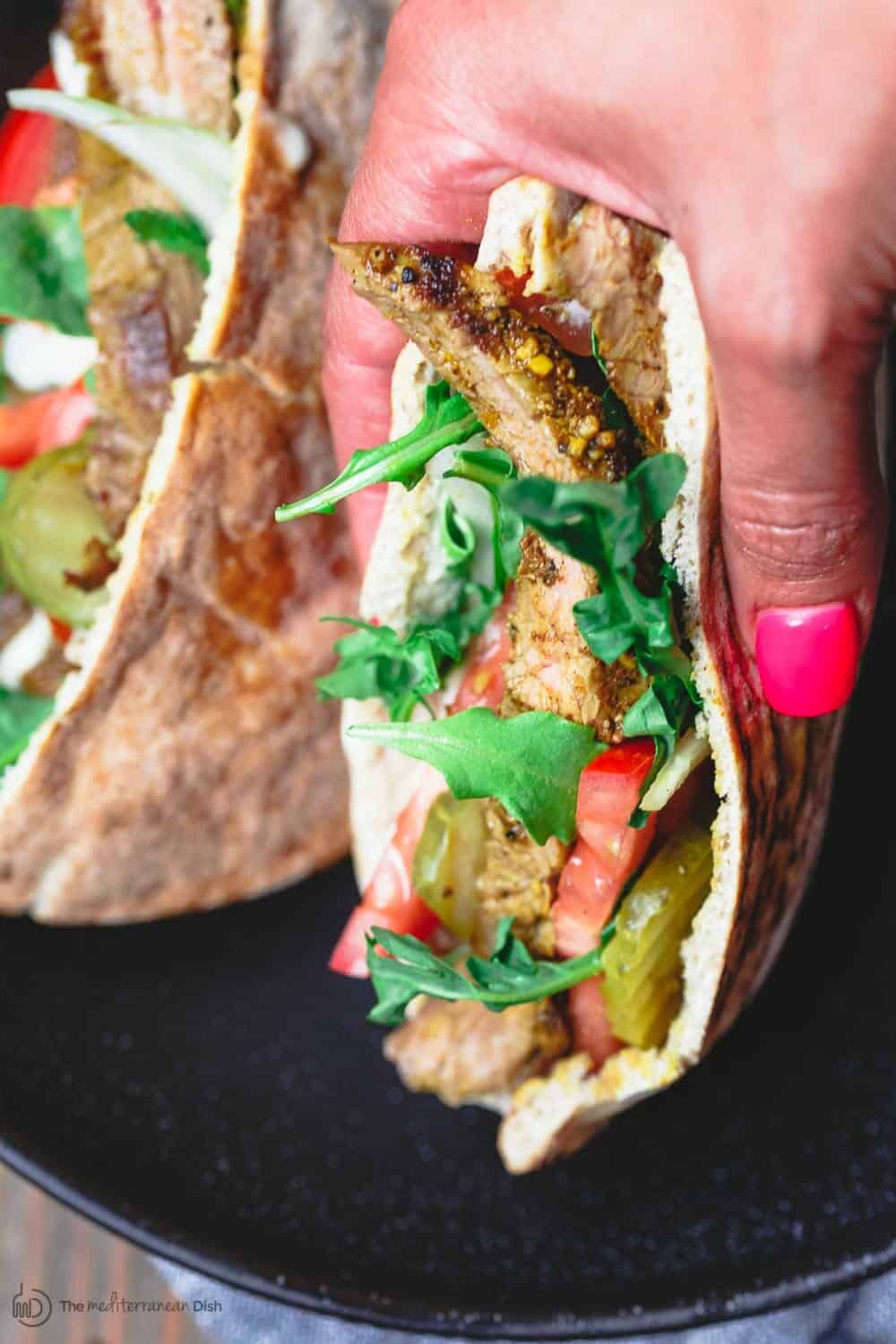 Tips for Grilled Beef Shawarma using Flank Steak
You can do this grilled beef shawarma on an outdoor grill or an indoor cast-iron griddle like this one. Here are a few tips to ensure best results
To tame the toughness of flank steak, it's a good idea to pound on each side with a weighty kitchen mallet (like this one)
For best flavor, rub the steak with the shawarma spice rub at least 1 hour before grilling or up to one night ahead.
Because flank steak is a fairly thin cut (mine was about ½ inch in the thickest part), it only needs a brief turn on high well-heated grill. About 3 to 4 minutes on each side (for a medium-rare steak. A little while longer if you like it more well-done.)
Let the grilled steak rest for a bit (5 to 7 minutes), and when ready to serve, slice the flank steak thinly against the grain.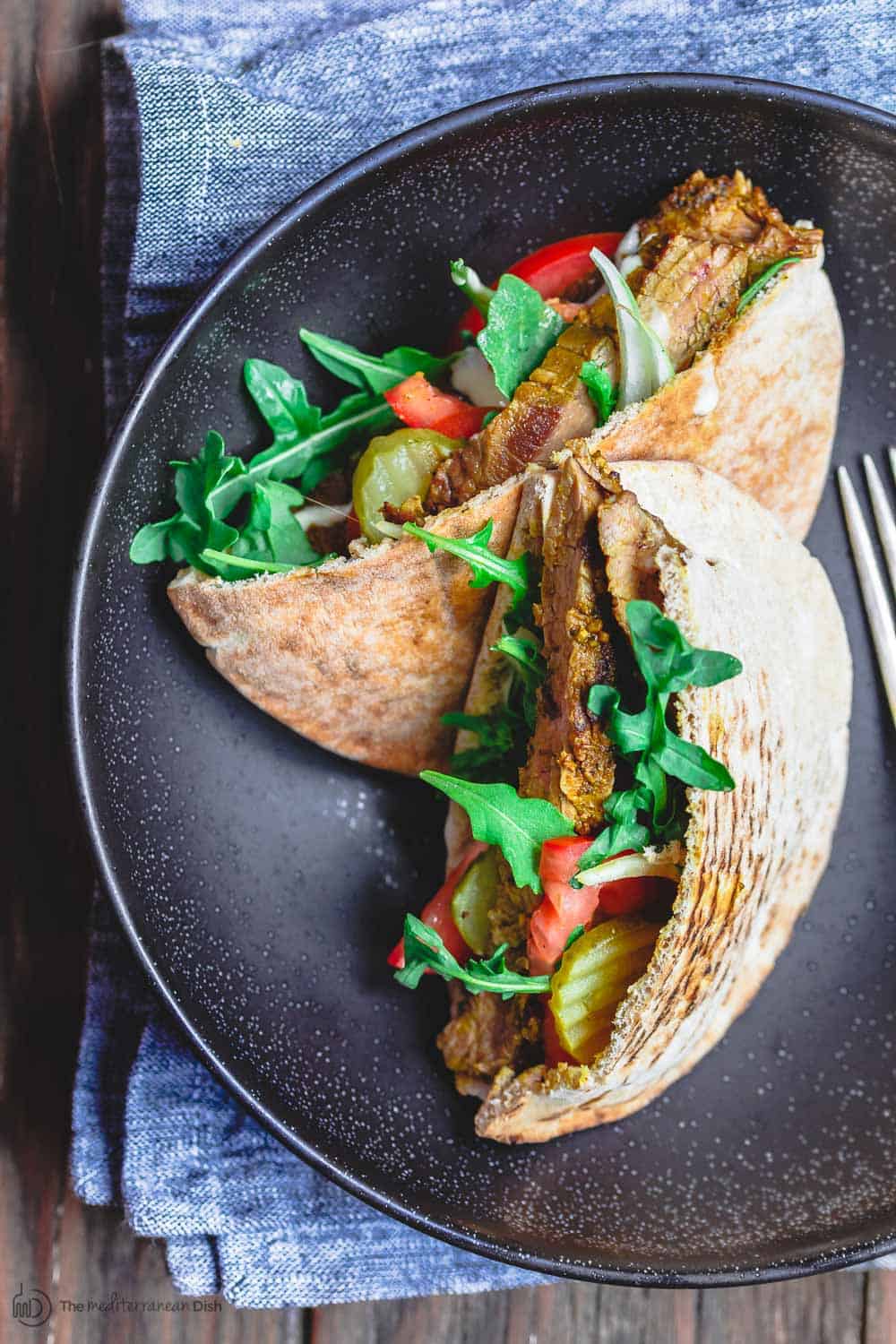 How to Serve Beef Shawarma
The best way I know to serve homemade beef sharwarma--or chicken shawarma, for that matter--is family-style where everyone gets to make their own sandwich. I usually prepare warm pita pockets and some fixings like arugula or fresh parsley (or both), tomatoes, onions, and pickles. Or, this simple 3-ingredient Mediterranean salad.
Shawarma pitas love a little sauce. Tahini is what we typically do, although this classic creamy hummus is also a great option.
Print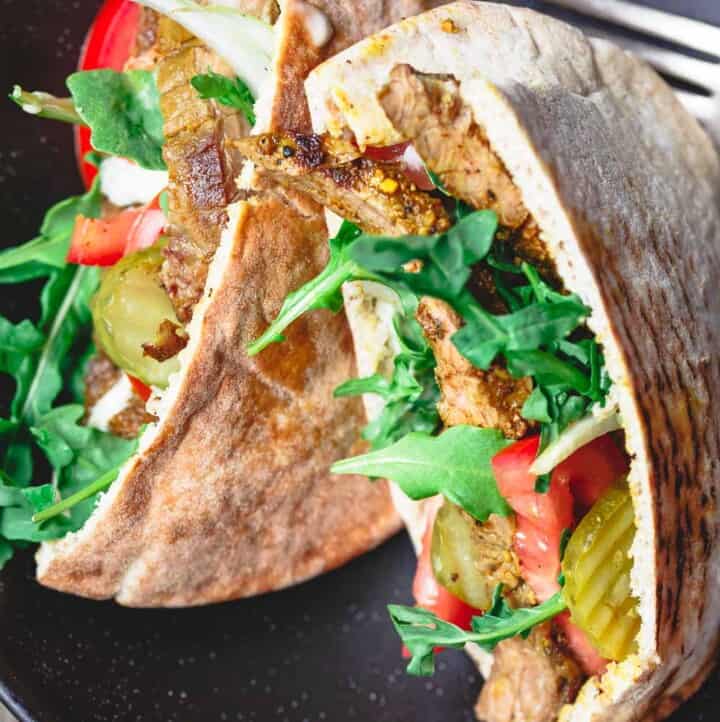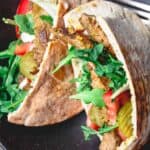 Grilled Beef Shawarma
---
Author:

The Mediterranean Dish

Prep Time:

20 mins

Cook Time:

8 mins

Total Time:

28 minutes

Yield:

serves

6

people

1

x
Description
Easy grilled beef shawarma recipe with homemade shawarma spice mixture. Add warm pita pockets, a few veggies, and tahini sauce to serve!
---
Scale
Ingredients
For Shawarma Spice Rub
1 tsp

ground cumin

1 tsp

ground coriander

1 tsp

Sweet Spanish paprika

¾ tsp

ground turmeric

½ tsp

ground cloves

½ tsp

cayenne pepper

½ tsp

ground cinnamon
For Shawarma
1.5

lb beef flank steak (about

½

inch in thickness)
Salt and Pepper
Private Reserve Greek extra virgin olive oil

3

garlic cloves, minced
Fixings
4

Pita pockets, halved
Arugula or fresh parsley (or both)

1

to

2

tomatoes, sliced
Pickles

1

red or yellow onion, sliced

1

Tahini sauce recipe OR 1 Hummus recipe
---
Instructions
In a small bowl, mix together the shawarma spices. Set aside for now.
Place steak in a heavy kitchen bag (ziplock) and seal. Place it on top of a heavy-duty board and beat with a meat tenderizer on one side. Turn steak over and beat on the other (I used this meat tenderizer)
Remove steak from the bag and season with salt and pepper on both sides. Brush both sides with extra virgin olive oil, then spread the minced garlic on each side.
Rub each side of steak with a generous amount of the shawarma spices you prepared earlier. If you have time, cover and refrigerate for a few hours or overnight (making sure you take it out and let it rest about 1 hour before grilling.) If you don't have the time for steack to marinate overnight, simply let it rest at room temperature for 30 mins to 1 hour before grilling.
While the steak is resting, pita and fixings. Make tahini sauce according to this recipe or hummus according to this recipe (if you make hummus from dry chickpeas, you'll need to work on preparing the chickpeas the night before)
When ready, heat a gas grill on high, and brush grates with oil. Give the flank steak another brush of extra virgin olive oil. Grill on high heat for 3 to 4 minutes per side, turning over once (this should produce a rare to medium-rare steak, but I let mine stay on a bit longer for those who like it more well-done.)
Transfer steak to a cutting board and let rest for 5 to 7 minutes. Cut against the grain into thin slices.
Serve grilled beef shawarma in pita pockets with tahini sauce (or hummus) and arugula, tomatoes, onions, and pickles. Enjoy!
Category:

Entree

Method:

Grill

Cuisine:

Middle Eastern
Keywords: Beef shawarma, homemade beef shawarma, homemade shawarma, shawarma recipe, beef shawarma recipe, grilled shawarma recipe, grilled beef shawarma
More Recipes to Try
Grilled Salmon with Mango Salsa