These easy, healthy shawarma bowls are made with quick skillet chicken and a bright Mediterranean arugula salad with tomatoes, cucumbers and a tangy lemon garlic dressing! And you get to mix your own shawarma spices for this chicken shawarma salad.
Read on for tips and watch my video tutorial below for this quick weeknight dinner.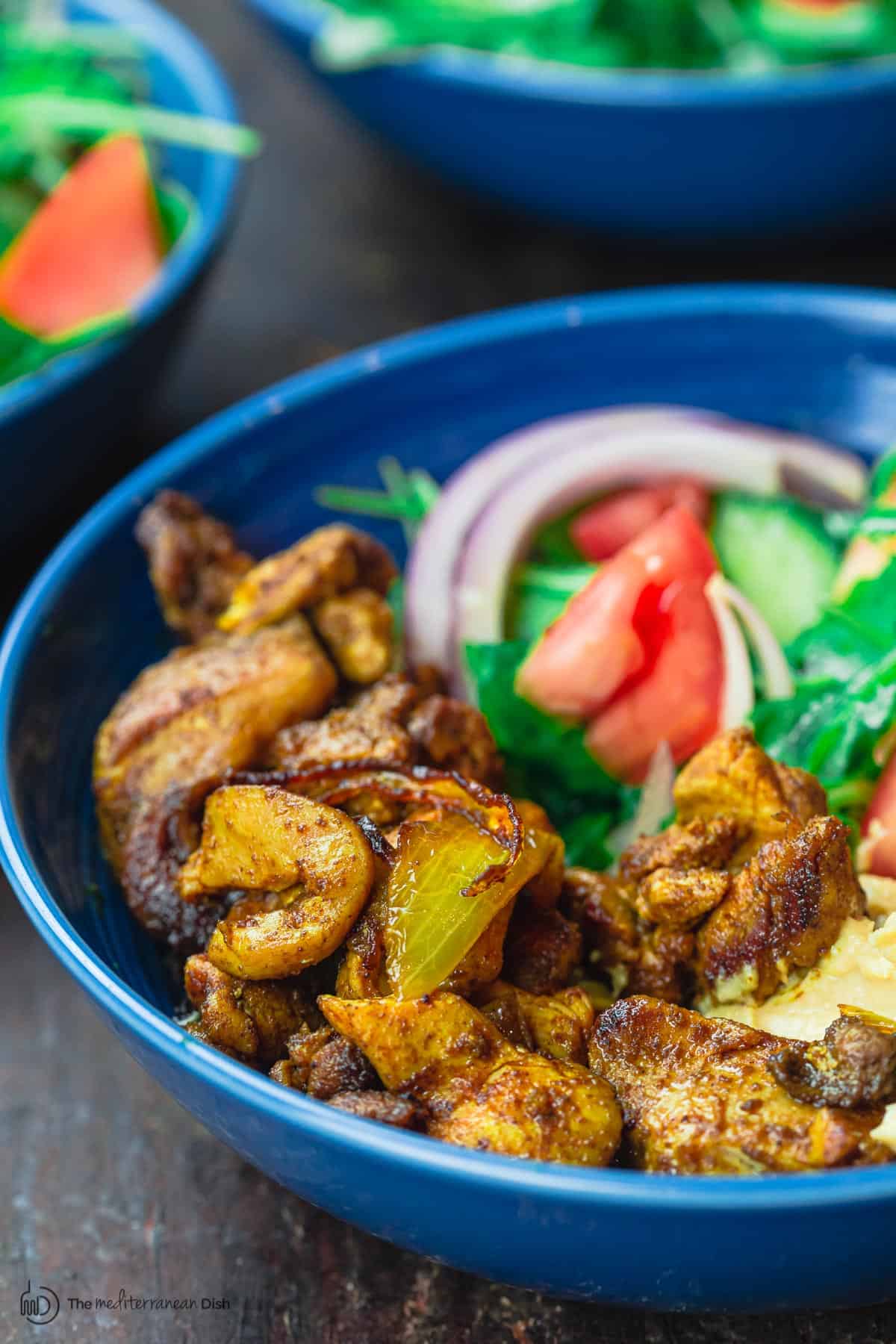 Shawarma!
Traditional shawarma is made from either chicken, beef, veal, lamb, or a mixture of meats. The seasoned meat is alternated with strips of fat on a vertical spit (which is a tall pole the meat sits on, spins, and cooks for a long time.) The spit acts like a rotisserie, making the meat extremely juicy and tender…YUM. The fat and meat pieces melt together, giving the meat its unique flavor and texture.
After some hours, when the meat has finished cooking, it is thinly shaved from the spit with a knife and traditionally paired with pita, fresh toppings, veggies, and sauces like hummus, tahini, or baba ganoush.
If you've been reading this blog for any length of time, you know that Chicken Shawarma is one of my absolute favorite Middle Eastern street foods!
And I've found a couple different ways to make quick and healthy chicken shawarama right at home. We're talking tender, juicy chicken pieces, loaded with the most amazing warm and earthy spices, including: cumin, paprika, turmeric, coriander, and a pinch of cayenne for a spicy kick!
And for an easy weeknight meal, serve it in pita pockets or turn it into shawarma bowls!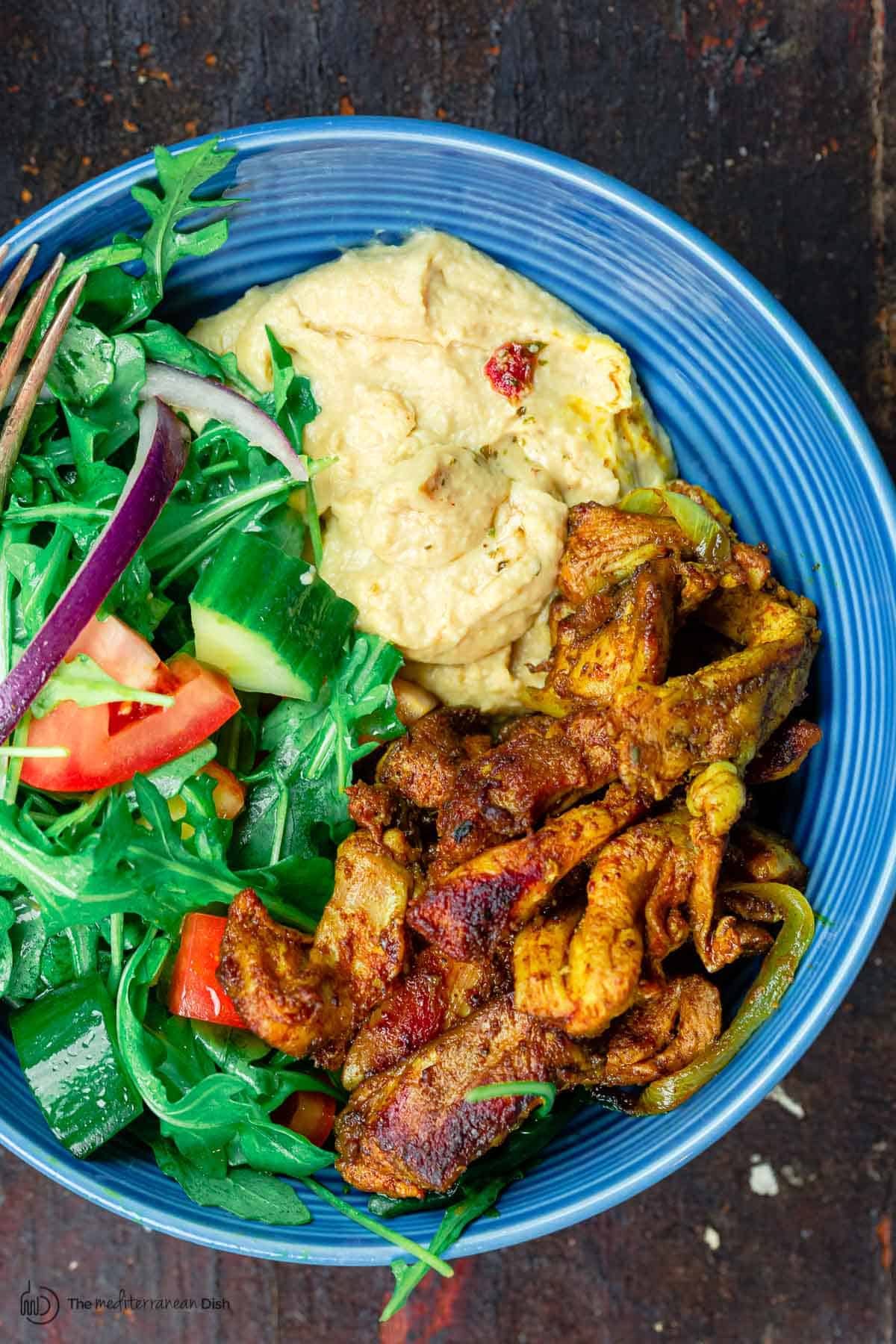 Two Ways to Make Homemade Chicken Shawarma
The great thing is, you don't need special equipment to make chicken shawarma at home. There are a couple of easy ways to prepare it:
1. Like I showed you earlier, you can make baked chicken shawarma in a sheet pan and serve it in pita pockets like they do on the streets of the Middle East.
2. Today's skillet-cooked chicken shawarma. And if you're looking for a lower-carb option, swap the pita for peppery arugula and add veggies like tomatoes, cucumbers, and onions. Shawarma salad bowls!
There is something about throwing fresh, delicious, and flavorful ingredients into a bowl that makes the meal feel so comforting and satisfying. Bowls are seriously all the rage lately! Perfect for a tasty dinner and great for meal prep and grab-and-go lunches during the busy work week. Chicken shawarma salads will please your whole family. And if you want those carbs, serve with chewy pita bread!
If this is your first-time cooking chicken shawarma, this is one of the easiest recipes to start off with! Quickly cooked in a skillet instead of an oven, but still juicy and flavorful!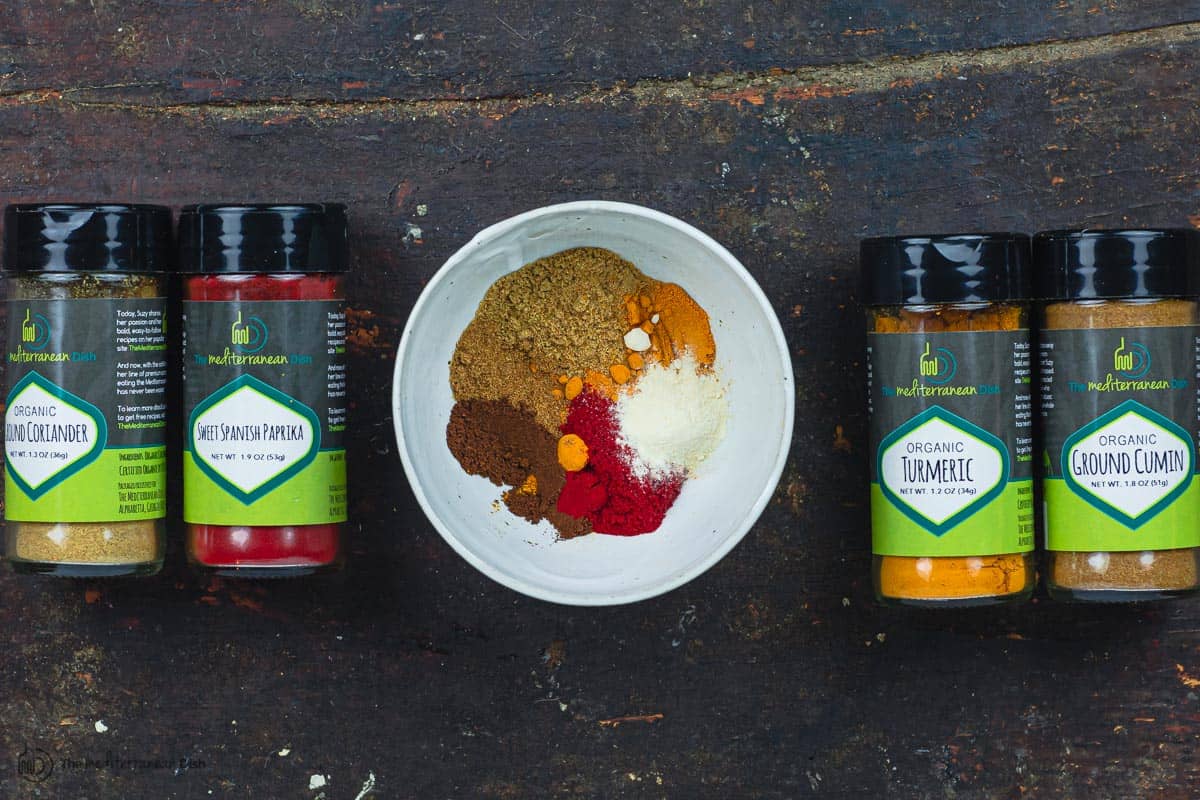 Shawarma Spices: Make Your Own Homemade Mixture
The homemade shawarma spice mixture is key. I use the same spice mixture here that I have used in my baked shawarma recipe.
The flavors are bold, warm, earthy, and it gets a little kick from the cayenne. If you want it spicier, add more cayenne, or if you're not that into spicy food, you can totally leave it out. Here's the list of all-natural spices to make your very own homemade chicken shawarma spice mixture: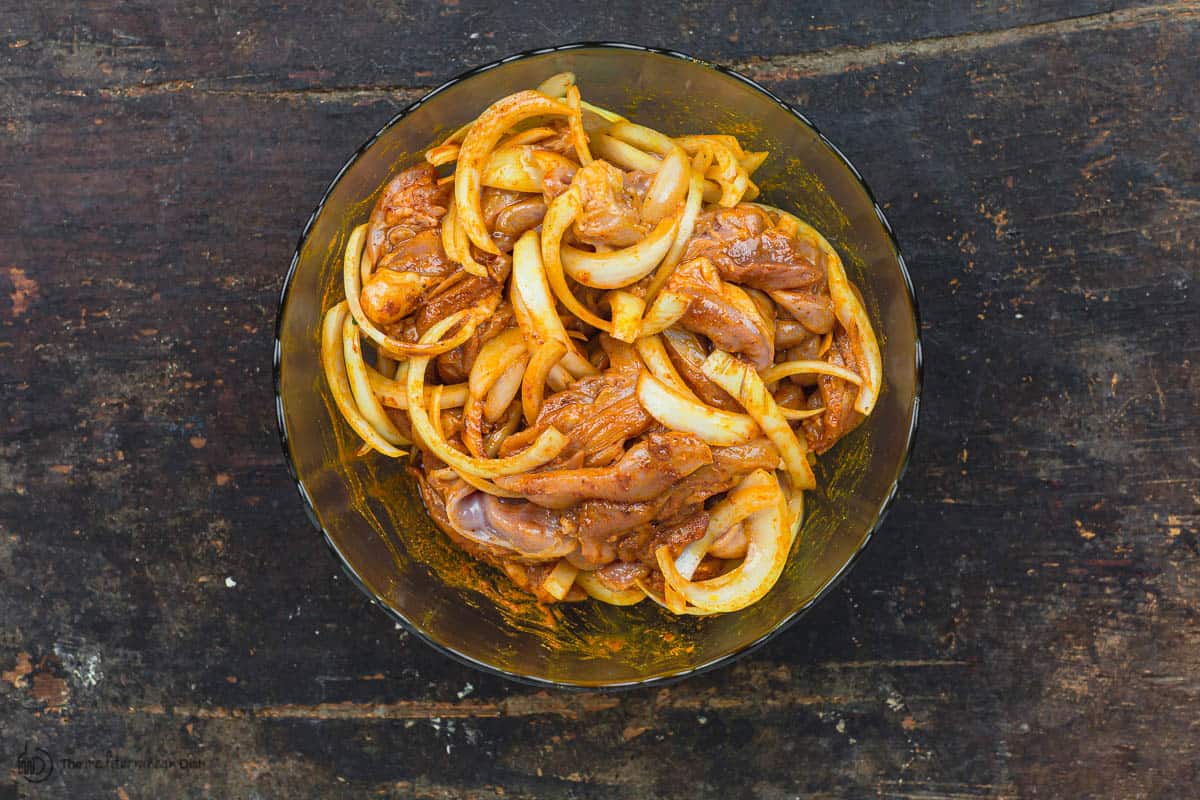 Chicken Shawarma Salad Bowls
For this easy shawarma bowls recipe, there are two simple components: preparing and cooking the chicken and assembling the salad (plus whipping up the shawarma dressing.) Here is how:
Make Chicken Shawarma
Pat your chicken thighs dry with a paper towel. Slice into thin bite-sized pieces and place chicken into a large bowl. Sprinkle on the shawarma spice mixture, add 1 thinly sliced onion, olive oil, and the juice of 1 lemon. Toss to combine. Let sit while you prepare the salad.
Tip – If you have the time, you can marinade the chicken overnight in the fridge for even more intense flavor!
When ready, saute chicken in cast iron skillet with a bit of extra virgin olive oil (1o to 12 minutes or until fully cooked).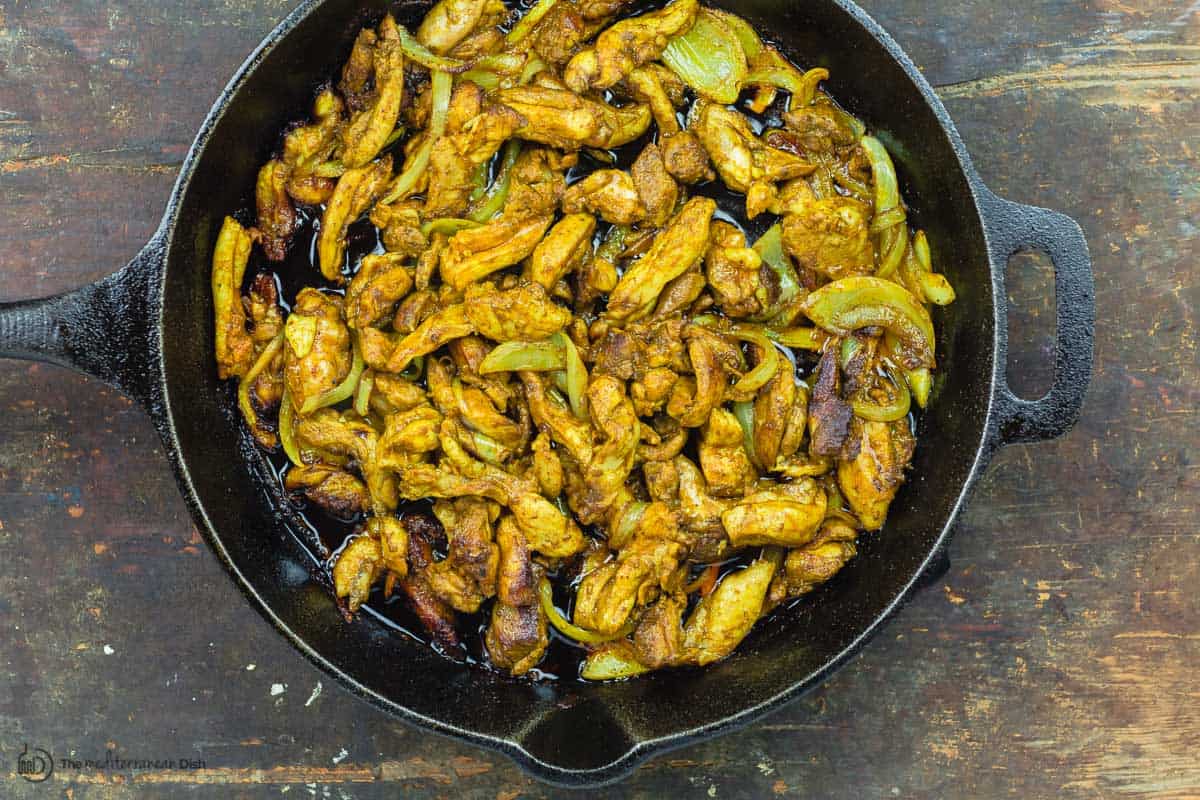 Make Salad
Place the arugula in a large bowl. Dice the tomatoes and cucumbers and thinly slice your onions and put them into the bowl. In a small bowl, combine the olive oil, lemon, minced garlic clove, Sumac, and salt and pepper to taste. Dress salad and toss well.

Assemble Your Chicken Shawarma Salad!
Divide the dressed salad into serving bowls. Add the delicious and fragrant chicken shawarma pieces.
How to Meal Prep Chicken Shawarma Bowls
Make the chicken the same way as the regular recipe.
Make the salad according the recipe instructions, but do NOT add the dressing. Keep dressing on the side in a little container to add right before you eat the salad.
Divide salad and chicken evenly between airtight containers. The salad is best eaten within 2-4 days after assembled and kept in the fridge.
You can also put sides (hummus, tzatziki, and baba ganoush) in small containers as well to avoid eating a soggy salad.
What to Serve Along?
Here's where things get extra fun! Adding a side of hummus, tzatziki, or baba ganoush to the bowl will give you even more flavor, texture, and volume. A creamy little side also gives a shawarma bowl a little more pizzazz.
Do you love crunchy things in your salad? Then you MUST add these super crunchy roasted chickpeas on top!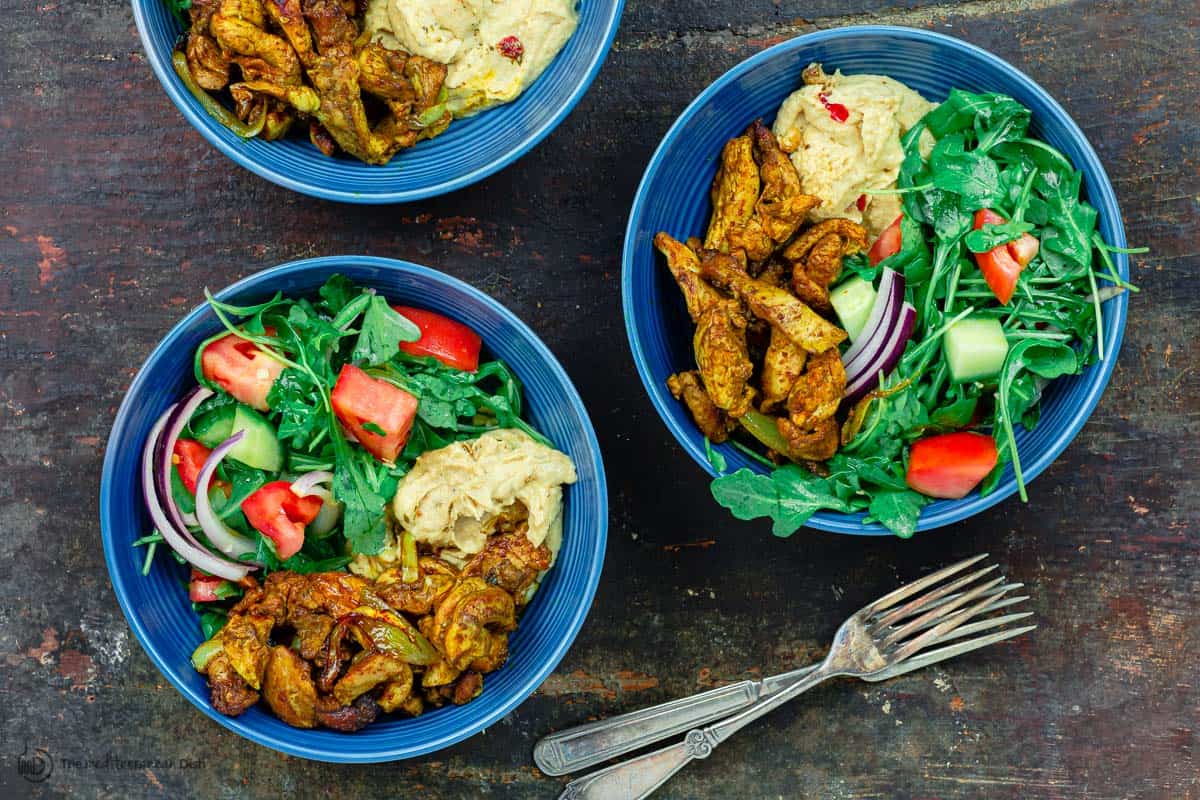 Leftovers?
Salad that has already been dressed won't fare as well in the fridge, so hold the dressing in a separate container and dress as needed. If you have leftover chicken shawarma, you can store in an airtight container for 3 to 4 days.
Watch the Video for How to Make these Shawarma Bowls:
Looking for Mediterranean diet friendly recipes? See our collection of Mediterranean diet recipes here.
Join my e-mail list HERE to receive new recipes and my weekly dinner plan!
VISIT OUR ONLINE SHOP FOR QUALITY OLIVE OILS, ALL-NATURAL SPICES AND MORE
Print
Chicken Shawarma Salad Bowls
---
Description
These homemade chicken shawarma bowls made with quick skillet-cooked shawarma-spiced chicken thighs is sure to make it into the weekly rotation. Serve with a bright, vegetable Mediterranean arugula salad.
---
For the Chicken Shawarma
For the Salad
8 oz

baby arugula

2

to

3

Roma tomatoes, diced

1

English cucumber, diced

¼

red onion, thinly sliced
Juice of

1

lemon
Extra Virgin Olive Oil (Private Reserve or Early Harvest Greek EVOO)

1

garlic clove minced
Salt and pepper
Sumac (about ½ teaspoon to 1 teaspoon sumac)
To serve (optional)
---
Instructions
In a small bowl, mix the cumin, turmeric, coriander, garlic powder, sweet paprika and cloves. Set aside the shawarma spice mix for now.
Pat the chicken thighs dry and season with salt on both sides, then thinly slice into small bite-sized pieces.
Place the chicken in a large bowl. Add the shawarma spices and toss to coat. Add the onions, lemon juice and olive oil. Toss to combine. Set aside for now, while you prepare the salad (and if you have time, cover and refrigerate for a couple hours or overnight.)
Prepare the salad. Place the arugula, tomatoes, cucumbers, and onions in one large mixing bowl. In a small bowl make the dressing combine lemon juice, olive oil, garlic, salt, pepper and sumac. Mix well. When ready, pour dressing over the salad and toss to combine.
Heat a little bit of extra virgin olive oil in a large cast iron skillet over medium/medium-high heat until shimmering but not smoking. Add the chicken, cook for about 5 to 6 minutes, then toss and cook another 5 to 6 minutes or until chicken is fully cooked (I like a bit of color on my chicken, so I tend to go a bit longer until chicken is browned and crusted in some parts.)
When ready, divide the salad into serving bowls. Add chicken shawarma. If you like, add a side of hummus, tzatziki or tahini. Add warm pita wedges if needed. Enjoy!
Prep Time:

15 mins

Cook Time:

10 mins

Category:

Entree

Method:

Sauteed

Cuisine:

Mediterranean
Keywords: Chicken Shawarma Salad, Shawarma Bowl, Shawrama Spices