Not your average grilled cheese sandwich, these are so much more! Pita Grilled Cheese stuffed with Mediterranean favorites including melty mozzarella, feta, spinach, sun dried tomatoes, and a little basil pesto. Add your favorite salad or tomato basil soup for a complete meal!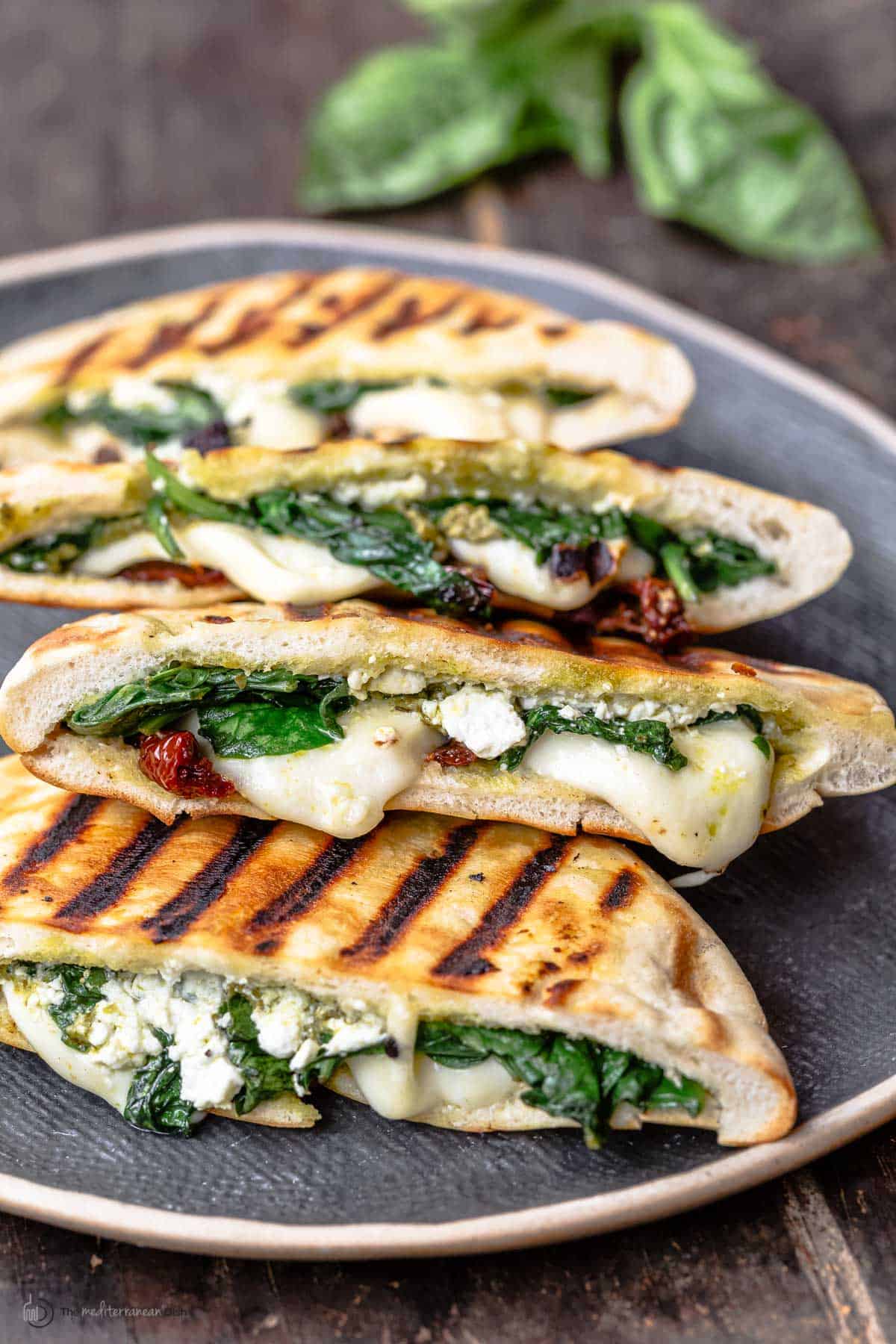 Grilled cheese with a Mediterranean twist!
The grilled cheese sandwich is an American classic everyone loves! And I won't blame you if the first thing you picture when you hear grilled cheese is heavily buttered toast and melty American cheese, maybe served next to a bowl of tomato soup. But today is about a different grilled cheese experience with a bit of a Mediterranean twist!
First off, instead of sandwich bread, we use pita pockets in this recipe. I am a huge fan of using pita for sandwiches, like in my ground beef pita sandwiches! In today's recipe, you end up with delicious pockets of pita bread filled with Mediterranean favorites, replacing your typical yellow cheese squares with melty mozzarella and rich, salty feta, and even sneaking in a good handful of baby spinach. Sweet sun-dried tomatoes and a few spoons of basil pesto seal the deal!
I won't be offended if you take a shortcut and use store-bought basil pesto, but if you're after the real deal, definitely try my homemade basil pesto recipe (I share couple of tips that make all the difference).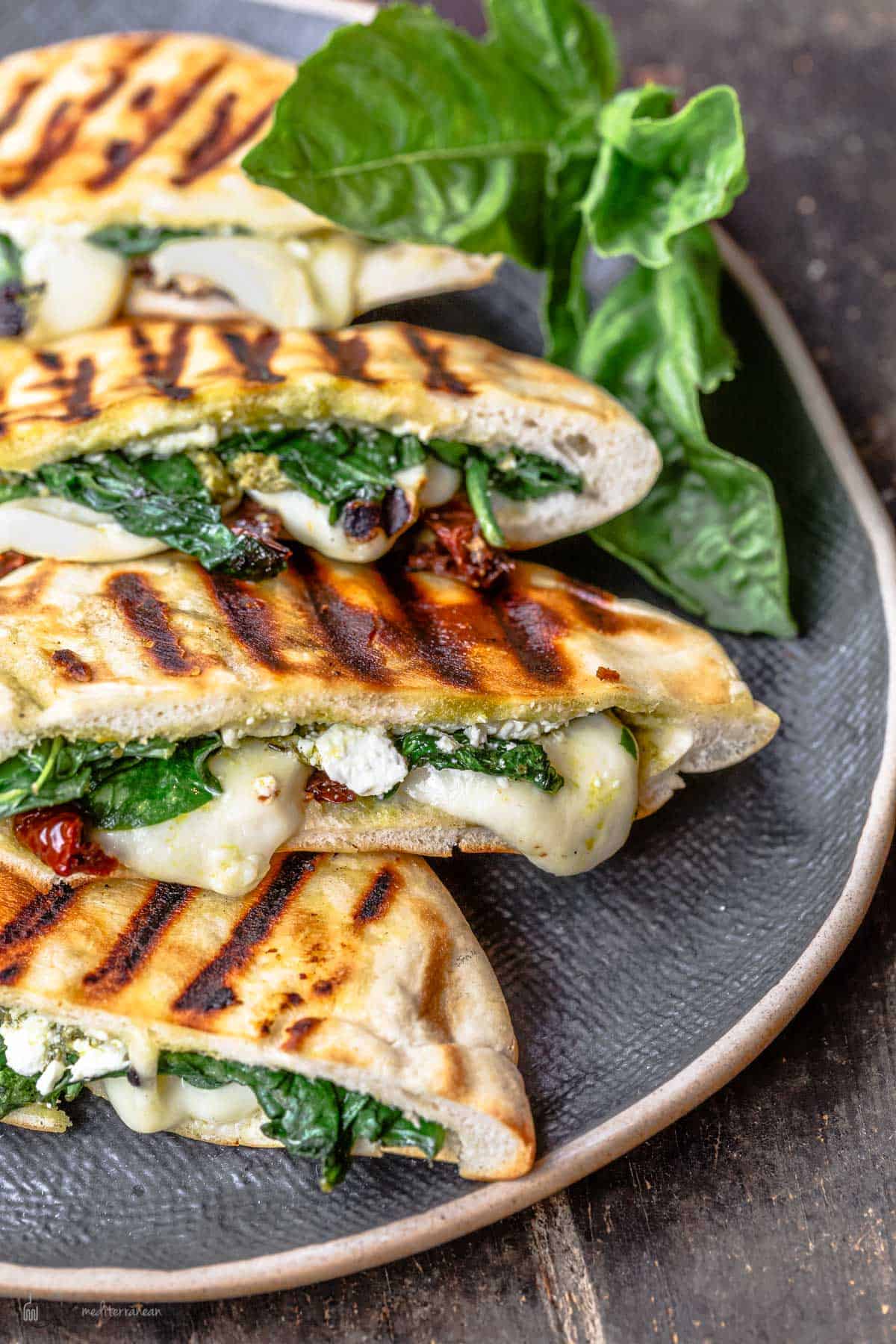 Can you use any cheese for grilled cheese?
Some skeptics may decide that only American cheese or chedder cheese are right for a grilled cheese sandwich, but I will say that mozzarella and feta are also worth considering! In fact, together, melty mozzarella and creamy, salty feta provide the perfect flavor balance and texture in these cheese pitas! So worth a try!
You do not need a panini press to make this!
Sure, if you have a panini press, go ahead and use it to make this grilled mozzarella sandwich, but you do not need one! A grill pan is perfectly enough to make these pita grilled cheese sandwiches (I use this grill pan). And to apply pressure over my pita pockets as they cook in the hot pan, I simply use a heat-safe spatula.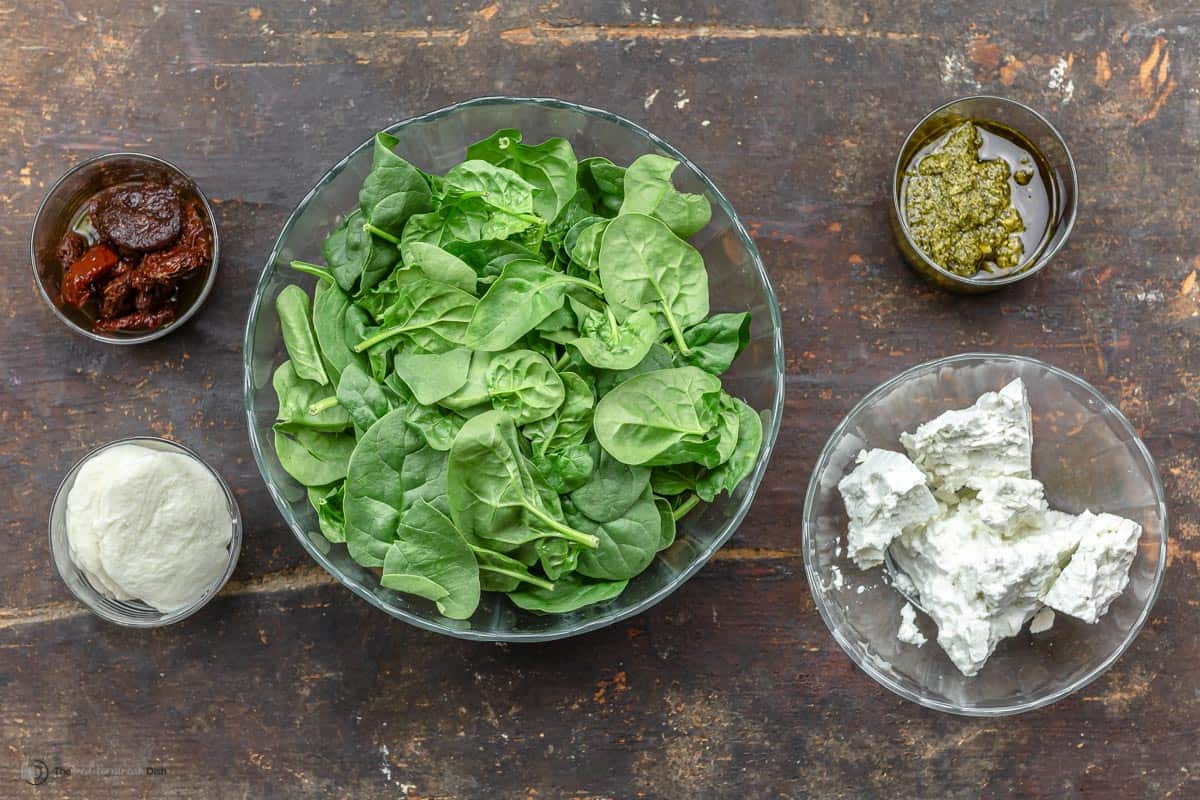 Ingredients
Here's what you'll need to make these pita grilled cheese
Fresh mozzarella
Feta cheese
Baby spinach
Sun-dried tomatoes packed in olive oil
Basil pesto (homemade or store-bought)
How to make pita grilled cheese
For my friends who are more visual, here are the steps with photos to make this recipe (print-friendly recipe just below)
Sautee the spinach in your pan with a bit of extra virgin olive oil
Your goal is just to get the spinach to wilt so that it's easy to add in your pita. Season the spinach with a bit of kosher salt to your liking.



Stuff the pita pockets with the mozzarella, feta, sautéed spinach, bits of sun-dried tomato, and basil pesto



Grill the pitas
Heat the grill pan over medium-high heat. Brush the pitas with a little bit of extra virgin olive oil and arrange them in the grill pan (they should each touch the hot pan). Turn the pitas over as needed to make sure both sides are crisp and golden brown and the mozzarella is melted.


Pro tips
Use pita bread that is two-ply, the kind you can cut in half to make pockets that can be stuffed. Here is my homemade pita bread recipe, but you can also find it at some grocery stores.
Use medium-high heat to grill the pitas, and manage the heat as needed.
Watch for the mozzarella to melt and the pita to crips up and gain some good color on both sides. Be ready to turn the pita as needed so that the bread does not burn.
And if the bread has crisped up and gained color but the mozzarella has not fully melted, you can cover the pan briefly to trap the heat and help the mozzarella to melt. Manage the heat, turning it down so that the bread does not burn.
More feta recipes
Related recipes you may like
Hungry for more? View all Mediterranean recipes.
Visit Our Shop for quality Mediterranean ingredients.
Mozzarella and Feta Pita Grilled Cheese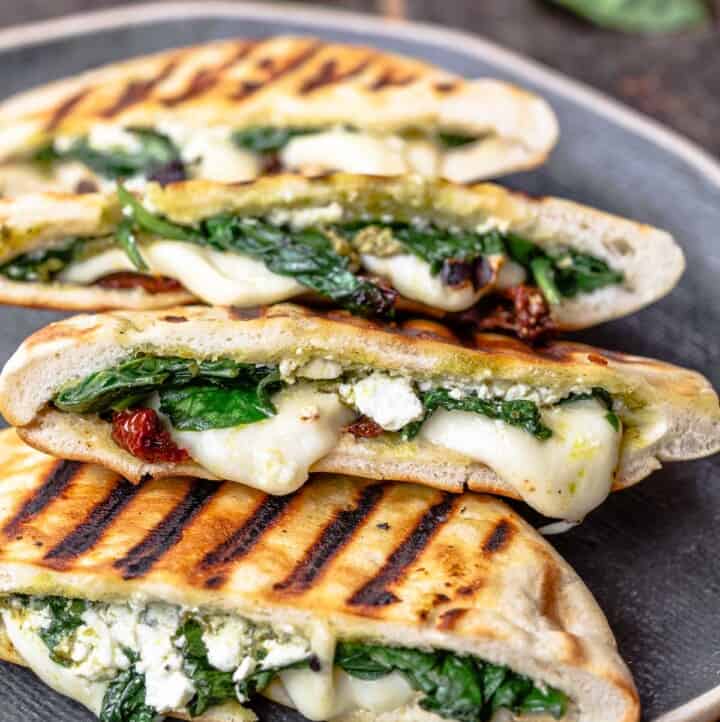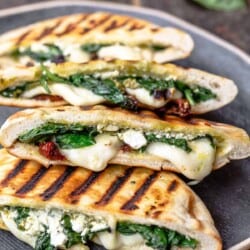 Pita Grilled Cheese stuffed with Mediterranean favorites including melty mozzarella, feta, spinach, sundried tomatoes, and a little basil pesto. Add your favorite salad for a complete meal!
Ingredients
3

heaping cups baby spinach

4

pita pockets

from 2 pita loaves cut in half

3

ounces

feta cheese

more as needed

¼ to ⅓

cup

basil pesto

3 to 4

ounces

fresh mozzarella cheese

sliced into ¼-inch slices, more as needed

⅓

cup

sundried tomatoes packed in oil

drained, chopped
Instructions
Sautee the Spinach. In a grill pan, heat 1 tablespoon extra-virgin olive oil over medium-high heat until shimmering. Add the spinach and cook for a couple of minutes, tossing, until wilted. Transfer the spinach to a plate for now and turn the heat off.

Assemble the sandwiches. Open up the pita pockets (it helps to warm the pita so they don't break when you open them). Spread the feta on the bottom followed by basil pesto. Spoon a bit of the wilted spinach on top. Add the mozzarella and sundried tomatoes.

Grill the pitas. Heat the grill pan again over medium-high. Brush the pitas with extra virgin olive oil on both sides. Arrange the pita sandwiches in the heated pan, making sure they are all touching the hot pan. Cook for 1 to 2 minutes or so on one side, applying pressure on the top part of the sandwich with the back of a spatula, turn over and cook for another couple minutes, applying pressure again with your spatula, until the cheese is melted and the bread gains some beautiful char marks. Manage the heat to make sure the bread is well-crisped but not burned and the mozzarella is melted (you may need to cover the pan very briefly).
Notes
To complete the meal, select a Mediterranean salad to serve along!
Visit Our Shop to browse quality Mediterranean ingredients including olive oils and spices.
Nutrition
Calories:
266
kcal
Carbohydrates:
21
g
Protein:
13.1
g
Fat:
14.8
g
Saturated Fat:
4.3
g
Cholesterol:
29.4
mg
Sodium:
643.1
mg
Potassium:
197.4
mg
Fiber:
1.4
g
Vitamin A:
644.4
IU
Vitamin C:
9.5
mg
Calcium:
161.5
mg
Iron:
0.8
mg