I'm one of those people who will eat soup all year round. Rain or shine. But there is just something a little extra special about a hot bowl of soup–enter vegan potato leek soup–on a blistering cold day!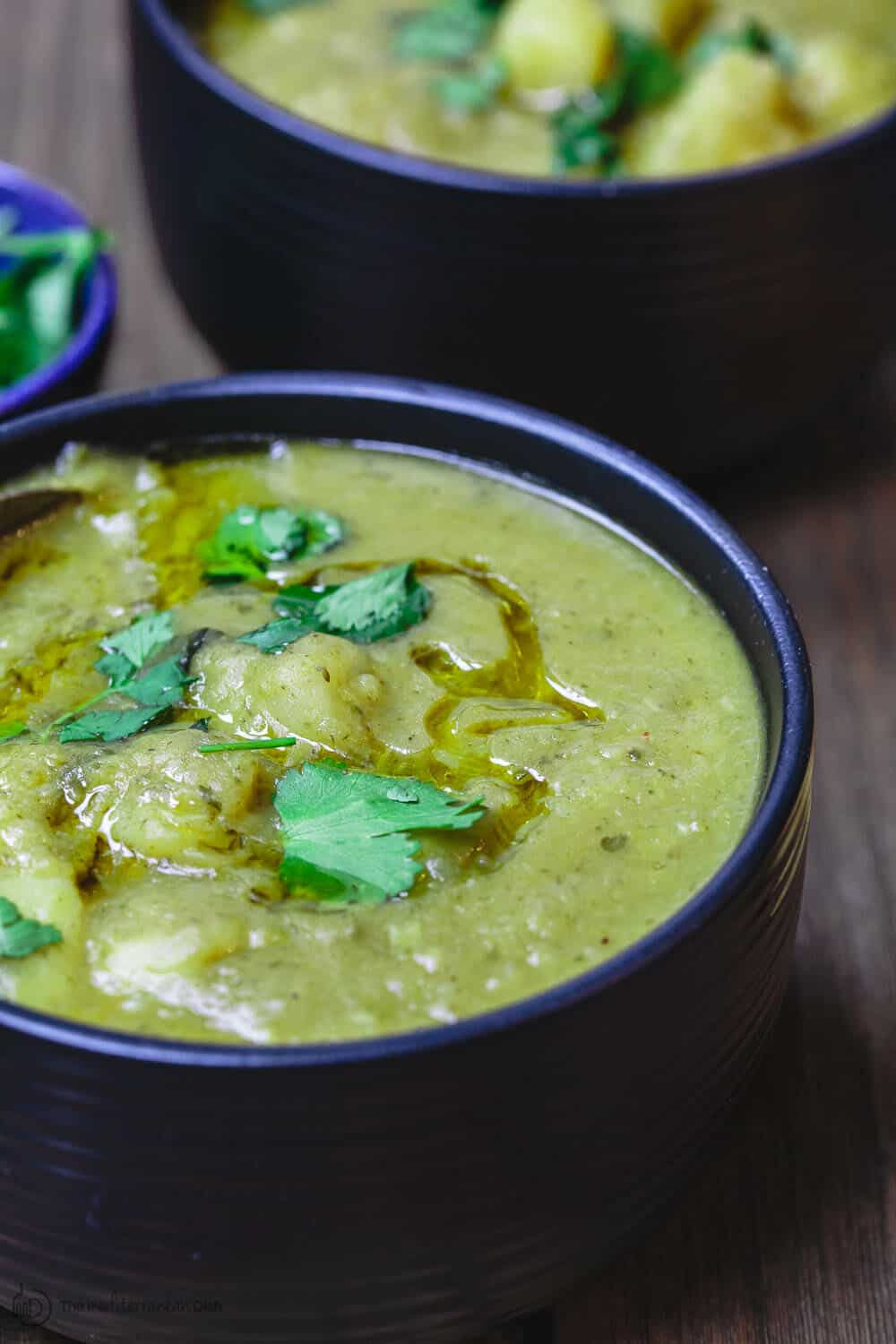 This is a bit of a Mediterranean riff off potato leek soup.  It takes inspiration from my Mom's Egyptian potato soup, which starts with a finely ground mixture of garlic and cilantro. (don't worry, if you don't love cilantro, I have another version for you below).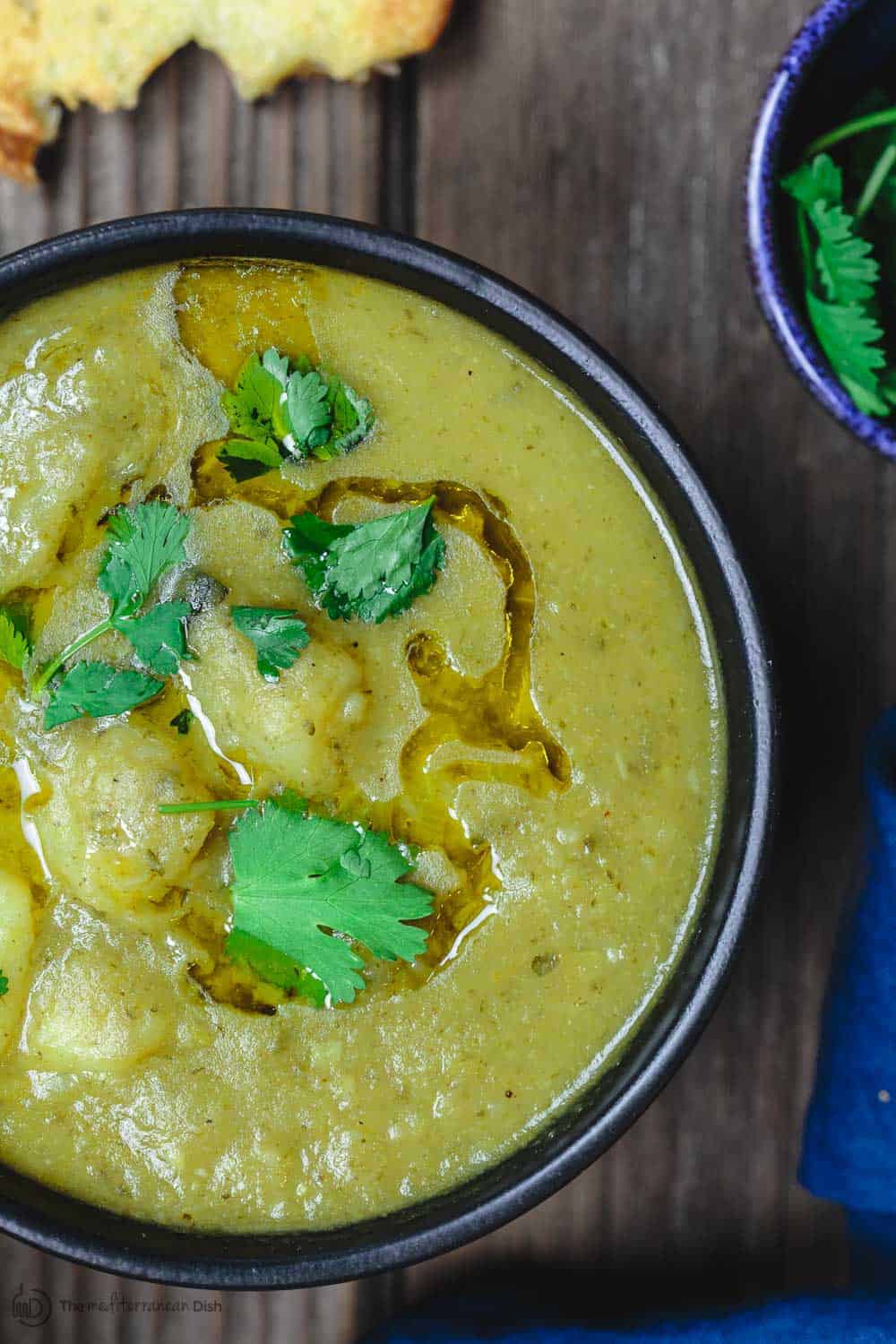 VIDEO TUTORIALS
Borrowing from my mom, I started this potato leek soup the same way.
First, I sauteed the leeks along with the fresh cilantro and garlic paste in a bit of Greek extra virgin olive oil. Yukon gold potatoes–which are creamier in texture–and warm spices like cumin and paprika, join in. A good toss to coat everything before adding the vegetable broth (Notice, no cream added here.) From there, everything just simmers to tender perfection.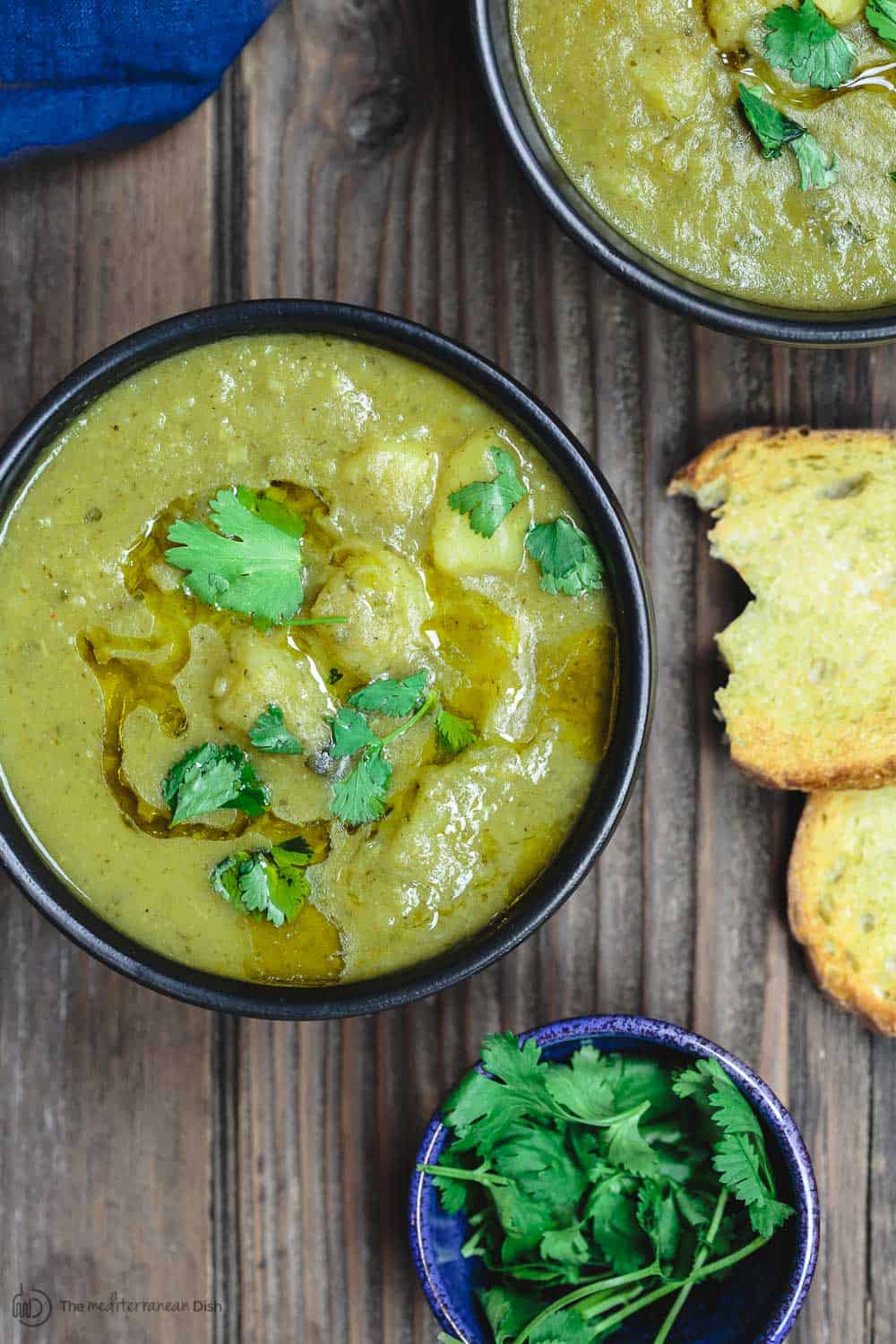 I like my potato leek soup to have a bit of a rustic, chunky texture. And my favorite way to finish it is a drizzle of good extra virgin olive oil and a splash of fresh lemon juice. Pass the crusty bread, y'all!
Important–remember that leeks grow in very sandy soil; it's important to clean them well. Here's a little video on how to clean leeks that I found helpful.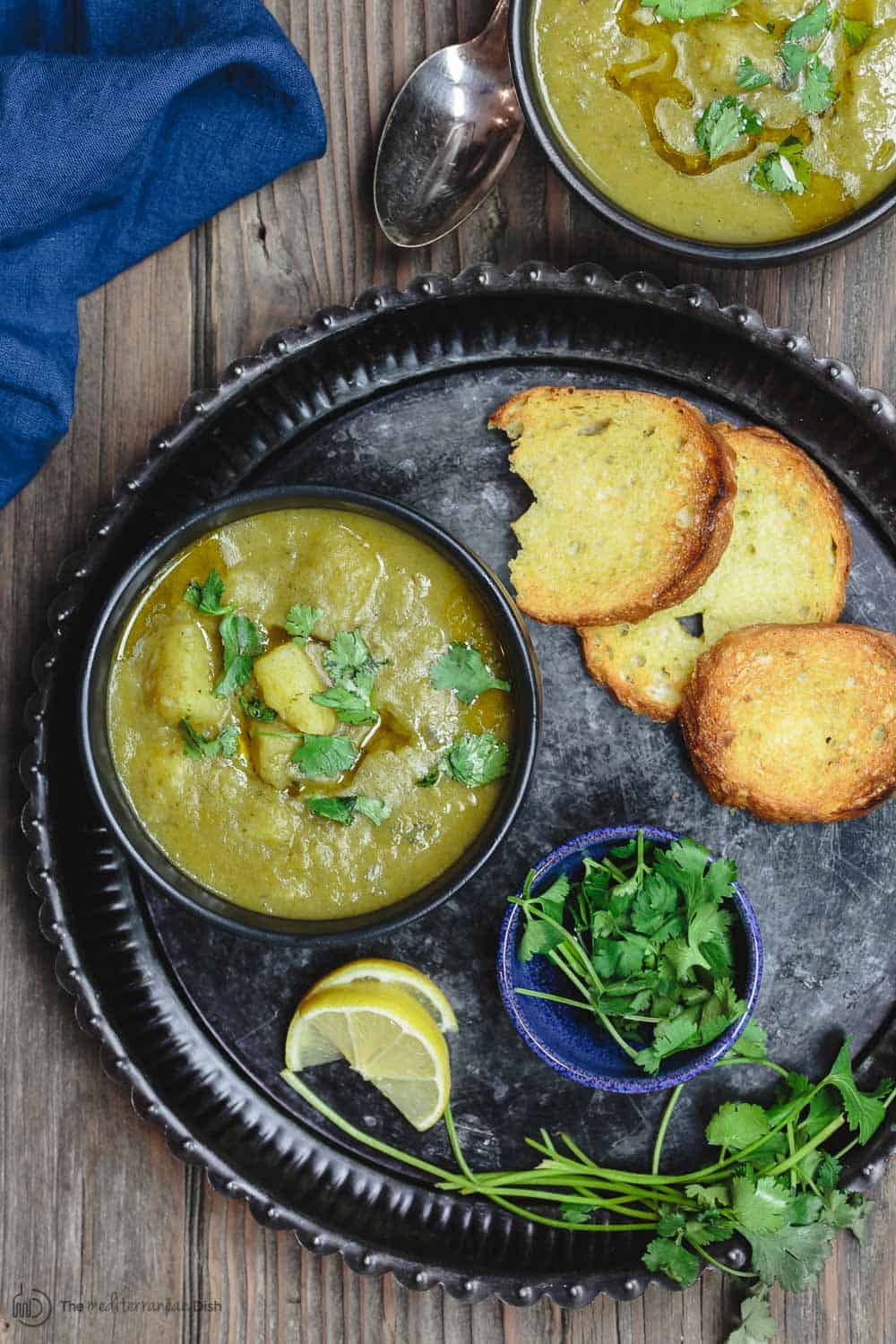 How to adapt this Potato Leek Soup without Cilantro
Not a cilantro fan? To adapt this soup, you can omit the cilantro. Make a garlic paste from fresh garlic and follow the recipe as written (without the cilantro). At the very end, stir in about 1/2 cup finely chopped parsley and 1/4 cup finely chopped fresh mint for that added herby flavor.
Print
Vegan Herbed Potato Leek Soup Recipe
---
Ingredients
6 garlic cloves, peeled
1 cup fresh cilantro leaves (packed and heaping cup. Include some stems for bolder flavor)
Private Reserve Greek extra virgin olive oil
3 leeks, well-cleaned (white and light green parts only, discard tough parts), chopped
2 lb Yukon gold potatoes or russet potatoes, peeled, cut into 1/2-inch pieces
1 tsp ground cumin
1 tsp sweet paprika
Salt and pepper
6 cups vegetable broth, Low sodium if possible
2 dried bay leaves
Lemon wedges to serve
---
Instructions
In a small food processor, blend garlic cloves and fresh cilantro until finely ground into a paste.
In a large heavy cooking pot, heat 3 tbsp olive oil over medium-high heat until shimmering but not smoking. Add the garlic and cilantro mixture and the chopped leeks. Cook, tossing regularly, until leeks are tender.
Add potatoes, spices, and a generous dash of salt and pepper. Toss to coat.
Add bay leaves and vegetable broth.
Bring to a boil for 5 minutes, then reduce heat to medium-low. Cover and let simmer another 15 minutes or so until the potatoes are tender and fully cooked.
Off heat. Fish the bay leaves out. Using an immersion blender, blend the potato leek to your liking (I like to leave some chunks, others like it fully blended to a smooth and creamy consistency).
Place the pot back on stove to heat the soup through over medium heat, stirring. Taste and adjust seasoning.
Transfer soup to serving bowls. Add a generous drizzle of good olive oil. Serve with lemon wedges (a splash of fresh lemon juice is a great addition). Enjoy with your favorite crusty bread.
Notes
No Cilantro Version. If you do not love cilantro, you can still make an herbed version of this potato leek soup. Make a garlic paste from fresh garlic and follow the recipe exactly as written. At the very end, toss in about 1/2 cup finely chopped fresh parsley leaves and 1/4 cup chopped fresh mint leaves for that added herby flavor.
Recommended for this recipe Our Private Reserve Greek extra virgin olive oil (from organically grown and processed Koroneiki olives). And from our all-natural and organic spice collections: ground cumin and Spanish Paprika
SAVE! Try our Greek Extra Virgin Olive Oil Bundle; Our Ultimate Mediterranean Spice Bundle; Or Create Your Own 6-Pack of Mediterranean Spices!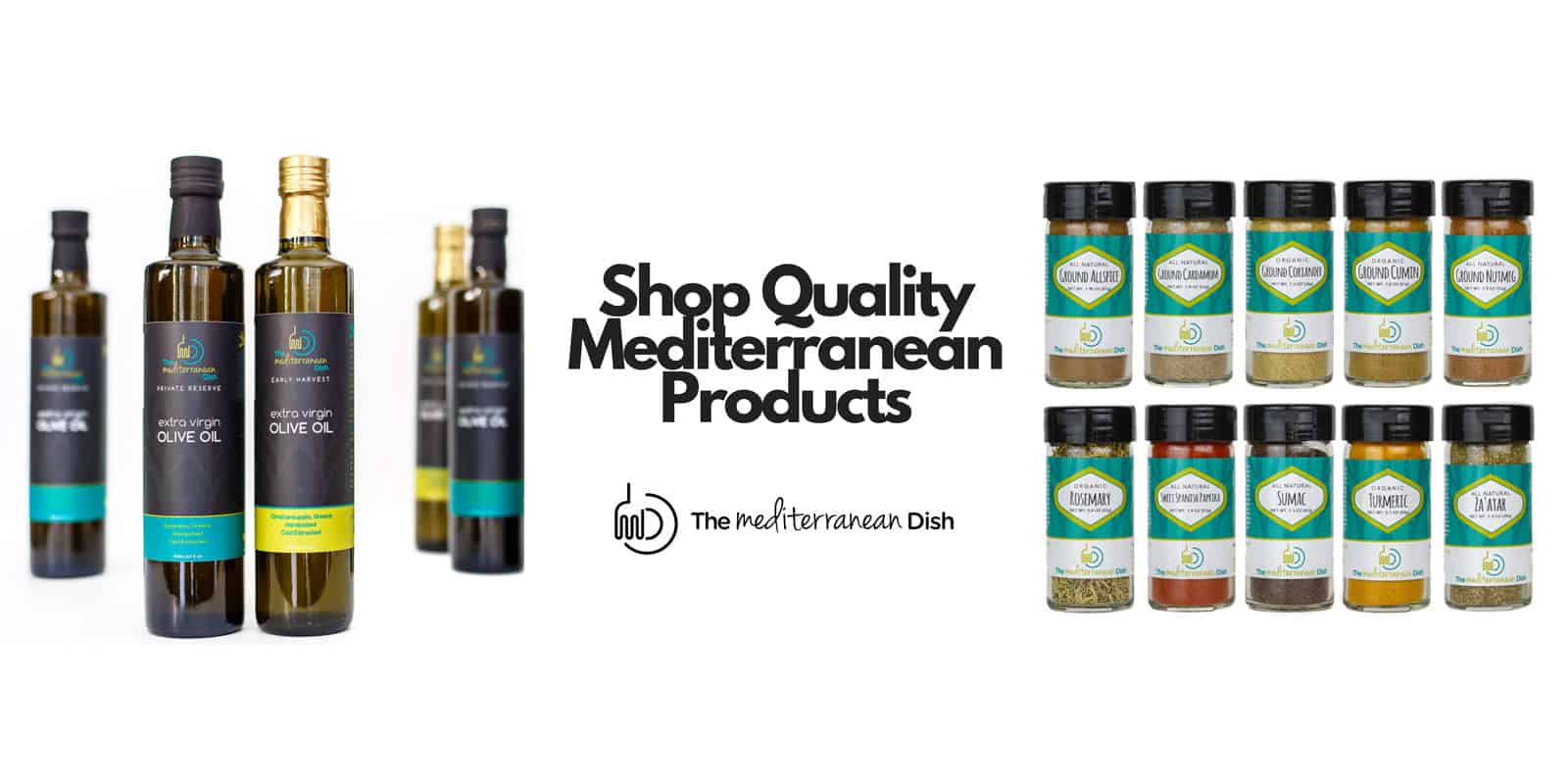 More Recipes to Try
Avgolemono: Greek Chicken Soup 
Baked Spaghetti Recipe with Homemade Spaghetti Sauce
Easy Baked Salmon with Garlic Balsamic Glaze 
This post may include affiliate links