A delicious, company-worthy recipe, this radicchio salad elevates your traditional lettuce-based recipes with a stunning, colorful combination of bitter, sweet, and peppery flavors.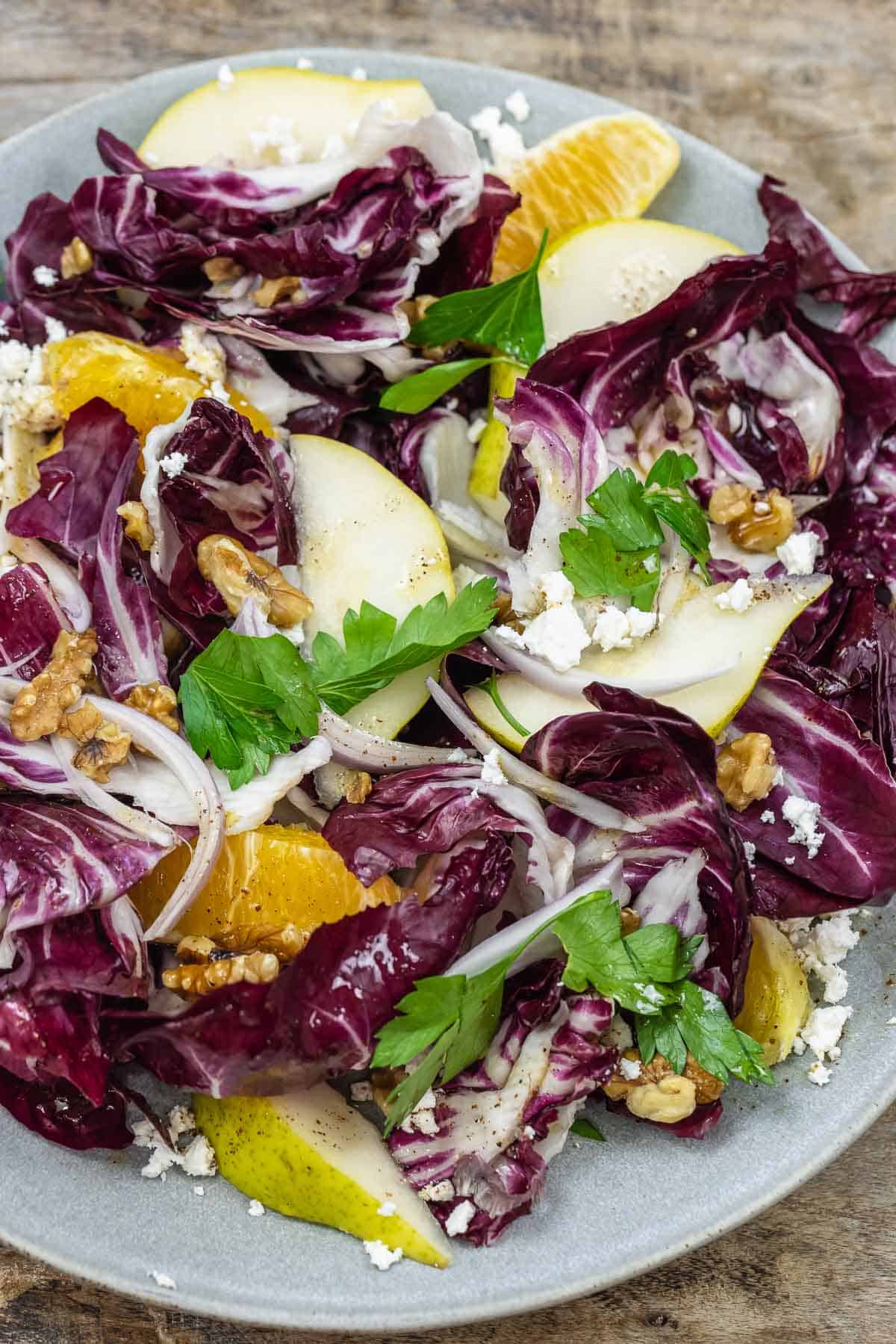 Say goodbye to boring salads with this radicchio salad recipe! It's quick, easy and a delightful balance of sweet, bitter and peppery flavors.
Refreshing citrus, juicy pears, creamy feta, and chopped walnuts are added to this radicchio salad for extra color and texture. A simple dressing made with olive oil, garlic and a little Greek honey from our shop brings it all together. It's a colorful, bright, explosion of both color and flavors.
This winter salad is especially festive looking, so I love serving it around the holidays with some other favorites like my winter fruit salad or shaved Brussels sprouts salad. Or, I serve alongside something extra comforting, like a big bowl of Spicy Spanish Chorizo Pasta.
Table of Contents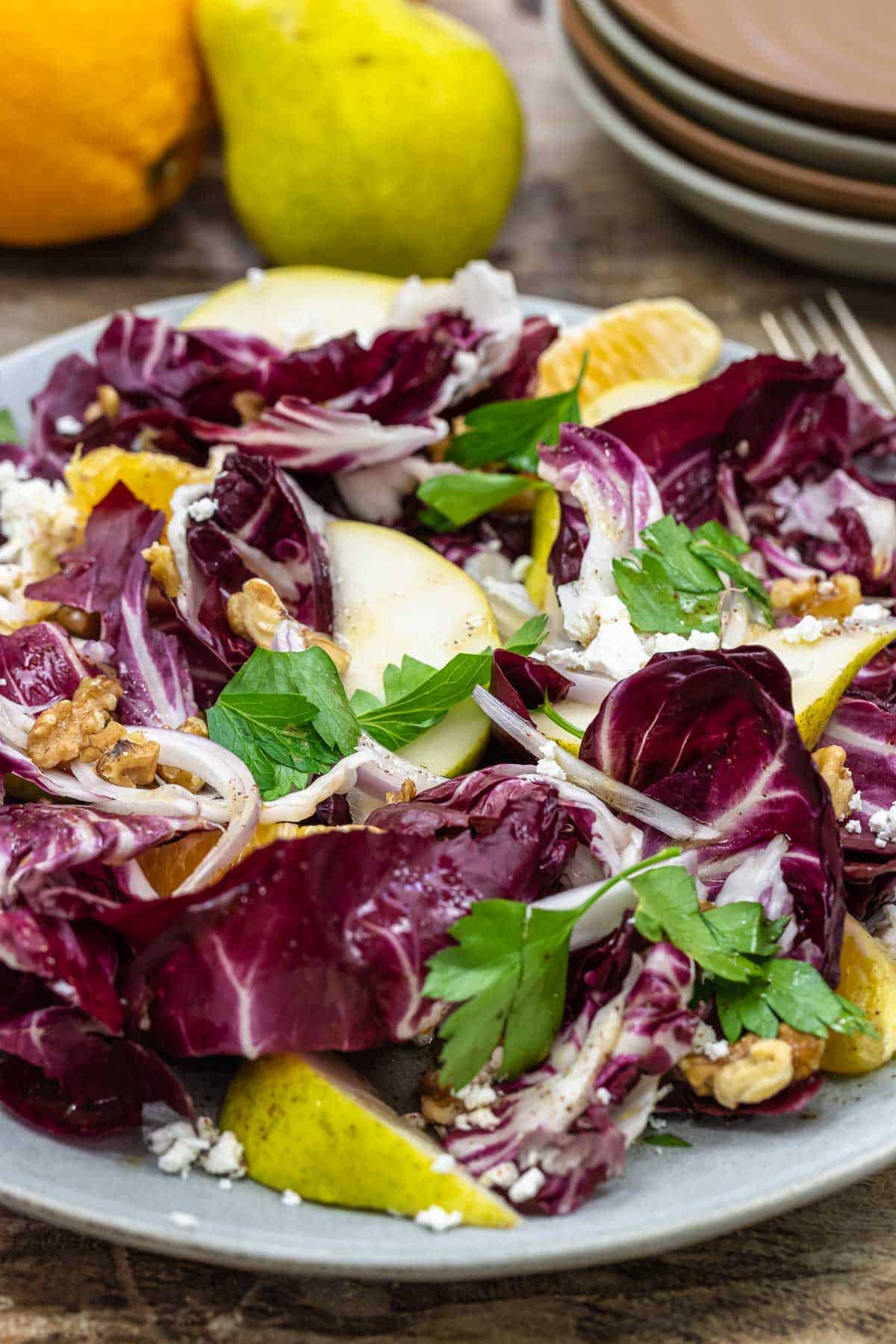 What Is Radicchio?
Radicchio (pronounced ruh-dee-kee-o) is often thought of as being a type of lettuce or salad green but it's actually a member of the chicory family. Sometimes called Italian chicory, radicchio has beautiful white veined reddish purple leaves and a spicy, bitter flavor.

Yes, radicchio is a term used to refer to all types of chicory that grow to form a tight head. However, within the radicchio family, there are six different varieties including Rosso di Chioggia, which is the most common variety and the one we are using in this salad recipe. Although similar, each version of chicory has a slightly different taste, texture, and color.
What Does Radicchio Taste Like?
When eaten raw, radicchio has a distinctly sharp, bitter flavor and a peppery tang. If it's too bitter for your liking you can soak it in water for about 30 minutes (thanks for the tip America's Test Kitchen) to soften its bite before using it in this salad.
Part of the beauty of this vegetable is its bitterness so it can balance heavy, strong flavors like blue cheese or sweet fruits like the ripe pears used in this recipe.
What Pairs Well with Bitter Vegetables?
Radicchio isn't the only vegetable with a bitter edge — endive, broccoli, kale, and even our beloved Brussels sprouts share that flavor profile. Therefore, you can generally combine radicchio and other bitter bites with things like: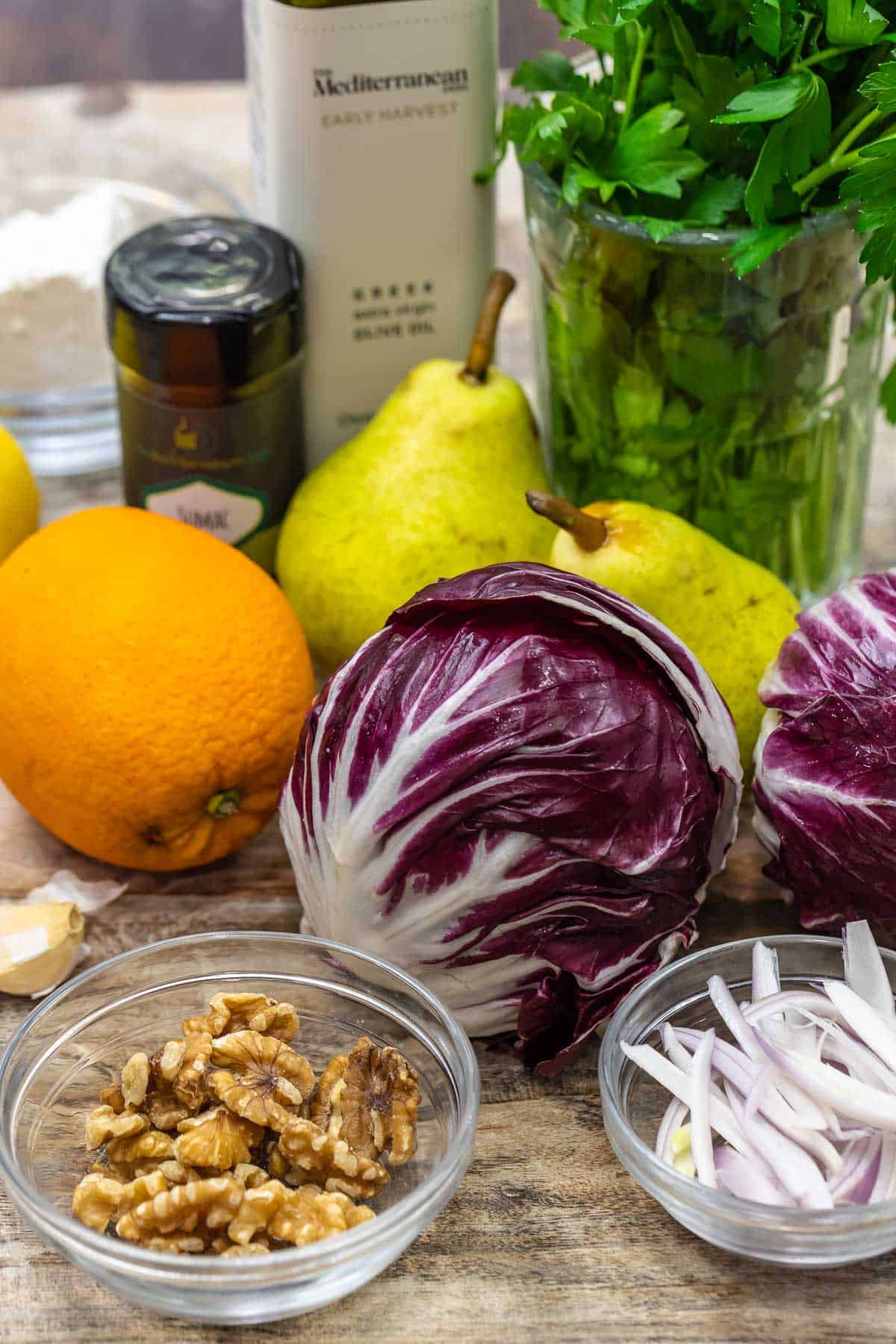 What Is In Radicchio Salad?
This salad boasts just a handful of ingredients and a homemade dressing for a photo-worthy meal that's unbelievably delicious!
For the Salad
Radicchio: For the best radicchio, look for veggies with tight, medium-sized heads and vibrant, colorful leaves that are free from wilting or any dark spots.
Fruit: A pear and orange add sweetness to the salad. To remove the segments of the orange, use a sharp knife to cut off the top and the bottom peel of the orange, then cut from the top down removing the rest of the peel and the white pith from the sides. Finally, cut each segment out of the membrane.
Shallot: Adds a zippy earthy sweetness
Walnuts: Chopped walnuts add extra crunch and a good source of healthy fats, according to a study published in the American Journal of Clinical Nutrition.
Feta cheese: Creamy and salty, a sprinkling of feta rounds out the rest of the flavors.
For the Dressing
Garlic: Included for a bit of a kick that ties both the salad and the dressing together.
Lemon juice: Be sure to use freshly squeezed lemon.
Spices: Salt, pepper, and sumac add a tart sweetness and elevate the rest of the ingredients.
Honey: I used two tablespoons of honey, but feel free to use more or less depending on how sweet you like your salad. Our Greek honey has a deep rich, herbal flavor that works well here, but you can use what you have on hand.
Extra virgin olive oil: I like a robust oil in salad dressings, like our Early Harvest Greek EVOO or Hojiblanca Spanish EVOO.
How to Make Radicchio Salad
This salad comes together so easily with virtually no prep!
Prepare the radicchio. Core the radicchio and separate the leaves, arranging them on a large platter.
Assemble the salad. Top the radicchio with the fruit, shallots, walnuts, and feta.
Make the dressing. Add the garlic and lemon juice to a small bowl followed by the seasonings. Then, whisk in the honey. While whisking, drizzle the extra virgin olive oil into the bowl. Continue to whisk until the ingredients are well combined and smooth.
Serve. Pour the dressing over the salad, and serve immediately.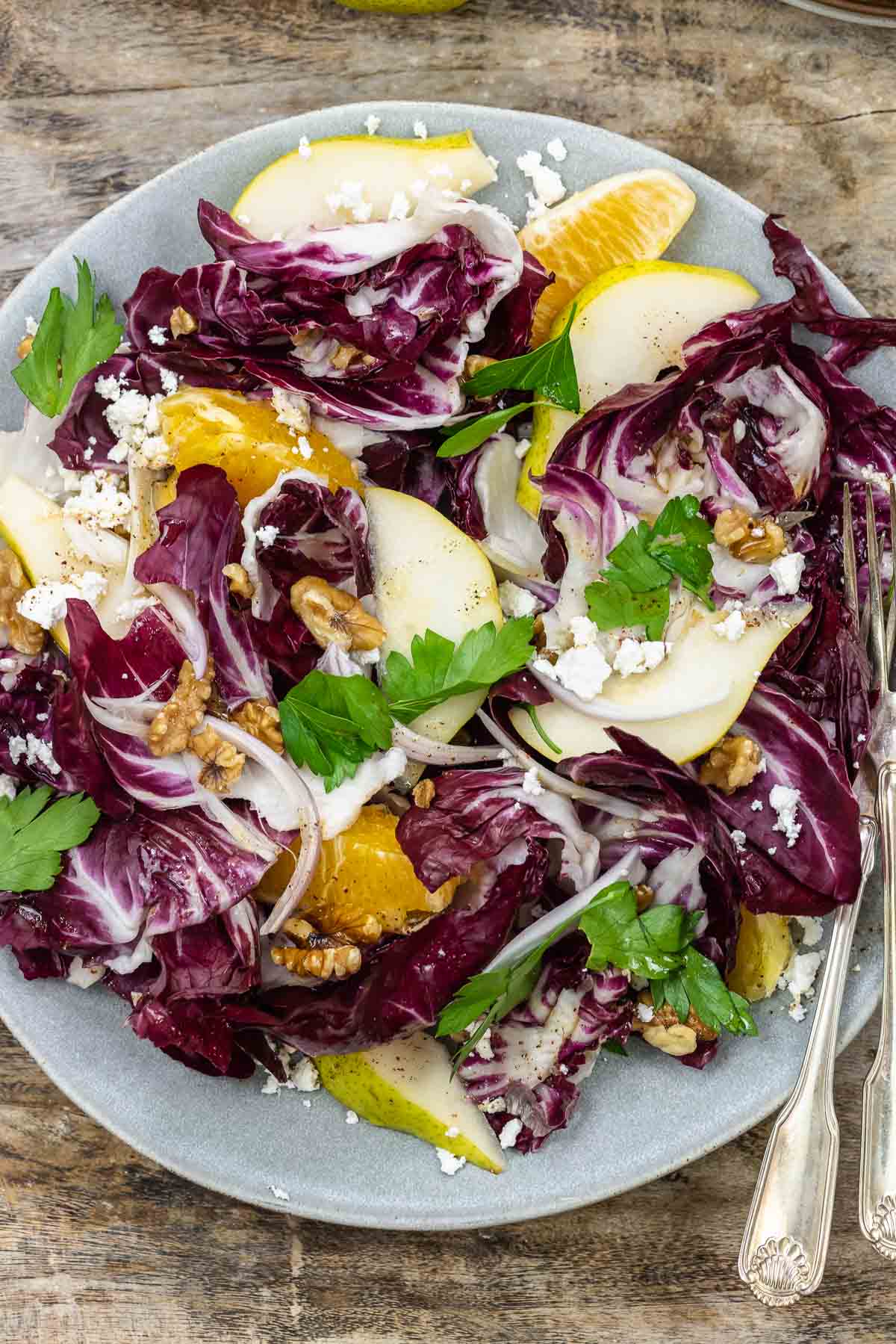 My Favorite Way to Dress a Salad
My go-to dressing for nearly any salad is an easy vinaigrette with quality extra virgin olive oil and lemon juice. However, to cut the slight bitterness from the radicchio I also added some Greek honey to the dressing for this recipe.
Make It a Meal
This radicchio salad pairs well with so many things! Bright and festive, it's a wonderful addition to your holiday table when served alongside roast turkey, spatchcock chicken, or cornish hen.
However, it's just as delicious served as a side for simple weeknight dinners like broiled salmon, Greek potatoes and chicken or baked cod.

For soup and salad night, it goes perfection with this hearty Italian wedding soup.
If you really want to go all out, serve it as part of a spread with all your favorite sides including mashed sweet potatoes, roasted delicata squash, and roasted carrots! Yum!
More Salad Recipes
Browse all Mediterranean recipes.

Visit Our Shop.
Try our special honey straight from Greece!
Its deep, rich, herbal flavor is the key to elevating the dressing in this radicchio salad.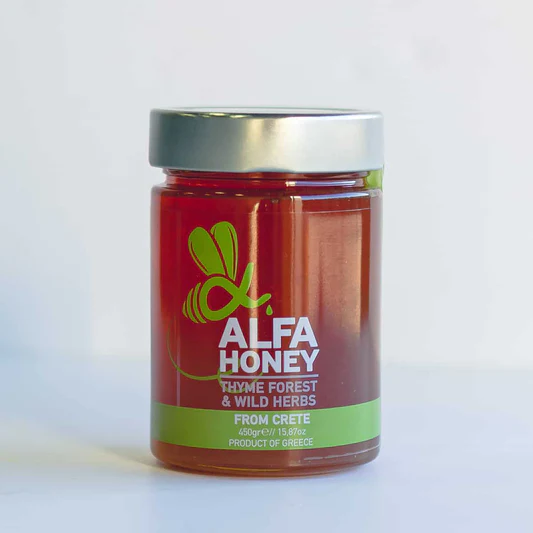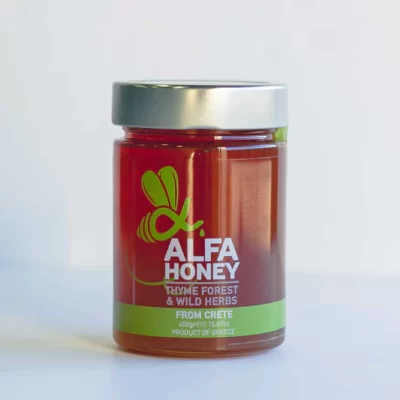 Radicchio Salad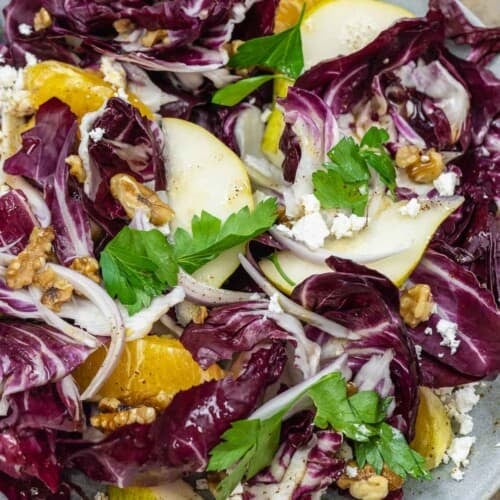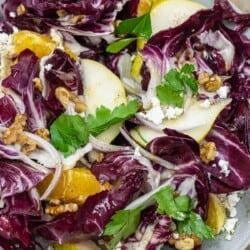 The amazing combination of bitter, sweet and peppery flavors in this radicchio salad recipe will take your idea of a traditional salad to a whole new level. Bright citrus, juicy pears, creamy feta and walnuts plus a simple dressing to pull it all together.
Ingredients
1

head

radicchio

1

pear,

halved and thinly sliced

1

navel orange,

peeled and segmented

1

shallot,

thinly sliced

½

cup

walnuts,

roughly chopped

¼

cup

feta cheese,

crumbled
Instructions
Prepare the radicchio: Core the radicchio and separate the leaves. If you want to make them slightly less bitter you can soak the leaves in cold water for 30 minutes, before drying and assembling the salad.

Assemble the salad: Arrange the radicchio leaves on a large platter, then top with orange segments and pear slices. Add the shallots, walnuts, and feta.

Make the dressing: In a small bowl, add the garlic and lemon juice. Season with kosher salt, black pepper, and sumac. Add the honey and whisk. While whisking, drizzle the extra virgin olive oil and continue to whisk until the dressing is well combined.

Finish the salad: Pour the dressing over the radicchio salad and serve.
Notes
If you can't find radicchio, you can substitute Belgian endive or curly endive in its place. it won't be quite as colorful but you will still get those bitter flavors needed for this salad.
If you don't have feta, blue cheese would also work well in this salad.
If you only have oranges or only have pears you can use all of the same fruit too. It's pretty flexible.
Visit our shop to browse our olive oils, spices and more!
Nutrition
Calories:
343.8
kcal
Carbohydrates:
29.1
g
Protein:
5.6
g
Fat:
25.4
g
Saturated Fat:
4.1
g
Polyunsaturated Fat:
8.5
g
Monounsaturated Fat:
11.7
g
Cholesterol:
8.3
mg
Sodium:
270.8
mg
Potassium:
458.2
mg
Fiber:
4.8
g
Sugar:
17.9
g
Vitamin A:
165.2
IU
Vitamin C:
43.5
mg
Calcium:
104.5
mg
Iron:
1.4
mg