This spatchcock chicken recipe is so good, it will change your roast chicken game! A few tips make all the difference in this succulant, juicy chicken with extra crispy skin. You'll want to check out every single tip.
Be sure to see my tutorial for how to spatchcock a chicken and watch the video below. Plus, grab all the suggestions for what to serve along!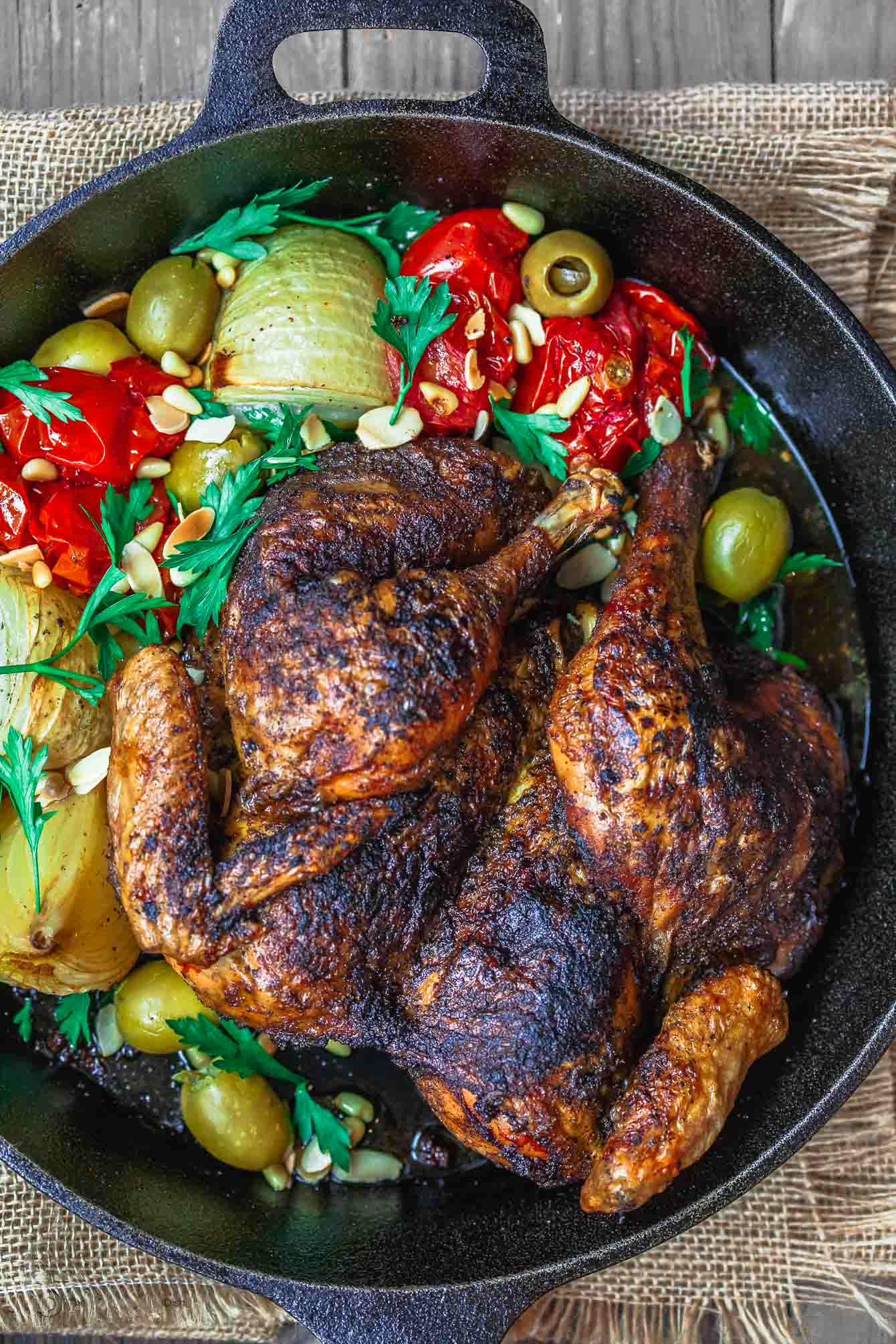 A simple whole roast chicken is one of those comforting meals every home cook should be able to make. But, I'll be first to admit, when it comes to roasting the entire bird whole, achieving perfection can be tricky.
One of the common problems people run into with whole roasted chicken is that, often times, the chicken breasts dry out before the legs come up to appropriate temperature.
The answer to this pesky problem? Spatchcock!
What is Spatchcock Chicken?
Spatchcock chicken means to basically split or butterfly a chicken so that it is flattened, and you do so by removing the backbone.
Being able to lay the chicken flat, allows it to roast in the oven more evenly. Plus, you get beautifully crispy skins.
Spatchcocking is great for roast chicken in a high-heated oven. It's also ideal for grilling–by laying chicken flat on the grill, it easily chars and absorbs smoke's flavor, while remaining nice and juicy!
You can ask your butcher to do the spatchcocking for you, but it really is easy enough to do in your own kitchen.
I'm telling you, once I learned how to spatchcock a chicken myself, it's saved me so much time and taking my roast chicken game to a new level of yum! Let me show you how it's done…
How to Spatchcock a Chicken?
I find that a pair of good kitchen shear is the right, and easiest tool to use for the job (I use this one). Let's spatchcock some chicken:
1. Remove the neck part and gizzards. Starting from the tail of the chicken, cut along the right side of the backbone from the tail to the neck. Then do the same on the left side of the backbone.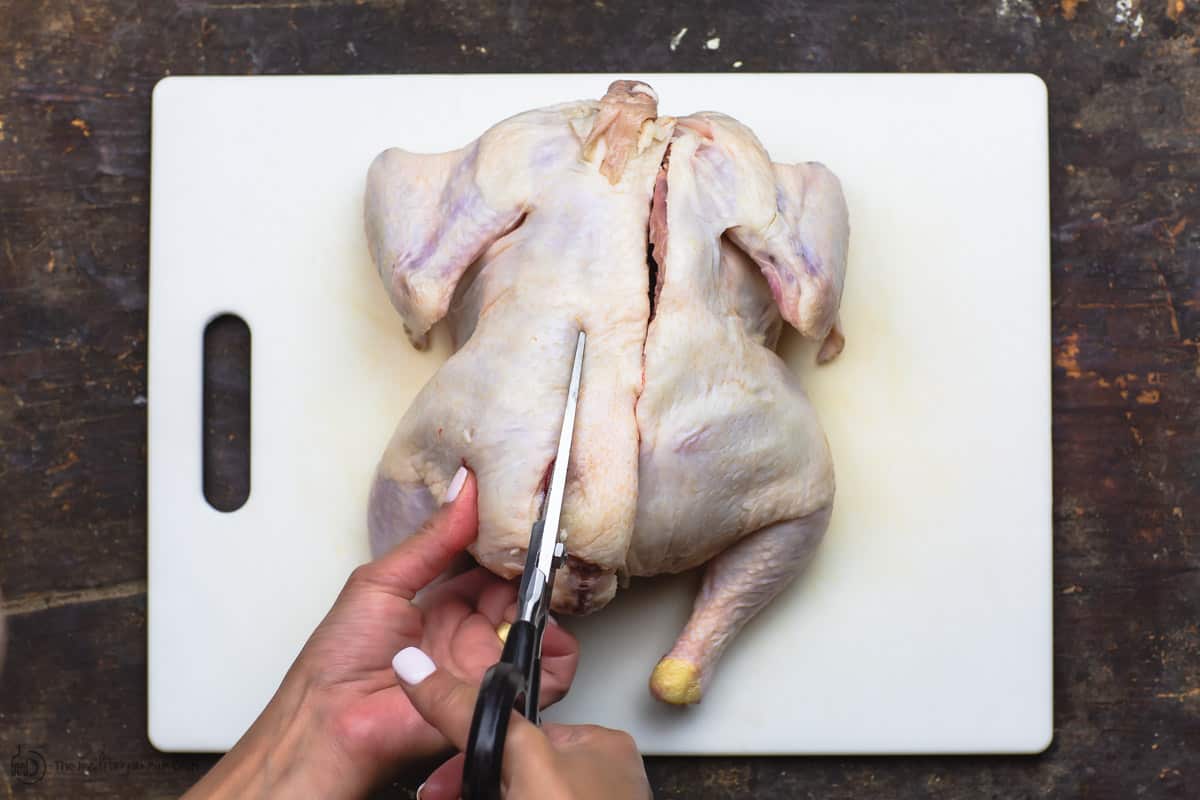 2. Remove the backbone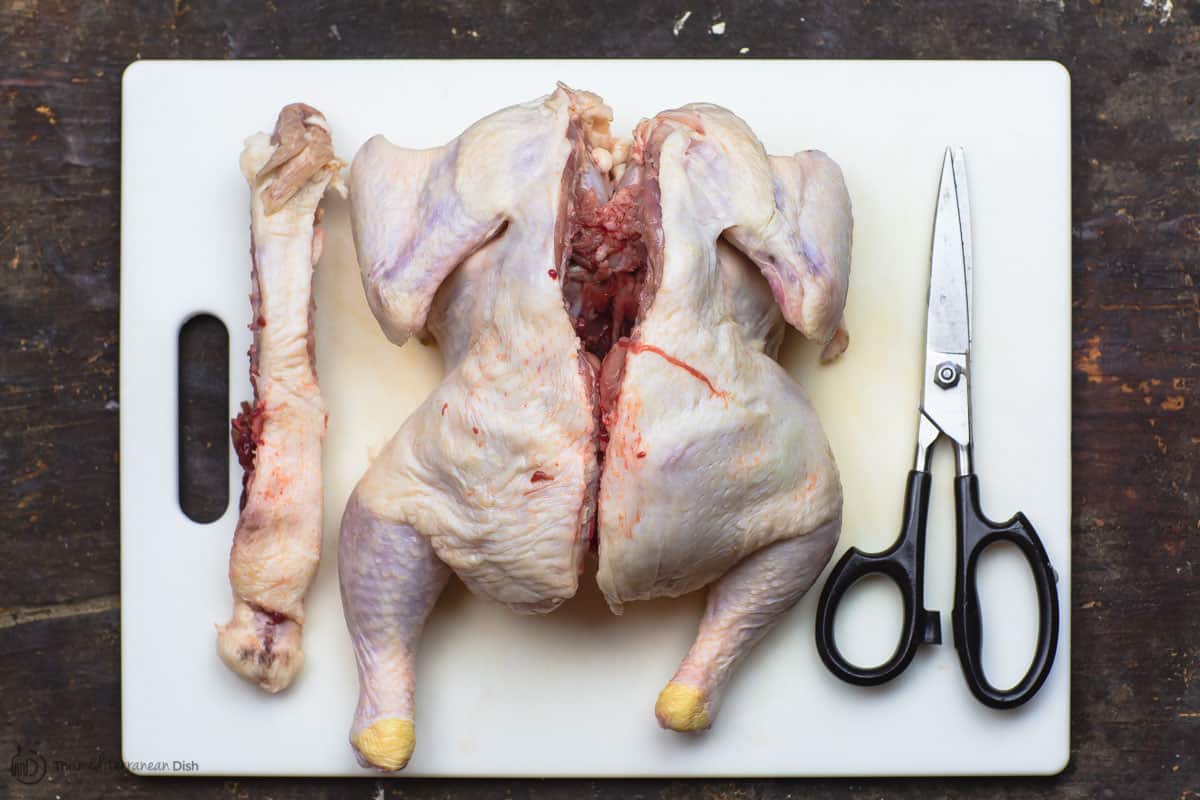 3. Break the breastbone by pressing down on the wings to flatten the bird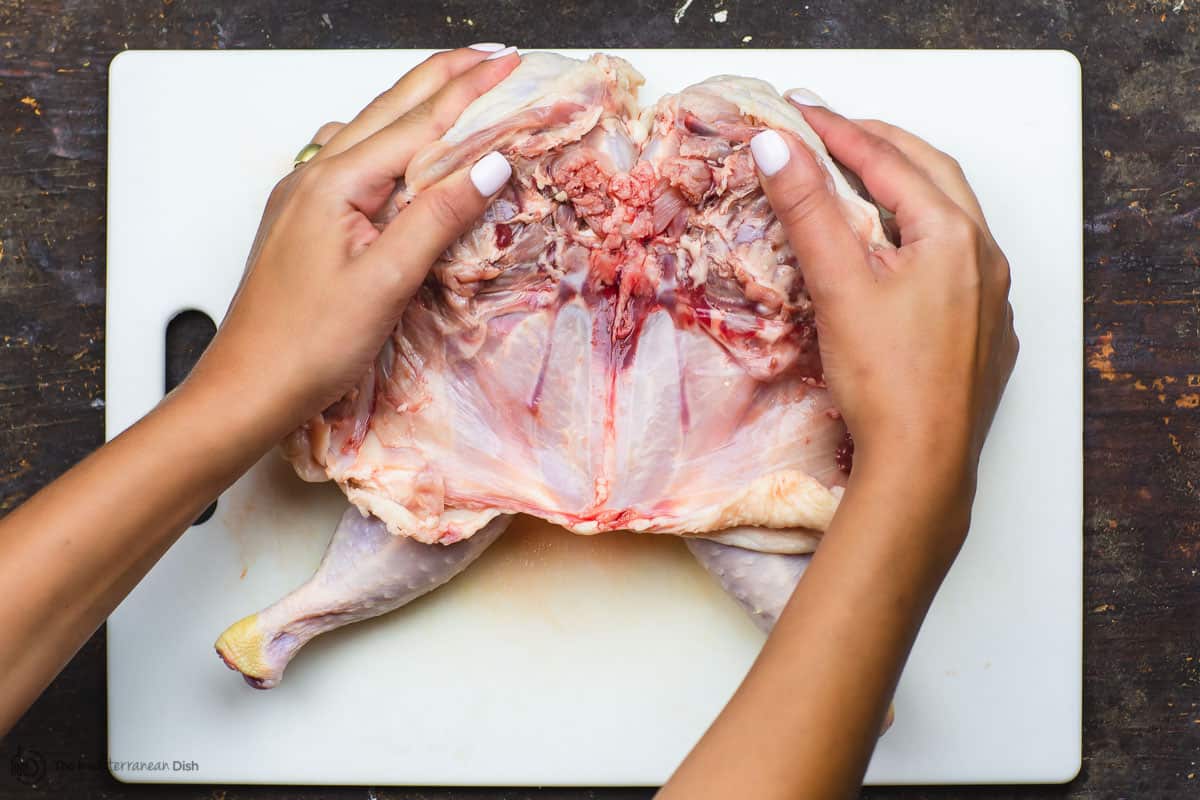 4. Optional step here, flip the bird over and remove the wings (this especially helps when grilling and you need to flip the bird on it's back)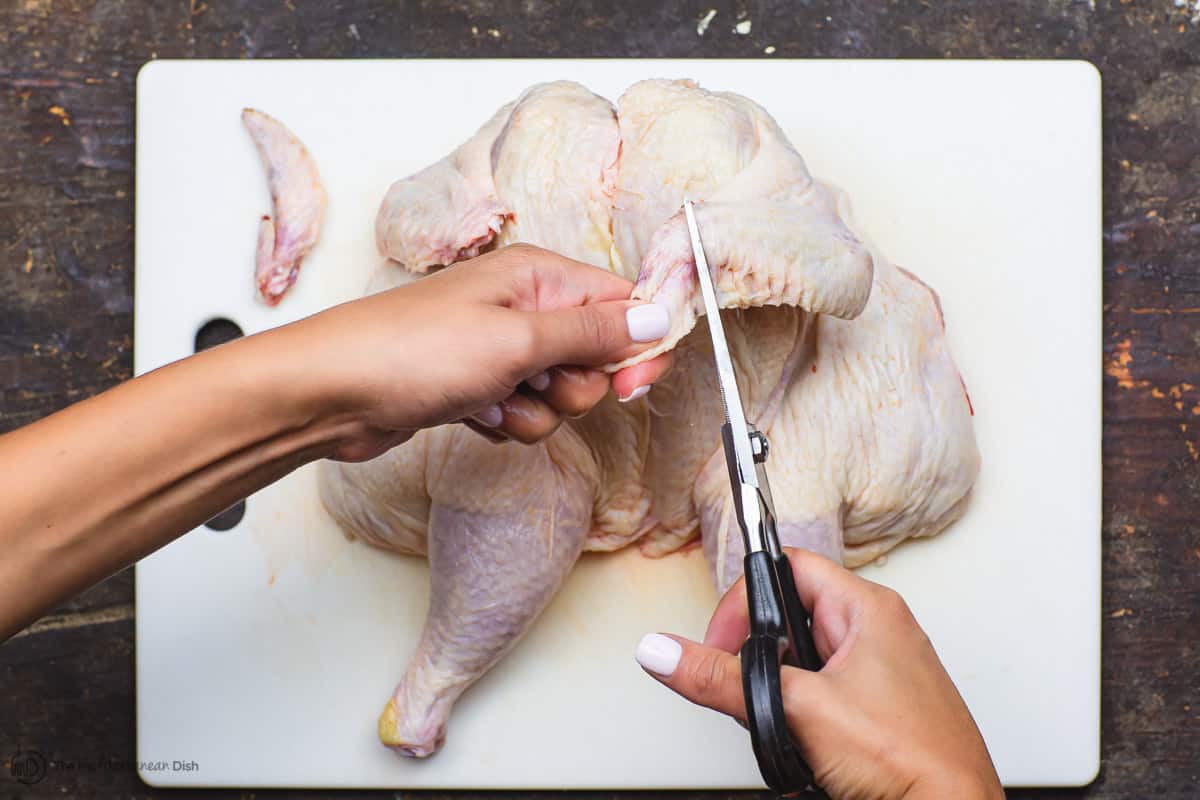 I promised you the crispiest ever spatchcock chicken, let me share some important tips to get that perfectly juicy roast chicken with great crispy skin!
Tips for Crispiest Roast Spatchcock Chicken
1. With a flattened chicken, we have more surface area for browning. That's our first step towards crispy skin.
2. Salt your bird. In Salt Fat Acid Heat, Samin Nostrat shares one of the simplest tricks to attain a delightfully succulent, crispy-skinned bird. Her trick, in one word: SALT. And when it comes to whole spatchcock chicken, salt early.
Seasoning in advance– I do mine overnight–gives salt plenty of time to diffuse evenly throughout the bird, doing it's quiet work of flavoring and tenderizing.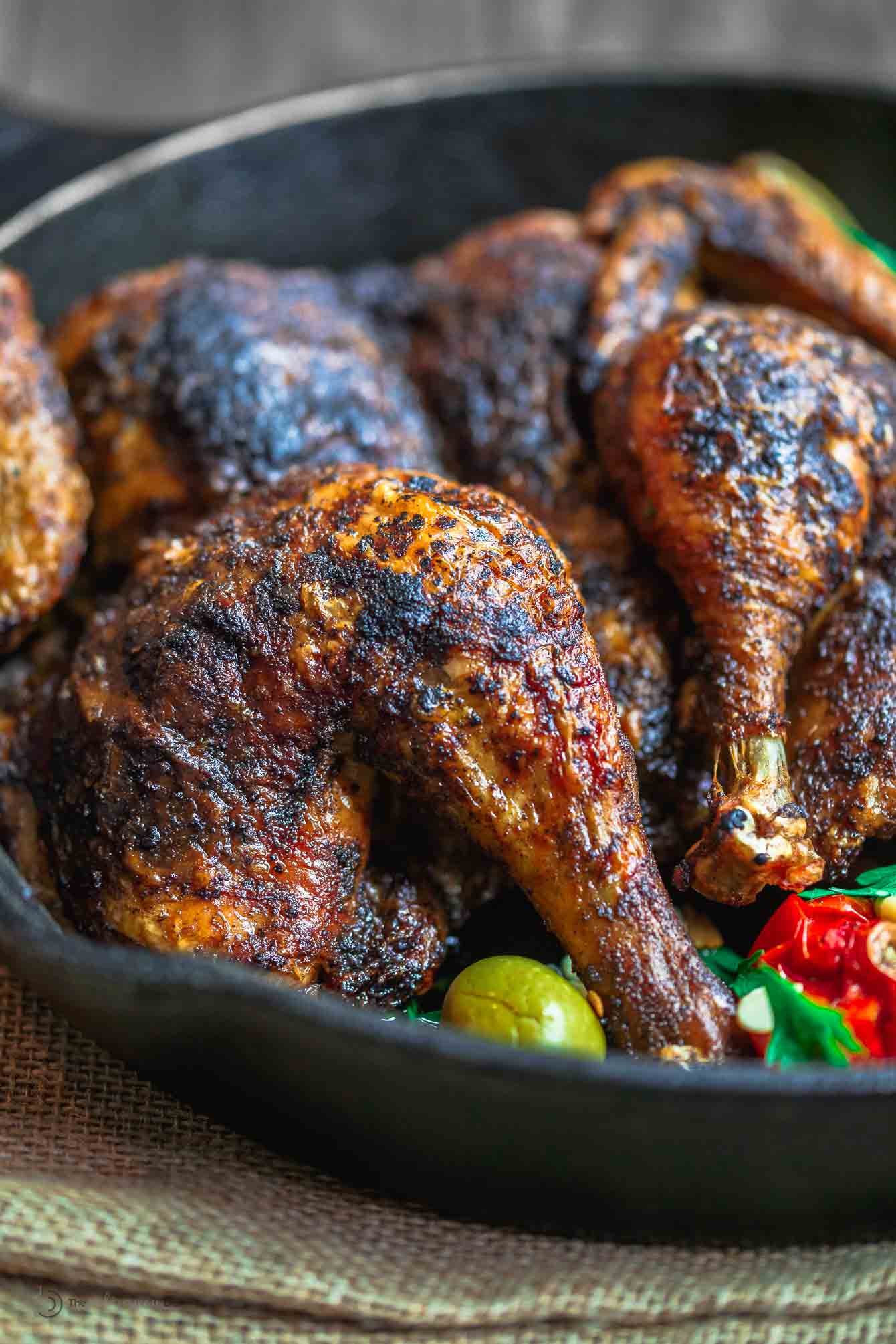 3. Air chill spatchcock chicken. Once slated, another element that is equally important here is air. Chill your generously seasoned spatchcock chicken in the fridge uncovered and with the skin side up.
The constantly circulating air dries out the skin. The bird will look, as Samin puts it, "scarily fossilized." But, the dried-out skin cooks up golden and glassy…the crispiest you'll ever have!
How to flavor and cook spatchcock chicken in the oven?
To flavor my chicken, salt is the first step, as I mentioned above. And whenever possible, I salt my spatchcock chicken the night before and leave it to chill in the fridge uncovered. If you forget to do this step the night before, any amount of time will help.
Then, one hour before I'm ready to roast my spatchock chicken in the oven, I apply a simple spice mixture. This time, I went for warm Eastern Mediterranean spices and incorporated allspice, paprika, and nutmeg along with a little bit of garlic powder and black pepper.
The biggest trick flavoring the chicken here is to make sure to rub the spic mixture all over, and especially underneath the skin. Lift the skin up and get under it with some of the spice mixture.
You can change up the spices and flavors according to how you feel, really. For example, if you're looking for a bit of an Italian twist, utilize something dried oregano and thyme. For a Moroccan/North African twist, definitely go for Ras El Hanout.
And, if you feel like giving your spatchcock chicken a bit of a winter holiday twist, do something with rosemary (speaking of which, here's another great rosemary chicken to try sometime!)
To cook spatchock chicken in the oven, I turn the oven to 425 degrees F. While a whole roast chicken that is not spatchcocked may take somewhere in the neighborhood of 1 and 1/2 hours or more to cook through, spatchcock chicken can roast in 45 minutes to 1 hour, depending on your oven. With my oven, it takes about 1 hour. I also like my chicken skins on the darker side of gold 🙂
Using a meat thermometer, you should be able to determine when chicken is ready; its internal temperature should register 165 degrees F.)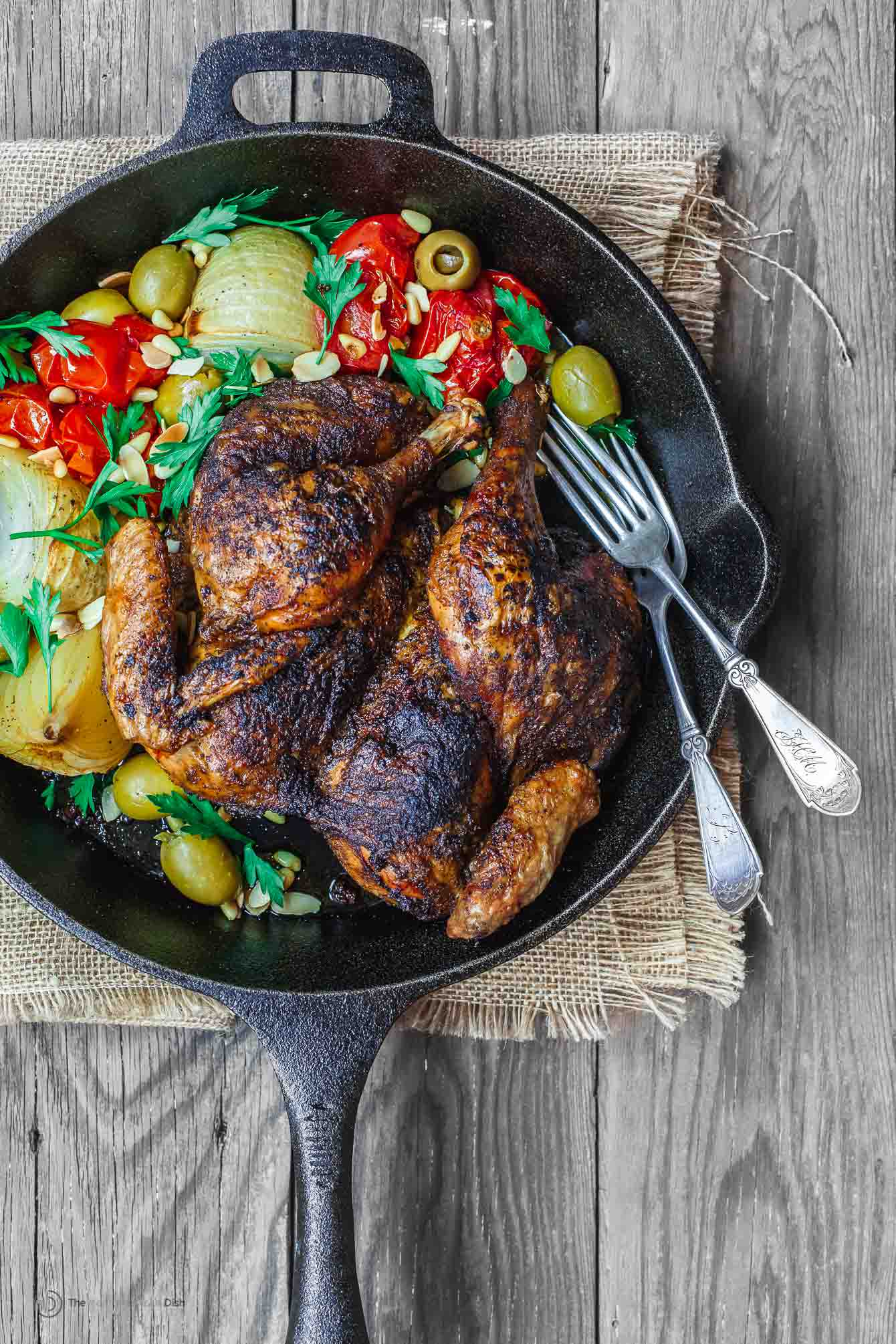 What to Serve Along?
I had a few Campari tomatoes and onions to use up this time, so I cooked those in the oven to serve along.
But here are many sides that would be great next to this oven roasted spatchock chicken like: Quick roasted tomatoes with thyme, Greek potatoes, Italian roasted vegetables, Greek lemon rice or this Orzo with zucchini and chickpeas.
For salads, the options are plenty! Mediterranean 3-bean salad or Fattoush are two ideas.
I'll just say this too, a drizzle of my homemade tahini sauce on top of this roast chicken is just magic!
Watch the Video for How to Make This Spatchcock Chicken Recipe:
More Cozy Recipes to Try:
Cornish Hen Recipe with Mediterranean Garlic Spice Rub
NEVER MISS A RECIPE! JOIN MY FREE E-MAIL LIST HERE.
SHOP OUR ONLINE STORE FOR QUALITY OLIVE OILS, ALL-NATURAL SPICES AND MORE!
Print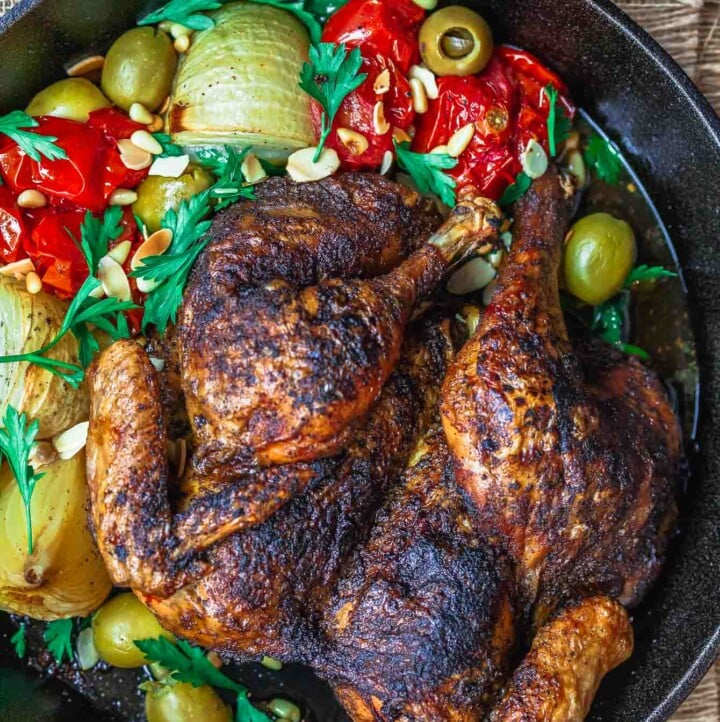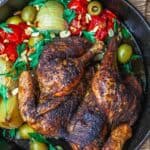 Crispy Spatchcocked Chicken Recipe
---
Author:

The Mediterranean Dish

Prep Time:

15 mins

Cook Time:

50 mins

Total Time:

1 hour 5 minutes

Yield:

serves up to 5 people
Description
Succulent, juicy spatchcock chicken with the crispiest skin ever! All thanks to a few tricks including salting the chicken in advance and air-chilling in the fridge. You'll love the Eastern Mediterranean flavors here, but you can also change them up! Be sure to watch the video just above this recipe card and check out my step-by-step tutorial for how to spatchcock chicken.
---
Scale
Ingredients
Optional
8

Campari tomatoes

1

large sweet onion or Vidalia onion, peeled and quartered
Handful green olives
---
Instructions
Spatchcock (butterfly) the chicken. Place the chicken on a cutting board with its backbone facing you. Using a pair of sturdy kitchen shears like this one, cut out the backbone by cutting along both sides of the spine, and remove it. Push down on the breasts to flatten the chicken. Flip the bird over and remove the wing tips. (See the step by step tutorial in the post showing how to spatchock chicken.) You can also ask your butcher to do it.
Salt chicken one night before you cook it. Place the chicken, breast side up, on a large cutting board. Push down on the breastbone. Generously season with salt (and I mean generously) on both sides. Place the chicken, breast side up, on a shallow roasting dish. Refrigerate, uncovered, overnight.
One hour before you plan to roast it, pull the chicken out of the fridge and set at room temperature.
Preheat the oven to 425 degrees F, and adjust an oven rack right in the middle.
In a small dish, mix the spices. Season the chicken on both sides. Pull its skin up, and apply some of the spice mix underneath as well.
In a 12-inch cast iron skillet, add just enough extra virgin olive oil to coat the bottom. Heat on medium-high. As soon as the oil is shimmering, add the chicken, breast side down. Brown for 6-8 minutes, then flip over and brown on the other side another 5 minutes or so.
Transfer the cast iron skillet to the heated oven middle rack. Slide it all way to the back of the oven, with the handle of the pan facing left.
After 20 minutes, using oven mitts, carefully, turn the skillet 180 degrees so that the handle is now pointing right. Push to the back of the oven again. Roast for another 30 to 45 minutes, until the chicken is brown all over and the juices run clear or until chicken is done and its internal temperature registers 165 degrees F. Remove from oven and let rest for 10 minutes before carving.
Optional. If you like, about 20 minutes or so before you pull the chicken out of the oven, add the tomato and onion to a small roasting dish. Toss with olive oil and salt. Place on the lower rack of the oven to roast. When done, add a handful of spicy green olives to the roasted veggies and serve with the chicken. (see more ideas for what to serve along)
---
Category:

Entree

Method:

Roasted

Cuisine:

Mediterranean
Keywords: Spatchcock Chicken Recipe, Roast Spatchock Chicken, How to Spatchcock Chicken
*This post originally appeared on The Mediterranean Dish in 2017 and has been recently updated with new information and media for readers' benefit. Enjoy!