The crispiest spatchcocked chicken you'll ever have! A couple simple tricks ensure crispy-skinned, succulent roast chicken! I add a few spices for a subtle Eastern Mediterranean flavor.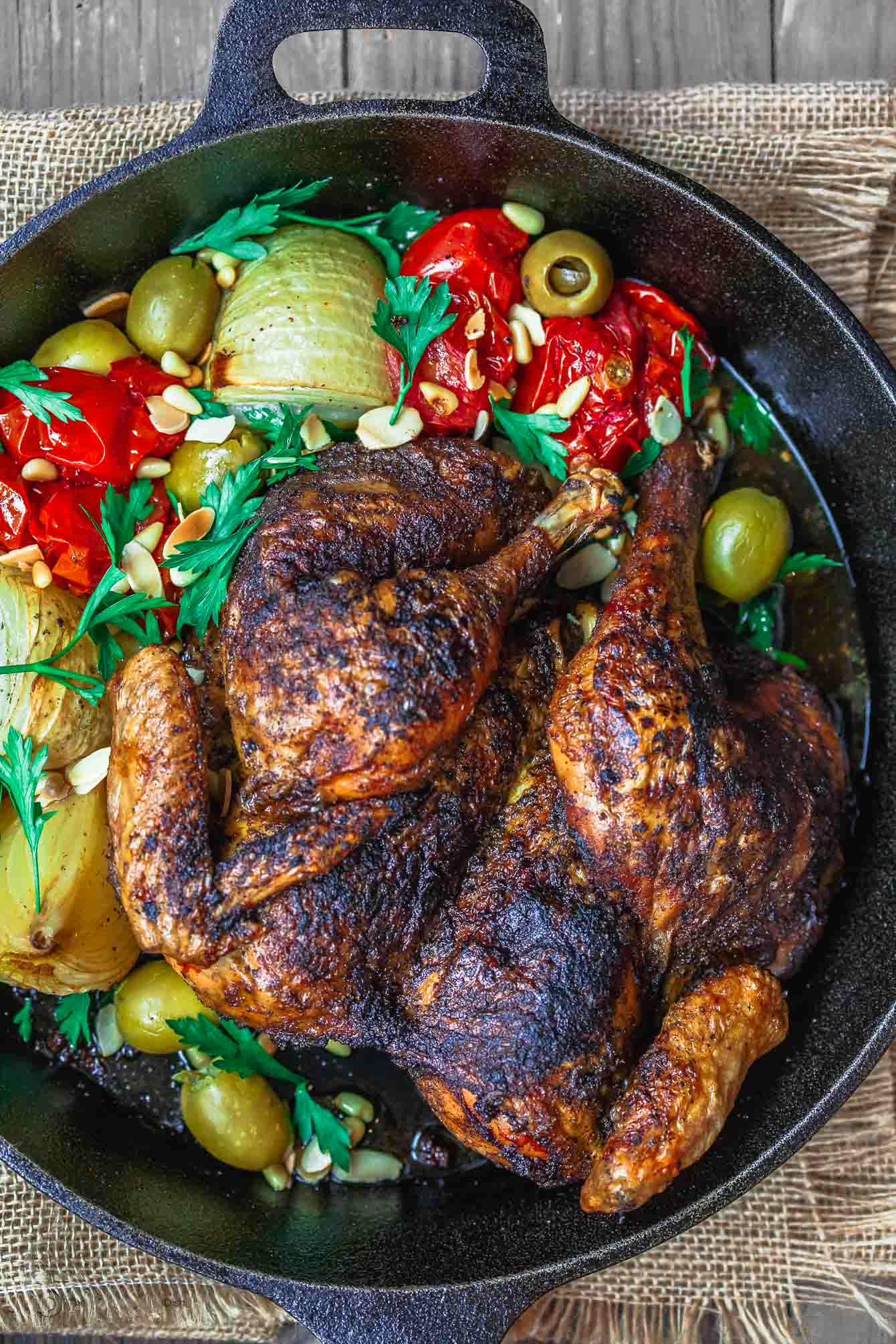 A simple whole roast chicken is one of those comforting meals every home cook should be able to make.  But I'll be first to admit, when it comes to roasting the bird whole, achieving perfection can be tricky. One of the common problems is that chicken breasts dry out before the legs come up to appropriate temperature!
The answer to this pesky problem? Spatchcocking.
VIDEO TUTORIALS
Spatchcocked chicken is basically when the bird's backbone has been removed. The chicken is split open and can more easily lay flat, which allows it to roast more quickly and evenly than an intact bird.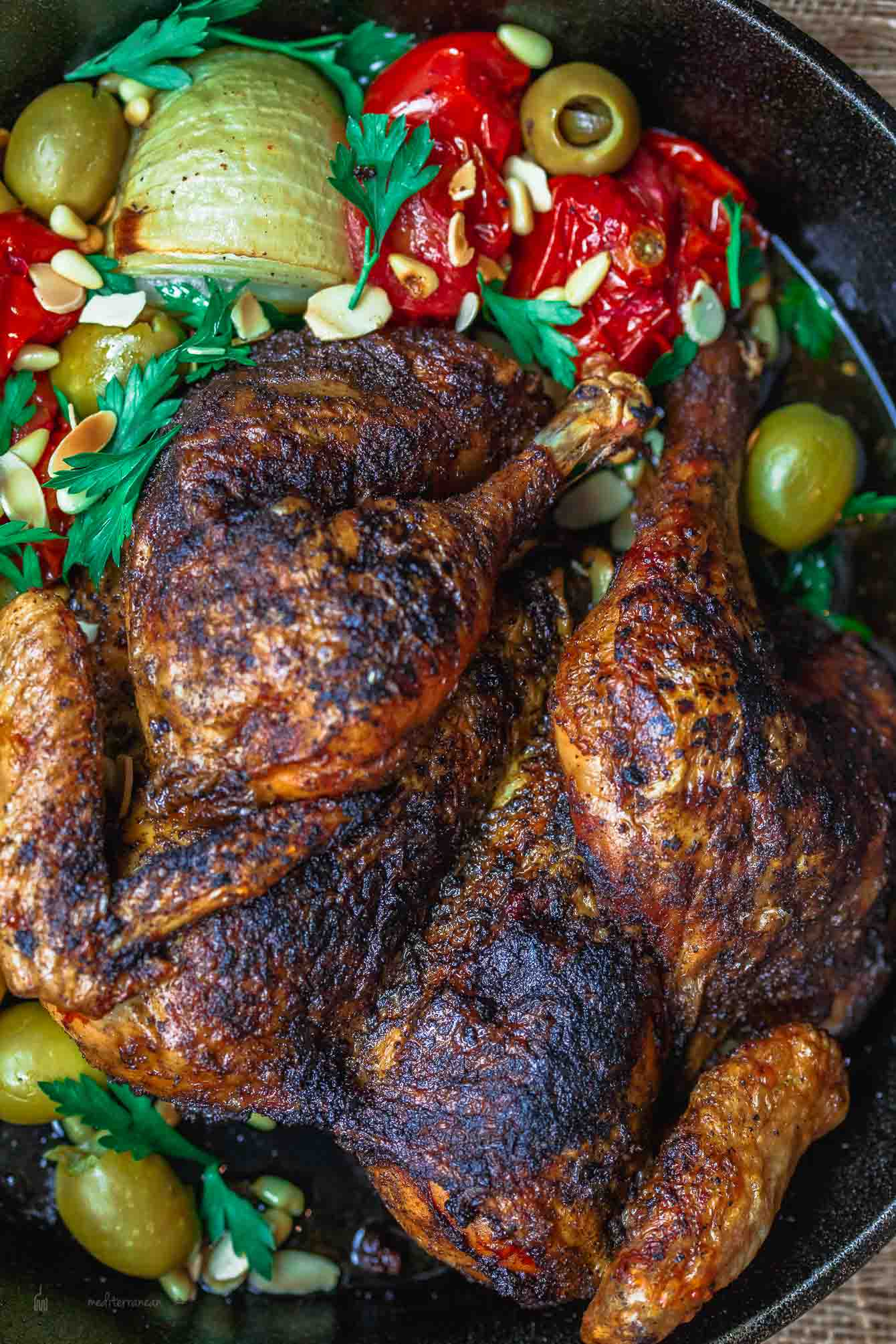 Tips for Crispiest Spatchcocked Chicken
So with a "flatter" chicken, we have more surface area for browning. But, in Salt Fat Acid Heat, Samin Nostrat shares one of the simplest tricks to attain a delightfully succulent, crispy-skinned bird. Her trick, in one word: SALT.
And when it comes to whole spatchcocked chicken, salt early. Seasoning in advance–overnight–gives salt plenty of time to diffuse evenly throughout the bird, doing it's quiet work of flavoring and tenderizing.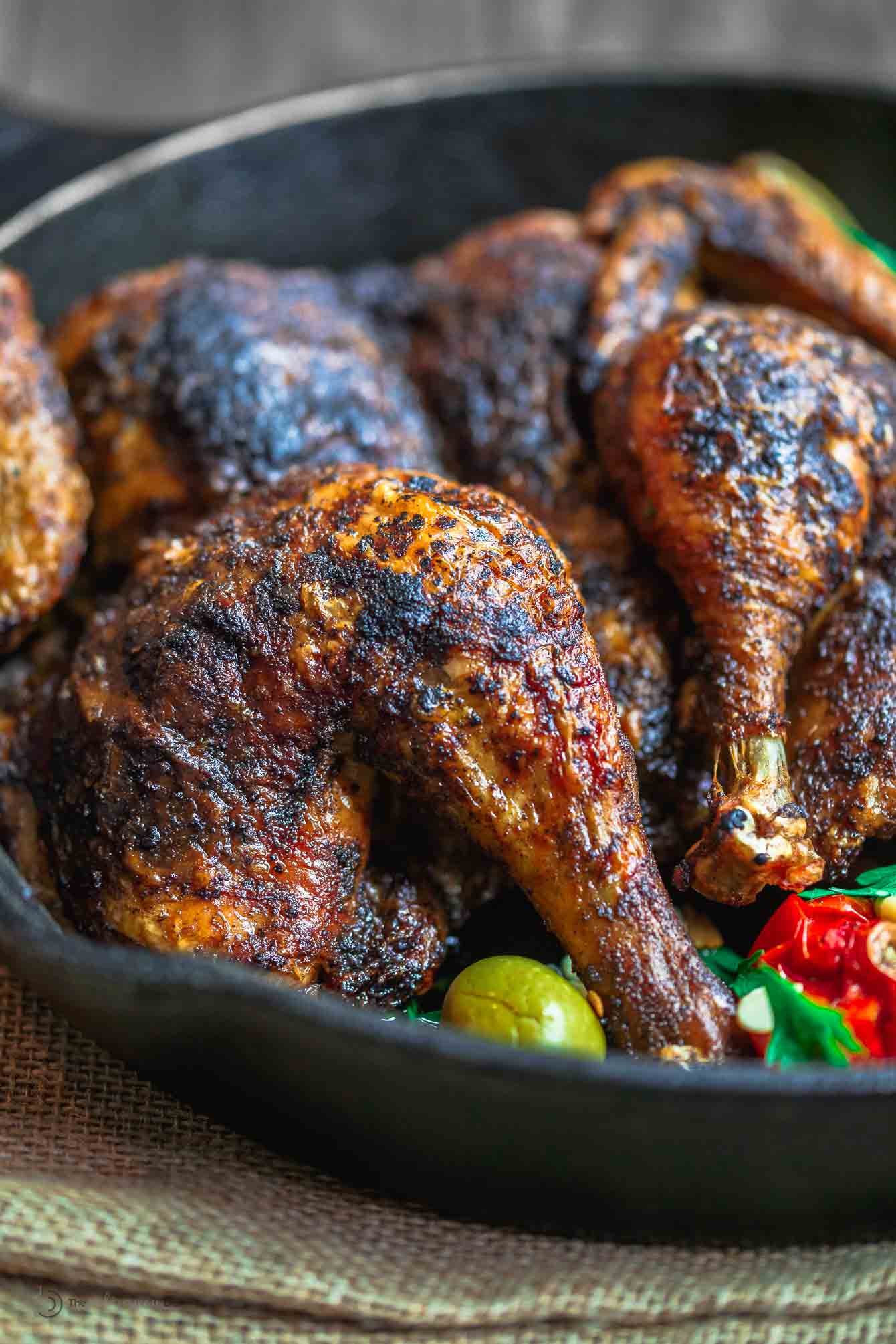 But another element that is equally important here is air. The generously seasoned spatchcocked chicken is refrigerated overnight, uncovered. The constantly circulating air dries out the skin. The bird will look, as Samin puts it, "scarily fossilized." But, the dried-out skin cooks up golden and glassy…the crispiest!
I used Samin's techniques, but added my own little twist–a few of my favorite spices to give the chicken a subtle Eastern Mediterranean flavor.
To serve, I roasted some Campari tomatoes and sweet onions. But, there are many more sides and salads that go perfectly well with this spatchcocked chicken. (See my recipe notes for more ideas.)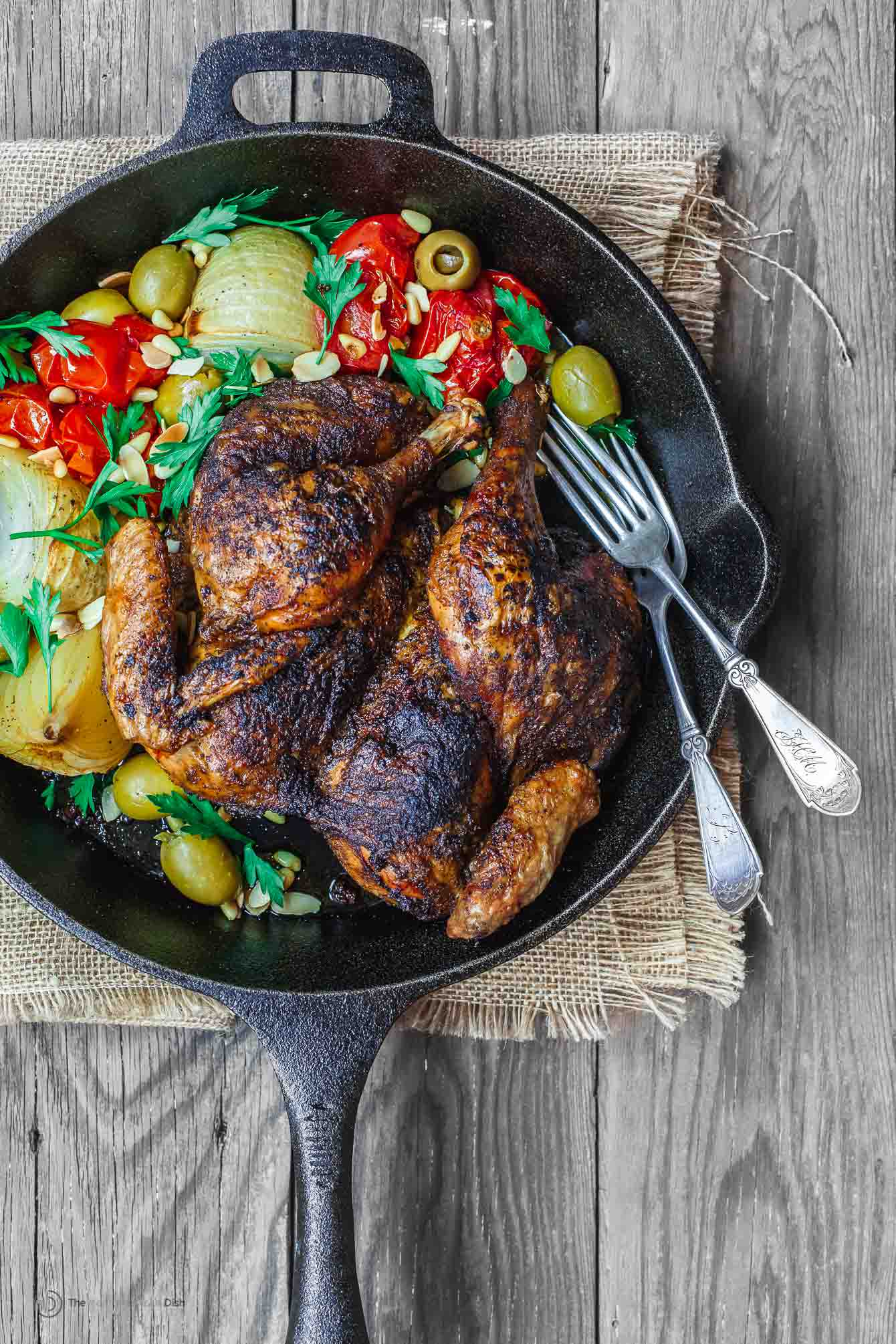 Print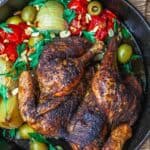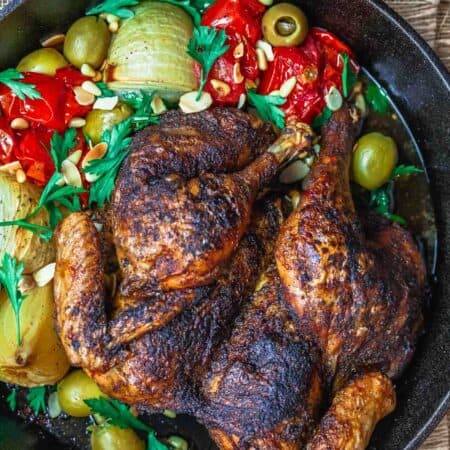 Crispy Spatchcocked Chicken Recipe
---
Author:

Prep Time:

15 mins

Cook Time:

65 mins

Total Time:

1 hour 20 minutes

Yield:

4
Ingredients
Optional 
8 Campari tomatoes
1 large sweet onion or Vidalia onion, peeled and quartered
Handful green olives
---
Instructions
One night before you plan to roast the chicken, spatchcock (butterfly) it (or ask your butcher to do this part for you). Place the chicken on a cutting board with its backbone facing you. Using a pair of sturdy kitchen shears like this one, cut out the backbone by cutting along both sides of the spine, and remove it. Remove the wing tips. (You can save the backbone and wingtips for making stock, if you like).
Place the chicken, breast side up, on a large cutting board. Push down on the breastbone. Generously season with salt (and I mean generously) on both sides. Place the chicken, breast side up, on a shallow roasting dish. Refrigerate, uncovered, overnight.
One hour before you plan to roast it, pull the chicken out of the fridge and set at room temperature.
Preheat the oven to 425 degrees F, and adjust an oven rack right in the middle.
In a small dish, mix the spices. Season the chicken on both sides. Pull its skin up, and apply some of the spice mix underneath as well.
In a 12-inch cast iron skillet, add just enough extra virgin olive oil to coat the bottom. Heat on medium-high. As soon as the oil is shimmering, add the chicken, breast side down. Brown for 6-8 minutes, then flip over and brown on the other side another 5 minutes or so.
Transfer the cast iron skillet to the heated oven middle rack. Slide it all way to the back of the oven, with the handle of the pan facing left.
After 20 minutes, using oven mitts, carefully, turn the skillet 180 degrees so that the handle is now pointing right. Push to the back of the oven again. Roast for another 45 minutes, until the chicken is brown all over and the juices run clear. Remove from oven and let rest for 10 minutes before carving.
Optional. If you like, about 20 minutes or so before you pull the chicken out of the oven, add the tomato and onion to a small roasting dish. Toss with olive oil and salt. Place on the lower rack of the oven to roast. When done, add a handful of spicy green olives to the roasted veggies and serve with the chicken. (see more ideas below)